YOUR COMPLETE TWO HARBORS CATALINA ISLAND ITINERARY
I feel like there is always a never-ending list of things to do in California. The state is so big and it offers so many different types of terrain to explore!
I had the opportunity to explore an island off the coast of California known as Catalina Island with the company Visit Catalina Island. I could not have asked for a more perfect weekend getaway from San Diego.
This weekend getaway was packed full of hiking, swimming, and eating. I had such a wonderful time that I wanted to share my Two Harbors Catalina Island itinerary with you!
CATALINA ISLAND HISTORY
Did you know that there are islands off the coast of California that are considered to be a part of the state as well?
Santa Catalina Island is a part of the Channel Islands located just off the coast of California. Visiting here will make you feel like you are in a different state or maybe even a different country.
When visiting here with my mom, she stated "I feel like this is a smaller version of Hawaii and I am here for it." It is true!
Upon arrival, you will be greeted with lush greenery hillsides, tropical palm trees, and sandy beaches. Catalina Island could also be compared to the coastline of France. You will see houses built into the hillside with the beautiful turquoise waters below.
Regardless of what you would compare it to, when visiting Catalina Island you will feel like you are escaping reality and the business of life.
Catalina Island is separated into two main sides: Avalon and Two Harbors. Avalon is the more inhabited side whereas Two Harbors is the more rustic side.
GETTING TO CATALINA ISLAND
Catalina Island is just a short ferry ride away from the mainland. There are three different ports from the mainland, making it easily accessible for people to visit from all over southern California.
The most common visitors come from San Diego, Los Angeles, and Santa Barbara because it makes for the perfect day trip or even weekend getaway.
The three points to depart from are Dana Point, Long Beach Downtown, and San Pedro.
Most likely you will be purchasing a roundtrip Catalina Island ticket which will cost you $76.50/person. Children are a bit cheaper. Expect to pay about $59/child for a roundtrip ticket.
You can upgrade your ticket to sit in the Commodore Lounge aka "First class" for a $15 upgrade one way. Personally, I don't think the Commodore Lounge looked all that much better, especially for a 1.5-hour boat ride, but hey if that is your style then you do you. 🙂
Catalina Island tickets should be purchased ahead of time and can be reserved through the Catalina Express website.
Few things to note prior to booking your trip:
-Plan to arrive 45 minutes prior to your boat departure time
-Each passenger is allowed two pieces of luggage
-There are multiple departure times and multiple lines for the boat, so make sure you are in the correct line when boarding
-The boat ride across is about 1.5 hours
HOW TO GET FROM AVALON TO TWO HARBORS
The island of Catalina is essentially divided up into two main sides: Avalon and Two Harbors. For the purpose of this Catalina Island itinerary article, I will mainly discuss exploring the side of Two Harbors.
There are two ways to get to the Two Harbors side of Catalina Island.
Option one: Catch the Catalin Express to Avalon and then take the Cyclone boat over to Two Harbors.
Option two: Take the Catalina Express from San Pedro directly to Two Harbors.
Here is a great map from Catalina Express depicting the boat routes.
If you choose to go to Avalon first and then Two Harbors via the Cyclone as I did, here are some tips!
-The Cyclone departs from the green pier in Avalon (literally a pier that is green)
-Look for the bright yellow boat
-Line up about 15 minutes prior to your boat departure time
-Bring a jacket to wear on the boat. This is a speed boat that is open and it can get chilly
Looking for other weekend trip ideas? Check out this article!
THINGS TO DO IN TWO HARBORS CATALINA
Though the town is smaller than Avalon there are still a ton of things to do in Two Harbors Catalina!
This little village is perfect for the outdoor adventurer!
Expect to feel like you are on a relaxing island when visiting Two Harbors. It is much more secluded than Avalon.
I noticed that the mornings and evenings were much more quiet as well because Two Harbors has very little "housing" options. In the next section, I will give you information on how you can camp at Two Harbors.
But for now let's talk about all the fun activities on this side of the island.
HIKING
There are tons of hiking route options. Catalina Island is a backpacker's paradise. There is a common trail that backpacker's do to get from one side of the island to the other.
There are also plenty of day hiking options as well ranging from easy to difficult. When you arrive in Two Harbors just head to the Visitor's Center and they can guide you on which trails to take.
They will give you paper maps with different trails as a lot of these trails do not show up on the app All Trails.
My mom and I personally did the Lower Ballast Point hike for sunset and the Upper Ballast Point hike for sunrise.
Lower Ballast Point is an easy stroll that leads to a bench overlooking the water. It is a beautiful spot for sunset.
Upper Ballast Point is much harder as it takes you to the top of a ridge, but you will get some epic views if you choose to do this hike.
WATER ACTIVITIES
There are plenty of water activities on this side of the island. Just across from the Visitor's Center is a water rental place.
They rent out a multitude of items including: kayaks, snorkel gear, SUP, wetsuits and much more!
We personally rented kayaks and snorkel gear. We took our kayaks out around the bay and found a secluded beach to snorkel from. The water is so clear here! You will definitely want to snorkel.
*I highly recommend renting fins as well if you plan to snorkel. They make it 1,000 times easier.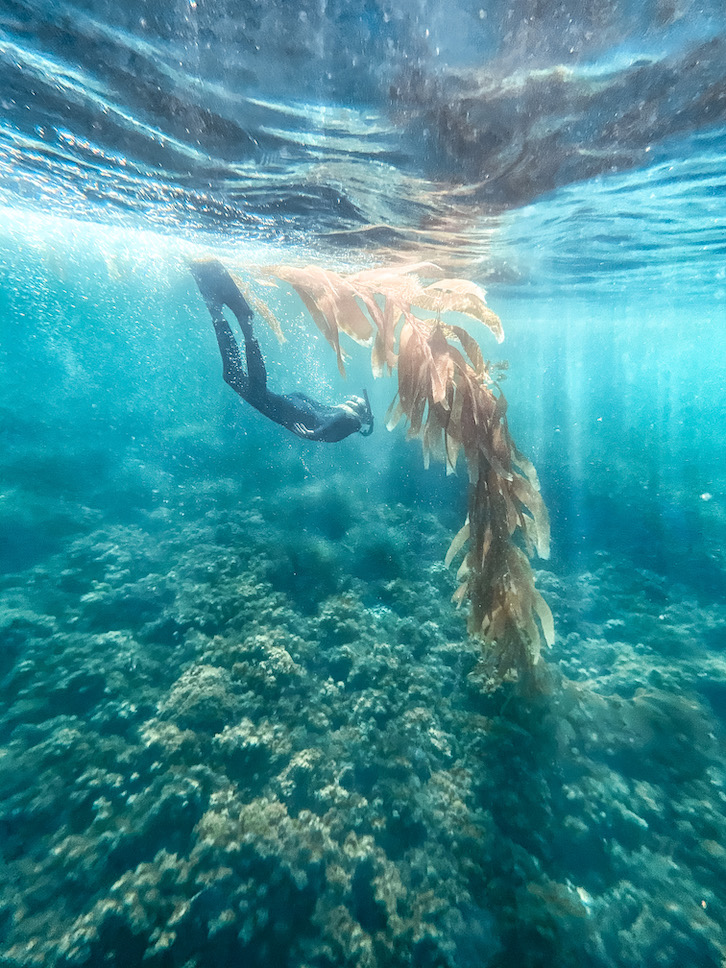 If you don't want to rent any items then I recommend just relaxing at the beach and taking a dip in the water right from the shore. Or purchase an inflatable tube and relax out in the water.
Float through all the boats and daydream about which one you would want. 🙂
There is also the option to rent a cabana for the day or rent a lounge chair. These are located right on the beach as well and you will have a server to bring you drinks if you choose to rent one of these items.
EAT
There is really only one option for eating while on the Two Harbors side of Catalina. The Harbor Reef Restaurant currently offers lunch and dinner. (menus are different)
I got the burger for lunch and the spinach salad for dinner and both were delicious! I also got guac and chips as an app at dinner, because why not? I am on vacation baby!
This restaurant is all outdoor seating. You can choose to sit either on a table on the beach or on the patio up by the bar.
*Currently due to COVID you must purchase food if you are purchasing drinks from the bar.
You also have the option to visit the general store which is located next to the restaurant. This store has tons of options for food as well!
They even have a microwave in the store for you to heat up anything you may have purchased. Because the restaurant does not serve breakfast, coffee is available for purchase at the General Store starting at 8am.
CATALINA TWO HARBORS CAMPING
The Two Harbors side of Catalina Island is known for their camping, so don't expect to get the luxurious stay here as you may on the Avalon side.
But, if you are all about the camping lifestyle then this place is for you!
You can either bring your own tent or you can reserve one of the tent cabins offered by the campground. Considering I was on this trip with my mom, we chose the latter. However, I would love to come back sometime and camp in my own tent.
There are about 44 tent sites and 13 tent cabin sites so make sure to make your reservations far in advance as these spots quickly sell out.
The tent sites looked stunning. Some were nuzzled between the palm trees and others were on the cliff right over the ocean.
The tent cabins we stayed in were wonderful as well. They can sleep up to 6 people. 6 cots are provided along with a propane stove, propane, and a battery fed lantern. You will also have a campfire pit and a picnic table at your tent cabin site.
There are vault toilets and cold showers located throughout the camping area.
Campers can expect to have stunning views of the ocean from all sites. This place is truly like no others.
Upon arrival to Two Harbors, whether that is via the Cyclone or via the Catalina Express from San Pedro, you will need to check-in at the Visitor's center at the end of the pier.
Check-in time to the campground is at 200pm, however, feel free to arrive at Two Harbors prior to that time. Upon receiving your permit from the Visitor's center you can either choose to walk your gear up to your campsite (about a ½ mile walk up a steep dirt road) or you can pay $5 to have them drive your gear up and then back down when you are checking out.
If you are in need of food, the Village general store has lots to offer! I was surprised to find how much variety they had.
They even had almond milk and dairy-free cold brew! My dream come true!
You can have your groceries delivered to your campsite as well for a $20 fee or if you can just have firewood delivered to your site for $5.
Tip: The General store will give you matches to start your campfire for free!
SAMPLE WEEKEND CATALINA ISLAND ITINERARY
To make things easier for you I wanted to list out a complete Catalina Island itinerary for you.
This itinerary can be applied to any days of the week, but I took this trip over a weekend.
Day 1: Avalon to Two Harbors
615am: Arrive at the Long Beach port and prepare for departure
700am: All aboard the Catalina Express and depart to Avalon
8:30-1000: Gran breakfast and/or coffee from Cafe Metropole. Walk around and shop
1000am: Line up for the Cyclone on the Green Pier
1015am: Take the Cyclone over to Two Harbors (40 min)
1100am: Arrive in Two Harbors
1100-1245: Lay on the beach, jump in the water
1245-145pm: Lunch at Harbor Reef Restaurant
145pm: Walk up to your tent cabin or tent spot. Check-in starts at 2pm
200pm: Unpack your items and head back down to the beach
200-430pm: Layout and relax on the beach
430-500pm: Head back to your tent and prepare for a sunset walk
515-645pm: Do the lower Ballast point walk for sunset
645-800pm: Dinner at Harbor Reef
800-915pm: Fire and s' mores at your campsite
915pm: Bedtime
Day 2: Two Harbors back to Avalon
630am: Wake up and get ready for a sunrise hike
630-830am: Sunrise hike to Upper Ballast Point
830am-915am: Grab a coffee from the general store and sip it while on the beach
930am-1100am: Pack up your tent and bags and make breakfast at your campsite
1100-315pm: Kayak and snorkel
315-400pm: Return kayak gear and shower, grab a snack from the General Store
415pm: Line up for the Cyclone boat returning to Avalon
430-510pm: Take the Cyclone to Avalon
510pm-600pm: Grab dinner in Avalon (we ate at Mi Casita)
600pm: Line up for boat ride back to long beach
630pm: Catalina Express to Long Beach
800pm: Return to Long Beach and drive home
***It may have been better to take the 730pm Catalina Express back to Long Beach to allot more time for dinner in Avalon, but the sunset was beautiful from the boat and we needed to return home to prepare for work the next day.
Want to spend the majority of your time in Avalon instead of Two Harbors? Check out these 20 things to do on Catalina.
FAQ
While I was on my mini getaway to Catalina Island I posted a bunch of stories on my Instagram along the way and received a ton of DMs with questions about my trip.
I wanted to answer all these wonderful questions in a blog post!
(I have saved all my Catalina Island stories in my "highlights" section for you to reference at your leisure)
–How much is the boat ride? Round trip for an adult it is $76.50
–How are the bathrooms on Two Harbors and are there bathrooms at the campground? This is a great question! There are porta-potties throughout the Two Harbors campground as well as some outdoor sinks. There is also a shower at the campground.
However, the shower is basically a pop-up shower with a tarp used as the curtain located on the dirt.
There are full-on restrooms with shower stalls at the base of the campground in the little town of Two Harbors. They are located directly across the Harbor Reef restaurant. These showers are much cleaner and are the ones I personally chose to use.
*Make sure to bring quarters as the showers only take quarters. It is $2.00 for 3 min and 20 seconds.
-What about motion sickness while on the boat? This is a tough question for me to answer as I don't get motion sick on boats, but I can tell you how the boat ride was.
The Catalina Express is a large boat that holds a lot of people. You do feel some motion, especially if you get up and walk around, but for the most part, it was pretty smooth.
The Cyclone (boat from Avalon to Two Harbors) is a speed boat. The ride from both Avalon to Two Harbors and the return ride were extremely smooth.
-Did I have everything planned out ahead of time? Yes and no. I took this trip with the Visit Catalina Island company, so they had it planned for me, but you would not need to have it all planned out. I would say the only things you need to have set in stone would be your boat ride tickets and your camping reservations.
My mom and I found our own hikes once we arrived, we found our own restaurants to eat at and we chose what time to use the kayaks and snorkeling gear.
FINAL THOUGHTS FROM YOUR OUTDOOR LOVING GIRL
Wow! This Catalina Island itinerary was packed full! I hope you enjoyed reading through it and I hope it has helped you plan your next vacation!
Tell me in the comments if you have ever done a little getaway to Catalina Island and what was your favorite part?
As always, feel free to ask me any questions below!
Like this post!? Save it for later! Just pin it!
YOUR COMPLETE TWO HARBORS CATALINA ISLAND ITINERARY