Today, we're diving into the exhilarating world of camping with a newborn. Yes, you heard it right – you can introduce your little one to the wonders of the great outdoors from an early age!
Join me as I share valuable tips, personal experiences, and expert advice to help you navigate this unforgettable adventure. Camping with a newborn may seem daunting at first, but with proper preparation and a spirit of adventure, you'll create lasting memories while fostering a love for nature in your little bundle of joy.
So pack your camping gear, embrace the soothing sounds of nature, and get ready to embark on a remarkable journey as we explore the beauty of camping with your newborn companion. Let's set up camp and create cherished moments that will be treasured for a lifetime!
About this Guide to Camping with a Newborn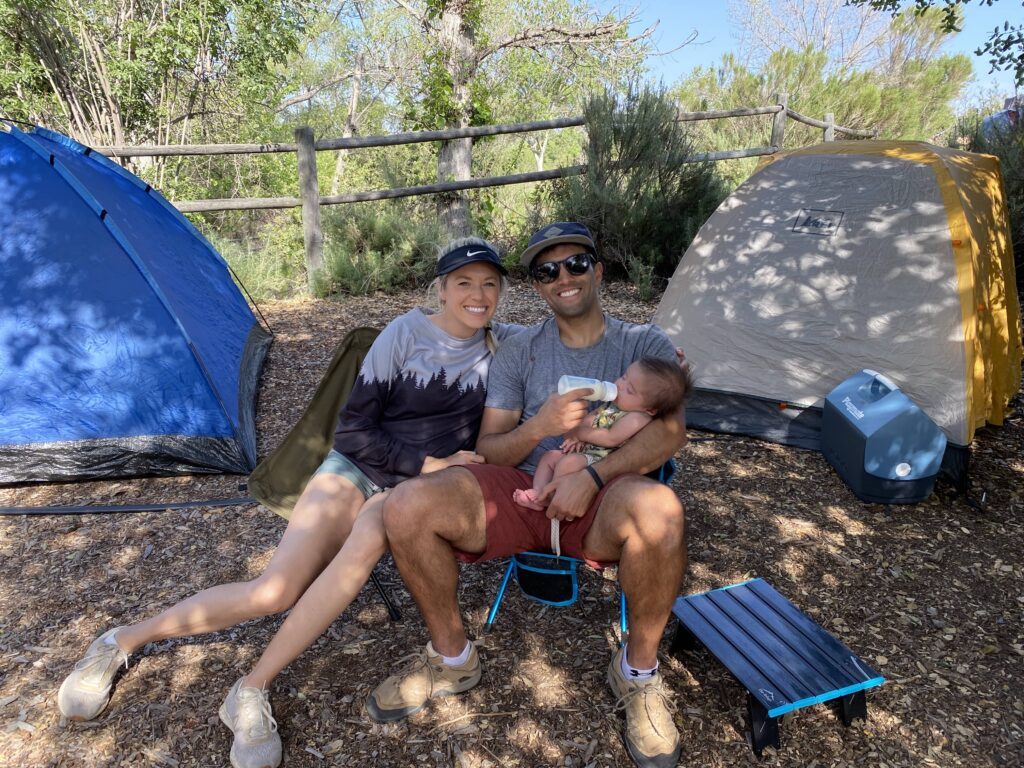 Becoming new parents brings a lot of changes and means creating a new normal. There are some things that we naturally let go of and others that take priority. But, when it comes to camping, a lot of people are hesitant to do it with a new little one. They question "Can I take my newborn camping?" And then, "What is needed to take a newborn camping?"
Don't worry. The simple answer is "Yes! You can take a baby camping." This guide is here to help prepare you for your first camping trip with your baby.
When to Camp with a Newborn
"When should we camp with our newborn?" is a big question. And it needs to be answered in a few different ways like "How old should my baby be?" "What time of year should we go?". Let's unpack these various "Whens".
Is it Okay to Go Camping with a Newborn?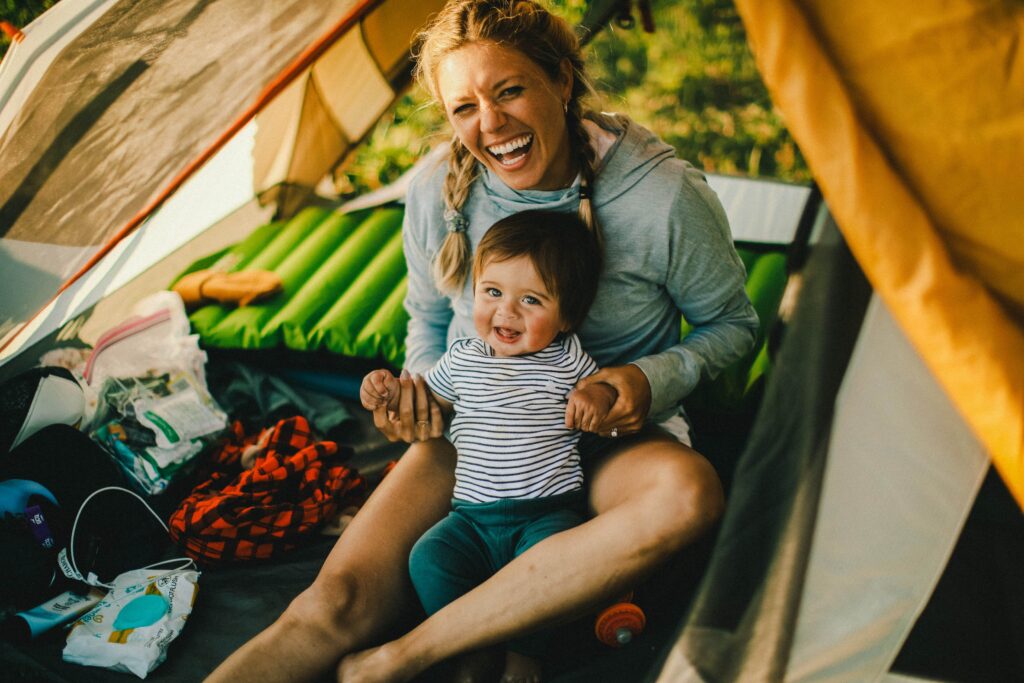 You probably have this same question about doing just about anything with a newborn, which is totally natural.
As parents of a brand new, teeny tiny little one, it's always good to weigh the pros and cons. Then make sure you're prepared.
First, fresh air is good for all of us. From babies to grownups, it's so much better to be outdoors rather than be cooped up inside all the time. It's also super good for new parents to get out of the house. It helps with sanity!
Now, there are some cons to camping the little ones like lack of running water if you are backpacking, lugging all the baby gear around, and bugs. But these are issues that can easily be resolved with a bit of prep and planning.
Another idea is to ask your pediatrician. They may bring up some things you haven't considered or precautions you should take.
How Early Can You Bring a Newborn Camping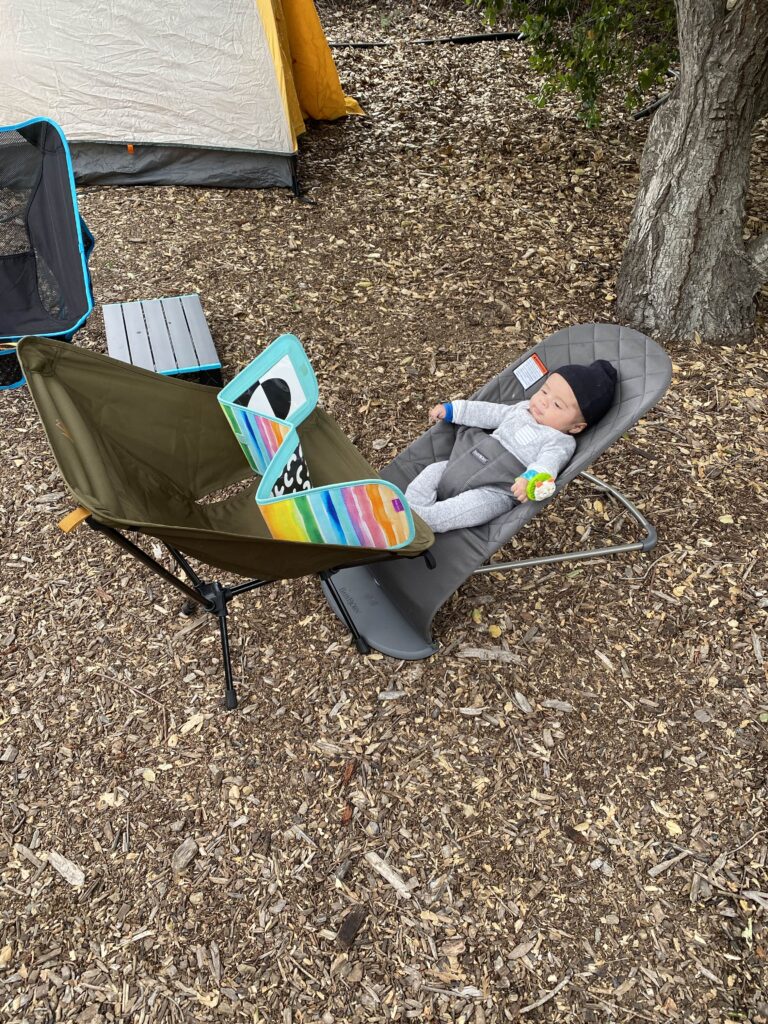 There are some people who bring their newborn camping as early as a few days or weeks after their child is born. And, if we think about it, our ancestors were giving birth to babies in the great outdoors too. So, why not take your little one on a camping trip?
Depending on the developmental stage your baby's in, there are things to take into consideration:
Up to three months old, your baby is likely sleeping a lot, which can make camping easier. The difficulty comes in the frequent feedings especially during the night. Another caution is that a baby's immune system is developing during this time, so this may hold you back from camping. The best thing is to listen to your intuition and ask a doctor if you're unsure.
Until babies become mobile, somewhere around nine to 12 months, they are usually content in a pack n play or bouncer, making camping pretty easy. It's when they start to crawl and then walk that you'll have to keep a closer eye on them.
Something to consider though is it's not always if a newborn is ready to go camping. The question might be "How early can mamma go camping?" You just gave birth so you might want to be kind to your body and stay in the comfort of your home for a bit.
Time of Year to Camp with a Newborn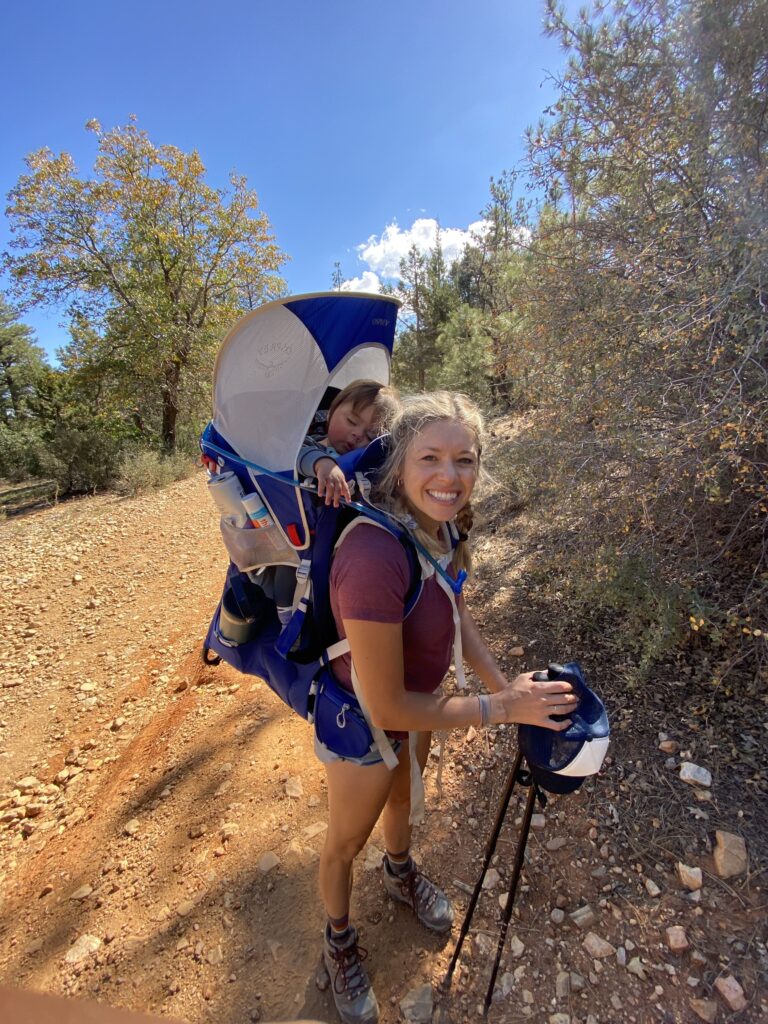 Depending on where you plan to go camping, this is a big thing to figure out. You don't want it to be too cold or too hot.
In many parts of the country, the summertime is ideal to get out of our stuffy, hot homes and into the cool sanctuary of the woods. While in other areas, it's a nightmare to venture outside during the unbearable heat of the summer.
A rule of thumb is to check the temperatures. You'll need to check daytime highs and the nighttime lows.
Check the Weather when Camping with a Newborn
Regardless of the time of year, it's really important to keep an eye on the weather when camping with a baby. Remember to check not just precipitation but also wind. You'd hate to have your little one out when the wind is whipping, regardless of whether it's sunny or not.
Where and How to Camp with a Newborn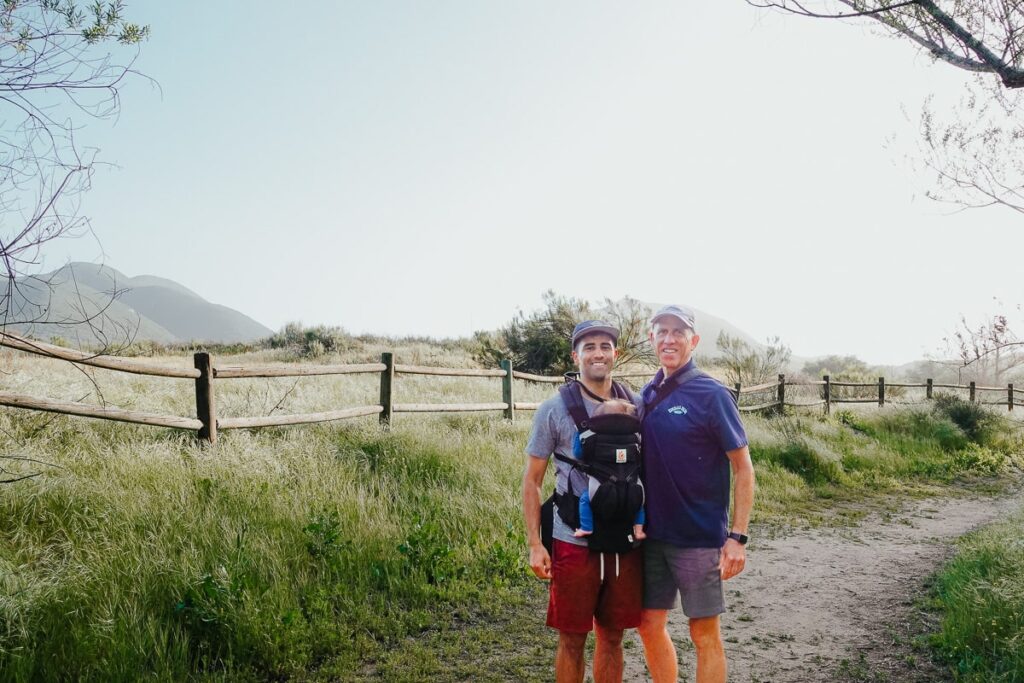 There's a bit to consider when choosing a place to camp with a newborn. Dispersed camping or use an established campground? Let's explore the various options.
Dispersed Camping with a Baby
There's something about going out in the beauty of nature and setting up camp. Dispersed camping gives a family the ability to be far from others and in the serenity of mother nature. Sounds magical, right? It can be.
But to do it with a newborn, you'll definitely need to bring more to make it all work. The lack of running water, electricity and trash receptacles just means you'll have to bring it with you or figure out workarounds. For example, it's a good idea to have an odor-proof box or bags to pack out soiled diapers.
Campgrounds with a Baby
It's usually a good idea to stay at a campground for your first camping trip with a baby. The pluses come in that there are usually facilities like bathrooms, electricity and running water. These will all make camping with a newborn smoother.
Depending on the campgrounds, the campsites might be close to one another or further apart. With campsites clustered together be aware that neighbors may hear your baby waking up for night time feedings. And vice versa, noises from other campers may make it hard for little ones (or you) to sleep.
Staying at a campground usually means you'll have to make advanced reservations. This could be a hassle, or, it could provide some welcome structure in knowing exactly where you'll be staying.
Altitudes and Babies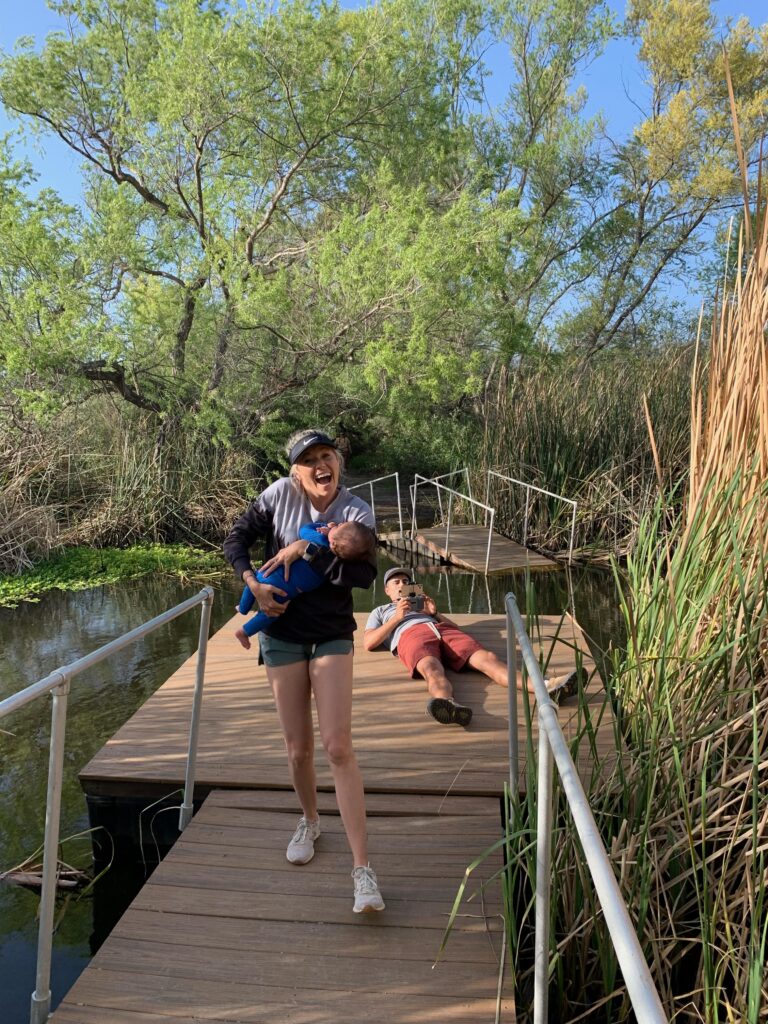 When it comes to babies, altitude is something you should really pay attention to when planning your next camping trip with a newborn. And most importantly, talk to your pediatrician.
Typically, parents are advised not to take babies to high altitudes until they are at least three months old. We all know about the trouble of altitude sickness, which you would not wish on your newborn bundle of joy. As little ones grow, they become more resilient to altitude change, but again, use precaution and when in doubt, talk to a doctor.
Car Camping with a Newborn
So, a major suggestion would be to go car camping for your first-time camping with a baby. Why? You'll have your car parked within steps of your campsite. That means you'll have the luxury of bringing just about anything you might possibly need. This way, your car can act as a huge luggage case. Not sure if you'll need the bouncer? Bring it. Then pull it out of the trunk of the car if and when you need it.
Car camping with a baby also means you can take a larger tent. Since you won't need to lug it on your back along with everything else, you can go for the deluxe tent if you want. Then you can fit everything in the tent including a travel crib if you want.
Other types of Camping with a Newborn
You might feel like sleeping in a tent is the true form of camping. But when it comes to the first camping trip with a baby, it doesn't hurt to consider different set ups. Maybe tent camping just isn't the right thing for the first time around.
Cabins, glamping and RV-ing will give you the ability to be in the great outdoors but with a number of amenities that make camping with a baby so much easier. So, instead of calling off the camping trip all together, think of these as a compromise.
What to Bring when Camping with a Newborn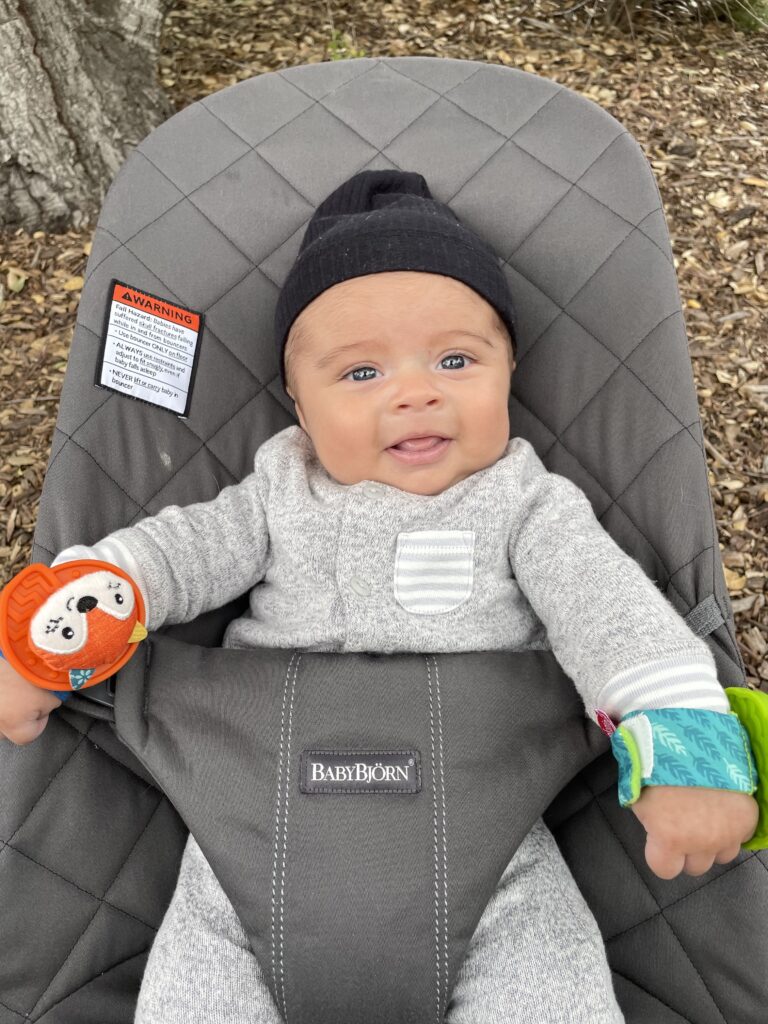 It would be nice to bring just the whole house with us when camping with a newborn, but honestly, that's not practical. Part of the beauty of camping is the ability to leave most of it behind. So, when it comes to camping with your newborn, you'll have to think about what needs to come and what can be left at home. Let's figure out what to pack.
Food to Bring when Camping with a Newborn
When considering what to bring for food for adults, go with the tried and true. If you're breastfeeding, however, you'll have to kick it up a notch. Since you're eating for two, it's important to have enough food and water on hand to keep that sustained. This also goes during middle of the night feedings. You'll be super happy if you have a snack and water within arms' reach.
For formula-fed little ones, make sure you've got a plan figured out beforehand. Will you bring premixed liquid formula or powder? Will you need to heat up the formula? Consider bringing along a portable bottle warmer (like this one from Beeva) and a pre-measured powder formula container like this one from Phillips Avent.
If you're worried about cleaning and sterilizing bottles check out Steri-Bottles. They are single-use baby bottles that can be recycled. Yes, using reusable bottles is best, but if you're worried about making sure they are safe for your camping baby, this might be a good compromise.
Clothes to Bring when Camping with a Newborn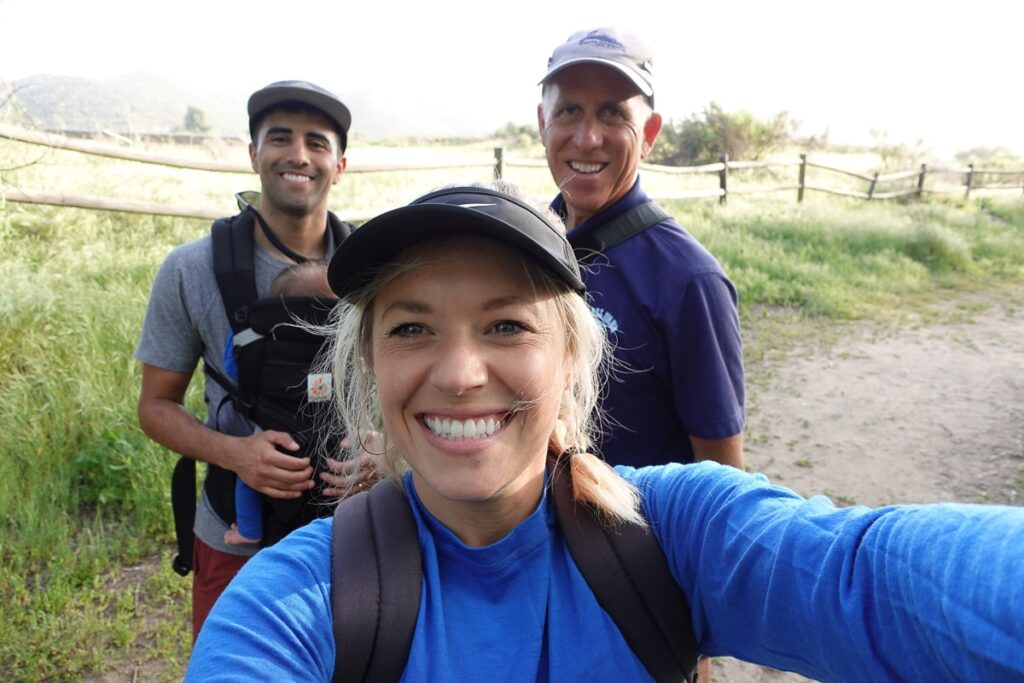 A key to a happy baby is to make sure they are happy and comfortable. So, when it comes to packing clothes for your next camping trip with your baby, here are a few tips.
Remember the steadfast rule of thumb that babies should be wearing one more layer than you. Although we tend to want to bundle them up, it's important not to overdress. A hot baby is not a happy baby.
Depending on the season and temperatures, use your best judgment to dress your baby. At night consider a onesie and a sleepsack (fleece for cold weather, cotton for warmer temps). Baby sleeping bags are a good idea including the Morrison Outdoors Little Mo.
When it comes to diaper changes make sure the clothes are easy to get off and back on. For that reason, avoid back snaps and too many full-body suits.
Like always, plan to bring more clothes for your little one in case of a blowout.
Remember that using sunscreen and bug spray should not be used on newborns. Instead, make sure to dress them in long sleeves and pants (lightweight if the temperature is warm).
Don't forget your baby's hat! Either for the sun or the cold depending on the season.
Sleeping Gear to Bring when Camping with a Newborn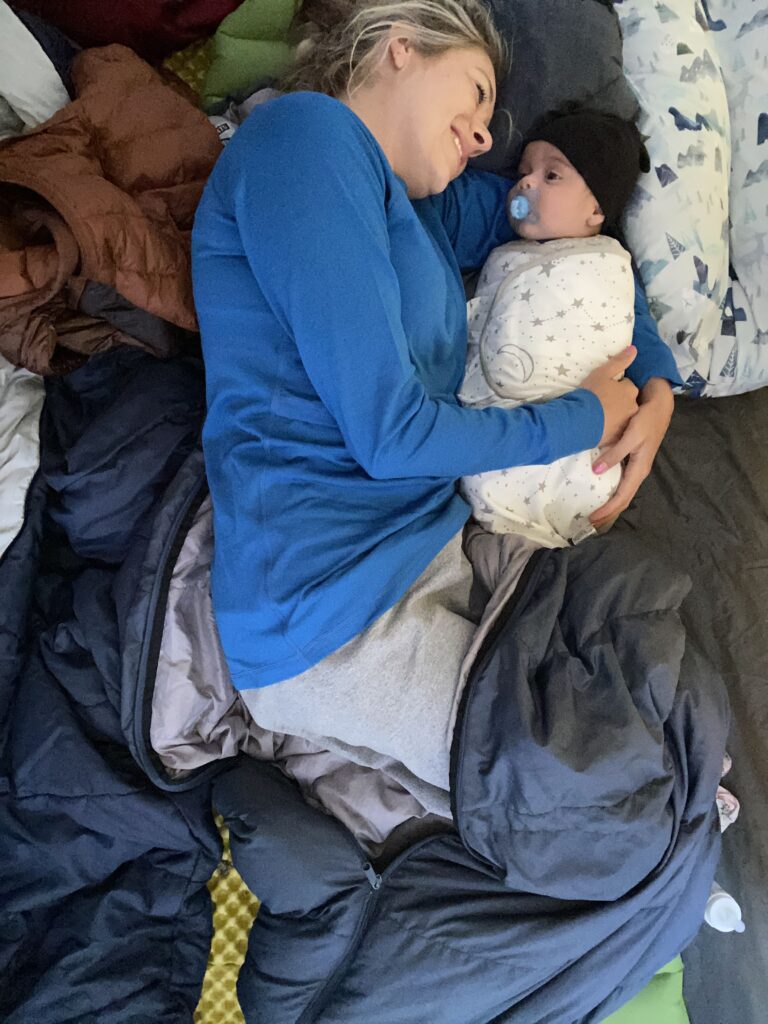 Figuring sleeping arrangements out ahead of time is a pretty good idea. This way you can decide what gear to bring on the baby camping trip.
Keeping it simple, you can easily have your baby sleep between you and your partner on a sleeping pad. To make this safer it's best to have a co-sleeping bassinet like this Snuggle Nest from Baby Delight.
Taking sleeping up a notch for your little one, you can use a travel crib. This will take up a lot more space in the tent but can easily be used for daytime naps and a safe play area as your child grows. The Lotus Travel Crib is a good option. The zip downside is perfect for easy access to baby during nighttime feedings.
For your little one to sleep during the day a blackout cover really helps. Ones like the Slumber Pod fit over a travel crib or Pack n-Play.
Another option that is all-in-one is the KidCo Peapod portable travel bed, which can zip closed protecting your little one from bugs and the sun.
To help soothe your baby at bedtime, consider bringing along a portable sound machine. This one from Frida Baby is a good option.
Changing Gear to Bring when Camping with a Newborn
Diapers. Diapers. Diapers. Make sure to bring more diapers than you think you'd need. This is one of the things you'd rather have more. So, pack them in.
When choosing wipes, go with unscented ones for your next baby camping trip. You don't want anything to be attracted to the scented ones, especially bugs.
Make sure to bring a solid changing pad. Yea, you could change a diaper on a sleeping bag, but it's really inconvenient to clean it off afterward. If there's a mess during a diaper change, it's much easier to wipe down the changing pad.
Hiking Gear to Bring when Camping with a Newborn
Depending on the type of hiking you're going to do you'll want to use a baby carrier or a stroller. Baby carriers are great on hikes and just hanging around the campsite. The Ergobaby Omni 360 is a great one that will grow with your little one. Transitioning from front to back and even side carrying. It will support up to 35lbs.
If the trails are a bit flatter, consider pushing a jogging stroller. The large wheels have great tread and are ready for anything from trails to sand.
Checklist for Camping with a Newborn
Sound Machine – Ones like this Frida Baby are great to use at home or while camping with a baby.
Warm layers – You'll be happy to easily dress your baby if it's chilly. So, make sure to have a fleece sleepsack, baby sleeping bag, and hat with you on the baby camping trip.
Diapers – Remember to bring more than you think you'll need.
LUCI light for the night – The LUCI Light is perfect to use during nighttime feedings. Its solar power can also charge your cell phone.
Baby Bouncer – It's key to be able to set the baby down while you cook. This Summer 2-in-1 Bouncer is great and folds flat for easy packing.
Baby carrier for when you want to walk around camp. The Ergobaby Omni 360 is perfect because it grows with your baby. Depending on the baby's age, you can carry the baby in the front (facing in or out), on your back, and even on your hip.
Jogging Stroller – The large wheels and great suspension like on this Baby Jogger is perfect for rough terrain while camping
Top Tips for Camping with a Newborn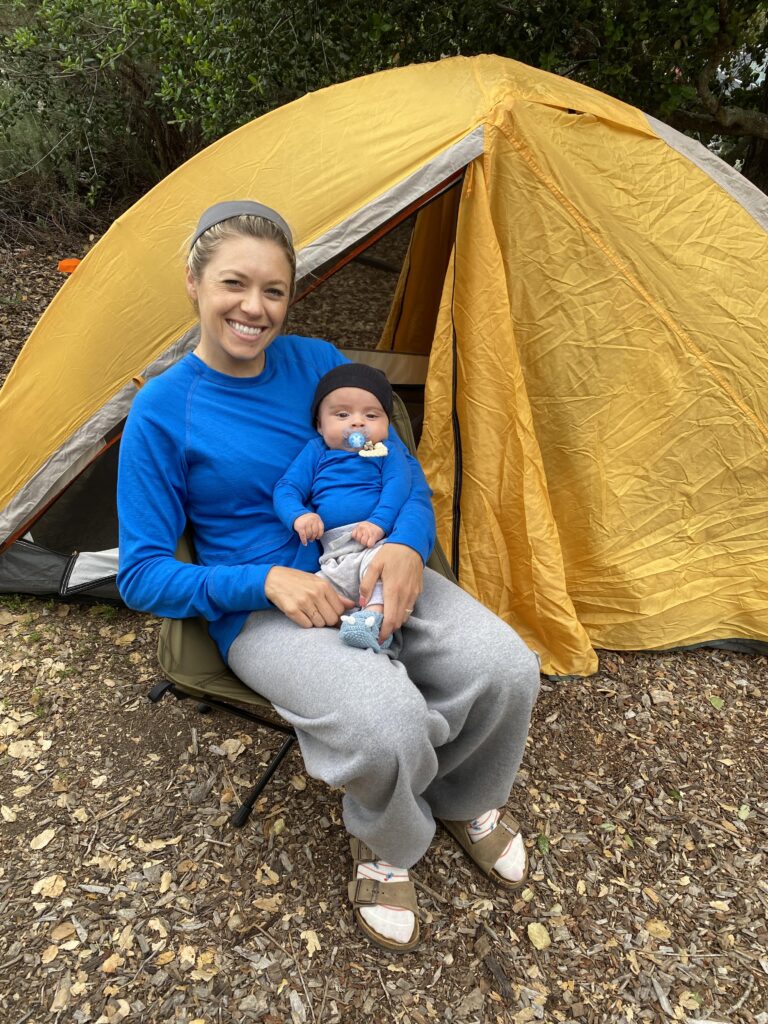 At this point, we've gone over the major things to consider and take with you on your next camping trip with your baby. But, these are a few top tips to help set your mind at ease and give you the confidence to get out there and embark on your next camping adventure with your newborn.
1. You'll never be 100% ready
Let's be honest. There's a level of preparation you can do but then you just gotta get out there and give it a try. So don't try to be absolutely 100% ready. It's just not possible.
Have faith that you'll be able to handle things. And, if things come up you'll roll with it, doing what's right for you baby, and for you.
2. Have an Exit Plan
It's great that you have plans to spend days camping with your little one. But unexpected things happen. That's why it's important to know what you'll do in case something does happen.
Scout out the closest hospital to your campsite. Since cell service can be spotty, print out directions and have them on hand just in case.
It's also a great idea to stick close to home for the first camping trip (or two) with your baby. That way you can be in the comfort of your home in no time.
3. Update Your First Aid Kit
Sure, your first aid kit is ready with things for bumps and bruises. But it's a good idea to throw in a bottle of an infant's Motrin. Remember to make note of your baby's dosage and remember to change it as your little one continues to grow.
4. Practice First
It's always a good idea to try things out before you hit the road. This will help troubleshoot issues before you're in the great outdoors. For example, if you set up the tent ahead of time, you can figure out where everyone will sleep. You may realize that your travel crib is too big for the space. With ample time you can figure out a solution like getting a bigger tent or a smaller bassinet.
Camping with a Newborn Final Thoughts
In the end, camping with a newborn is not just about the destination or the activities; it's about creating precious moments of connection and adventure with your little one.
As you watch them marvel at the flickering flames of a campfire or feel the gentle breeze on their face during a hike, you'll witness their sense of wonder come alive. Yes, there will be challenges and adjustments along the way, but the rewards far outweigh any temporary inconveniences.
Camping with a newborn is an opportunity to slow down, unplug from the daily hustle, and embrace the simplicity and beauty of nature. So, fellow adventurous parents, don't be afraid to pack up your gear, strap your baby carrier on, and embark on this incredible journey. From the babbling brooks to the starry night skies, the great outdoors eagerly awaits your arrival. Cherish these precious moments and forge unforgettable memories as you introduce your little one to the wonders of the natural world.
Happy camping, and may your family's outdoor adventures continue to flourish and grow!