Stroller Friendly Trails in San Diego
If you're someone who loves the outdoors, then planning a hike or two is always a great way to explore. San Diego features some amazing, protected lands that lead to captivating views and showcases its history. But not all are suitable for strollers.
It can be hard to sift through the hiking and park websites to find reliable information, so that's where I come in. Considering I am a new mom myself and have already taken baby Landon on multiple hikes I already say I am an expert!
Whether it's just you and the little one, or you have a whole crew of lovely monsters, there are plenty of stroller friendly hiking trails in San Diego County.
So before you go asking Google Maps for stroller-friendly trails near me, read on to learn the best spots to hike with the entire family.
What kind of Stroller do you need?
It all depends on the type of hike you choose to do. I personally have a jogging-type stroller and have found it to be the most versatile stroller for outdoor activities.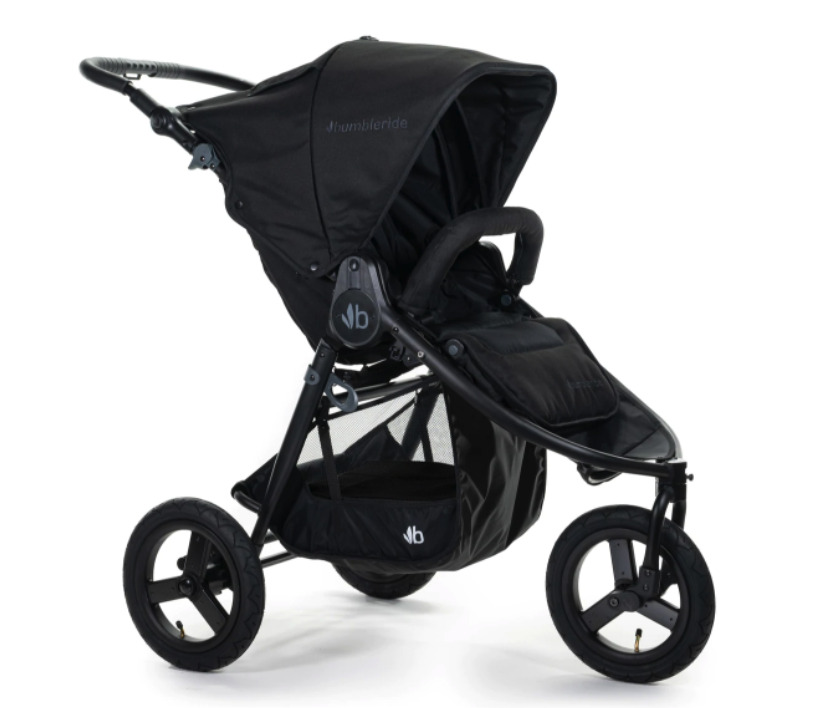 Having a stroller with 3 wheels allows for more stability and flexibility when out on a hiking trail. I chose to go with the Bumbleride Indie All-Terrain Stroller which was specifically made for "The Adventurer."
This is an all-terrain stroller which is perfect for San Diego as we have the option of paved trails and non-paved trails here. I love how lightweight and versatile it can be as it is ready to go from infanthood to toddler age with no attachments needed.
If you are looking for another great way to carry your baby other than a stroller, then I would personally recommend the Ergobaby. I have tested out a few different baby-wearing systems and have found this one to be the most supportive for both my baby and I.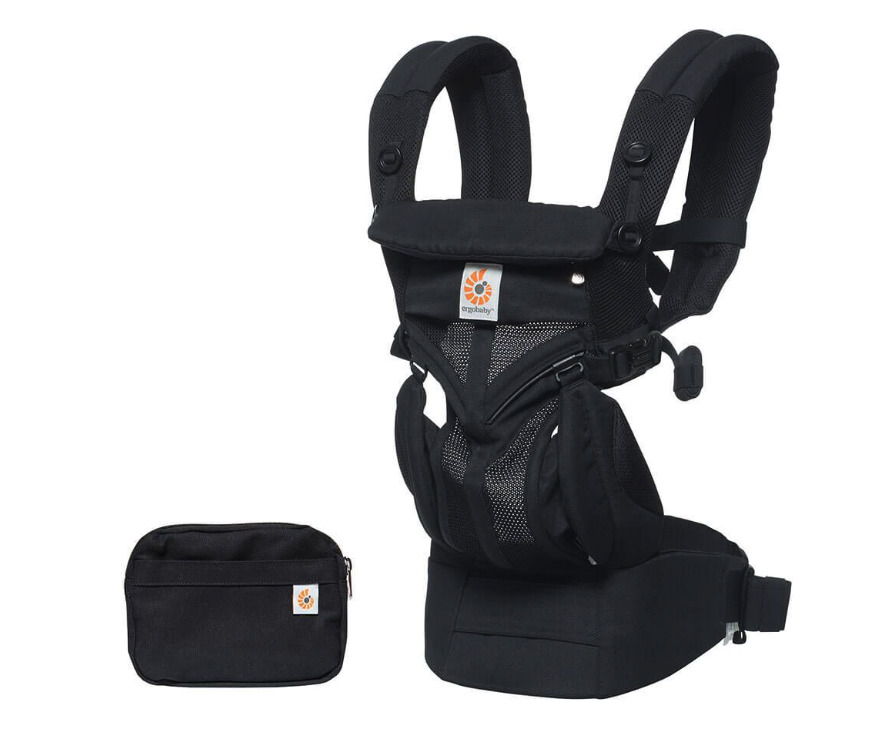 Stroller friendly TRAILS in San Diego
1. Mission Beach Oceanfront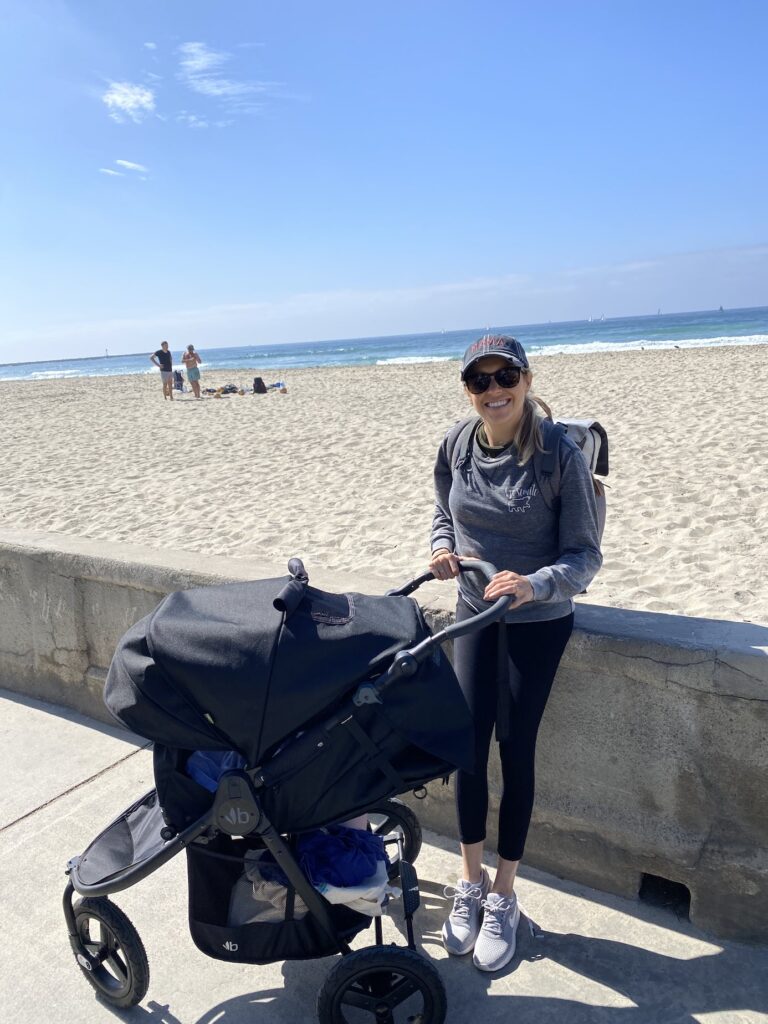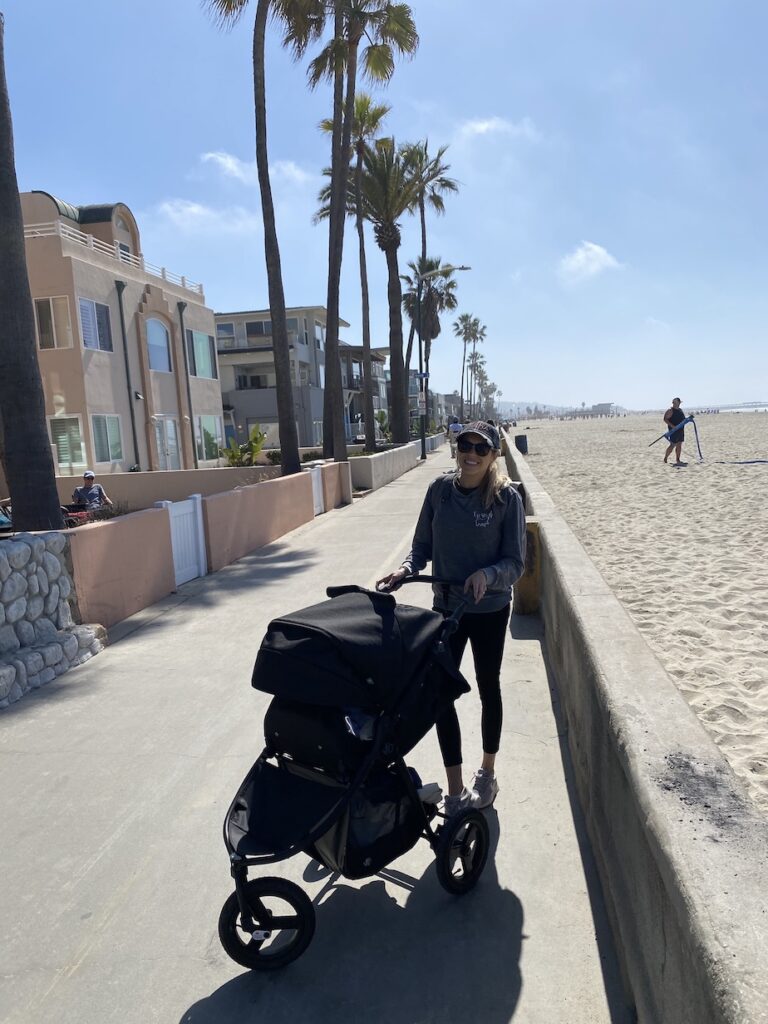 Boasting arguably the best stroller friendly hikes, the Mission Beach Oceanfront is as scenic as it is convenient. The Mission Boardwalk fringes the golden sand for 3.5 miles. The entirety is paved, flat, and a dream for all kinds of strollers, making it a great, kid-friendly hiking trail.
There's never a bad time to complete the leisurely walk, however, early morning and sunset are utterly beautiful. Coffee in hand, take your time going along the boardwalk as the morning waves roll in and the town slowly wakes up. While at sunset, enjoy the magical colors alongside beachgoers as you keep your eye out for the mysterious green flash.
Along the path, you'll have plenty of spots to let the little one play on the sand. Not to mention ice cream parlors for a treat.
2. Mission Trails Regional Park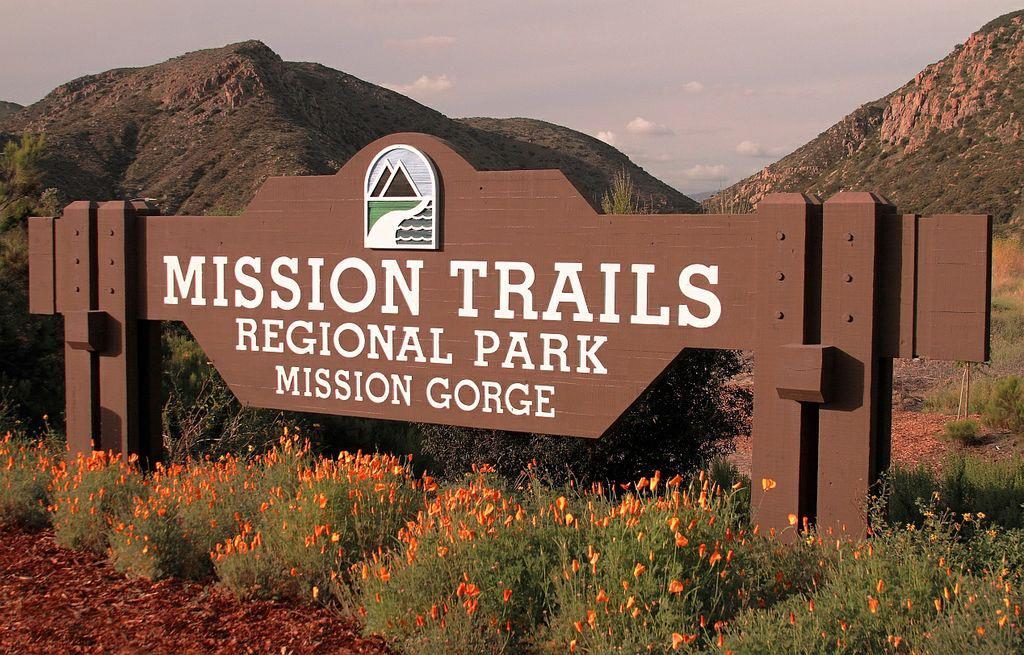 Home to 60 miles of hiking trails, strewn across one of the largest county parks in the United States, the Mission Trail Regional Park is an outdoor haven. With the rolling hills and dense forests, the gorgeous park has some memorable hiking trails, most not suitable for strollers. However, the Father Junipero Serra Trail has saved the day.
It's one of the best stroller friendly trails in San Diego and features four miles of carefully paved road that cuts through the heart of this adventure paradise. Along the way, you'll be able to rest up at the old Mission Dam and enjoy views from a series of peaks, including South Fortuna and Kwaay Paay Peak.
If you're lucky to be hiking in the fall, you'll be blessed with the oranges and yellows of the cottonwood and sycamore trees.
3. Balboa Park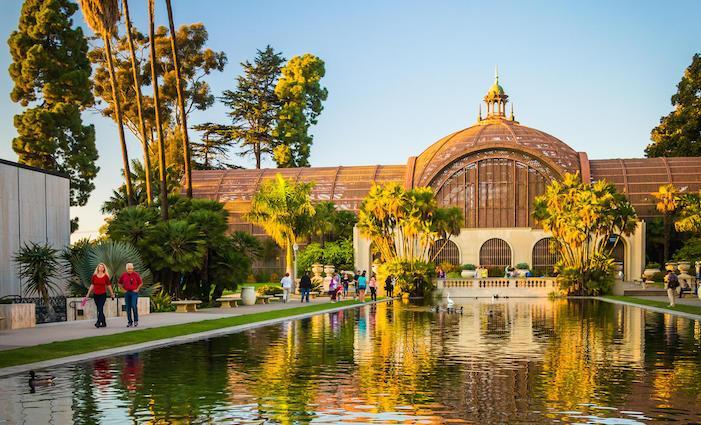 Even if you weren't worried about the stroller, Balboa Park would have been placed high on your San Diego itinerary. This beloved park holds a prominent place in local culture, effortlessly combining nature and humanity.
The park is more akin to a complex, featuring 17 amazing museums housed in Spanish colonial buildings and spread out across lush grounds. Between them all are scenic walking trails, each suitable for strollers. You can spend your time equally between the gorgeous nature and appreciating the architecture. All before checking out as many museums as you like. With its position just north of downtown, it's a breeze to get to.
4. Lake Poway Loop Trail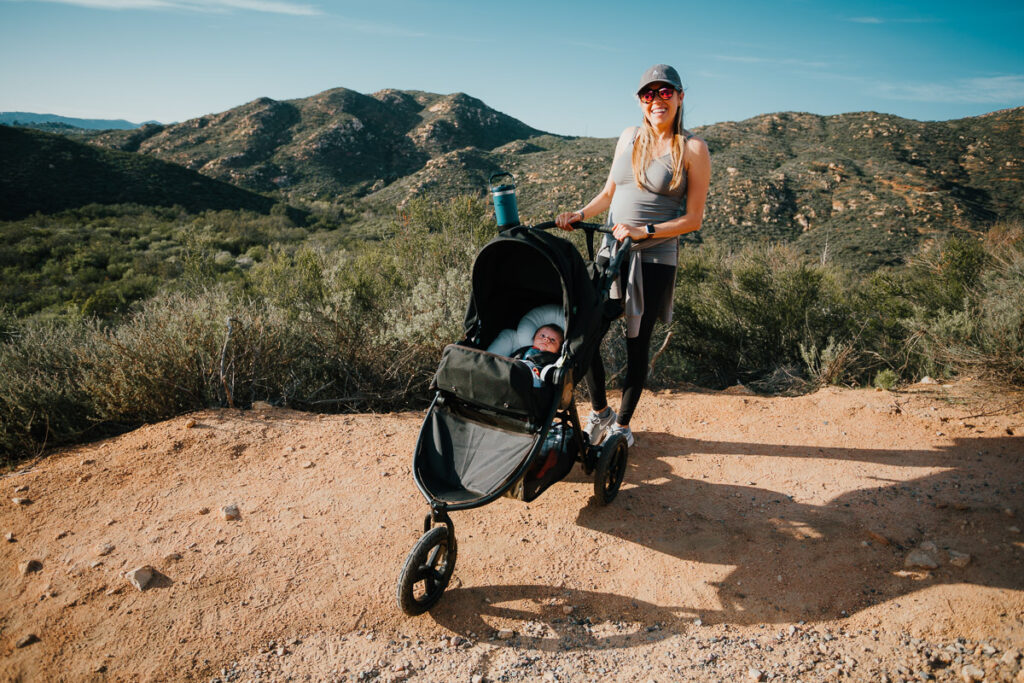 A trail that is not minutes from downtown, but well worth the trip, is the Lake Poway Loop Trail. The easy 2.7-mile stroller friendly hike takes you out of the big city and into nature proper.
You'll be joined at the lake by many hikers, but most will be embarking on the famous Potato Chip Rock hike. Lucky for you and your bub, you'll avoid the crowds while basking in scenic views as you make your way leisurely around the entire lake.
Much of the path is paved with the rest being packed earth. If you don't mind getting your stroller a little dusty, then you'll be rewarded with elevated views of Lake Poway with some side trails leading right down to the water.
5. Torrey Pines State Reserve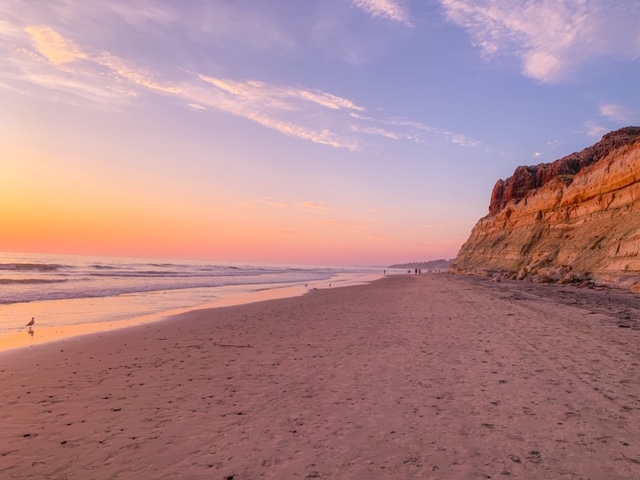 Not only is Torrey Pines State Reserve one of the most scenic outdoor locations in the area, but it's also teeming with kid-friendly hiking trails. The park is found high on the edge of the Pacific Ocean, providing a refreshing ocean breeze and spectacular views for the whole family to enjoy.
The paths in Torrey Pines are often rugged. There are few stroller friendly hiking trails within the park and they will probably need a jogging stroller. However, there are many easy day treks to make right from the parking lot, so you can make do with a carrier as well.
My personal favorite carrier is the ergobaby! It is extremely comfortable and does not kill the back when you are babywearing.
The state reserve offers daily nature walks in the summer departing at 10 am and 2 pm and in the winter, you may even spot some migrating whales.
6. San Elijo Lagoon Ecological Reserve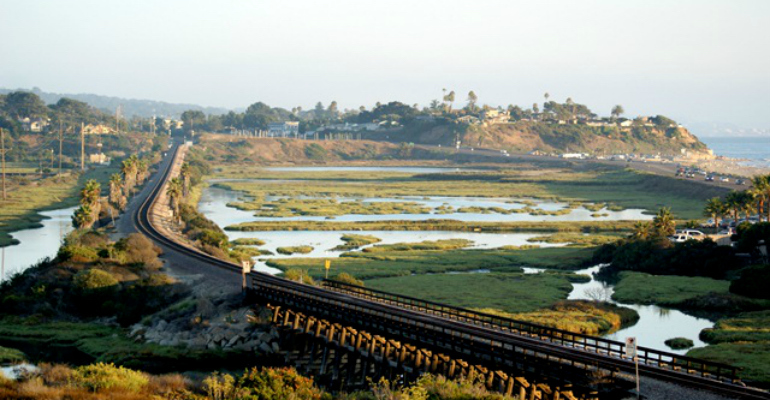 Featuring over 10 kid-friendly hikes, San Elijo Lagoon Ecological Reserve is a great place to break out the carrier or let the little ones run free. But don't worry, the stroller can still come in handy.
Some of the best kid-friendly hikes in the reserve include the 1.5-mile Annies Canyon Trail via the North Rios Trailhead and the 3-mile La Orilla Trail. Both are easy on the legs if you're using a carrier, while jogging strollers will be more than up to the task.
A trail that works for all strollers is the Nature Center Loop Trail, that is also ADA accessible. It's a short 0.75-mile walk alongside one of the few coastal wetlands left in California.
7. Liberty Station and Shelter Island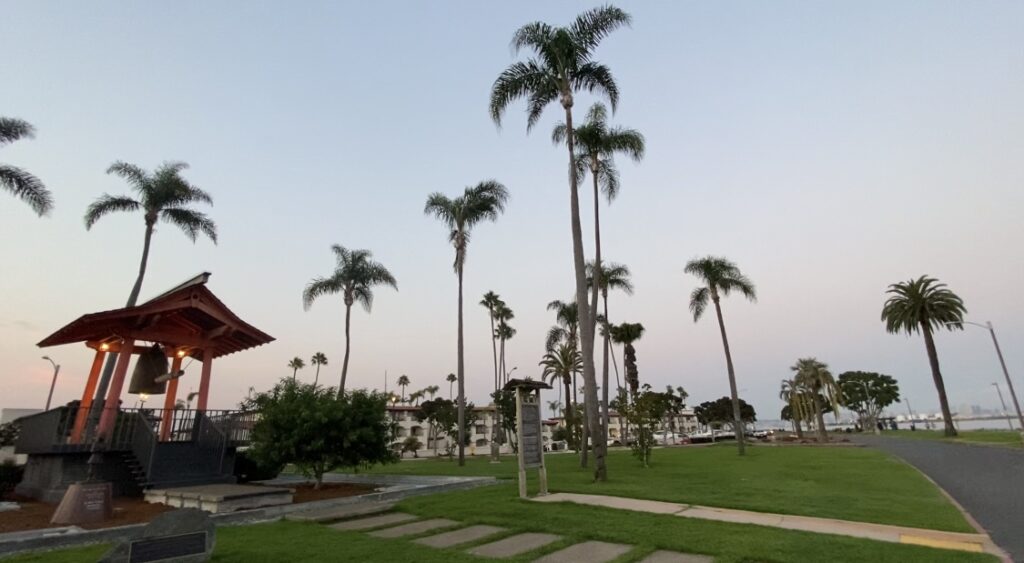 Alongside San Diego's Art District is Liberty Station and Fisherman's Landing. Starting from here, embark on a three-mile hike along the stunning waterfront all the way to Shelter Island.
As you push along the stroller across the easy, paved path, you'll be able to check out the marine laden with yachts and motorboats. You'll smell the aromas of top-notch seafood restaurants and to-go joints. Stop for a break or grab a snack and continue on.
Soon the path turns left towards Shelter Island, where you'll have a front-row view of San Diego Bay from Shoreline Park. Continue right, all the way to the Friendship Bell at island's end before stopping by another waterfront eatery.
8. La Jolla Cove Walk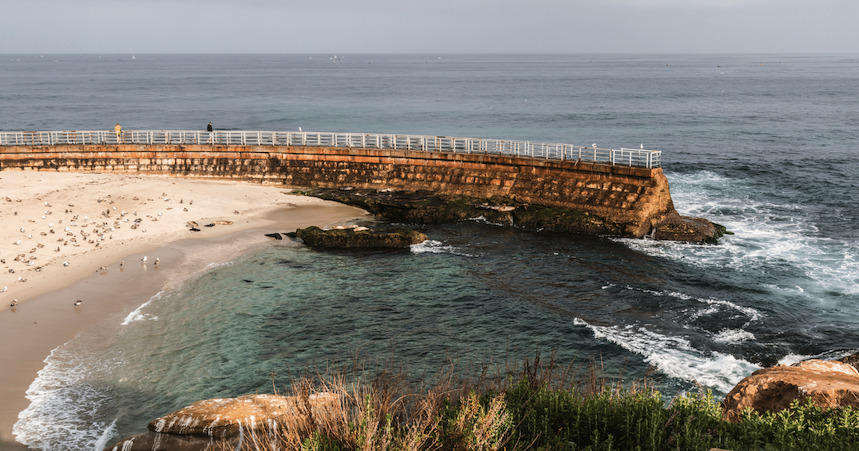 This next hike may not feature flat pavement, but the bumps along the short trek are well rewarded. La Jolla Cove is one of the best spots to swim in the city. There's magical snorkeling and mesmerizing sunsets.
The La Jolla Cove Walk is a short path that cuts down from the waterfront. The trail flows over sandstone that has been worn almost flat by thousands of footprints. From there, you can complete a few steps down to the cove and marvel at the rugged sea wall that's often visited by sea lions.
Nearby, you'll have access to stroller-friendly restaurants along with Children's Pool Beach.
9. Mission Bay Park Trails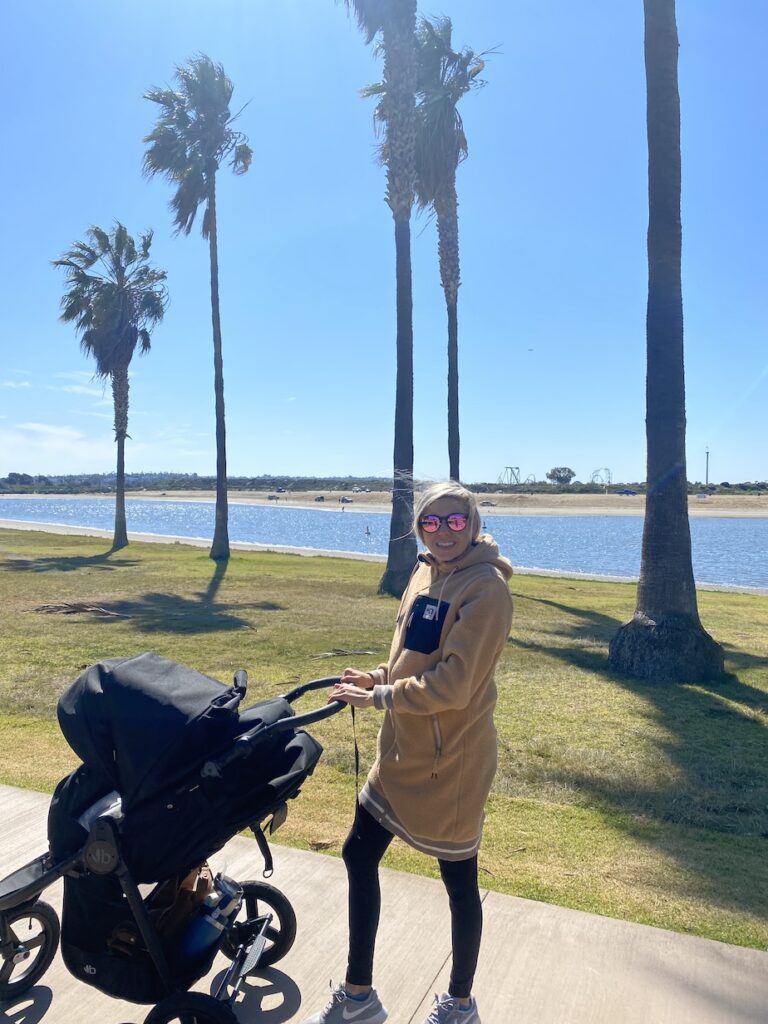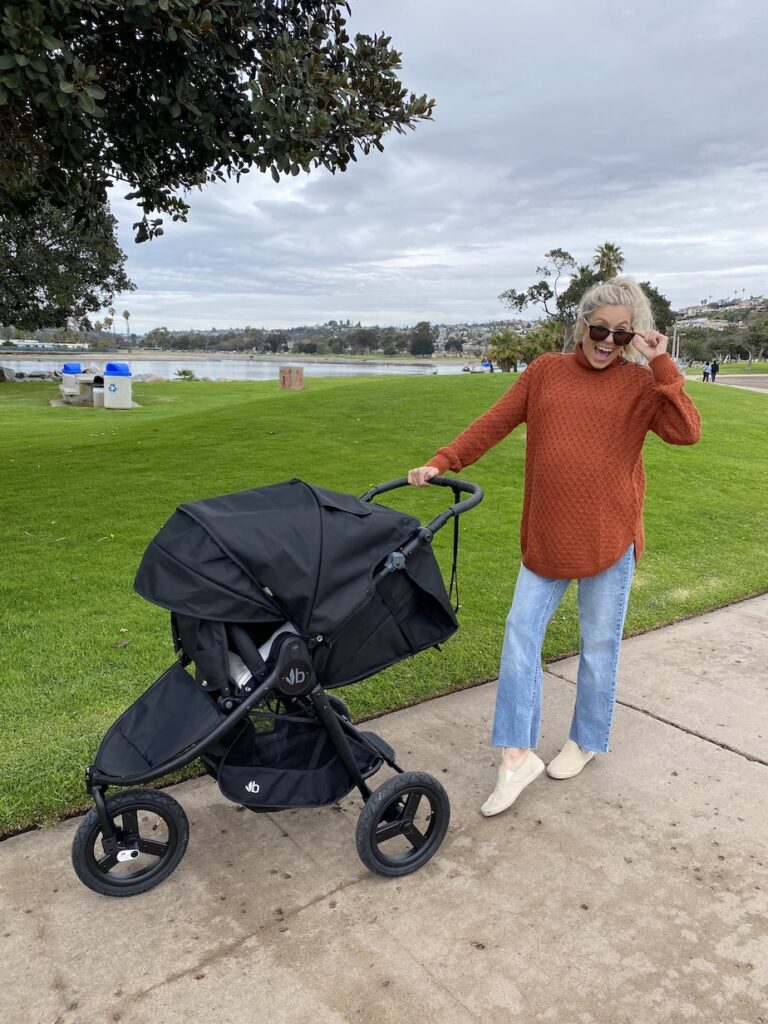 A brief trip from Mission Beach, the Mission Bay Park trails are always a vibrant place to be. At any time of day, you'll find locals going up and down the wide paved paths, getting their steps in and admiring the scenic lakes.
It's always a beautiful place to be. With 12 miles of paths within the park, you can simply start off and walk as far as you wish. Along the way, you'll come across picnic areas complete with tables and BBQ grills, plus public restrooms.
The park's lakes are encased in white sand, and without the impending waves, it's a relaxing spot to hang by the water.
On the other side of the Mission Bay Bridge is the San Diego River Trail, which stretches for 52 paved miles from the coast into Mission Valley.
10. San Diego Zoo Walking Trails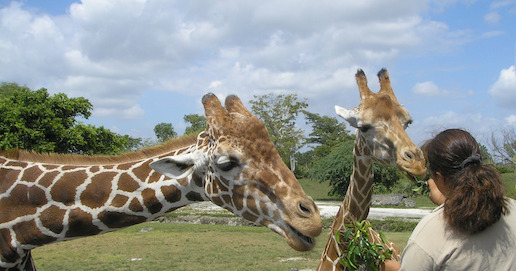 One of the highlights of Balboa Park is the San Diego Zoo. Internationally renowned, the zoo is quite honestly huge. Spanning 100 acres and home to over 12,000 species, you're going to want some comfortable shoes if you want to explore it all.
The San Diego Zoo allows you to tick off two things at once. One, enjoy a hike through an interesting environment, and two, keep the kids entertained. The zoo allows you to bring in all your own food and drink. That way you can explore and keep everyone happy without having to rub shoulders with strangers at the concession stand.
11. Old Town Historic Park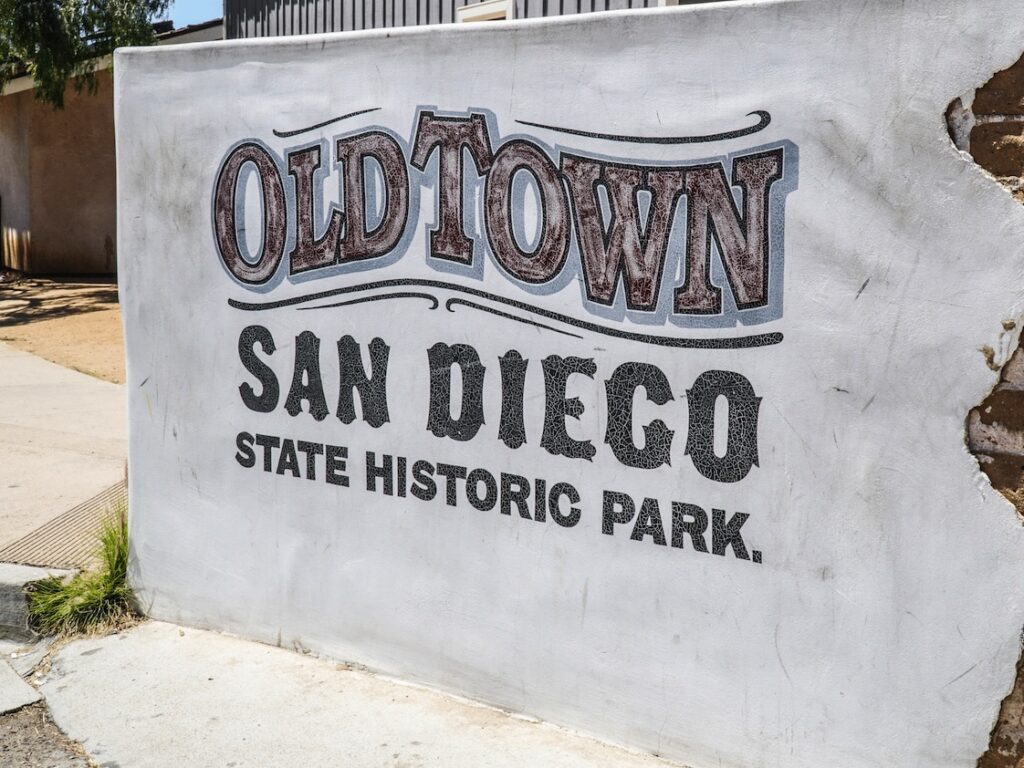 In a similar vein, Old Town Historic Park will also keep the entire family entertained while enjoying a walk outdoors. The interesting attraction is a few minutes from Mission Bay Park, providing the option to combine them both.
Entrance to the historic park and its multiple museums are free and so are the guided tours. The park has paved paths that run by the 19th-century buildings that help to showcase San Diego's history.
Old Town Historic Park is quite large, which helps to spread out the crowds. As you learn about the city's first settlers, you'll come across plenty of benches for a rest, bathrooms, and on-site restaurants.
12. The Bayside Trail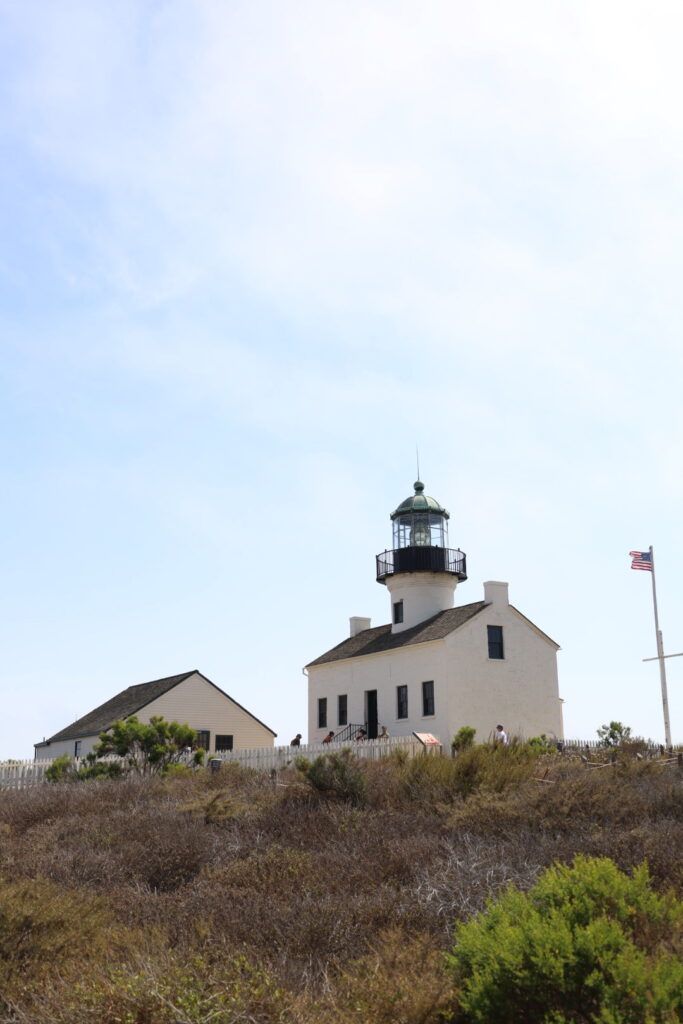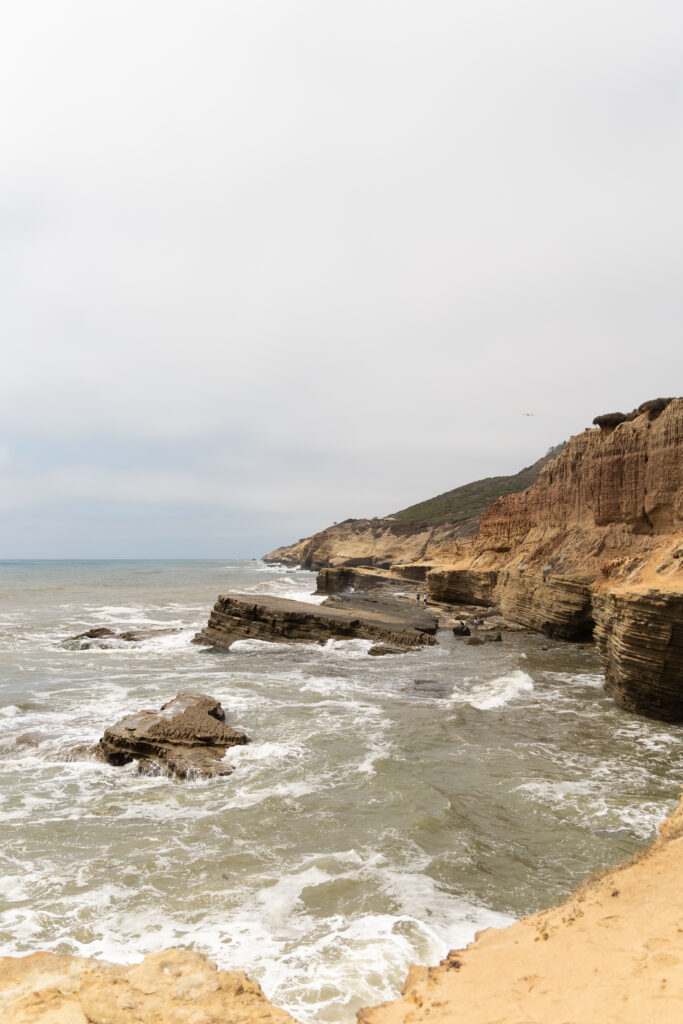 In the Cabrillo National Monument, the Bayside Trail is a brief two miles of scenic path that overlooks the stunning San Diego Bay. It was on the park's coast that Juan Rodriguez Cabrillo discovered San Diego in September 1542.
Despite the elevated viewpoint, the hike doesn't feature much uphill, making it one of our favorite easy hikes with a baby. Alongside views of the bay, you'll be able to see Coronado in the distance and all the way down to Baja California.
The 2-mile stroller friendly hike may be short and sweet, but it delivers views like few others in San Diego.
13. Miramar Lake Loop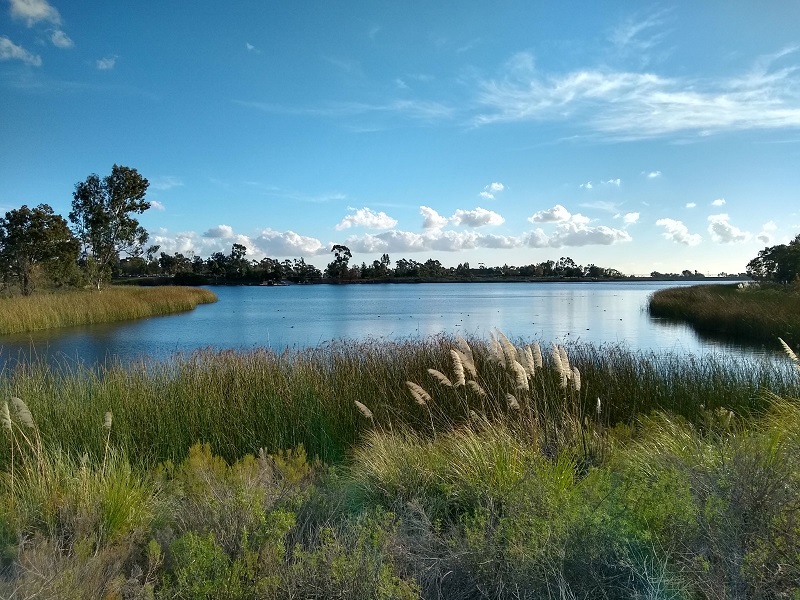 On your way to Poway Lake, you'll pass the town of Mira Mesa and the Miramar Reservoir. The latter is a popular recreation spot for locals who don't want to venture towards the coast or Balboa Park.
The glistening lake is used by boaters and anglers who take advantage of the still waters to hang with friends or try to catch their lunch, with bass and trout looming beneath. But in the surrounding forests is the Miramar Lake Loop trail that envelopes the water. The 5-mile trail is entirely paved and comes with views of the water and plenty of spots for a lakeside picnic.
14. Los Penaquitos Canyon Trail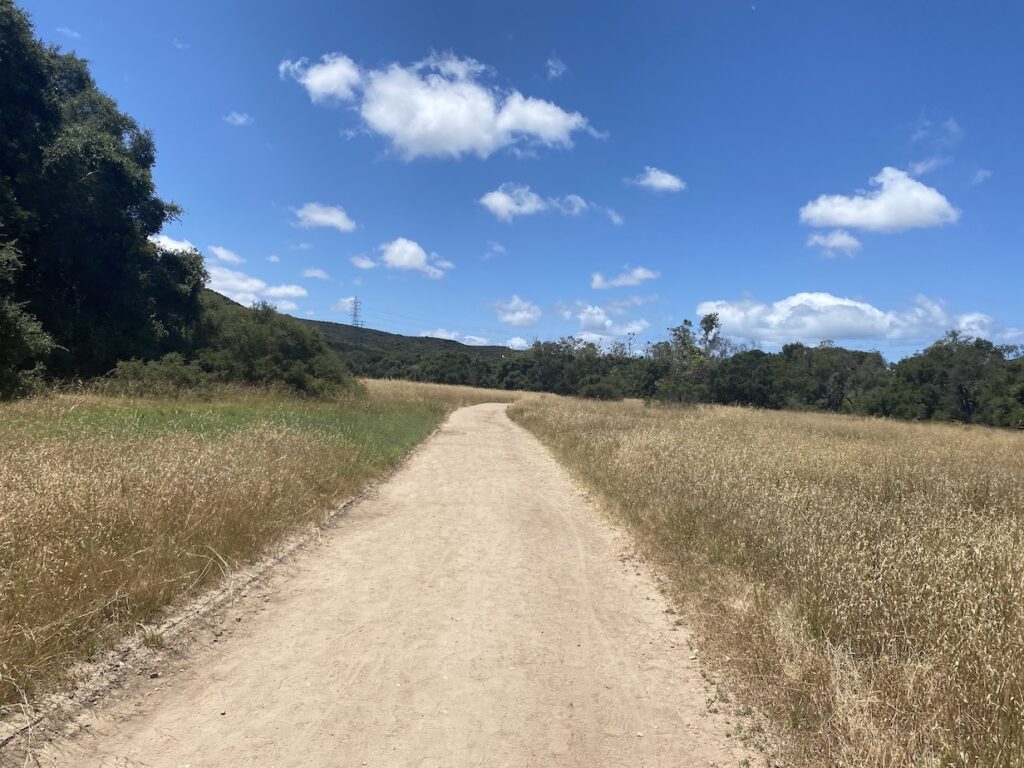 Just shy of half an hour north of Downtown San Diego is the Los Penasquitos Canyon Trail. This trail follows the Penasquitos Creek, passing a series of natural and man-made landmarks along the way.
The seven-mile trail is rated easy and follows a packed earth trail that is suitable for almost all strollers. With minimal ascent and descent, it's well worth getting the wheels dirty as you explore one of the most ecologically diverse habitats around San Diego.
Along the way, you'll pass a grove of towering California live oaks, a sparkling stream, and a grave where a European royal was laid to rest. But the highlight is the 166-foot-tall waterfall that cascades down the creek.
15. CiVITa Park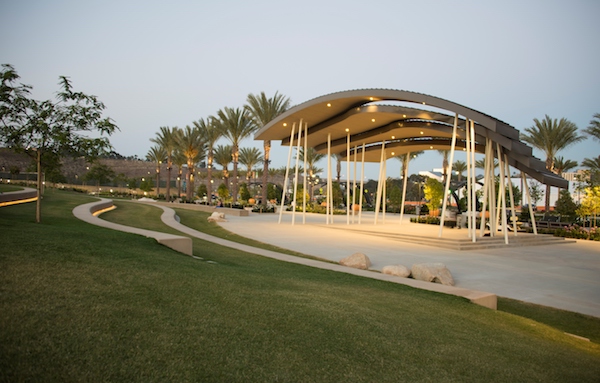 In Mission Valley, Citiva Park is a new addition to the best stroller friendly trails in San Diego. Boasting a community garden, a selection of modern picnic areas, sports facilities and dog parks, there's fun to be had for everyone, including your four-legged friend.
Compared to other parks on our list, Citiva Park isn't large. But its walking paths are flat, paved, and provide easy access to all the park's highlights. You can spend your morning walking around and taking well-earned rests on the many park benches. Then the kids can run amok around the water fountains, play basketball or explore the community garden.
Final Thoughts from Chelsey Explores
I hope you found this article on the best stroller friendly trails in San Diego helpful. Transitioning to being a mom hasn't been easy for me, but being able to get outside and remain active has helped me remain sane.
Let me know if you have any favorite stroller friendly hike recommendations below!
Like this post? Pin it for later!