THE 9 BEST HIKING TRAILS SAN DIEGO HAS TO OFFER
THE BEST HIKING TRAILS SAN DIEGO HAS TO OFFER FROM EASY TO DIFFICULT
If you are visiting the San Diego area then chances are you are most likely coming for the great weather and the sandy beaches. What you may not know though, is that some of the best hiking trails exist in San Diego. This article will go over the 9 best hiking trails San Diego has to offer.
Hiking in San Diego offers the opportunity for outdoor enthusiasts to enjoy the beach in the morning and a hike in the afternoon.
Imagine yourself walking along the sandy beaches and the blue seaside or hiking up in the hills of east San Diego county.
There are so many different types of trails for you to enjoy this beautiful region. Whether you are looking for an easy walk along the beach or a strenuous booty buster hike like 'Three Sisters Falls' then look no further. These are some of the top San Diego hikes for you.
Put on those boots, grab your backpacks, make sure to fuel up and keep yourself hydrated for this hiking adventure you are about to embark on.
BEGINNER HIKES (Time: 1 hour, Difficulty Level: Easy)
These hikes are considered "easy" hikes. All of these hikes offer some stunning views, so don't discount them if you consider yourself an advanced hiker.
#1 Torrey Pines State Park
Location: Torrey Pines State Natural Reserve in La Jolla
Distance: Varies, but ranges from 1-2 miles
Website: https://torreypine.org/
Torrey Pines State Natural Reserve is one of the most beautiful locations in all of San Diego. It is situated along the cliffs of the beach and offers some pretty drastic views of the ocean from above. There are a lot of short trails that you can explore through which offers different views of the seaside.
The trail begins on a paved road but eventually leads to dirt paths. Be prepared for some elevation gain at the beginning of the hike, but once you reach the top it al flattens out.
Make sure to check out the beach trail as this allows you to hike all the way down to the beach. You cannot go wrong with whatever trail you may choose. All the trails interconnect at some point and make one big loop.
If you plan to hang out in the Torrey Pines area then you should head over to La Jolla for the night.
Insiders tip: Hike around Torrey Pines just before sunset to make for some extremely gorgeous sunset pictures.
#2 Mission Trails Regional Park

Location: Mission Hills
Distance: Varies
Website:https://mtrp.org/
Mission trails are right in the heart of San Diego. Your activity options are endless here. There are over 65 miles of easy trails to hike. It is the perfect spot for all fitness levels. Enjoy a day hike here or a weekend camping here.
#3 Cabrillo National Monument [h4]
Location: Point Loma
Distance: Varies, but a nice gentle walk
Website: https://www.nps.gov/cabr/index.htm
Cabrillo National Monument offers lots of beautiful lookouts over the ocean. If you are visiting the Point Loma area this is the perfect stop for you. Upon entering Cabrillo National Monument you will be greeted by the highest lighthouse in the US: The Old Point Loma Lighthouse.
There are two different trails you can take: the Coastal trail and the Bay-side Trail. There are lots of benches to stop, take a rest, and enjoy the view. All trails and sites are self-guided at Cabrillo National Monument. Take in all the beautiful surroundings and enjoy views of Coronado, Mexico, the ocean, mountains, and colorful plants.

MODERATE HIKES IN THE SAN DIEGO AREA
Hiking San Diego trails can range in difficulty from easy to advanced. The following hikes below are for your average hiker: not extremely easy, but also not terribly difficult. These hikes are considered to be your "moderate" hikes.
#4 Cowles Mountain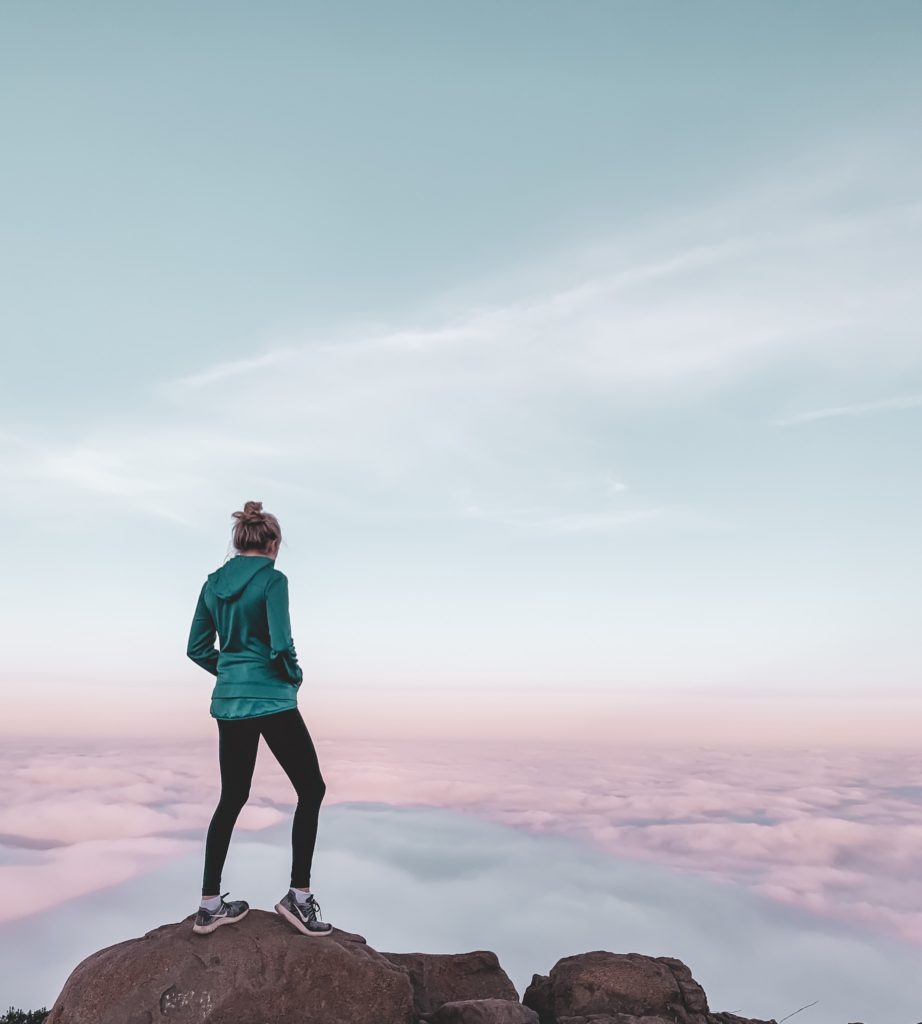 Location: East County San Diego near Mission Trails Regional Park
Distance: 3 miles
This is one of the most popular hikes to do in San Diego. The hike itself consists of a lot of switchbacks, but they are short and not too steep. Due to how hot East San Diego County can get, this hike tends to be a popular hike for the early risers. This hike offers some insane sunrise views as well. If you are heading out on this trail during midday make sure to bring lots of water and keep an eye out for rattlesnakes!
Fun Fact: The top of Cowles Mountain is the highest point in San Diego County
#5 Cuyamaca Peak Loop
Location: Cuyamaca Rancho State Park in Descanso, 50 miles northeast of San Diego
Distance: 5.5miles
Website: https://www.parks.ca.gov/?page_id=667
Cuyamaca Park itself offers many different activities for the outside adventurer. Not only is there hiking, but there is camping, horseback riding, biking and lots more to do around this area. The trail begins at Paso Picacho Campground and starts off on an old fire road. It is a 1,500-foot elevation gain to end at an elevation of 6,512 feet, finally reaching the peak.
You will get to experience all different views from the top of Cuyamaca Peak. Look east and you will find desert views, turn west and enjoy some ocean views, look below you and you will see Lake Cuyamaca.
Insider's Tip: For all the ladies out there who love to Instagram check out La Jolla Mom's blog. The best Instagrammable hikes in San Diego
#6 Iron Mountain Trail
Location: about 5 miles East of Poway
Distance: 5.8 miles roundtrip
Hiking San Diego can sometimes sound intimidating, but don't let the name of this trail fool you! It is still considered a moderate day hike. Located in the city of Poway, this hike offers a trail surrounded by lots of boulders.
The trail begins through a beautiful array of trees that make you feel like you are walking through a tunnel of trees. The trail begins at a gentle incline, but around mile two you will reach some switchbacks prior to reaching the summit. The summit offers panoramic views looking down on the San Vicente Reservoir below. Parking is very limited in this area and it can get super hot in Poway. Start this hike early as it is a very popular weekend hike. Don't forget to pack your sunscreen.
ADVANCED HIKES IN SAN DIEGO COUNTY
#7 Potato Chip Rock Hike
Location: Northeast of Poway in Mt. Woodson
Distance: 7 miles
If you have ever researched hiking in San Diego, then you probably have seen the infamous potato chip rock pictures. This rock was made for Instagram. Seriously though, it is probably one of the top hikes to travel to  It looks like you are on a super-thin rock with a steep drop below you. Expect a Disneyland line to get on the rock once you reach the top.
There are two ways to do this hike. You can either begin at Lake Poway or head up the backside on the fire ride. I suggest doing the hike that starts at Lake Poway as it is a bit more scenic.
Check out this link for a map of the trail
Regardless of which route you choose, be ready for a long haul. Make sure to pack enough water, lots of snacks, a hat and some sunscreen!
#8 Three Sisters Falls
Location: Cleveland National Forest
Distance: 4 miles
You've probably read through this post and are like, come on aren't there any waterfalls in San Diego? Yup, there are! Three Sisters Falls hike is known as one of the hardest hikes in San Diego County.
Although it is only 4 miles long it is very steep on your hike out. The trail begins as a straight descent, therefore leaving you to struggle your way back up. The reward at the bottom is so worth it though! You are in nature's land surrounded by waterfalls and a natural water-slide.
Insider's tip: You will need to be able to boulder some rocks in order to get to the waterfalls, so be careful!
#9 Cedar Creek Falls
Location: Cleveland National Forest Ramona, CA
Distance: 4.2 miles
Cedar Creek Falls leads to the infamous Devil's Punch-bowl at the end of the trail. This punch-bowl offers the perfect swimming and even a cliff jumping opportunity. BE CAREFUL though, there have been multiple deaths at this location from unsafe cliff jumpers.
This hike is downhill on the way there, but uphill on the way out. Just like Three Sisters Falls, the end of the trail will be worth it. You will be surrounded by 75-foot cliffs and a chill place to hang out at.

FINAL TIPS FROM A LOCAL
Pheww that was a long list for you to soak in. Take it from a local herself, these are the 9 best hikes in San Diego. You will not be disappointed with whatever hike you choose to do.

Make sure to pack plenty of water, as it can get extremely hot in those East County hikes. Don't forget to wear your sunscreen and keep an eye out for rattlesnakes on all these trails.

If you have ever thought about doing more than just a one day hike, then you may be interested in my Rae Lakes Loop backpacking post.

Like this post! Save it for later!