THE BEST 6 PLACES TO WATCH A SUNRISE IN SAN DIEGO
If you are coming to San Diego for beautiful beach sunsets, then you are definitely in the right place! However, you may not know that there are also some amazing places to watch a sunrise in San Diego.
Alright, now I am not your type of girl to get up before the sun breaks unless I absolutely have to (like for my real job as a nurse. The job that currently pays the bills).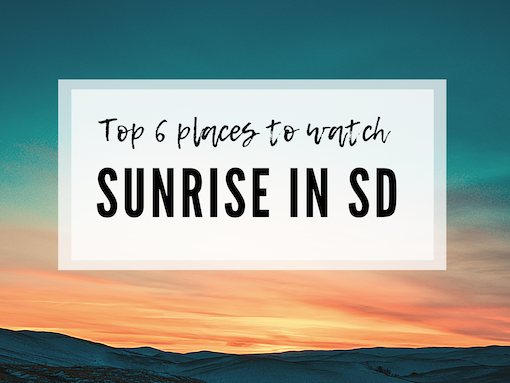 But, if you tell me you want to go on a sunrise hike or get some sunrise photos in San Diego of me for my blog, then I may be convinced to get up before the sun.
This article will discuss all the best places to see the perfect sunrise in San Diego. As you may already know, the sun rises in the East and sets in the West, so this means the sun sets over the ocean in San Diego and rises in the East toward the mountains.
Most sunrises are best seen when you head more to inland San Diego. Have no fear though! As I said above, I am going to tell about all the best spots for where to see a sunrise in San Diego county!
THE BEST SUNRISE IN SAN DIEGO LOCATIONS
BALBOA PARK
First off, if you have never been to Balboa Park then you are definitely missing out. I was actually just there yesterday as of when I am writing this. My family and I headed out to Balboa on a beautiful sunny Saturday afternoon. We walked around the park and then stopped for some beer and snacks on the grass lawn at Panama 66.
Balboa Park is honestly beautiful at any time of the day, but if you want to potentially see some beautiful colors in the sky with minimal people around then sunrise may be the best time for you to go. One of the best spots to watch the sunrise is right by the Bea Evanson Fountain on the Plaza de Balboa.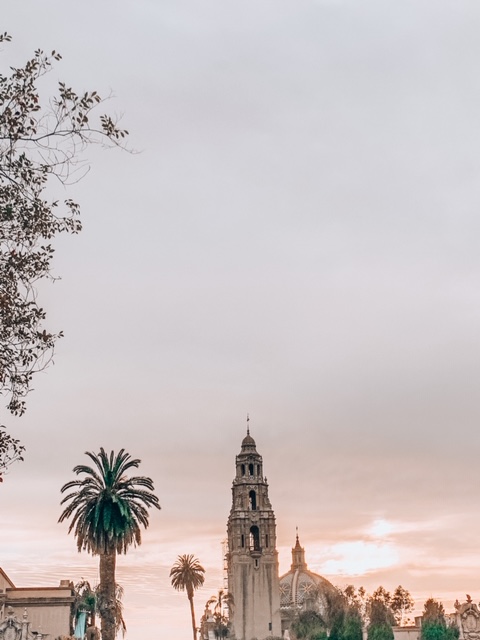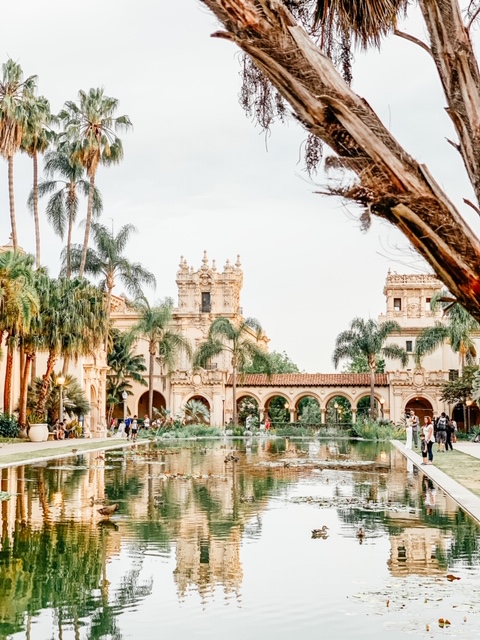 Another beautiful spot to enjoy a sunrise in San Diego while in Balboa Park is by heading to the Plaza de Panama and watch the sun rays light up the clock tower. This makes for some beautiful pictures of the clock tour.
If you like working out AND want to enjoy a sunrise in the park every Wednesday morning then you should join the November project. This group of highly enthusiastic and very welcoming people meets at 629 am each Wednesday morning for a group workout!

Did you know? The world-famous San Diego Zoo is located inside Balboa Park? I highly recommend visiting it some time. If you need discounted tickets you can click here for more information.

MOUNT SOLEDAD SUNRISE
Mount Soledad is not the first place you may think of when trying to find a sunrise in San Diego. However, Mount Soledad is known to be the highest point in La Jolla. This makes it the perfect spot to watch the sunrise.
Atop this 822-foot hill sits a large cross and a veterans monument. It offers a 360-degree view of San Diego and the Pacific Ocean. This cross has been involved in a 25-year controversy over the involvement of religion in government that ended in 2016.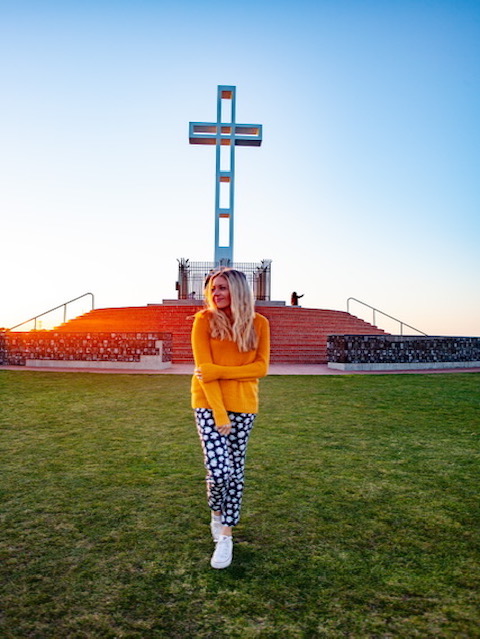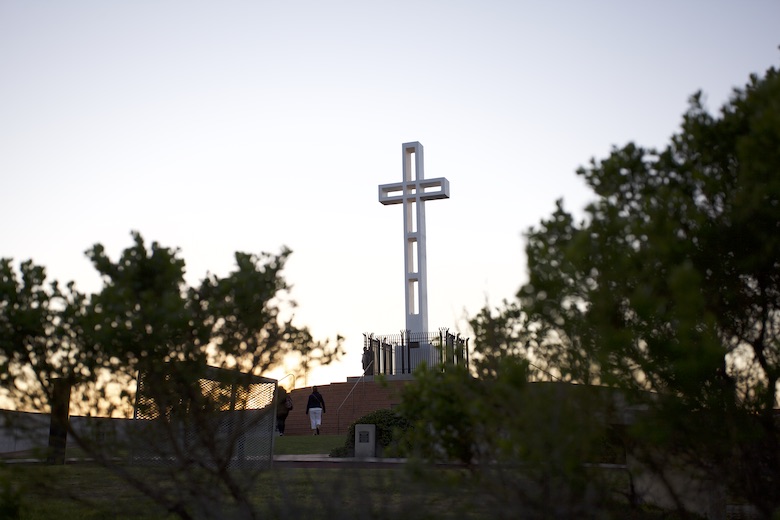 There were lots of debates on whether or not to take the cross down; however, a group called the Mt. Soledad Memorial Association ended up buying the land under the cross for 1.4 million dollars. Therefore, the U.S. Court of appeals ultimately ended up dismissing the case as it was no longer on government land.
So, count your blessings (literally) that this beautiful has remained here for you to continue to enjoy. Once you are done visiting the cross you can head into the town of La Jolla for an adventure-filled day and make sure to visit the La Jolla cove!
COWLES MOUNTAIN SUNRISE
If you are up for getting some exercise before the sun rises then this is the option for you! I did this hike with my husband one morning and had almost backed out. I remember rolling over in bed thinking my stomach hurts, its 4am and I do not want to be doing a hike this early.
However, somehow my husband convinced me to go and it was so worth it in the end! This is a fairly easy 3 mile round trip hiking trail located in Mission trails regional park. Make sure that you plan out the hike with enough time to get lots of photos at the top for sunrise.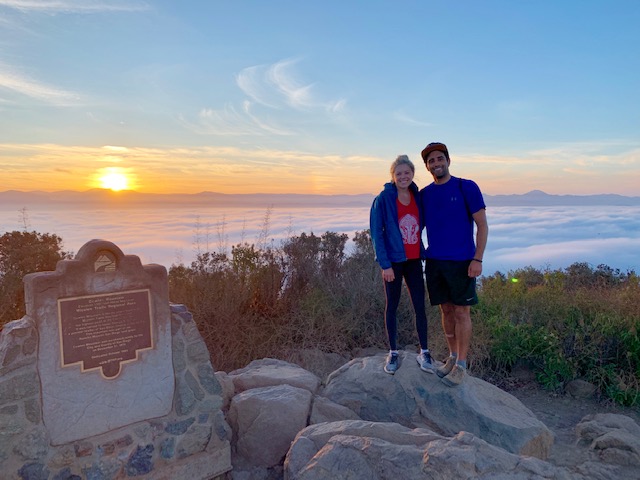 We just barely made it in time. We may even have had to run a part of the trail in order to make it in time.
There are a ton of other hiking trails in Mission Trails regional park let alone in San Diego itself. Torrey pines is another beautiful place to watch the sunrise and especially to watch the sunset at.
SUNRISE HIGHWAY SAN DIEGO
This is a not so well known place. I actually discovered sunrise highway back when I was in college. My friends and I decided to go sleep off the sunrise highway and wake up bright and early to watch the sunrise. Let me tell you it was magical!
This highway makes for a beautiful drive! If you have the time, then I recommend camping out nearby the night before. Here is a detailed article of how to get to Sunrise Highway.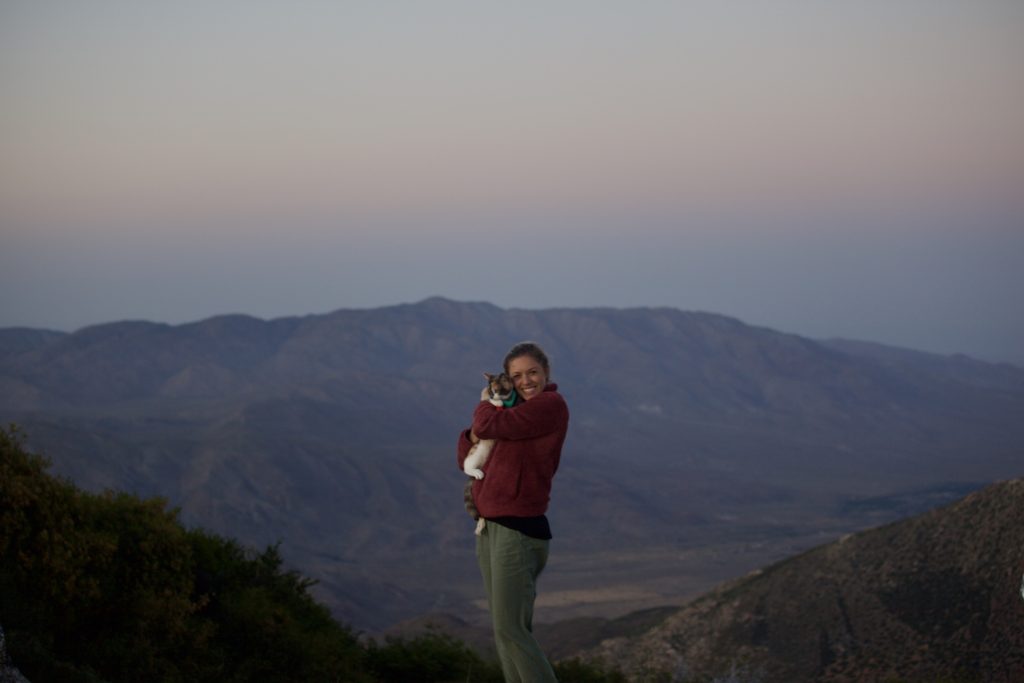 This Highway is about 45 minutes from downtown San Diego. When watching this sunrise you will be looking over the mountains of Mt. Laguna. If you do choose to drive along this highway then you will find that there are lots of hiking trails located in Cleveland National Forrest that you can do as well.
Most of the viewpoints face east when driving along this highway, which makes them perfect for watching the sunrise. If you are hanging around in the area then grab a bite to eat at the Pine House Cafe.
JULIAN, CALIFORNIA
Now, although Julian is not located directly in San Diego-it remains quite close. It is a quick 1-hour drive to get to Julian from downtown San Diego.
Julian is a cute little town that also makes it the perfect place for a little weekend getaway. There are plenty of places to watch the sunrise when in Julian considering it is already located far out in east county San Diego.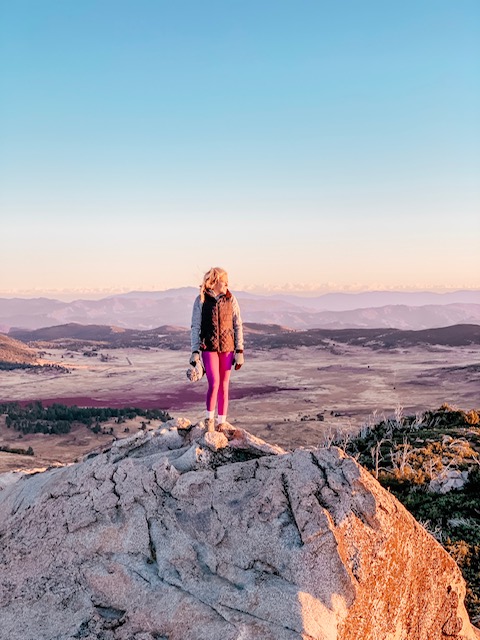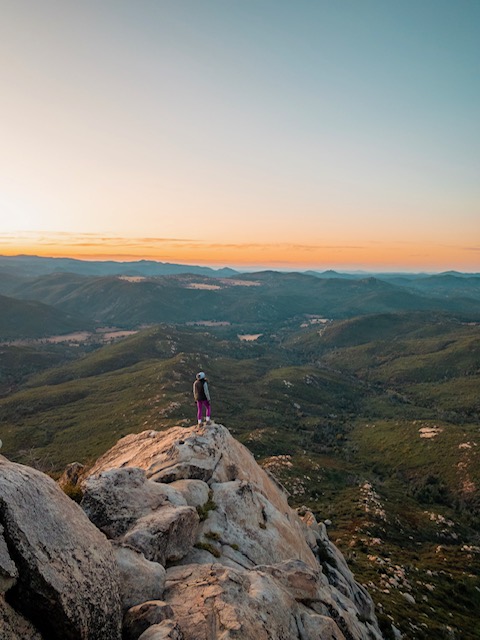 When my husband and I visited Julian, we decided to do another sunrise hike to attempt to get the perfect shot because let's be honest-the best shots come during those early morning twilight hours and then again right before sunset.
We decided to do the Stonewall peak hike in Cuyamaca Rancho state park. Once again we woke up before the sun and hit the ground running. I think we got some pretty epic shots if I do say so myself, but let me know in the comments below what you think of these shots.

BY AIRPLANE
This one may be a bit of a stretch; however, if you have the ability to do this then I highly recommend it. If you can book your flight to arrive in San Diego while the sun is rising you will get some pretty epic views.

Essentially, you are getting to see the sunrise from a bird's eye view or a drone's eye view. This is such a cool perspective to see that first light in San Diego.
This is honestly a good one for anywhere in the world too. I love watching the sunrise and the sunset from high above the clouds. I think it is so magical.

FINAL THOUGHTS FROM YOUR OUTDOOR LOVING GIRL
Now the sunrise times are always changing as you know, so I cannot give you exact information on time to arrive at these places. Do allow yourself a favor though and allow plenty of time to get to the location before the sun has actually risen in order to fully enjoy it.
Some other places that may offer beautiful sunrises as well that I have just not done yet include Coronado, Sunset Cliffs, and Pacific beach. A Coronado sunrise would probably make the Hotel Del light up. A sunrise at sunset cliffs will make the cliffs appear beautiful and golden. Lastly, a sunrise at Pacific beach I am sure would be beautiful as well.
Regardless of where you choose to go to watch a sunrise in San Diego, I don't think you will be disappointed. Plus, one perk of being up before the sun is that you will also get to enjoy the moon. So, all in all I highly recommend waking up before the sun!
If I can do it so can you! Let me know in the comments below where your favorite place to watch the sunrise is!