BEST PLACES TO RUN IN SAN DIEGO: 11 SPOTS YOU CAN'T MISS
By now you already know I love to hike all over San Diego – check out the 9 best hiking trails – but another one of my favorite outdoor activities is to go running. With its diverse environment, there are endless options for places to run in San Diego.
Being an avid runner since high school where I competed in cross country (and even won quite a few races!), it was so hard to narrow down all the options. Nonetheless, here are 11 running trails or beach/city/scenic running routes in San Diego that you can't miss!
11 of the Best Places to Run In San Diego
Best San Diego Running Trails
1. Mission Trails Regional Park + Cowles Mountain
Located in La Mesa, northeast of downtown San Diego, Mission Trails has more than 30 miles of trail running. Cowles Mountain, one of the best places to run in San Diego (and the highest point in SD!), is located here too and offers two options to reach the summit.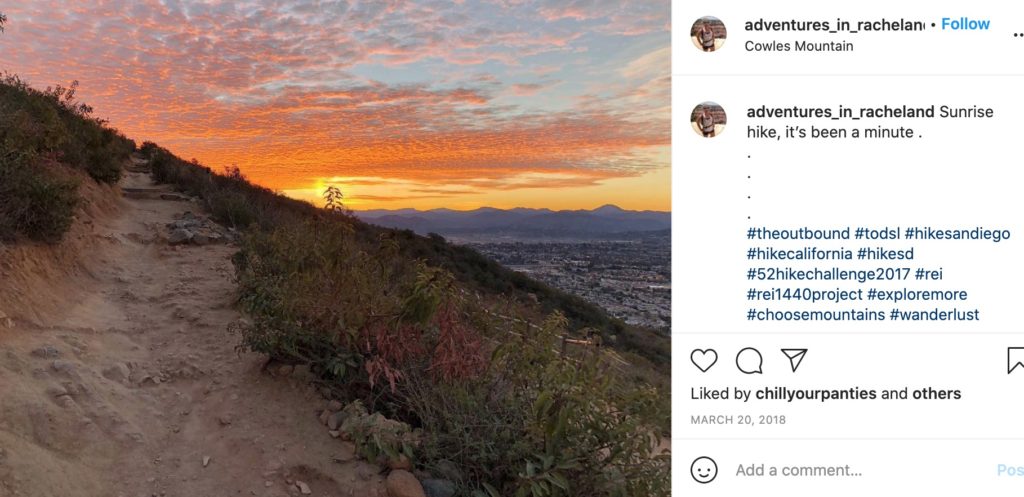 Cowles Mountain Trail, the more well-known version, is an out and back trail that starts on Golfcrest Drive. Cowles Mountain Backside Loop ascends from the Cowles Service Road and descends via the Barker Way Trail. You'll encounter only about 10% of the traffic taking the Barker Way Trailhead than the Golfcrest Trailhead. Either way, you'll get beautiful 360 degree views of most of the city, the ocean, and even Mexico on a clear day!
Type of trail: Dirt
Distance: Approximately 3 miles for each trail
Difficulty: Intermediate
2. Tecolote Canyon Trails
For places to run in San Diego that are inland from the famous Mission Bay, Tecolote Canyon offers 6 different trails for running. Some are easy dirt paths, but there are options for hillier paths too. The North and South end trails bring you through beautiful oak groves and the north trail runs along the stream. These running routes in San Diego offer a little escape from the city. You can also combine it with nearby University of San Diego for a longer run. Just be careful of the poison oak on the canyon trails!
Type of trail: Dirt/gravel
Distance: Shortest – 0.3 miles, Longest – 3.8 miles
Difficulty: Easy – Intermediate
3. Cabrillo National Monument
If you're looking for places to run in San Diego that offer a little bit of history, Cabrillo National Monument in Point Loma is your spot. The monument commemorates Juan Rodriguez Cabrillo's landing in San Diego Bay in 1542. The out and back Bayside Trail is short and easy enough for kids and adults to do, but will still give you a good workout from the 340-foot elevation gain.
Tip: There's a fee to enter this national park! $20 USD per non commercial vehicle or $10 USD per walker or bicyclist.
Type of trail: Paved to dirt/gravel
Distance: 2.5 miles
Difficulty: Easy
City Running Routes in San Diego
4. Harbor Island to Seaport Village
The Harbor Island to Seaport Village area is one of the most gorgeous places to run in San Diego. If you start at Harbor Island Drive (it's located next to the airport, so this is good for both tourists and locals!), you can get in a 3.3 mile round trip run around Harbor Island. If you want to make this one of the longer San Diego running trails, add the famous Seaport Village to your route. You'll be able to see the bay and lots of boats on this scenic waterfront run!
Type of trail: Paved
Distance: up to 8.3 miles
Difficulty: Easy
5. Embarcadero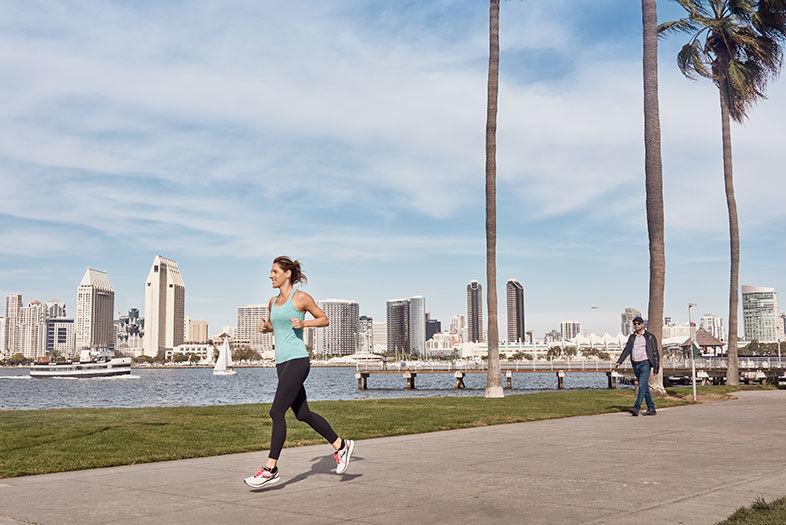 This is a great option for business travelers looking for running routes in San Diego because it's right in the downtown area. It's located near the airport, the famous Gaslight district (with tons of shops and restaurants), is on the waterfront, and starts at the Convention Center (where they hold the world famous Comic-Con). It's a flat run with nice views of the water and city.
Type of trail: Paved
Distance: 4.75 miles round-trip
Difficulty: Easy
6. Balboa Park
Right next to downtown, the iconic Balboa Park offers everything from nature, science, arts, culture, recreational activities like museums, and over 65 miles of trails. Even the San Diego Zoo and tons of museums are in this park. There's so much to do, it's definitely one of the best places to run in San Diego! Yes, it's touristy, but also possible to find solitude in some of the wooded areas if you like peaceful runs.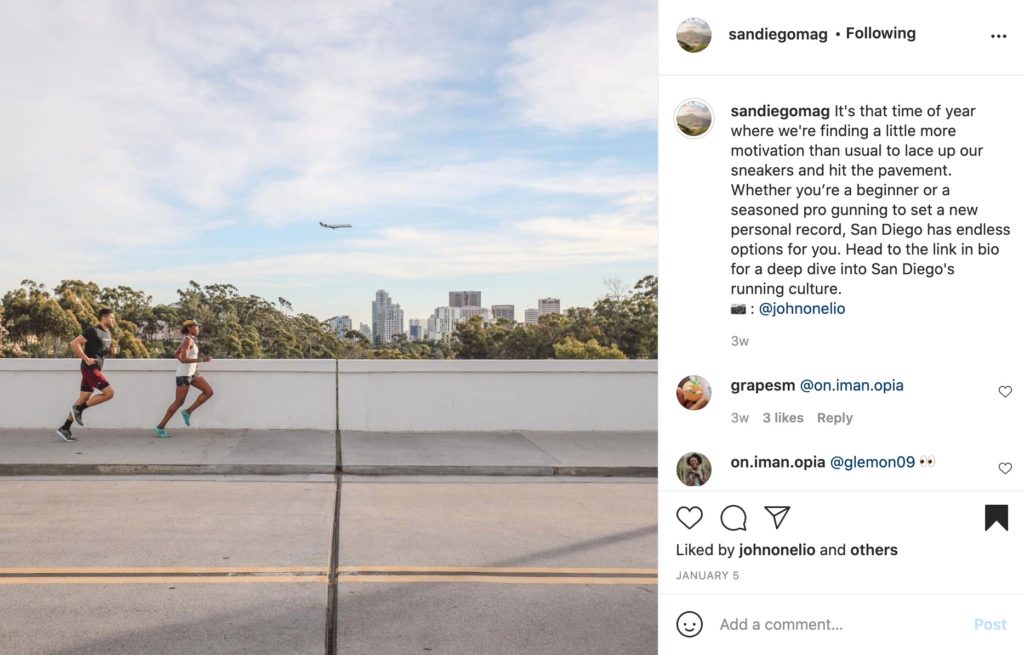 With 5 different gateways that lead to 19 trails, the type, distance, and difficulty vary all over the park. Check them all out here to find one that best fits your needs.
San Diego Running Trails Along The Beach
7. La Jolla Shores and Torrey Pines
La Jolla Shores or Torrey Pines are great runs separately, but to make one of the ultimate beach running routes in San Diego, plan your run from La Jolla Shores Beach to Torrey Pines State Beach or vice versa. Running on a big, wide beach with the crashing waves this is a "must-do" on your list of places to run in San Diego! It's best to do this run on low tide when the sand is more firm. You can extend the run further north to Del Mar if you want.
Type of trail: Sand
Distance: 5 miles
Difficulty: Easy – Moderate
8. Sunset Cliffs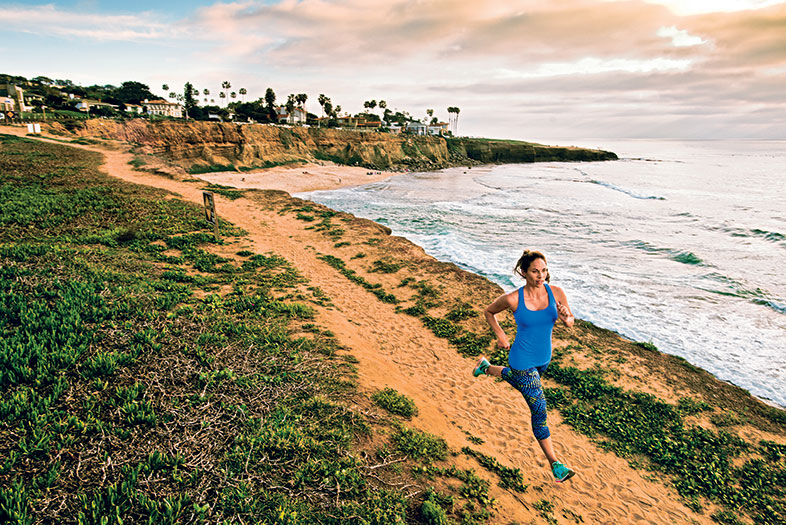 Looking for a place to catch an amazing sunset while getting your exercise? Sunset Cliffs is hands down the best places to run in San Diego for this. Staying high up on the cliffs, you'll get such a treat at sunset on the 1.7 miles out and back Sunset Cliffs Park Trail. If you start at nearby Ocean Beach, you can add this to your longer running routes in San Diego to get almost 7 miles in.
Type of trail: Dirt/Paved
Distance: 1.7 – 6.7 miles
Difficulty: Easy – Moderate
9. Mission Beach and Pacific Beach
Another iconic area with two fabulous beaches and lots of options for beach running routes in San Diego, the signature run is the Oceanfront Boardwalk between Mission Beach and Pacific Beach. Start at Mission Point on the southern end or Pallisades Park on the northern end – whichever you choose, you'll see the popular Belmont Park as well as all the bars and restaurants along the beach. In addition to running, this trail is also good for biking, rollerblading, skating, and more!
Type of trail: Paved with sand/beach next to it
Distance: 3.1 miles
Difficulty: Easy
Places to Run In San Diego with Scenic Views
10. Mission Bay
Being one of the largest parks of its kind around the world, Mission Bay covers 4,600-acres including SeaWorld, so there is no shortage of finding numerous San Diego running trails in San Diego's Water Wonderland. The full, flat 12-mile loop with numerous starting points offers ever changing views so you won't get bored on this long run. Since it's so expansive, you can make shorter running routes too. With infinite options, don't forget this area when looking for the best places to run in San Diego!
Type of trail: Paved (or sand if running on the beach)
Distance: up to 12 miles
Difficulty: Easy
11. The Coaster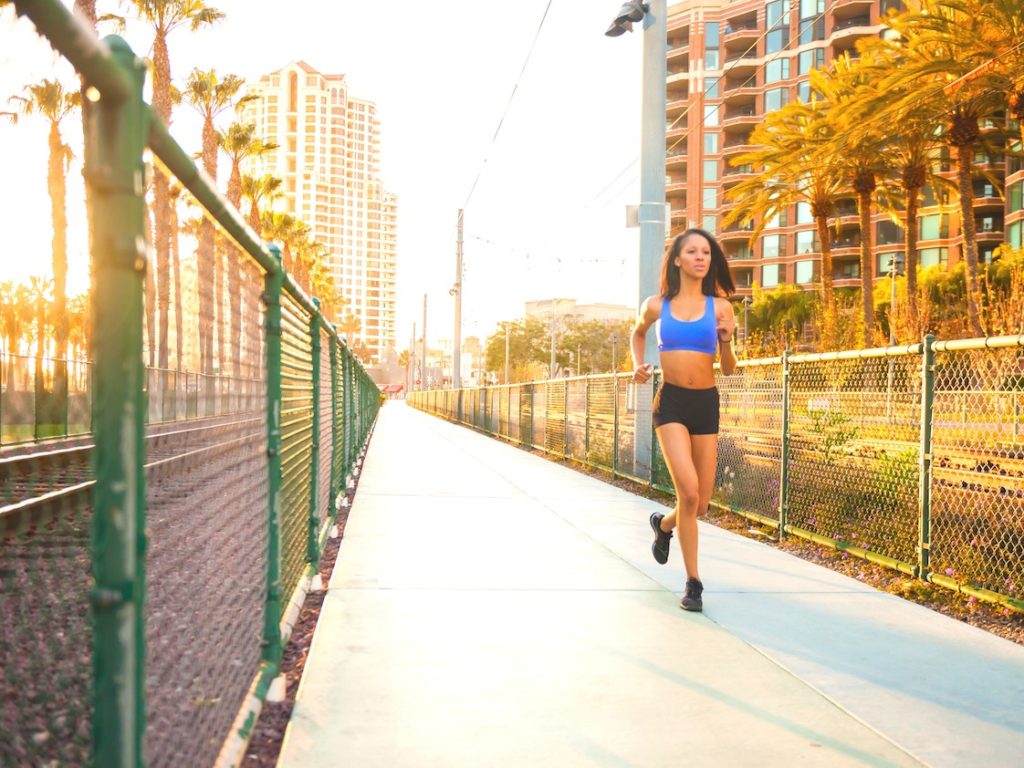 Ending this list with the most unique option, The Coaster offers you a little adventure when it comes to San Diego running trails. The idea here is that you park at the Solana Beach Station, take the Coaster train north and run back along the coastal rail trail and PCH. Lots of people run or bike along this stretch of highway giving you ocean views the whole way. For the longest running routes (16 miles!) in San Diego on this list, take the Coaster all the way to Oceanside.
TIP: Single ride fares start at $2.50 USD.
Type of trail: Paved
Distance: up to 16 miles
Difficulty: Moderate
Final Thoughts From Your Outdoor Loving San Diego Girl
There are already tons of options even within these 11 spots, but like I said before there are way more San Diego running trails to choose from! If you were wondering, my favorites ones are:
Sunset Cliffs because I went to college at Point Loma Nazarene University which is right along the cliffs. There was nothing like ending each day here after class!
Embarcadero because I simply love the views of the city and water next to each other.
REMINDER: Whenever you head out for a run on any of these San Diego running trails, don't forget to bring water and wear sunscreen!
For any running gear needs, here are my tried and true recommendations from all my years of experience running:
Like this post? Pin it for later!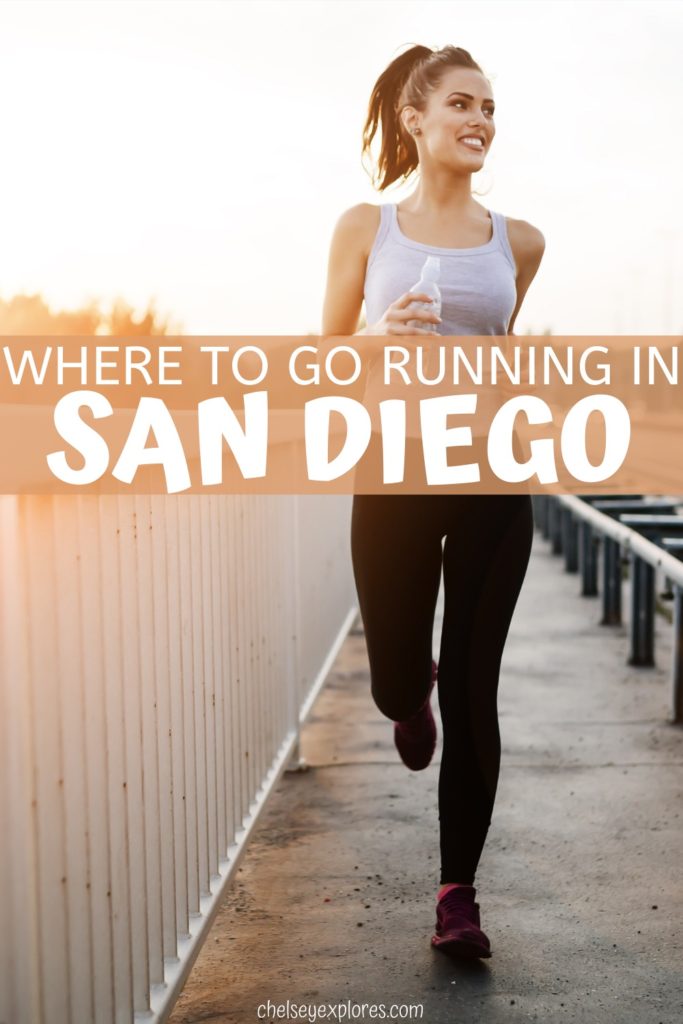 BEST PLACES TO RUN IN SAN DIEGO: 11 SPOTS YOU CAN'T MISS