10 BEST FALL IN SAN DIEGO EVENTS
I don't like Pumpkin Spiced Latte's
There I said it! Yikes! Please don't stop reading this post though! I promise there are a lot of good Fall events that you won't want to miss in this article.
Fall in San Diego is awesome!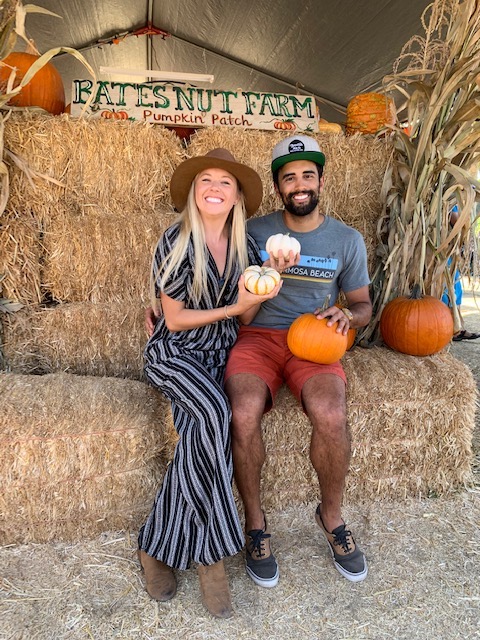 We really take the events to the extreme! There is tons of decorating that goes on and I love it all!
We definitely make up for the lack of Fall-like weather with Fall activities here in San Diego! This article is going to give you the 10 best Fall events that occur in San Diego.
Updated for 2020
SAN DIEGO FALL WEATHER
Let's get a few things straight first though. The weather in San Diego in the Fall is not like most other places. Typically, when you think of Fall you think warm cozy sweaters, hot coffee's, and scarves.
Well…San Diego is a bit different.
October is usually one of the hottest months of the year. I always try to dress up in a cute flannel and scarf with knee-high boots and practically die of heat exhaustion.
But, I mean come on a girl's gotta get that cute Instagram-worthy photo at a pumpkin patch right?
Anyways, typically the first few weeks of San Diego tend to run in the high 80s low 90s temperature-wise. So, plan your outfits accordingly!
KIDS FREE OCTOBER
One of the best things that San Diego does in the Fall is offer kids free October. Each year, for the whole month of October, kids gain free entry (with a paying adult) to TONS of places.
Places included are museums, Sea World, and tons of other tours and attractions. (ares)
You can also find hotel and restaurant discounts for kids free October!
I don't have a kid yet, but I know that when I have a kid I will be taking FULL advantage of everything kids free.
(Don't worry one day I will write a post on all the free things).
10 OF THE BEST FALL EVENTS IN SAN DIEGO
Alright! Let's get down to it. As I said, Fall in San Diego is spectacular, or may I say spooktacular? So, here is a list of the 10 best Fall Events in San Diego!
1. HAUNTED DRIVE THROUGH IN DEL MAR
Each year the Del Mar Fairgrounds used to hold a scream zone. This year, due to COVID, they can't have that event. So, they have come up with an alternative solution.
A drive-thru scream zone!
Gather some friends, hop in the car, and get ready to be scared! They will have zombies and scary clowns attacking your car in a matter of time.
Tickets: Range from $45-$70 depending on how many people in the care
2. GO TO A PUMPKIN PATCH
My personal favorite thing to do during the Fall season. I love everything about pumpkin patches.
From the pumpkins to the sunflower fields, to the corn mazes, I could spend hours there.
San Diego has a ton of options for Pumpkin Patches. One of the most popular pumpkin patches in San Diego area is Bates Nut Farm.
Click here for my full guide to Bates Nut Farm.
Other popular pumpkin patches in San Diego include the Carlsbad Strawberry Company pumpkin patch as well as Pumpkin Station and the PB pumpkin patch.
3. APPLE PICKING IN JULIAN
Ahhh a classic! Who doesn't love a good ole apple picking day? This is the perfect activity to take kids to do or even a cute day date idea.
Or let's be honest, it is a great girls' day as well!
Julian is known for their apple picking and apple pies, so you will definitely not want to miss out on this activity!
Volcan Valley Apple Farm is open this year!
Tickets are: $15/bag of apples (includes 1 admission) and then $5 for each additional admission
I have a complete itinerary on how to spend a weekend in Julian here!
4. JAPANESE FRIENDSHIP GARDEN
If you are looking to see some Fall colors in downtown San Diego then this is your spot!
The Japanese friendship garden is located in Balboa Park. The maple trees turn a bright red when Fall hits in San Diego.
They are open daily from 10am-6pm and tickets are $12/adult.
5. SEAWORLD SPOOKTACULAR
Another great event for kids! Seaworld decorates their entire park for the month of October.
Dress up and prepare to enter a spooktacular candy trail, maybe even do a pumpkin scavenger hunt, enjoy some Fall flavored brews for the adults, oh and of course, see some animals!
This event runs from October 2nd-Nov 1st. Reservations are required as they are allowing a limited amount of people into the park.
Don't forget kids are free with the admission of 1 full paying adult for the month of October!
Tickets are $93/person
6. HALLGLOWEEN AT THE ZOO
Weekends at the San Diego Zoo look a little different in October. This year they are hosting a HallGLOWeen.
Everything will be "glowed" up! Kids can be part of a bubble dance party, watch the acrobats and rock out with a DJ!
Make sure to dress up for this fun event! Kids are free with a full paying adult
7. CELEBRATE DIA DE LOS MUERTOS IN OLD TOWN
This event is still to be determine for 2020, but typically Old Town Historic State Park comes alive to honor the head.
This is one of the largest celebrations in San Diego. This is typically a free event that holds a candlelight procession on the first night and then throughout the weekend they celebrate with street food, vendors and lot of activities.
Enjoy lots of dancing, arts and crafts for the kids and live music!
8. DO A CRAFT NIGHT
This one is for my ladies! The holidays are the perfect time to have a girls craft night at home or sign up for an event.
Fall in San Diego is usually hot, so this it the perfect activity to do in a cool (literally) indoor space.
Enjoy a fun virtual event making macrame wreaths with Knotty By Nature or make cute little cement pumpkins with Branches and Blossoms.
9. GO ON A FALL HIKE
So, of course, the leaves are not going to be like what you see on the east coast, but there are a few places where you can see some changing of the leaf colors.
Below are my recommendations on hikes that will give you a good chance to see Fall leaves near San Diego.
The best month to see the Fall leaves in San Diego is actually in November because the temperatures are cooler during this time.
Sunset Trail: Laguna Mountain Recreation Area 10678 Sunrise Hwy, Descanso, CA 91948
Thunder Ridge and Chimney Flat Loop: Palomar Mountain State Park – 19952 State Park Dr, Palomar Mountain, CA 92060
Volcan Mountain: 1209 Farmer Road at Wynola Road, Julian, CA 92036
Observatory Trail: Cleveland National Forest – 35899 Canfield Road, Warner Springs, CA 92061
Lake Cuyamaca: Cuyamaca Rancho State Park – 15027 Highway 79, Julian, CA 92036
Don't miss my list of the 9 best hikes in San Diego county!
10. GHOSTS AND GRAVESTONES TOUR
Last one! On Friday and Saturday evenings in both October and November you can hop on the trolley and learn all about the spooky history of San Diego.
On this tour you will travel back in time to learn about the spirits and people who lived and died in San Diego.
Grab your walking shoes and be prepared to place your feet on the haunted grounds of the Whaley House.
FINAL THOUGHTS FROM YOUR OUTDOOR LOVING SAN DIEGO GIRL
The holidays are my favorite time of year and I am so excited to share this season with YOU! Comment below with your favorite Fall activity. I hope this post has inspired you to get in the spirit of Fall!
If you like this post save it by pinning it for later!
YOUR GUIDE TO FALL IN SAN DIEGO