How to spend an entire day in Point Loma, San Diego
I have lived in San Diego practically my whole life! And every day there is always some new place I am hearing or learning about. If you are anything like me you love good food, great views, and even better history! The neighborhood of Point Loma in San Diego offers all of this!
In this article, I am going to give you what it looks like to live like a local near the Point Loma neighborhood. From the best things to see, do and eat, your day will be fully planned!
Let's get to it!
History of Point Loma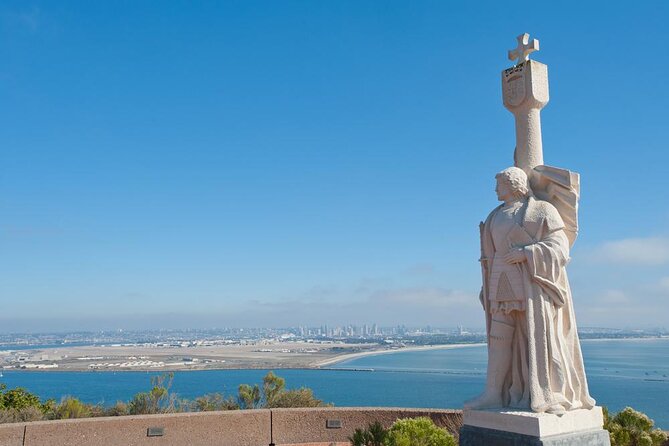 Famous for its historical importance, refreshing outdoors, and water-side views, Point Loma is one of many popular neighborhoods that play a vital role in San Diego's travel and tourism.
Settled near downtown San Diego, Point Loma is the landing place of the first European expedition in California by Portuguese navigator Juan Rodriguez Cabrillo. Its historical importance has extended to other significant key points like housing two major military bases, a national monument, a former naval training center, and a national cemetery.
Though Point Loma draws in many history buffs, this neighborhood entices people from all over the globe to take in this rugged Point Loma peninsula, world-famous sunsets, stunning beaches, and exemplary cuisine.
This guide to Point Loma San Diego takes the best of the best and gives you a simplified way to explore this inspiring community. Take in the stunning sights and sunsets, taste fresh and masterful cuisine, go sport fishing for big catches like Yellowfish, and hike the trails of Cabrillo National Monument, surrounded by Point Loma's inspiring landscape.
Where To Stay
Point Loma features some of the best places to stay in San Diego. We've whittled down the list to the top two accommodating locations featuring stunning views, refreshing aesthetics, and relaxing vibes for an unrivaled stay during your vacation in Point Loma.
The Pearl Hotel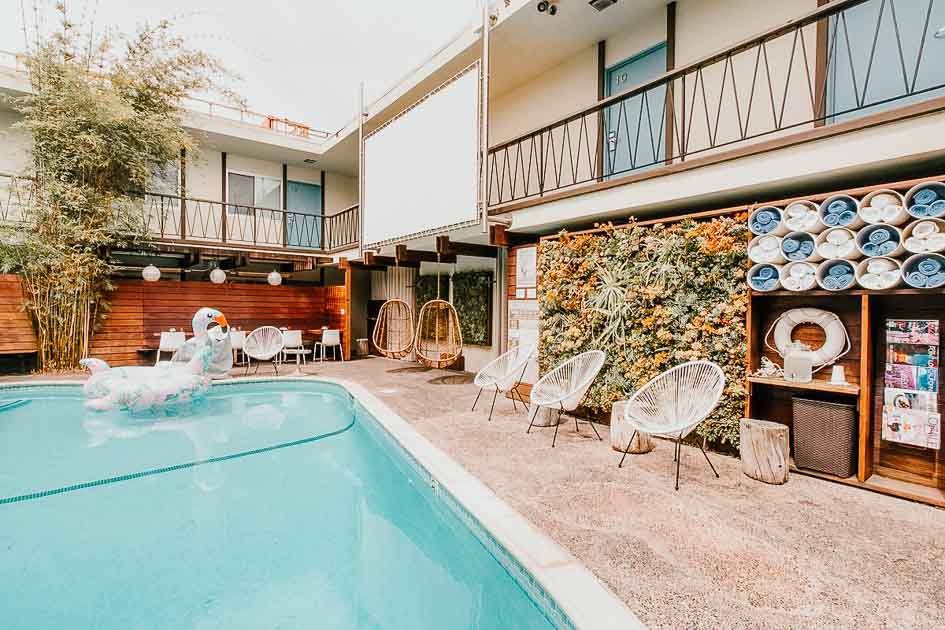 Blending modern amenities and mid-century aesthetics, The Pearl Hotel has a selection of 23 guest rooms that center around the art modern oyster-shaped pool and native plantings. These exotic designs flow into an onsite cocktail bar and the hotel restaurant, Charles + Dinorah.
Humphreys Half Moon Inn
Located on the scenic Shelter Island and connected to Point Loma, Humphreys Half Moon Inn is settled on a tropical waterfront. The refreshing outdoor pool outside the rooms makes for a leisurely dip into relaxation. Guests can also borrow the on-site bikes to roam the stunning island and, for dinner at the restaurant, savor masterful cuisine for the ultimate vacation.
Places To Eat
It's not a vacation without food! From coffee to dinner, this list combines all the best places to sit down for drinks and food during your trip to Point Loma!
Start The Day With Coffee
Energize yourself for a day filled with fun and adventure with some much-needed coffee at the best coffee shops in Point Loma!
Moniker General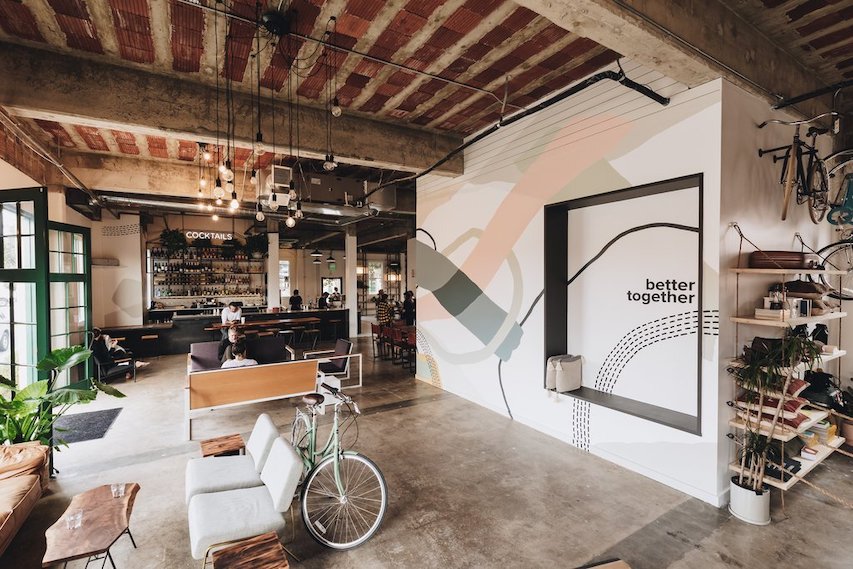 A unique and spacious lifestyle and home goods shop, Moniker General, serves specialty and small-batch coffee. Located in the vibrant neighborhood of Liberty Station, this homey coffee shop is the perfect place to sit back and relax in a welcoming atmosphere.
Moniker General exclusively serves their masterfully designed craft coffee, bringing people together for an inspiring cup of coffee in a one-of-a-kind space. Pair your coffee with the various loaded toast options like the Jack Of All Trades (prosciutto, mozzarella, fresh tomato, basil, balsamic, and sea salt) or the All Hands On Deck (avocado, lime, sea salt, garlic, butter, cilantro, crushed red pepper).
While you wait for your coffee and food, scour the shopping area filled with health and wellness products, women's and men's clothing, and more!
Jennings House Eatery
Imagined and established in a converted home, Jennings House Eatery is a casual cafe that offers a range of products from coffee and breakfast to pastries and other light fares.
This eatery is in Point Loma's oldest home in the heart of Point Loma Village. Dedicated to quality, freshness, and exceptional customer service, Jennings House Eatery accommodates those with dietary restrictions ranging from vegan to gluten-free. In addition, they offer almond, soy, oat, or coconut milk for coffee drinks to replace dairy-based milk.
Better Buzz Coffee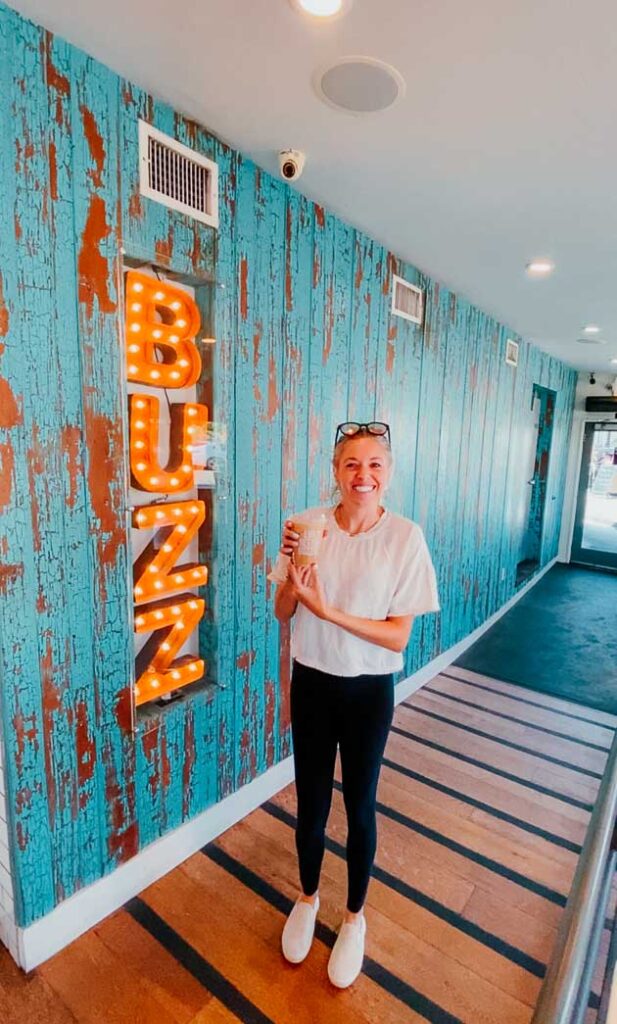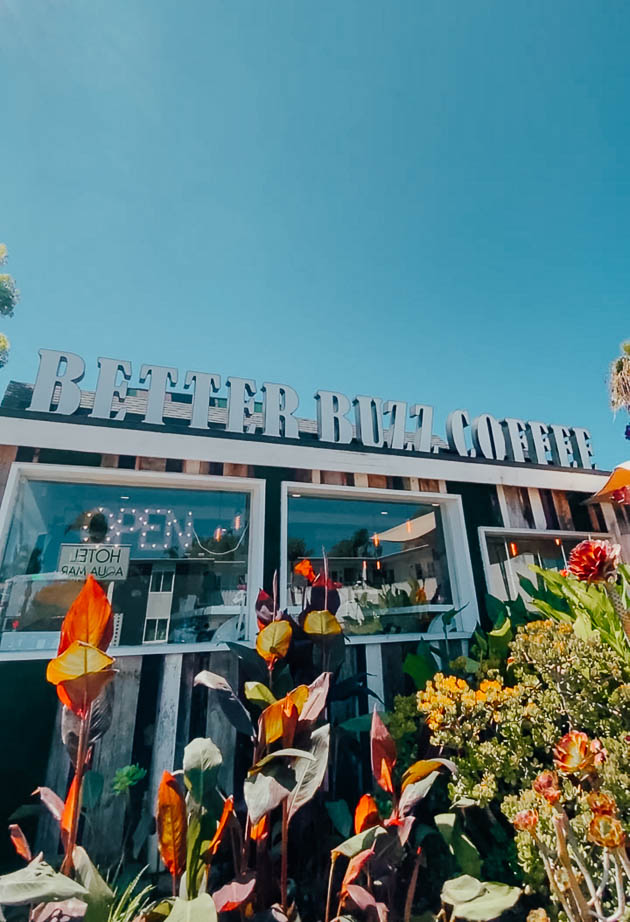 Better Buzz is a mini-chain and local roaster that serves creative coffees, acai bowls, and sandwiches with an available drive-thru for quick pick-up service.
Serving consistent, high-quality coffee in a fun atmosphere, Better Buzz Coffee is certified as an organic coffee roaster. In addition, better Buzz Coffee is committed to sourcing Fair Trade and Rainforest Alliance coffees to serve their customers only the freshest and sustainably sourced coffees.
Their motto is "Life's Better Buzzed." So join the hype of this fresh coffee shop in Point Loma at Better Buzz Coffee!
Brunch
Refresh and restore your energy with brunch at these top spots in Point Loma featuring local and fresh ingredients.
Cesarina
A proud and happy trattoria (an Italian restaurant serving simple food), Cesarina is driven by authentic hospitality, passion, and the commitment to serve only the best Italian cuisine. Offering plenty of vegan-friendly options, this passionate Italian restaurant twists colorful and fresh ingredients and masters them into mouth-wateringly delicious dishes.
Take your selection of the menu items like the Uova Piemontese (saffron polenta, homemade pork Salsiccia patties, Porcini mushrooms, caramelized red onions, two poached eggs, gorgonzola, and parsley) and sit at the bistro-style tables or on the dog-friendly garden patios to simmer the great food and atmosphere.
The Presley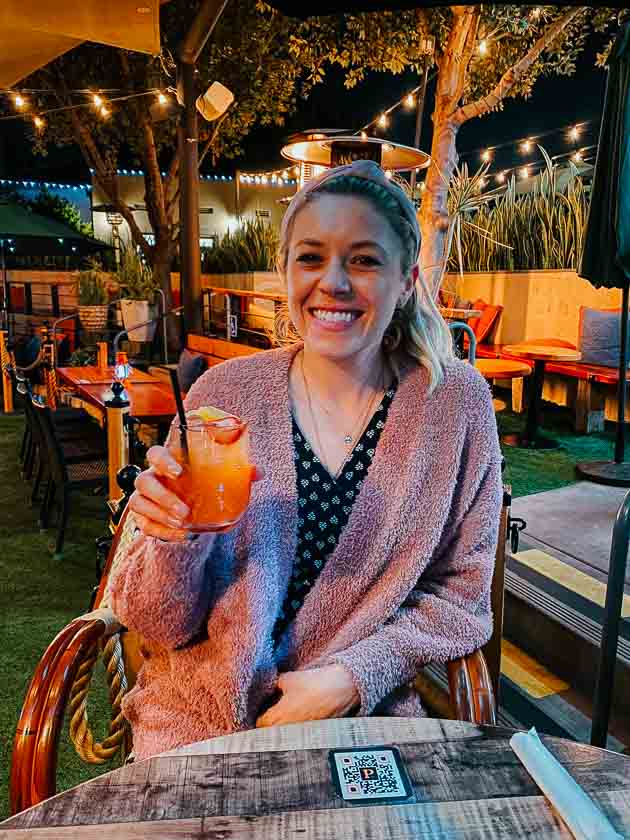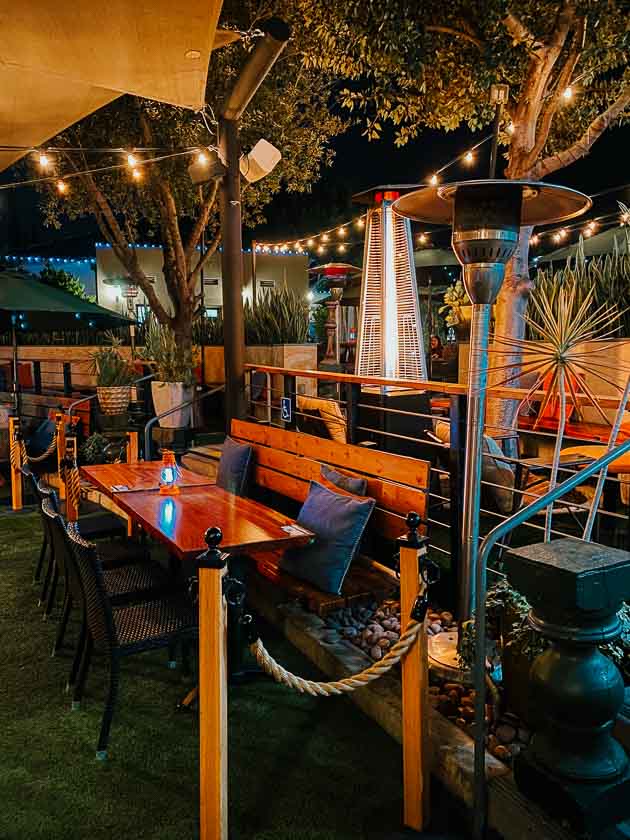 The Presley is a down-to-earth outdoor restaurant that serves shared dishes, classic American fare, cocktails, local Point Loma seafood, and meat-based main dishes.
Located in Point Loma's Liberty Station, The Presley is a popular gathering place for locals and tourists to soak in the refreshing San Diego weather, thanks to its dynamic setting and welcoming atmosphere. The restaurant's extensive cocktail list features dole whip mimosas, frozen drinks, and plenty of other tasty options to sip on and enjoy for brunch.
Dinner
End the day with tasty and exemplary dishes at the top dining spots in all of Point Loma.
Liberty Public Market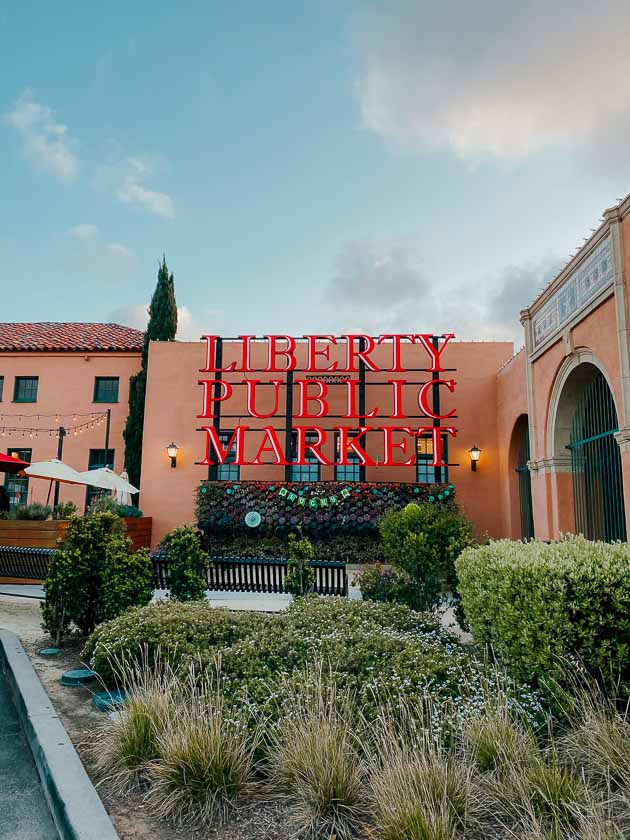 A bustling market located in an old Navy building, the Liberty Public Market offers options ranging from craft vendors to bars, hip eateries, and specialty food.
A bustling market located in an old Navy building, the Liberty Public Market offers options ranging from craft vendors to bars, hip eateries, and specialty food.
Open seven days a week, Liberty Public Market presents a rustic environment with plenty of food options to explore for dinner. From fish to pasta and fun pop-up dinners, this eccentric Point Loma dinner spot offers options for everyone!
Ketch Grill & Taps
This trendy tavern features stunning harbor views, hip vibes, and fresh local bites.
Ketch Grill & Taps is the place to enjoy drinks such as craft beer, wine, or a Ketch cocktail. Sink into great drinks and even better food made from locally sourced ingredients and dishes inspired by San Diego!
Go Go Amigo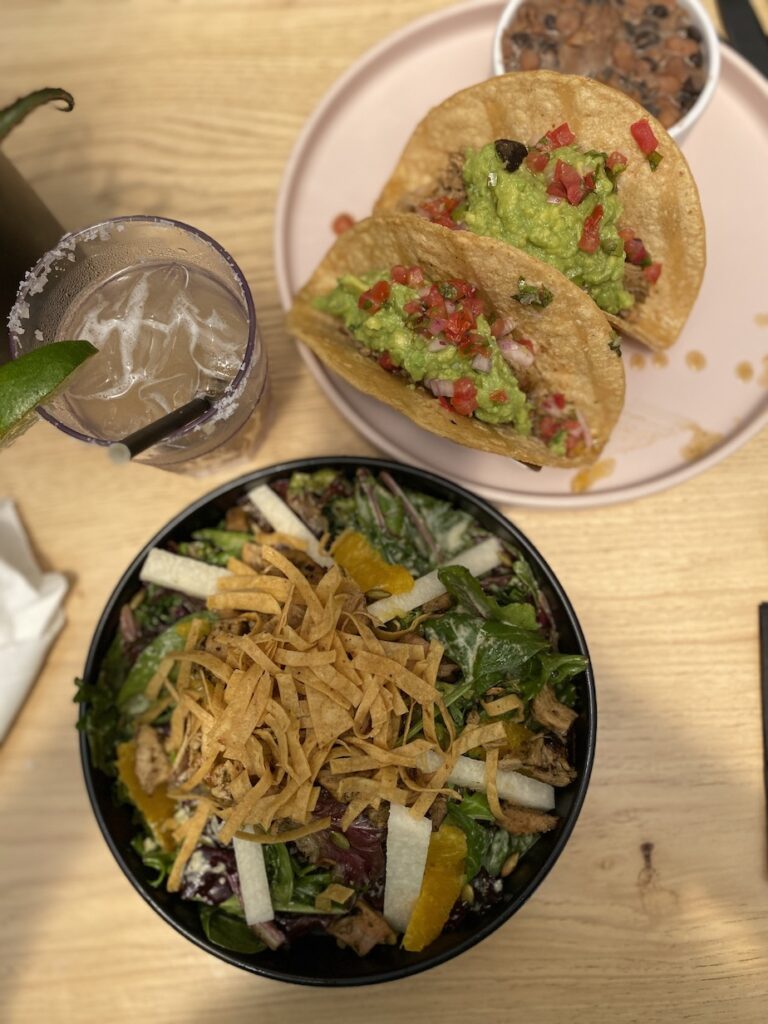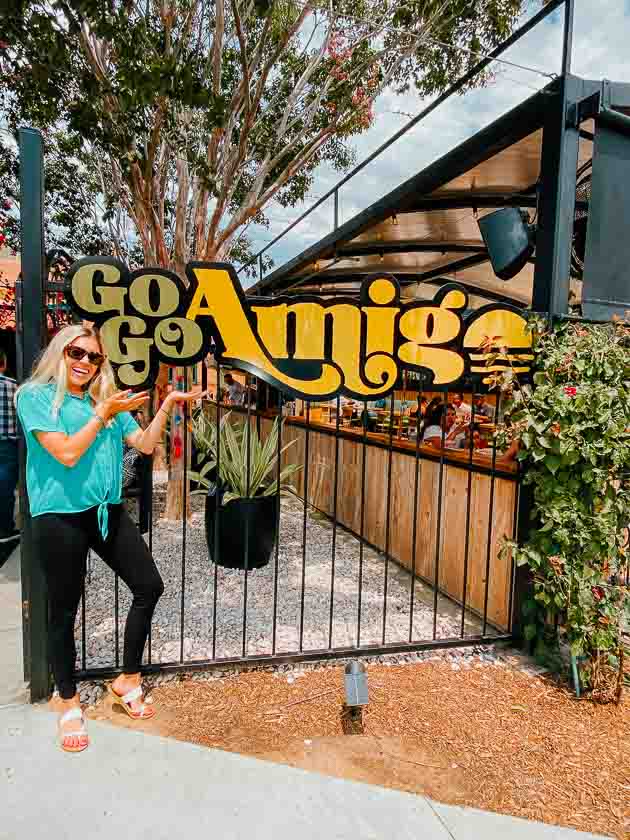 A staycation in Point Loma's Liberty Station, Go Go Amigo is a South-of-the-border-inspired Mexican restaurant and bar that celebrates class Mexican fare with fun fusion items to explore. 
On the drink menu, customers can celebrate with tequila-inspired classics and margarita-focused drinks — some fun specialty cocktails like the Cucumber Jalapeño Margarita and the Prickly Pear Slushy. Then, prepare for a dinner filled with delicious drinks, food, and great vibes at Go Go Amigo!
Pizza Nova
The perfect casual dinner spot, Pizza Nova commits its authentic Italian passion to serve up the best wood-fired pizzas in San Diego. Locally owned and operated, this Italian-run restaurant offers a variety of specials to enjoy $4 beer of the month and more!
Drinks
It's not a vacation without drinks, and Stone Brewing World Bistro & Gardens has the best in all of Point Loma!
Stone Brewing World Bistro & Gardens
Located at Liberty Station, Stone Brewing World Bistro & Gardens hones an ample space to merge a hip gastropub and brewery. With plenty of outdoor tables and bocce games, customers can explore international eats and top-quality craft beers in a lively environment.
What To Do
Point Loma has plenty of San Diego's top attractions to explore, from some of the best sunsets in the world to whale watching.
Explore Sunset Cliffs Sea Cave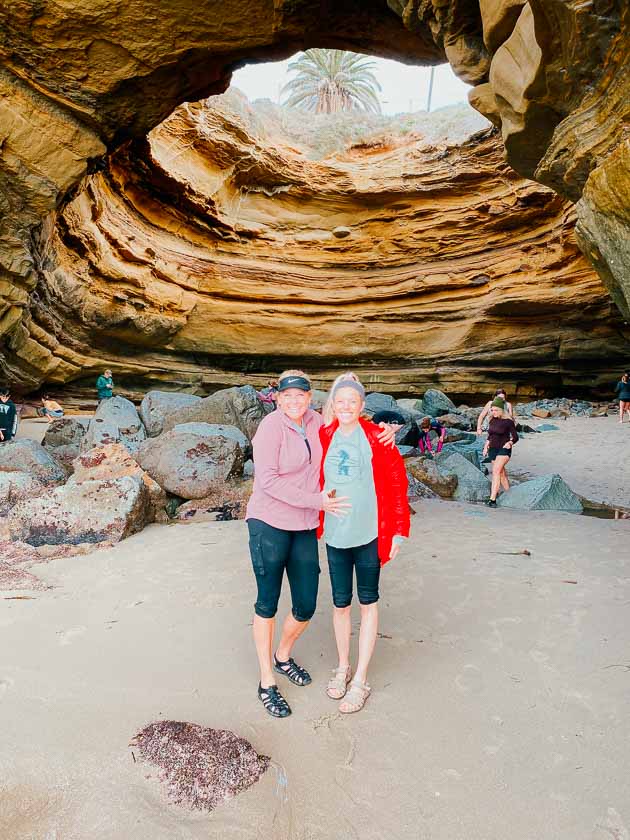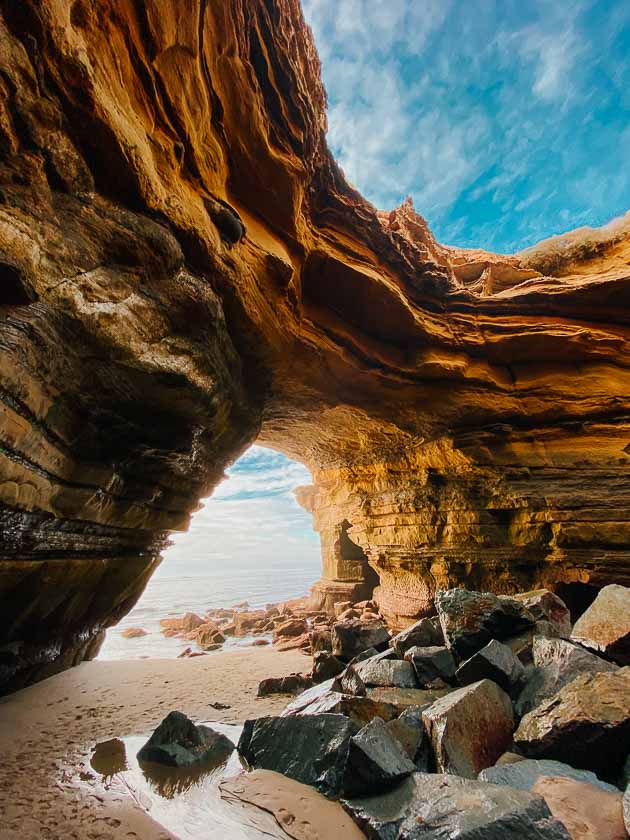 A hidden gem of San Diego's, Sunset Cliff's open ceiling sea caves makes for a stunning picture and a fun adventure. You can take your time exploring the cafe, but watch out for the tide, or you might find getting back to dry land tricky!
Watch A Sunset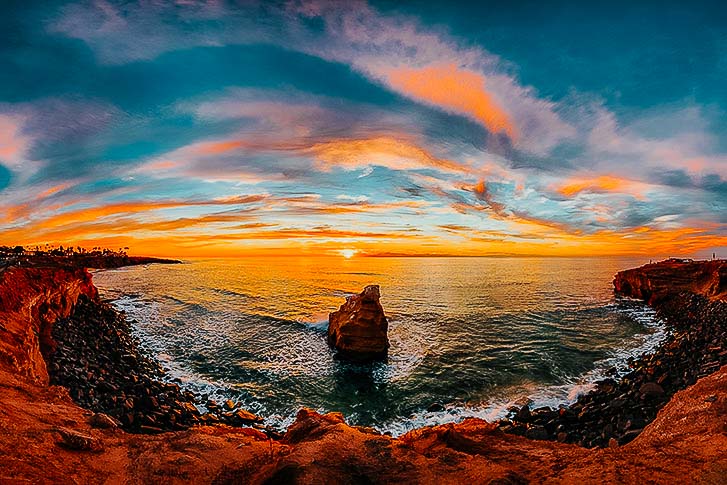 Point Loma has multiple famous sunset spots to bask in the stunning views. Sunset Cliffs National Park—not hard to guess why it's named "Sunset Cliffs"—is a reputable location for irrevocably awe-inspiring sunsets where you can see picturesque views of Old Point Loma lighthouse.
Explore Liberty Station
Combining the best of the past, present, and future, Liberty Station is where history meets the modern makeover of the present. From San Diego eats, museums, breweries, and on, Liberty Station has plenty of attractions to explore for a day of fun and adventure!
Eco Boat Rentals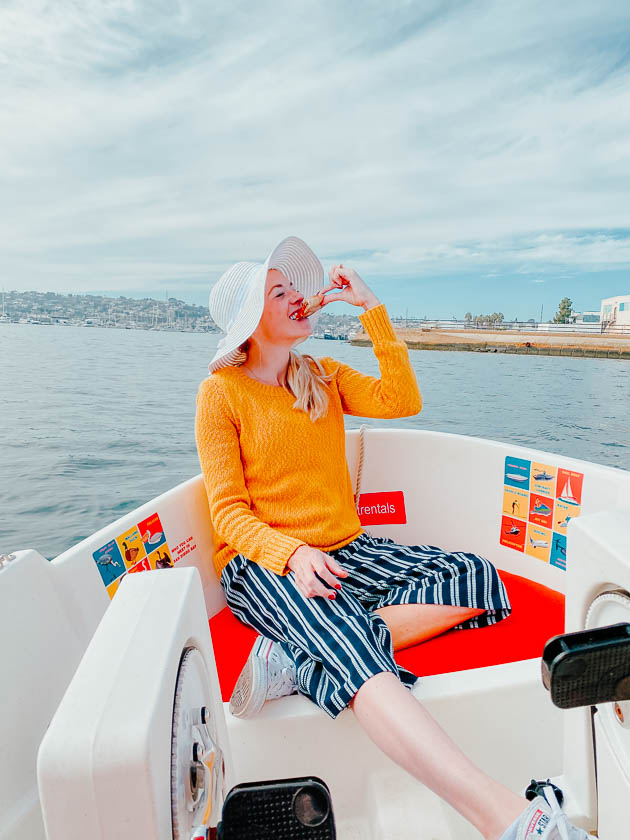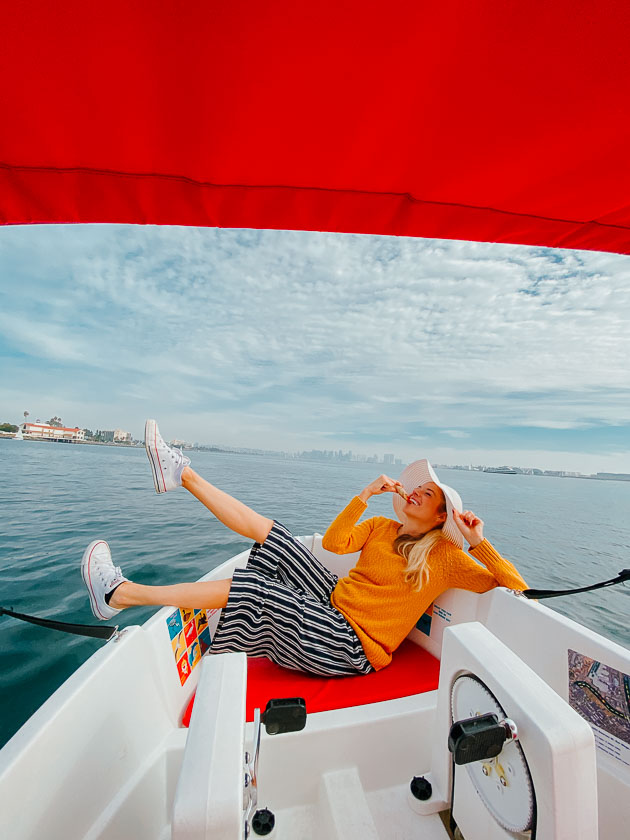 Take your furry friends out on a pet-friendly eco-boat rental!
Shop At Pigment
Designed after discovering the amount of plastic floating around San Diego bay, Eco Boat Rentals is committed to keeping the oceans clean and protecting the local ecosystem. Adventure Point Loma's sparkling waters and refreshing views for an active day spent in the great outdoors.
Featuring unique goods, Pigment is San Diego's top-notch gift shop. Presenting anything from art and flora to furniture and other gifts, Pigment has grown to three locations for its exemplary selections of souvenirs and thoughtful gifts in this aesthetically pleasing store.
Shelter Island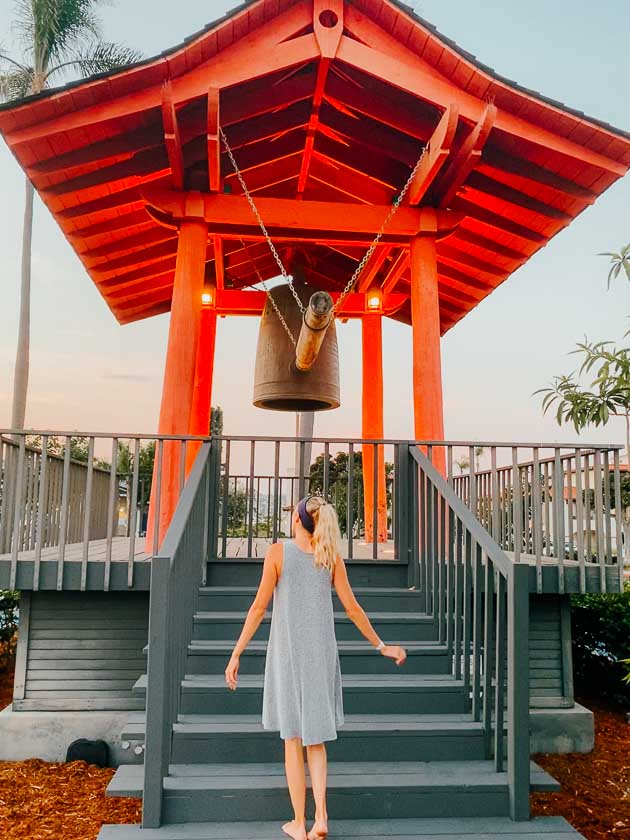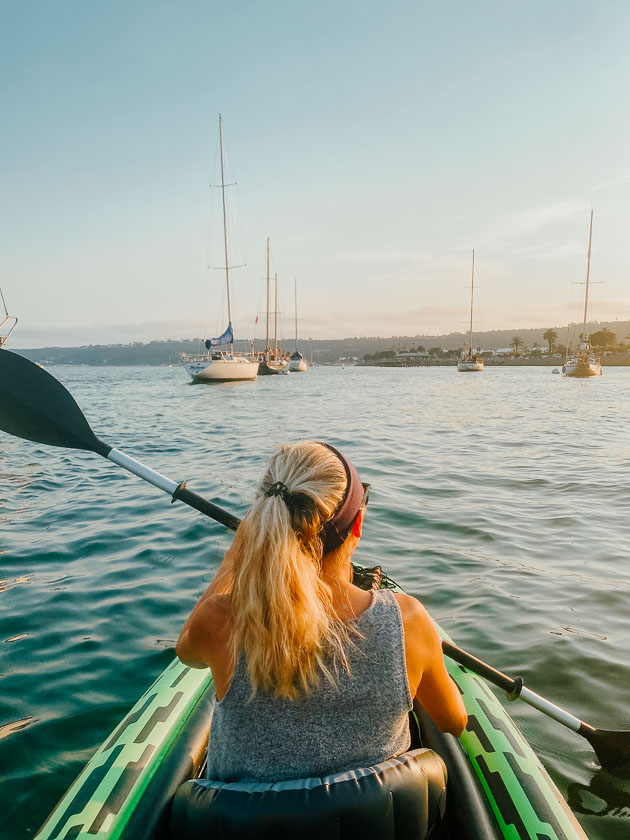 San Diego's prime spot for all things water, Shelter Island, is San Diego's premier boating center with marinas, restaurants, bayside parks, resort hotels, and more. Many come to Shelter Island for a tropical resort getaway, while others plan sportfishing trips to catch Albacore, Dorado, Yellowtail, Calico Bass, and other hefty catches.
Cabrillo National Monument
Named after Juan Rodríguez Cabrillo, this National Monument is a must-see when visiting Point Loma. Worth a full day's trip, Cabrillo National Monument offers loads of history and impressive nature, like the tidepools, to witness firsthand. Many come to whale watch, explore the tidepools, hike, visit the Old Point Loma Lighthouse, and learn about military history at this stunning location presenting stunning views of the harbor.
Sail San Diego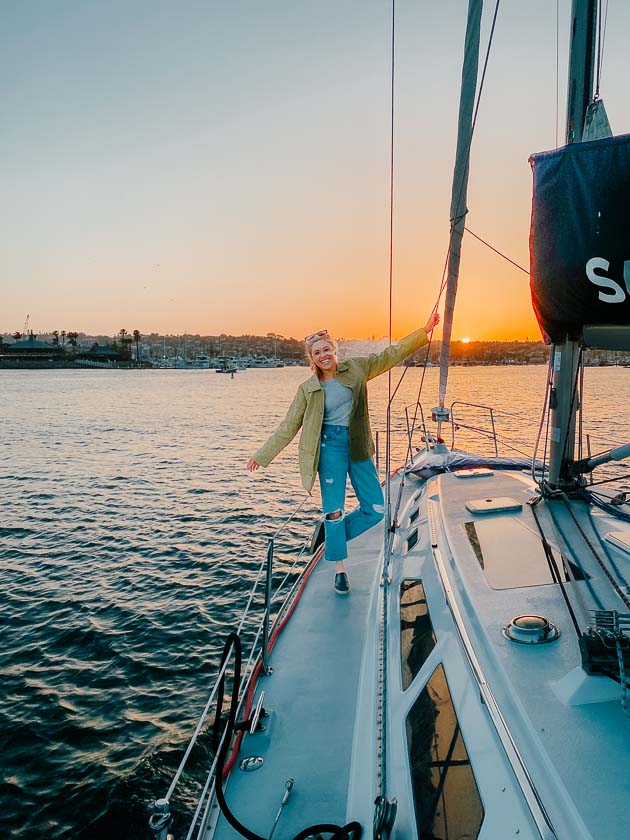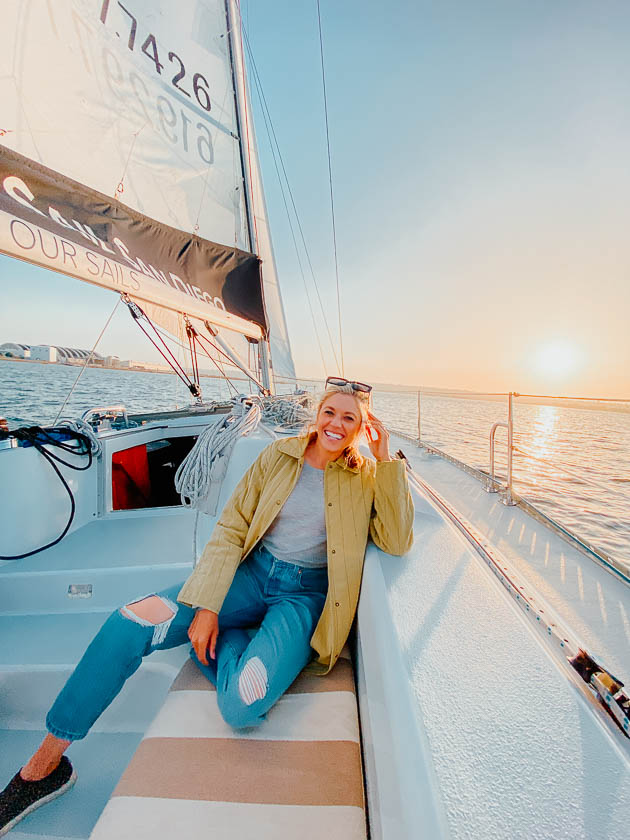 Sail away in San Diego at Sail San Diego, a family-run boutique sailing company. As one of San Diego's oldest running operations, this sailing company features sunsets melting into the sea, whale and dolphin sightings, and undeniably incredible waterfront views of San Diego.
I hope you found this guide helpful for the next time you are visiting San Diego and exploring Point Loma. You really can't go wrong when exploring Point Loma as it is a beautiful beachside neighborhood.