THE PERFECT ONE-WEEK NICARAGUA ITINERARY: AT RANCHO SANTANA NICARAGUA
If you've never been to Nicaragua before then you NEED to add it to your bucket list!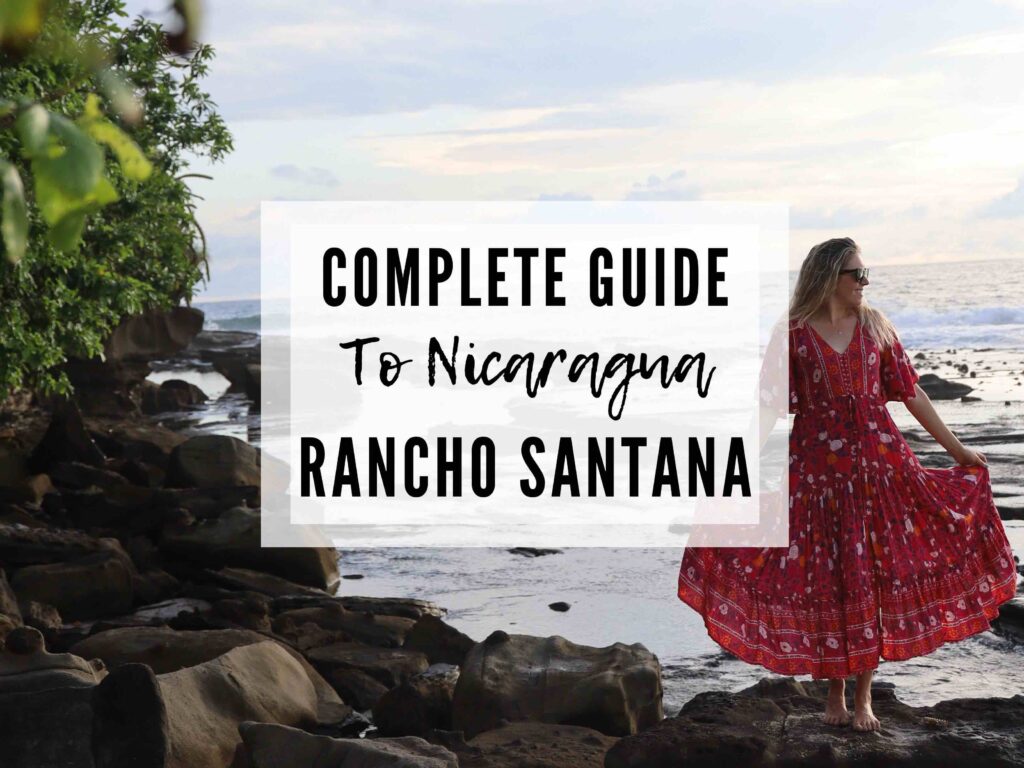 To be honest I was quite nervous to visit Nicaragua, let alone take my 10-month-old baby and my mom along with me. However, when I found Rancho Santana Resort, all my worries went away.
Ever since visiting Nicaragua, I have been asked if it was worth it. My answer. 100% yes! In this article, I am going to share with you the ultimate Nicaragua Itinerary. You will be shocked by how you can have the ultimate vacation in Nicaragua just by staying at Rancho Santana Resort.
How to get to Nicaragua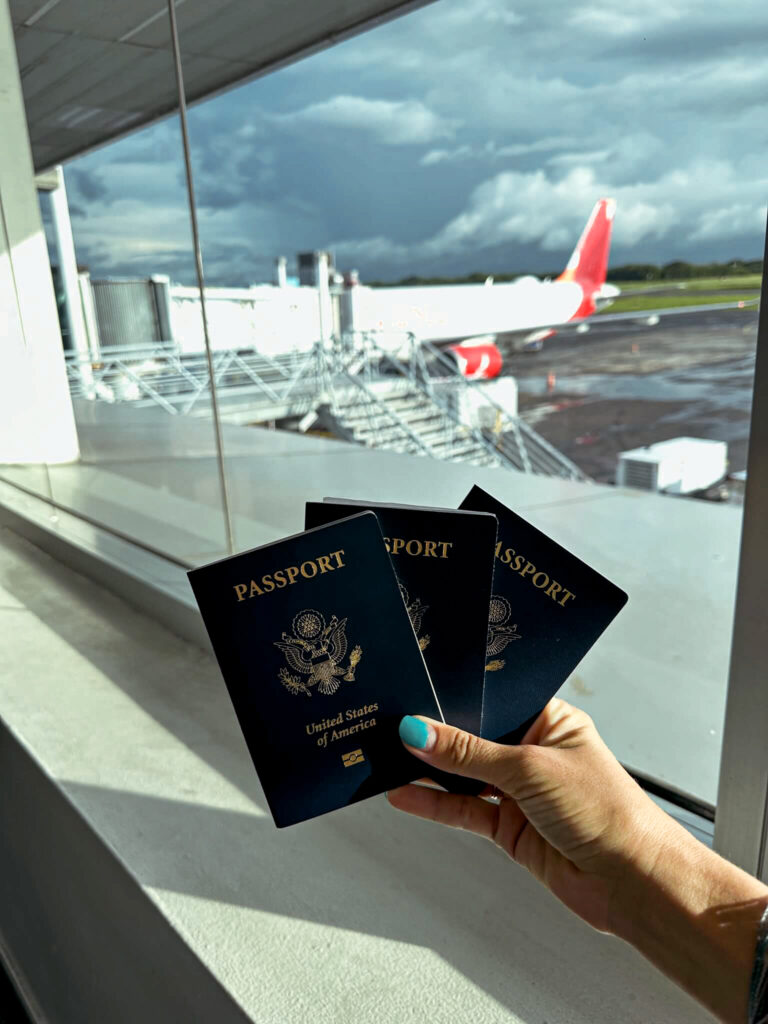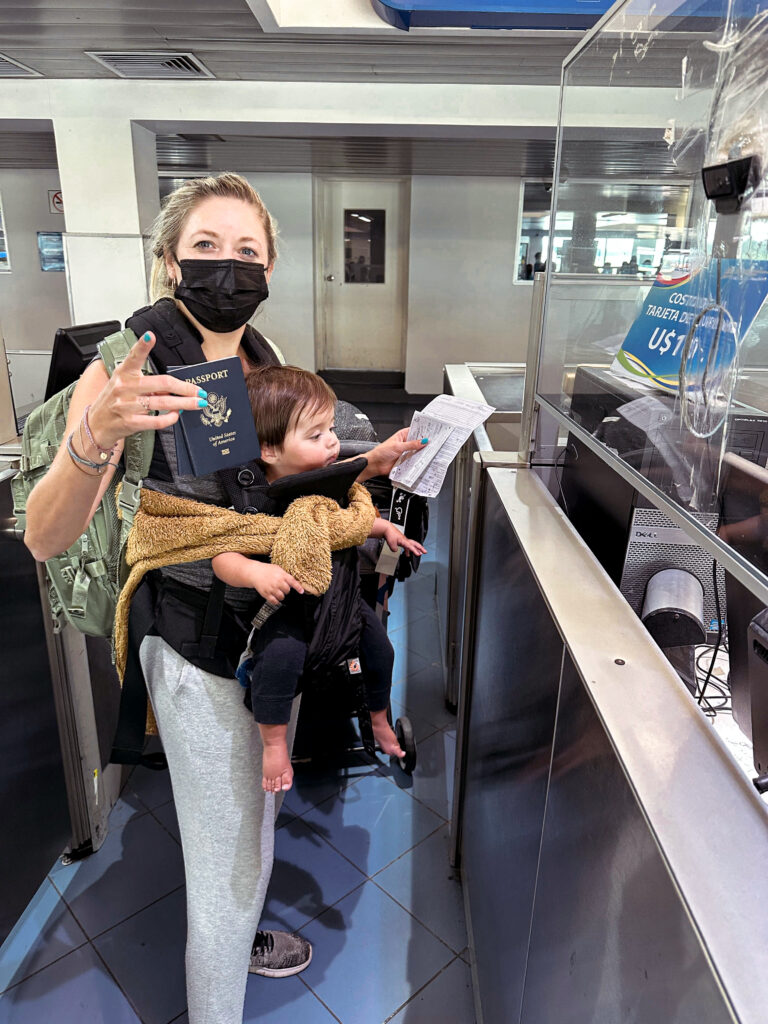 Nicaragua is located in Central America, set between the Pacific Ocean and the Caribbean Sea. The country itself is known for its insanely gorgeous beaches as well as an abundance of volcanoes and lakes.
There are two main ways that people typically enter Nicaragua. You can either fly directly into Managua, Nicaragua, OR fly into Liberia, Costa Rica and cross by the border. Avianca airlines is the most popular airline that currently flies into Nicaragua.
Now entering this country can get confusing, so I have broken it all down for you to help make it more simple.
As of the time I am writing this, it is still required to show either your COVID vaccine card or a negative COVID PCR test to enter Nicaragua. As of now, to enter Nicaragua you need a PCR-RT Covid Test.
Here is the confusing part. Your test must be within 72 hours of ARRIVAL into Nicaragua. If you are flying into Managua, your test will need to be sent to your airline 36 hours before departure. Do your research, depending on where you are flying from this can be difficult to time out.
Upon arrival in Managua at the airport you will have to pay a fee of $10 (cash is required), if you are entering via the border in Costa Rica it is $13 cash only. This cash must be in USD and the preference is exact change.
As always, information is constantly changing, so before you plan your trip make sure to do your research and always check the local government websites for more details.
When is the best time to visit Nicaragua?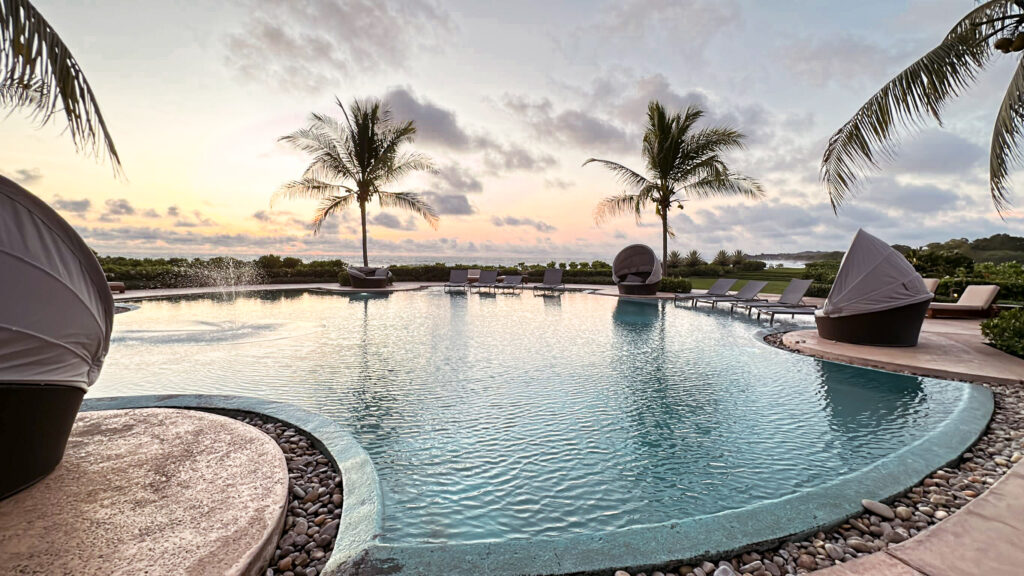 Nicaragua basically has two seasons: Dry and rainy season. The dry season runs from November through May and the rainy season runs from June through November.
I visited the first week of November and was greeted with mostly sun and the occasional afternoon rain shower which would last about 10-20 minutes. Temperatures usually average around the 80s year-round due to being near the equator.
Where to stay in Nicaragua: Rancho Santana Resort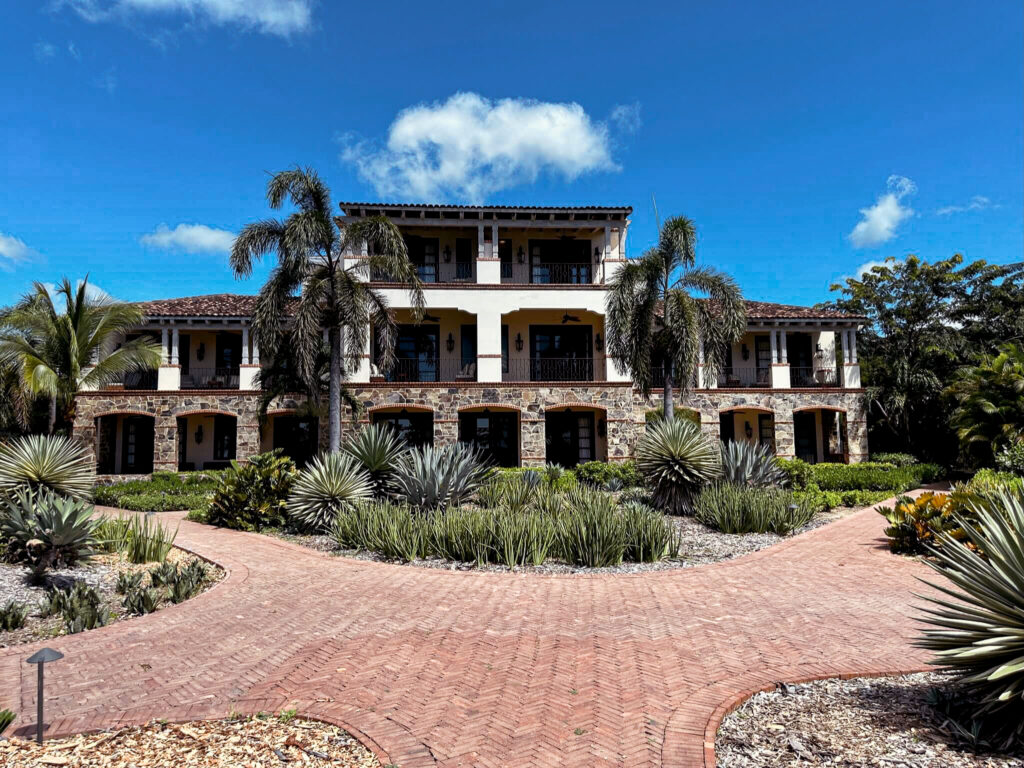 Located on Nicaragua's pristine Emerald Coast you will find the stunning resort called Rancho Santana. This resort sits on 2,700 acres of lush land and is filled with five beaches, and a variety of restaurants. It is the ultimate place for both families and adventure lovers to visit!
You can have the privacy of an ocean-view home while staying on the property all while being surrounded by the endless coastline of the Pacific coast.
Getting to Rancho Santana in Nicaragua is extremely easy. Considering it is a world-class luxury resort, the concierge will help accommodate all the transportation for you. Whether you are coming from Managua or Costa Rica they will provide transportation for you directly from the airport.
I have an extremely great deal for you! Rancho Santana Resort in Nicaragua has given me a discount code!
Use code Chelsey4 to get a $500 resort credit for stays of 4 nights or more! This could be applied to the restaurants on site or one of the many activities!!
***The booking window is 3 months and the travel window is 6 months. The last day to book using my code is February 12th, 2023.
I wanted to quickly get into the history of Rancho Santana Resort as it is such a unique story and the resort itself is doing so much for the surrounding community and this developing country.
History of Rancho Santana Resort in Nicaragua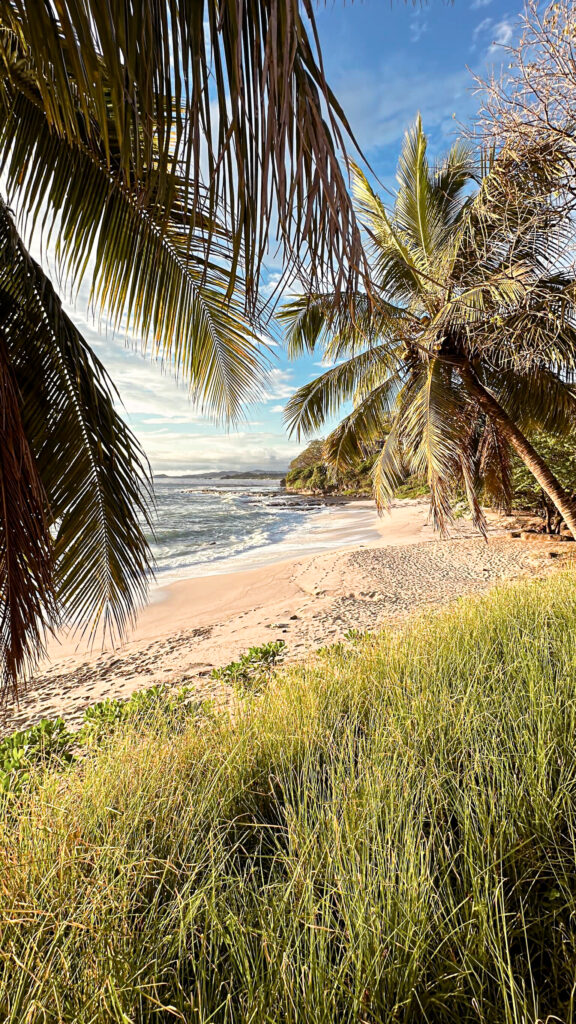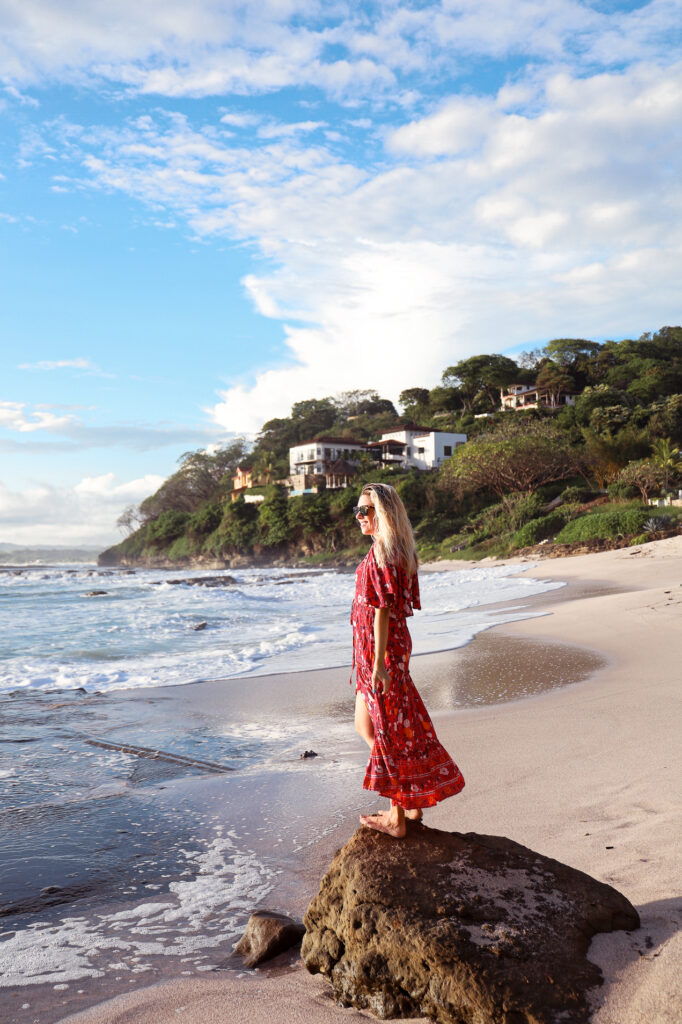 25 years ago six friends visited Nicaragua to potentially buy some land. They were shown the rugged coastline of what is now Rancho Santana and were immediately intrigued and purchased the land!
Over the course of the past 25 years, homes were built for themselves and their friends on the land. More and more homes were built which began to require roads, water, etc. The property continued to grow into what it has become today offering everything from restaurants to horse stables, a spa, to the Inn and Residences where travelers now stay.
The story of how Rancho Santana was founded is so amazing, but my favorite part is Rancho Santana has significantly increased the local economy. Most of the full-time employees come from nearby towns and lots even live on the property. Rancho Santana Resort is doing so much to give back to the community, by creating jobs and learning opportunities for the local people.
One of the founders has even built a community center which is a non-profit organization, called Fun Limon. Located across from the ranch this organization helps assist in economic development by providing services helping with youth and adult education.
It is so important to me to travel and stay at places that are making efforts to maintain a more eco-friendly sustainable lifestyle and Rancho Santana does just that.
Here are some amazing things Rancho Santana Resort is doing: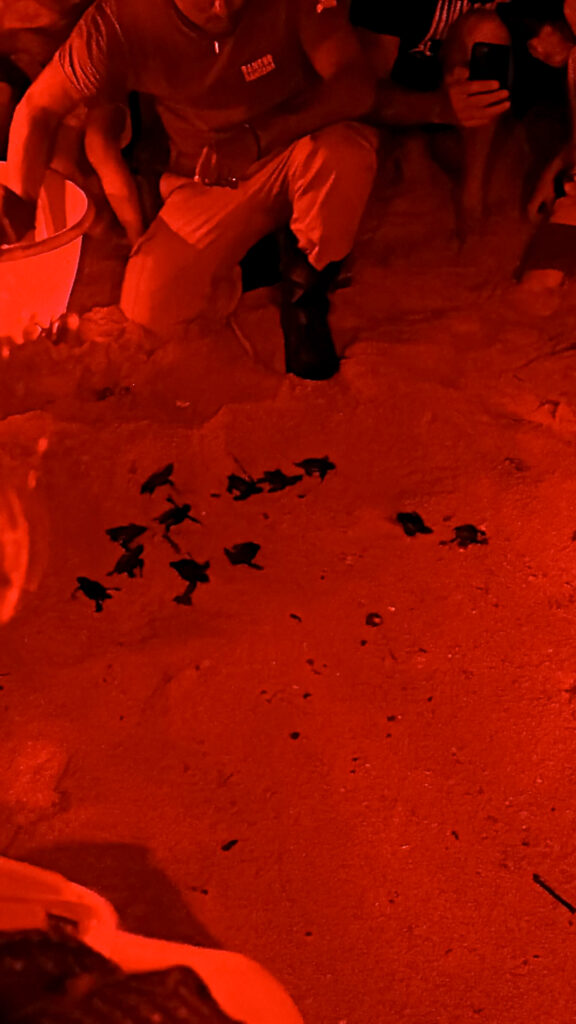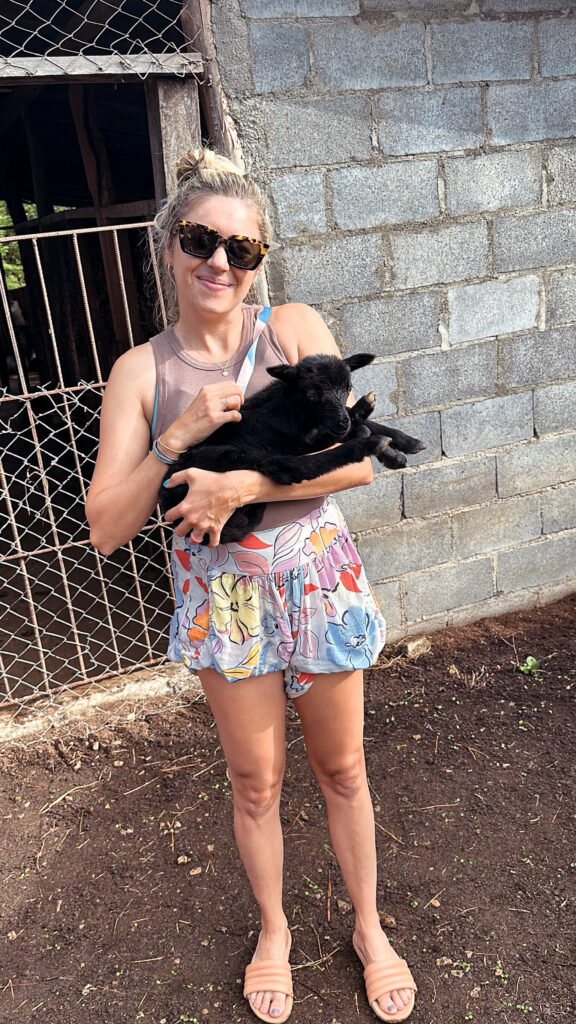 -Provide resources to the local community during the rainy season.
-Help provide water solutions to the surrounding communities
-Operate mostly on solar energy
-Locally source their food directly on the property making everything farm-to-table
-Providing and creating more jobs for the local community
-Providing education and learning opportunities for the locals
So, now that you know where to stay in Nicaragua and the history of this resort let me give you a quick breakdown of how the property is laid out before we get into all the fun amenities.
The layout of Rancho Santana Resort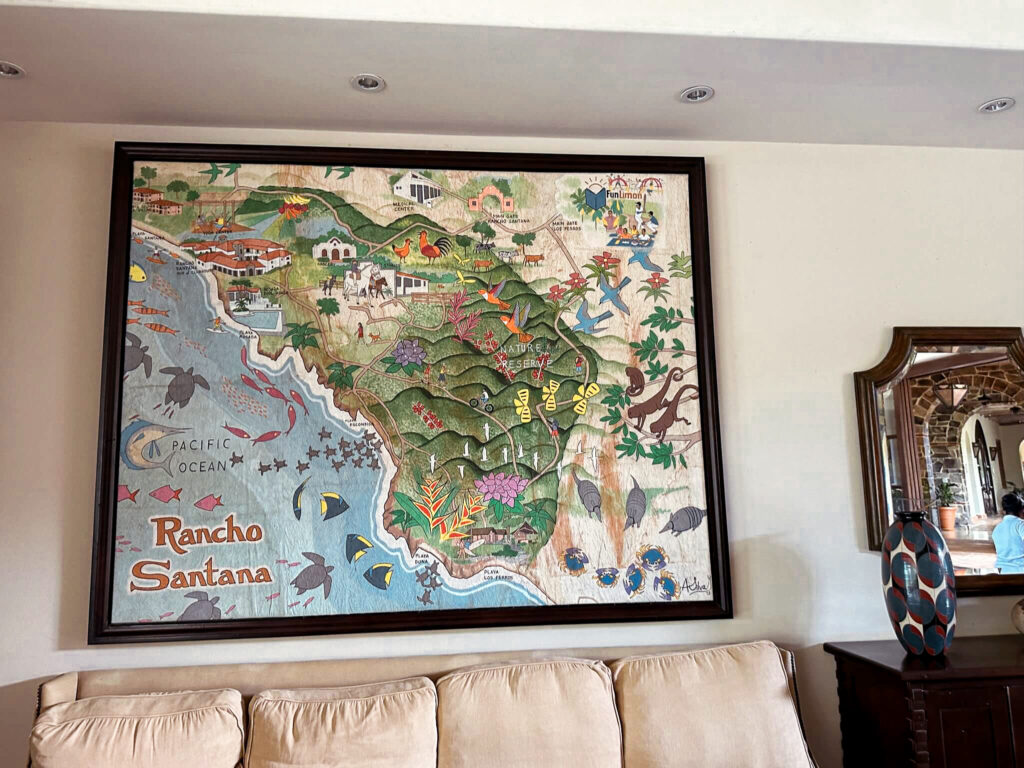 As I have stated before, the property is HUGE! 2,700 acres in fact! I wanted to give you a quick little layout/briefing of the property.
You will find five different beaches within the property.
Playa Santana
Playa Rosada
Playa Escondida
Playa Duna
Playa Los Perros
PSA Playa means beach!
Each beach offers something different and unique. There is a shuttle on the property that will take you to all of the beaches listed above.
As far as accommodations go, there is one main area where tourists and travelers stay. These accommodations are located at Playa Santana. Here you will find a few different options with different price ranges:
The Inn: This is a two-story, seventeen-room boutique oceanfront hotel. This is more hotel-style but still offers ocean-view terraces.
The Residences: Located at Playa Santana, these are three-bedroom, three-bathroom condo-style units with a kitchen and living area. (This is what I stayed in).
Garden Casitas: These are two-bedroom cabin-style accommodations with a kitchen and living area. These are still located at Playa Santana but do not provide an ocean view.
These are the main three locations travelers stay in while on the property; however, there are also a few individually owned properties you could also stay in. Check those out here.
Each stay comes with a unique package of amenities, so make sure to check out what is included in your package.
You will never go hungry as there are four different restaurants on site:
El Cafe
La Boquita
La Taqueria
La Finca Del Mar
Lastly, you will find three pools onsite. Two are located at Playa Santana and one is located at Playa Rosada. There are a multitude of activities to do which we will go over later in this article.
Restaurants at Rancho Santana, Nicaragua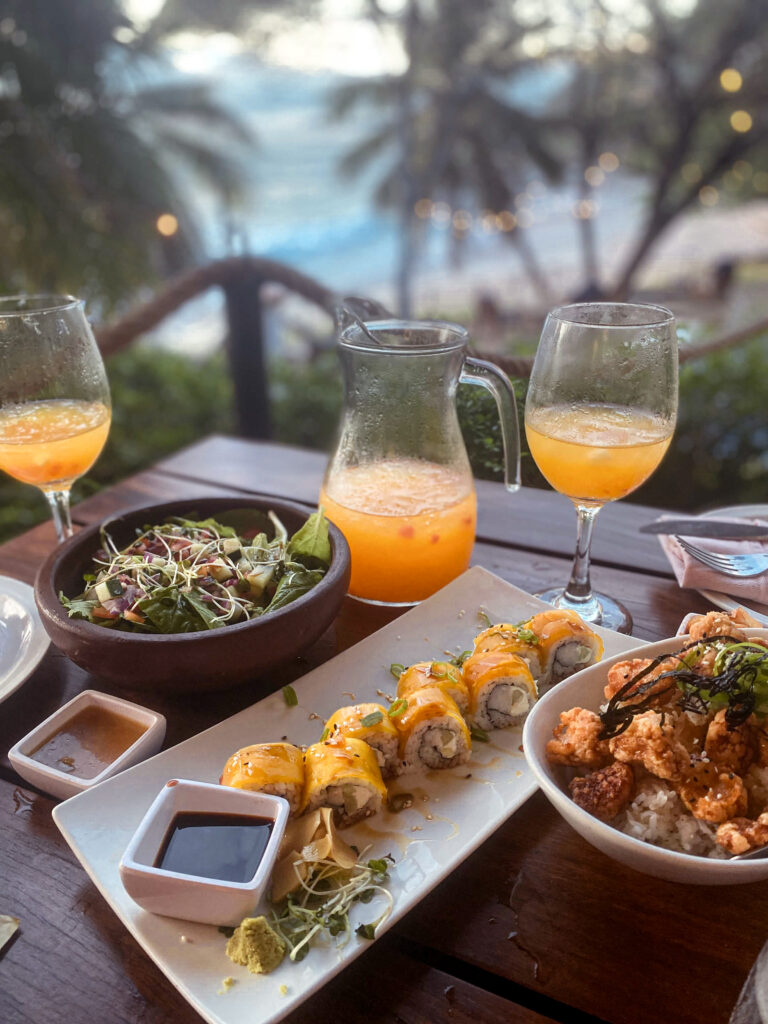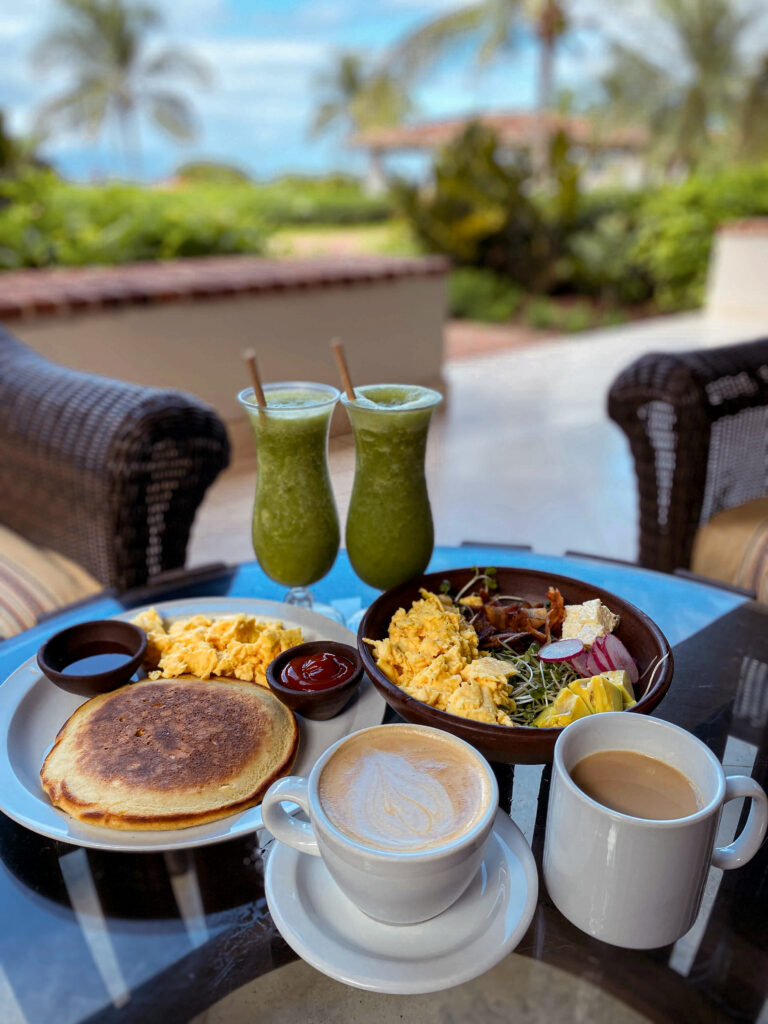 Nicaragua strives to be a more and more sustainable and responsible destination. Rancho Santana is helping with just that by offering unique farm-to-table experiences through all four of their restaurants onsite.
The fruits, vegetables, and meat are all grown on-site whereas the seafood is sourced from local fishermen. The chefs on the property love to highlight the food that is available and in season.
Be prepared for your meal to be potentially different or not exactly what the menu says. For example, one morning my mom ordered the Breakfast protein bowl. The first day it came on a bed of sprouts and the second day it came on a bed of lettuce.
This means everything is fresh, don't worry it is all delicious! The chefs and staff are extremely accommodating to food allergies. Before each meal, I was asked if I had any allergies, which I do (dairy), and they made sure to accommodate my needs.
Here is some insight into each restaurant:
El Cafe: Located right in the Inn, central to everything. Serving a variety of breakfast foods from smoothies, to protein bowls, to pastries, to a full coffee menu. This will be your one-stop restaurant for breakfast.
La Boquita: Located at Playa Rosada, this restaurant is the perfect place for happy hour at sunset. This restaurant features an open-air kitchen and terrace dining with stunning views. Here you will find food like pizza and sushi.
La Taqueria: Just as the name sounds this is your restaurant to indulge in some good ole tacos and burritos. Located on Playa Los Perros-it's the perfect place to eat after surfing. There is also a cute little boutique store here selling gifts to bring home to your loved ones + rentals for surfboards and boogie boards.
La Finca Del Mar: Consider this the fanciest restaurant on the property. Serving everything from seafood, to meat, to farm-fresh produce.
Located right on the heart of the property it is best to come here for dinner and sunset. If you would like to sit outside, I recommend you make a reservation ahead of time. Within La Finca Del Mar, you will also find a more casual area, otherwise known as the pool and bar. Here you can play pool, order a drink, and even some items off the menu.
Two other options include in-home dining, meaning you can order food from any of the restaurants to your place of stay or visit the La Tienda on the property and cook a meal for yourself!
Activities at Rancho Santana, Nicaragua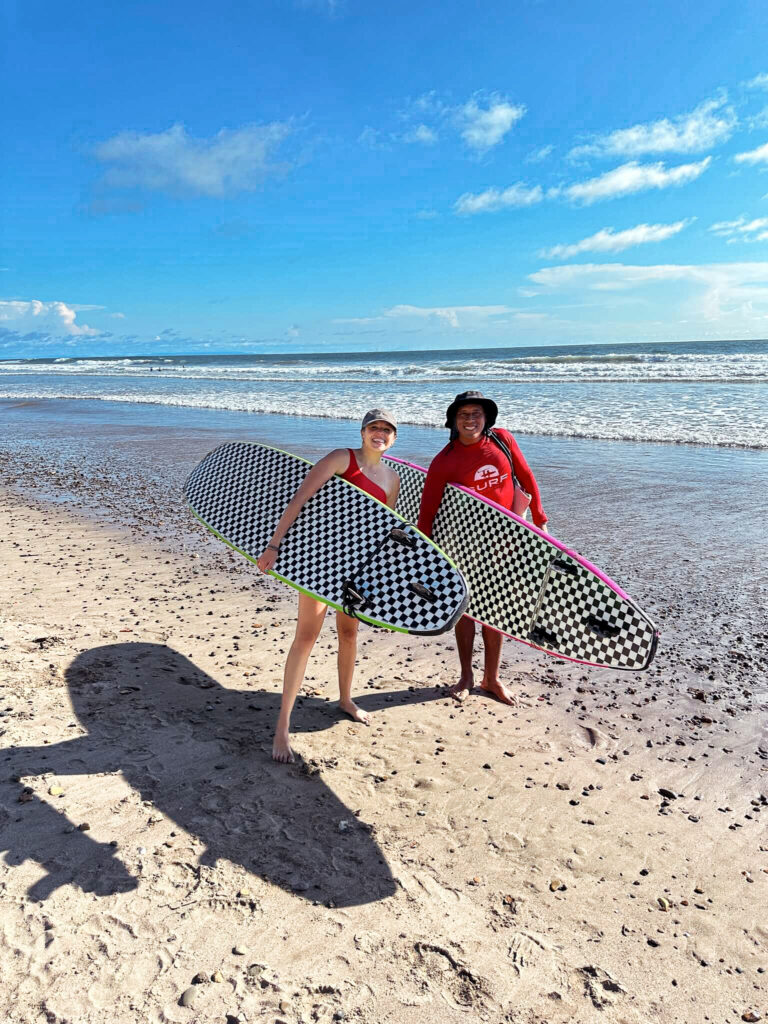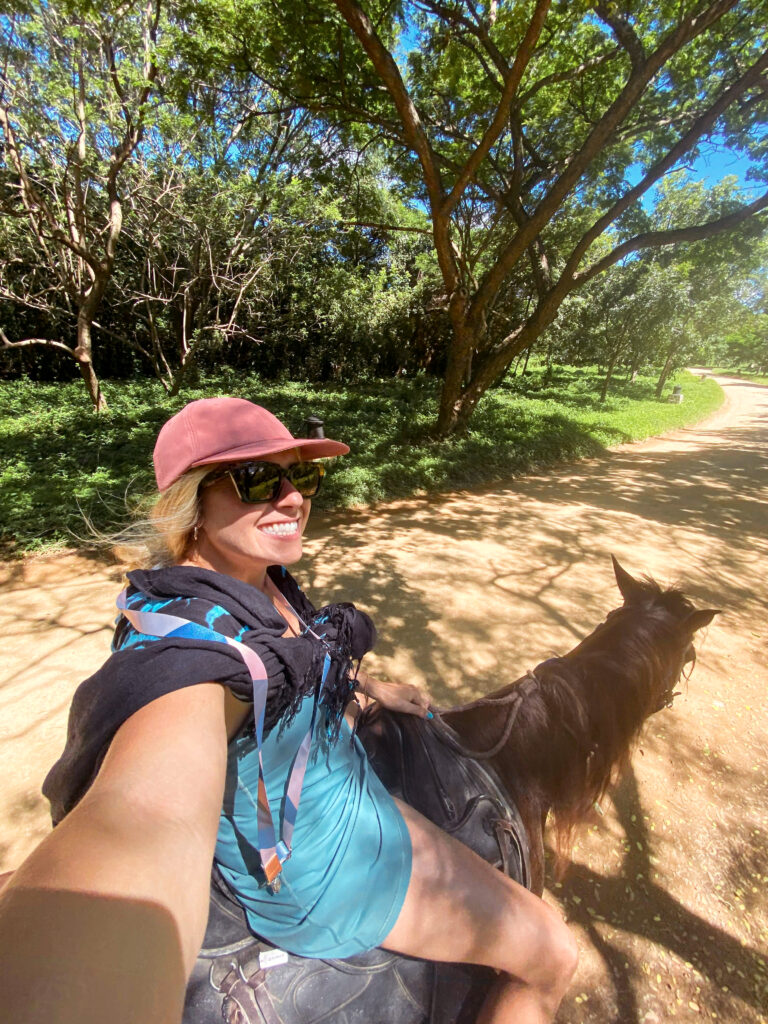 There are an endless amount of activities and experiences to take at Rancho Santana. I am not going to go over every single activity, but just know you could spend weeks here and not do it all.
For the sake of this article, I am going to share the activities I did and what I loved about them! You can find activity opportunities both on land and water!
There is something for everyone of all ages!
For adults, you can find anything from relaxing at the spa to taking a yoga class. My all-time favorite thing I did while on the property was the spa. The setting is stunning as you are tucked away in the trees and I honestly think it might have been the best massage I have ever had.
Other activities I partook in were horseback riding, surfing lessons, monkey scouting, and the garden/farm tour. The staff members were extremely knowledgeable and informative with each tour I took. From teaching us about how they grow their plants and animals in a humane way to being so patient with me as I learned to surf.
***As a reminder, please don't forget to tip your guide if you enjoyed the experience.
Upon your arrival to the resort, I highly recommend you take the Las Cinco Playas tour. I did this tour on the 4th day and wish I had done it the first day. It gives you a great idea of the layout of the property and will help you plan out what you might want to do each day.
For families, there are tons of activities on top of all the ones I mentioned above. On property, you will find bonfire pits, tennis courts, hiking and so much more!
Rancho Santana gives back and helps the community in as many ways as possible including running a Turtle Sanctuary.
Each year about 6,000 turtles lay their eggs in the sand at Playa Escondida. The sanctuary helps provide shelter for the turtle hatchlings in order for them to have the best chance of survival.
If you visit during the right time of the year you can even watch these turtles make their way back to the ocean!
Make sure to check out my videos to get an idea of what the property of Rancho Santana looks like as well as all the fun activities you can do!
Activities outside of the resort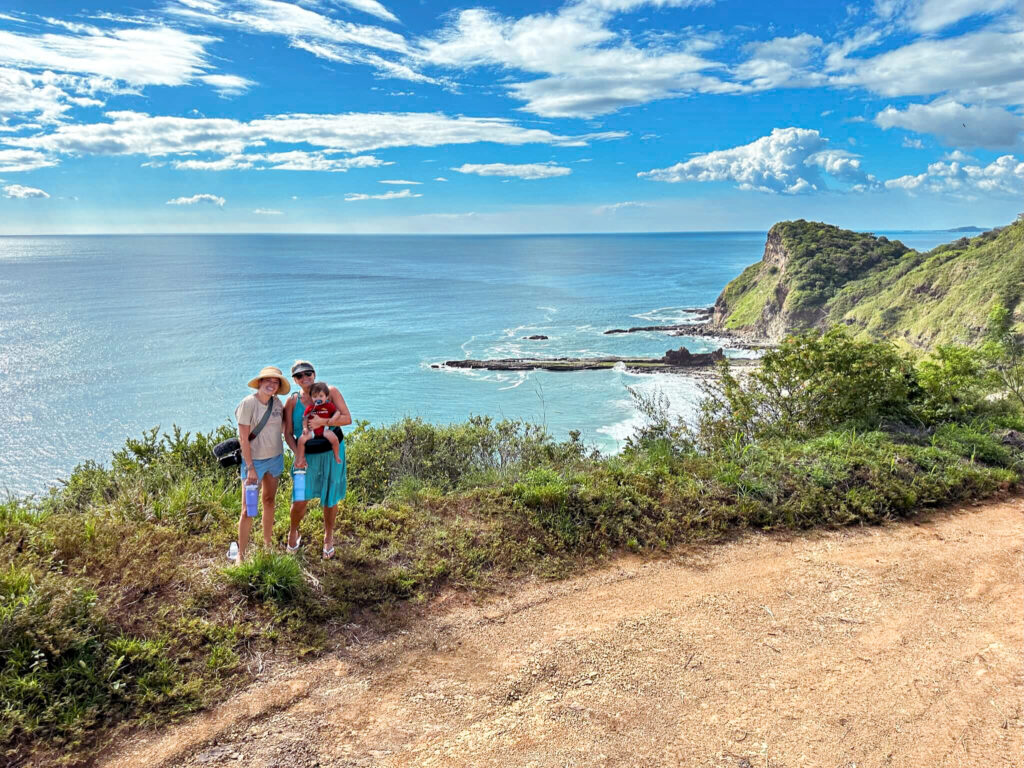 If you are interested in exploring Nicaragua off the property of Rancho Santana, don't worry the resort can also arrange this for you. They have a complete list of off-site tours.
You can find anything from half-day to full-day tours exploring all the lakes and volcanoes that Nicaragua has to offer.
Again don't forget I have a code for you to book with, but hurry because the offer doesn't last for forever!
Use code Chelsey4 to get $500 resort credit for stays of 4 nights or more! This could be applied to the restaurants on site or one of the many activities!!
***The booking window is 3 months and the travel window is 6 months. The last day to book using my code is February 12th, 2023.
I hope you enjoyed this complete review of what is like to stay at Rancho Santana Resort in Nicaragua. I would say if you are questioning how much time you need in Nicaragua consider planning on being there for at least one week.
Everything in this article will fit into your one-week Nicaragua itinerary and you will not be disappointed.
Like this post? Pin it for later!