THE ULTIMATE 10 DAY ICELAND ROAD TRIP ITINERARY
Iceland had been on my bucket list for a long time now. We had actually planned on visiting in September of 2020, but you know what hit the world. This country has become insanely popular in recent years, so if you are reading this blog then my guess is you are planning out your Iceland itinerary.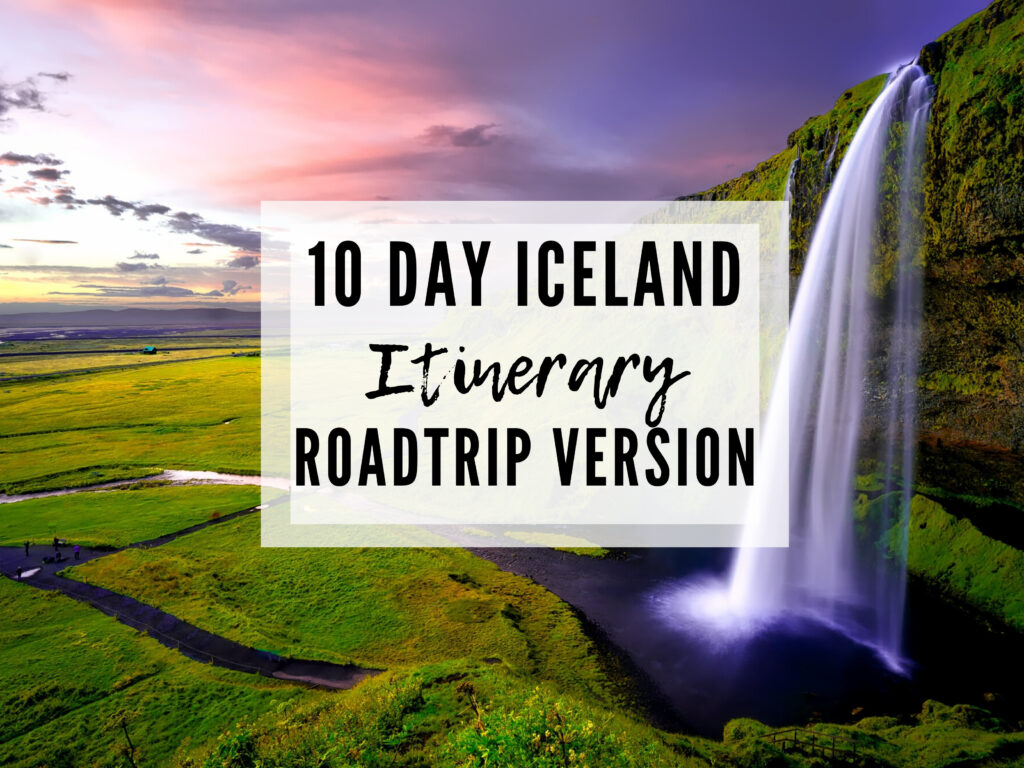 There aren't many places that you can drive around the entire country in a short period of time, but Iceland is one of those. I am going to give you the ultimate 10 Day Iceland Itinerary below.
This country is full of insane waterfalls, vast landscapes, and incredible glaciers. If you love the outdoors and exploring then this place is for you!
For the purpose of this article, we will focus on how you too can road trip through Iceland, but first, let's start with some frequently asked questions.
ICELAND ITINERARY TIPS AND FAQ
These are some helpful tips and frequently asked questions to get you started and feel like an expert on your Iceland road trip.
TIPS FOR YOUR ICELAND ITINERARY
1. Visiting during COVID? You will need a negative test to fly into the country of Iceland.
2. Most places in Iceland accept credit cards. Personally, I didn't use cash here once but if you do get cash, you will need to exchange your money for the Icelandic Krona.
3. In my opinion, the best way to see Iceland is by campervan. It offers you a ton of flexibility and tends to also be the more affordable route.
4. Pack layers-lots and lots of layers. Iceland gets windy and cold.
5. Only hike on established trails and always Leave No Trace.
FAQs
When is the best time to visit Iceland?
This is a common question that is asked and really depends on what you are looking for. There are pros and cons to visiting during each season. Below is a list of each season and why you may want to visit during that time.
Summer: Warmer weather and longer days however, there are more crowds. Also, the cost of things might be more expensive.
Fall: Fall is a great time to visit as the weather is not freezing yet and the extreme tourist prices have dropped a bit. You might even find some fall colors. Depending on the weather, most roads and campsites will stlil be open.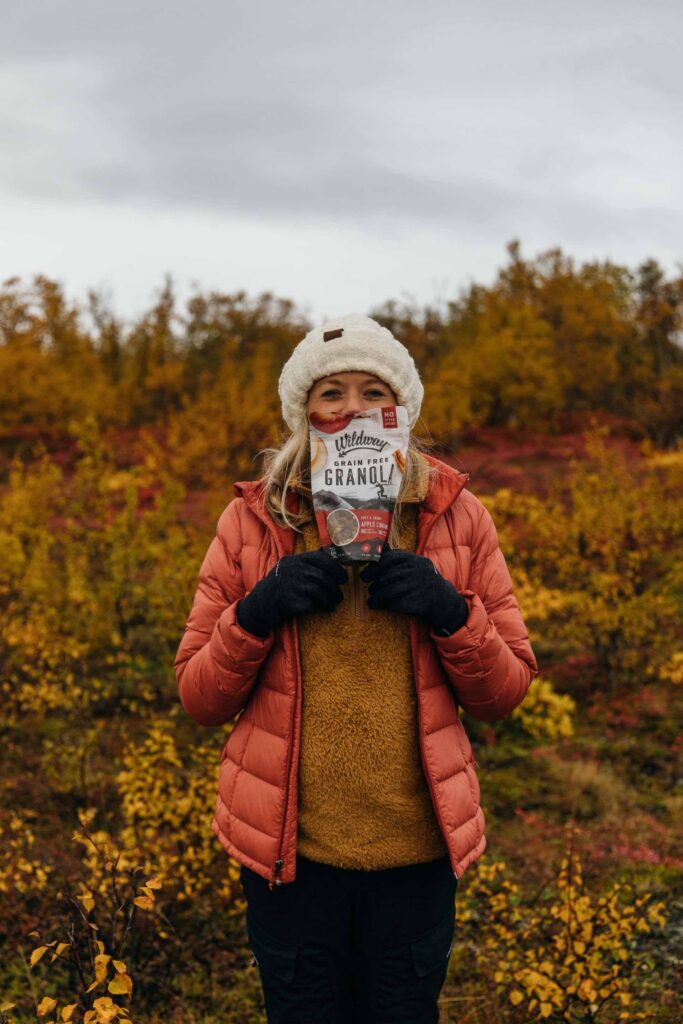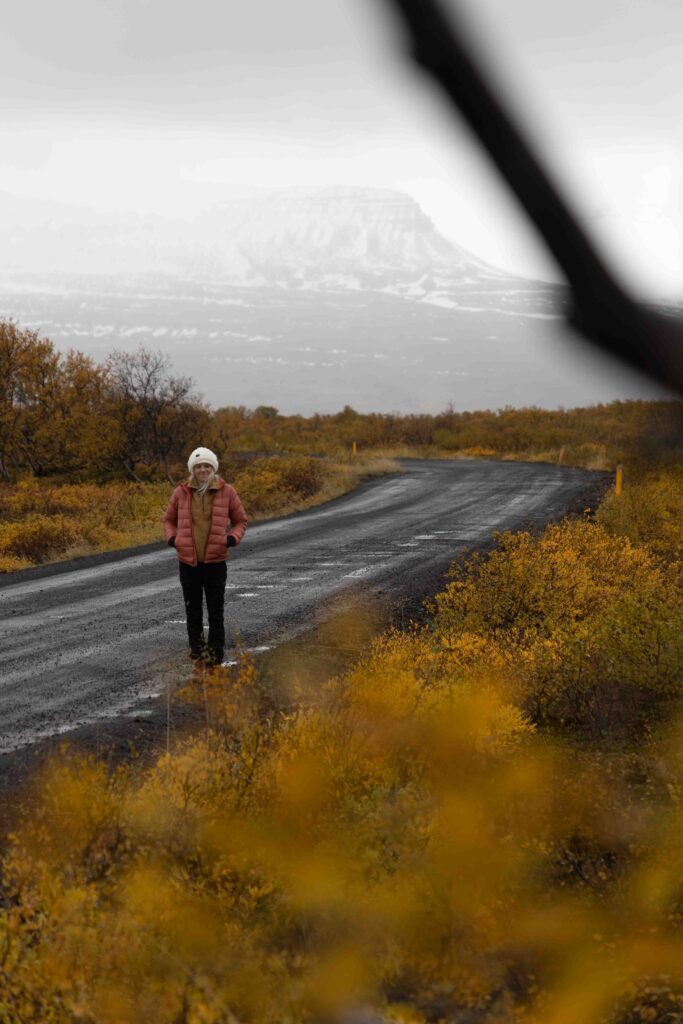 Winter: If you don't mind colder temperatures then Iceland is beautiful when covered in snow. Visiting in the Winter will give you the best chance to see the Northern lights. Weather is more unpredictable, there is less sunlight, but things tend to be cheaper during this season.
Spring: Another great time to visit. Just like Fall, things will be cheaper during this season and the tourists will be less.
Is Iceland expensive?
Yup, it is. Some ways you can combat this though is by visiting during the off-seasons and cooking your own meals instead of eating out. Renting a campervan is another way to save on some money as you won't be spending a fortune on hotels.
How much should I budget for a trip like this?
If you choose to go the campervan route, I would plan to budget about $2500 per person not including flights. Here is a breakdown of what we spent (the costs were split between 3 people)
Flights-$500/person
Activities- $200/person
Campervan-$1500 total
Food/Groceries-$546 total
Airbnb Lodging-$350 total
Gas-$377 total
Campsites-$250 total
Where can I rent a campervan for this trip?
Great question! There are tons of options for renting a car in Iceland; however, I did a ton of research and chose to go with LAVA car rental. I highly recommend them. You can read my article on how to rent a campervan through LAVA car rental and some more specifics on campervanning through Iceland.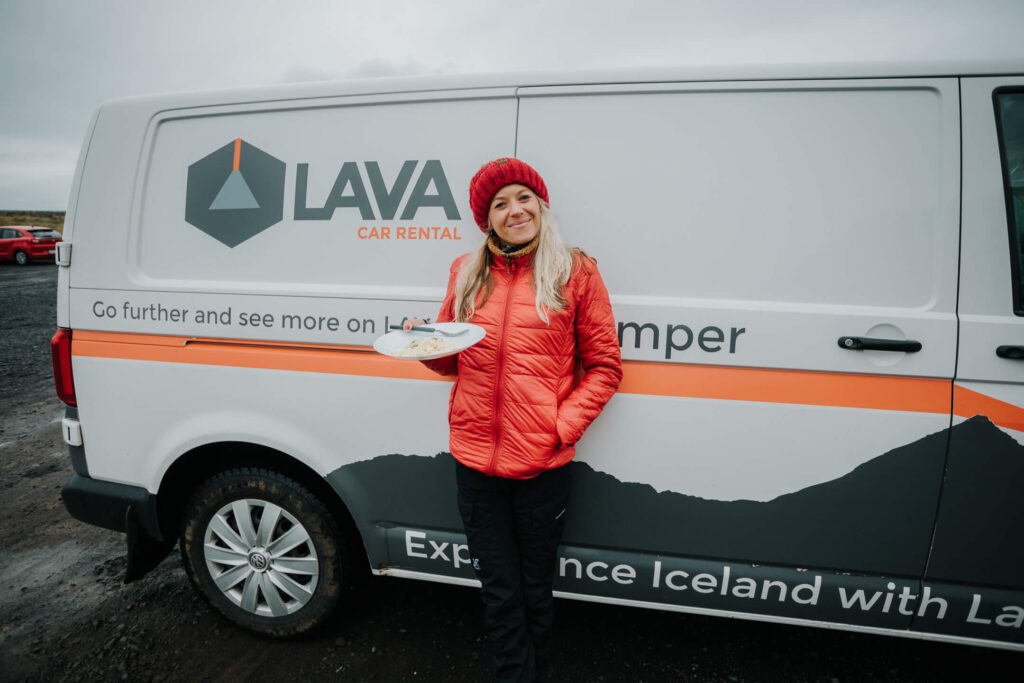 From how to rent a campervan to what to cook, I break down everything you need to know for living in a van for a week.
How do I find campsites to stay at?
Another great question! We used three different tools to find campsites in Iceland. If you actually just type in the campsite to google maps when you are in Iceland, most of the campsites will pop up; however, they don't give you many details or if they are open or not.
The two websites we mainly used to find our camping spots for the night were: NAT and Tjalda.
You do not need to make reservations for these campgrounds. Just drive up and find the attendant to pay your fees to.
Will I see the Northern Lights?
Well, it depends on what time of year you are visiting? If you come at the end of Fall and Winter your chances will be much higher. Unfortunately, we did not see any Northern Lights during our visit. The weather was not in our favor. We tracked the Aurora lights each night with the app My Aurora Forecast and Alerts.
ICELAND ROAD TRIP ITINERARY
Let's get started on your road trip around Iceland. My 10 day Iceland itinerary guide will help you plan your upcoming adventures! The main road around Iceland is called Route 1, otherwise known as "the Ring Road." This is the route you will be taking for the duration of your trip.
Personally, I found that renting a campervan was the best and most affordable way to go. I rented through LAVA car rental and they provided everything I needed to make my road trip exquisite. 
DAY 1: KEFLAVIK TO REYKJAVIK
You will start your day off by landing at the Keflavik airport. Most flights land in the morning, so you should be able to have a full day to adventure ahead. Plan to spend your day exploring the main town of Reykjavik.
We chose to rent a small car for this day to make traveling easier. The Keflavik airport is about 30-45 minutes away from Reykjavik, so depending on where you choose to stay will determine if you need a car or not. A lot of hotels offer transportation from the airport; however, we chose to stay in an Airbnb so we needed a car.
A car also allowed us some flexibility to explore all of Reykjavik as well as stay dry throughout the day due to rain. Below are some stops you can add to your Iceland itinerary when in Reykjavik.
Stop 1: Harpa Concert Hall
The Harpa Concert Hall is a great site to look at and walk around. The architecture here is incredible and I would have loved to be able to see a concert here.
Stop 2: Hallgrimskirkja Cathedral
This church is in the main area of Reykjavik- you can't miss it. It is definitely a picture-worthy spot.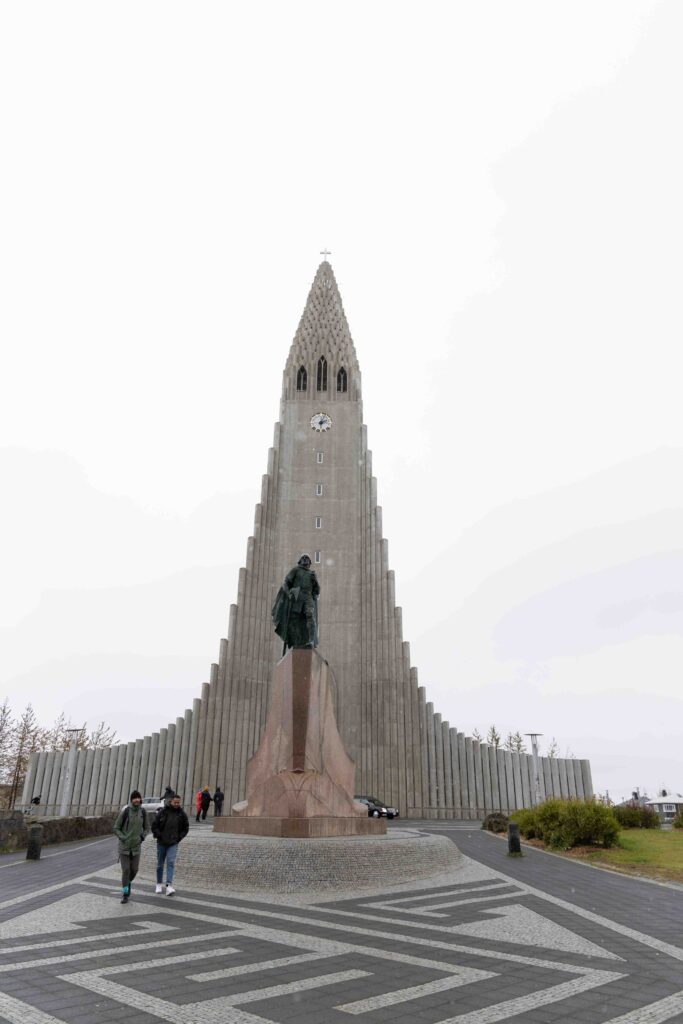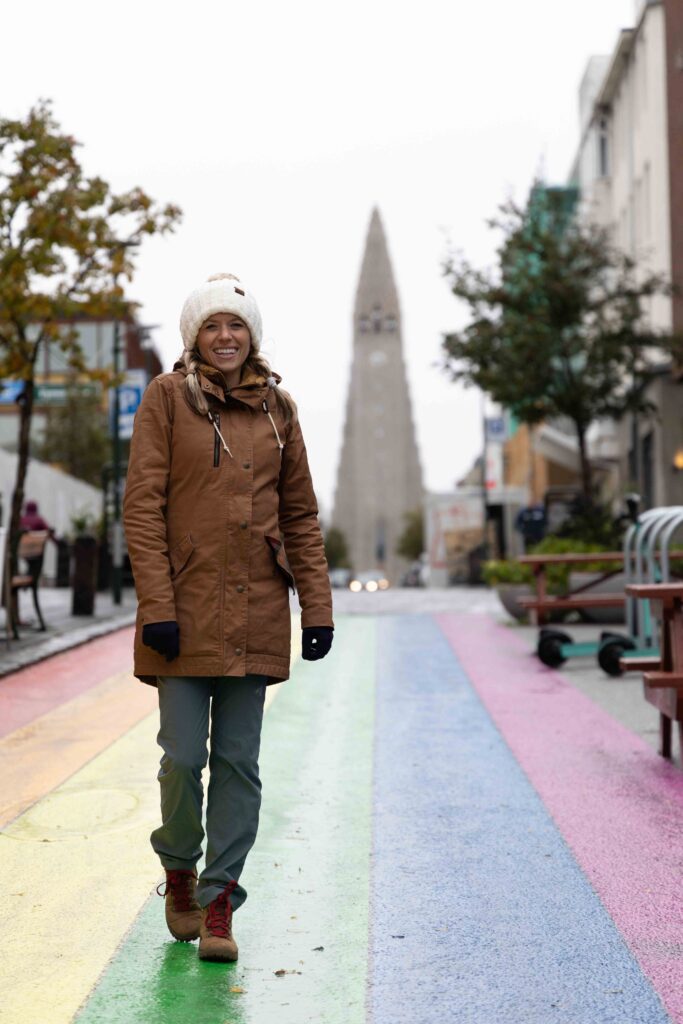 Stop 3: Northern Lights Museum
We were visiting during a season of "potentially being able to see the northern lights;" however, the forecast was not looking good for us. We found the Northern Lights museum called the Aurora Reykjavik where you could learn about how the Northern Lights occur and watch a large screen show of the lights.
This was the perfect rainy day activity and we were able to "see" the Northern Lights. (spoiler alert we didn't get to see the real ones during this trip. Oh well, guess we will have to go back.)
DAY 2: REYKJAVIK TO THE GOLDEN CIRCLE
Your day will begin by picking up your campervan and then heading out to your first destination. A popular stop to add to your Iceland itinerary is the Golden Circle. This additional route can actually be done in one day. It is a popular place for people to visit when they are doing the Iceland stopover flight.
Stop 1: Thingvellir National Park
Stop here to see the continental divide. If you plan to visit here you will need to pay for parking.
*Tip: There is nothing to display, they just take a picture of your license plate and know if you paid or not via an automated system.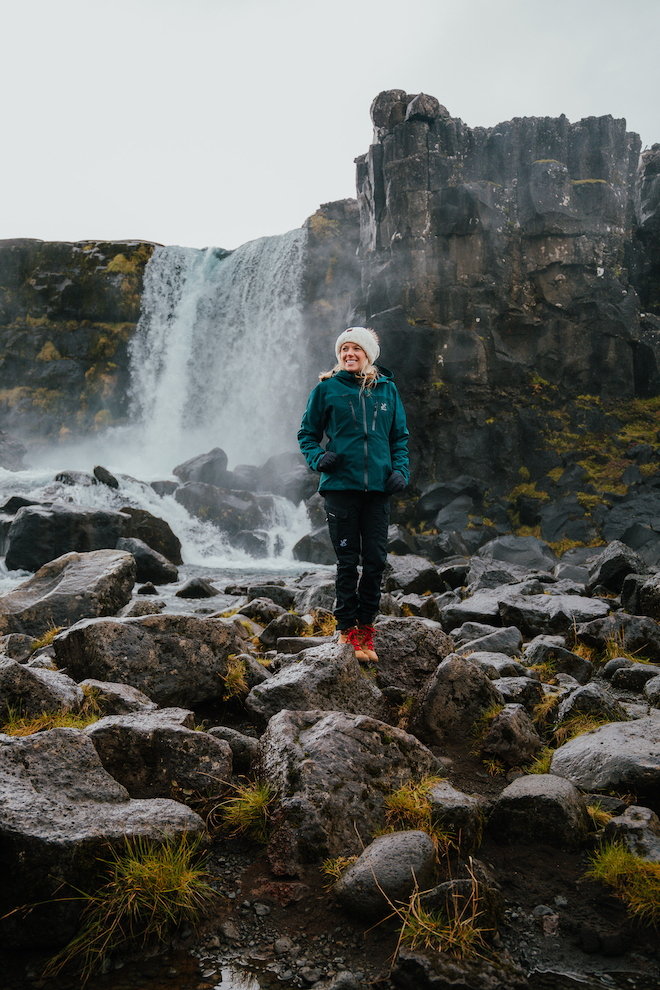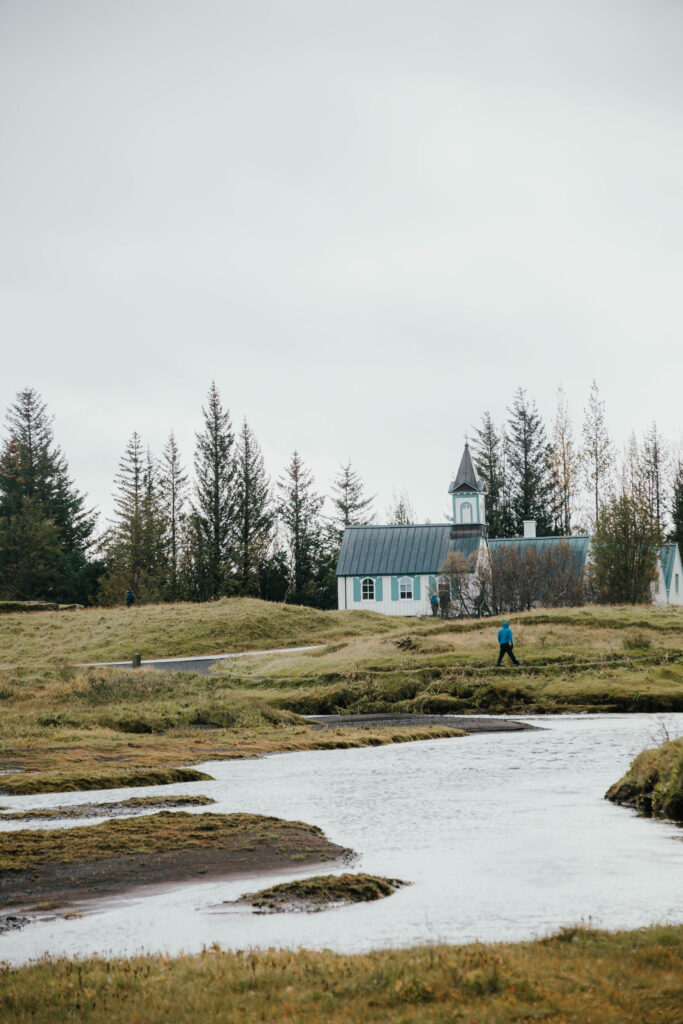 Within Thingvellir National Park make sure to check out Ocararfoss waterfall and the Silfra dive site where you can actually scuba dive between the tectonic plates, but the water is freezing.
Stop 2: Kerid Crater
This is an incredible crater that has some striking colors at the bottom of it due to the minerals that are constantly seeping into it. In order to visit here, park in the parking lot and pay the entrance fee to the attendant at the front.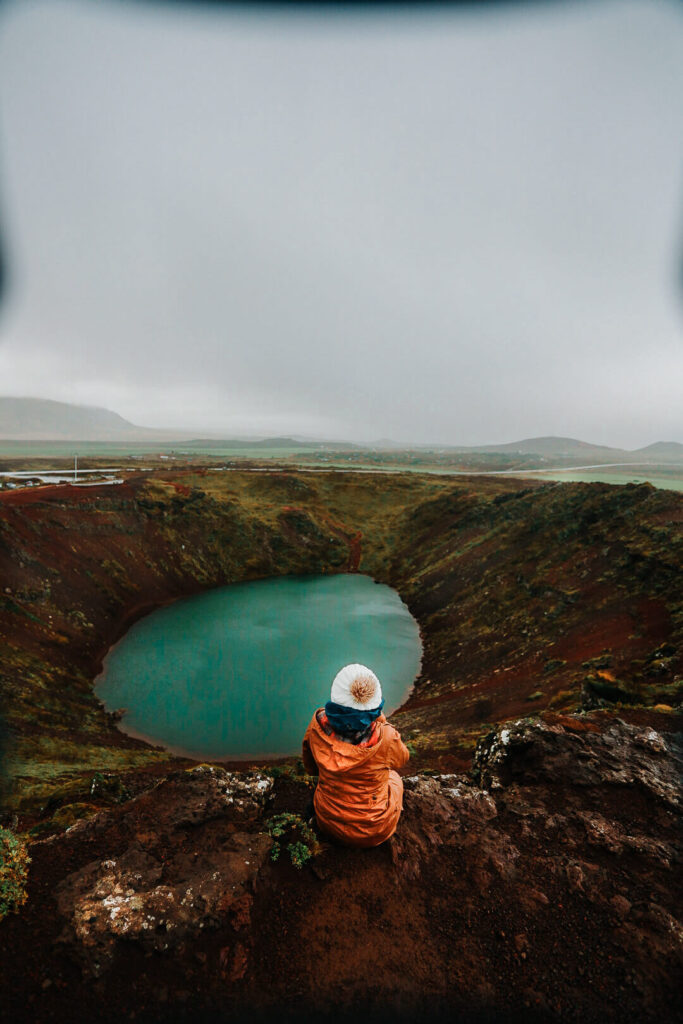 You can walk all the way up and around the crater for a higher view.
Stop 3: Geysir
Make sure to stop at Geysir to watch it blow. It goes off every six to eight minutes. This place is actually where the name Geysir originated from-like the ones you see in Yellowstone.
Stop 4: Gulfoss Waterfall
This is your last and final stop on the Golden Circle loop and probably the most incredible attraction you will see for the day. Gullfoss waterfall falls 100 feet into a canyon. You can actually view the waterfall from up above or you can get up close and personal with it. Just be warned you WILL get wet.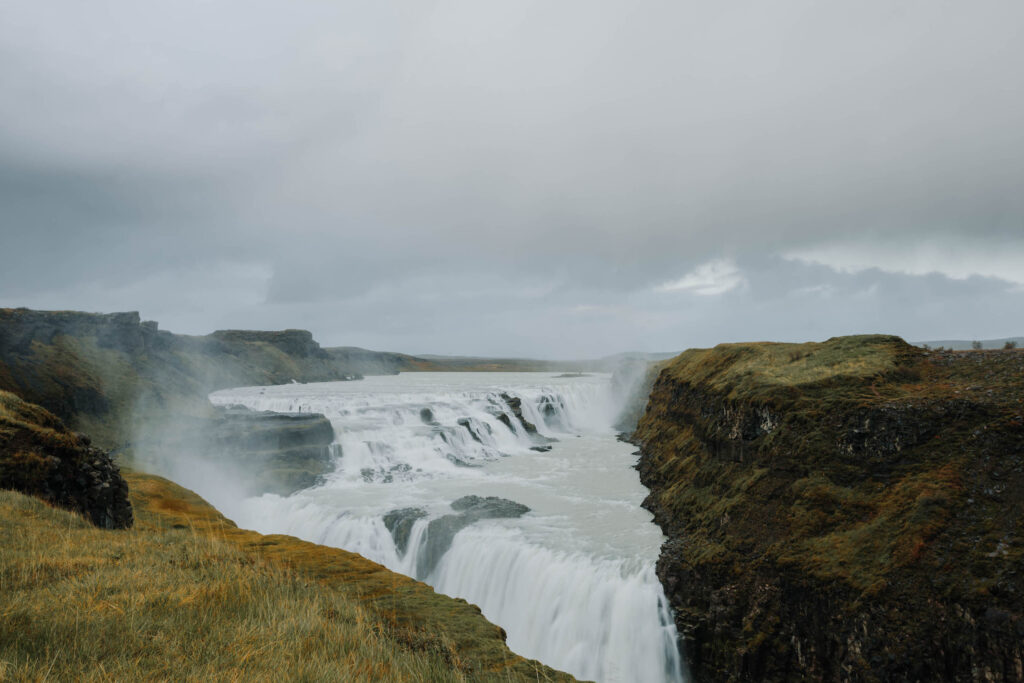 Camp at the Hellisholar campground for your first night. A great campground that has a shelter for cooking in and meeting new friends!
DAY 3: SELJALANDFOSS TO VIK
Another adventurous day ahead! Be prepared to get wet this day as you will be walking behind waterfalls and visiting hot springs. Don't forget a towel to dry off with!
Stop 1: Seljalandfoss Waterfall
One of the most popular and stunning waterfalls in all of Iceland. It is unique because you can actually walk behind this 200-foot waterfall. Again, you will get wet here, so wear a nice rain jacket. This is a great spot to enjoy breakfast as well. 🙂
Stop 2: Seljavallalaug Hot Spring
Just 20 minutes down the road from Seljalandfoss waterfall you will find a hot spring. It is a bit hidden, but the views are beautiful. You will drive down a long gravel road until you see a parking lot.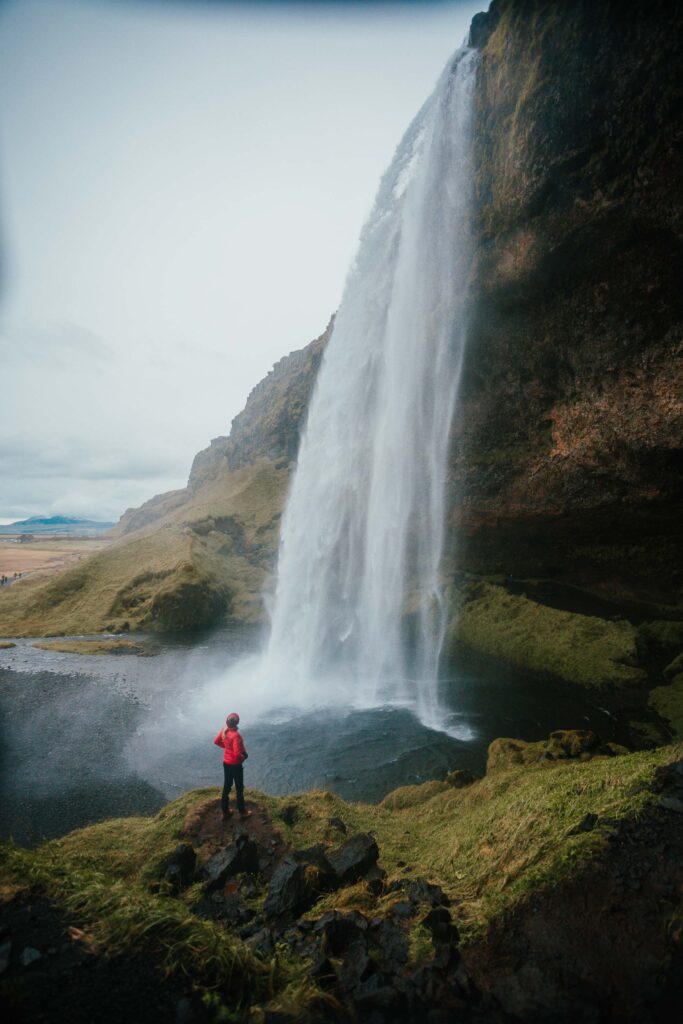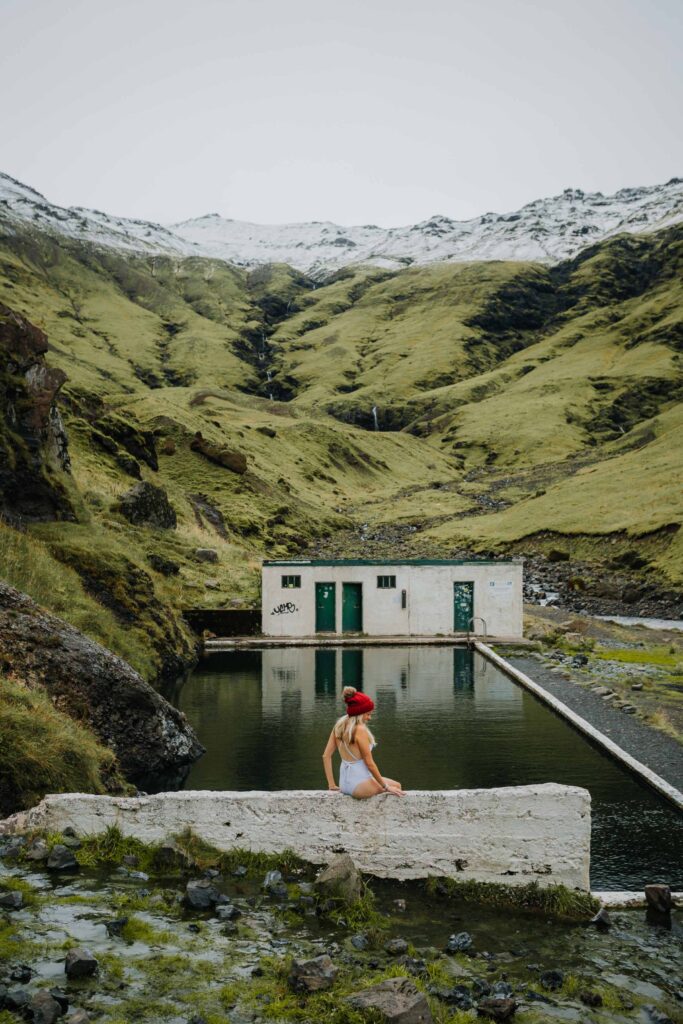 From here, you will need to follow the signs and walk for about another 30 minutes. You will then reach the hot spring, which is more like a warm bath, but the views can't be beaten. There is a changing room here as well, so if it is cold out I recommend wearing your warm clothes and changing once you get to the hot spring.
Stop 3: Skogafoss Waterfall
Another waterfall! Are you seeing the trend here? There are two ways to view this waterfall. You can walk up the stairs to the top or check it out from the bottom.
Stop 4: Plane Wreck
I'm not sure why this place has become so popular, maybe because it makes for some cool Instagram photos, but regardless, if you have the time it is a fun stop to add to your Iceland itinerary.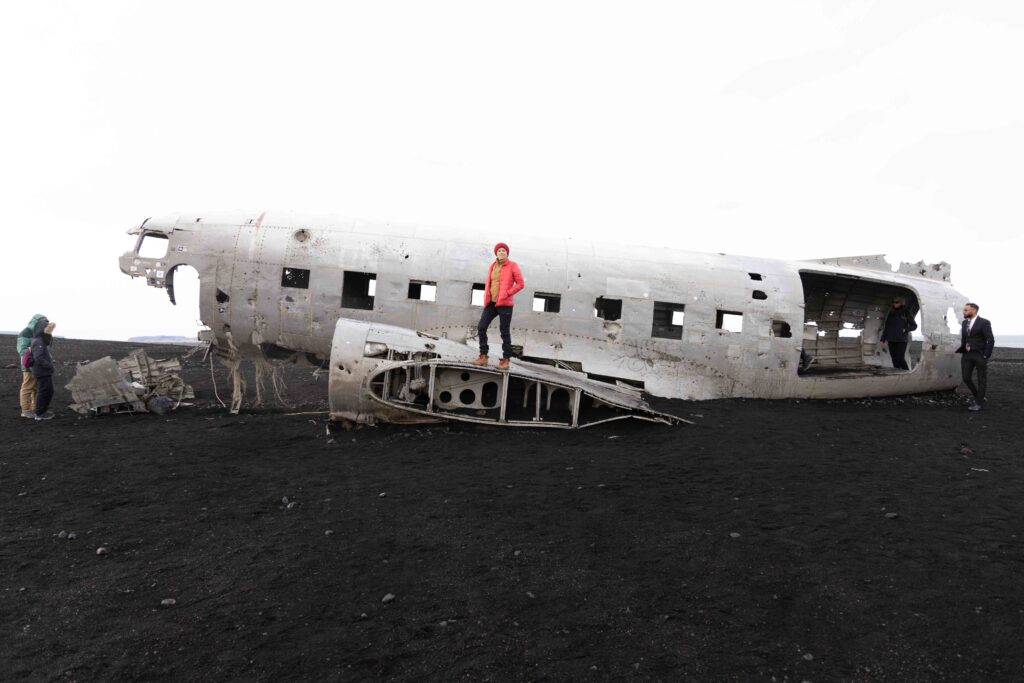 There is a shuttle that takes you down to the plane wreck site which costs about $11 USD each way or you can walk on a flat gravel road which takes about 2 hours.
Tip: I recommend just paying for the shuttle to save time. The walk isn't anything special and it can be cold and windy. The shuttle runs about every 10 minutes.
Stop 5: Reynisfjara Black Sand Beach
This black sand beach was formed by the lava hitting the ocean waves. This beach is a beautiful coastline covered in black sand and it is also where you can find the insta famous basalt columns.
Be aware of the sneaker waves. Don't get too close to the water as each year multiple people die from these waves and get swept out to sea. The waves don't look scary, but they are powerful. You will see signs everywhere about the.
For your sleeping arrangements tonight I recommend driving to Vik and staying at the Vik campground. The facilities here are exquisite-the best hot shower in my life.
If you are looking for a dinner location this night check out the Strondin Bistro and Bar. I had one of the best pasta dishes of my life here.
DAY 4: VIK TO JOKULSARLON GLACIER LAGOON
Start your morning off by grabbing a coffee from Skool Beans. It is right behind the Vik Campground-you can walk there.
Stop 1: Fjadrargljufur Canyon
After you have fueled up with coffee head on over to Fjadrargljufur Canyon. Once here take a walk around the trail that takes you along the moss-covered rocky cliffs. You won't be disappointed with the views below.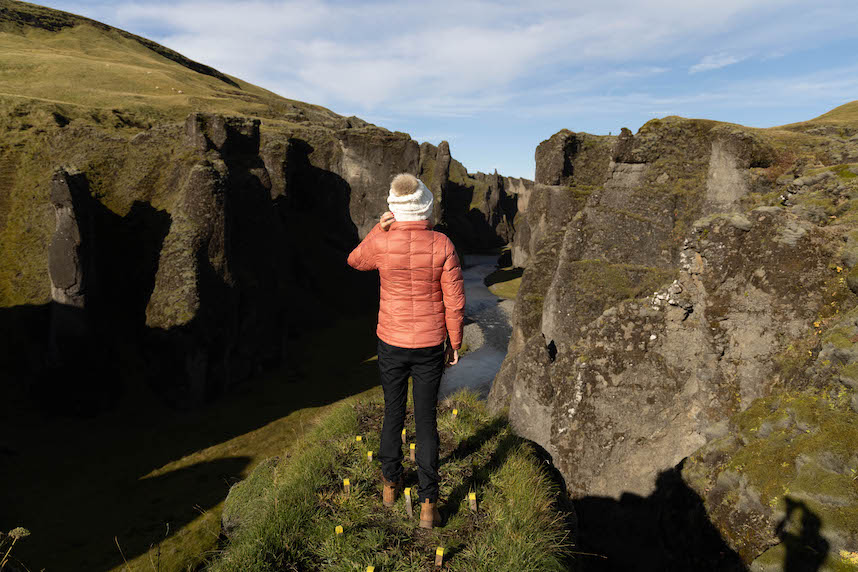 This location actually saw an 80% increase in tourism due to Justin Bieber's music video that was filmed there called "I'll show you."
Stop 2: Svinafellsjokull Glacier
A glacier that is easily accessible to everyone. Requiring just a short walk to get here, you can practically walk up to and touch this glacier. Maybe even stand on one of the icebergs that have come ashore? While we were here we saw people getting out of helicopters that were landing on top of the glacier.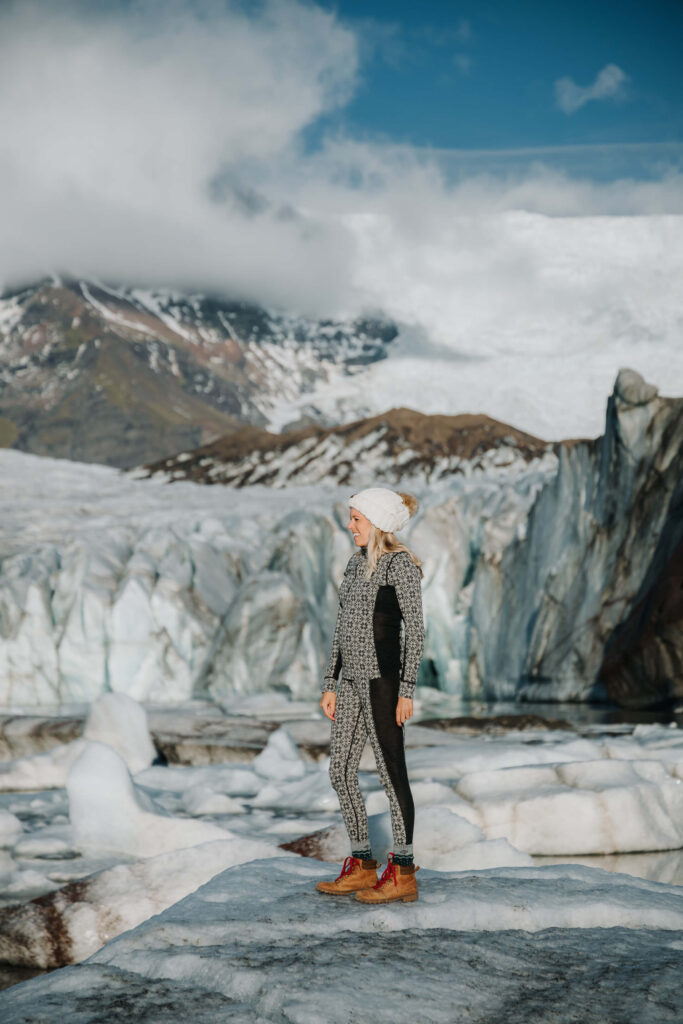 *This is a great spot to stop and have lunch as well.
Stop 3: Jokulsarlon Glacier Lagoon
An incredible sunset spot. We weren't even planning on being here for sunset, but we landed here and were blessed with some incredible colors in the sky. We chose to just enjoy the views here for a while as we cooked up some burritos in the campervan.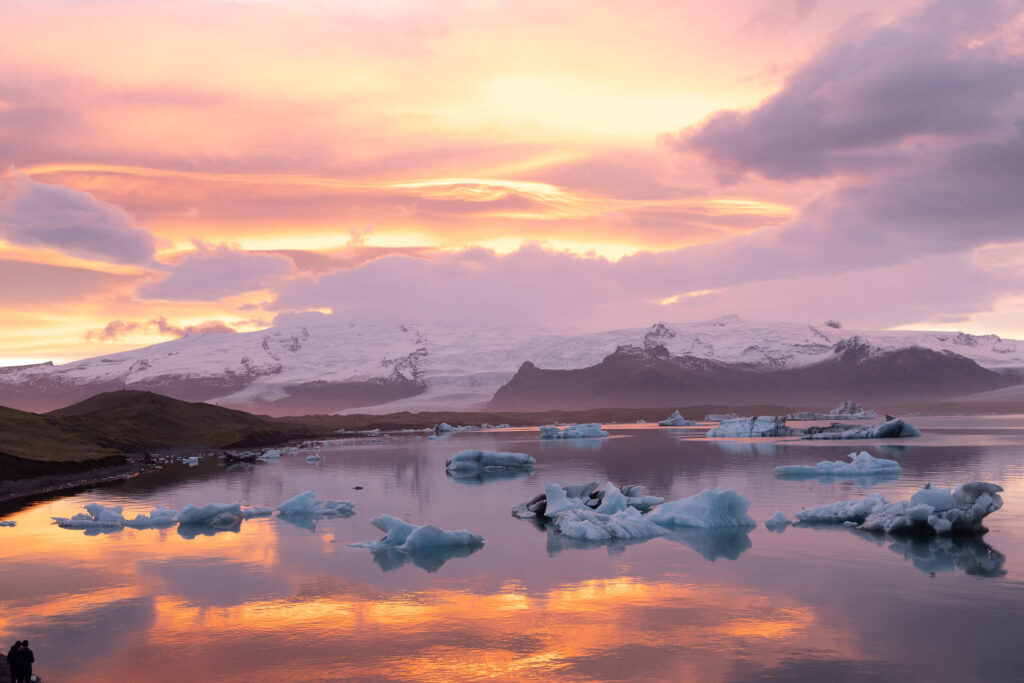 DAY 5: GLACIER LAGOON TO DJUPIVOGUR
Begin your morning by making some breakfast, may I suggest pancakes, before heading out on a fun tour with Local Guide.
Stop 1: Ice Cave tour with Local Guide
Local Guide specializes in tours in Iceland by taking you on the glaciers themselves and into the ice caves below. We chose the 4-hour tour that starts right from the glacier lagoon. Begin your adventure in a huge 4×4 vehicle as they drive you down to the ice cave. Once you arrive you will need to walk about 30 minutes to actually get inside the glacier.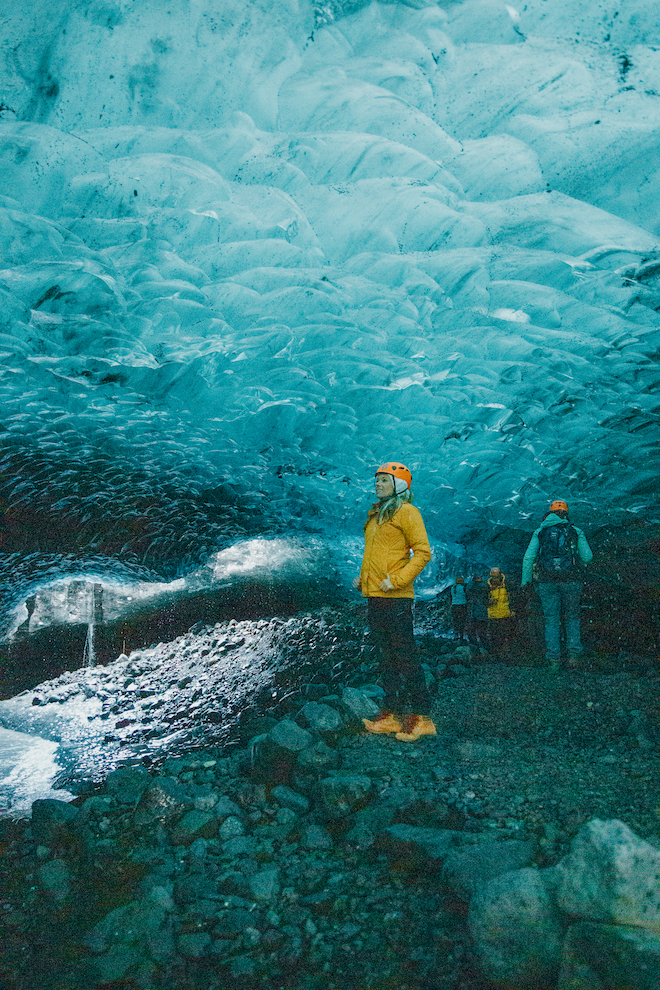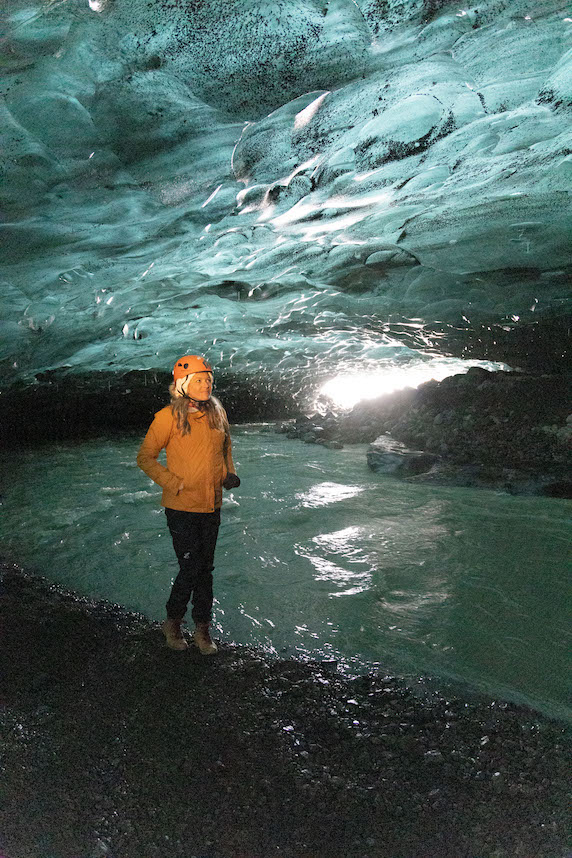 Local Guide provides you with all the safety gear needed as well as a very knowledgeable tour guide. I would highly recommend adding this activity to your Iceland itinerary.
Stop 2: Viking Village in Hofn
This is an abandoned Viking village that was originally built for a film, but the film never got shot here. You can pay just a few dollars to tour this film set.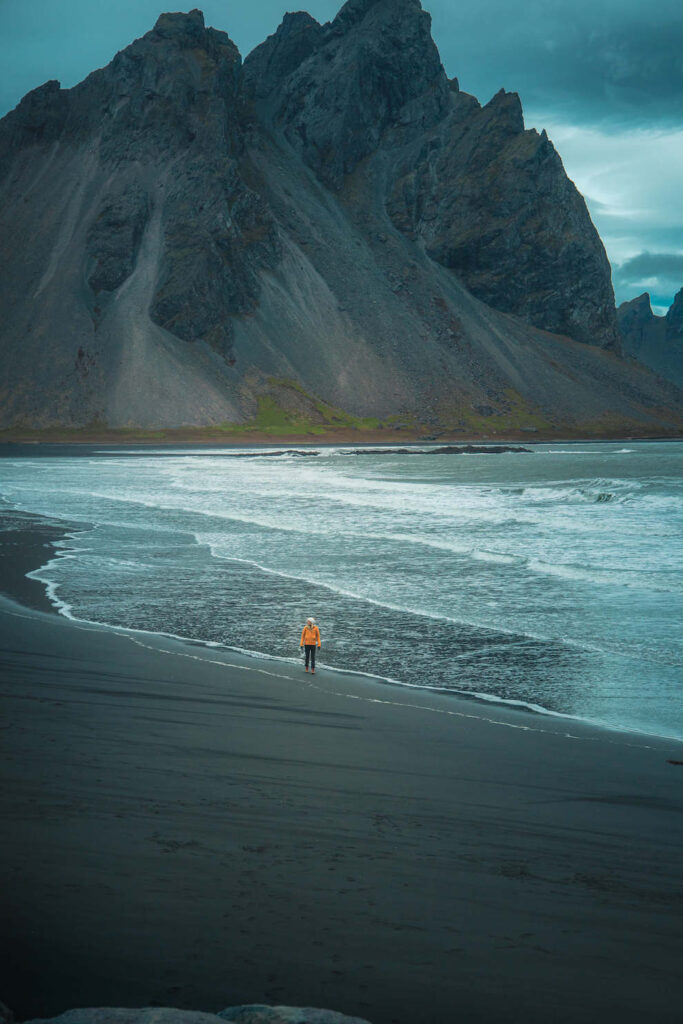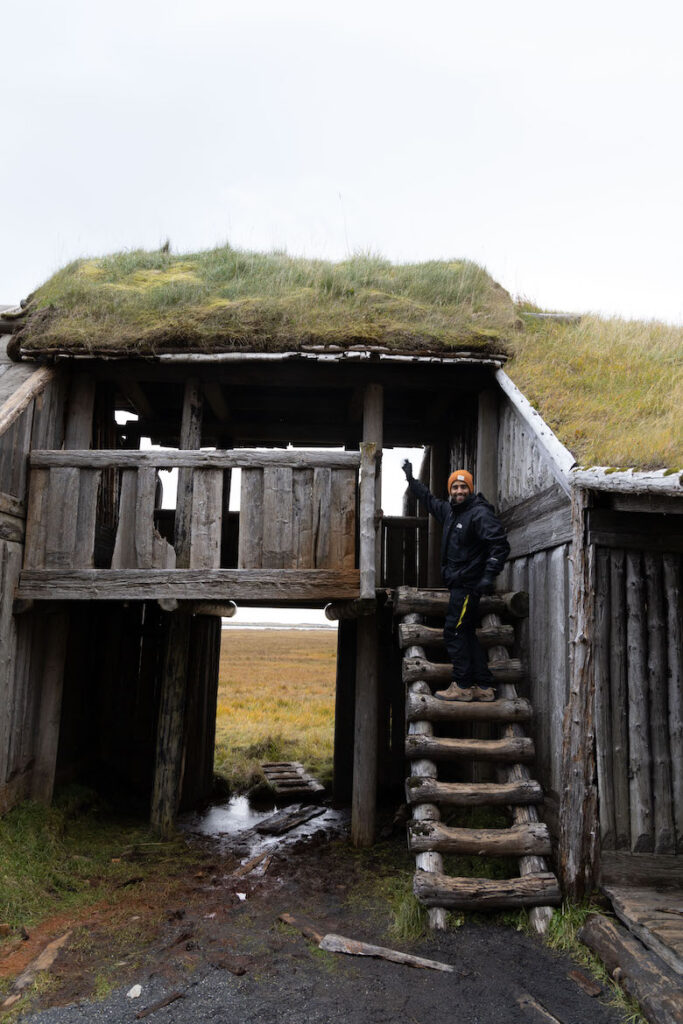 Stop 3: Vestahorn (Stokksnes)
In the same area as the Viking village, you will find Vestahorn. The same entrance fee of about $8 USD will give you access to this stop. Make sure to take some photos at this beautiful and dramatic beach.
** Stay the night in Djupivogur campground
DAY 6: DJUPIVOGUR TO MYVATN
We have some driving days coming up, but the landscape is beautiful, so the time will fly by. As always, be careful when driving and keep an eye on the weather conditions as they are ever-changing in Iceland.
Stop 1: Studlagil Canyon
A place I hide been dying to see for the entirety of my Iceland trip. This canyon is famous for its Basalt columns and the vibrant blue river below. Getting here is a little tricky. There are two ways to view this canyon, but if you want to get down to the water you will want to head to the east side of the canyon.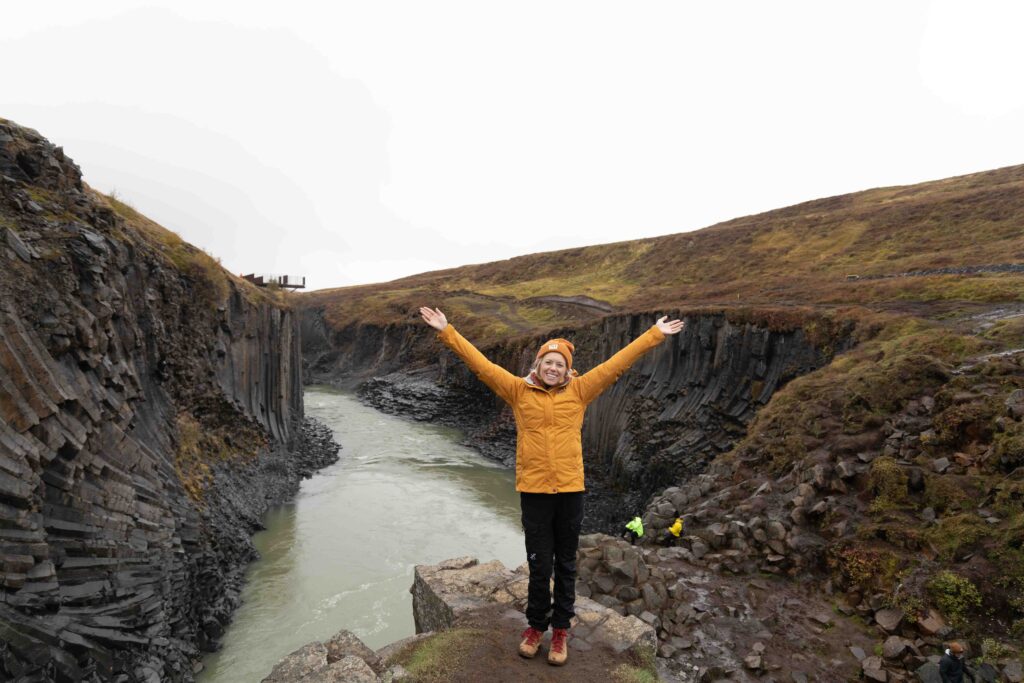 In your google maps, put "carpark Studlagil Canyon East side." Cross the driveable bridge (do not park before the bridge even if you see other people parking there). Drive over the bridge and continue on the dirt road until you see the second parking lot. Park here.
Once parked, you will need to walk about an hour to get to the location. You will be entering a farmer's property and have to pass through some gates-this is allowed as long as you respect the land. Follow the signs to get to the canyon.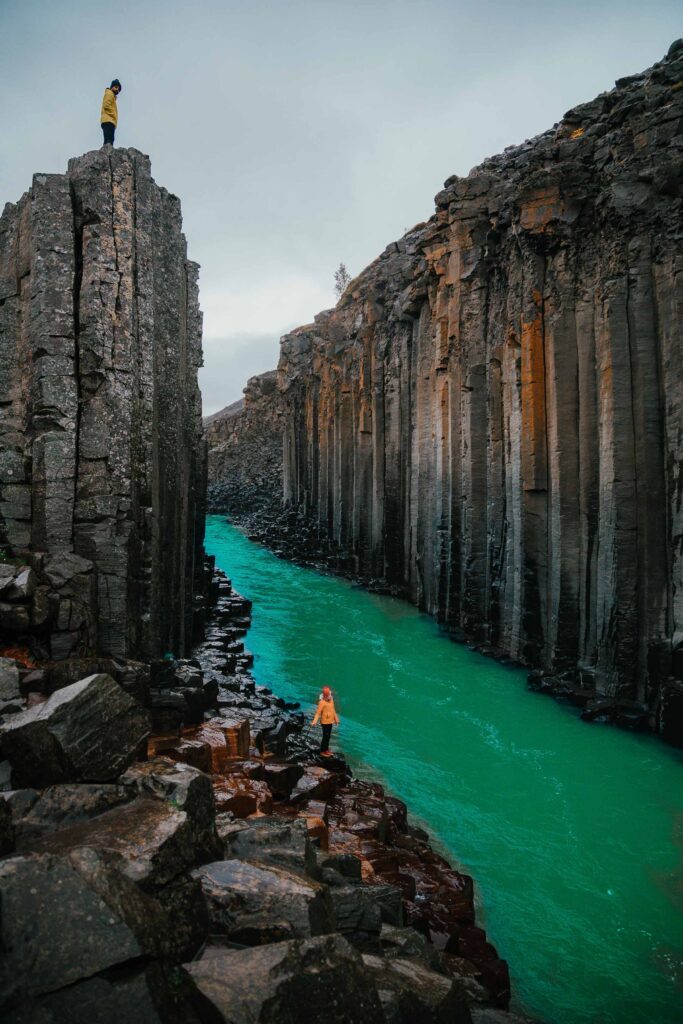 ***Do note that if you come on a rainy day or a day after bad weather, the water might not be the bright blue it normally is.
If the weather is in your favor, some other places you could add to your Iceland road trip itinerary for this day would be the Dettifoss waterfall or the Myvatn Nature Baths. We actually tried to go to the NMyvatn Nature Baths, but they were closed upon our arrival, but the views dis look gorgeous.
Unfortunately, today was a rainy day for us, so we ended up doing a lot of driving this day. For camping tonight we stayed at Vogar campground. (Don't get this campsite mixed up with the one near Reykjavik) This one is located near Lake Myvatn.
DAY 7: MYVATN TO BLONDUOS
This is a day of sightseeing and lots of driving. You will be visiting the Krafla area. This area is filled with lots of geothermal activity and volcanic landscape. All the locations below are within short driving distance of each other.
Stop 1: Viti Crater
This vibrant blue crater is located in the Krafla area. When the weather is in your favor you can actually drive right up to the crater's parking lot. The day we chose to go we hit a snowstorm. There is a hill to get up to this crater and cars were not making it up, so we had to park at the bottom and hike up to the top.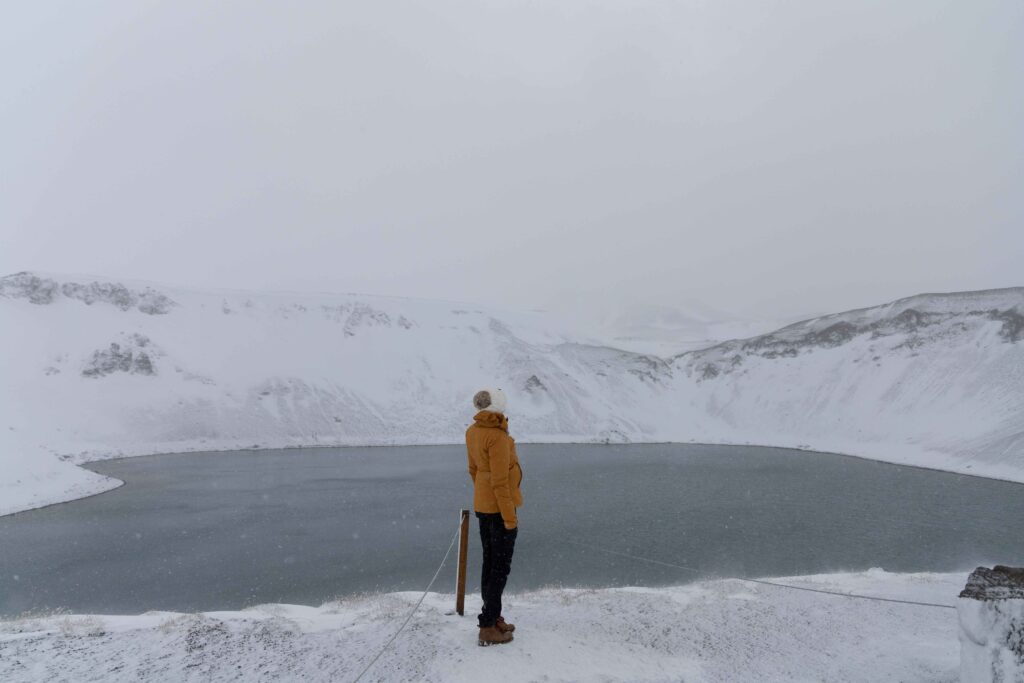 Stop 2: Geothermal area of Krafla
This area is sometimes called "Hell's kitchen" due to the steaming and boiling hot pots and strong smells of sulfur. Walk around the sites and make sure to read the signs for some great information on how these areas formed and have evolved.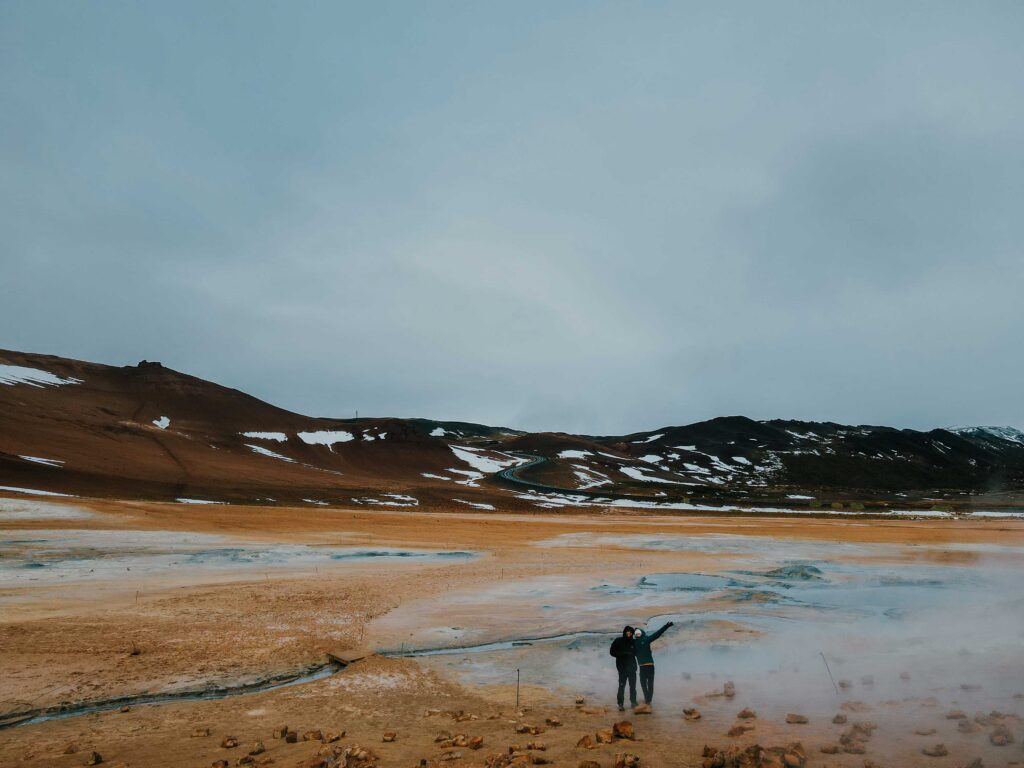 Stop 3: Grjotagja Cave
A geothermal hot spring in a cave. This particular hot spring was in a scene from Game of Thrones. You are not allowed to go in this hot spring though as the temperatures are too extreme.
Stop 4: Godafoss Waterfall
The "waterfall of the Gods" is located between the towns of Husavik and Akureyri. I recommend walking along both sides of this waterfall and seeing it from all angles.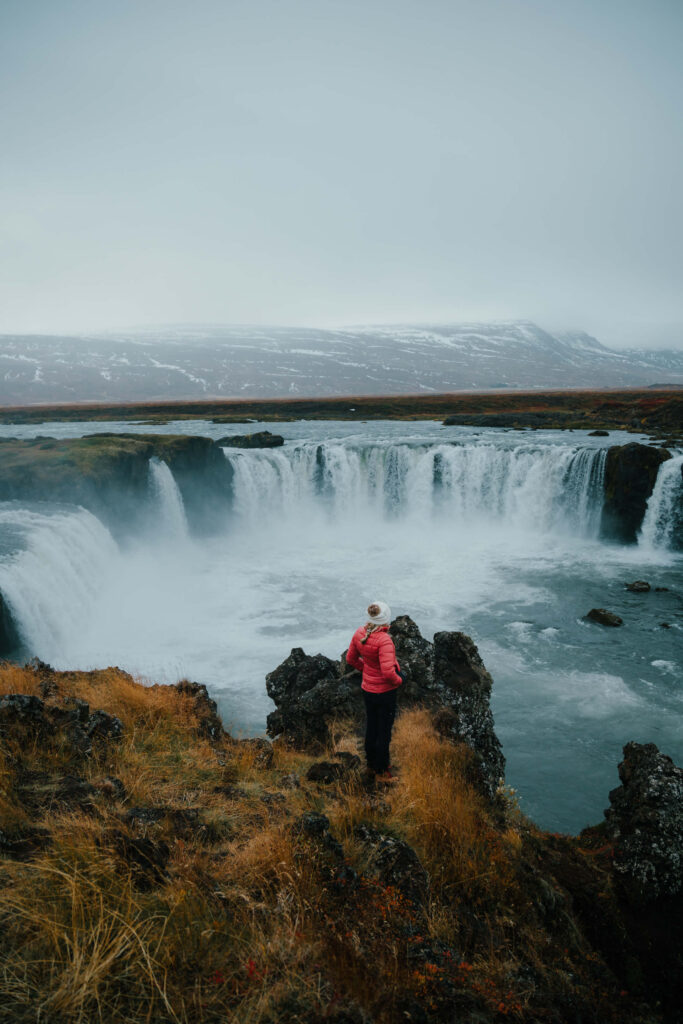 DAY 8: BLONDUOS TO GRINDAVIK
Unfortunately, this day is going to be filled with a lot of driving and little sightseeing. The drive itself is gorgeous, but in order to make it back in time to finish off your Iceland itinerary, you will need to put some miles in this day.
If you are a go-getter and willing to sacrifice some sleep the following places could be added to your Iceland itinerary.
Akureyri-the second largest city in Iceland. This is a great place to stop for some food. Nearby you can also find the Fosslaug hot spring.
Kirkjufellsfoss-another popular stop that I really wanted to do, but we just didn't have the time for it. It is a famous photography spot.
DAY 9: GRINDAVIK TO THE BLUE LAGOON
You did it! Now it is time to relax after spending 9 days sleeping in a campervan. Start your morning off by visiting the Grotta lighthouse and then spend the afternoon relaxing ad the Blue Lagoon.
Stop 1: Grotta lighthouse
Not a must-see kind of spot, but something you could always add to your Iceland itinerary to fill time-which is what we did. This IS a great spot to see the Northern Lights though as it is far enough outside the city of Reykjavik that it gets dark enough.
Stop 2: The Blue Lagoon
Is it pricey? Yes! Is it worth it? 100% yes! My husband and father-in-law said this might have been their favorite spot from the trip haha. Although, the Blue Lagoon is a tourist trap I would say you have to visit it if you are in Iceland.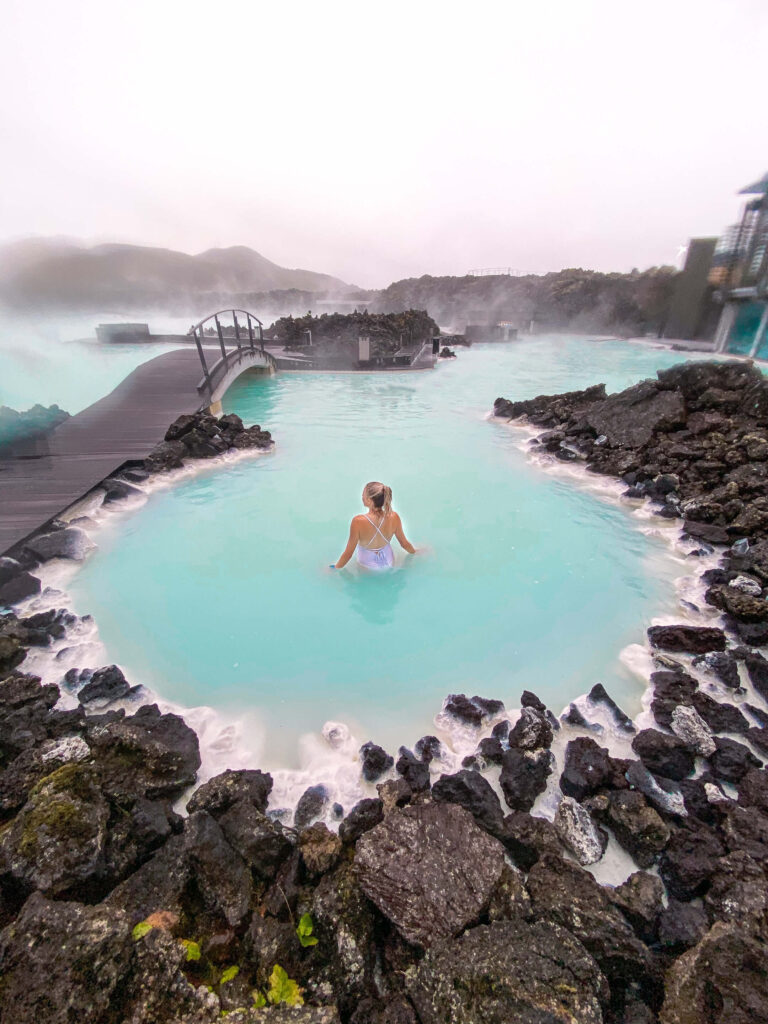 I recommend going at the end of your trip as well. Personally, I think you will feel more relaxed by adding it to the end of your Iceland itinerary. We chose the most basic package which included a face mask, a free drink, and towels along with spending as much time as we wanted in the Lagoon itself.
We ended up staying here for about 5 hours it was THAT amazing.
For tonight's camping, we stayed at the local campground in the Reykjavik area this night as we needed to return our campervan the following day.
DAY 10: WRAP IT UP

This is the final day of your Iceland trip before you fly out. Because COVID is now a "thing" I highly recommend adding an extra day onto your itinerary to find a place to get COVID tested before your flight home.
We chose to take it easy this day by sleeping in, returning our campervan, getting our COVID tests, grabbing an Icelandic hotdog, and preparing for our flight home.
ICELAND ROAD TRIP TIPS
I wanted to add a few more tips that you should think about when planning out your Iceland itinerary.
There are essentially two ways to obtain internet while you are on the road. A lot of people will purchase a SIM card with data on it. SIM cards can be found at most gas stations in Iceland. Personally, I recommend renting the Wifi box through your campervan rental company instead of getting a SIM card.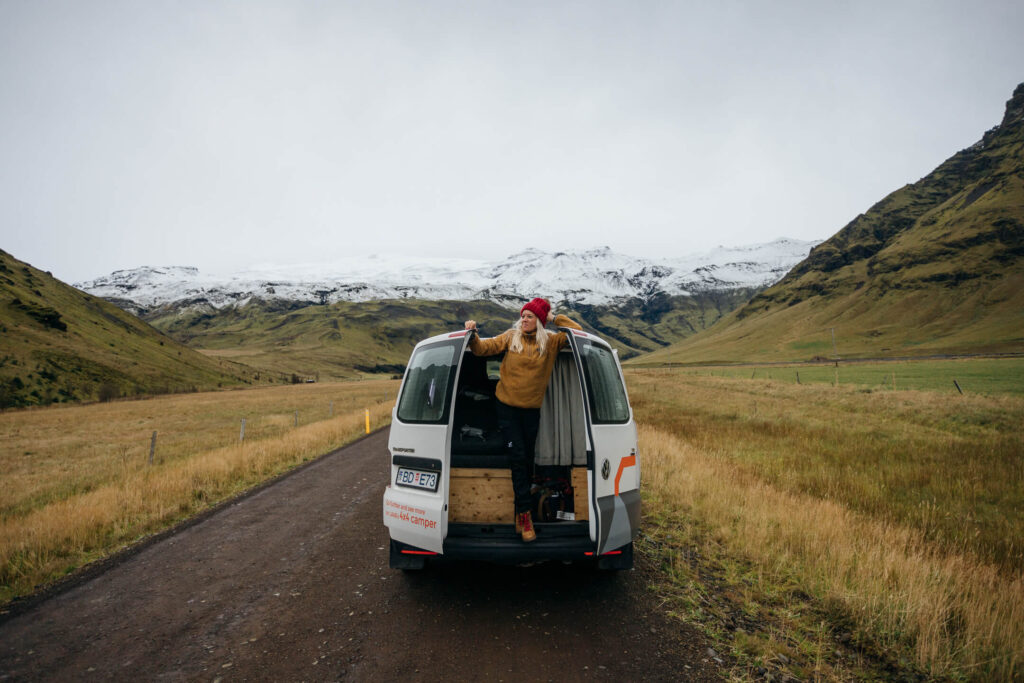 The wifi box allows you to get wifi around the entire island. Our wifi box cost us $150 and allowed up to 10 devices to be connected to it. It was also rechargeable by plugging it into a USB port.
-If you are traveling to Iceland during COVID times then you will need to research what the current requirements are to enter. During our visit to Iceland, if you were vaccinated or had proof of recovery from COVID, you were allowed to enter with a negative PCR test as well as no quarantine.
If you were unvaccinated you were still allowed to enter, but a quarantine was required upon arrival.
A pre-registration form was also required prior to entering the country of Iceland. 
-Lastly, always keep an eye on the weather in Iceland. It is constantly changing. I do not recommend relying on your apple weather app. Everyone in Iceland recommends using the Vedur app, which is what we used and found to be most accurate.
Lastly, if plan to do a road trip around Iceland then consider checking out this article on more ways to exactly plan out the ultimate road trip.
FINAL THOUGHTS TO PLAN YOUR ICELAND ROADTRIP ITINERARY
This trip was one of my most favorite international trips to date. I just could not get over how beautiful all the scenery was. Each corner you rounded was something new and impressive. I hope you found this Iceland itinerary helpful for planning purposes. If you have any questions, just ask in the comments and I will get back to you!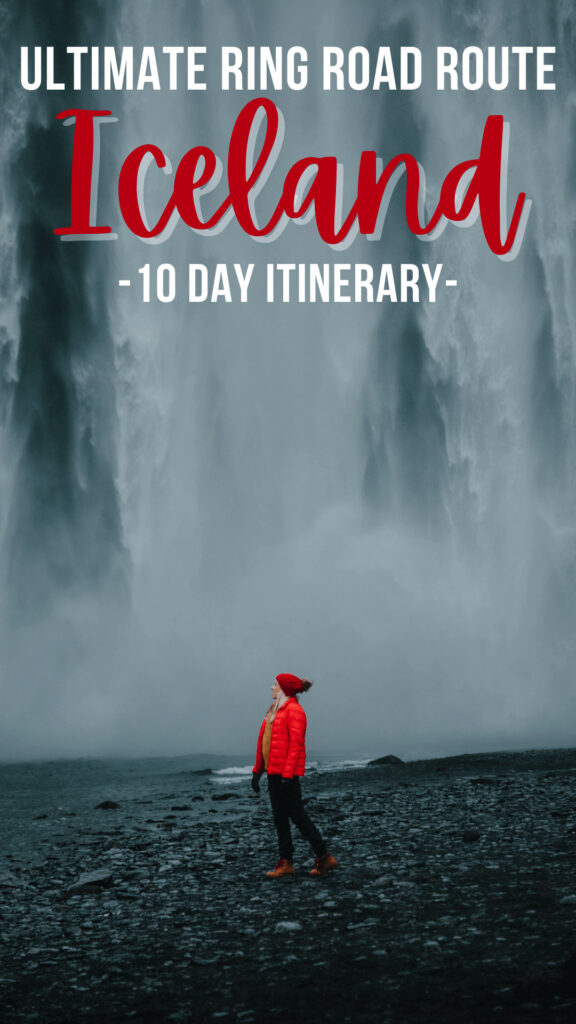 THE ULTIMATE 10 DAY ICELAND ROAD TRIP ITINERARY