The Perfect 1 Day in Cinque Terre Itinerary
Cinque Terre is situated on the western coast of Italy and is characterized by 5 small quaint little towns that you can visit or hike to!
From this rugged coastline, you will see the beautiful and colorful hillside villages that have been built into the cliffs. Each of the 5 villages is connected by a footpath that takes you along a journey full of beautiful views. We spent one day in Cinque Terre during our trip to Italy and are already planning a trip back!
Cinque Terre is definitely a bucket list type of place that you are going to want to explore. There are a lot of things to do in Cinque Terre that a 1-day itinerary won't fully go over, but you will still get to see a piece of each town.
To help you maximize your time here, I have created a complete 1 day in Cinque Terre itinerary to help you get started with your trip planning.
Don't like reading!? I have a whole Youtube video on doing Cinque Terre in one day too! Check it out below!
How to Visit Cinque Terre in One Day: Tips
Cinque Terre is definitely one of the more remote places you can visit in Italy-just like the Dolomites, but don't let that deter you from visiting.
Although it can be a bit more challenging to get here compared to other bigger cities in Italy, it is still quite easily accessible by train.
Getting to Cinque Terre itself
Here are some travel times from common routes below:
Pisa-> Cinque Terre La Spezia station: 1.5hrs
Florence -> Cinque Terre: 2-3 hours
Rome -> Cinque Terre: 3-4 hours
Best Time to Visit Cinque Terre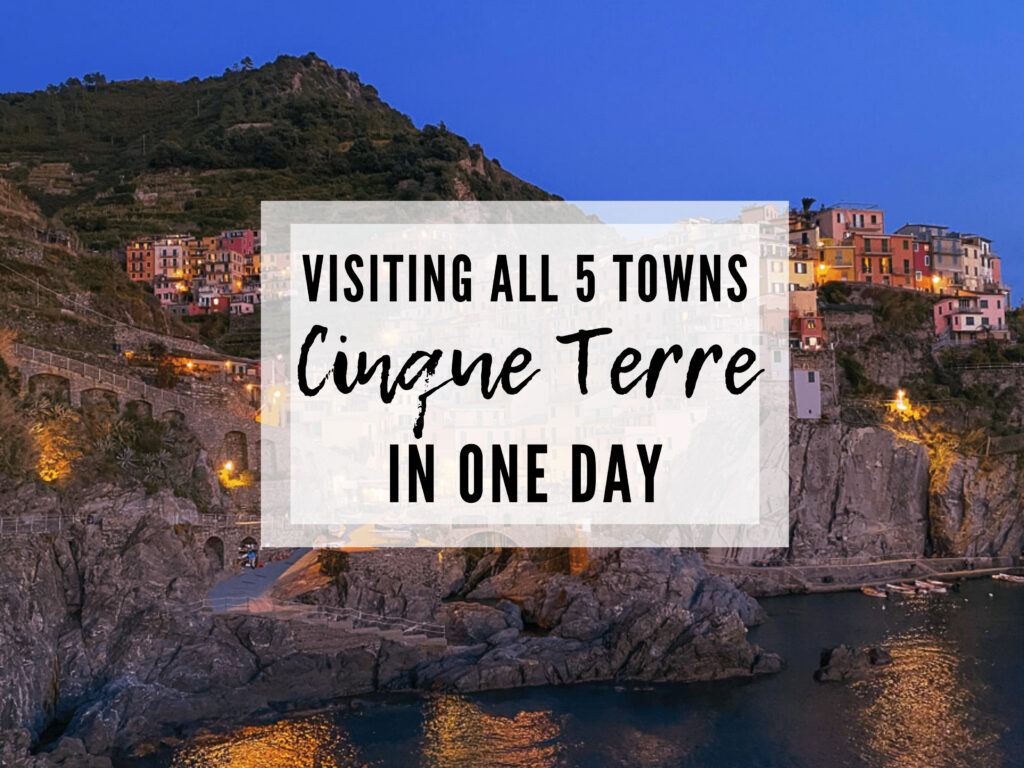 Honestly, this place is one of those places you pretty much can visit any time of year and be rewarded with stunning views and great weather.
However, if you are looking to visit when this area is not flooded with tourists then I recommend going in the winter. We personally visited Cinque Terre at the end of October. The weather was still nice, but it was definitely not warm enough to swim in the ocean.
The crowds were minimal and most restaurants remained open.
November and December do bring rain which tends to close down some of the hiking trails between the cities. So, if that is something you are hoping to do then I recommend avoiding these months.
If you are looking to have more of a "relax on the beach" type of experience, then I would recommend going in the summer. The weather is beautiful during this time of year, but do be warned, if you plan to stay the night in Cinque Terre, the price of hotels skyrocket during the summer months.
Getting Around Cinque Terre
There are multiple ways to get between the different villages themselves. From train to walking, to boat rides your options are endless. Well, I guess not technically endless because you can't actually drive between the 5 different cities.
Let's talk about each option in more detail below.
By Train
There is a specific train that will transport you through all five villages. It is about a 5-10 minute train ride between each village. This will be your fastest option and the best option to get you to see all of Cinque Terre in one day.
First, you will arrive at the main station of La Spezia. As stated previously, you will need to find a route that ultimately gets you to this train station.
From the La Spezia station is where you will hop on the Cinque Terre specific train.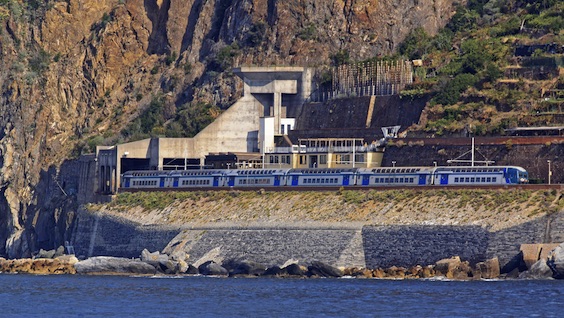 You will need to purchase a specific Cinque Terre Card in order to ride this train. This can be purchased at the tourist information station at the La Spezia train station or you can purchase it online ahead of time. 
The card provides you with unlimited access to the Cinque Terre trains and other perks like Wifi.
When purchasing this card you will have two options. One for just the trains and one that includes the ability to hike and use the trains. I recommend the second option.
As you will see in my itinerary below, I recommend doing some portions of the hikes between the villages, and for this, you will need to show your Cinque Terre card.
When purchasing: get the Cinque Terre Treno MS card. It is €18.00 per person for this card.
Grab a downloadable train timetable here. 
By Hiking
If you have more time available in your schedule, then hiking between the five different villages is definitely an option.
For this one-day Cinque Terre itinerary, you will not be doing any of the full hikes between the villages as time just doesn't allot for it.
The trails are clearly marked and you will need to have plenty of water. It will depend on your hiking level to determine how long it takes to get between each village, but here is a rough breakdown of hiking times between each village.
Monterosso –> Vernazza: 1.5 hours
Vernazza –> Corniglia: 1.5 hours
Corniglia → Manarola: 1 hour
Manarola → Riomaggiore: 30 minutes
By Ferryboat
During the summer months, taking a boat between the different villages is definitely an option; however, it will be the most expensive option.
If you are interested in this option make sure to check out the timetable and fares here.
The boat will definitely take more time and personally, I think the best views are from land and not the water.
All that to say, I don't recommend this route, but do know it is an option.
Lastly, I am sure you are wondering if you can rent a car and drive to the different villages, but unfortunately, this is not an option. The villages are situated between cliffs and there are no roads between them, leaving driving out of question.
Is One Day in Cinque Terre Enough?
If you are wondering if one day in Cinque Terre is enough well, of course, it all depends on what type of vacation you are hoping to have. Trying to see everything in one trip, then yup one day in Cinque Terre is definitely enough.
Like the slower-paced route and want more time to relax? I would then think about extending your Cinque Terre trip beyond one day.
For my personal style of travel, I like to see and do as much as possible, therefore this is why I ultimately chose to only spend one day in Cinque Terre.
One Day Itinerary in Cinque Terre 
Below is my recommended Cinque Terre 1-day itinerary. For the purpose of this Cinque Terre itinerary, you will begin your day at the most northern town, Monterosso, and work your way down south to the most southern village, Riomaggiore via the train.
Village 1: Monterosso al Mare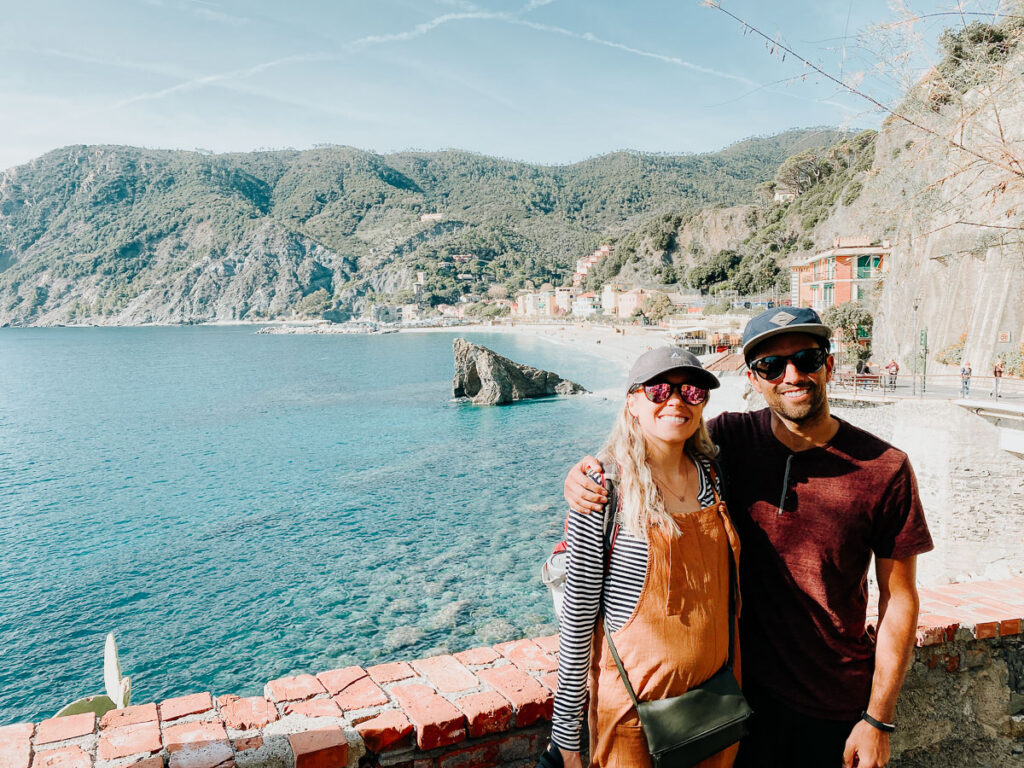 Begin your morning by taking the Cinque Terre specific train all the way to the furthest town north-Monterosso. Below I talk about the different types of Cinque Terre cards you can purchase and which one I recommend.
This village is the only one that has a large stretch of sandy beaches. If you are visiting in the summertime, you will most likely spend some time splashing around in the water and soaking up the sun in this village.
You will have to pay to use one of those iconic striped beach chairs and umbrellas though, but you are always welcome to just lay out a towel for yourself on the beach as well for free!
Don't worry! If you forget a towel there are plenty of little shops right when you get off the train that will sell you a towel and even a bathing suit.
Technically, there are two beaches in this village. The first beach is the one you will see right when you get off the train and is close to the "new town" of Monterosso Al Mare; whereas the second beach is smaller and is near what is considered the "old town."
Both beaches are within walking distance of each other though.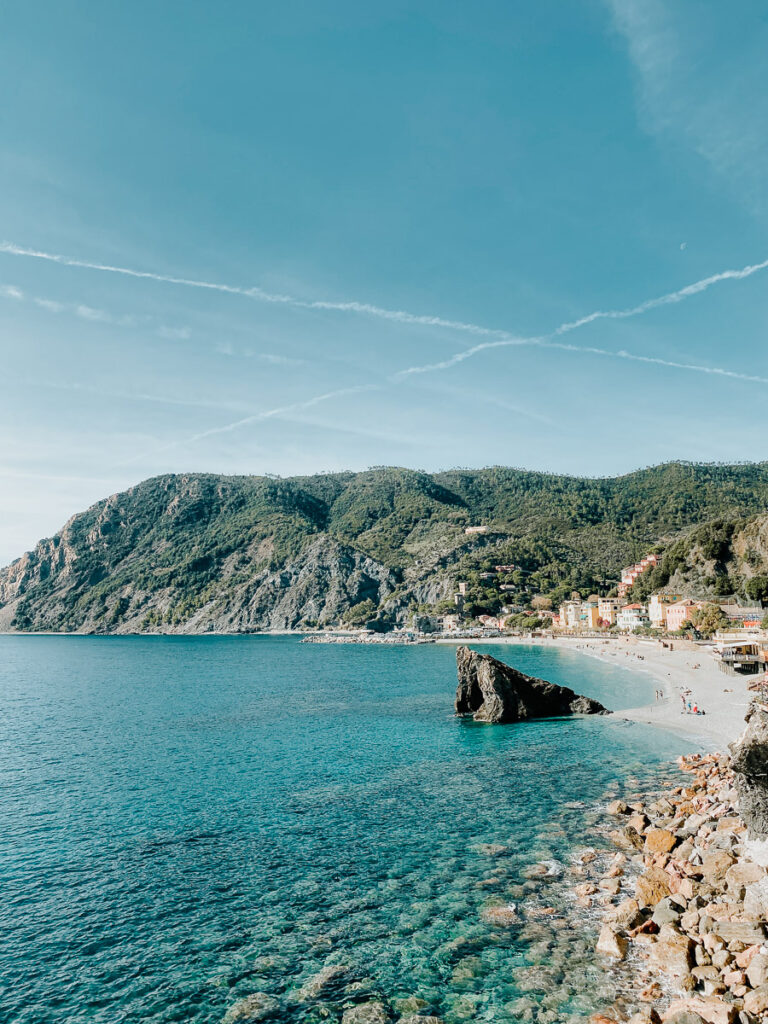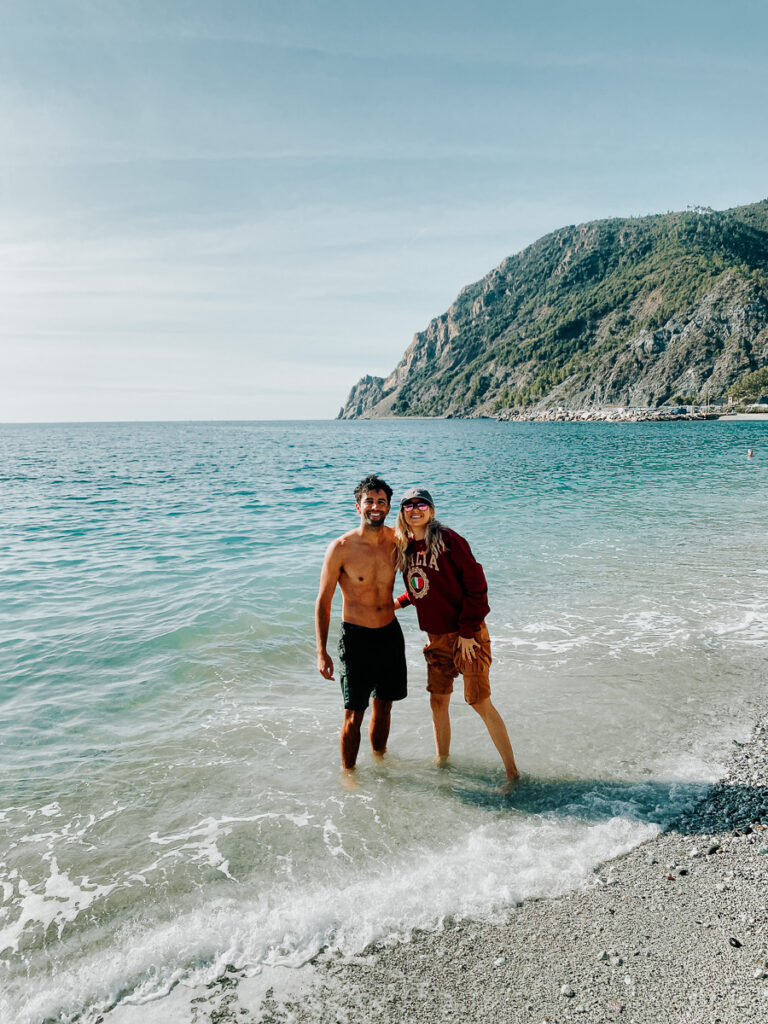 We visited in October and the water was definitely not warm enough to swim in. I dipped my toes in and my husband jumped in for a brief moment to "feel alive."
Other fun things to do in this village are to check out the Oratorio dei Neri, which is a church decorated with human skeletons, or just walk along the seaside cliffs for some impeccable views.
Village 2: Vernazza
Time to head back to the train station in Monterosso and hop on the train to your next stop: Vernazza.
Vernazza is a town situated between two rocky cliffs. It is unique because it is the only village that jets out into the water on a peninsula and has a wide piazza.
Psst makes for a beautiful spot to sit and have lunch 🙂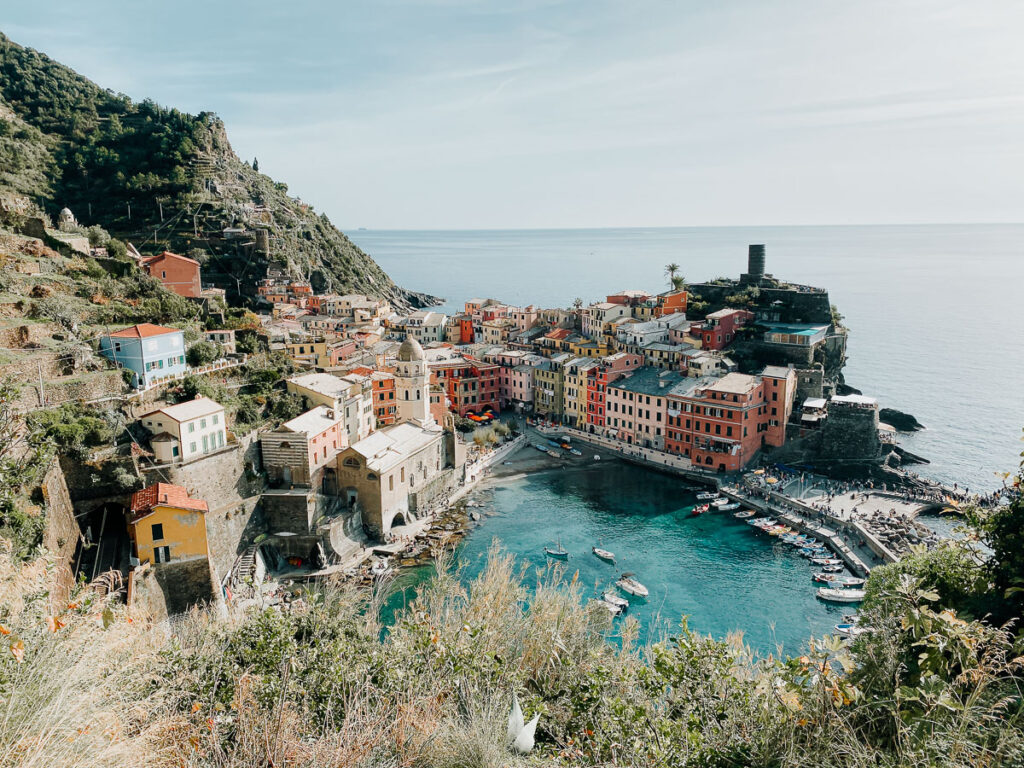 We personally chose to grab a quick slice of pizza and eat it by the water.
This port is filled with colorful homes and even swimming spots. The water is incredibly clear here, so if you are up for a snorkel then I highly recommend jumping in.
Some people say that one of the most beautiful viewpoints can be found in Vernazza. We personally wanted to find this viewpoint too, so here is how you get to it.
Start by taking the hiking trail from Vernazza to Monterosso as if you were hiking back to the city you just came from. It is a lot of steps, but should only take you 5-10 minutes to arrive at this viewpoint.
Since this is part of the hiking trail you will need to have the Cinque Terre card that includes access to the hiking portions as there are checkpoints along the way (and yes they do check). 
The view from up here is definitely beautiful and I say worth it! Don't forget your camera!
Another unique view of the town of Vernazza is from Ristorante Bar La Torre. You could always just head up here for a drink and a view.
Village 3: Corniglia
Corniglia is the middle village and the smallest of the five. It is also the only town that is not located at water level.
So, what does that mean? You guessed it! You will have to hike up to the top.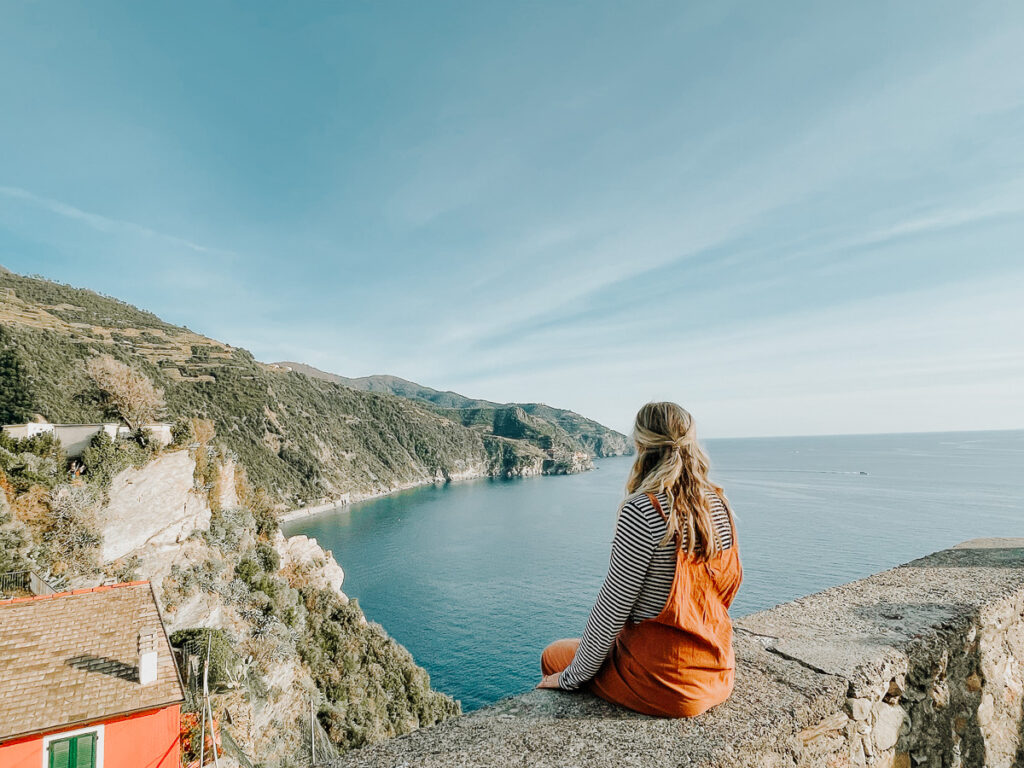 From the train station, you will see a sign that points in the direction of the stairs.
It is a total of 383 steps to the top-we counted ourselves. It took about 15 minutes.
Don't fret, if you don't want to climb the stairs there is also a shuttle option. About 3 shuttle buses arrive at the Corniglia train station per hour. Depending on the time of day the line can get quite long waiting for the shuttle. 
Once you reach the top, you will most definitely be parched, so I recommend grabbing a lemon slushy. You will see signs for these drinks everywhere (and you can add alcohol to them if you want).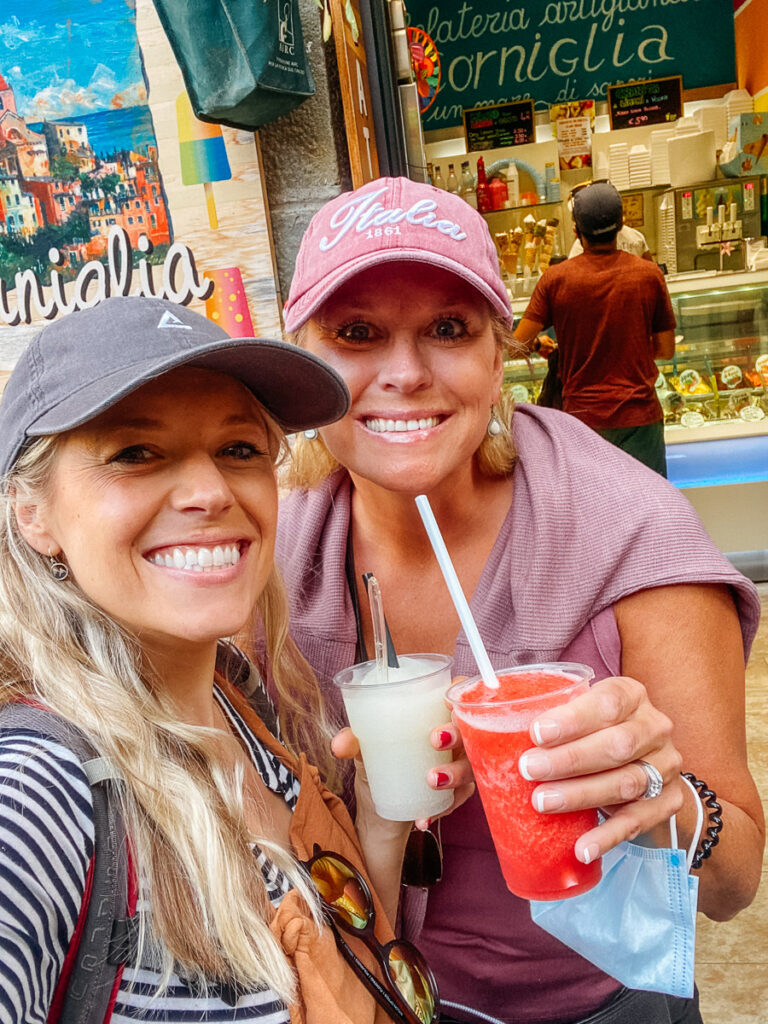 I suggest just wandering the streets of Corniglia. It is a pretty small town, so you won't need much time here, but I do recommend going to the top of the main square to look at the views below.
It is pretty stunning.
Head back down to the train station and head towards Manarola.
Village 4: Manarola
This was my favorite village out of all of them! A lot of people say this is the best town to watch the sunset from and I would have to agree.
So, if you can time it right then I highly recommend planning to be here for sunset.
Now this town is usually pretty crowded as there is a super popular bar located near the sunset viewing point called Nessun Dorma.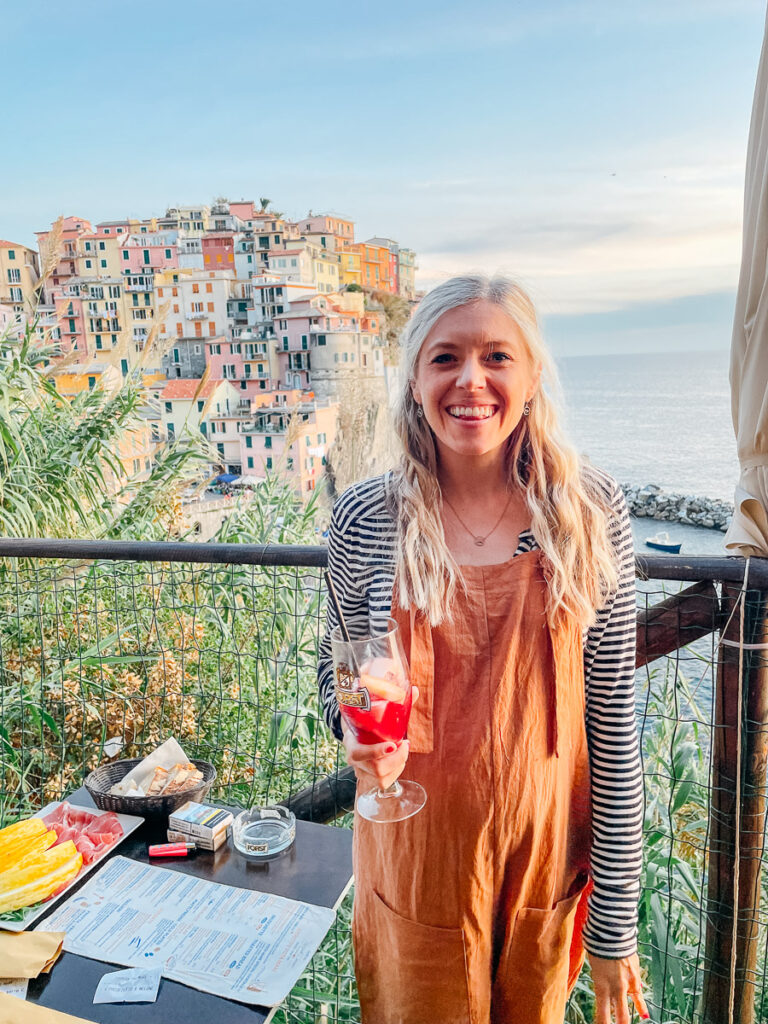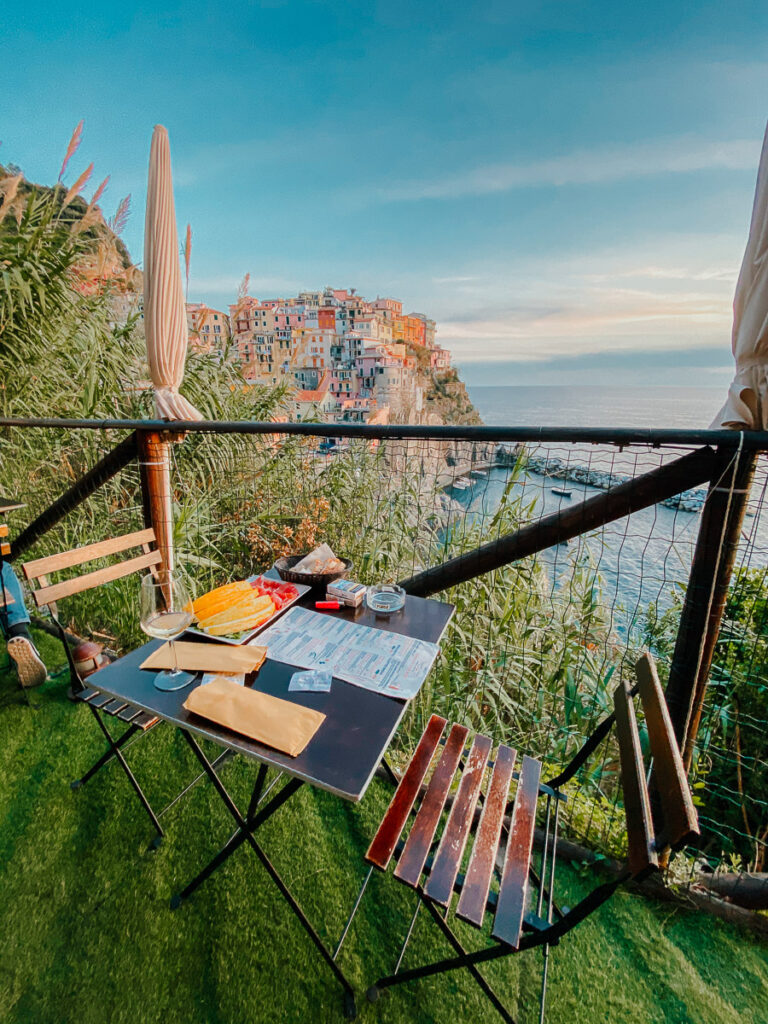 To get here, there is a trail on the cliffside that faces the town. You can't miss it as you will see many people walking up or down this trail.
If you have ever googled pictures of Cinque Terre you most likely have seen a picture taken from this location. It offers breathtaking views of the village below as the sun sets.
If you want to sit at Nessun Dorm do know reservations are not possible. You will have to grab a number and get in the queue.
They do not serve full-on meals, but they do have some decadent cheese boards as well as delicious drinks. It is well worth the wait to be able to eat and drink here though as it is a view you will never forget.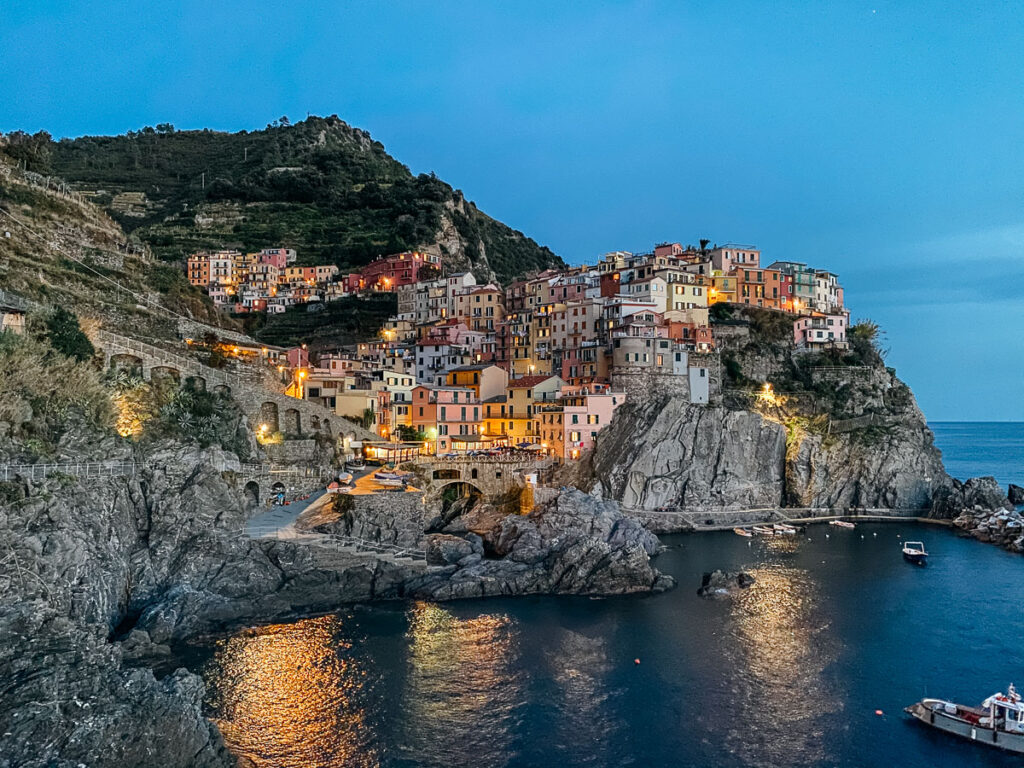 After the sun sets, it is time to head to your last and final town: Riomaggiore for dinner.
Village 5: Riomaggiore
You have now arrived at the most southern village: Riomaggiore.
If you watched the sunset in Manarola, then it will most likely be dark by the time you arrive at this town. If time allows, you could always visit this village prior to watching the sunset at Manarola and just do a bit of backtracking.
The train ride between each village is only 5-10 minutes each, so it is definitely a feasible option if you are hoping to see Riomaggiore with more daylight.
Riomaggiore actually has the largest population out of all five villages. It is known for its postcard-type views and delicious seafood. The best views are actually seen from below instead of from above like the other towns.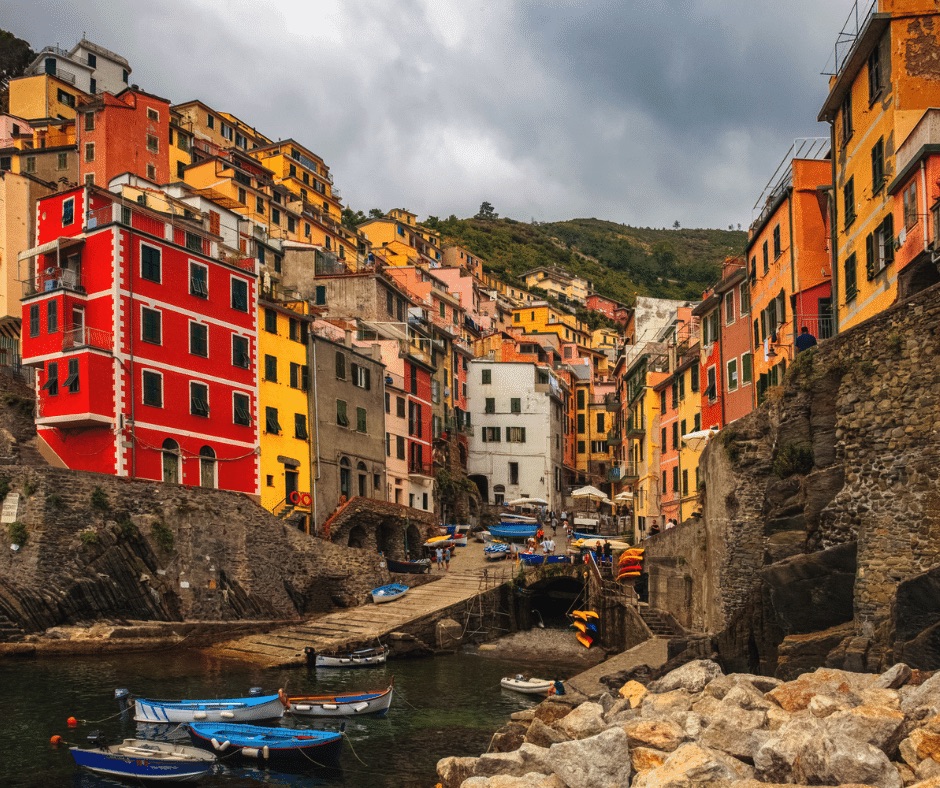 To get to the classic viewpoint head down the one main street that leads to the water. This is also another great place to eat some pizza and watch the sunset if you are looking for something a little more relaxed and less crowded.
We personally did not spend much time in this village. We chose to find a sit-down restaurant to eat at before taking the train back to La Spezia and heading back to our Airbnb in Pisa for the night.
There are tons of restaurant options in this village though! You will not go wrong with what you choose!
Final Thoughts on Visiting Cinque Terre in One Day
Cinque Terre was definitely one of my favorite places to visit in Italy! So, after reading all that do you think you will add Cinque Terre to your bucket list? If so, which little village are you most excited to visit!
Tell me in the comments 🙂
Like it!? Pin it for later!