The most epic Tuscany Road Trip Itinerary
I had always dreamed about visiting the rolling hills of Tuscany, but this dream always seemed so far off. However, I was finally able to make all my Instagram dreams come true and do a Tuscany road trip with my husband and parents in 2021.
Now planning a Tuscany road trip is not the easiest thing in the world, especially when living far from Italy. Researching can get confusing and overwhelming, so I am here to make your life easier.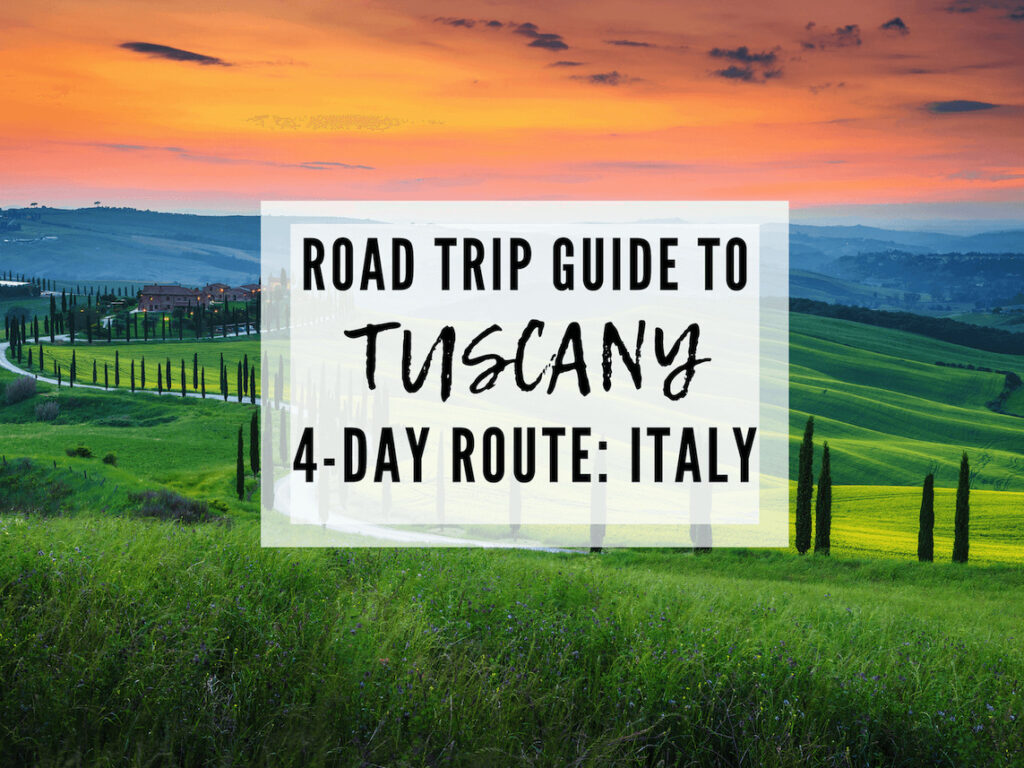 I've put together this article which includes everything you need to know to help plan your Tuscany road trip. From driving tips, to where to stay, to places you must see. You won't be disappointed!
My husband and I spent an entire month exploring the country of Italy. From hiking the mountains of the Dolomites to holding up the leaning tower of Pisa-we did it all, so I hope you find this article useful.
Where is Tuscany?
This is a question I asked myself when planning out our entire Europe trip. I found it to be quite confusing actually. But, Tuscany is actually a region in central Italy that consists of the cities: Florence, Pisa, San Gimignano, Castiglione Della Pescaia, Grosseto and Siena.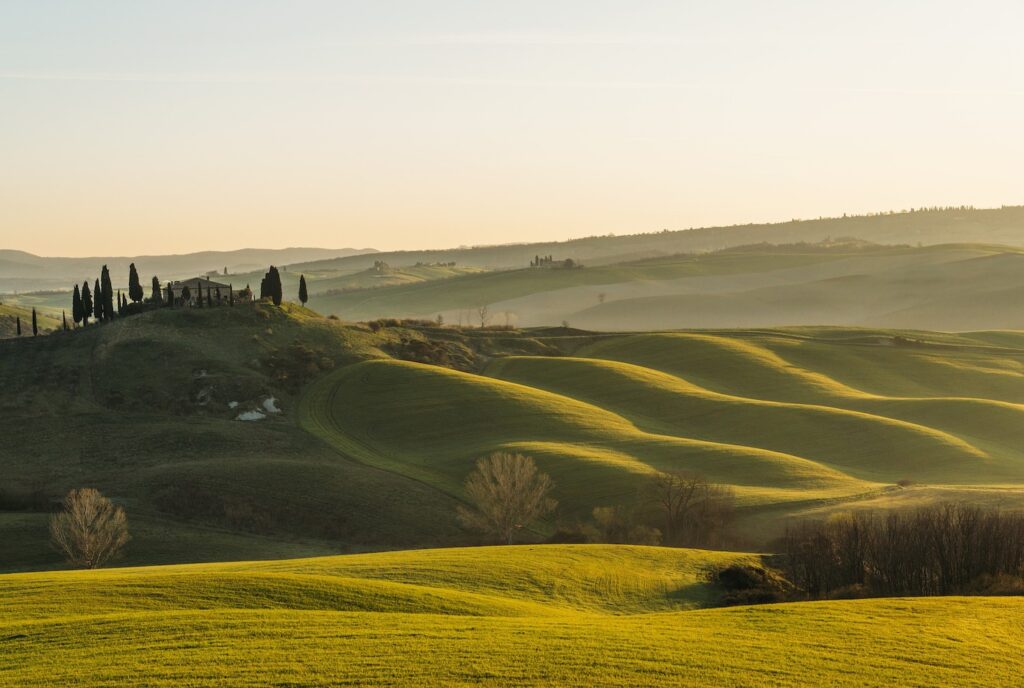 The Tuscany region is known for its rolling green pastures, beautiful architecture and of course its delicious wine. All in all, I can confidently say the Tuscany region will take your breath away.
When is the best time for my Tuscany Road Trip?
Is it a cop-out to say that Tuscany can be visited year-round? Probably, but it is true. However, if I had to choose the best time for you to do a Tuscany road trip I would recommend visiting in the Fall.
The weather is still nice yet the tourists and summer hustle and bustle has died down. Lodging and car rental expenses will also be more affordable considering this is the off-season.
If I had to choose the perfect time to recommend, I would say late September-early October.
CAN I DO THIS TUSCANY ROAD TRIP WITHOUT A CAR? (+DRIVING TIPS)
Well, yes you can; however, having a car for certain parts of this itinerary would make it much easier.
But, isn't it scary driving in a European country?
As long as you come prepared, I would say it really is not that scary to drive in Tuscany. Here are some helpful driving tips below to make your road trip much smoother.
When you rent a car, I recommend renting the car outside the main city of Florence. I do not recommend driving a car into the city of Florence. The streets are narrow, parking is hard to find, the police hand out plenty of tickets, and the roads are very confusing.
However, outside the city of Florence, it was very safe to drive. Driving on the roads felt as if I was on US roads. The street signs were clear, there was plenty of space and to make life easier they drive on the same side of the street as us.
We chose to pick our car up at the Florence airport. There is a tram (the T2 line) that takes you directly from the city center of Florence to the airport.
Prior to leaving for your trip, you will also need to get an international driver's license. It is cheap and easy to do. Just head to your local AAA and they can help you out.
Lastly, be sure to account for how much luggage you will have with you. The cars in Italy tend to have smaller trunk space, so make sure to look at that ahead of time and know if your luggage will fit or not.
TUSCANY ROAD TRIP ITINERARY
For the purpose of this article, I am going to share with you the more obscure places to visit and things to do as a part of your Tuscany road trip. You can always add on more days to your itinerary, but this article will give you an idea of how you can spend four days in Tuscany.
DAY 1: START YOUR TUSCANY ROAD TRIP IN FLORENCE
There is honestly so much to see and do in Florence alone-you really could spend an entire week here and not see it all. So, for the sake of this Tuscany road trip, I am going to share my top places in Florence that I recommend you see.
I do not recommend driving in the actual city of Florence as the streets are narrow and very confusing. So, today will be a lot of walking and sightseeing.
STOP 1: THE DAVID STATUE
My personal opinion is if you are visiting Florence then you have to see the David statue. Tickets are required in advance and I would plan to allot about 1 hour to walk through the entire museum.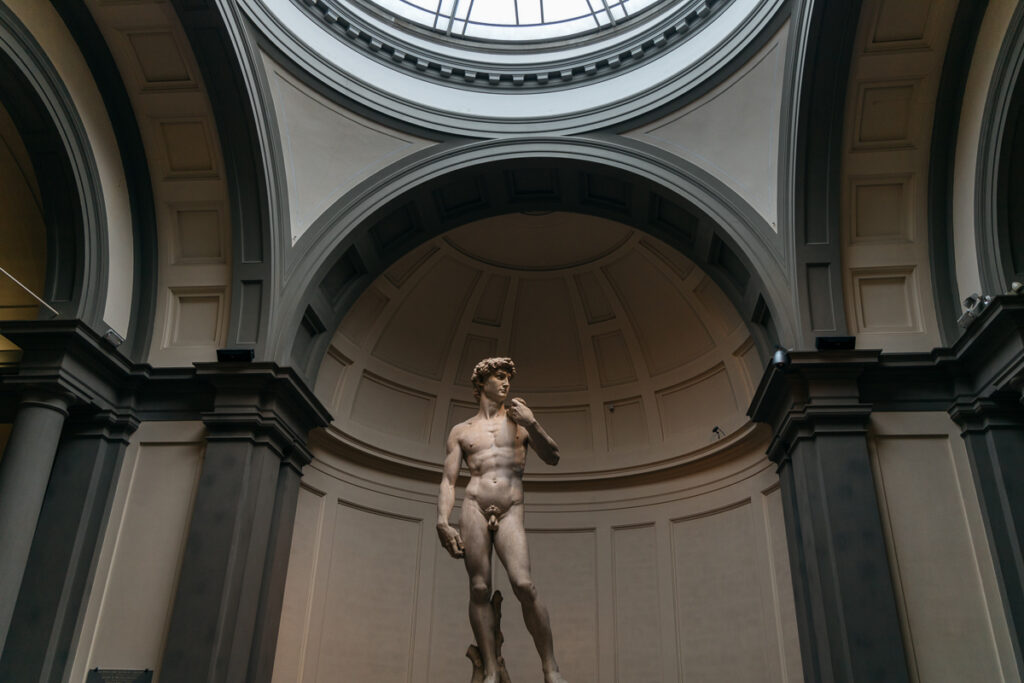 STOP 2: PIAZZA DEL DUOMO
The Duomo is Florence's cathedral and is absolutely stunning. If you visit the city center you won't be able to miss this beautiful building. Make sure to walk around all sides and look at all the different angles.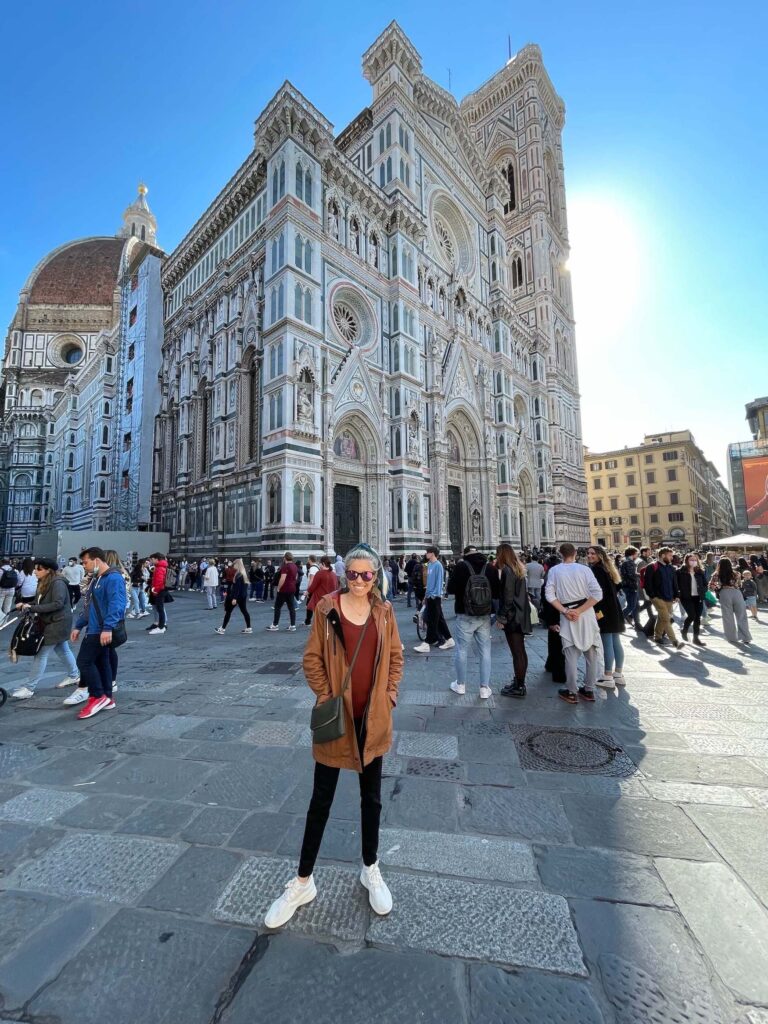 This square is filled with beautiful sites like the Santa Maria del Fiore Cathedral, Giotto's Bell Tower, and St. John's Baptistery.
We personally chose to grab some lunch here and have a view of the Duomo.
Photo tip: If you are looking to have this place more to yourself and the best lighting, then I recommend visiting at sunrise. This area becomes extremely crowded in the afternoon.
STOP 3: WALK ACROSS THE PONTE VECCIO
This is a medieval bridge that spans across the Arno River. Surrounding this bridge are tons of unique jewelry and souvenir shops. Make sure to check out all the bridges in this area. My personal favorite photo spot actually has the Ponte Vecchio bridge in the background.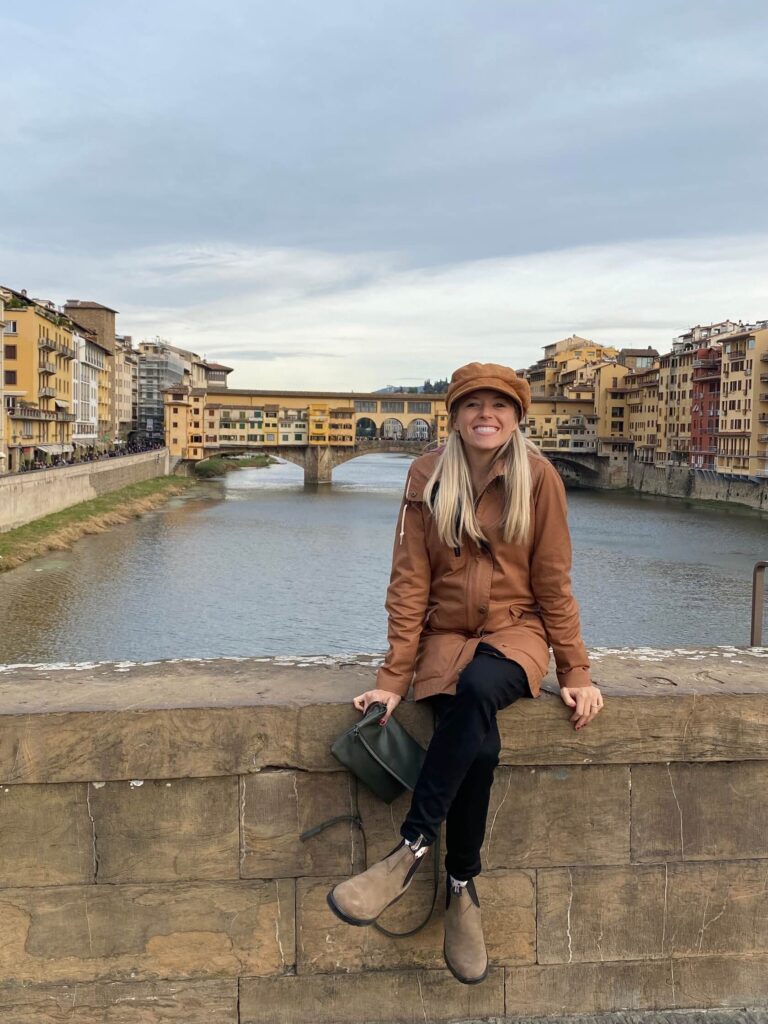 If you are in Florence for more than one night I would recommend grabbing a pizza to go and bringing it to this area, sitting on the ledge, and enjoying the sunset.
STOP 4: SUNSET AT PIAZZALE MICHELANGELO
This is a must-visit spot. However, I think you HAVE to go at sunset time. The views from up here are just gorgeous at sunset. The Piazzale Michelangelo looks over the city of Florence and it is a perspective you have never seen before.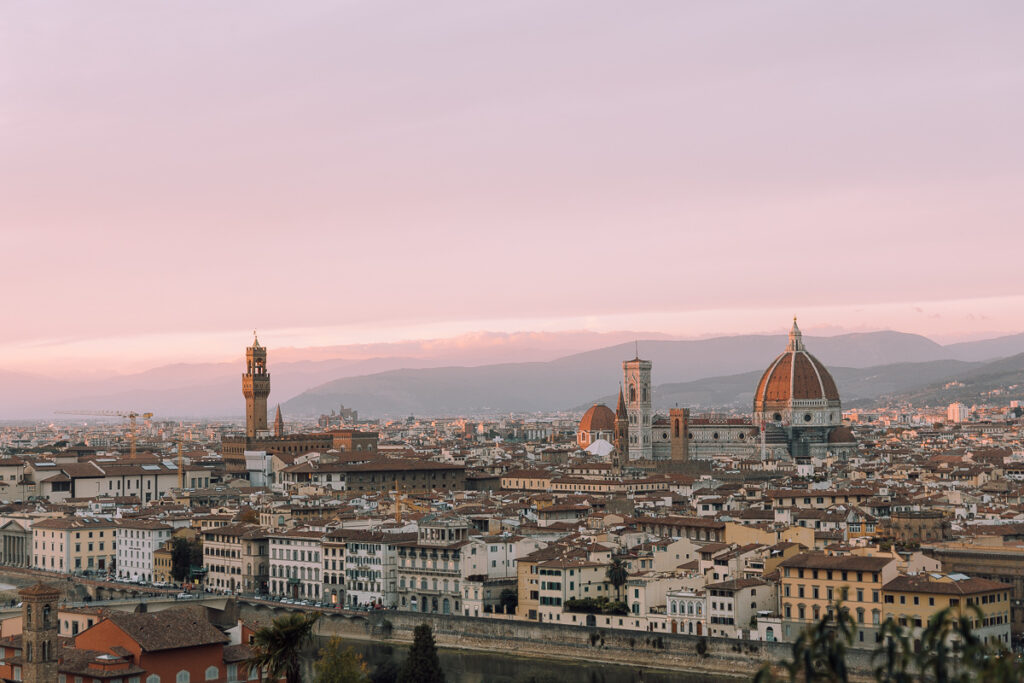 My tips are to arrive with plenty of time before sunset as it does get crowded at the top. If you get there early enough, bring a drink and some snacks and take in the views.
STOP 5: PASTA MAKING CLASS
This was one of our most favorite experiences in Florence. If you have the time I highly recommend doing a pasta-making class. You can find plenty of different classes on Airbnb experiences; however, this is the one I recommend.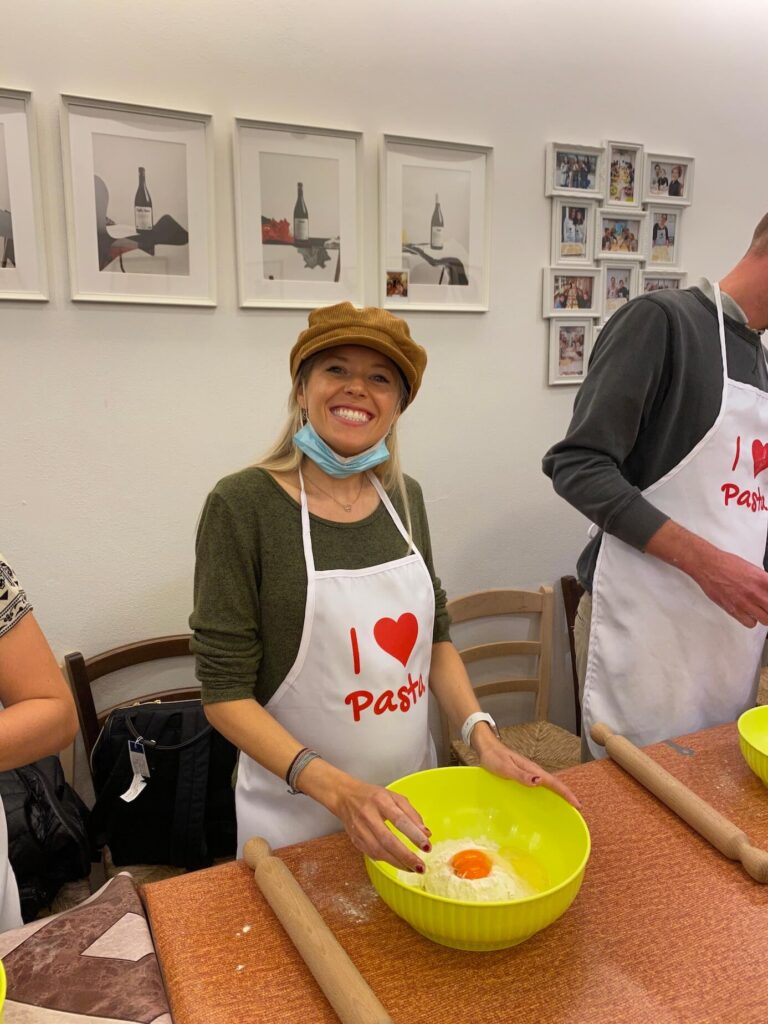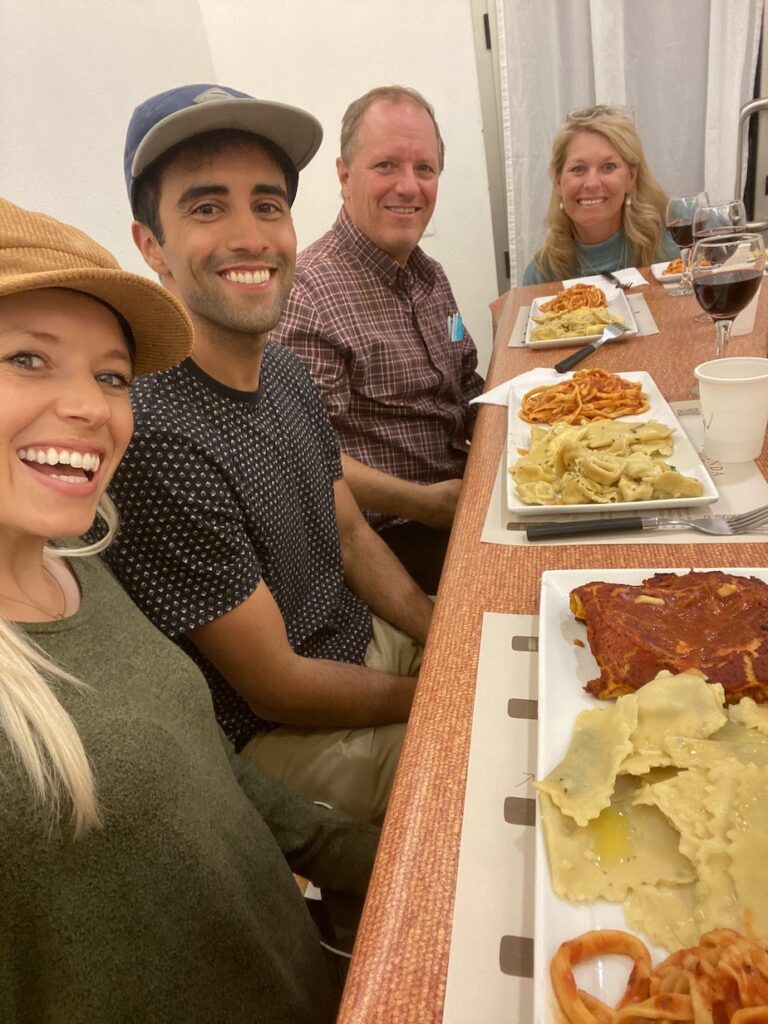 Our host was incredible and even created some vegan options for me. It was about a group of 10 people and we all learned how to make 3 different types of pasta from scratch while drinking wine and laughing together.
DAY 2: WINE TASTING IN TUSCANY
Today is the day that you will need a car. I recommend grabbing some breakfast, then picking up your car rental from the Florence airport before heading out for wine tasting.
One of my favorite parts of our Tuscany road trip was going wine tasting. Now, there are A TON of winery options, so you could structure this day in multiple ways. You could visit multiple wineries in one day or spend your time at just one winery.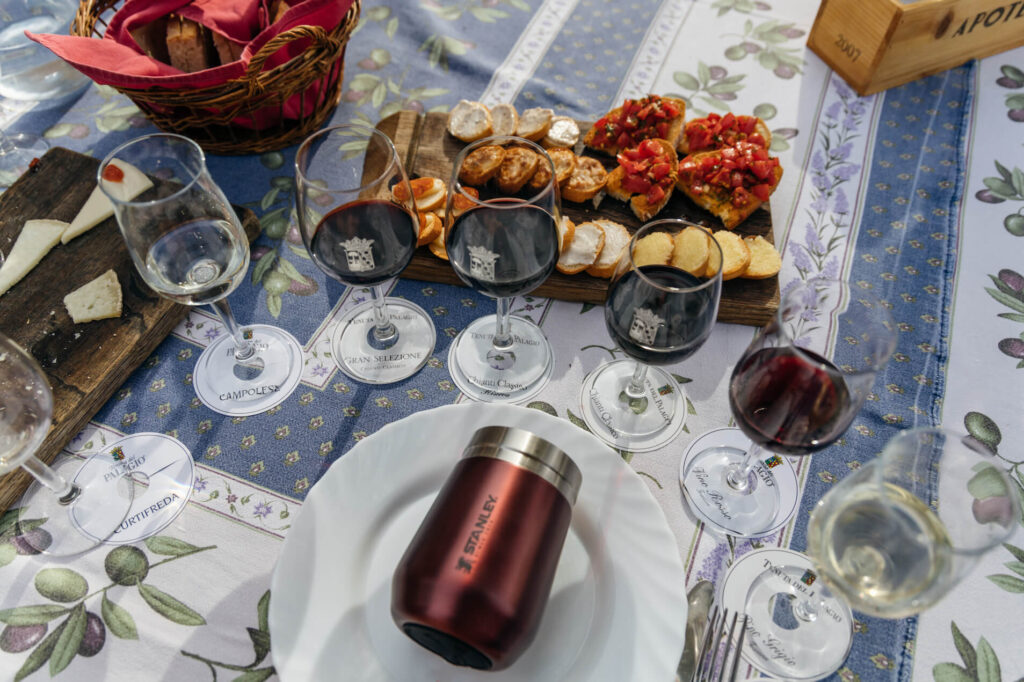 We chose the latter and ended up booking a wine-tasting Airbnb experience. I would absolutely recommend this Airbnb wine tasting experience. What we got for the price was incredible.
First, we learned all about the wines, then we got to tour this beautiful winery. Afterward, we had the most elaborate cheese, bread, and wine pairing out in the gardens of the winery.
Of course, never drink and drive. Make sure to have a designated driver for this day, otherwise, be safe and choose to use the bus or hire a private driver.
DAY 3: SITE-SEEING AROUND TUSCANY REGION
Today is all about taking advantage of that car you have and really diving into the whole "Tuscany road trip" thing. It will be a lot of driving and site-seeing today.
This day is definitely about those picturesque and instagrammable places and pictures that you see when you hear the word Tuscany.
STOP 1: SATURNIA HOT SPRINGS
Start your morning off early by driving to the Saturnia hot springs. You will definitely need a car to get here, but this place is so worth it.
My parents were skeptical about driving so far to visit this location, but after spending time in the hot springs, they said they would highly recommend adding this location to your itinerary.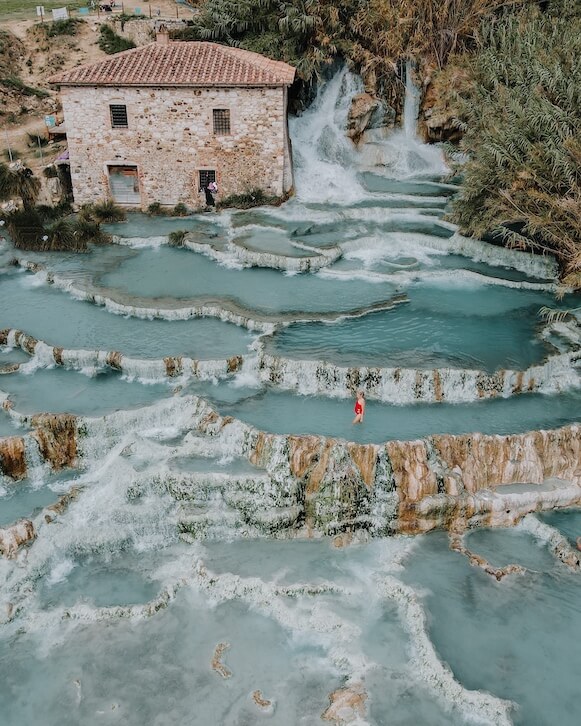 These hot springs are the most famous of all of Tuscany's hot springs as they create a vibrant blue color. These hot springs maintain a temperature of around 99F year-round, so they are definitely kid-friendly. If you want this place more to yourself then I highly recommend visiting in the morning hours as it becomes more and more crowded throughout the day.
In order to get here, put Terme di Saturnia into your maps. There is a parking lot at the top of the road and the entrance is free to these hot springs.
Do note there are no bathrooms or changing rooms on site.
STOP 2: FARMHOUSE POGGIO COVILI
After spending plenty of time at the Saturnia hot springs, you will work your way back to your Airbnb making a few stops along the way. Your first Tuscany road trip stop will be the Farmhouse Poggio Covili.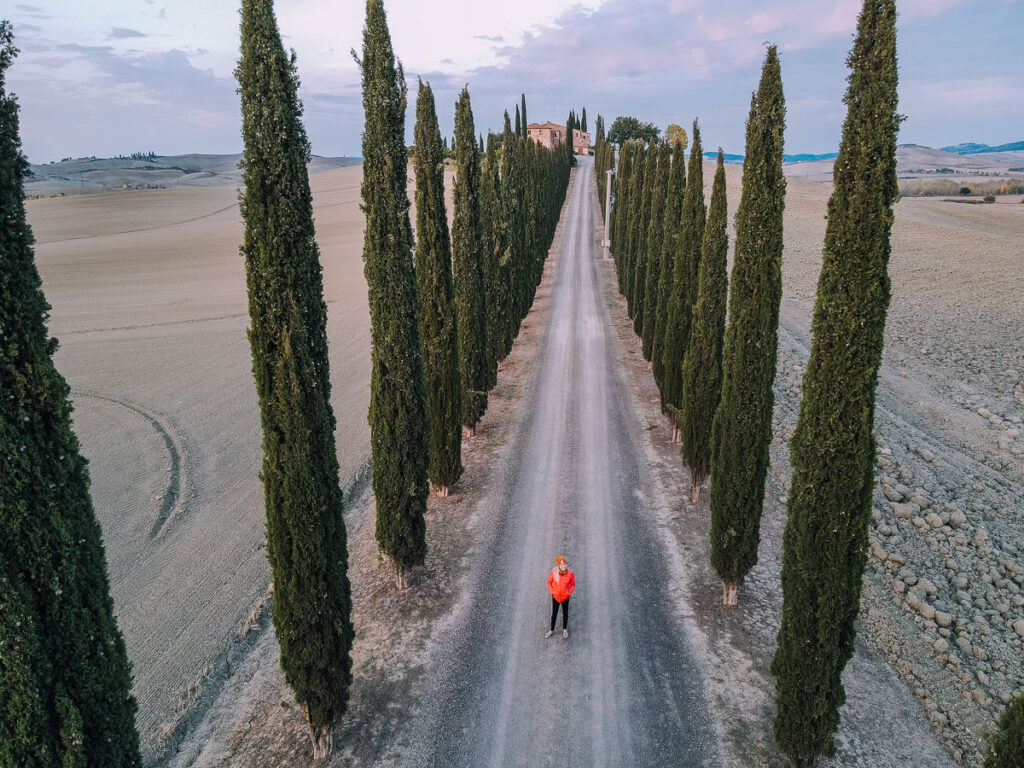 This spot is just a beautiful site to look at and maybe take some photos at along your drive through the rolling hills. At the end of this tree-lined street sits a farmhouse ranch where you could stay for the night.
STOP 3: CHAPEL VITALETA
Next up on your little driving road trip through the rolling hills of Tuscany is the Chapel Vitaleta. Again, this is another site-seeing destination. It is a tiny chapel located in the rolling hills and it makes for a great photography stop.
STOP 4: ASCIANO
Your last stop before getting back to your Airbnb will be the small town of Asciano. This place is known for its tree-lined roads. There is no parking lot to get to the classic overlook photo spot of these trees, but you can easily just pull over on the side of the road.
These are the GPS coordinates to get to the famous tree-lined road.
GPS Coordinates: 43.20083 11.58947
OPTIONAL STOP
If you have time and haven't filled your day quite yet then I recommend doing the hike to Sentier Elsa. We didn't get a chance to do this one, but I wish we would have as it looks gorgeous and I just love hikes.
Here is the link to the All Trails route of this hike with directions. It says it is 3.5 miles out and back and is rated as easy.
DAY 4: FINAL DAY OF YOUR TUSCANY ROAD TRIP
It is now time to return your rental car and head to the last location of your Tuscany road trip. Take the car back to the Florence airport. From there you will need to hop on the T2 tram and take it back into the city of Florence.
Once you are in Florence, head up to the main train station and take a train to Pisa. This is about a 1hr 15 min train ride.
Arrive in Pisa, drop off your luggage, and head out to explore your final destination.
To be honest, you don't need much time in Pisa. One to two days at most. However, it still is one of those places I feel like you just have to go to. You can't visit Italy and not say you took a picture with the leaning tower of Pisa right?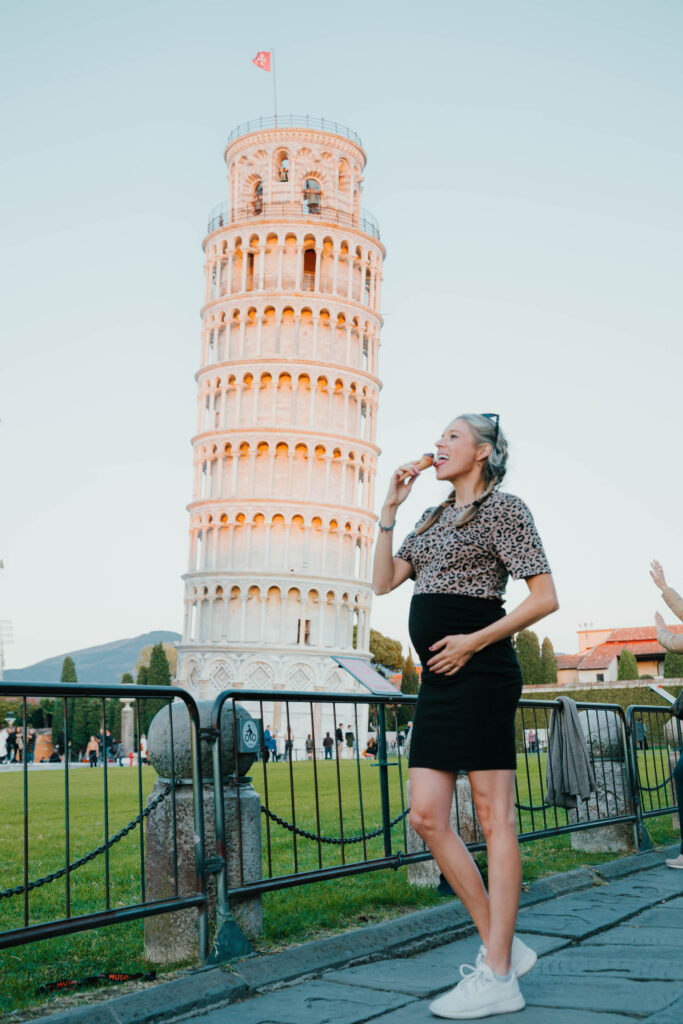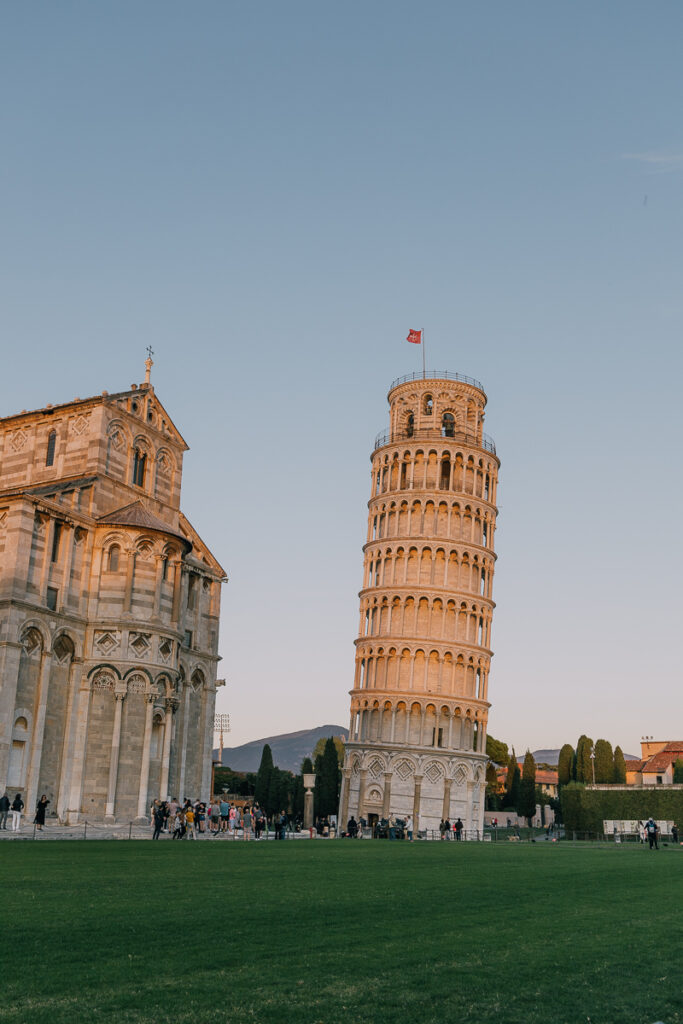 Pretty much everything you need to see and do is centered around the leaning tower of Pisa. I would recommend just heading in that direction and seeing the sites around it. There are tons of cute little streets near the leaning tower, so grab something to drink and a bite to eat while here too.
If you plan to eventually visit Cinque Terre, Pisa is a great starting point as the train goes directly to Cinque Terre from Pisa.
Lastly, another option that is recommended is you could do a half-day in Pisa and a half-day in the city of Lucca.
WHERE TO STAY IN TUSCANY?
There are plenty of places to stay in Tuscany and it depends on if you want to have multiple locations in each new destination to stay at or just have one home base.
We chose to do a little bit of both and we found that Airbnb had the best options for what we were looking for. We wanted to find somewhere that had a kitchen, so we could save money on food, but also was reasonably priced.
In Florence, we chose to stay right in the heart of the city and a 5 min walk from the main train station. Here is our Florence Airbnb.
We loved this cute little place. The only negative about it was a street light does shine through the windows at night, but if you have a good eye mask then you are all set. Also, I am hoping they put up thicker curtains after our review about the street lamp shining in.
We also wanted to stay in the beautiful rolling hills of Tuscany for part of our trip, so we chose to find an Airbnb that was outside the city center and you definitely need a car to get to it, but it was so dreamy and so worth it.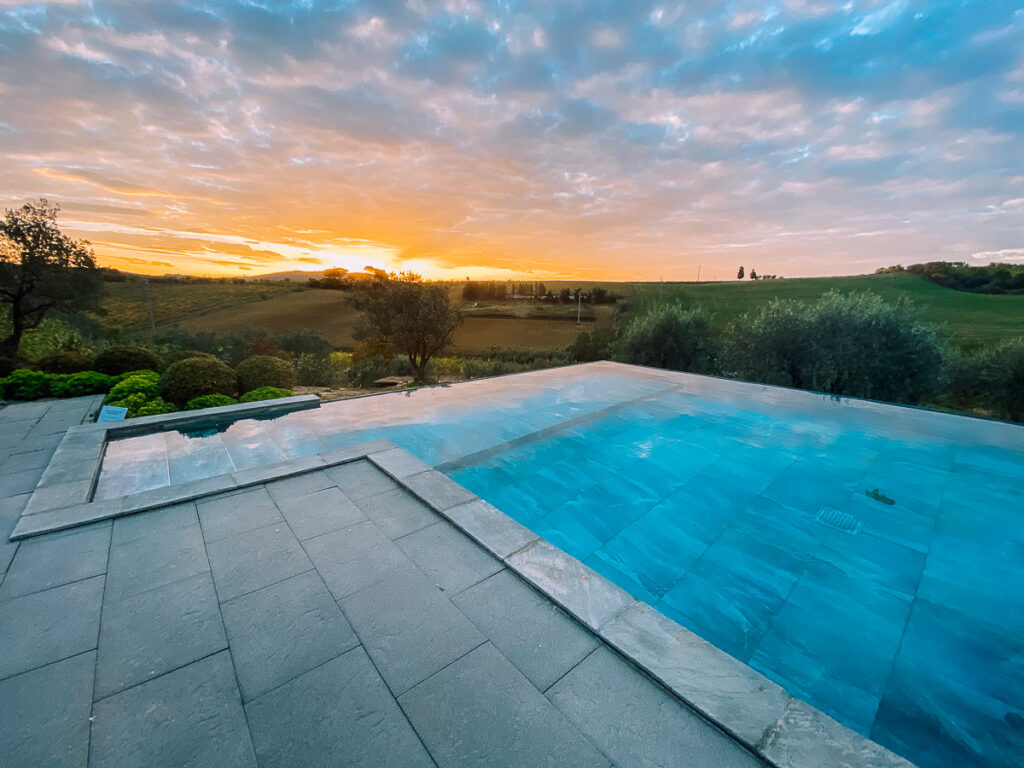 If you could add one Airbnb to your Tuscany road trip it should be this one. The house is beautiful, the property is immaculate and the host serves the most decadent breakfast for an additional charge (which I HIGHLY recommend).
Here is our rolling hills Tuscany Airbnb.
Lastly, again we found a place to stay for one night in Pisa and it was perfect. It was further outside the city center, but only took about 25 minutes to walk to the main attractions or there was a bus station right outside the Airbnb you could hop on as well.
FINAL THOUGHTS FROM CHELSEY EXPLORES
Alright, there you have it! Your ultimate Tuscany road trip itinerary. I hope this article inspires you to see all that the Tuscany region has to offer. There is so much to see and it is absolutely stunning.
Make sure to take your time and soak in all these fun and unique experiences! Ciao!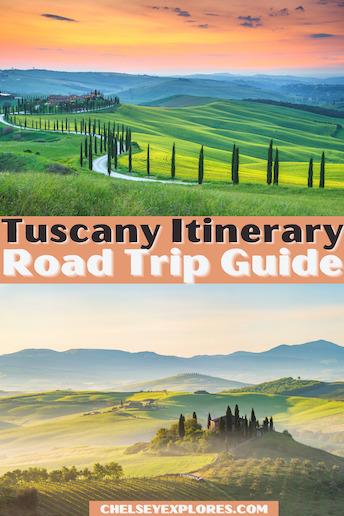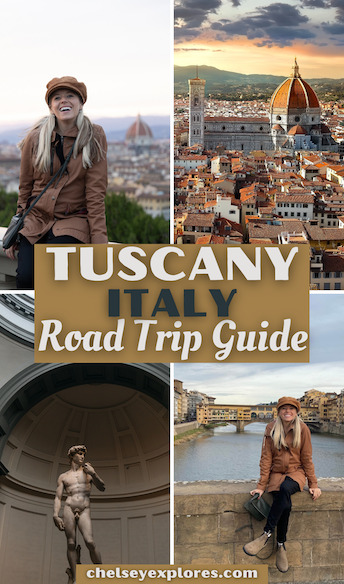 THE MOST EPIC TUSCANY ROAD TRIP ITINERARY