KEY TIPS FOR BEGINNER BACKPACKERS
Planning a backpacking trip can be a daunting task especially for beginners. There are so many things to think about and a little more planning is involved than in a regular vacation.
But since you're here, I'll give you a few of the secrets and let you in on my top tips for beginner backpackers. I've been on multiple backpacking trips now but I definitely remember how excited I was on my first backpacking trip plus all the mistakes I made!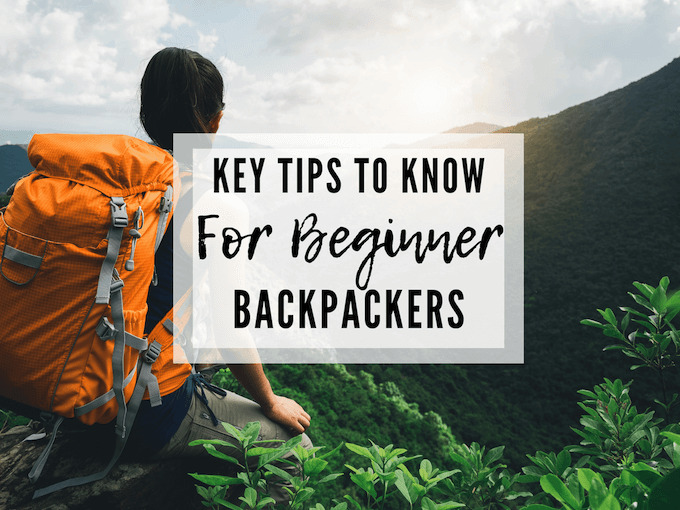 Honestly, mistakes are inevitable when you are backpacking but you just learn to make the most of it on your trip and learn for next time. There are things that you can do ahead of time that will minimize those mishaps though.
Read on to find out some of my best backpacking tips for your first-time backpacking.
Tips for beginner backpackers
There are tons of tips I could recommend to you to help get your backpacking journey started. In this article, I am going to list my top 10 key tips for beginner backpackers. I hope to inspire you to try your first backpacking trip this year.
1. Start Out With an Easy Route
When planning your first backpacking trip, you want to look for a route close to home and one that isn't too long or strenuous. Don't underestimate a trail or overestimate your abilities.
Take a 2 – 3 day trip and make sure you aren't trying to cover too many miles in one day. You'll also want to factor in the elevation gain when looking at how many miles to travel.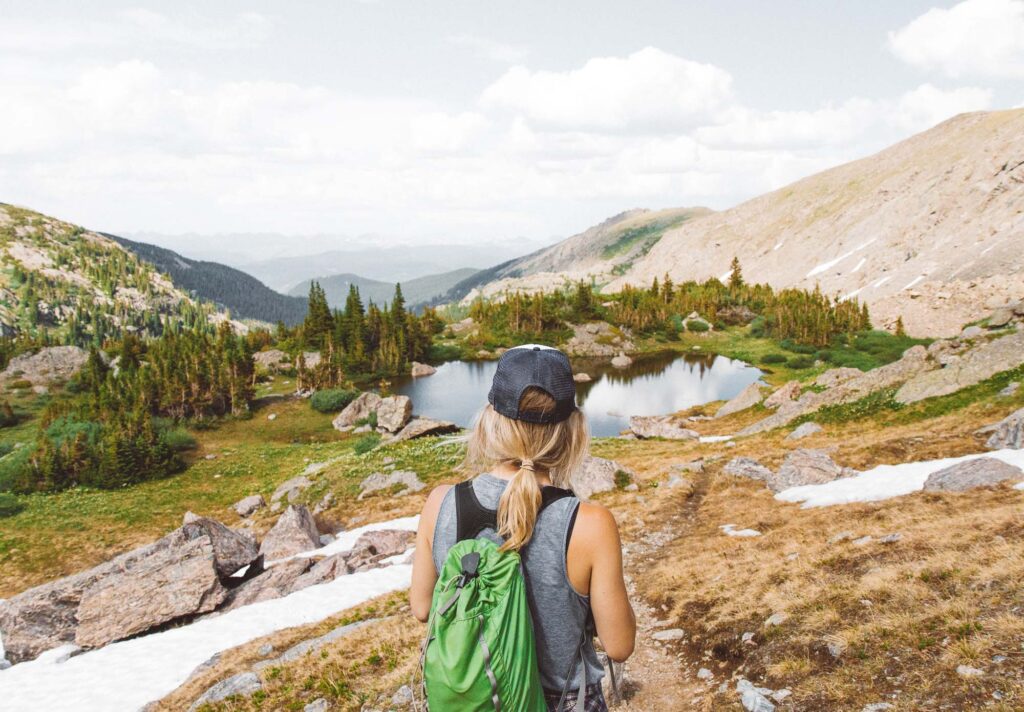 On days with a large elevation gain, you won't be able to go as far. Some popular places to backpack for first-timers are national or state parks. They have trails that are well-marked and many are heavily trafficked just in case you are nervous about your first time.
Choose a route that already has designated campsites so it's easy to find a place to set up camp. You can also leave your items at the site and do day hikes if you'd like.
2. Make Sure You Have Warm Enough Clothes
This is so important not only for comfort but for safety as well. In the mountains, the temperature can drop quickly and drastically after the sun goes down. You could be fine during the day in a t-shirt and shorts and then freezing at night even with a hoodie on.
Make sure that you are prepared for the conditions and have the appropriate clothing. It's smart to bring along a lightweight jacket and toboggan no matter what time of year you are going.
Merino wool is best when choosing which type of clothing to bring. Kari Traa sells the cutest Merino Wool Baselayer set that is guaranteed to keep you warm. I have at least 3 sets and love them all. Plus they are cute!
[show_shopthepost_widget id="4677275″]
In addition to your clothes, you need to make sure that your gear is suitable for the weather. You'll want a sleeping bag that is the correct temperature rating and a sleeping pad will help keep your body heat from seeping into the ground.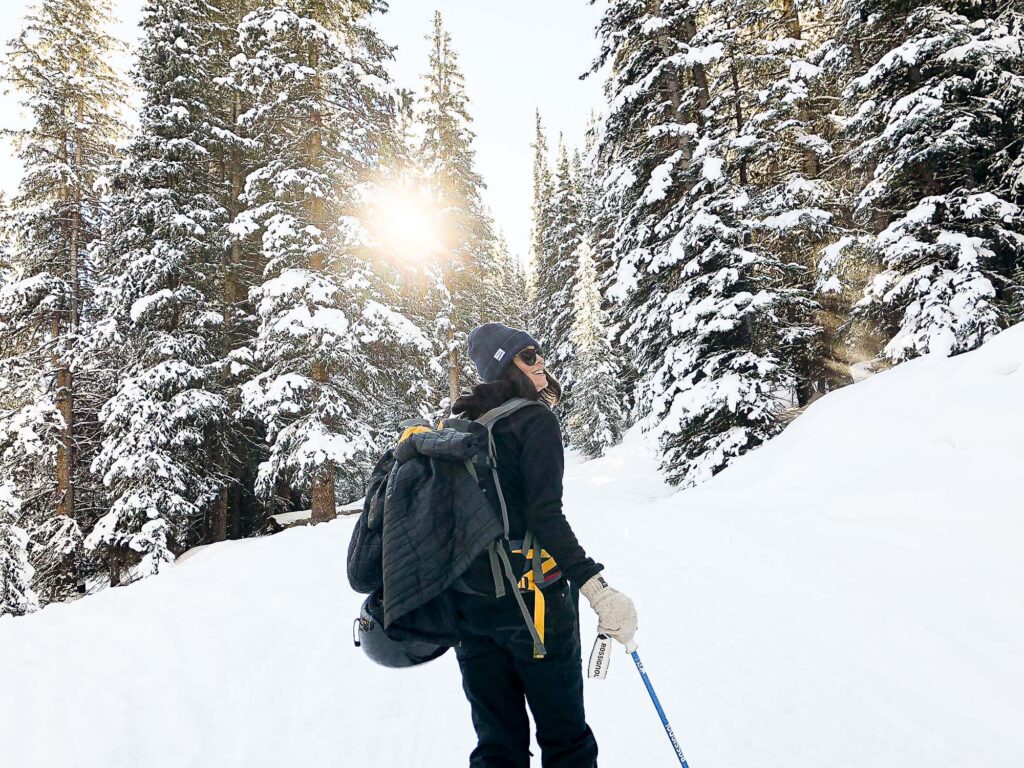 It is definitely worth the investment to make sure that you are warm and cozy at night. No one likes being cold and you definitely don't want to get in a situation where you are worried about hypothermia.
I have a whole article on cold weather camping tips and tricks that you can read about.
3. You Need a Good Level of Fitness (Physical and Mental)
You will be carrying 25 – 35 lbs (at least) of gear on your back and walking all day. You need to prepare for this at least a little bit before you leave.
Many beginner backpackers will assume that they'll be fine – especially if they already have hiking experience. I think everyone would benefit from a little prep work though.
Do some lunges around the house, go hiking with some weights in a backpack, or do some squats. Focus on strengthening your legs and working your heart and lungs.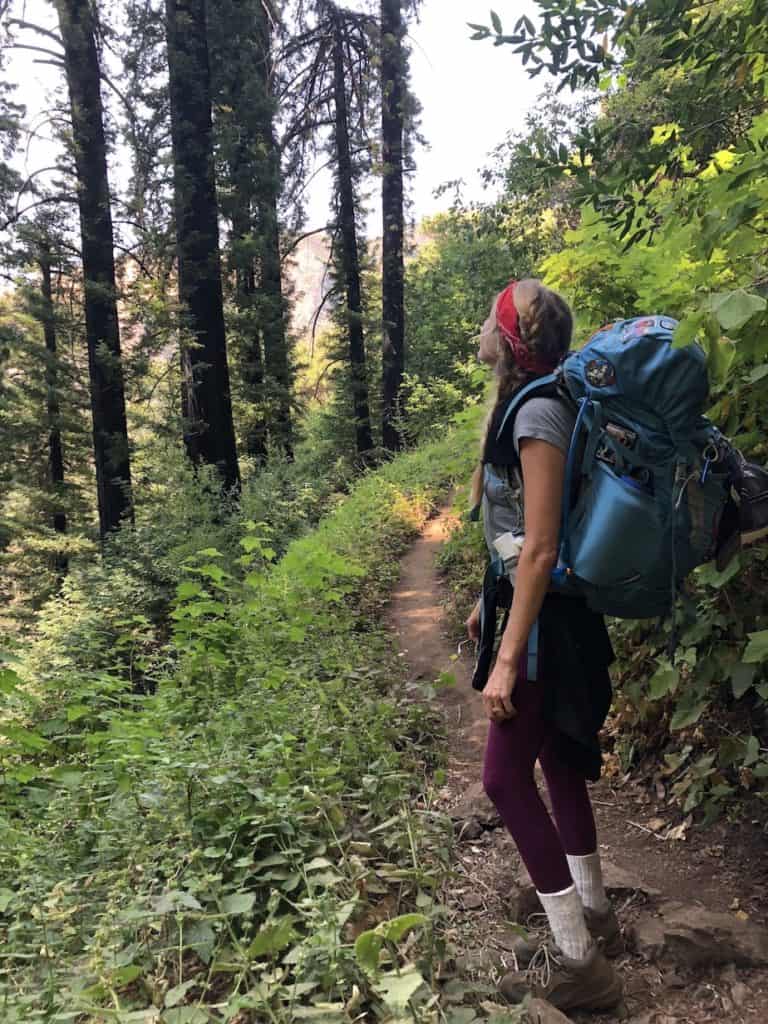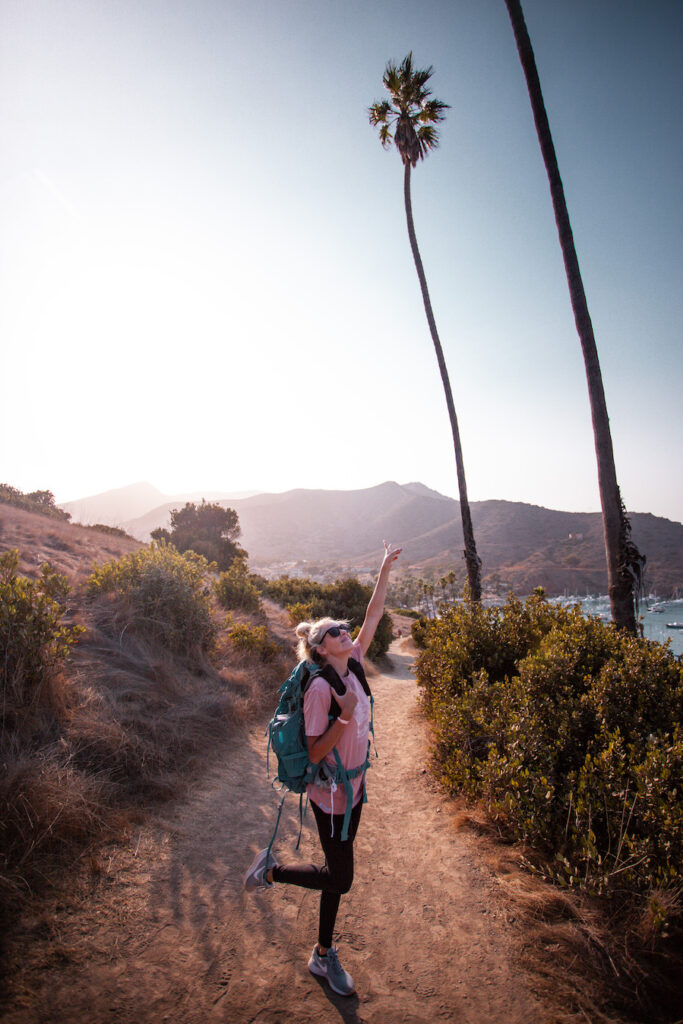 Not only do you need to be physically fit, but backpacking will test your mental toughness as well. This is especially true for the longer trips or when things just really don't seem to go your way.
You need to believe that you can do this and you have to let go of the mindset that everything will be perfect. Because when you're backpacking you really have to learn to roll with the punches.
4. Pack Only the Essentials
Many beginner backpackers don't realize just how much additional weight matters. Yes – Every. Single. Ounce. Matters. Do some research on the items that you really need to bring and what can stay at home.
You'll be thankful that you purged as much as possible at the end of that day when your pack seems unbearably heavy.
Of course, many people like to bring one or two luxury items. Maybe a real book, a small extra snack like candy, or maybe a travel pillow. Figure out what your little indulgence is and add that back into your pack.
5. Know the Principles of Leave No Trace
Leave No Trace is the name of a non-profit organization structured around a few guidelines that everyone should follow when they spend time outdoors. These guidelines help to minimize human impact on these beautiful places that we all love to explore.
The seven principles include: plan ahead, travel and camp on durable surfaces, properly dispose of waste, leave what you find, minimize campfire impacts, respect wildlife, and be considerate of others.
Many of these are common sense, but some things (like how to poop in the woods) may be a little less obvious. Some people just don't know that there's a right and a wrong way to do it.
So do a bit of research ahead of time and figure out how you can do your part to keep these gorgeous places looking the same for generations.
6. Research Food Ahead of Time
There are so many options for backpacking food and let me tell you, not all are great and some are downright terrible.
You can find really good packet backpacking meals from companies like Backpacker's Pantry, MaryJane's Farm, or Mountain House.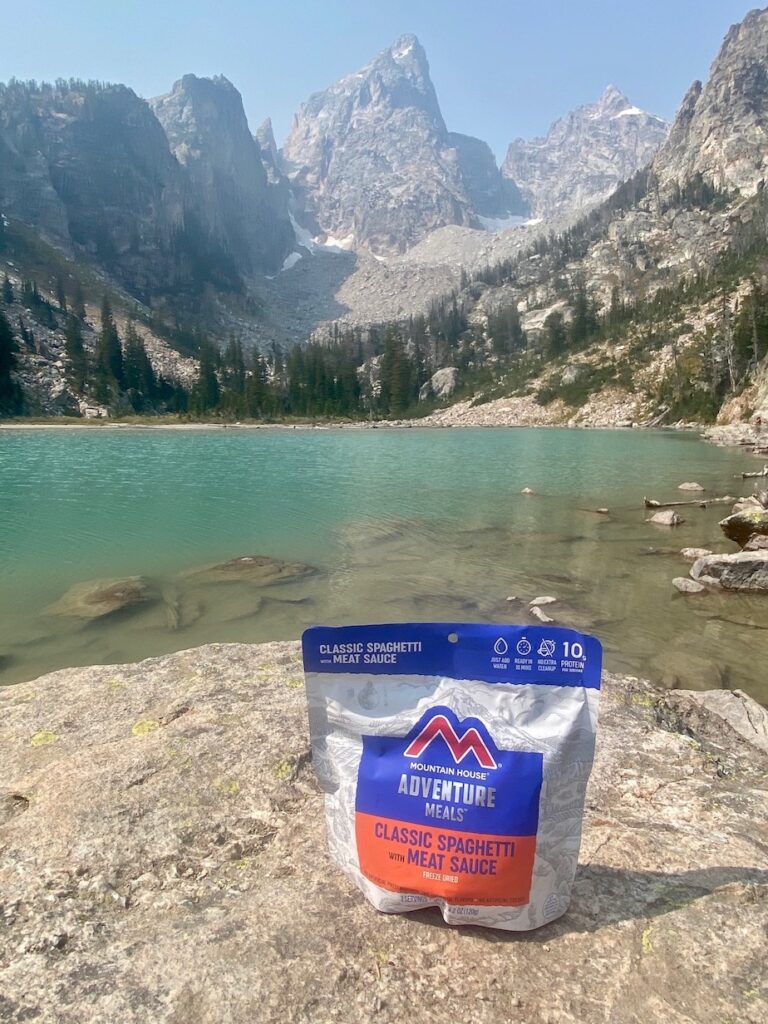 You need to make sure that you don't pack so much food that your pack is too heavy, but you are eating caloric-rich foods to supply your body with the energy it needs. It's working hard ya know.
You can also dehydrate your own food to take on the trail in a dehydrator or even in your oven. This does take a good bit of pre-planning though.
7. Don't Skimp on Planning
Always, always, always have a backup plan. Know what you will do in case of an emergency. How will you contact people? Does someone know where you are? If you want to leave early, do you have an out?
Before you head out on your first backpacking trip you need to have some general navigational skills. You'll also want to let a trusted person know where you are going and your itinerary for each day.
It's also beneficial to have a bit of first-aid knowledge.
We've already discussed food and we will talk about water soon. This is all in addition to the generic plan you should have of your route, what permits you'll need, whether there are any rules for the park or site.
Don't think that you can just pack up and hit the trail. There's a little more planning that goes into it than that. This is one of my most important tips for beginner backpackers.
8. Know How to Bear-Proof Your Campsite
Another thing you'll need to think of before you go. Make sure you have a bear canister to put all of your food in. You can also hang your food in a bear bag from a tree limb away from your campsite.
Don't leave any food or even smelly items in your tent or near the campsite during the day unless you want some less than ideal visitors.
Keep your campsite clean and some experts even say you should store the clothes that you've cooked in in your bear bag or canister.
Set up the cooking area down-wind from where your tent is set up. Before you set any equipment up, make sure you don't see any sign of bears or anything that would entice them to come into your area like berry bushes.
Know what to do in case you do come across a bear. Stay calm, have bear spray, and don't run.
9. Borrow or Rent Gear
Backpacking gear gets expensive fast. You wouldn't want to buy a ton of expensive gear only to find out that you don't like anything about it.
That's where rental programs come in. Did you know that you can rent a lot of backpacking gear from REI? There are also local outfitters that will rent to people, you just need to call around.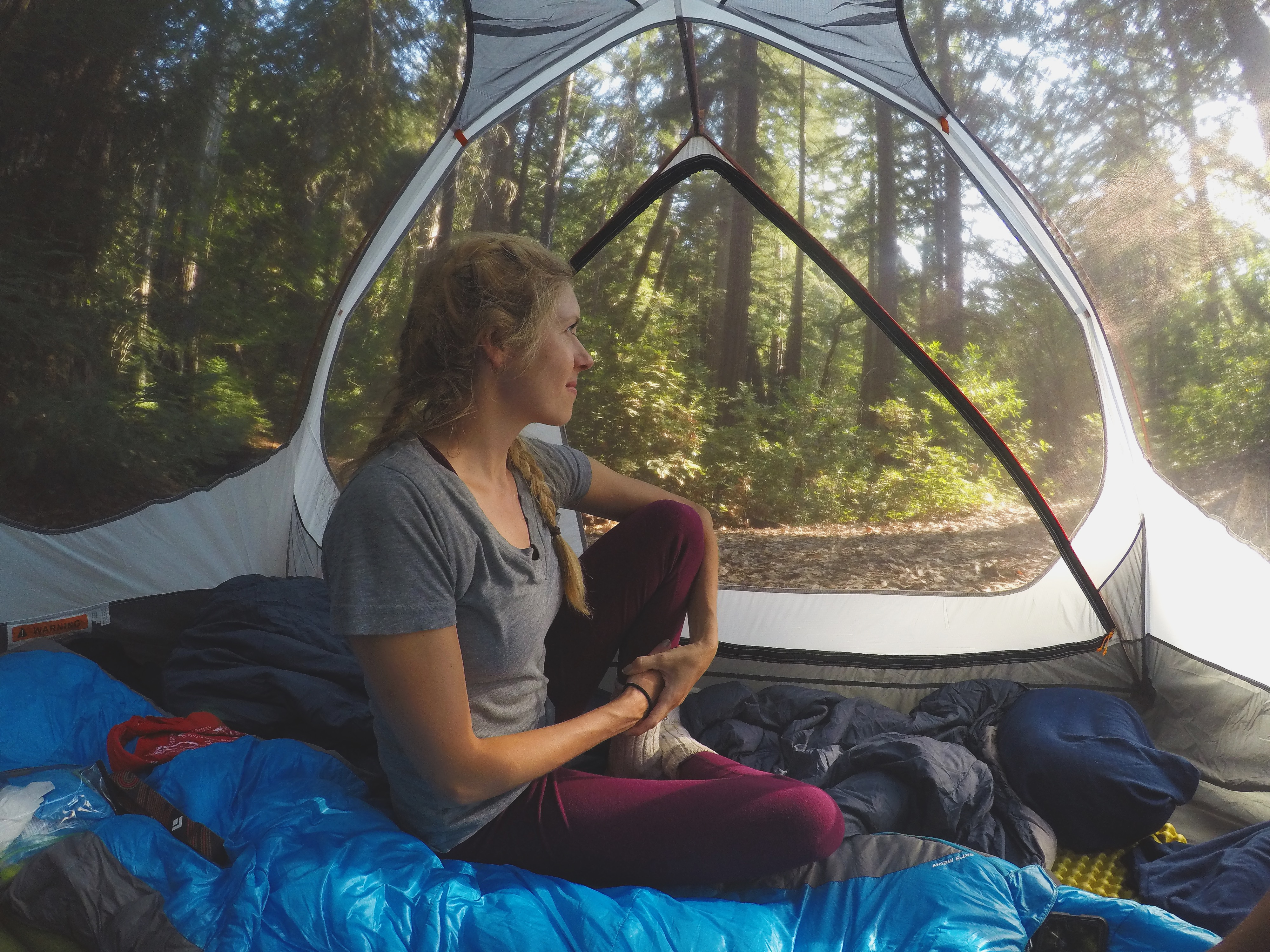 You can also use a company like CampCrate where you rent the gear online and they'll ship it to you. It's always best to try before you buy.
This will save you a lot of heartache and money as you figure out what you like and don't like about some gear. You also may not even know if you'll like backpacking at first.
If you are looking to buy gear, but can't afford the price of new gear there are tons of options for buying used outdoor hiking and camping gear.
Sometimes, you don't want to buy all that equipment before you go only to realize that you absolutely hate it (though I don't think that will happen). Either way, it may be in your best interest to rent first.
10. Make a Plan for Water
In the backcountry, it is so important to have a plan for freshwater. You can pack your water with you or use a filtration system to collect water on your trip.
Packing water in might be the easiest, but it is also the heaviest option. Popular filtration systems are the LifeStraw, Platypus, and the MSR TrailShot.
Another option is to use tablets to purify the water. You can get Chlorine Dioxide tablets for pretty cheap.
Tips for Beginner Backpackers Review
I hope these tips make planning your first backpacking trip just a little bit easier! If you're really lost with how to get started backpacking then try to find a group that leads backpacking trips near you.
Most people in those groups are happy to share their knowledge and you may just make a few new friends.
As long as you put in the work to plan your trip well, you should have tons of fun and you'll learn a lot by just getting out there.
Like this post? Pin it for later!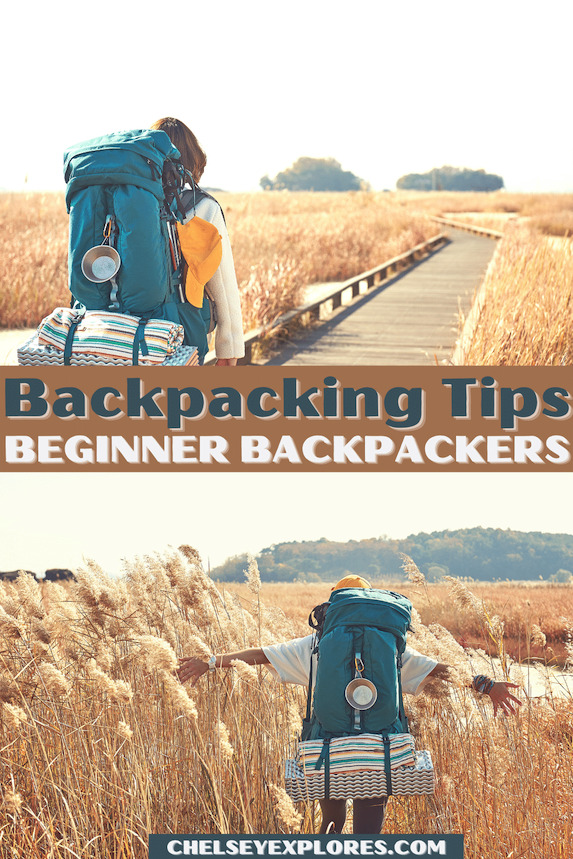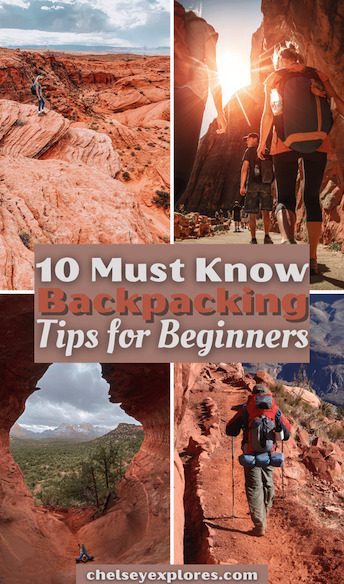 KEY TIPS FOR BEGINNER BACKPACKERS