SEDONA HIKING TRAILS YOU DON'T WANT TO MISS
One of the places that I have visited with some of the most unique landscapes would be Sedona, Arizona. I love it so much that I actually created a complete Sedona Travel Guide.
Why do I love Sedona so much!? Well, it has some of the best hiking trails. Each one is so different and all are picturesque.
In this article, I am going to share 7 of the best hiking trails in Sedona. I am here to help you choose which hikes you want to do yourself.
7 SEDONA HIKING TRAILS
Let's get to it! These are some of my favorite hiking trails in Sedona. Always make sure to prepare and plan properly based on the weather. I have personally been to Sedona in multiple seasons: burning hot weather, snowing and torrential downpours!
So pack appropriately and don't forget to LNT.
As always, whenever we are out in nature we need to remember the 7 principles of Leave No Trace.
Let's review them here: 1. Plan ahead and prepare: You always want to be safe, so make sure to plan ahead and always tell someone where you are going. 2. Be Respectful: We all love the outdoors make sure to respect each other out here. 3. Travel & Camp on Durable Surfaces: Set up camp away from the water and don't walk off the path. 4. Dispose of waste properly: Always pack out your trash and know where to poop 5. Leave what you find: Let's let others enjoy this beautiful earth too. Don't collect sticks, shells, and rocks for your pleasure. Let nature stay where it is. 6. Respect wildlife: Wildlife can be dangerous, do not disturb them & they won't disturb you. 7. Keep fires small: Fire can be dangerous. Keep it small and use the fire rings in place if there is one.
1.DEVIL'S BRIDGE
Length: 4.2 miles out and back
Elevation Gain: 400 feet
Difficulty: Moderate
Let's start with THE MOST POPULAR hike in Sedona, Devil's Bridge. For good reason, this hike is very popular. The Devil's Bridge Sedona Hike is very short, has very little elevation gain and is easily accessible.
With a wide open path and only steep at the end, this hike makes for a great family hike. You will be treated with the largest natural sandstone arch in the area when you reach the end.
Now, you can actually practically drive to this trailhead if you really want to cut down the hiking time. However, you will need a 4WD with high clearance to make it down this path. It has some HUGE potholes throughout the dirt path.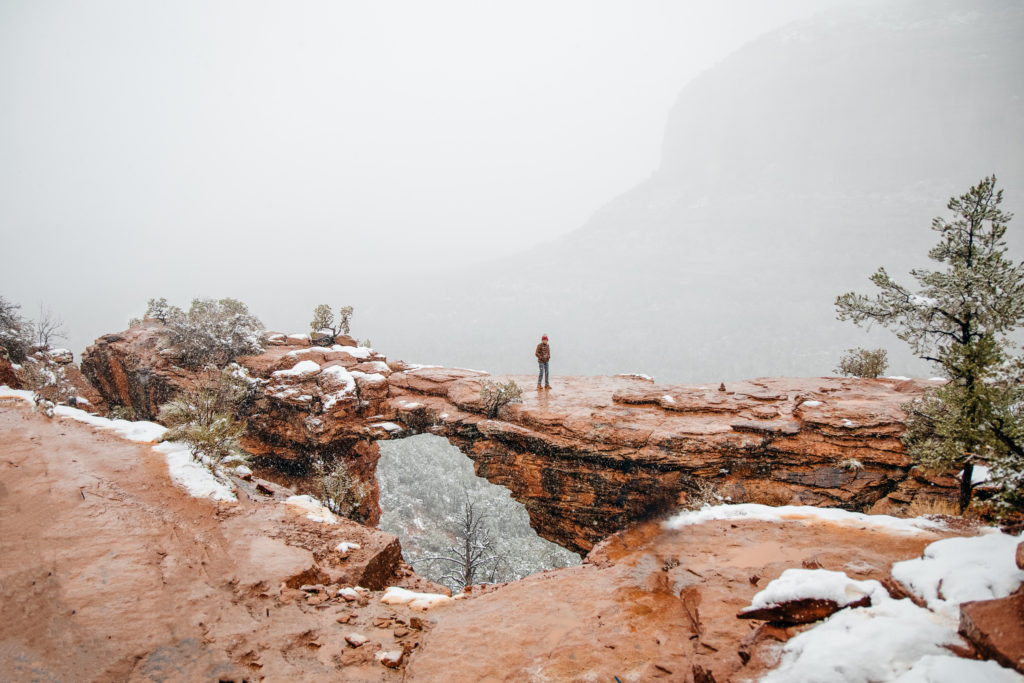 If you don't have the luxury of driving yourself down this path you can either hike it or do a Pink Jeep Tour.
Upon reaching the bridge you will most likely encounter a long Disneyland like line to take the classic photo on top of the bridge. Be careful walking over to it, but once on the bridge it is WAY wider than it appears.
I felt safe walking out here and although I am an adrenaline junkee, I am still a very cautious hiker. Just don't get close to the edges.
Considering this Sedona hike is the most popular, I recommend you start around sunrise. The parking lot does fill up even at sunrise!
2. FAY CANYON HIKE IN SEDONA
Length: 2.2 mile out and back
Elevation Gain: 150 feet
Difficulty: Easy
Fay Canyon hike is a great introductory and family-friendly hike through Sedona's gorgeous landscape and the perfect trail for beginner hikers. The mostly flat path meanders through a gorgeous wooded ravine tucked in a box canyon, with beautiful cacti, flowers, and other desert flora.
About halfway into the trail, you'll come across the Fay Canyon Arch, a natural bridge with a 130 foot span, which you can reach after a short, but steep side trail and scrambling over some rocks.
When it appears like the hike dead ends at a rock slide by a canyon wall, the fun is really just beginning- scramble up the pile of rocks to see breathtaking views of Bear Mountain on your left and a sweeping vista of Sedona's red rocks.
There is also a small cave to explore to the right of the rock pile, but, since the climb up is steep, exploring this feature is likely not suitable for children. If you're visiting Sedona in the warmer weather, this hike is a great option- the wooded trail actually provides some shade, which can be hard to come by in this desert climate.
3. CATHEDRAL ROCK HIKE IN SEDONA
Length: 1-mile Round trip
Elevation Gain: 550 feet
Difficulty:
One of the most popular Sedona hiking trails is the iconic Cathedral Rock which impressively stands out right at the center of the region.
Climbing to the top of the vista area gives stunning views of the surrounding landscape and views to other impressive sites like Bell Rock, the Mongolian rim and the Courthouse Butte. Cathedral rock is also home to one of the many famous vortexes that the region is known for.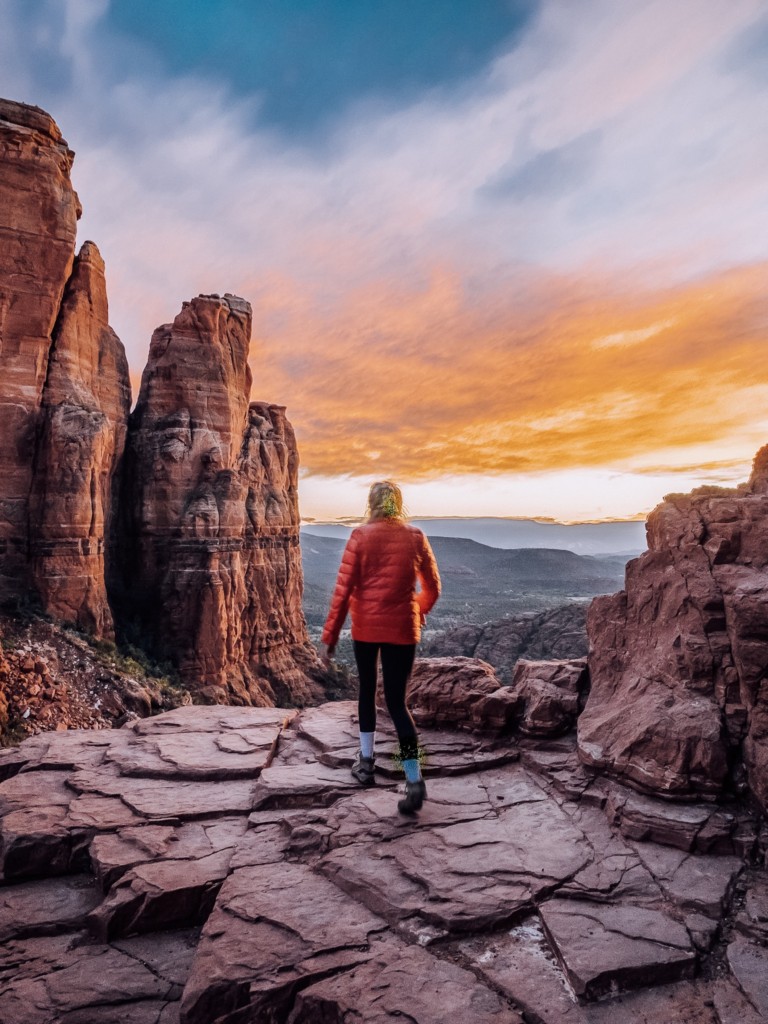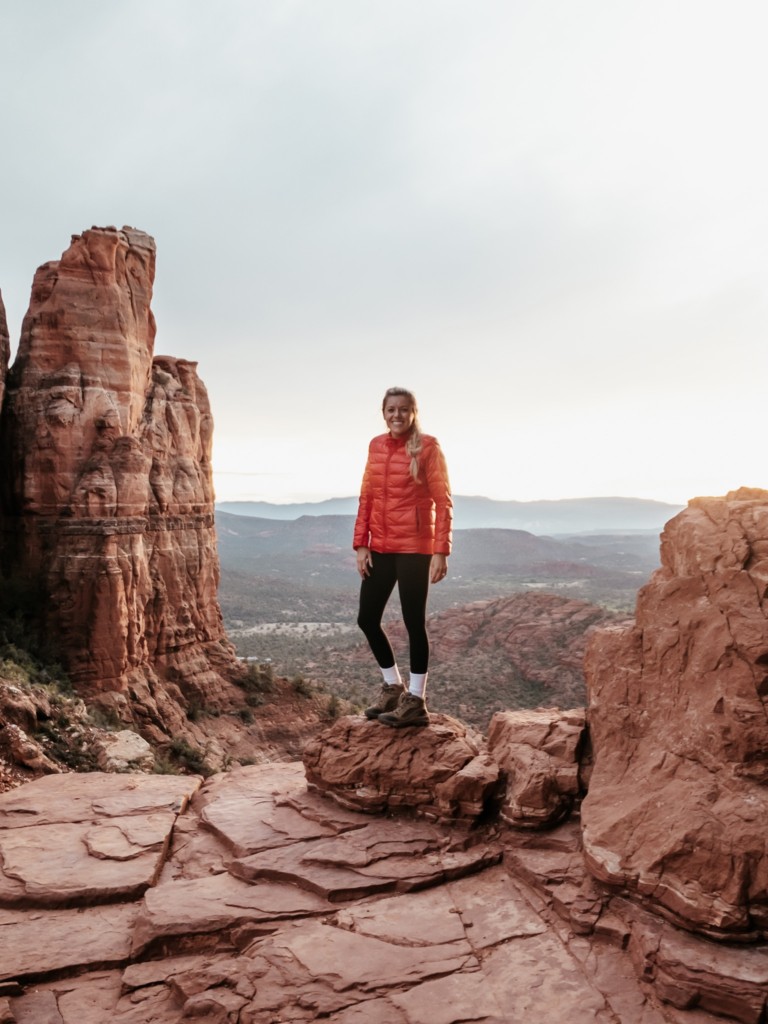 The trail for Cathedral Rock starts off easy and flat and suddenly becomes more of an uphill challenge following the trail through solid rock, pebble pathways and zig zag runs up the sides of the peak to an elevation gain of 550 feet.
The total hike distance is only one mile round trip, but the climb is a bit strenuous at an intermediate level. The highest point of the trail is the actual saddle area between the two large peaks with spectacular views of the surrounding area.
While visiting Sedona, check out some of the most photographed areas around the city and region here to find the gorgeous vistas and lookout points for inspiration around the Sedona area.
4. THE BIRTHING CAVE
Length: 2 miles out and back
Elevation Gain: 400 feet
Difficulty: Easy
This hike begins off the side of the road which can be easily missed. There is no parking lot, just dirt spaces along the side of the road that you can park at.
A Red Rock State Park Pass is required to park here.
I also recommend putting this trail into your GPS prior to entering the Sedona region as you will most likely lose service when reaching this hike.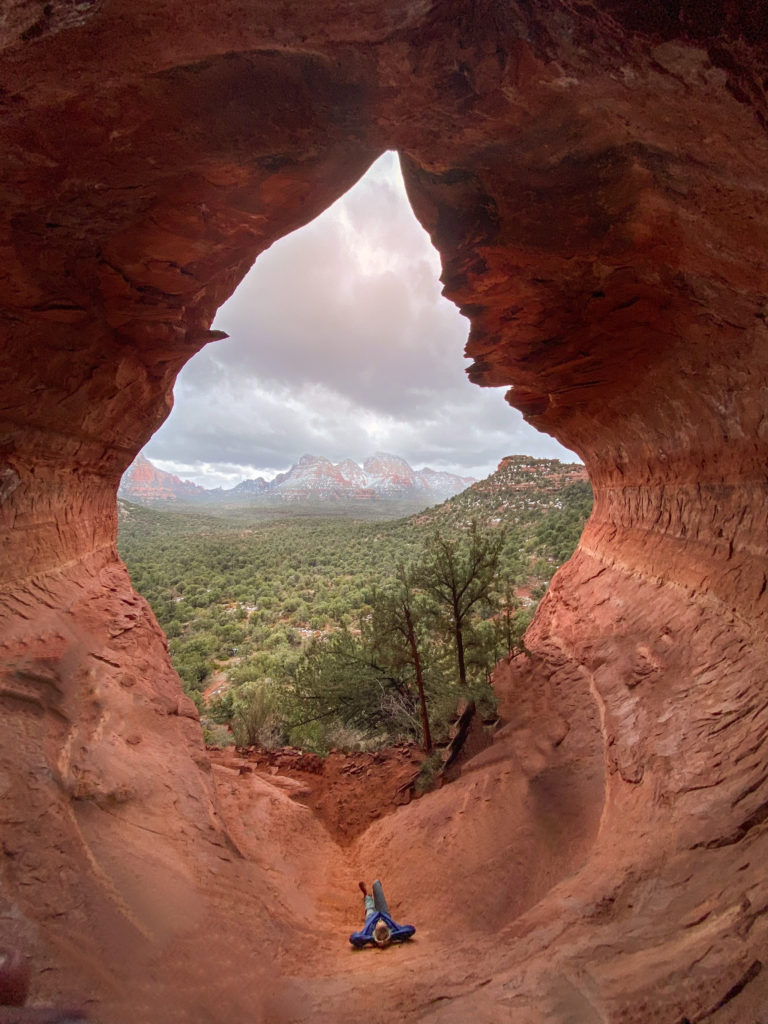 The trail is fairly easy until you reach the portion at the end that leads you up into the cave. This portion is short, but steep.
Once in the cave, be careful as it is slippery, but soak in all the views! You can even climb up to the "belly button" the deeper hole within the birthing cave to capture an awesome photo. (But again this part is very slippery so proceed with caution)
Photographer's tip: Bring an extremely wide angle lens to get this shot. I had my 24-105 lens and was unable to capture it on that lens and ended up using my iphone 0.5 to capture this magical place.
Also, let's just throw it out there this is a weird name for a hiking trail.
5. SOLDIERS PASS
Length: 4.5 miles out and back
Elevation Gain: 650 feet
Difficulty: Moderate
The Soldier's Pass hiking trail is actually a trail that includes many "stopping points," including: the seven sacred pools, the popular sinkhole and the caves. This is a popular Sedona hiking trail and you will most likely have off-roading jeeps passing by you as well.
The first mile of this trail includes the sink hole and the seven sacred pools. You will find the caves deeper into this trail. There are a ton of hidden caves out here, so I recommend checking out google earth to find these secret caves.
One other thing to note is that parking does fill up quickly, so as always it is best to arrive early.
6. SEVEN SACRED POOLS
The Seven Sacred Pools are actually a part of the Soldiers Pass Sedona Hiking Trail. Begin your hike by winding through trees until you reach the Devil's Sinkhole.
This is an active sinkhole that was created by a cave that sunk in. Don't get close to the edges as this sinkhole could cave in more at any time. Just past the sink hole is where you will find the seven sacred pools.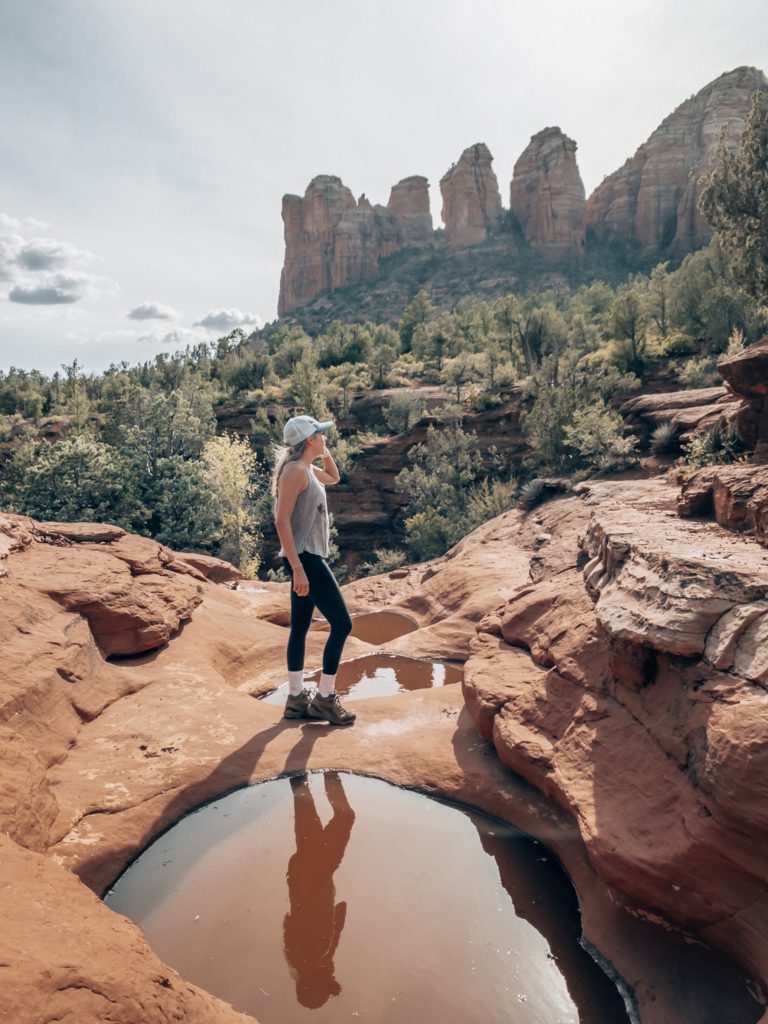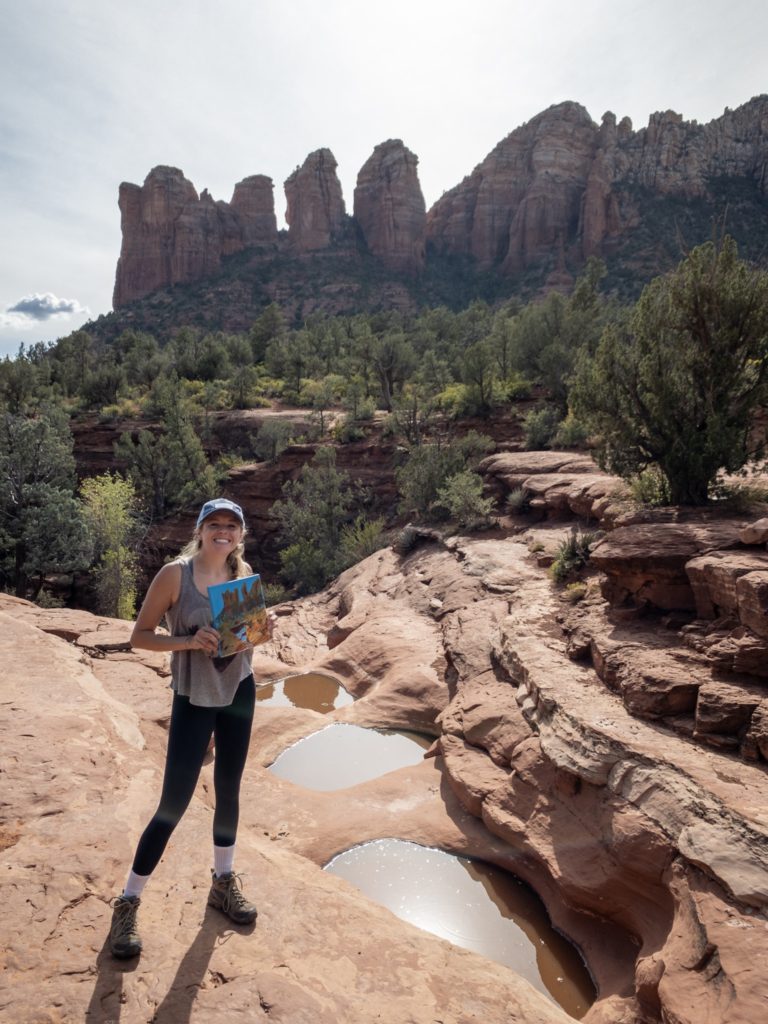 The best time to see these pools is after some rainfall as the "pools" will be filled with water creating some beautiful reflections.
Seven sacred pools does continue on, but this is a great stopping point for families. Or, if you are like me and my brother, it is a great spot to sit and eat lunch and do some painting.
7. RED ROCK CROSSINGS
Length: 0.2 miles out and back
Elevation Gain: None
Difficulty: Easy
Red Rock Crossings is more like a leisurely walk that starts at the back of a park. This is a small riverfront that gives you spectacular views of Cathedral Rock. However, this small riverfront can actually turn into a large river that may be impassible at times.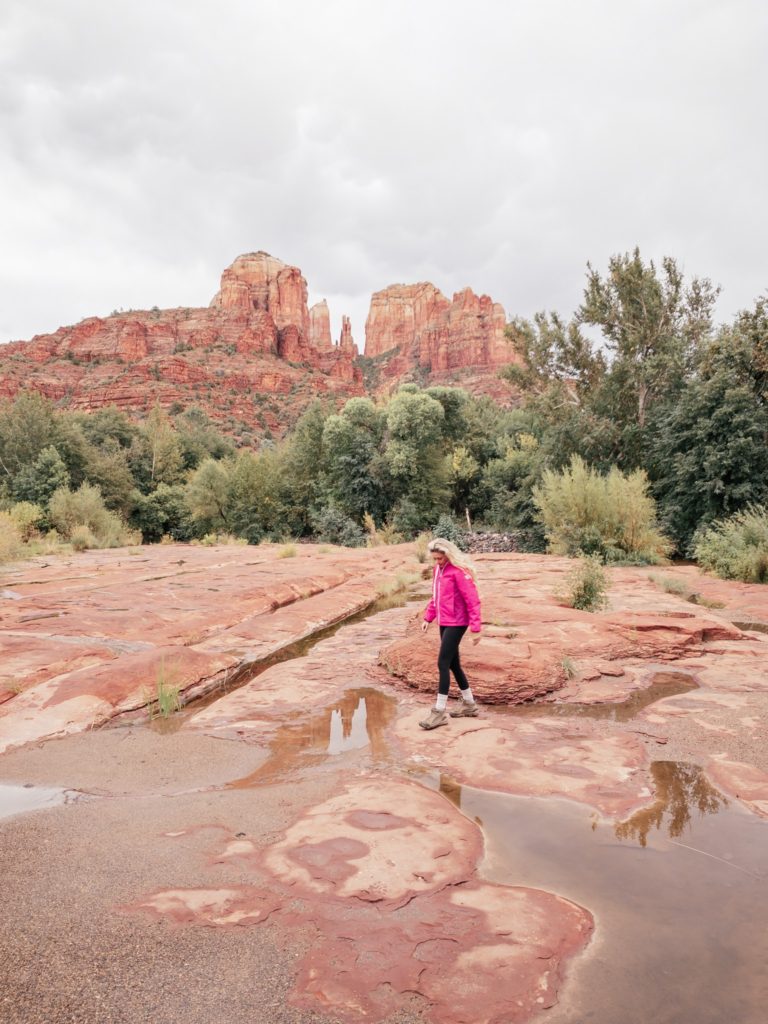 If you are going after a recent rainfall, as always be cautious with where you hike.
In order to get here you will park in the Crescent Moon Day use parking lot which costs $10. Cash only.
FINAL THOUGHTS FROM YOUR OUTDOOR LOVING GIRL
The hikes listed above are some of my favorite Sedona hiking trails. You can easily fit them all in in a few days. Whichever Sedona hike you choose to do though you won't be disappointed.
They are all insanely gorgeous and unique in their own ways. Let me know in the comments if you have ever been to Sedona and what your favorite Sedona hiking trail is.
Like this post? Pin it for later!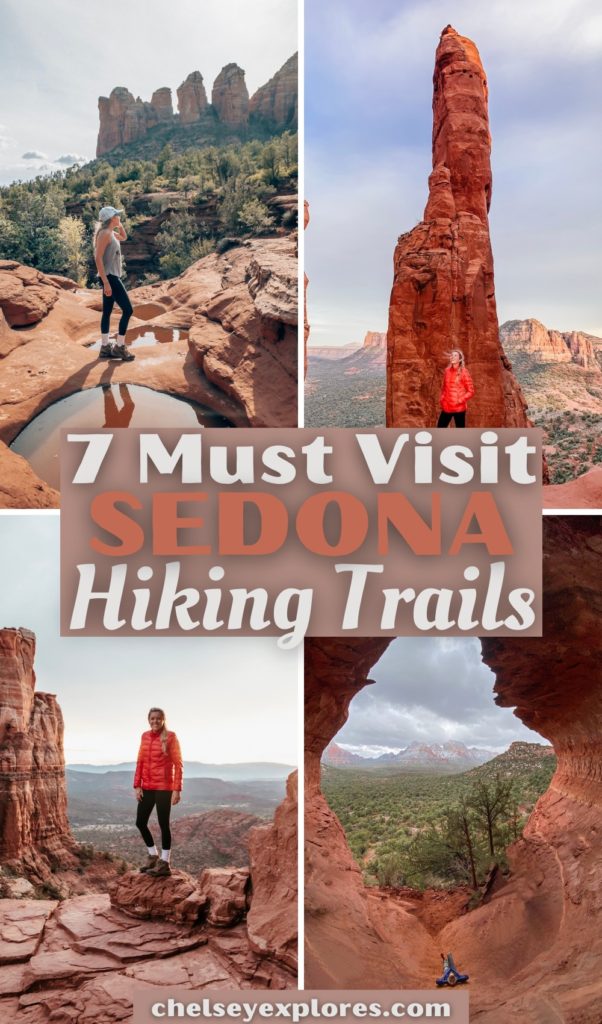 SEDONA HIKING TRAILS YOU DON'T WANT TO MISS