A COMPLETE SEDONA TRAVEL GUIDE FOR THE OUTDOOR LOVER
Sedona is an outdoor lovers' paradise with plenty of great hiking, gorgeous views, not to mention all the restaurants for the foodies. This Sedona travel guide is all about the best hikes, outdoor adventures, and day trips to and from Sedona.
We'll also talk about the logistical stuff like where to stay and where you have to eat while you're in town.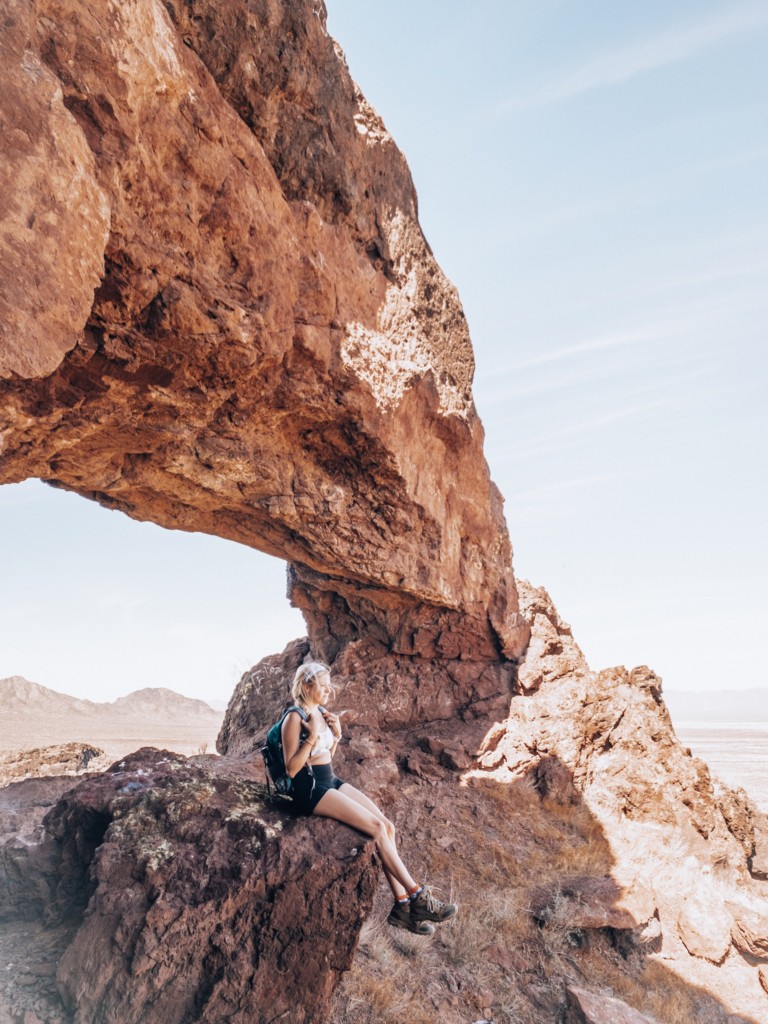 There is something about the red landscape and unique rock formations that makes Sedona feel like you're in a whole other world. This hidden gem won't stay hidden for long so you better plan your trip soon.
Where to Stay in Sedona
Sedona is full of great places to stay and if you can splurge on a room with a view you won't regret it. But you all know how much this girl loves to camp, so if that's the route you choose then I won't blame you one bit.
Sedona Bed & Breakfasts
Inn Above Oak Creek – If you want a highly rated place to stay without the price point of somewhere like The Enchantment then the Inn Above Oak Creek is the place for you. While everyone raves about the Sedona resorts, it's the bed & breakfasts that steal the show.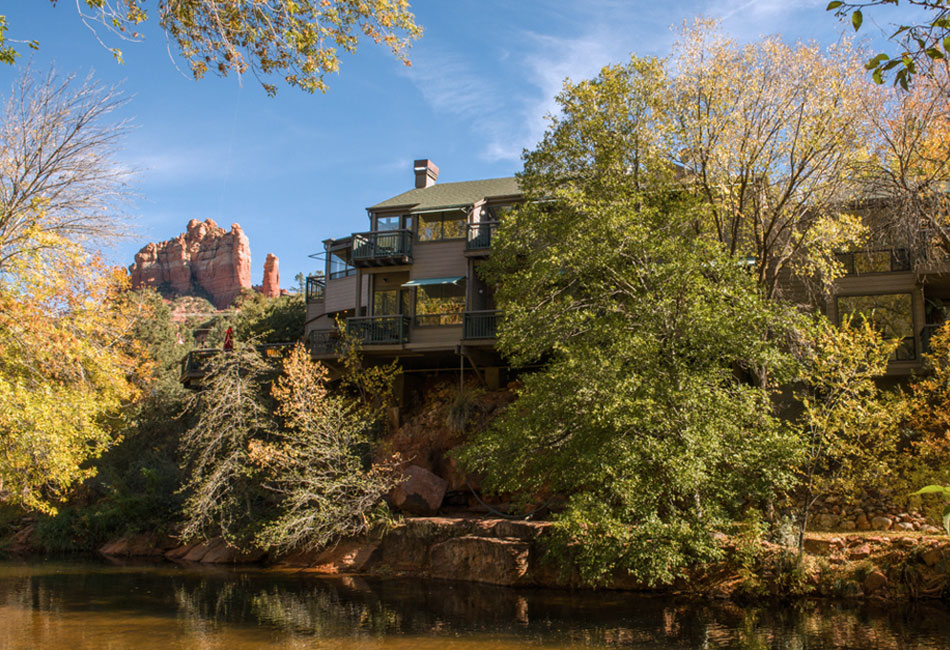 The Inn gets its name from literally being above Oak Creek. It is homey but upscale and has rooms that are creekside or streetside. There are multiple common areas that you can enjoy indoors or outdoors. A huge perk is you're within walking distance of many Sedona attractions.
Alma de Sedona Inn – A visit to this Inn will be characterized by great views, friendly and helpful staff, plus delicious breakfasts included each morning. The Alma is located in a quiet residential neighborhood so you'll have a quiet and peaceful stay.
This is definitely not like a hotel as most of the rooms have fireplaces, sitting areas, and jetted tubs for two. If you're looking for a romantic getaway then this is the perfect spot.
Sedona Hotels
Sedona Real Inn & Suites – HIkers and mountain bikers love this hotel as it's right next to many trails in the area. They also serve a hearty breakfast each morning where you can fuel up before a day of Sedona adventures.
Another huge draw for this hotel is that they are pet-friendly. They even have a dog park for your pup to enjoy. People love the value for the price that this hotel provides.
Arabella Hotel Sedona – Another spot that provides a lot of bang for your buck. They serve complimentary breakfast, have common fire pits, and even have a bike rental program. There is a private hiking trail that starts at this hotel as well.
Everyone that stays here loves the convenient location and friendly staff. This hotel is also dog-friendly with its own dog park.
Sedona Rouge Hotel – This boutique hotel and spa has one of the most popular spas in Sedona so stay here if you're looking for a wellness retreat. The hotel is away from the main drag so you aren't stuck in all the traffic but still minutes from all Sedona has to offer.
Another dog-friendly option, this hotel even has "Yappy Hours" on Saturdays on their dog lawn. A free happy hour glass of wine is also included in your stay.
Sedona Camping
Cave Springs Campground – These sites are nestled in the Coconino National Forest along a creek stocked for fishing. There are bathrooms with showers on site that are clean. This is a very popular campground so be sure to make your reservation well in advance.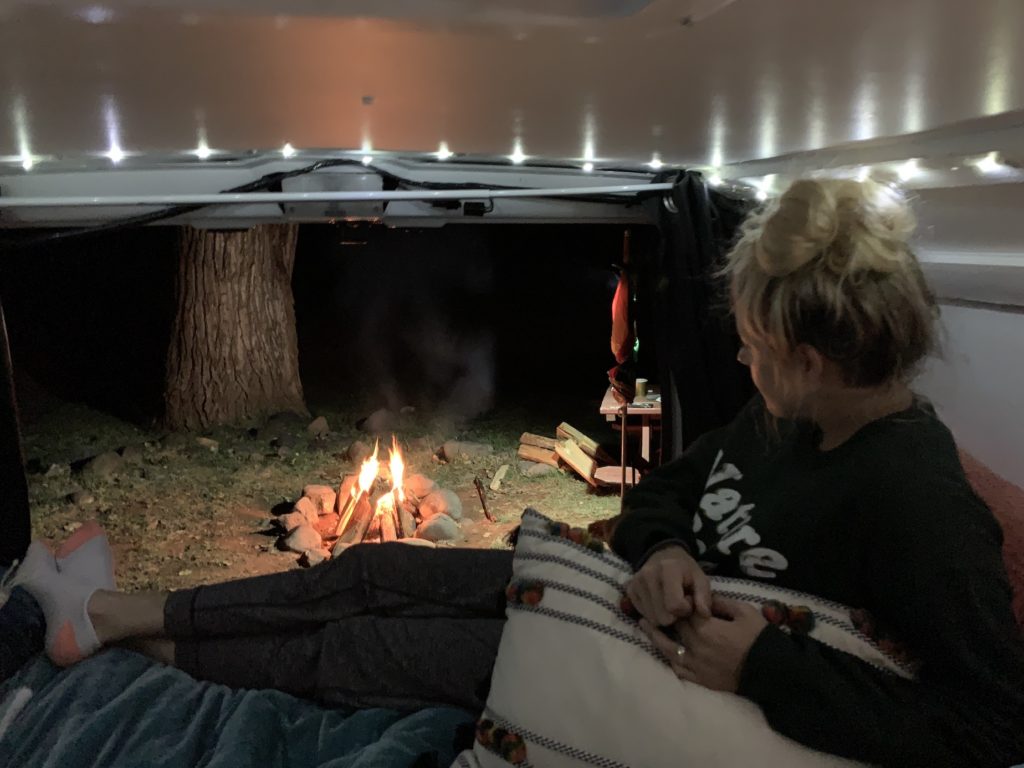 Lo Lo Mai Springs Outdoor Resort – This is absolutely one of the most beautiful campgrounds in the area. They also offer multiple different site options from tent sites to RVs to cabins with AC and a kitchen.
I do want to mention that there have been a number of recent complaints about customer service here.
Manzanita Campground – This is another campground along Oak Creek in the Coconino National Forest. This one quickly fills up and does not allow RVs or trailers. The small campground is for tent camping only. You'll need to reserve a spot extremely early to camp here.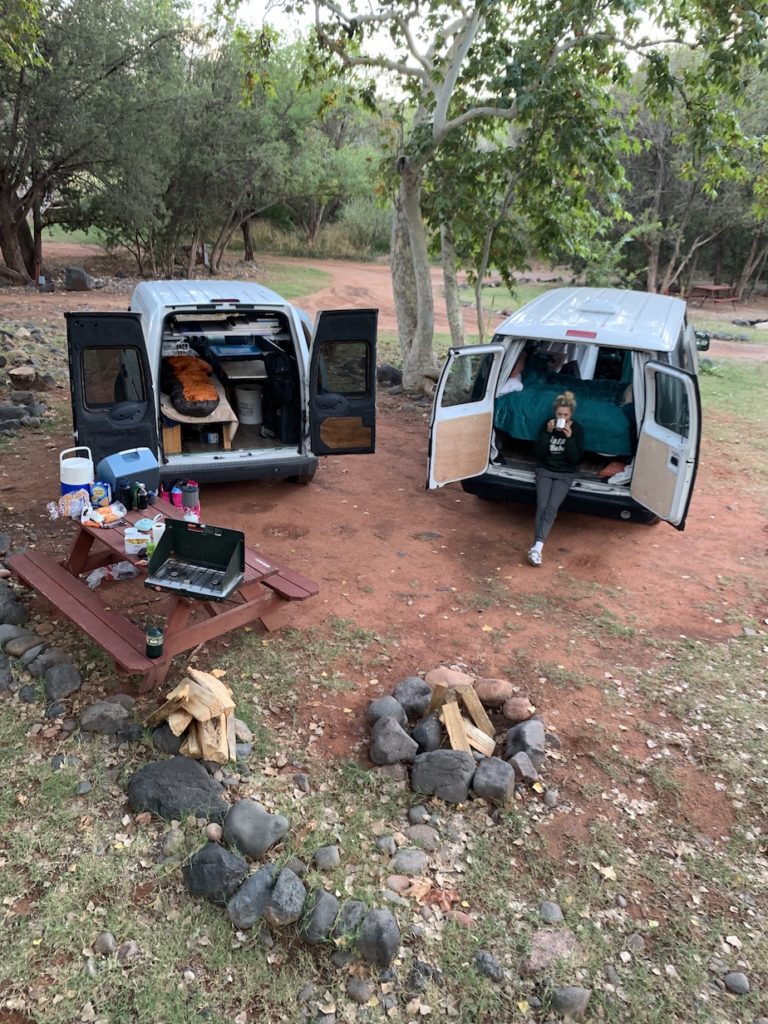 Dispersed Camping – The dispersed camping spots can be hard to find, but there are a few available. Near Munds Park you can camp off of Schnebly Road for great access to hiking and mountain biking trails.
One of the most popular spots is on FSR 237 near Oak Creek Vista. You'll be just north of Sedona and many of the spots here have fire pits.
Sedona Travel Guide: Things to Do in Sedona
Don't miss these popular Sedona adventures. There are so many things to see and do in Sedona that it can be very hard to choose but that just means you'll have to plan a return trip!
Hiking
Devil's Bridge – This 4 mile (round trip) out and back trail is very popular as it leads to sweeping views of the red rock formations. It's best to start at the Mescal Trailhead as you'll need a high clearance vehicle on the road after that.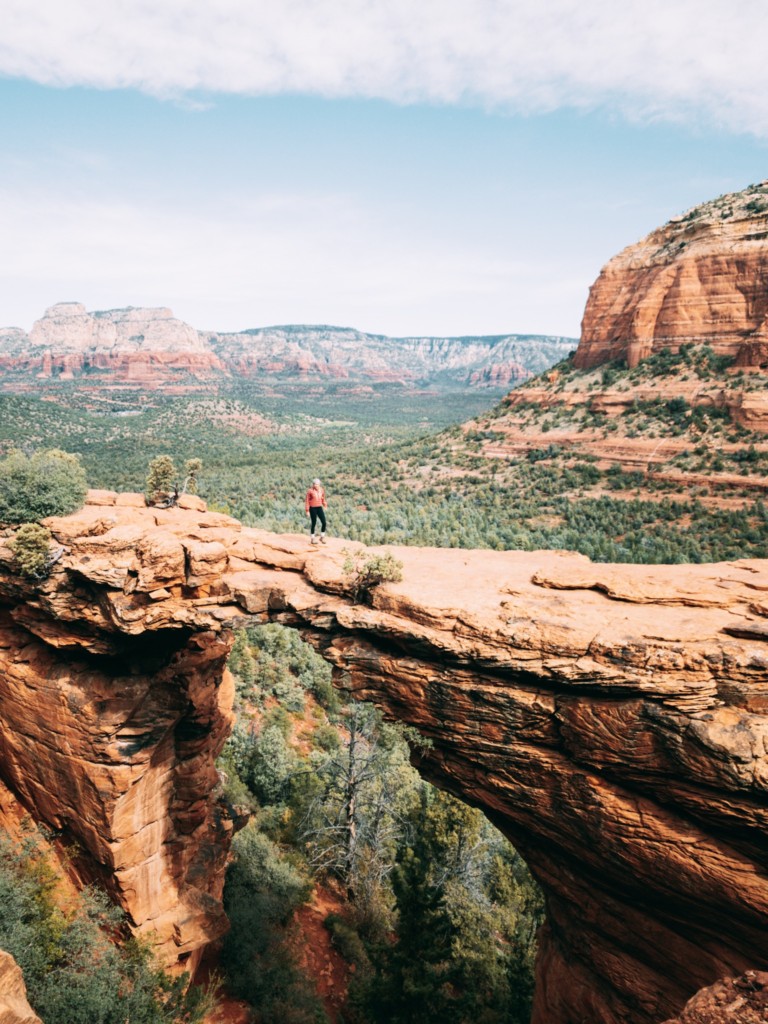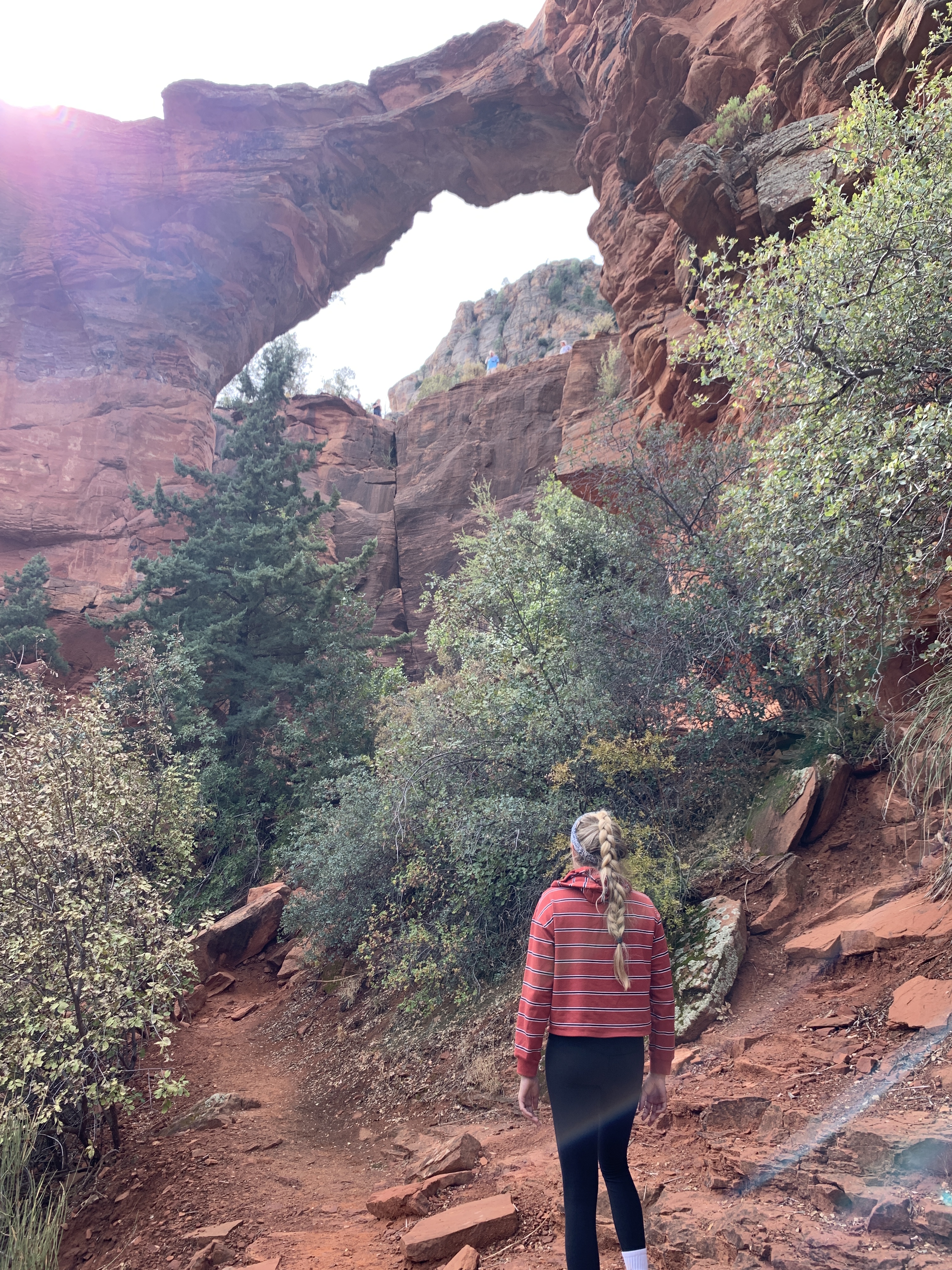 The Devil's Bridge is actually the largest natural sandstone arch in the area. The hike is rated as moderate and you'll find beautiful wildflowers along the trail in spring.
Wet Beaver Creek – On Wet Beaver Creek you can hike to what's called 'The Crack' and enjoy a stunning swimming hole as your reward to a long hike. The trail is 7 miles round trip and is an out and back trail.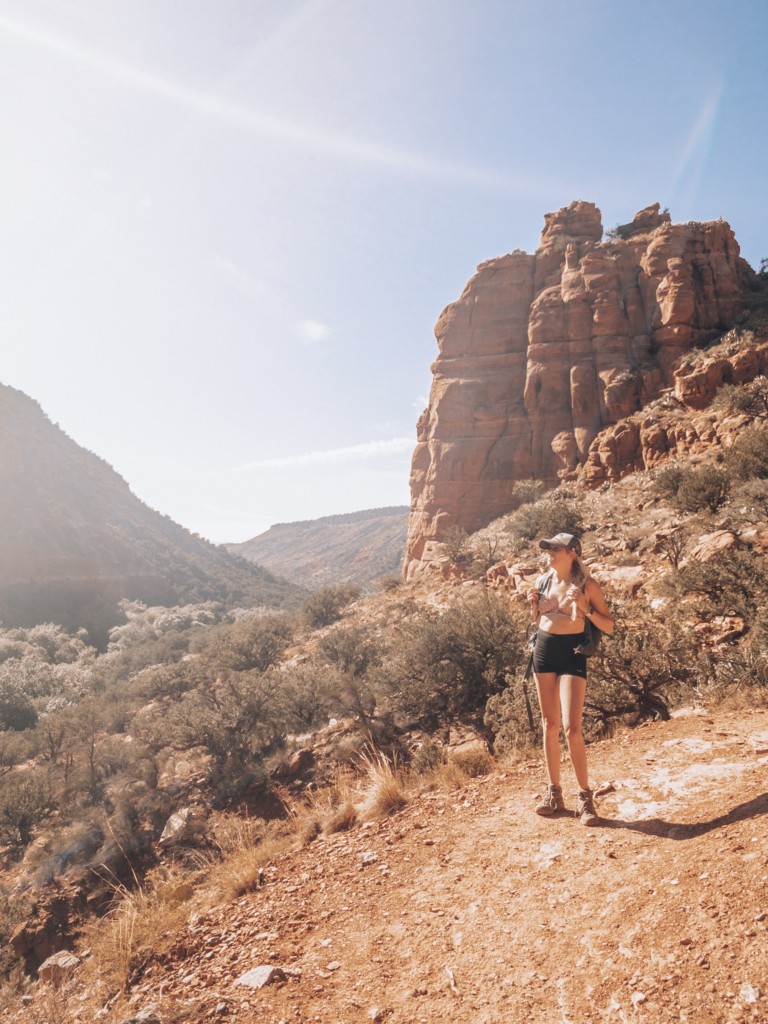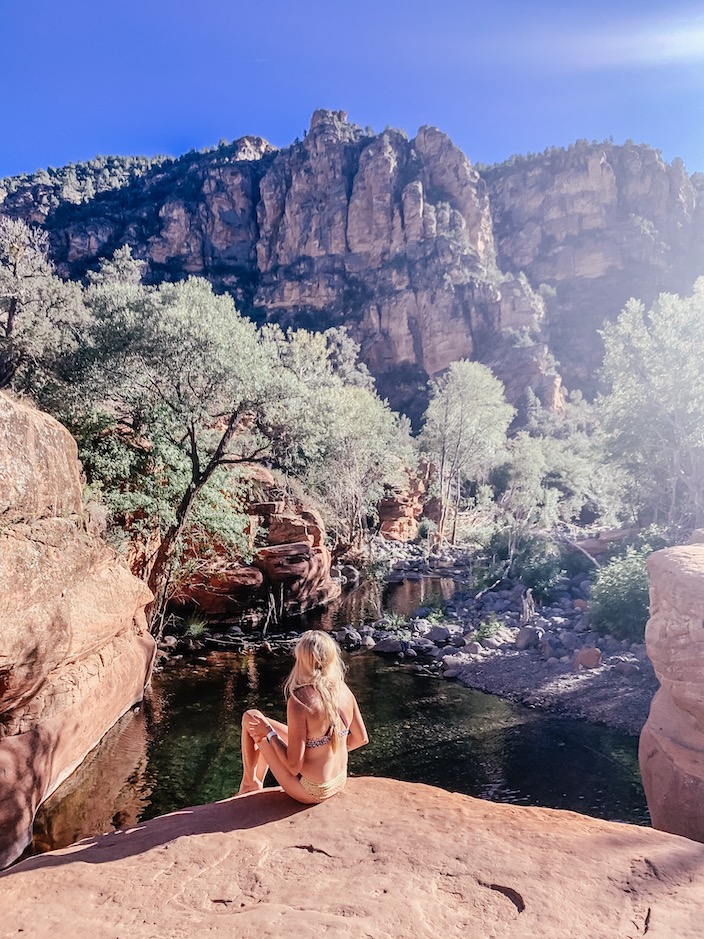 This spot is a little less popular than some of the other, more easily accessible places to swim in the area. If you don't want to swim, you can lay out on the rocks or just wade in the shallow water.
Red Rock Crossing – This is an easy hike for a lazy morning or afternoon. The parking lot for the hike is in Red Rock Crossing State Park and the trail follows the river for about 2 miles. If you want to hang out for a while there are grassy meadows perfect for spreading a picnic blanket out.
Cathedral Rock – This is a moderate 1.2 mile out and back hike. The hike is very steep in sections and there is an elevation gain of over 650ft! Get here early as this is another popular hike in the area.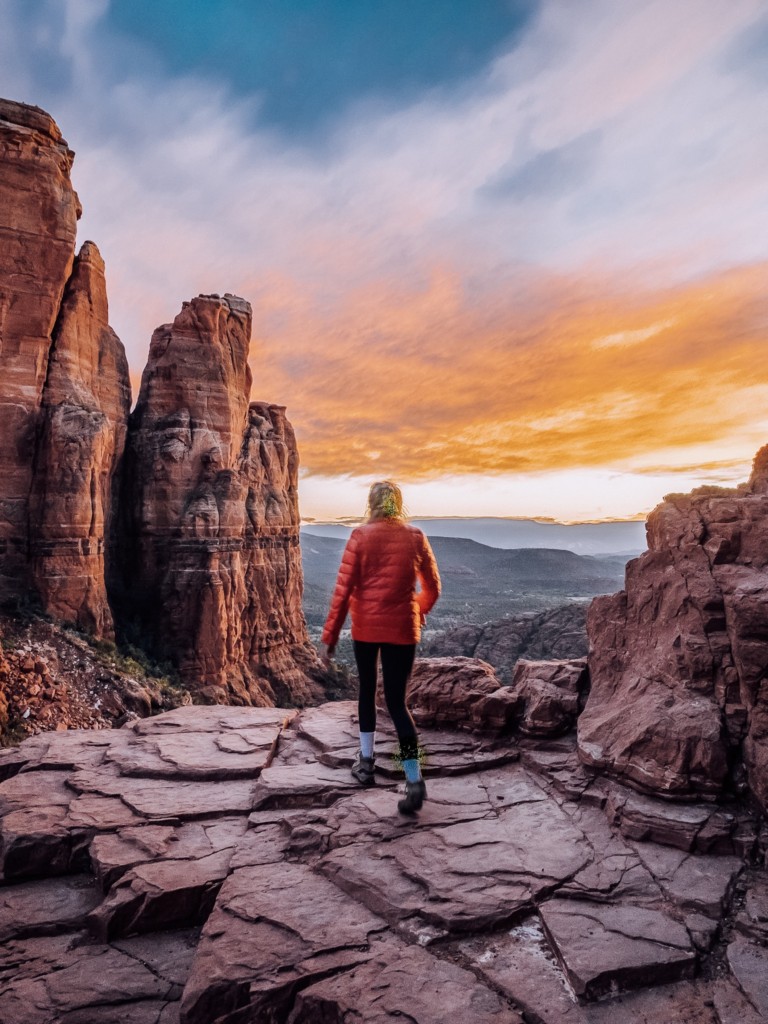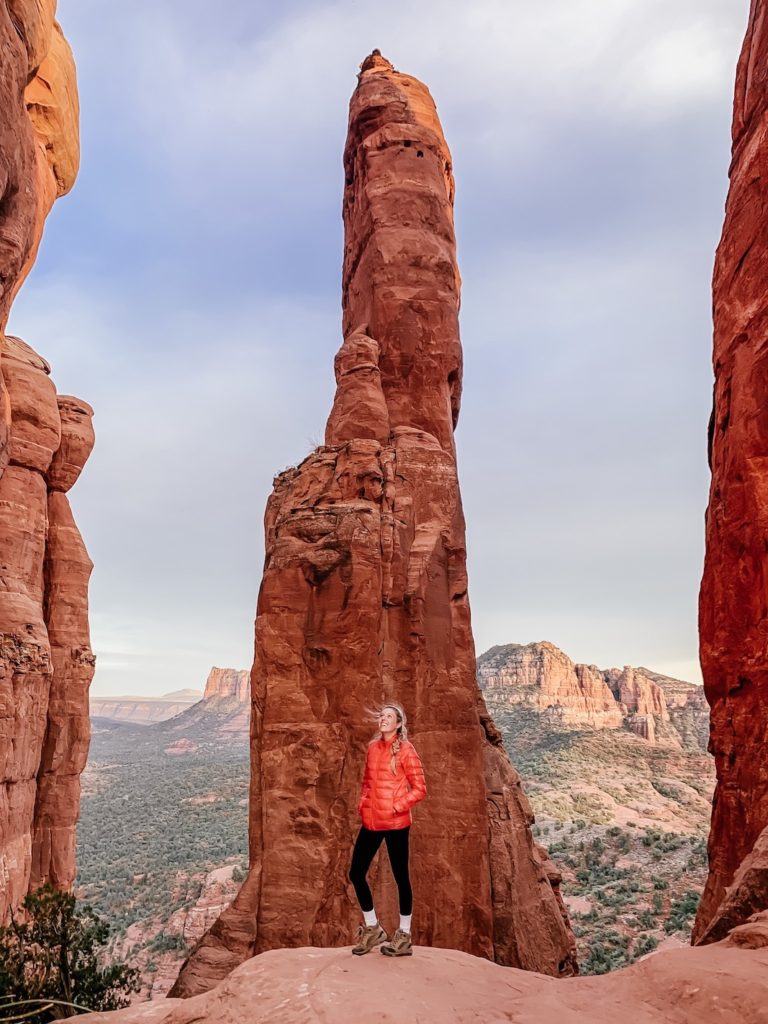 The Birthing Cave – There isn't much shade on this moderate 2 mile out and back hike so be sure to bring plenty of water. There is a short scramble to get up to the small cave at the end but the view is well worth it.
Seven Sacred Pools – You can reach the Seven Sacred Pools by taking the Soldier Pass Trail which is an easy 1.1 mile out and back. The trailhead opens at 8 am and closes at 6 pm and they lock the gates. You'll see the small pools of water at the end of the hike, a large sinkhole, and even a cave.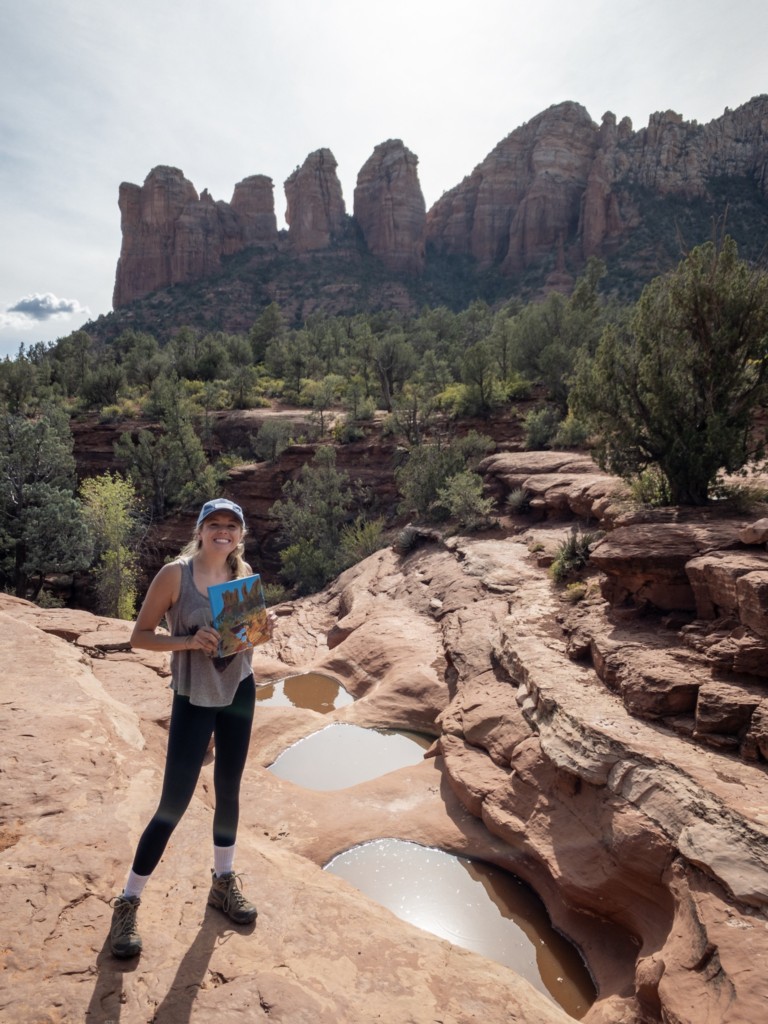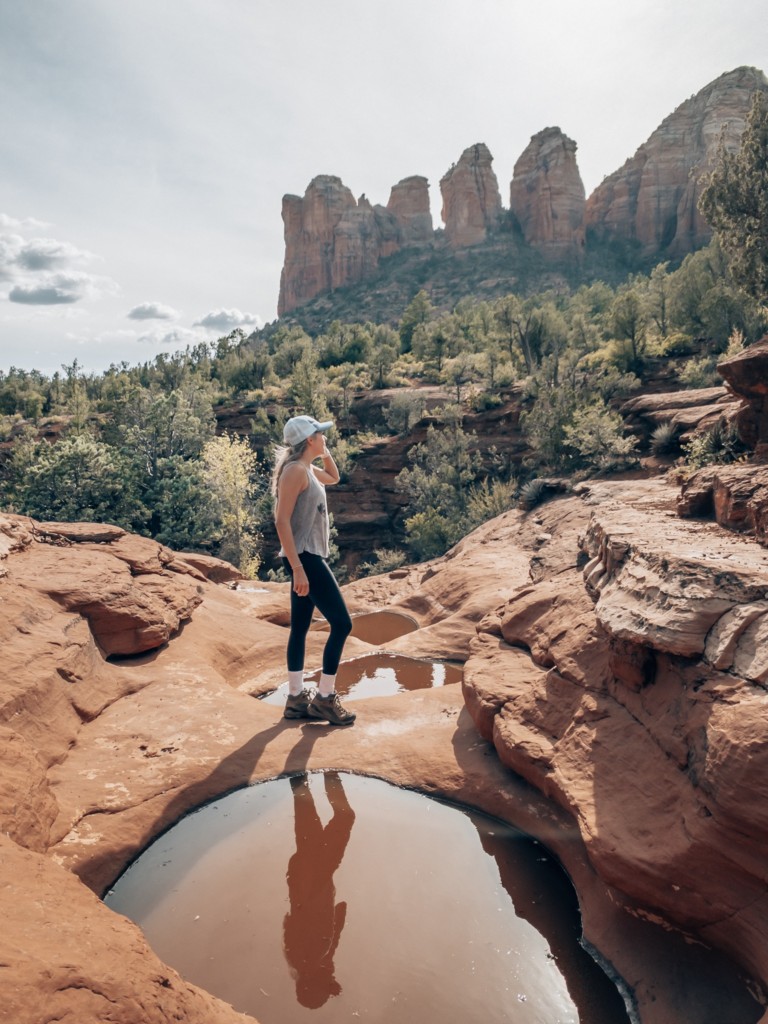 Pink Jeep Tours
These are some of the most popular tours in Sedona and they really have something for everyone. You'll learn about geology, Native American history, and the native plants and wildlife in the area.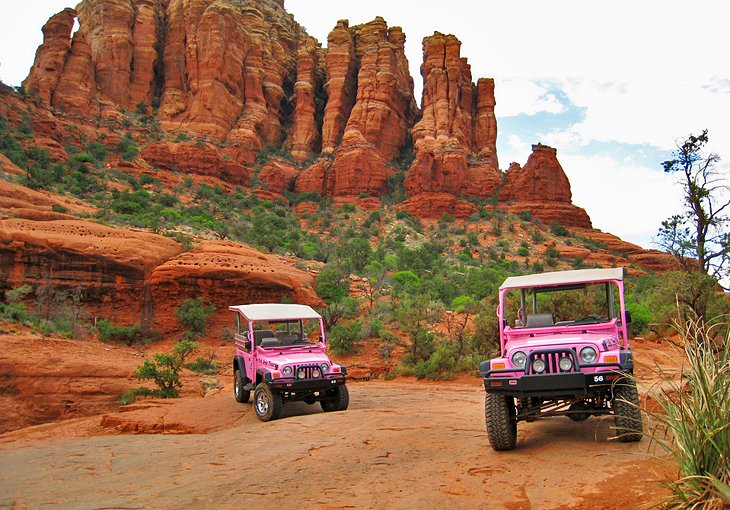 These tours are perfect for anyone who wants to venture off-the-beaten path but is nervous about driving themselves in a 4WD. You'll venture through Coconino National Forest and get to see beautiful red rock views around every turn.
Red Rock Scenic Byway
For those who would like to stay on a paved road then head out on the Red Rock Scenic Byway for a drive. This Byway is a section of State Highway 179 just south of Sedona. This section of the highway is only 7.5 miles long, but there is plenty to see and do here.
There are multiple pull outs with overlooks that you can enjoy plus lots of hiking and biking opportunities. You'll find two of the Vortexes along this road as well – Bell Rock and Cathedral Rock.
Search for a Sedona Vortex
I've mentioned the vortexes of Sedona a few times so what in the world are these? According to Visit Sedona, vortexes are "swirling centers of energy conducive to healing, meditation, and self-exploration."
There are four popular vortex sites in Sedona and two I've already mentioned along the Red Rock Scenic Byway. The other two are the Airport Mesa and Boynton Canyon. This is why Sedona is a popular place for alternative medicine and spiritual practices.
Day Trips From Sedona
Horseshoe Bend – The drive to Horshoe Bend is just under three hours directly north of Sedona. This horseshoe shaped canyon created from the Colorado River is located just outside of Page, AZ.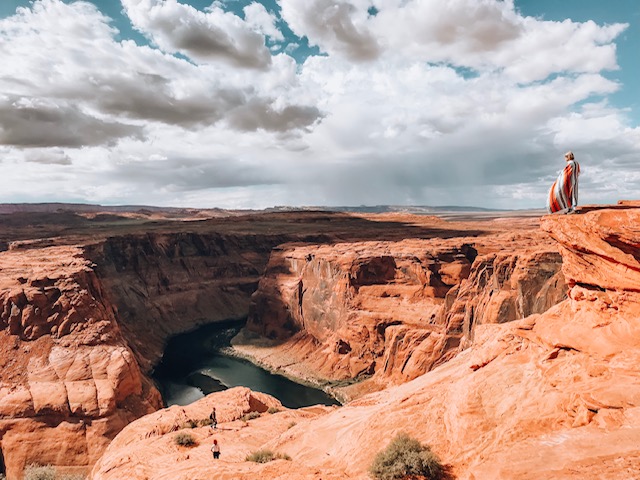 Some of the most popular things to do here are hike, float the river on a raft, or take a helicopter tour. Whatever you do, take plenty of time to soak in the beauty of this area.
Antelope Canyon – This is just seven miles from Horseshoe Bend so if you plan things right you could see these two in the same day. This is a beautiful slot canyon that is split into upper and lower sections.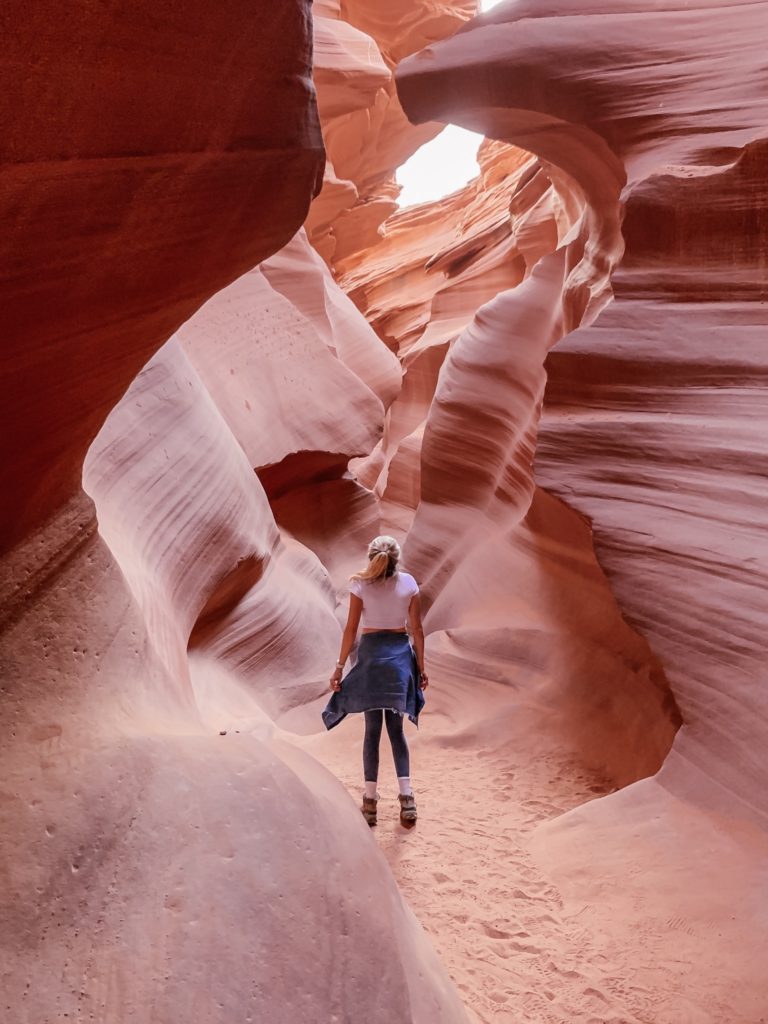 You must book a guided tour to see the canyon as it is located on land that belongs to the Navajo Nation.
Phoenix – A day trip to Phoenix will take you about two hours south of Sedona. There is plenty to do in this town and some of the most popular things are the Desert Botanical Garden, walking through Papago Park, and hiking Camelback Mountain.
Where to Eat in Sedona
Che Ah Chi at Enchantment Resort
Come here for breakfast and you won't be disappointed. There are floor-to-ceiling windows that give you incredible views of the surrounding red rocks. The food is delicious, the service is great, and there is plenty of outdoor seating to enjoy.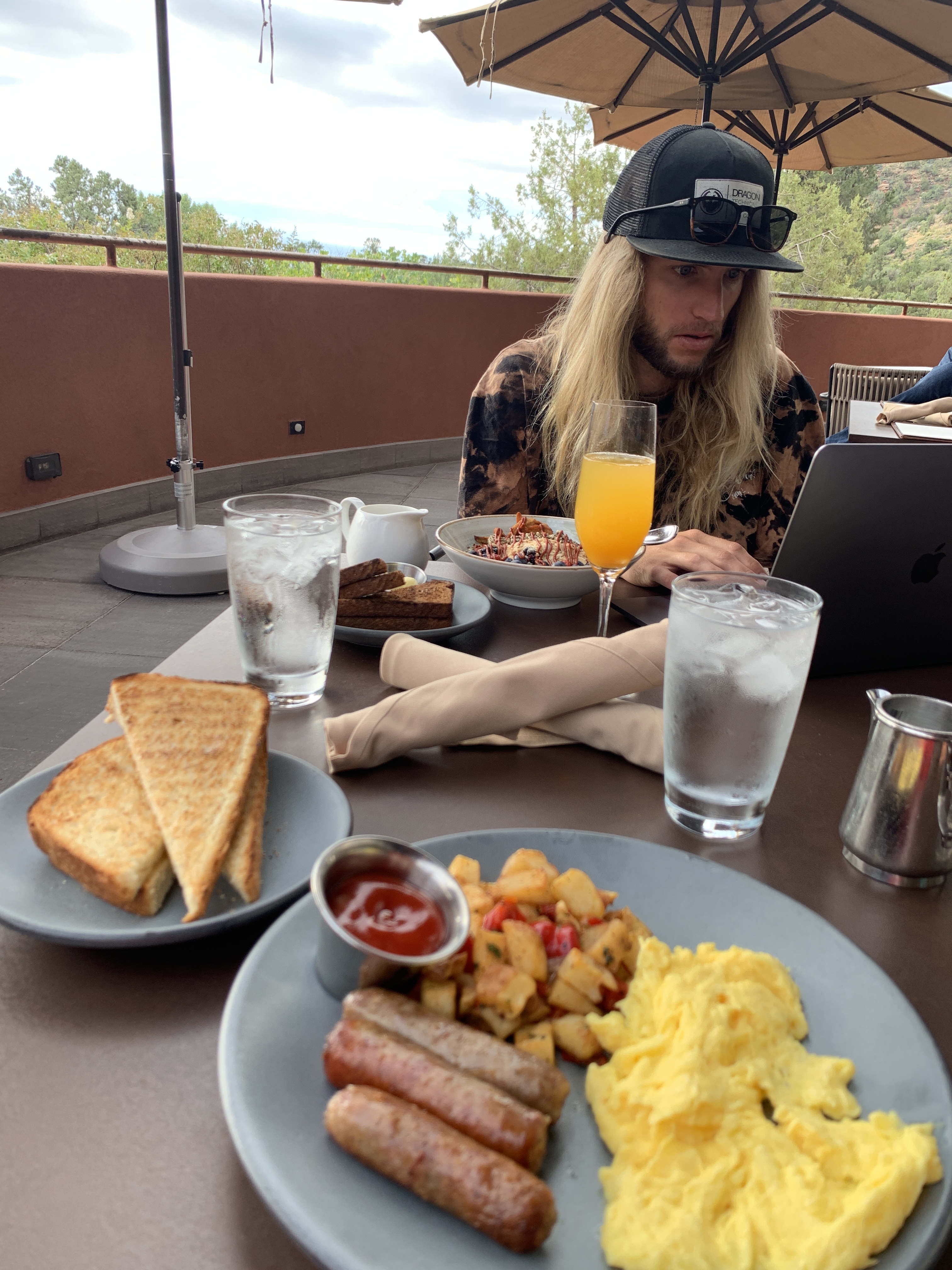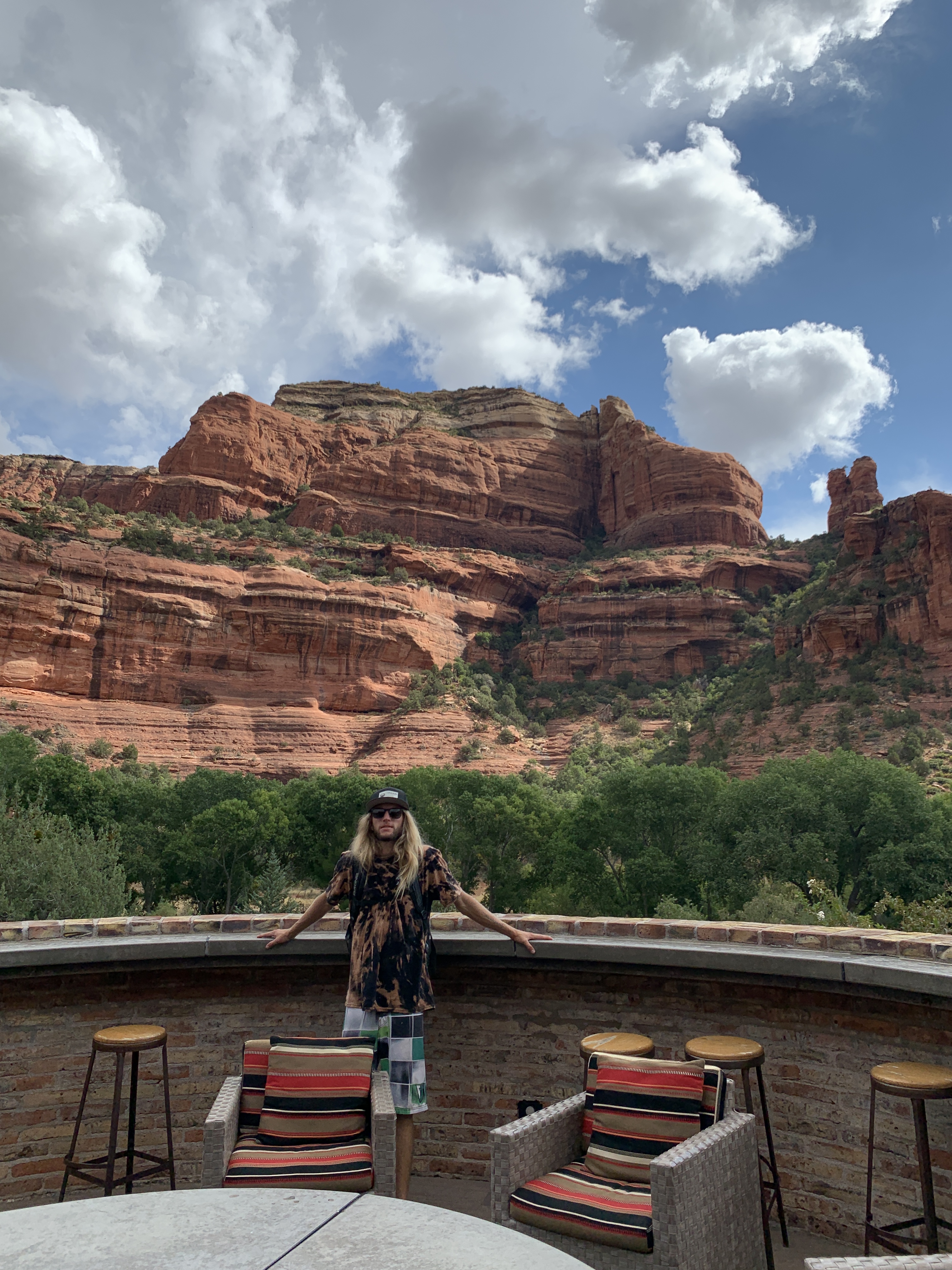 Elote
Elote is consistently rated one of the top restaurants in Sedona. The Mexican-inspired dishes are absolutely wonderful as well as the cocktails. Be sure to order the Mexican Chocolate Pie for dessert.
Gerardo's Italian Kitchen
Woodfired pizza, homemade pasta, and wine – what more do you need? The value you get here is top-notch and the service is very friendly. After a long day of Sedona, adventures make sure to stop here and get your carbs in.
Dahl & Di Luca Ristorante
Another Italian choice, this one is a touch more up-scale. If you are looking for fine dining with an extensive wine collection then be sure to head here. The food is excellent and the dining room is quiet so the perfect spot for a romantic dinner.
Creekside American Bistro
Creekside has welcoming outdoor patios with beautiful views of the red rocks and Oak Creek. Their reasonable prices and delicious food keep bringing people back especially for Happy Hour. Be sure to swing by this casul restaurant for a meal.
FINAL THOUGHTS FROM YOUR OUTDOOR GIRL
Sedona is honestly one of my most favorite places in the world. The drastic colors of the red rock are just stunning to me. I hope you found this Sedona travel guide helpful for planning your trip.
If you are able to see Sedona in the snow too I can say it is even more gorgeous. Regardless of when you visit you will have a wonderful time.
Tell me in the comments below if you have ever been to Sedona!
And if you like this post or are planning a trip then pin it for later.