COMPLETE GUIDE TO FINDING FREE CAMPING IN THE US
There is something about spending time camping outdoors, that can leave you feeling so refreshed and recharged. Camping at campgrounds can get expensive though, especially when you add those costs on top of what you have spent on your gear and gas to travel.
Fortunately, there are lots of places where you can camp for free in the US if you know where to look.
Free camping in the United States is frequently referred to by several different names including dry camping, boondocking, primitive camping, or dispersed camping.
In addition to being free, some of the benefits of free camping include being able to camp further in the woods, and away from other people (aka backpacking or hiking in).
Free camping does not usually come with any amenities, although you will occasionally find an exception, so you will need to be prepared to provide for your own needs.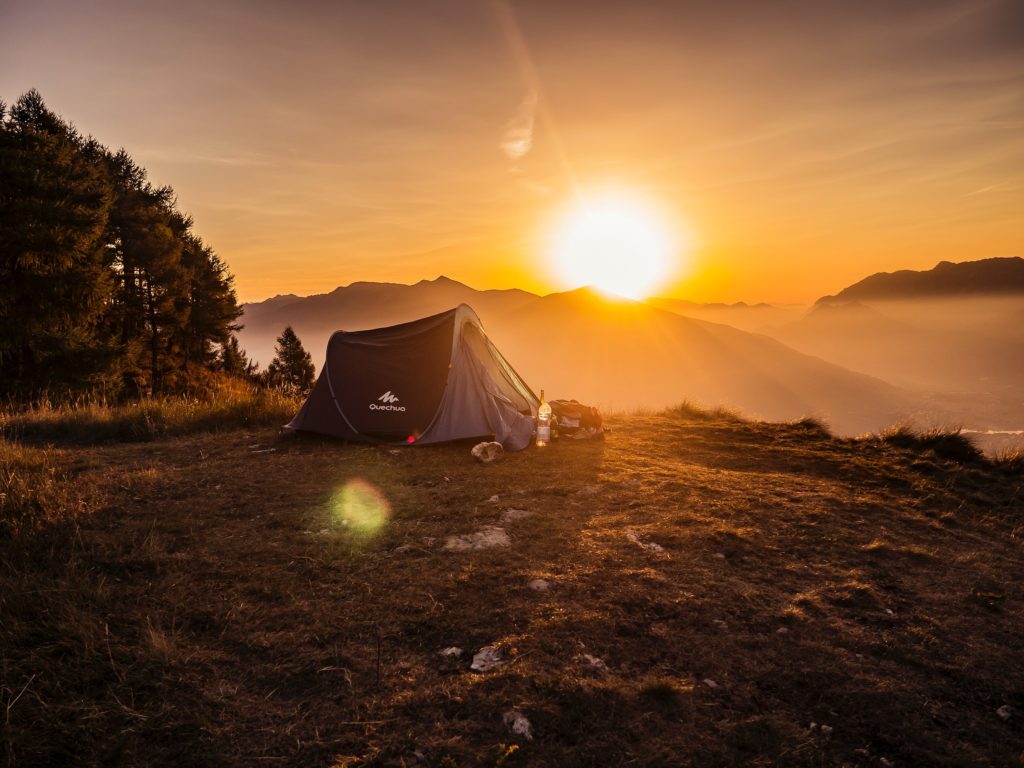 Dispersed camping participants are generally expected to adhere to "Leave No Trace" standards. This means that everything you take in, you bring back out including all of your trash, food, and toilet paper.
Human waste should be buried 6 to 8 inches in the ground 200 feet or more away from a water source and then covered with the dirt you dug out of the hole. Washing dishes or bathing should be done 200 feet away from the water's edge with biodegradable soap. If you need some ways to learn how to remain hygienic while in the outdoors then read this post.
If campfires are allowed, keep them small, only burn downed or dead wood, and burn all the wood and coal to ash. Allow them to cool completely and scatter the cooled ashes.
Leave no trace also means that you leave nature undisturbed as you found it. Don't take out beautiful rocks or flowers, leave them as you found them, but take all of the pictures that you would like.
Now let's talk about where you can find free camping across the United States.
How to find free camping in the US
National Forests and Grasslands
There are 154 National Forests and 20 National Grasslands located across the USA that comprises more than 191,000,000 acres of land across the country. National Forests and Grasslands are not the same as National Parks, National Forests and Grasslands are managed by the Department of Agriculture, and have less stringent rules regarding dispersed camping and pets than many National Parks do.
Dispersed camping is allowed anywhere outside of established recreation areas or campsites unless it is otherwise marked.
The National Forests and Grasslands are ideal for the type of camper who can be self sufficient. These sites are generally less crowded due to the limited or no access to resources.
Anyone who has a tent, RV or car is welcome here.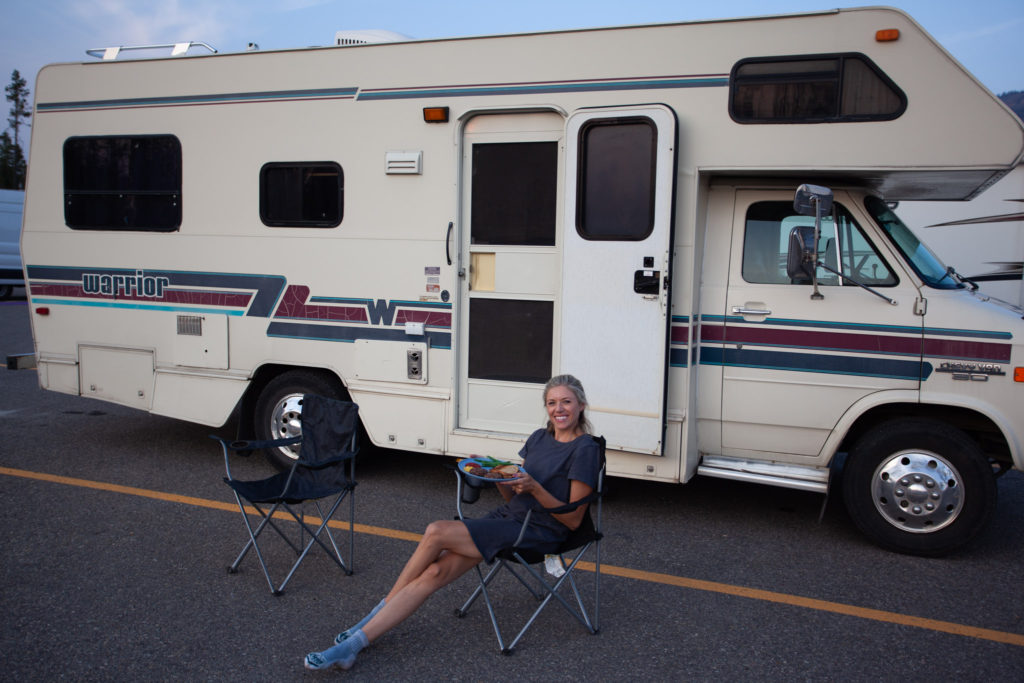 Here are some of the basic guidelines for dispersed camping in National Forests and Grasslands:
Beware of wild animals.
Generally, the limit for staying in on spot is 14 consecutive days out of every 30.
Park at least 200 feet away from water sources.
Park at least 100 to 150 feet away from the nearest trail, road, or official campground. Note: This can extend up to ½ a mile in very popular areas.
Obey fire rules.
Keep the site clean and contained.
To find free camping in a National Forest or Grassland, you can visit the United States Forestry Service website. You can also use a website like this one to find camping sites of all types across the country.
Bureau of Land Management (BLM) Land
The Bureau of Land Management cares for more than 247 million acres of land in twelve states. The states with the Bureau of Land Management lands are Alaska, Arizona, California, Colorado, Idaho, Montana, Nevada, New Mexico, Oregon, Utah, Washington, and Wyoming.
You can practice dispersed camping for free on any BLM land that is outside of established recreational and camping areas. Campers should be prepared to practice Leave No Trace protocols and bring all of the supplies that they will need in with them.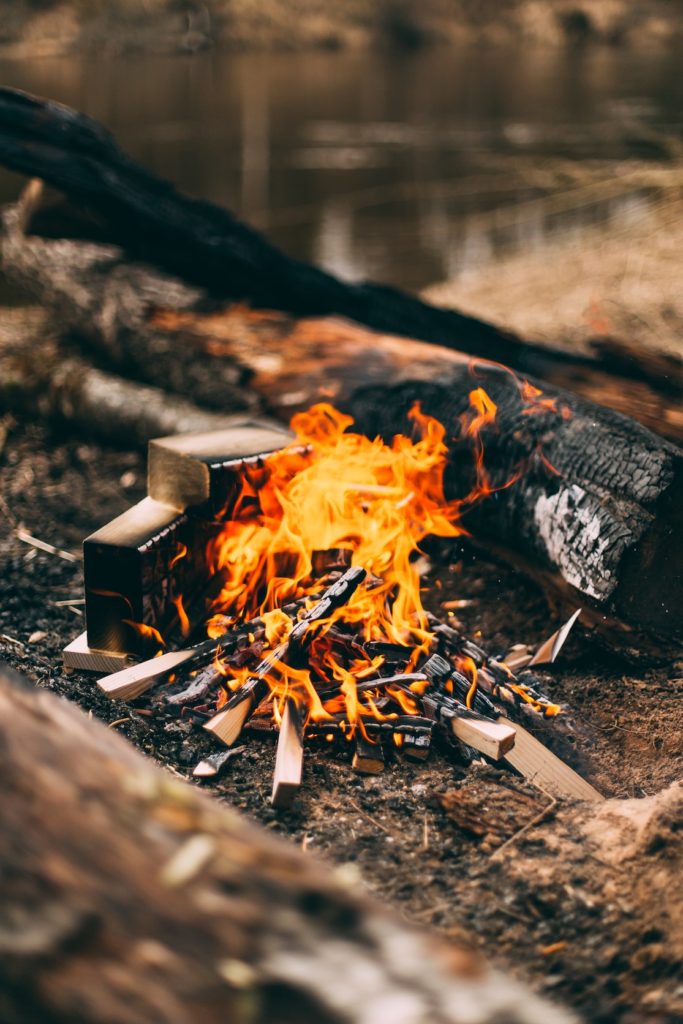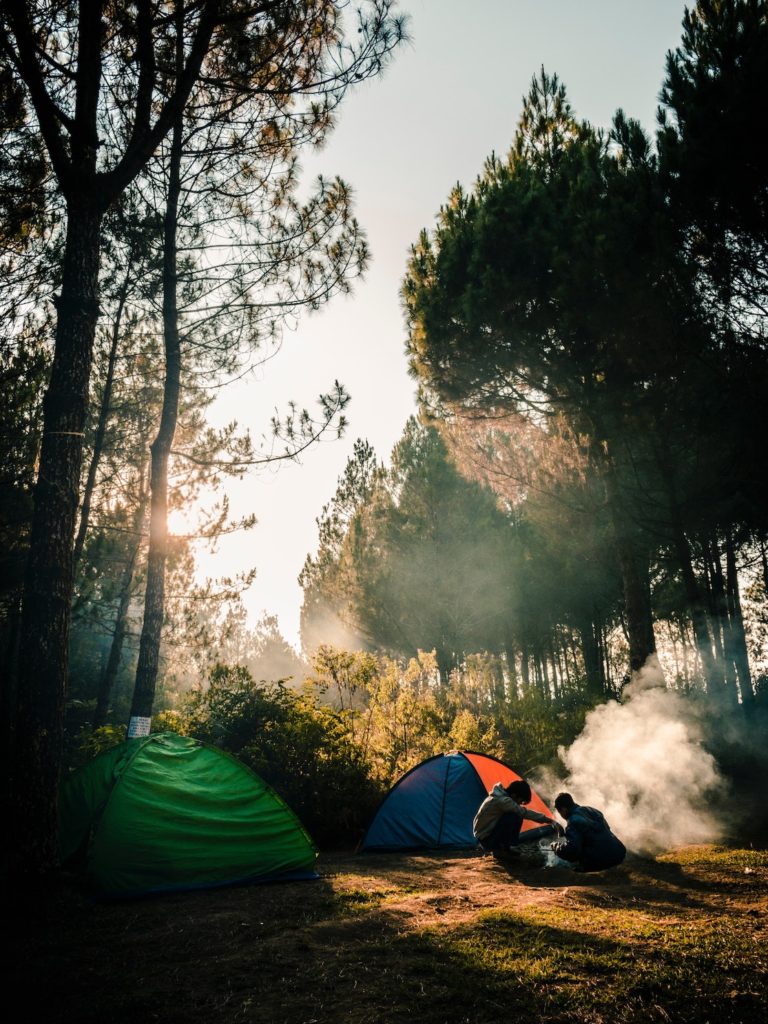 Some of the basic guidelines for camping on Bureau of Land Management lands are:
Park at least 900 feet away from any water source.
Park and camp no more than 300 feet from an established road.
Obey fire rules.
Beware of wild animals.
Keep things clean and contained.
The limit for staying in one area is 14 consecutive days out of a 28 day time period. After this time, you must move to a new site at least 25 miles away.
To find free camping spots on the Bureau of Land Management lands you can use the official Bureau of Land Management website here.
Camping on BLM land is ideal for those with high clearance vehicles. You can easily find a spot on BLM the day of, or if you are anything like me and plan your trip in detail months in advance then BLM land is a great resource for this too.
Wildlife Management Areas
All states have designated wildlife management areas and dispersed camping is allowed in many of these areas. The regulations for dispersed camping will vary from state to state so that you will need to check with the managing agency for specifics.
To find wildlife management areas in your state or the state that you will be traveling through you can use a website like this one.
State Parks
Many state parks also offer free camping for primitive campers, but just as regulations vary state by state for wildlife management areas the same is true for state parks.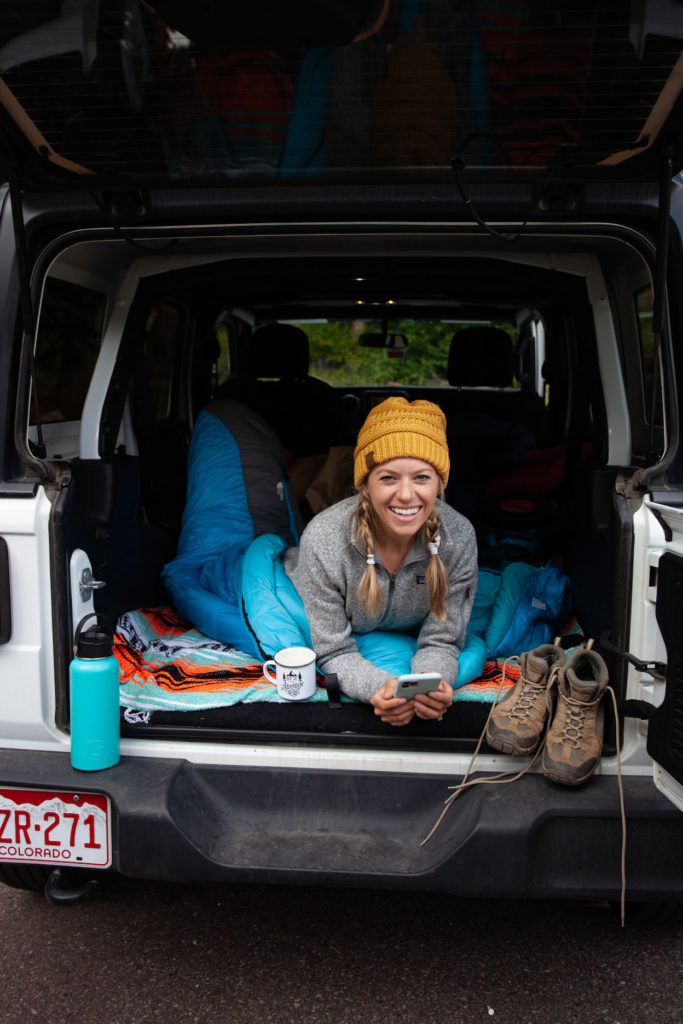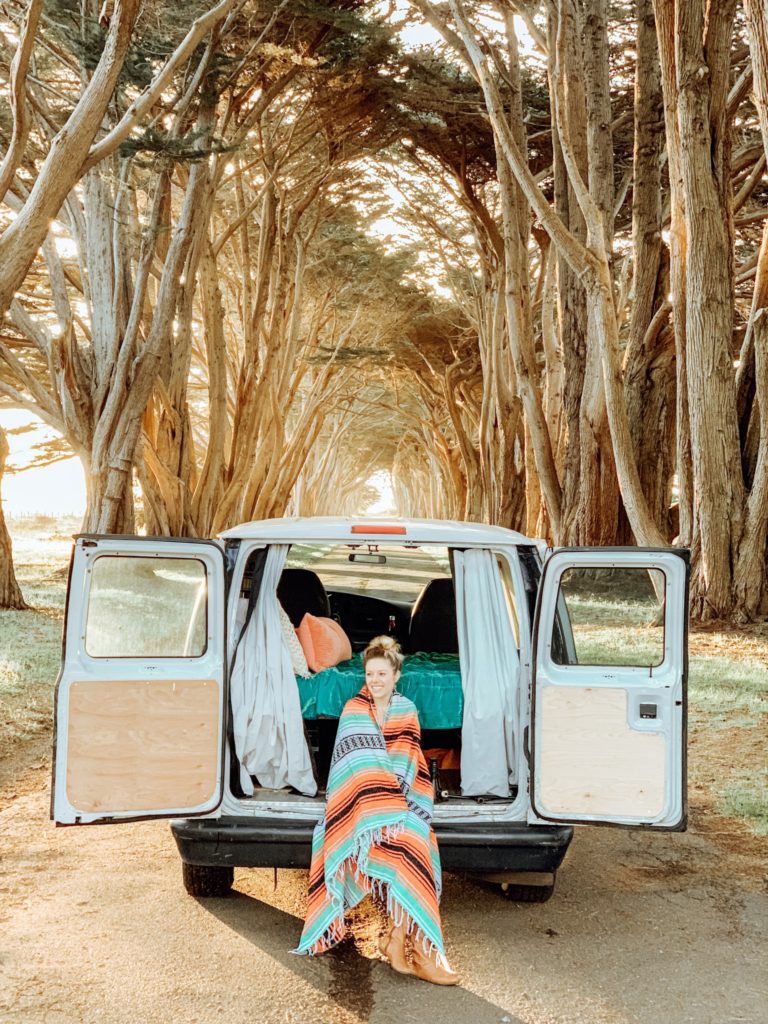 You can find the regulations for specific state parks by visiting their individual websites or contacting the park ranger offices. Make sure that you obey all fire rules, and that you practice leave no trace camping principles.
Other Places to Camp for Free in the US
Other places where you can stop to spend the night for free, in your vehicle or RV, include casino parking lots, Walmart parking lots, truck stops, and some rest areas. You will need to check with the specific location you plan to stay at to see if overnight stays are acceptable.
Walmart
Most walmart parking lots will allow you to parker your campervan in their parking lot for one night. Obviously, there are no hook-ups in the parking lot, but if you need water or resources you can easily buy them in the store.
If you choose to stay in a Walmart parking lot (like we did on our Grand Teton/ Yellowstone adventure) make sure to head into the store and get approval from the manager. That way they won't call the cops on you in the night.
Here is a list of current Walmarts that allow RV parking.
If you decide to do the car camping style then I recommend you read my post on beginner's tips to car camping.
Truck stops and rest stops
Another great option is truck stops and rest stops. Most of these places will come up on any app you use that shows you where free camping is. Truck stops are known to be not as safe, so make sure to lock your doors.
Again, there are no hookups and tent camping is not allowed. There are restrooms at some of the truck stops which is nice if you need a good face wash or teeth brushing.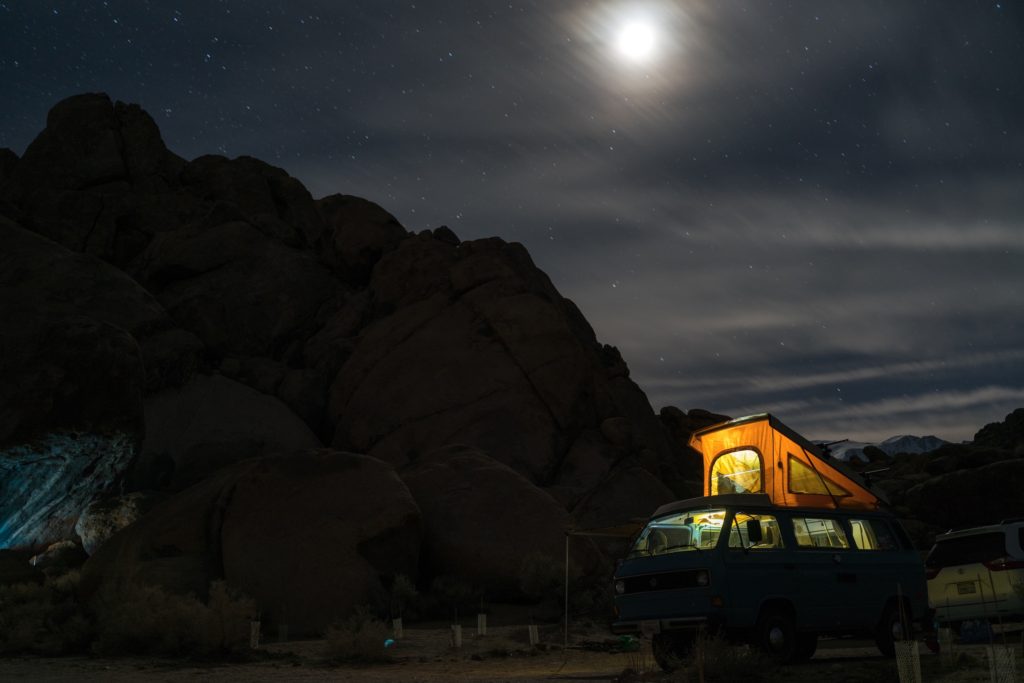 As always, if you are staying in one of these places overnight be courteous, park on the far end of the lot, arrive late, leave early, and if you can purchase something as a thank-you for letting you stay the night.
All camping activities should be contained to the inside of your vehicle.
Places that do not allow free camping in the US
You should NOT plan to park your vehicle and camp at any of the following places.
-School's
-Playgrounds
-Private Property
-Government Buildings
Things to consider before finding your free camping spot
ROAD CONDITIONS
Do you need a car that has all wheel or 4-wheel drive? A lot of these free campsites in the US have roads that are not suitable for huge RVs or normal cars.
They can be filled with pot-holes, dirt roads, steep cliffs and more. Make sure to research the road conditions prior to heading out.
You also should consider the season that you will be visiting in. Planning a visit in the spring? The road may be washed out from rivers or have fallen trees on it. Going in water? The road may be icy. So again, research beforehand, so you can be well prepared and safe.
Some apps, like Thy Dyrt and all trails have discussion forums where people talk about the current road conditions.
Lastly, always have an emergency kit on you or in the car with you.
WATER RESOURCES
You can't live without water, so make sure that you either pack enough with you or if you are near water then ask yourself is this water drinkable? If so, pack a device that allows you to filter the water from a resource nearby. I highly recommend this water filter.
Don't forget to factor in that you might need water to cook with as well, so make sure to pack some extra.
Nearest Resources
The last thing to consider before choosing your spot to sleep is to map out where your nearest resources are. Know where the nearest gas station is, the nearest water resource is, the closest hospital.
Unfortunately, things happen. The weather may take a turn for the worst. Know your escape route if you are out backpacking. And always have a safety device on you like the Garmin Inreach so you can reach the emergency crew when you don't have service.
Know you won't have service? Make sure to download an offline map so you don't get lost. I think you get the point by now. It is best to be prepared.
What to pack for your free camping adventure
As I have stated multiple times in this article, camping for free does not mean luxurious. Therefore, you will have to bring some items along with you.
Let's talk about the resources you will need. Essentially, you will need everything.:)
Water: Make sure to pack enough water to get you through the amount of time you will be outdoors. I recommend the Stanley jug or if there is a water source nearby then bring a water filter. You should plan for at least 2 liters of water per person/day
Food: Food is obviously important. I have an entire article on 10 easy meals to make when camping with an RV.
Cooking Supplies: If you don't have a stove in your RV or campervan and plan to do some backpacking instead then I recommend the pocket rocket stove and this cookware set.
Toiletries: We all have our own preferences as to what we like to use for our toiletries, but if you need some help on eco-friendly products then check out my guide here.
Camping supplies: Regardless of where you choose to sleep, whether that is in your, RV, or backcountry, you will need some sort of supplies to keep you warm. For all my favorite products for the backcountry read here.
Apps and resources
If you are looking for additional resources to help you find free camping across the United States here are some additional websites and apps that you might find useful.
FreeRoam is a free desktop and mobile app that make sit easy for you to find National Forest and Bureau of Land Management lands. You can even zoom in on roads by layering a Motor Vehicle Use map on top of it, making it easy to see where you can drive in to set up camp.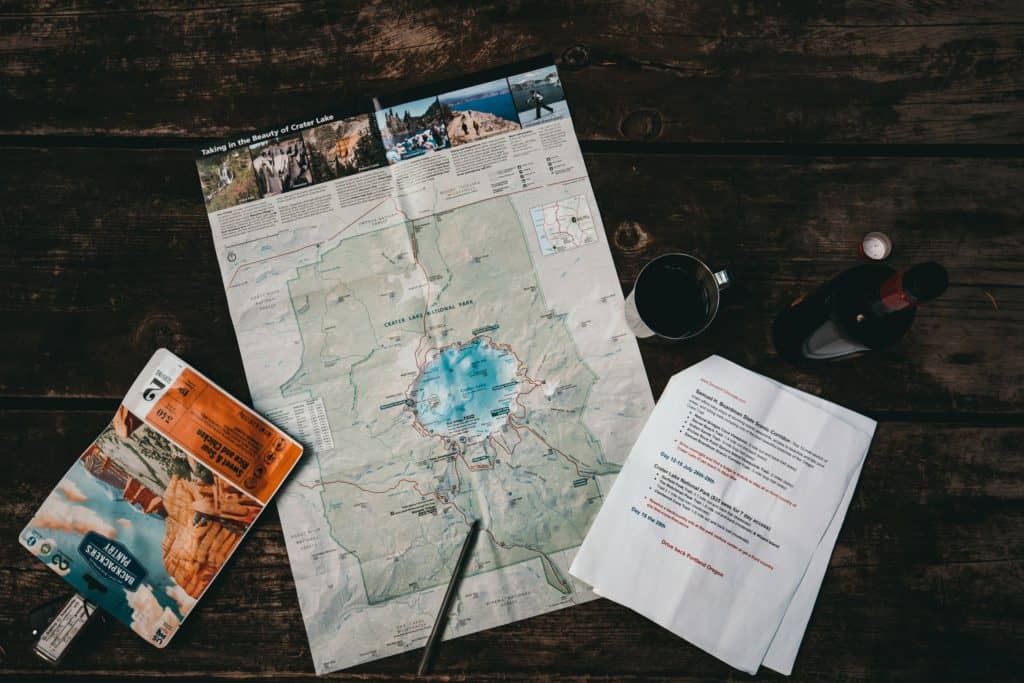 Ioverlander is another free app of user-submitted information that campers can use to find campsites, dump stations, and water refill stations. All of the campsites listed are not free, but some are. Because the information is user-submitted, it would be a good idea to use the information as a starting point and continuing to research further before planning your trip.
The Dyrt: I personally used this app when looking for places to camp in Yellowstone. It is a great resource for all RVers, tent go-ers, and anyone on the move.
These are just a few of the available websites and apps that you can use in addition to the ones listed above to help you find free camping across the United States.
Final Thoughts From Your Outdoor Girl
There are lots of amazing places where you can camp for free across the United States if you just know where to look. Do you have any great free camping tips or resources to share? Where do you plan to camp for free next?
As always, whenever we are out in nature we need to remember the 7 principles of Leave No Trace.
Let's review them here: 1. Plan ahead and prepare: You always want to be safe, so make sure to plan ahead and always tell someone where you are going. 2. Be Respectful: We all love the outdoors make sure to respect each other out here. 3. Travel & Camp on Durable Surfaces: Set up camp away from the water and don't walk off the path. 4. Dispose of waste properly: Always pack out your trash and know where to poop 5. Leave what you find: Let's let others enjoy this beautiful earth too. Don't collect sticks, shells, and rocks for your pleasure. Let nature stay where it is. 6. Respect wildlife: Wildlife can be dangerous, do not disturb them & they won't disturb you. 7. Keep fires small: Fire can be dangerous. Keep it small and use the fire rings in place if there is one.
Alright! I hope you found this article helpful! Enjoy your camping ventures ahead!
Like this post! Pin it for later!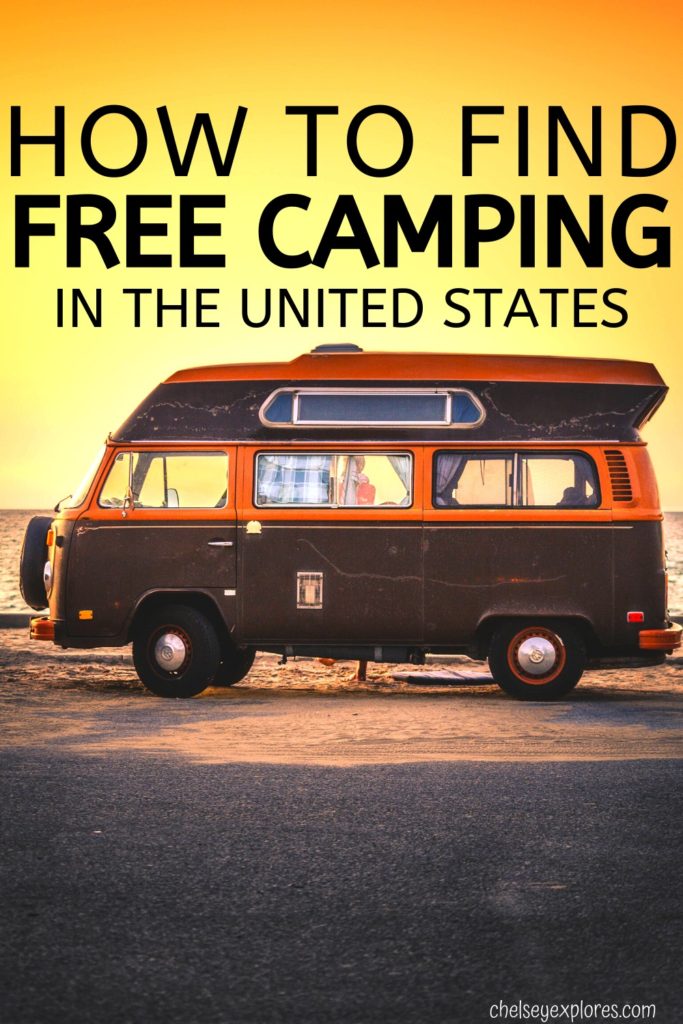 COMPLETE GUIDE TO FINDING FREE CAMPING IN THE US