10+ EASY CAMPING MEALS TO MAKE ON YOUR NEXT RV ADVENTURE (+ A DOWNLOADABLE GROCERY LIST)
Everyone has to eat which is easy to do at home, but when you are on the road things usually look a little different.
Everyone travels a little differently. Some people eat out for every meal, others cook gourmet meals as they travel, and some keep it simple.
My husband and I recently took an RV adventure through Yellowstone National Park and the Grand Tetons for 9 days which means we had some meal planning and prep to do. 
We put a lot of thought, effort, and time into our research for this trip, including the eating portion. We wanted to have a combination of healthy meals, fun meals, and eating out all while staying on a budget.
Dan and I are used to being on the road a lot. We have learned that we like to remain healthy while on the road and save money!
We have tried the "living off gas station food" life before and it just wasn't for us.
So, I have come up with a list of easy camping meals that are also healthy and budget-friendly.
EASY CAMPING MEALS FOR YOUR NEXT ROADTRIP
The best way to take a 9 day trip and stay on a budget with your meals is by cooking them yourself. So, in this article I am going to give you the exact breakdown of what we ate every single day.
I am also including my FREE downloadable grocery list with the exact items we purchased on arrival to our destination.
Not going to lie, I planned out the meals and food quanitities pretty darn well. I was pretty proud of myself at the end of our trip. We had very little food left over.
This article is fit for 2 people (male and female) traveling around in a RV with cooking capabilities for 9 days.
*Please note our RV had all the cooking supplies necessary (pots, pans, oven, silverware, etc.) however, all these meals could still be applied to a camping setting. You would just need to bring camping cookware like this one from Stanley.
SUPPLIES BROUGHT FROM HOME
Let's first start with the things we brought from home for this trip to help save us some money.
First off, we planned out our meals prior to even departing for our trip. We did not want to feel rushed or "lost" in the grocery store. This is when you start to buy unnecessary items.
First up! SPICES! Spices make everything better. So, in order to save some money I brought our own spices from home including:
-Italian Seasoning
-Garlic Salt
-Cinnamon
-Paprika
-Pepper
-Salt
Next up COFFEE! We purchased ground coffee once we arrived, but our RV did not have a coffee maker, so we brought our Stanley pour-over.
I personally like drinking my coffee through a straw, so I brought my own metal straw. Bringing eco-friendly products along on your trip is always a good idea!
Water Bottles: I always bring my water bottle with me everywhere. Dan and I both brought our water bottles plus our camelbacks.
You can easily find water fountains along the way to re-fill your bottles.
Dan also brought his protein shaker bottle for us to have 1 protein shake per day.
Blender: Dan and I are super into making smoothies at home. On one of our previous trips to Hawaii, Dan had purchased a small portable blender and it has been great for trips!
It helps us remain healthy instead of filling up on unhealthy snacks.
Hiking Cookware: You will see below that we ate a few dehydrated meals for our lunches, so we brought along our backpacking cookware set.
This item is perfect for taking along with you on hikes. It is compact and easy to use.
[show_shopthepost_widget id="4187890″]
Along with our GSI outdoors cookware & Pocket Rocket, we brought our favorite reusable hiking spoons. These things are the best because they have a long handle. It allowed you to just stick the spoon or spork right into the dehydrated meal bag and eat away!
EASY RV COOKING MEALS: DRINKS AND LIQUIDS
There are a few things my husband and I can't go without and that is Protein Powder and La Croix. Oh and coffee. So, for this trip we had all of the above.
Protein powder with shaker bottle: enough for 1 per day for each of us
Coffee: Ground coffee to use with our Stanley pour over
La Croix: My personal favorite is the lime flavor
Coconut Milk: We used this in our coffee's as well as with the French Toast
EASY RV CAMPING MEALS: BREAKFAST
We are pretty simple when it comes to breakfast, but we still enjoy eating healthy. Most of our breakfast meals were the same every day, so feel free to add some variety!
1. EGGS, TOAST, CHICKEN APPLE SAUSAGE AND AVOCADO
This is honestly the same meal we eat every single day even at home. We bought enough eggs for us to each have two per morning.
If I were to do this grocery list differently I would have bought egg whites to add to the eggs to be a little healthier.
2. FRENCH TOAST
This one is a great camping meal! It is so delicious yet so easy. We used the bread, the eggs we had purchased, the coconut milk that we purchased for our coffees and the cinnamon I had packed.
Other easy camping meal ideas: Oatmeal packets, breakfast burritos, egg scramble with veggies
EASY CAMPING MEALS: LUNCH
These were a little more difficult as we were usually out and about (usually on a hike) for lunch. So, here is what we did for our lunch meals.
3. FREEZE DRIED MEALS
We brought 3 freeze-dried meals with us. Two popular freeze-dried meal companies are Backpackers Pantry and MtnHouse. We brought both with us.
We bought a Spaghetti with meat sauce meal, Louisiana Red Beans and Rice, and Chili Mac with Beef. All three of these were dairy free that is why I chose them.
I would not recommend the Louisiana Red Beans and Rice.
4. PEANUT BUTTER & JELLY
Another classic hiking and camping meal. This one is so simple and easy. And I mean come on who doesn't like a good ole PB & J?
EASY CAMPING MEALS: DINNER
We got a little fancier with our dinners, but not too fancy. We made sure to incorporate a vegetable with every dinner to keep us healthy.

We usually eat a veggie with both lunch and dinner at home, so it was very important to us to have a veggie with dinner.
5. CHICKEN FAJITAS & BROCCOLI
This meal is great because it is easy, healthy and looks more gourmet than it really is. For this meal we purchased: chicken, 1 can of black beans, bell pepper, fajita seasoning packet, tortillas and we added avocado on the top.
6. BRATWURST & BROCCOLI
Pretty straight forward, but we bought a pack of 4 Bratwursts and a bag of broccoli. We used the same bread that we were using for our morning toast and lunch sandwiches as the "hotdog bun."
Yes, it is not quite the same, but we didn't want to waist money on hotdog buns.
7. PIZZA NIGHT
Who doesn't love a good pizza night. We bought a pack of 2 pre-made pizza crusts, a small bag of mozzarella cheese, pepperoni slices, and a small jar of pizza sauce.
Just put it in the oven at 450 for 8-10 minutes. Or if you are camping and don't have an oven you can cook this over a campfire too!
8. HAMBURGERS & GREEN BEANS
Another classic camping meal! Purchase a pack of ground beef and make your own hamburger patties. Again, we used the bread from our morning toast and sandwiches as the bun to save money.
***We did purchase ketchup and mustard (smallest bottles) because I am a pansy and can't eat hamburgers without sauces.
9. ITALIAN SEASONED CHICKEN & BROCCOLI
Buy a pack of chikcken tenders, season them up with the Italian Seasoning you bring and cook them up!
Heat up a pack of broccoli for your side. Oh and add garlic salt to your broccoli. This is my secret ingredient to making the best broccoli in the world.
10. LEFTOVERS
A little bit of this a little bit of that! We had leftovers of just about everything. 1 brawtwust, 1 hamburger patty, and some chicken.
We had some leftover veggies as weel. So, just heat it all up and eat it all up.
For a side, we warmed up a can of black beans.
EASY CAMPING MEALS: SNACKS
The best parts of the day! Snacks!! I personally love snacking, so of course we purchased a lot of snacks. You can grab the full snack list on my free grocery list download.
Snacks ranged from bars to chips to fruits and veggies!
BREAKDOWN OF WHAT WE ATE EACH DAY
Here is a breakdown of what we ate for each meal per day. This breakdown does not include the snacks we ate throughout the day.
Download my free grocery checklist for all the snacks items we purchased.
Day 1: This is the day we flew out. Landed at 2pm
Breakfast: Ate breakfast at home
Lunch: Lunch at the airport
Dinner: Brawtwurst and broccoli
Day 2: Exploring Yellowstone/Hiking
Coffee: Coffee in the RV and then a 2nd coffee in Yellowstone
Breakfast: Eggs, toast, avocado
Lunch: Dehydrated meal in the RV (Chili Mac with beef) with carrots and hummus
Dinner: Chicken Fajitas and broccoli
Day 3: Exploring Yellowstone/Hiking
Coffee: Coffee in the RV
Breakfast: Eggs, toast, sausage, avocado
Lunch: Peanut butter and Jelly sandwiches with apple
Dinner: Hamburgers and green beans
Day 4: Kayak Day in the Tetons
Breakfast: Eggs, toast, avocado and strawberries
Lunch: PB & J sandwiches with snacks
Dinner: Leftover Chicken Fajitas
Day 5: Hiking Day in the Tetons
Coffee: Coffee in the RV
Breakfast: Eggs, toast, avocado
Lunch: Dehydrated meal Spaghetti with meat sauce and
PB & J
Dinner: Italian Chicken & Broccoli
Day 6: Day in Jackson, Wyoming
Coffee: Coffee in town of Jackson
Breakfast: Eggs, toast, sausage, avocado and strawberries in RV
Lunch: Salads in Teton Village while on our bike tour
Dinner: Pizza in town
Day 7: Hiking day in the Tetons
Coffee: Coffee in the RV
Breakfast: Eggs, toast, sausage In RV
Lunch: Dehydrated meal (Louisiana Red bean and rice) and PB & J
Dinner: Leftovers in the RV
Day 8: Spent the day in Jackson, Wyoming
Breakfast: Breakfast in town in Jackson
Lunch: Salads and smoothies in town in Jackson
Dinner: Pizza night in the RV with carrots
Day 9: Day we flew home
Breakfast: Ate breakfast out at a healthy cafe
Lunch: Lunch at the airport
Dinner: Dinner at the airport
At the end of the day all we had left was:
2 La Croix (from the 12 pack)
A little bit of hummus
Spinach (we should have bought a smaller bag)
Pepperoni slices
¼ of the small peanut butter jar
Tomato paste & tomato sauce (never made my chili with it)
Coffee grinds: we brought this home with us
FINAL THOUGHTS FROM YOUR OUTDOOR LOVING GIRL
There are so many ways to prepare easy camping meals and so many different options. I hope these suggestions have helped you plan out your meals for your next RV or camping adventure!
Tell me in the comments your favorite camping meal!
Like this post? Save it for later!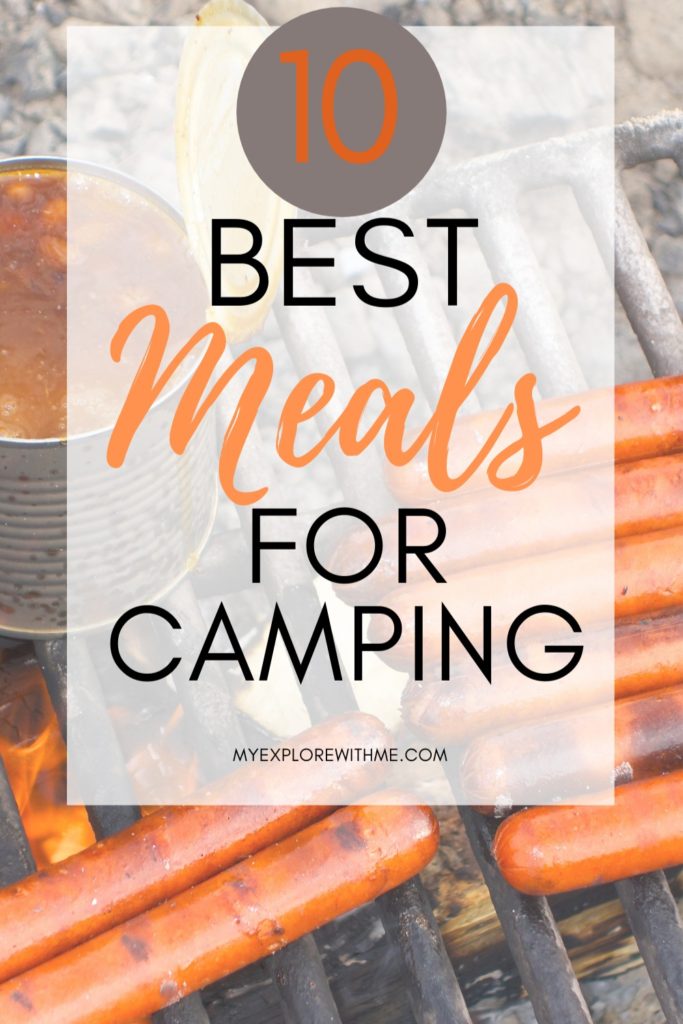 10+ EASY RV COOKING MEALS TO MAKE ON YOUR NEXT RV ADVENTURE