HOW TO MAKE COFFEE WHILE CAMPING
Summary: A detailed description on how to make coffee while camping
DISCLAIMER: This blog post is in partnership with Stanley; however, all opinions within this article remain my own.
HOW TO MAKE COFFEE WHILE CAMPING
If there is anything that gives me "life" it is coffee! Am I right? I think most people would agree with me. Most people love it AND most people need it.
If you are anything like my husband and I, then you plan your trips around where you are going to stop for coffee. However, this becomes a little more difficult when most of your adventures are in the deep woods of the outdoors.
Gasp!
How am I supposed to make coffee while camping? Insert Stanley, my lifesaver!
Dan and I love our routine of getting coffee together. It usually spurs deep conversations. We love the simplicity of a cup of coffee and the togetherness that it brings in our lives.
We wanted to make sure to continue our slow, coffee drinking mornings when we are out hiking or backpacking.
So, in this article, we are going to discuss how to make coffee while camping! Stanley has made it so easy for you to prepare your coffee while on the road or out hiking!
STEP 1: CHOOSE YOUR COFFEE
I used to be your classic Starbucks girl. I would bring the small packets of ground coffee that dissolve in water along with me on my camping trips. Yuck!
Choosing your coffee is going to be a personal preference. You will also need to decide on whether or not you are going to purchase coffee beans or pre-ground coffee.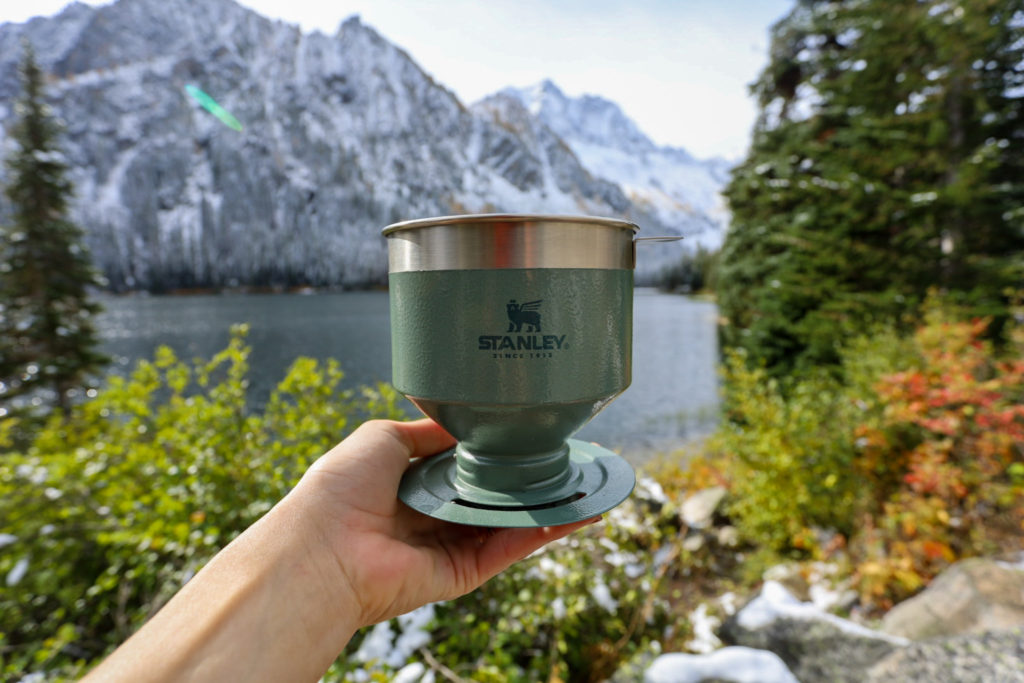 I personally think grinding your own beans makes for better-tasting coffee; however, if you plan to go backpacking then I recommend either buying pre-ground coffee or grinding the beans beforehand.
I like to source my coffee from my hometown, San Diego. Some of my favorite places are: Bird Rock Coffee Roasters, Dark Horse, and James Coffee.
STEP 2: CHOOSE YOUR METHOD
This one is important! There are tons of ways to brew your coffee, so make sure to choose an option that suits your activity.
If you are like me, my at-home coffee making accessories is not easily portable. In the process of finding alternative methods for making my coffee on the go, I have learned a lot about coffee!
Who knew there were so many ways to make a single cup of coffee. Below is a list of different ways to make your coffee.
French Press: One of the simpler ways to make coffee. Just add the coffee ground into the container, pour in hot water, wait and plunge the press down.
Pour Over: Add some coffee grounds to a filter that is placed in a ceramic coffee dripper and pour hot water over.
Cold Brew: I love making cold brew at home, but it is just not possible to make it while car camping or hiking.
Instant Coffee Packets: These are your Starbucks packets of pre-ground coffee that you pour directly into the water.
Single-serve pour-over coffee: This is a great option for backpacking and my favorite is Kuju Coffee.
Espresso Pot: This one may be surprising to you, but you can make espresso in outdoors with this GSI Moka Espresso Pot.
Percolator: This is a type of pot used to make coffee by continuously cycling the boiling water through the grounds using just gravity.
Honestly, the list could go on with how many ways there is to make coffee! For outdoor adventure purposes, I like to bring along my pour-over or my all in one adventure french press.
STEP 3: MAKE YOUR COFFEE
After you have sourced your coffee and chosen your method of brewing you are now ready to make your coffee!

The best step in the process!
Let's talk about my two favorite methods for making coffee in the outdoors.
First up the Stanley Classic Brew Pour Over. I brought along this pour-over system on my trip to Washington. My mom and I flew from San Diego to Washington to do some hiking.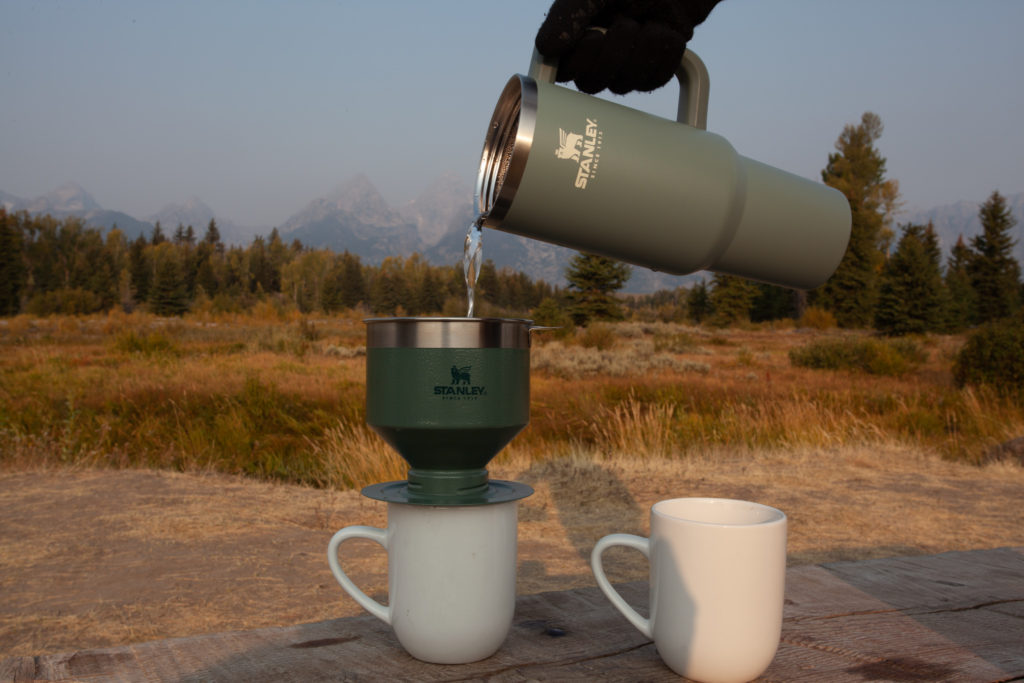 I knew that we would have some early mornings and long days, so I wanted to bring something easy and lightweight. The Stanley Classic Brew Pour Over was perfect.
This stainless steel our over is lightweight, does not require single-use filters, and is easy to use.
The steps are simple:
1. Boil some water
2. Add your coffee grinds to the pour-over. As a general rule use 2 tbsp of coffee
3. Place a mug below the pour-over system
4. Pour your water over the grinds
5. Brew away! Let the water soak the grinds until you obtain a full cup of joe!
6. Relax and enjoy a good conversation with someone
7. Clean up! Dump out the grinds and rinse with water-it's that simple
Second, is the all-in-one coffee system! Dan and I recently brought this along with us for our trip to Big Bear.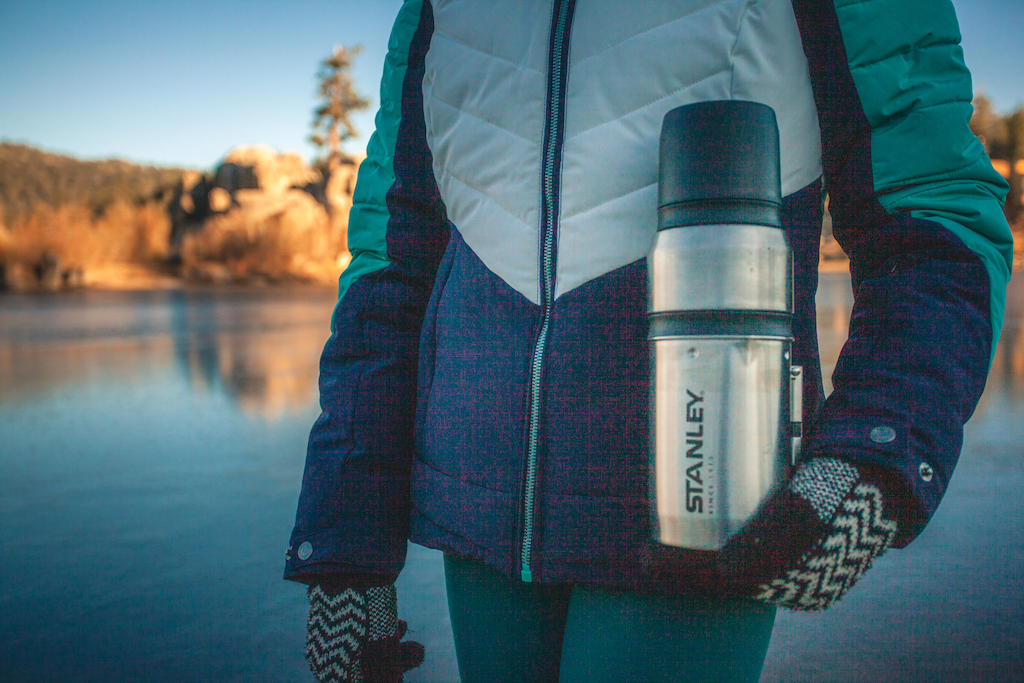 It was perfect for our sunrise adventure! Everything you will need comes in this kit! It includes a sturdy boiling pot, a French press, a vacuum bottle, and two mugs.
We boiled the water ahead of time in our little cabin and then brought it along with us to make the coffee while watching the sunrise. The item is on the heavier side, so it is not ideal for backpacking, but it perfect for car camping!
OTHER ITEMS TO BRING TO HELP MAKE COFFEE WHILE CAMPING
There are a few more items that you may need or want to consider when planning to make your coffee in the great outdoors.
If you are backpacking or car camping then consider getting a small backpacking stove like the pocket rocket to heat your water up quickly.
Of course, don't forget a mug to drink your coffee in! And if you are wanting to keep your coffee warm and save it for later then consider bringing along an insulated thermos. This one keeps your drinks hot or cold for 2 days!
FINAL THOUGHTS FROM YOUR OUTDOOR LOVING GIRL
Alright friends! Coffee is what keeps me going, especially on my long days at work in the ER or out while I am camping and waking up early for sunrises.
I hope this guide on how to make coffee while camping has inspired you to be creative with your coffee while in the outdoors!
I'd love to hear what is your favorite way to make coffee?
HOW TO MAKE COFFEE WHILE CAMPING