ESSENTIAL TIPS FOR FIRST TIME HIKERS
There is nothing like feeling breathless and a little (or maybe a lot) sweaty as you just crest a mountain to see that gorgeous view. Maybe you're hiking to a waterfall or just in a meadow instead. No matter where it is, hiking is good for the soul and I recommend everyone try it at least once in their life. These tips for first-time hikers will help you plan your first!
Hiking has taken me to all kinds of incredible places and I can't recommend it enough. You may be surprised at how much you love it and it's really a gateway activity to so many other outdoor adventures.
Benefits of Hiking
The benefits of hiking are not only physical but mental as well and for some people even spiritual. Walking is obviously great exercise and can help you lose weight and be more heart-healthy.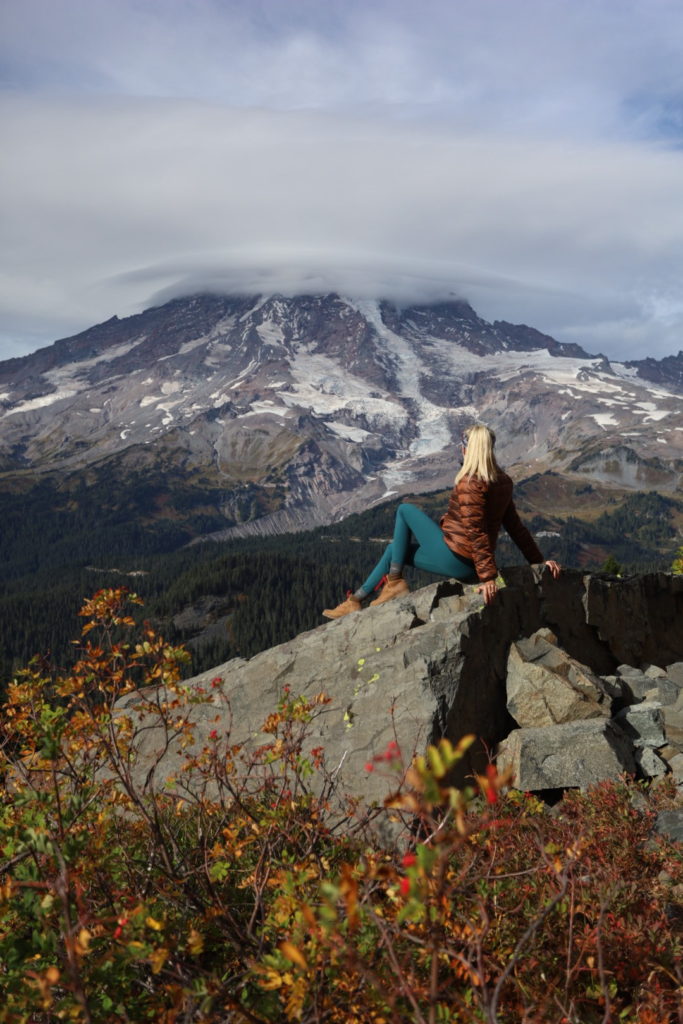 Exercise has been linked to better mental health and so has being outside in nature. These will help with your mood and overall happiness. Some people also find that the outdoors is where they best connect with a higher power or they feel spiritually grounded.
How to Find Places to Hike
Some of the best places that I like to start looking for great hikes are in the National or State Parks. Many of these trails are well-marked and well-traveled which makes them perfect for your first time. Any land in the park system is also sure to be gorgeous.
If you want to make your way off-the-beaten path then check out the AllTrails app. You can search the area that you would like to hike in and the app will show you hiking trails in that area, reviews from people who have recently completed the trail, maps, and photos of the hike.
AllTrails is my favorite for finding local favorites and they just took over Trails.com. Another popular app is Viewranger.
Tips for First Time Hikers
These hiking tips for beginners are just a few of the basics to help you plan out your first hiking trip. They are all meant to help you enjoy your time out on the trail as much as possible!
Leave No Trace
Chances are you've heard of this principle, but in case you haven't I'll give you a little background. Leave No Trace is a movement all about making as small of an impact as possible on the outdoors and exploring in a sustainable way.
A few of the main ideas are packing out your trash and food waste, staying on the trail, and respecting wildlife. You can learn more about this movement here.
Choose Your Hiking Trails Wisely
If you're a beginner and not in fantastic shape, then you'll want to take that into consideration when choosing a trail. Even if you are in good shape, hiking is a completely different form of exercise than what you do in the gym.
Look at the trail difficulty and length. You will probably want to start out with an easy or moderate hike that isn't too long. An easy two-mile hike would be a good start to your hiking career.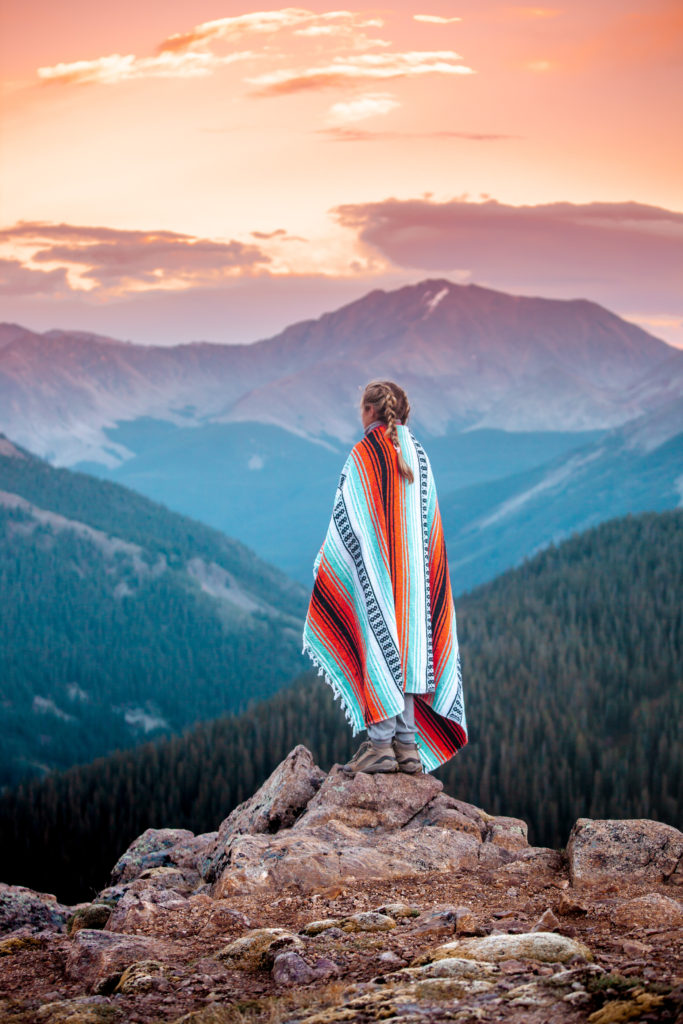 I would choose a trail in a popular area that is well-known for hiking. The popular places are popular for a reason. Once you get a taste and see if you like it, then you can check out some of the trails less traveled.
Map Out Your Hike
Since you'll be going on an easy hiking trail to start with, this won't be that important but it is still a good idea. Before you start your hike make sure you know exactly where you are going and map out any turns you need to take at a fork in the trail.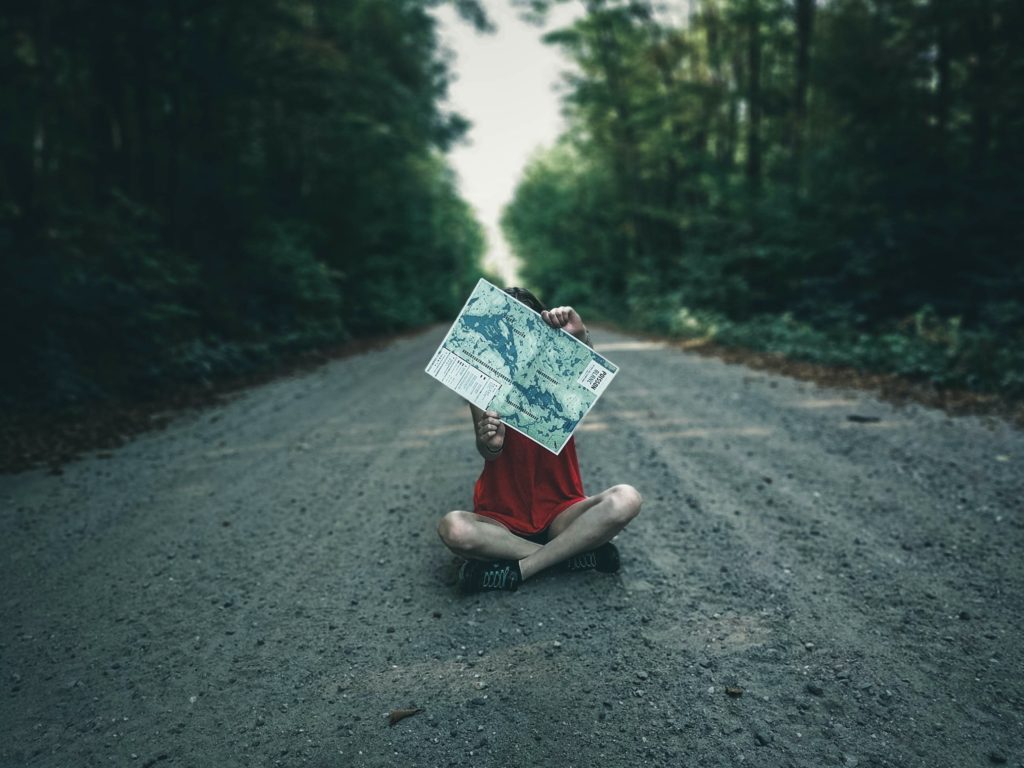 There aren't always clear directions once you get on a trail so it is a good idea to have a map downloaded on your phone or you can pick up a paper map. Most National and State Park Visitor's Centers sell paper maps or give them away for free.
Bring the Correct Gear
What most people don't realize is that even for short hikes you should always bring a few essentials. You never know what might happen and you should always be prepared.
You'll definitely want to bring a map (paper or electronic), plenty of water, snacks, and a first-aid kit or at least some bandaids. Other things that can come in handy are a knife or multitool, a headlamp, and you'll need a backpack to carry it all in.
Water…. Water, Water, Water.
Bring twice the water than you think you'll need. Not only is it uncomfortable when you run out of water, but it's dangerous. Especially in the summer heat. Make sure to bring plenty for yourself and make sure everyone else in your group brings enough for themselves.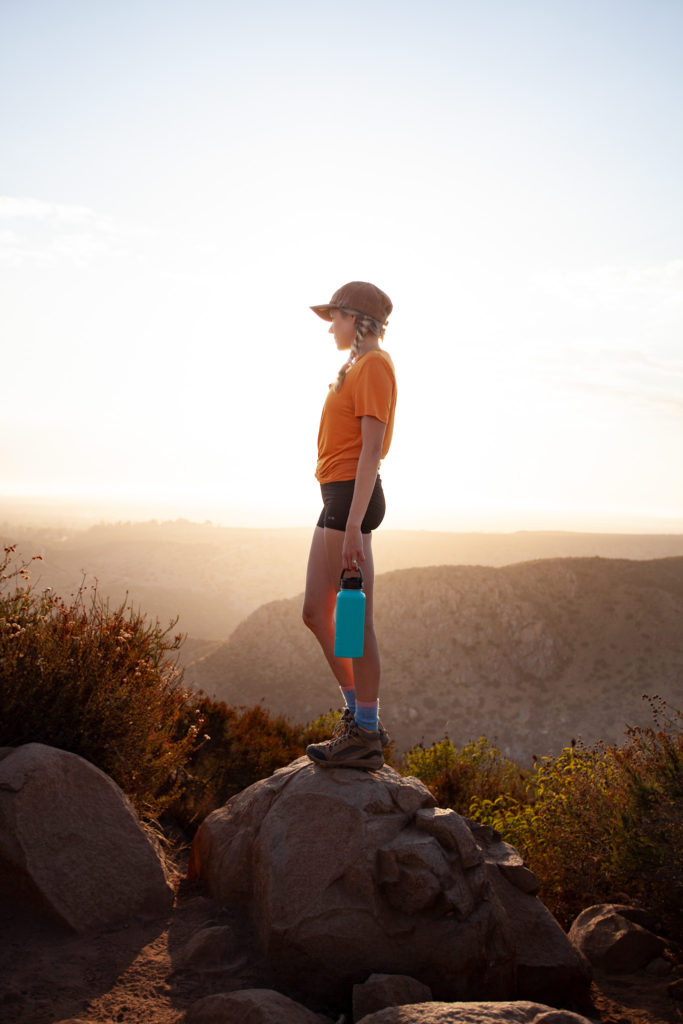 Reusable water bottles are the best for the environment instead of buying individual plastic bottles. Get yourself a cute water bottle to take on your adventures. Another option is a water purification system once you know you love the outdoors.
These are tablets or special straws that kill bacteria and filter out anything that you shouldn't be drinking in natural water sources.
Wear the Right Clothing (Especially Shoes)
Having a good time will be tough if you're way too cold, too hot, or especially if you're soaked with rain. Dress for the weather whether that's multiple layers when it's cold out or a light t-shirt and shorts when it's hot.
Be sure to bring a rain jacket if there is even a chance of rain and it's good practice to have it with you all the time. One of the most important pieces of your outfit though will be your shoes. When just starting out, it's okay to wear your tennis shoes but if this is a hobby you're going to get into then I highly recommend investing in some hiking shoes!
Hiking boots give you a much better grip with their soles and they provide more support for your foot. In the summer, Chacos and Tevas are also good options for sandals if you plan on hiking near water.
Check and Double-Check the Weather
Speaking of dressing correctly, in order to do that you have to check the weather! It can change in an instant especially in mountain climates. Check the weather on a few different apps the morning of your hike.
Even when you double-check the weather I recommend going prepared with anything you might need. Pack another sweatshirt or heavy coat if it's cold, pack your raincoat, and having an extra set of clothes isn't a bad idea. I've felt fine at the bottom of a mountain but then gotten to the top and it's 15 degrees cooler.
Be Aware of Wildlife
One of the benefits of hiking is getting to see different animals in their natural habitat. Always make sure to keep a safe distance from these animals so you don't get hurt or disturb them in their home.
It's good to have an idea what type of potentially threatening animals you may see and what to do if you see one. A few that could be in your area are bears, mountain lions, and snakes. Most of the time if you are making enough noise bears or mountain lions won't get near you.
Find a Buddy for Your First Time Hiking
For your first few times on a hiking trail, you'll probably want to find a group or another friend to hike with. Hiking alone can be relaxing and very rewarding, but to start out I would recommend going with another person. After you learn the ropes you can head out on your own.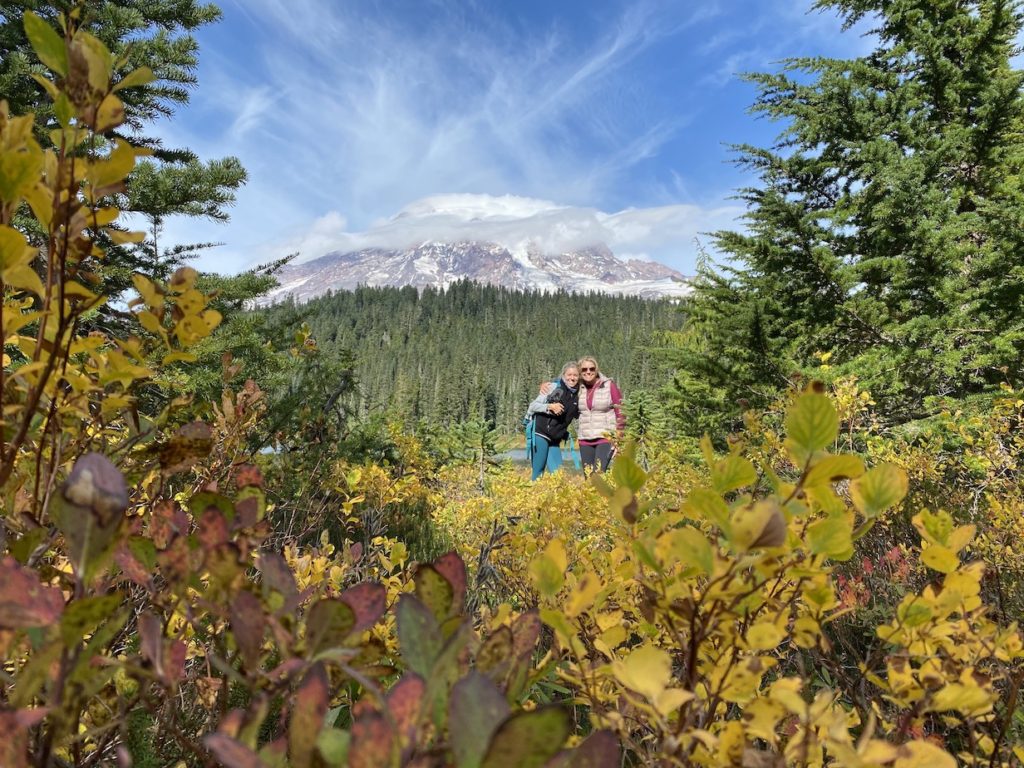 If you don't know anyone in your area that likes to hike try looking in local Facebook Groups. Local outfitter stores are also an option as some of them put together hiking outings nearby. Meetup.com also has an outdoor & adventure category that you can check out.
Do You Know Any Other Good Tips for First-Time Hikers?
If you feel like you love hiking so much and want to try the next step then I recommend attempting an overnight backpacking trip. I have a complete beginner's guide to backpacking as well to help you get started!
I hope you found this article helpful! Let me know in the comments some of your favorite hikes in the world!
Like this post! Save it for later!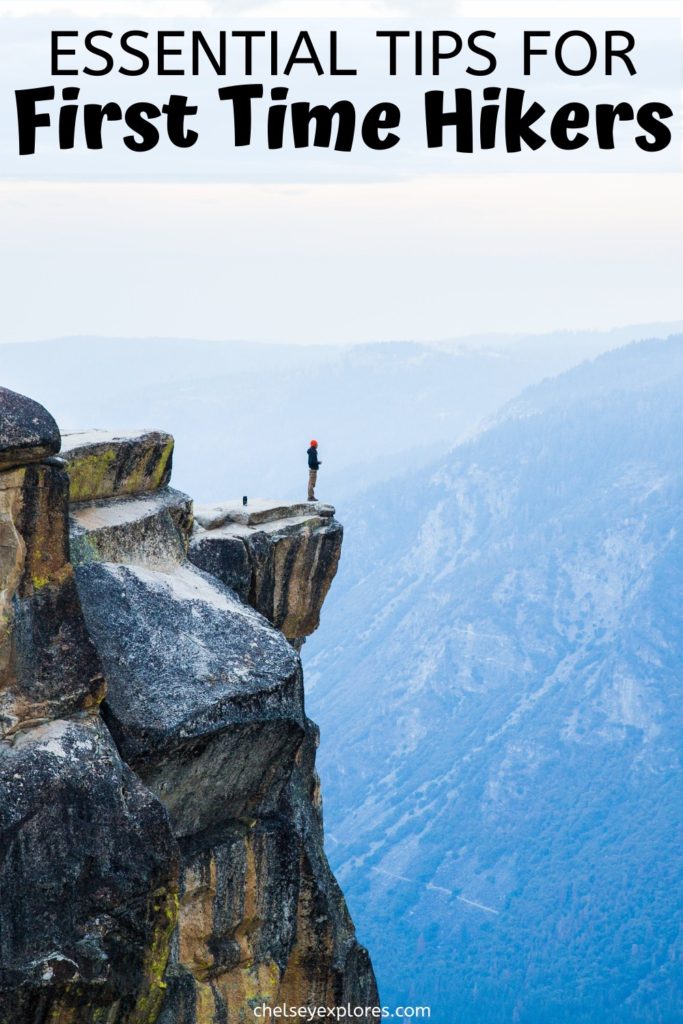 ESSENTIAL TIPS FOR FIRST TIME HIKERS