THE ONLY 9- DAY GRAND TETON AND YELLOWSTONE ITINERARY YOU WILL NEED (RV STYLE)
When our RV trip around Iceland had been cancelled due to Coronavirus, we knew we had to plan something else that was going to be just as epic.
Insert: Us coming up with the ultimate Grand Teton and Yellowstone itinerary (RV style)!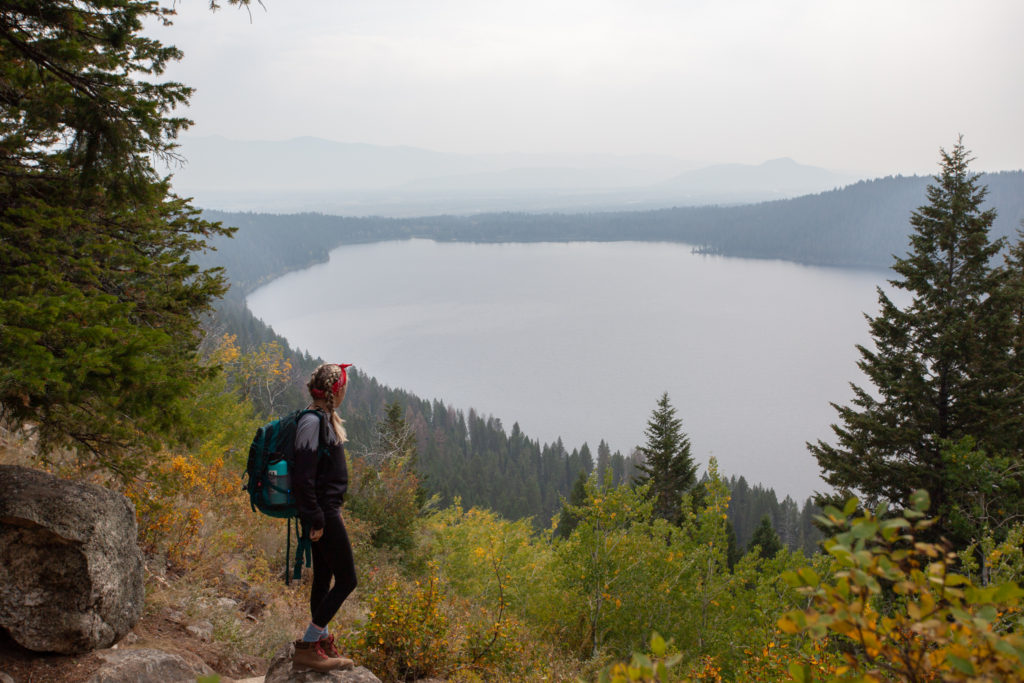 Crossing off all the National Parks has always been on my bucket list, so my husband and I figured this would be the perfect time to cross off two more parks. We couldn't think of a safer way to do this trip other than by renting and RV and driving it around!
In this article, I am going to give my EXACT 9- day itinerary that allowed us to drive through the beautiful Fall foliage that the Grand Tetons and Yellowstone National Park had to offer.
Although Yellowstone and the Grand Tetons are basically neighbors they do each deserve their own time to explore! However, I highly recommend clumping them into one trip to create a larger Grand Teton and Yellowstone itinerary.
RENTING AN RV
After hours of research and talking to multiple companies, we chose to get our class C RV through Outdoorsy.
Outdoorsy is a magnificent company that allows you to search for RVs with the exact amenities you want. It is basically Airbnb but RV style.
We knew we wanted an RV that allowed us to be able to be full remote if we needed/wanted to be. We wanted one that we could stand up in, an RV with a full kitchen and one with a bathroom and shower as well.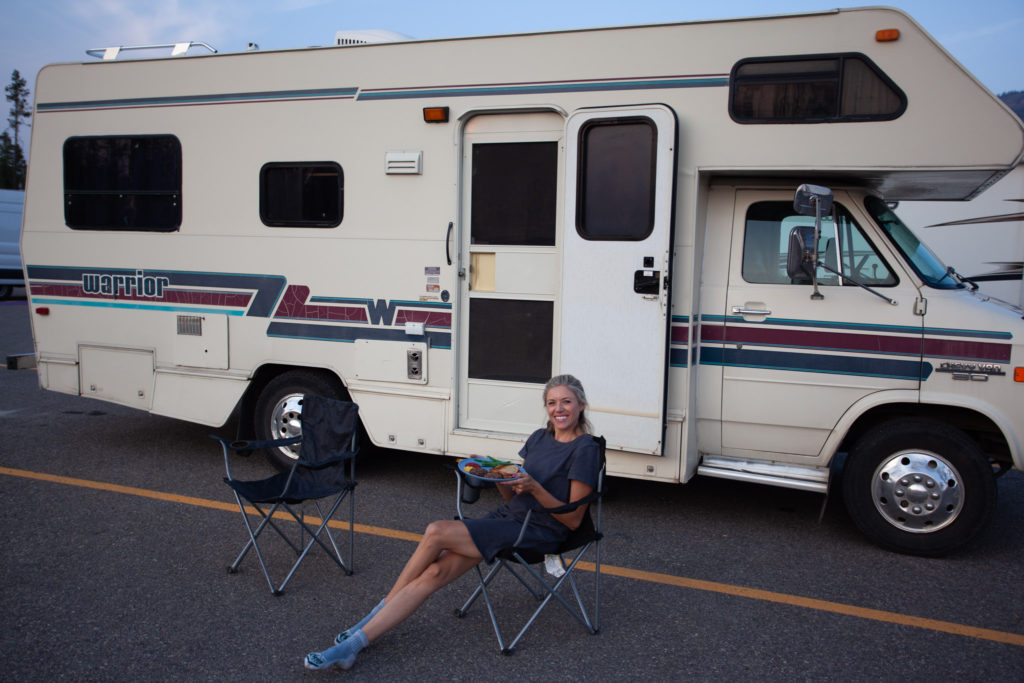 How it works: Any RV owner can list their vehicle on this website for rent (of course after going through background checks, etc.). It is a peer to peer kind of marketplace.
the customer searches for what they want, you book the RV, and you can either pick it up or have it delivered if available.
Now you are ready to hit the road!
The entire process was smooth. We chose to go with an older and more vintage RV (the Montana Warrior) because it helped decrease the cost significantly.
This thing was awesome! I loved the retro look to it! Melissa, the owner of the RV, was spectacular to work with. She was very accommodating and made the process simple.
Our RV was stocked with blankets, towels, dish soap, cookware, toilet paper and much more! We chose to add on two cans of bear spray as well as two outdoor chairs for our trip!
HOW TO FIND CAMPING
Living in an RV for the week is very similar to car camping.
There are a few ways you can find a place to park your RV for the night.
Campgrounds: The most popular way would be to find designated campgrounds and make your reservation ahead of time. There are also first come first serve campgrounds.
The first come first serve campgrounds tend to fill.
Free parking: There are definitely spots where it is legal to park for free. You can use an app such as TheDyrt to find such a place.
BLM Land: BLM land is free land that anyone at anytime can pull their car up on and set up camp.
GRAND TETON AND YELLOWSTONE ITINERARY: TIPS
While google maps says the overall driving time between the two parks is only two hours, plan to spend a lot more time in the car than that.
There are so many incredible places to stop and check out that you will almost feel like you don't have enough time.
If you want to for sure for sure see Bison and Elk then you should make time to go to Lamar Valley in Yellowstone. We unfortunately were unable to make it to that side of the park and regret that decision.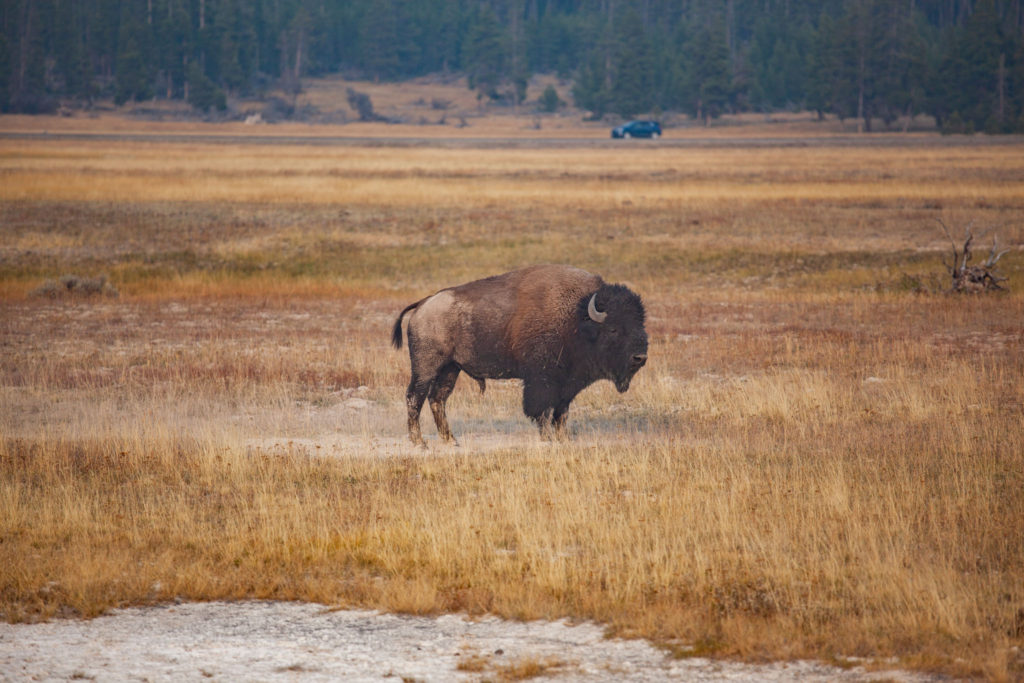 We still were able to see 1 bison up close and quite a few Elk. Surprisingly, we did not see any bears. Maybe they saw us though 😉
My last tip is that to get the best views with the least crowds you will want to wake up early!
DAY 1: YOUR GRAND TETON AND YELLOWSTONE ITINERARY
Let's get started! You made it!
Depending on where you are flying in from or driving in from will determine where you start your trip; however, I recommend flying into Bozeman.
Tip! If you are renting an RV-ask if they can deliver it to the airport! It will make your trip that much easier!
After you get the rundown of how your RV works head to the grocery store to stock up on food for the week. There is an Albertson's just 5 minutes away from the Bozeman airport.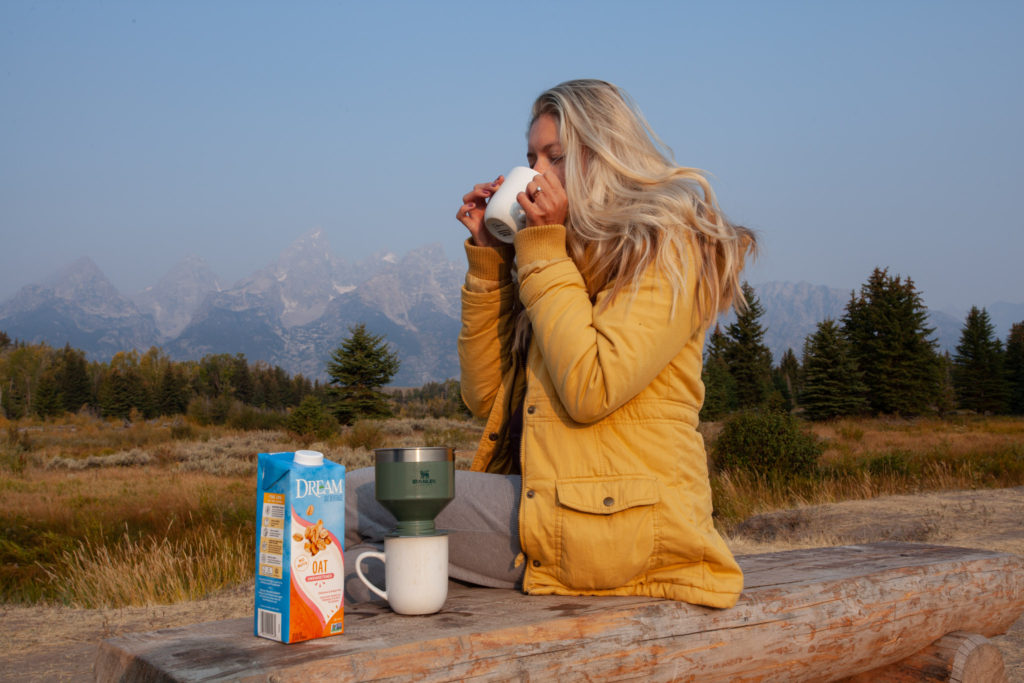 Looking for ideas on what to cook for your trip! Check out these easy camping meals!
A note on COVID: If you are visiting these National Parks during the pandemic be aware that a lot of the restaurants in the park are closed, so make sure to have enough food for yourself.
It was already getting to be late for us, so we just decided to find a place to sleep for the night and enjoy cooking dinner while it was still light out.
We used the app TheDyrt to find our free sleeping spot for the night. It was up a long, dirty, bumpy road, but our RV made it. A little sketchy, but we did it!
DAY 2: FIRST DAY IN YELLOWSTONE
You will see throughout the course of this itinerary that I recommend getting up for sunrise each morning.
Start your morning off by going through the north entrance of Yellowstone. There is a large entry way you can drive under.
Your first stop will be Mammoth Hot Springs. This place was beautiful!
You can read all about how to get Mammoth Hot Springs all to yourself here.
If you have time you can stop at the Boiling River, but it was closed due to COVID on our trip.
The next stop will be Artist Point: The Grand Canyon of Yellowstone.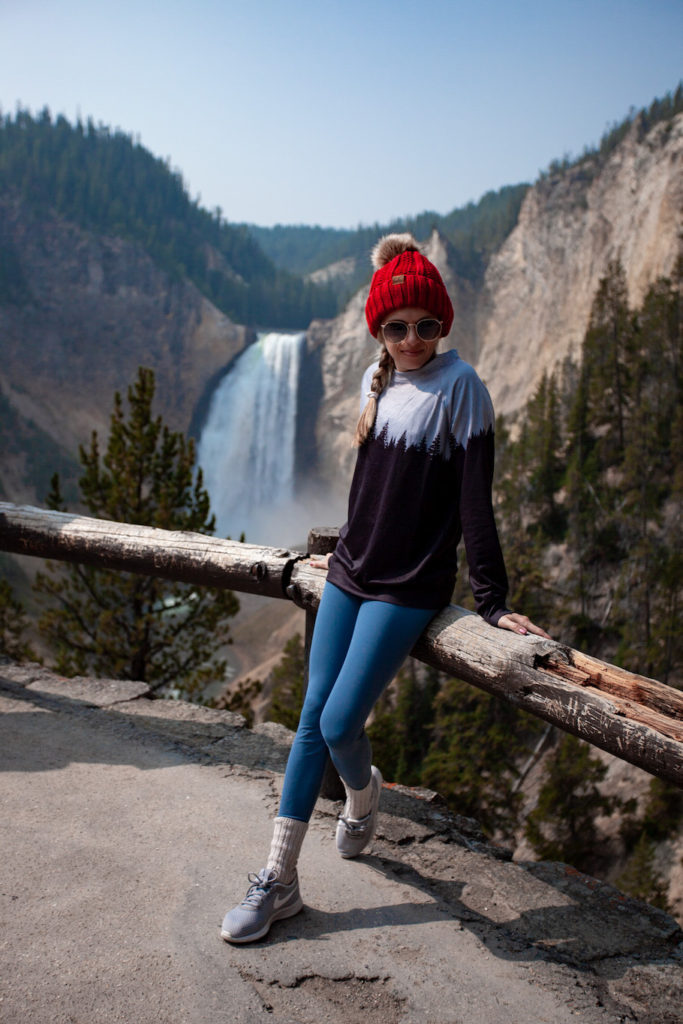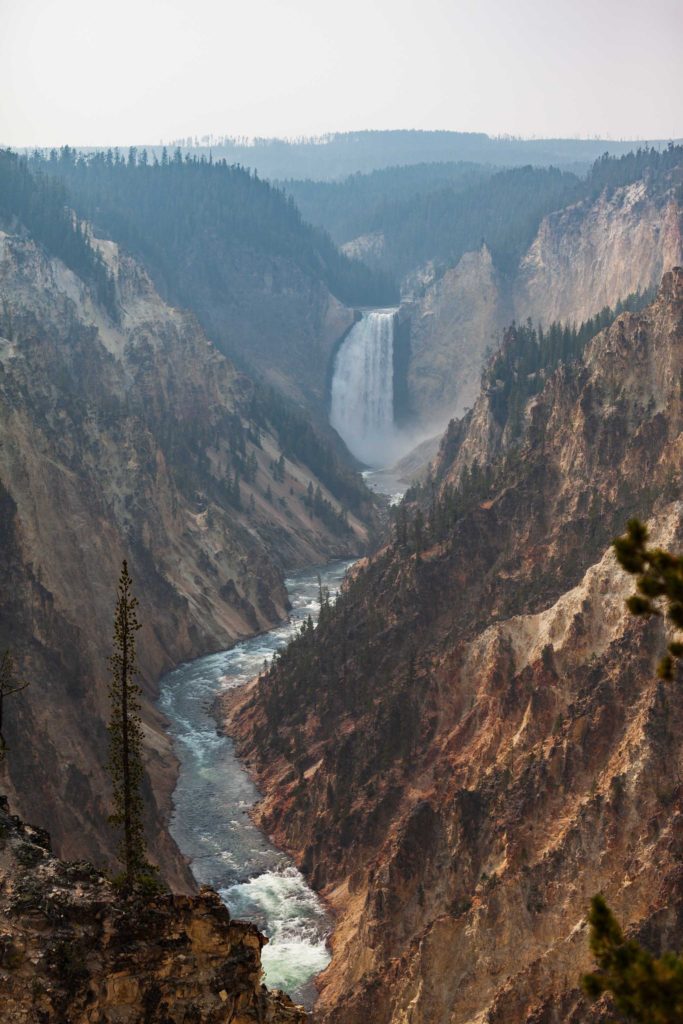 For more details on trails and hikes you should do near Artist point check out my complete Yellowstone itinerary breakdown.
End your day by driving through Hayden Valley Towards West Yellowstone.
Make stops at the West Thumb Basin Geyser.
Sleep at: Wagon Wheel RV park in West Yellowstone
DAY 3: SECOND DAY IN YELLOWSTONE
Have a slow morning and enjoy breakfast in your RV.
Head to Fairy Falls and enjoy a beautiful hike. On your hike back from Fairy Falls you will want to go to the Grand Prismatic overlook.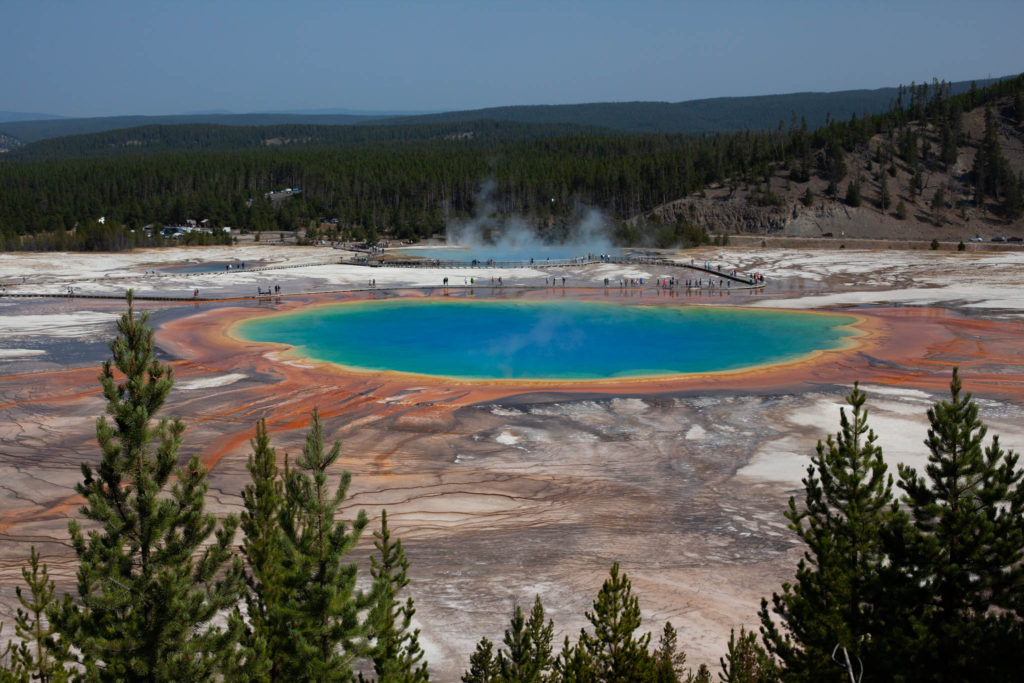 Next up! Head over to the infamous Old Faithful for the spectacular show!
End your day at Lewis Falls-a gorgeous waterfall!
For sleeping at night we attempted to sleep in the park; however, all the campgrounds quickly filled up.
But! Insider's tip here: they allowed us to sleep in the parking lots right outside the campground!
DAY 4: A DAY IN THE GRAND TETONS
I was amazed by this park as I knew I would be. The mountainscape is just absolutely incredible.
We started our morning off by watching sunrise at the Snake River Overlook. However, I think better spots could be found for sunrise.
Personally, I would recommend watching sunrise from Oxbow bend. We went here after sunrise and it was stunning.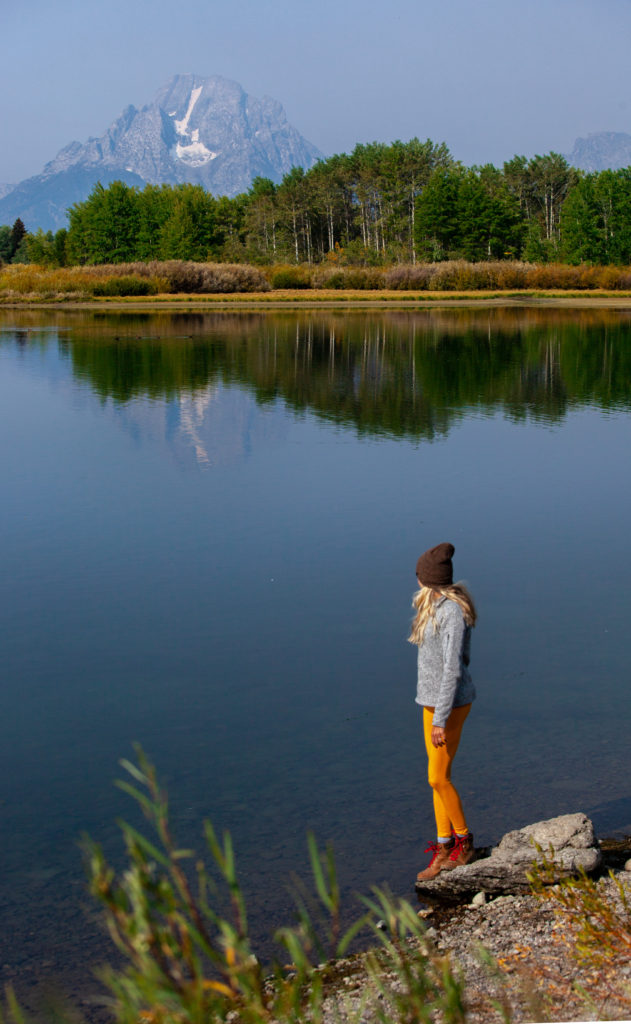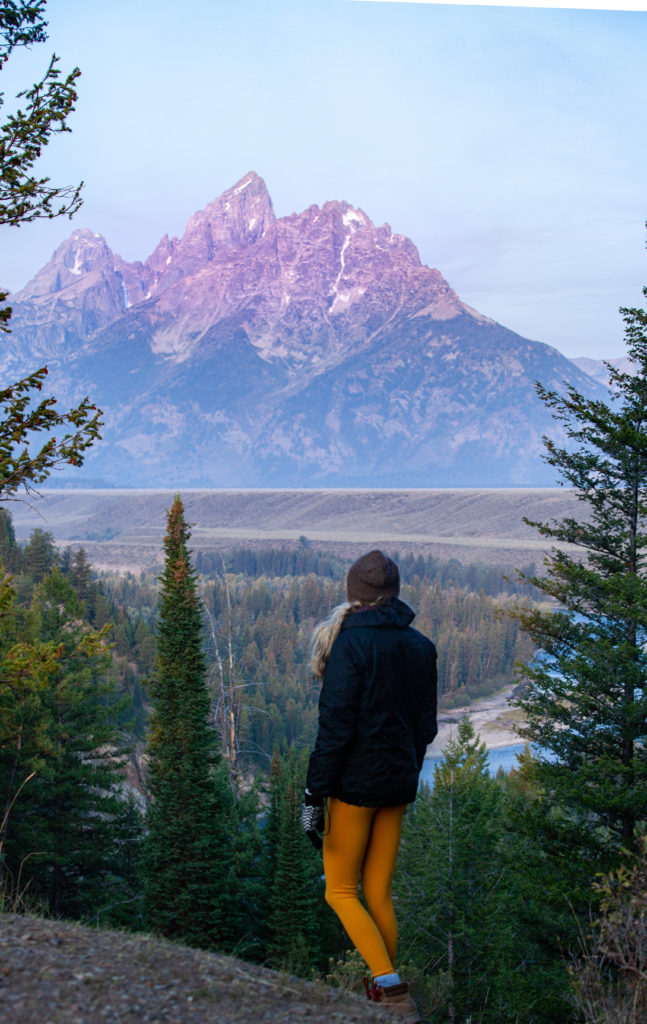 We stopped by Jenny Lake to walk around prior to our next adventure.
The rest of your day will be spent kayaking. If you have a car with the capability of putting a canoe or kayak on the top of it then I recommend renting one from Dornan's Adventure Rentals.
If you don't have that capability then you can head to Rendezvous Sports in Jackson and pick up an inflatable kayak.
Bring your kayak to String lake and the hike it over to Leigh Lake for more kayaking.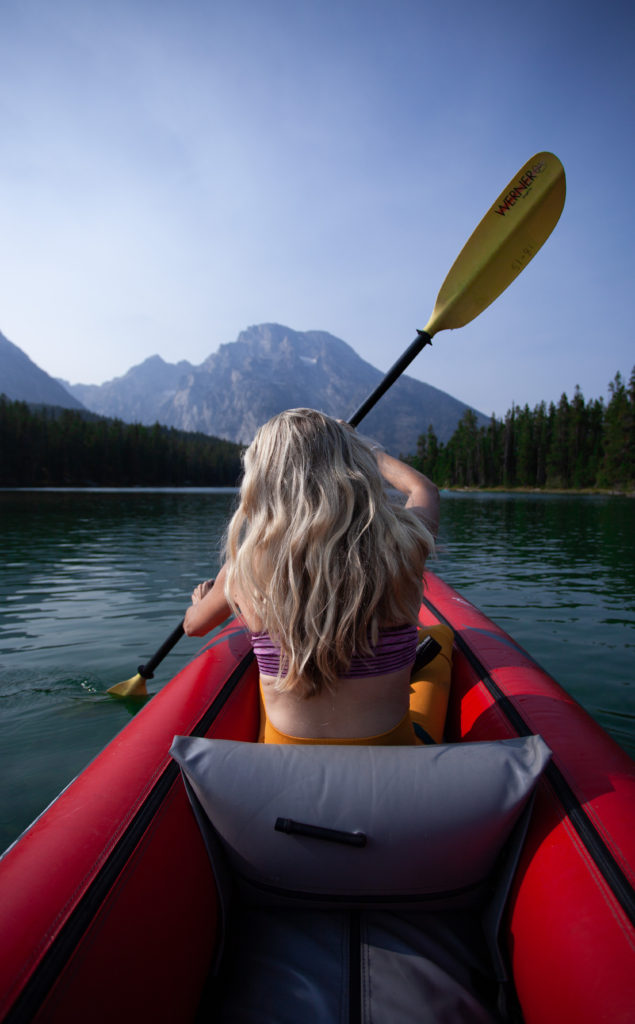 Here is a guide on paddling String Lake and Leigh Lake.
End your night with a sunset view from Signal Mountain Summit.
We headed back to the parking lot of Colter Bay Campground for the night.
DAY 5: SECOND DAY IN THE GRAND TETONS
This will be a big hiking day. If you are an avid hiker then I highly recommend hiking to Delta Lake.
But first, let's talk about your sunrise spot. This is the best sunrise spot! Make sure to stop here at some point during your trip. It is called Schwabacher Landing.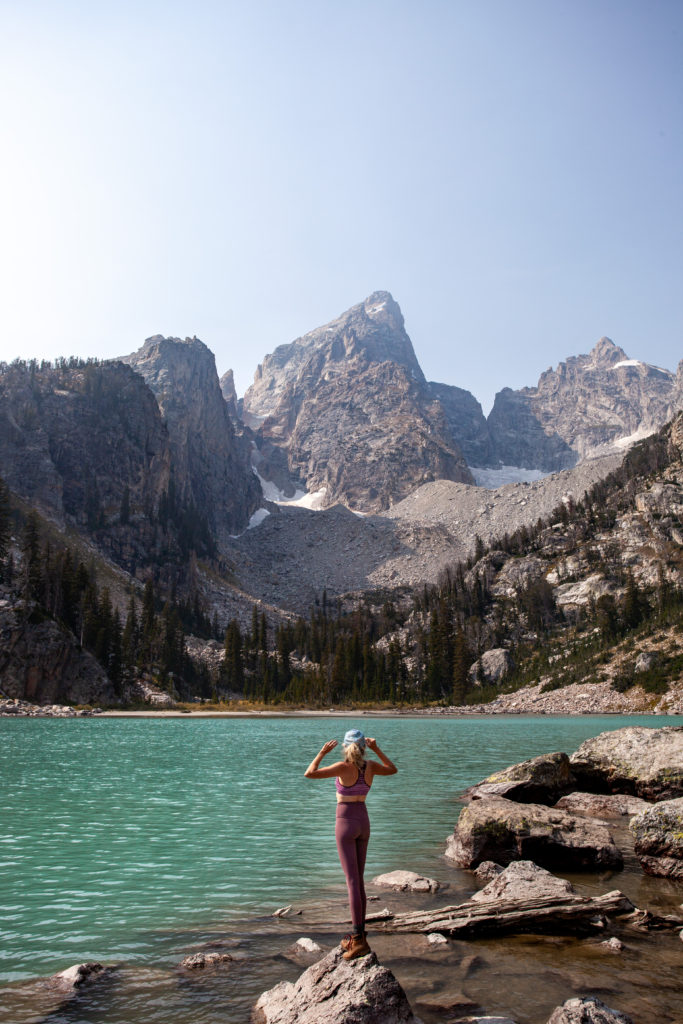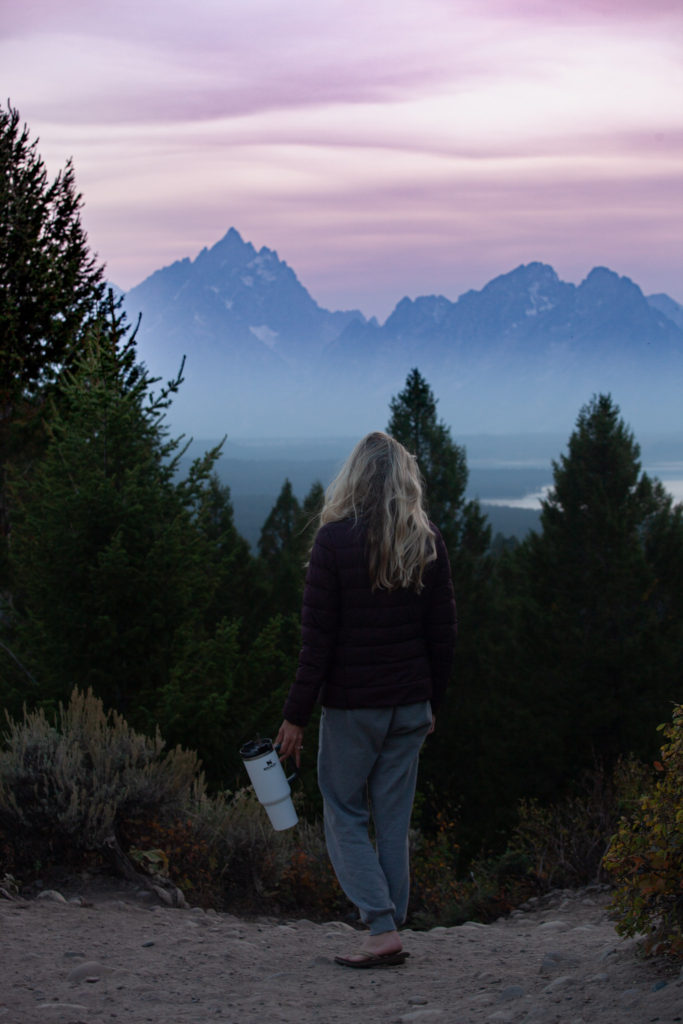 After sunrise, plan to spend your day hiking to Delta Lake. It is a strenuous hike (especially at the end) and you will want to make time to relax at the top. Or even jump in the glacier water 🙂
We ended our night by watching sunset from the Mormon Barns on Mormon Row.
For sleeping purposes, this night we slept in the parking lot of
DAY 6: A DAY IN JACKSON
For this part of your Yellowstone and Grand Tetons itinerary, you will actually be outside of the park. You will be spending the day in Jackson, Wyoming.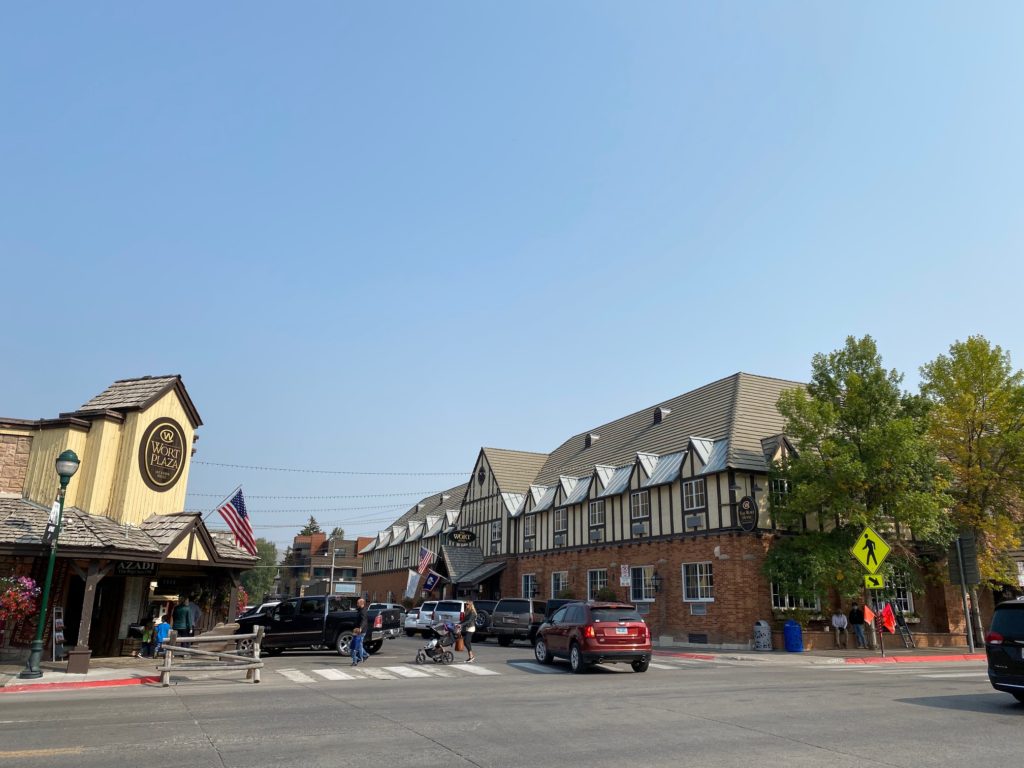 I have a complete guide to spending the day in Jackson here, but the main things you will do is:
-Bike riding
-Wine Drinking
-Pizza Eating
DAY 7: HIKE TO PHELPS LAKE
Our Yellowstone and Grand Tetons itinerary actually had a change in plans. We were going to go to Idaho at the end of our trip, but we loved these two national parks so much so that we decided to stay longer.
Sleep in this day! Treat yourself considering the rest of this itinerary had you getting up for sunrise each morning.
Hike to Phelps Lake during the day and make sure to bring your swimsuit for some cliff jumping!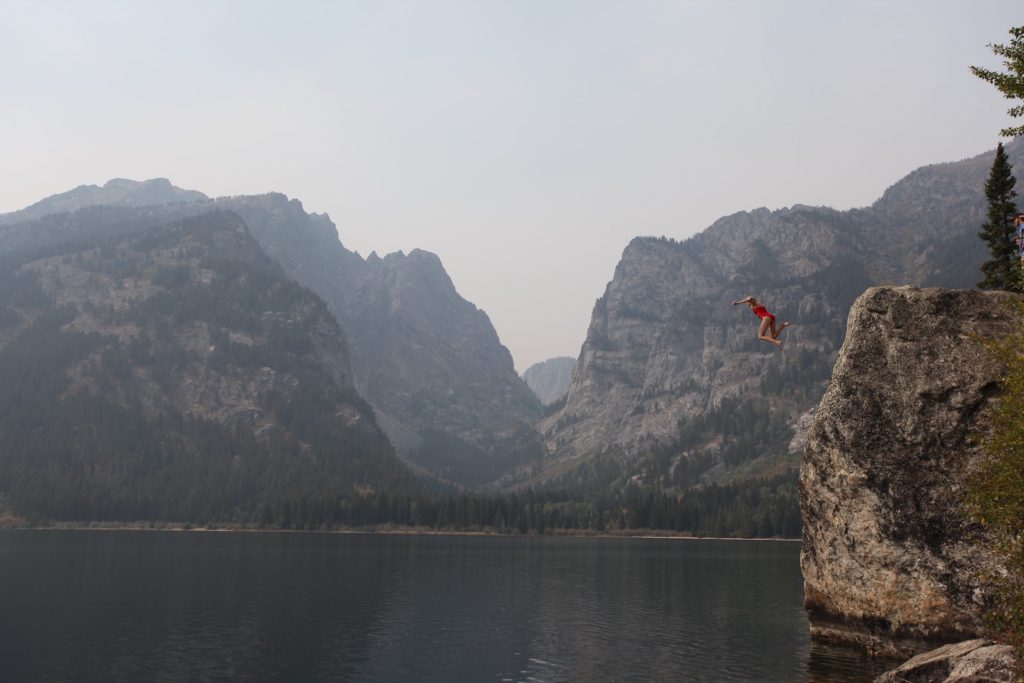 Sleep at Gros Ventre Campground tonight.
DAY 8: FREE FOR ALL DAY
This was a rainy day for us, so we chose to spend the day relaxing back in the cute town of Jackson.
We spent our time at a coffee shop working on our computers and enjoying a cup of Joe. There was a farmer's market going on, so we walked around that and then we bought souvenirs from the trip.
Oh and we got the best Vegan salads from the Healthy Being Cafe and Juicery.
Sleep at Gros Ventre Campground tonight.
DAY 9: TIME TO HEAD HOME
Another travel day. Enjoy a nice breakfast before you head home.
We always try to book a flight that will get us home in the afternoon to allow us time to prepare for the upcoming week.
Through lots of trial and error we found the afternoon return time decreases our stress.
FINAL THOUGHTS FROM YOUR OUTDOOR LOVING GIRL
I hope this complete Yellowstone and Grand Tetons Itinerary has helped you plan your next trip!
This trip was so different and so fun! If you are looking to do a National Park trip ever then renting an RV is honestly the way to go.
Like this post? Pin it for later!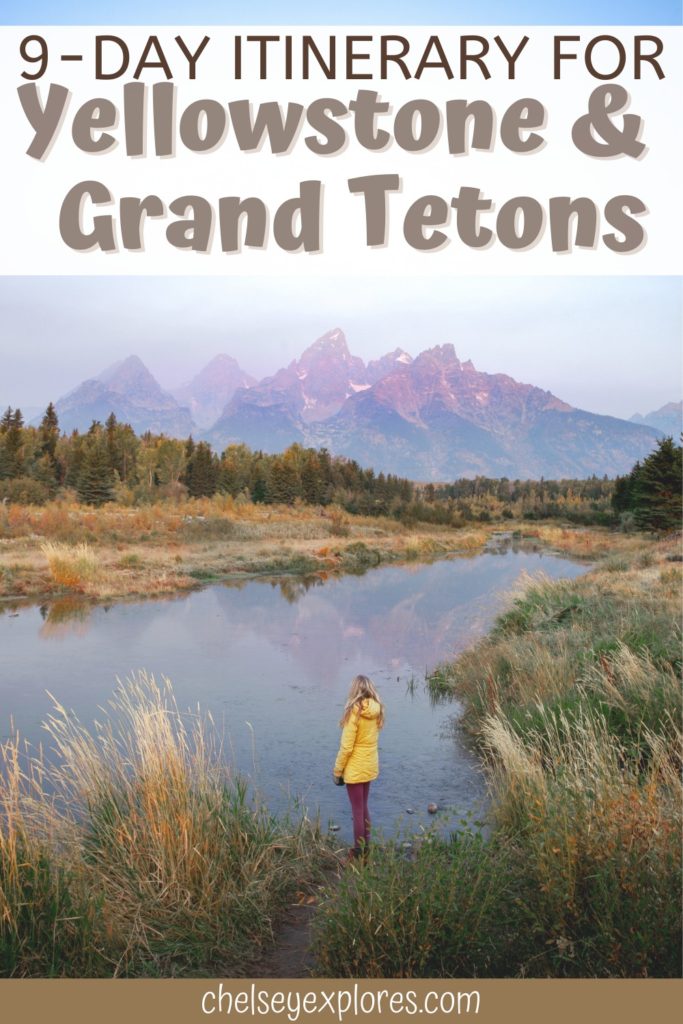 THE ONLY 9- DAY GRAND TETON AND YELLOWSTONE ITINERARY YOU WILL NEED (RV STYLE)