FIRST TIMER'S GUIDE: A COMPLETE JACKSON HOLE ITINERARY FOR FALL (DOWNLOADS, MAPS & MORE!)
To be honest with you I had never really paid attention or even thought of visiting the town of Jackson, Wyoming until we planned out our Yellowstone/Grand Teton. Nor did I ever think I would be writing a Jackson Hole itinerary for you, but here I am.
My husband was actually the one who requested spending a day in Jackson. To be honest, at first, I wasn't stoked on the idea. I wanted this trip to be about RV life and hiking.  However, I am so glad we spent a day in Jackson. 
With that being said I wanted to share our complete one day Jackson Hole itinerary with you! We packed a lot into one day!
HOW TO GET TO JACKSON, WYOMING
The easiest and most direct to getting to Jackson, Wyoming would be to fly into the Jackson Hole airport. You can rent a car from the airport or you can do an RV trip like we did!
Jackson, Wyoming is a small town located just outside the Grand Teton National Park and it is about 1.5 hours south of Yellowstone.
Interesting fact! People tend to call it Jackson Hole instead of just Jackson. The town is technically just Jackson, Wyoming. Jackson Hole is the greater valley of Teton County in Wyoming that includes the smaller ski towns Jackson, Teton Village, Wilson, the Aspens, Moran Junction, and Moose.
The town, Jackson, is located at the southern end of Jackson Hole.
The population here is around 10,000 people! How cute is that! Such a small town. Jackson is a popular tourist destination for those who visit Yellowstone and the Grand Tetons and for those who enjoy skiing.
WHERE TO EAT
A Jackson Hole itinerary is not complete without giving you recommendations on where to eat. The town of Jackson has tons of cute shops and restaurants to eat at. The recommendations below are based on where we eat during our time in Jackson, Wyoming.
COFFEE
We had coffee twice from Jackson Hole Roasters Coffee House. The first time was because we wanted to grab coffee to go and we actually spent a 2nd day in Jackson just working from our computers. We stopped by Cowboy Coffee to work, but they didn't have any seating due to COVID, so we went back to our first place.
BREAKFAST
Originally, we began to wait in line to eat at The Bunnery Bakery and Restaurant. It opened at 8am and there was already a huge line. We were starving so we opted to head somewhere else even though this place looked delicious and cute!
We headed to Cafe Genevieve for breakfast. It was in a cute little old house and there was no line! It was still delicious, has 4 stars on Yelp and to be honest you really can't go wrong with breakfast.
As we were working from Jackson Hole Roasters we noticed people eating breakfast there too and it looked delicious as well.
LUNCH
Who doesn't love a healthy lunch? Make sure to check out the Healthy Being Cafe and Juicery for delicious salads and juices.
DINNER
I recommend visiting Hand Fire Pizza. Who doesn't love a delicious pizza after a long day? Hand Fire Pizza is located in an old movie theatre. It has the cutest vibe and you get to watch them make your pizza in a huge pizza oven.
ACTIVITIES AROUND JACKSON, WYOMING
Depending on what season you visit Jackson will help determine what kind of activities you can do. This Jackson Hole Itinerary is focused on activities that you can do in and around Jackson during the Fall Season.
GO HIKING
Considering you are so close to two National Parks, I would highly recommend you do some hiking. The options are truly endless when it comes to hiking trails. If you are looking for a moderate hike that is about 4.5 miles long then check out the Phelps Lake trail.
There are two options to get to Phelps Lake. You can follow the All Trails route by starting at the Death Canyon Trailhead or you can follow this guide and start at the Rockefeller Preserve.
Looking for an extra fun adventure!? Make sure to jump off the giant rock at Phelps Lake!
Insider's Tip! Do note that RVs longer than 23 feet are not allowed up the road to Phelps Lake. We had an RV that was 23 feet exactly and they would not allow us up this road. We ended up parking at the bottom of the road and hitchhiking our way up.
They would not allow us to walk up the road either due to lots of Bear and Moose activity.
RENT A BIKE
This is a great way to see the entire area of Jackson Hole. Start your adventure in the town of Jackson and rent an E-bike from E-bikes of Jackson Hole.
Make sure to grab a bike route map from them before you head out. There are tons of biking route options. We chose to do the Grand Loop trail which is about 18 miles long (this is easy on an e-bike). We started in Jackson, went to Teton Village and got lunch and then biked back to Jackson.
If you plan to do this route, plan for about 3.5 hours. It was a gorgeous ride, especially in the Fall.
It is $40 per bike for the first 2 hours and then each additional hour is $10.
GO TO A WINERY
Visit the Jackson Hole Winery for some delicious wine and beautiful views. This winery is located just outside the main square. It is a little too far to walk here from the square, so plan to drive.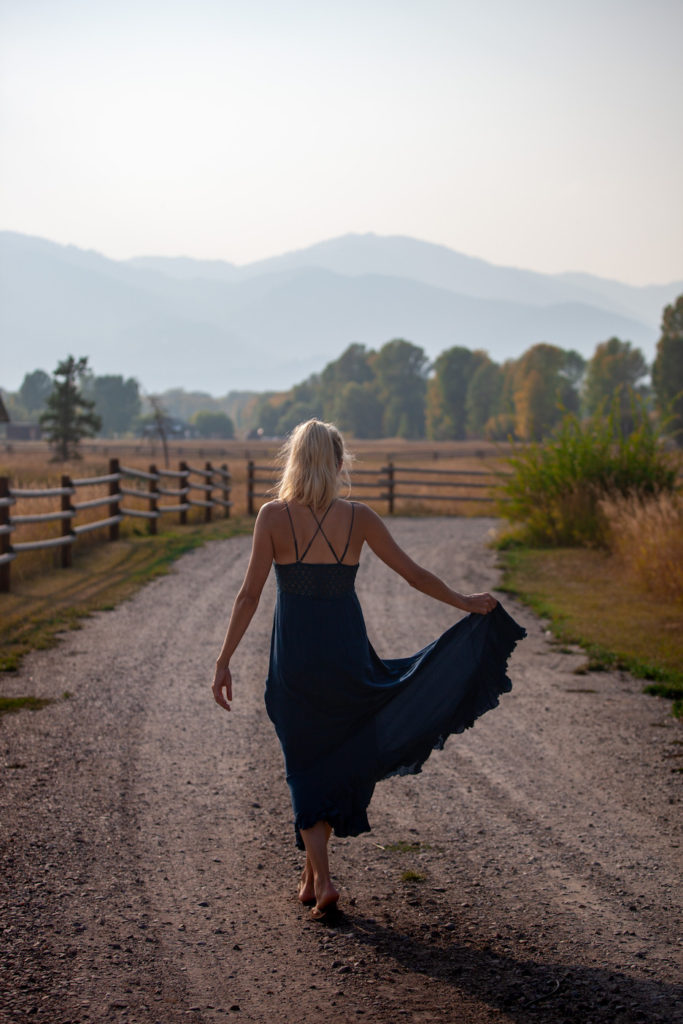 This was a last minute decision for us and we were lucky enough to snag a spot here, but if you plan to go here then I highly recommend making a reservation!
SHOP
The town of Jackson is so cute! It has an old-town, western vibe. There are tons of options for shopping. You can plan to grab any souvenir items you may want here or just check out some of the amazing art galleries.
Make sure to walk through the main town square under their famous real Elk antler arches.
If you happen to be in town on a Saturday, they have farmer's markets in the mornings during the Summer and the beginning of Fall.
WATCH A MOVIE
This one is a little insiders tip for you! Head to the Teton Gravity Research shop and walk to the back of the store. There is a small little movie theatre where they play some epic adventure videos.
The Teton Gravity Research is a film company that creates films about epic adventure sports. Watching these videos are pretty incredible and inspiring.
FINAL THOUGHTS FROM YOUR OUTDOOR LOVING GIRL
Jackson is probably one of the cutest towns I have ever visited and I highly recommend you plan to visit it! Even if you just have time to visit the main town square! Do you have a favorite small town? I would love to know in the comments!
Like this post? Pin it for later!
FIRST TIMER'S GUIDE: A COMPLETE JACKSON HOLE ITINERARY FOR FALL (DOWNLOADS, MAPS & MORE!)