AN INCREDIBLE PALM SPRINGS WEEKEND GETAWAY ITINERARY FOR THE OUTDOOR LOVER
Palm Springs is the classic spot for a girls weekend getaway or even bachelorette parties. I mean truly it is the perfect place for a ladies hangout as it is filled with Palm-lined trees and aesthetic houses to take pictures in front of.
But, there is so much more to Palm Springs than just cute instagrammable places! This article is going to give you the perfect Palm Springs weekend getaway itinerary for the adventurous outdoor lover.
Of course, I will throw in some of the instagrammable places as well because I mean come on I can't write an article about Palm Springs without at least mentioning these places.
Located just about two hours from both San Diego and Los Angeles, Palm Springs makes for the perfect weekend getaway! So, let's get to it!
Anddd if you don't like reading you can watch this quick little Youtube vlog I made with a recap of our time in Palm Springs.
HOW TO PLAN A PALM SPRINGS WEEKEND GETAWAY
Palm Springs is not one of those places that you can just show up at and find a place to stay. It takes some planning in order to stay in this beautiful desert oasis. Hotels tend to book up far in advance or they jack up the price when you are trying to book last minute.
Here are some things to know before planning your Palm Springs weekend getaway.
First, you need to figure out the season you want to visit. Considering Palm Springs is essentially located in the middle of the desert you can only imagine how hot it gets out there.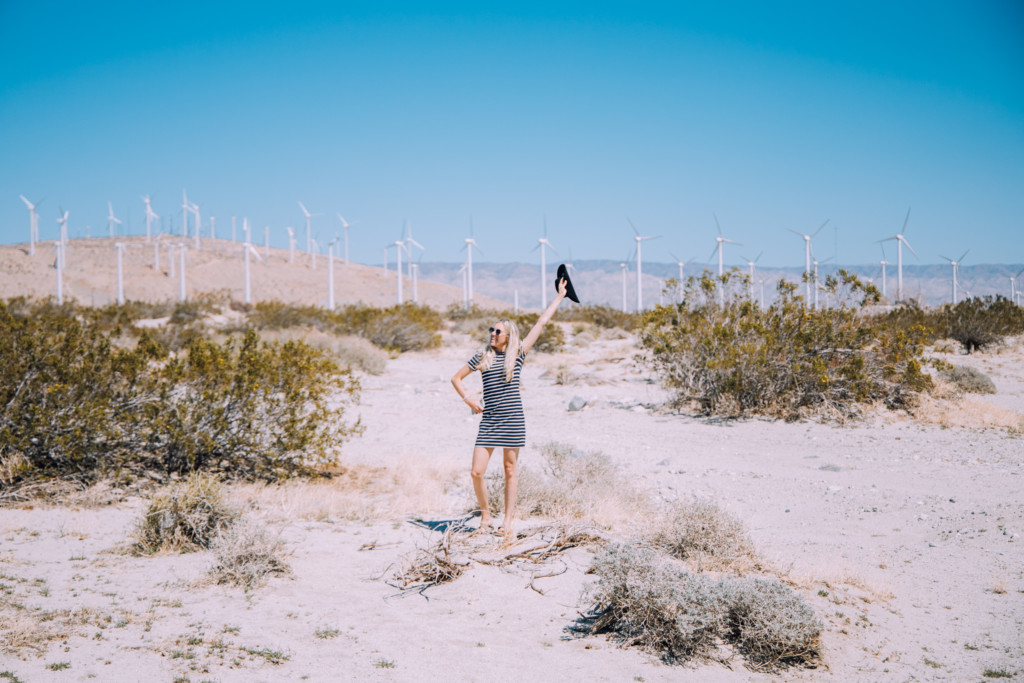 Now, if you are a sun lover like me then you won't be opposed to going in the middle of the summer; however, if you can't tolerate the heat as much then Spring is also a wonderful time to visit. And to be honest it is still hot in the Spring. We visited in March and it was 80 degrees out still.
Second, it is best to drive or rent a car when visiting Palm Springs. Some of the best outdoor adventures will require you to have a car. Plus, like I said it is hot here, so you may prefer to drive places vs biking or walking.
If you don't live within driving distance to Palm Springs then you can fly into the Palm Springs airport and rent a car from there.
WHERE TO STAY IN PALM SPRINGS
Alright, now this is where my guide to Palm Springs for the outdoor lovers begins. I am a HUGE fan of camping, so of course I wanted to find a place to camp somewhere near Palm Springs.
I found this gorgeous spot to camp located about 45 minutes outside of downtown Palm Springs. It is called Lake Cahuilla and you can essentially camp right along the lake.
This lake is situated at the base of the Santa Rosa Mountains and offers a place to camp, fish, hike, or just hang out.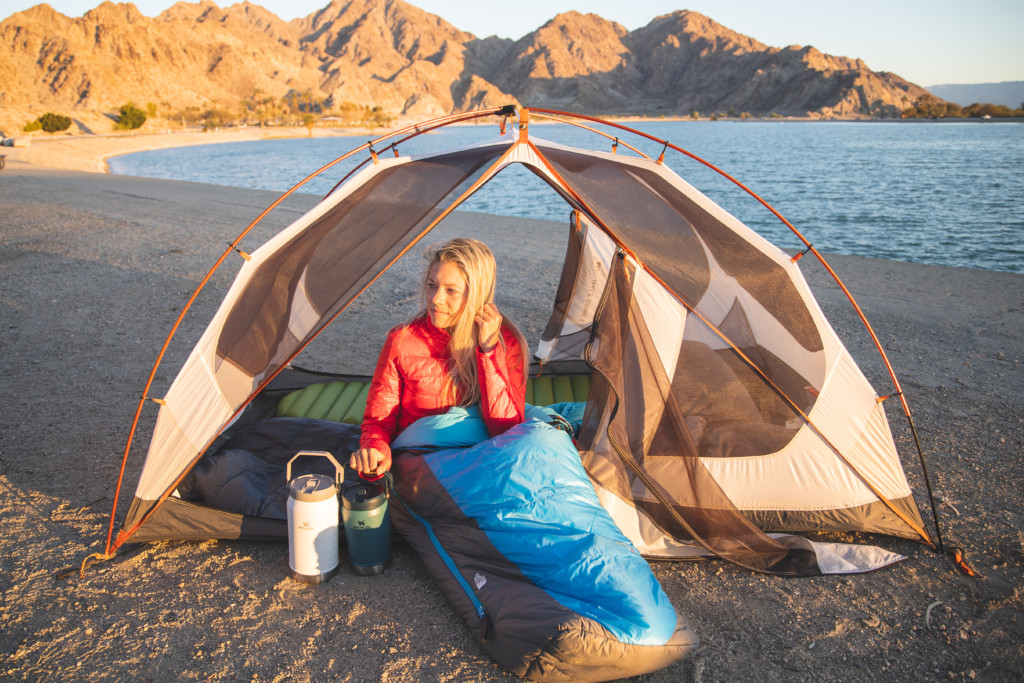 We had a primitive spot for camping. It was seriously so gorgeous. We set our tent up to have a direct view of the lake and got to star-gaze from our tent. The sun shines on the Santa Rosa Mountains beautifully in the morning, so you will definitely want to wake up for sunrise.
I highly recommend bringing some food with you for breakfast the next morning. We chose to begin your morning by cooking up some breakfast using the Stanley cookware set.
First timer to camping? Make sure not to miss my full camping gear guide.
This is a campground, so you do have to pay to camp here. They accept tent camping and RV camping with full-hookups. There are bathrooms here as well that were very clean. Campsites vary in price and start at $40/night.
Like I said I can't talk about Palm Springs without mentioning the photogenic spots. Plus, although I love the outdoors, I still love a good cute hotel with a hot shower haha.
There are an endless amount of hotel options you could choose from in Palm Springs. From boutique hotels to resort-like hotels your options are endless, but I will share my two favorite hotels below.
PALM SPRINGS HOTELS
THE SAGUARO
After camping one night at Lake Cahuilla, Dan and I chose to stay at The Saguaro for one night. I wanted all the colorful vibes! This place was poppin' with every color of the rainbow.
If you are looking for an upbeat vibe with cute aesthetics, then I highly recommend staying here. The Saguaro has the cutest robes to wear to the pool. There is a bocce ball court and hammocks to relax on, not to mention the poolside cabanas and full pool bar are awesome too!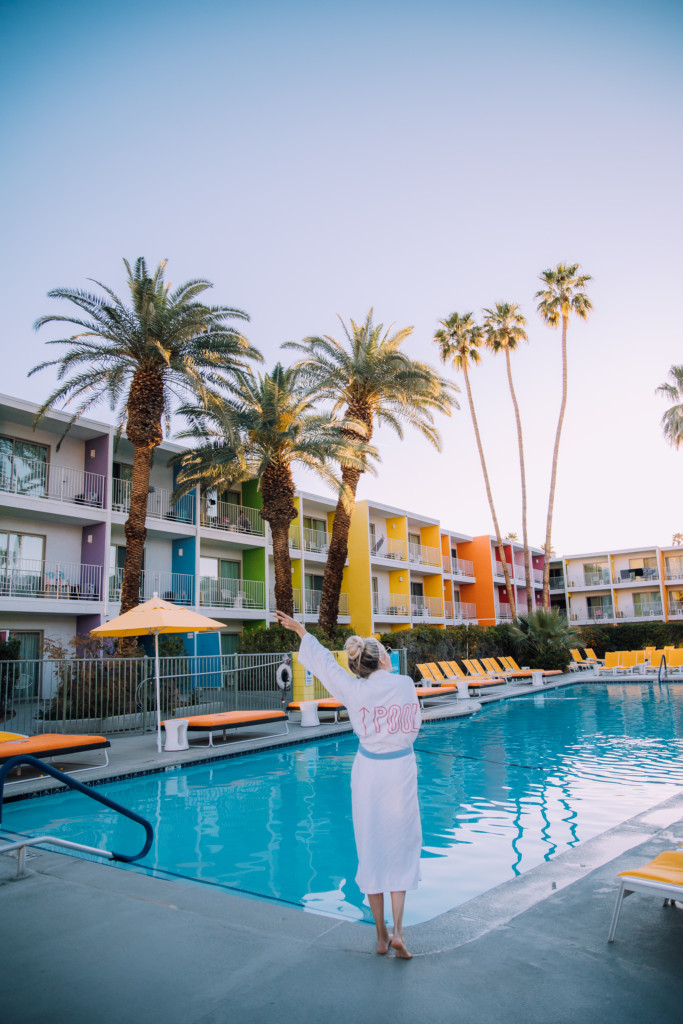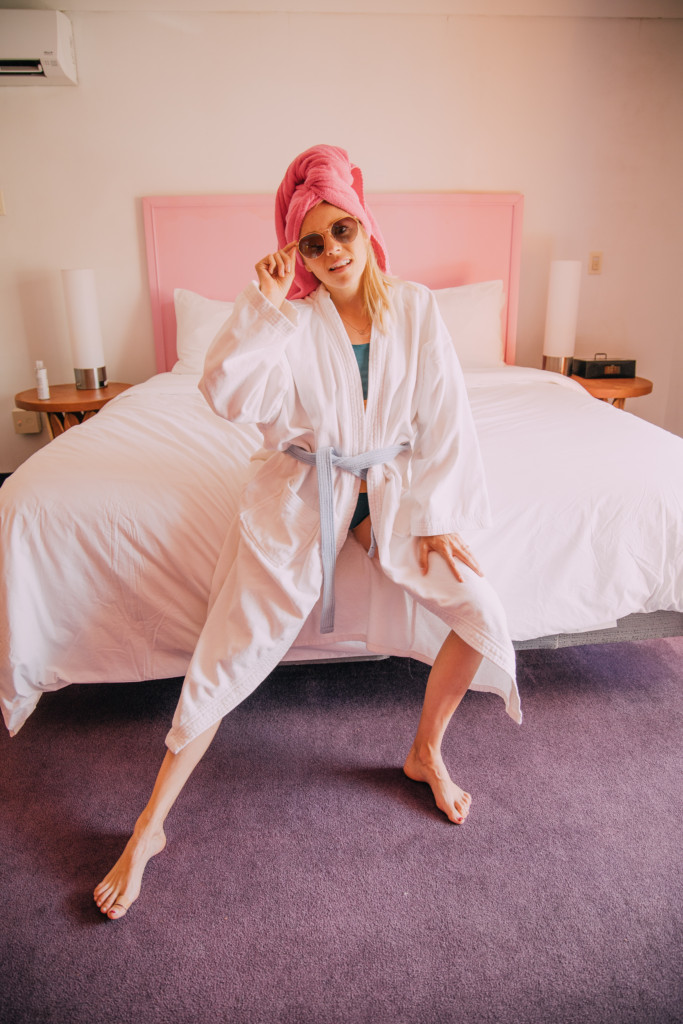 Now, staying here can get quite pricey, but I have a secret for you.
There is a great deal for this hotel on Groupon. Just search The Saguaro in the Groupon search bar and you will be provided with a discounted hotel stay along with a $25 credit to use at the on site restaurant or for drinks by the pool.
Within the Saguaro, you will also find a delicious Mexican restaurant and bikes that are free to use!
PARKER PALM SPRINGS
The Parker Palm Springs offers a Mid-Century modern vibe. This would be my next choice of hotel to stay at in Palm Springs.
They have all the amenities you can think of from croquet to tennis, a cute pool, and fun places to eat and drink at.
You could also head here just to grab a sip of coffee to enjoy the aesthetic vibes this place has to offer.
Other popular hotels include the Ace Hotel, Andreas Hotel and Spa, and Caliente Tropics.
OUTDOOR THINGS TO DO IN PALM SPRINGS
I wanted this article to focus on "other things to do in Palm Springs" rather than just sit by the pool. So, here are some ideas of what to do for an outdoor adventure lover like me.
Hike
There are a ton of hiking options in and around Palm Springs. I personally did Palm Canyon and Andreas Canyon. They are very similar hikes that lead to an oasis of water and Palm Trees.
Palm Canyon is technically a 15 mile trail, but can be shortened to however long you like.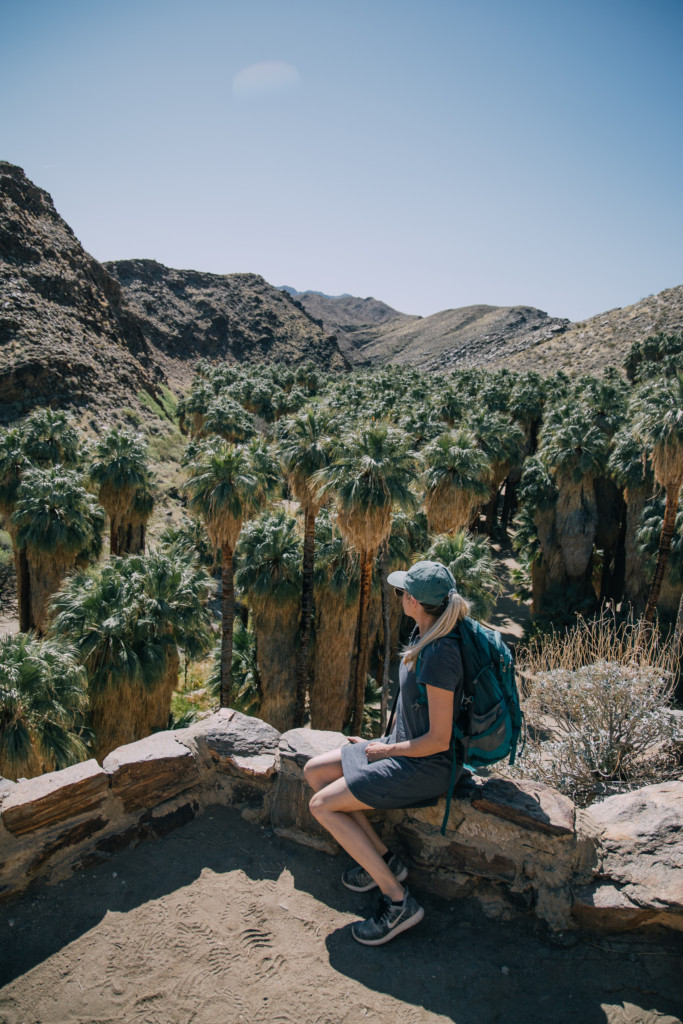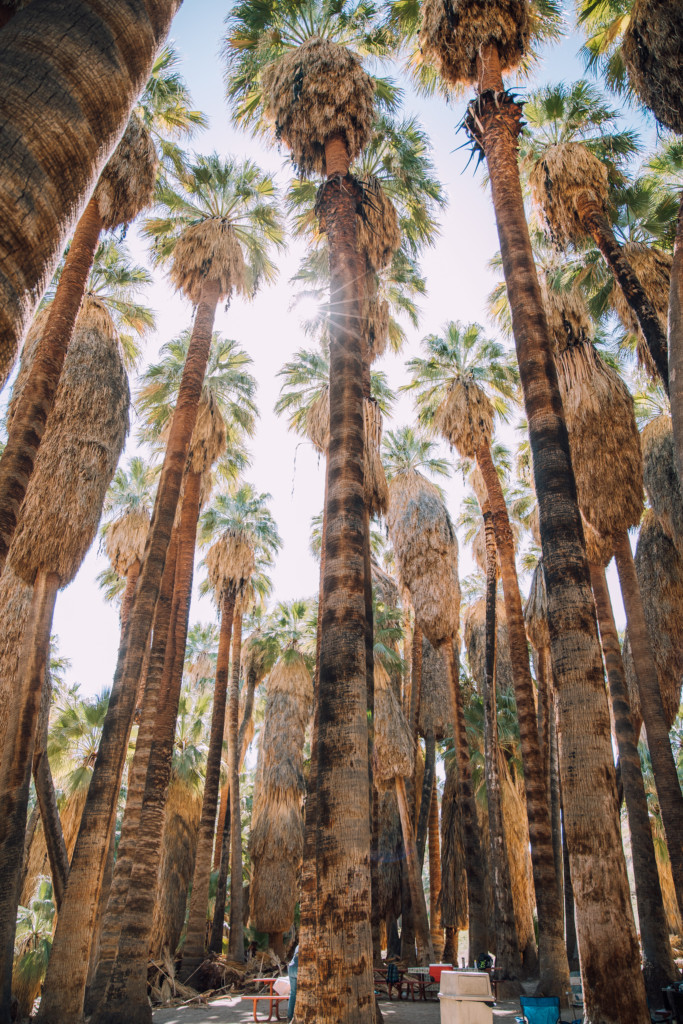 Andres Canyon is a loop trail that is 1-mile long.
Both Palm Canyon and Andreas Canyon are located within Indian Canyons. To enter these hikes you will need to pay an entrance fee of $9 per adult and $5 per child.
The Palm Springs tourism website has a ton of options for different hikes, so make sure to check it out.
Aerial Tram
Some of the best views are from the top of the mountains. One of the easiest ways to get up to the top is by taking the aerial tram. From there you can take hikes. This was on our list of things to do, but the tickets sold out. 🙁
I would go back just to experience this, so make sure you book your tickets in advance which can be found here.
Explore DesertX
DesertX happens once a year as a recurring international art exhibit in desert locations. International artists create outdoor art exhibits that respond "meaningfully to the conditions of desert locations, the environment, and indigenous communities."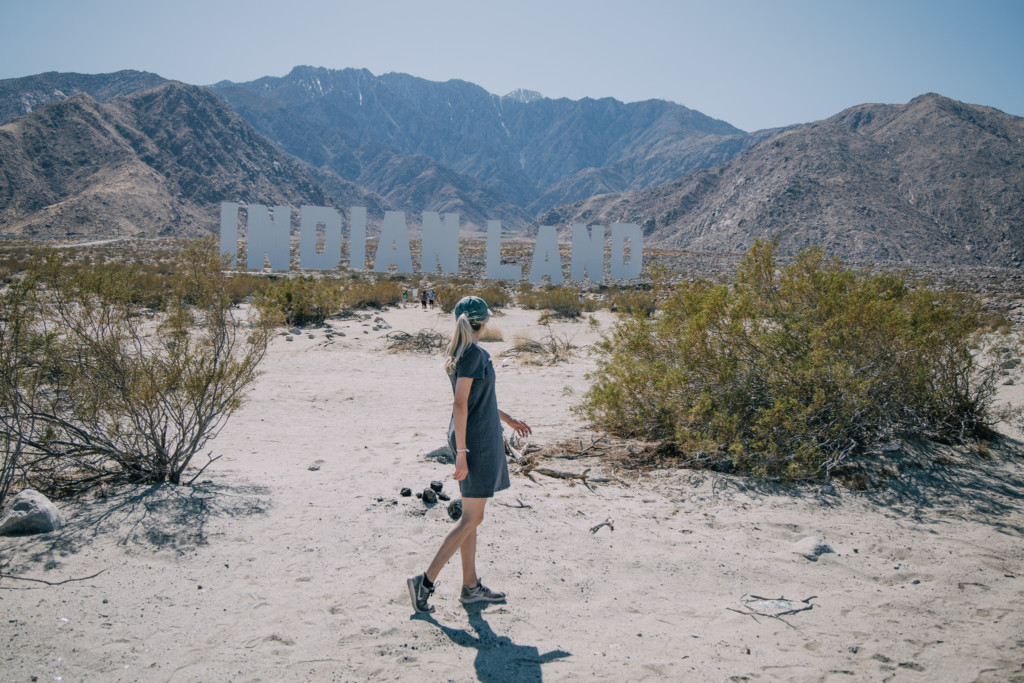 If you happen to be in Palm Springs during one of these exhibits then I highly recommend checking them out. There is usually an app that you can download with all the different locations.
Bike Ride
Biking is another great outdoor activity to add to your Palm Springs weekend getaway itinerary. You can either rent a bike or check with your hotel to see if they have bikes available to use (most do).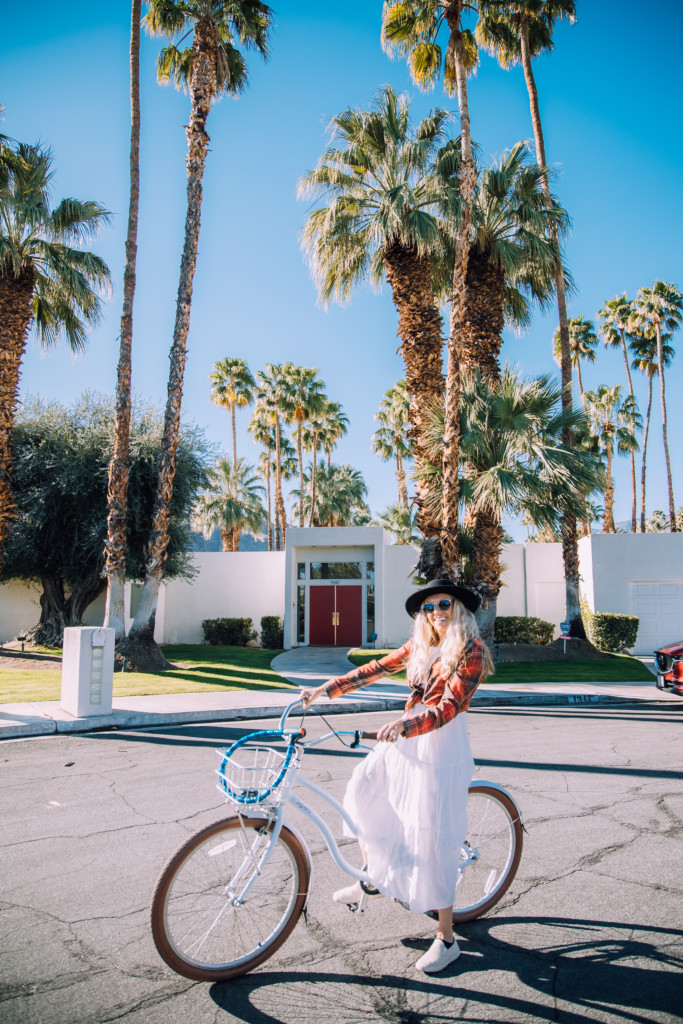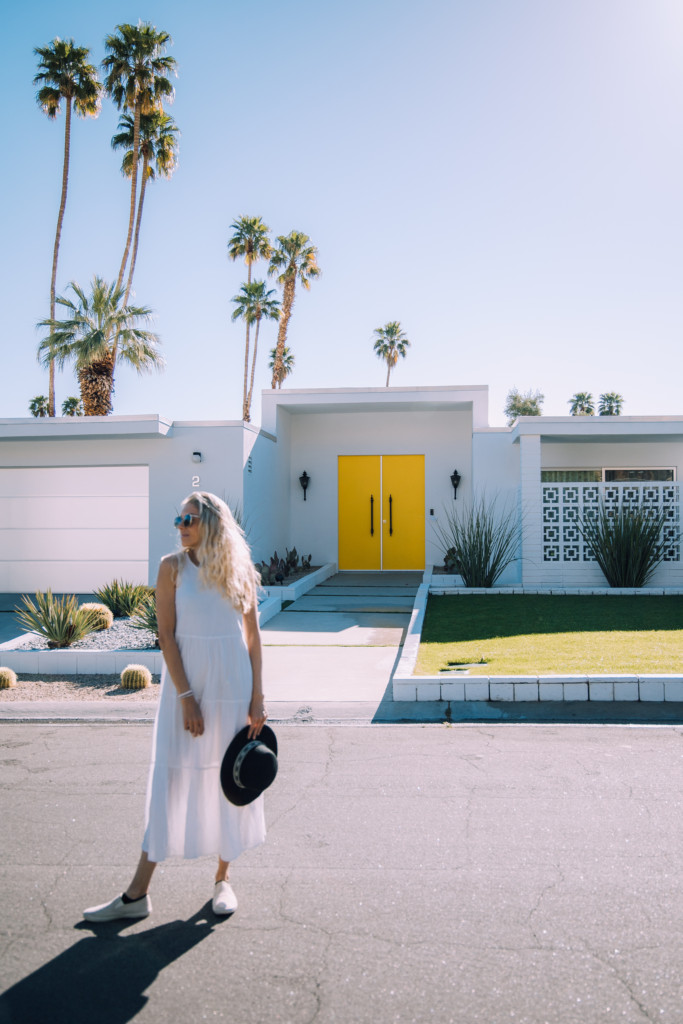 There is a fun self-guided tour of all the colorful doors that you can follow along from the Whimsy Soul.
Moorten Botanical Garden
Who doesn't love a good walk in the park? The Moorten Botanical Garden has the perfect boho vibes with a touch of mid-century modern. This is a cactus garden and is a gardener's paradise. Or an outdoor lover's paradise.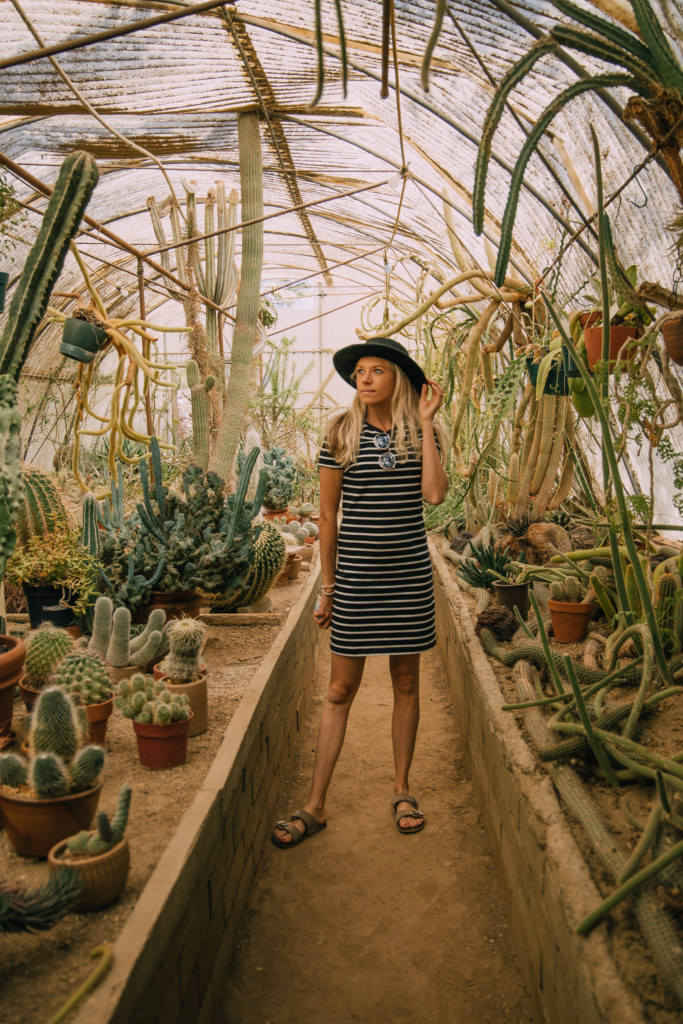 Plan to spend 30min-1 hour walking around in this garden. It costs $5/person to enter. And be careful where you walk. Don't want to fall into a cactus. 😉
Off-roading
We didn't have time for this fun adventure, but if you are a thrill-seeker then off roading could be a good choice for you. As mentioned before, Palm Springs is located in a desert, so you can only imagine how much open land there is to go off-roading.
Windmill Farm and Cabazon Dinosaurs
These places are a staple "must stop" instagrammable place. I included them in the list though because they are both outdoor activities. You don't need to alot much time for these locations, but they are fun to stop at.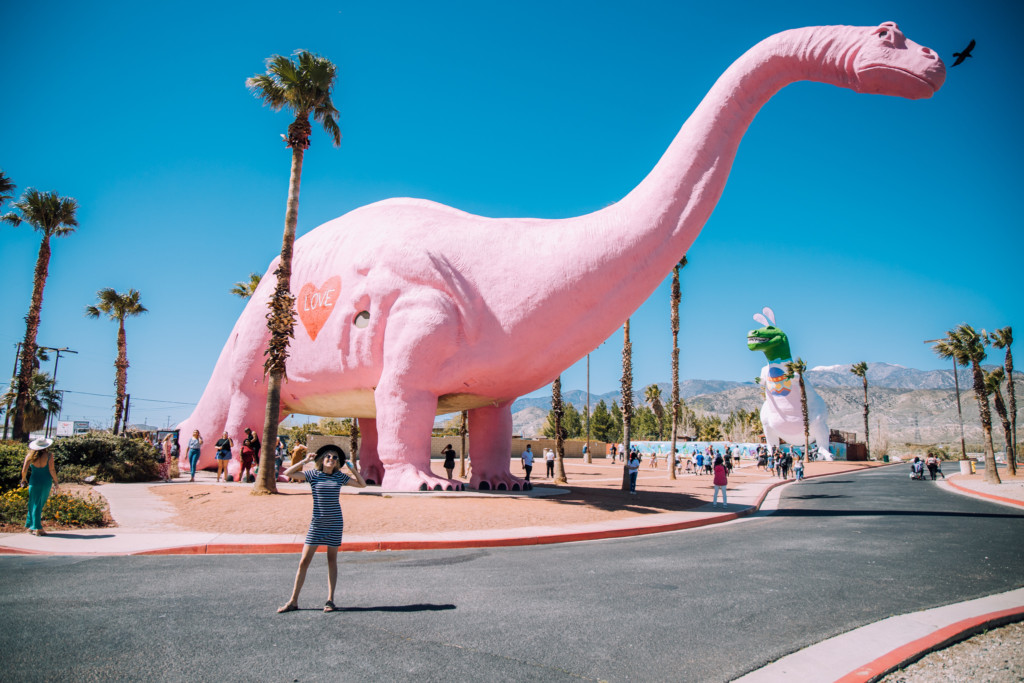 Extra Time?
If you have longer than a weekend or want to do something else outside of this itinerary then check out Joshua Tree National Park. This National Park is only about 1-hour outside of Palm Springs.
If you are coming from far away, then I recommend adding this unique National Park to your Palm Springs itinerary.
If you live within driving distance to Palm Springs then I recommend keep Joshua Tree as a separate weekend trip.
SAMPLE PALM SPRINGS WEEKEND GETAWAY ITINERARY
Here is a sample Palm Springs weekend getaway itinerary for you based on what we did and what I recommended above.
Day 1: Friday Night
Drive to Lake Cahuilla and set up camp for the night
Day 2: Saturday
601am Wake up for sunrise and have coffee and breakfast at campground
830am: Drive to Palm Canyon (45min)
930: Hike Indian Canyons $9/person short hike Andreas Canyon 1 mile loop or Palm Canyon Trail which is 2 miles and has more palm trees
(You could also hike Tahquitz Canyon Waterfall trail 1.7 miles if you have time)
1200pm: Stop by the classic Palm Springs sign or see the art during DesertX
1pm: Grab lunch at Chef Tanya's Kitchen
2pm: Afternoon pick me up coffee from Koffi and sit in the garden
3pm-630pm: Hang by the hotel pool and check in to hotel
630pm: Head downtown and eat dinner at Las Casuelas Terraza
830pm: Grab Ice cream from Ben & Jerry's
Day 3: Sunday
8am: Breakfast at hotel restaurant El Jefe
9am-11am: Bike tour around Palm Springs
Bike to the Parker Hotel and grab coffee there
12pm: Checkout of hotel
12:30: Moorten Botanical Garden
1:30 Stop at the Windmill Farm
2:30: Stop at the Cabazon Dinosaurs
3:30pm: Drive home
FINAL THOUGHTS FROM YOUR OUTDOOR LOVING GIRL
I love adventuring outdoors and if I can add camping to any trip I go on then I will. I was so excited to share this trip with you as I feel like it is not your average Palm Springs weekend getaway itinerary.
I hope you enjoyed and if you use my blog for any of these fun things in Palm Springs I would love for you to tag me in them on Instagram over @chelseyexplores.
Like this post? Pin it for later!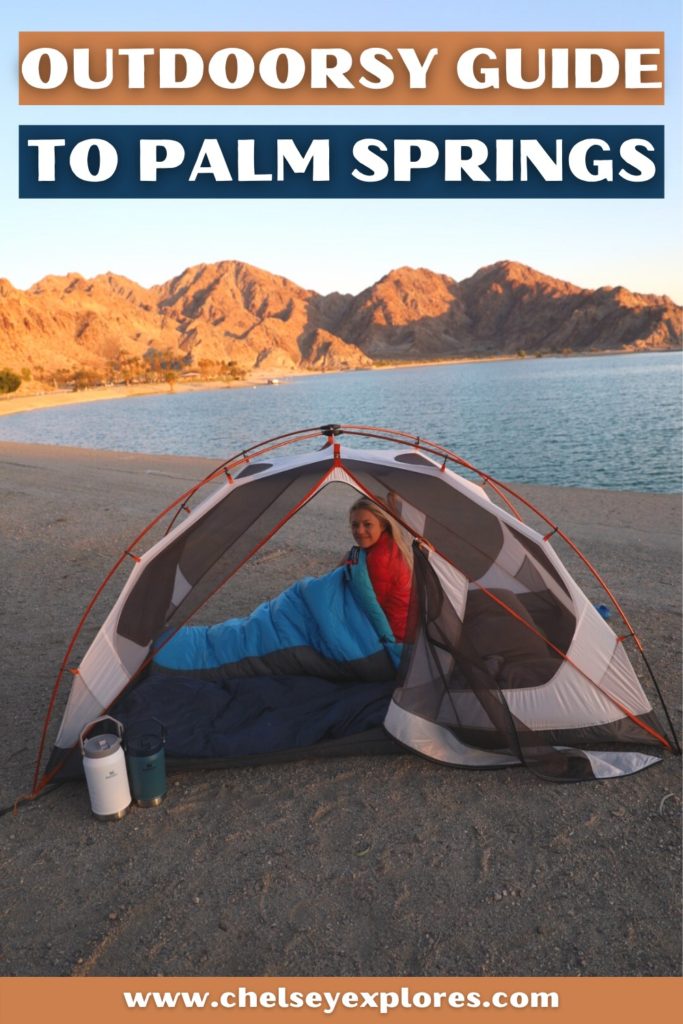 AN INCREDIBLE PALM SPRINGS WEEKEND GETAWAY ITINERARY FOR THE OUTDOOR LOVER