THE BEST THINGS TO DO IN COEUR D'ALENE, IDAHO FOR THE OUTDOOR LOVER
This blog was written in partnership with Stanley; however, all opinions remain my own.
In a little town located in the northern part of Idaho, sits this beautiful mountain lake surrounded by mountains and the smell of fresh trees.
Otherwise known as the town of Coeur d'Alene.
There are a ton of things to do in Coeur d'Alene that will keep you busy and feeling adventurous.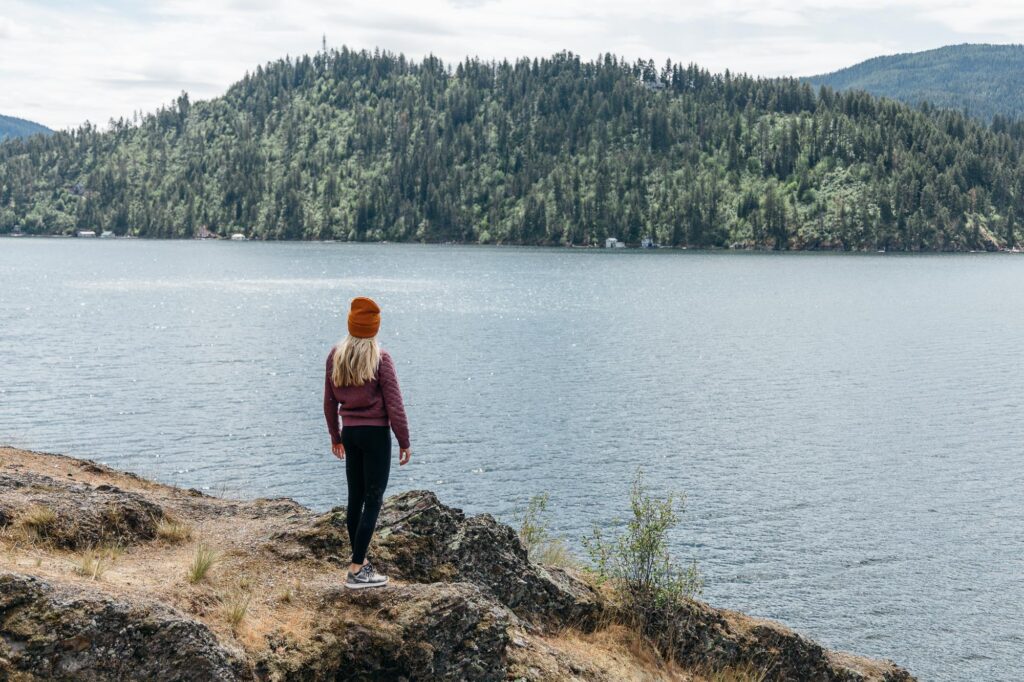 Now, I gotta be honest, when I first found out I would be visiting Coeur d'Alene I wasn't really looking forward to it. My first thought was, "why are we going to Idaho?" And my second thought was "really, Coeur D'Alene of all places?" haha
Well, I have to tell you. I was more than pleasantly surprised. I don't know why I doubted the beauty of Idaho, but gosh this place is so underrated and beautiful!
I tend to focus my blog articles on outdoor adventures for you to partake in on your vacation, so without further ado let's get to the best things to do in Coeur d'Alene. Here is your 3-day itinerary.
Oh and P.S. from here on I will refer to Coeur d'Alene as CDA because that's how the Idahonians do.
ITEMS TO PACK FOR YOUR TRIP
Considering this adventure to Coeur D'Alene, Idaho was going to be focused on outdoor adventuring I wanted to share three of my favorite outdoor gear products with you.
First off, I can't go anywhere without bringing a water bottle. It is important to stay hydrated while adventuring in the outdoors. My go-to water bottle for over a year now has been the Stanley IceFlow. I LOVE how there is a straw as it makes it easy to sip on my water throughout the day. I have this one in multiple colors.
The Timberland Ellendale's have been my go-to boots for over a year now as well. I love the ankle support and how sturdy yet lightweight these boots feel. Plus they are cute 🙂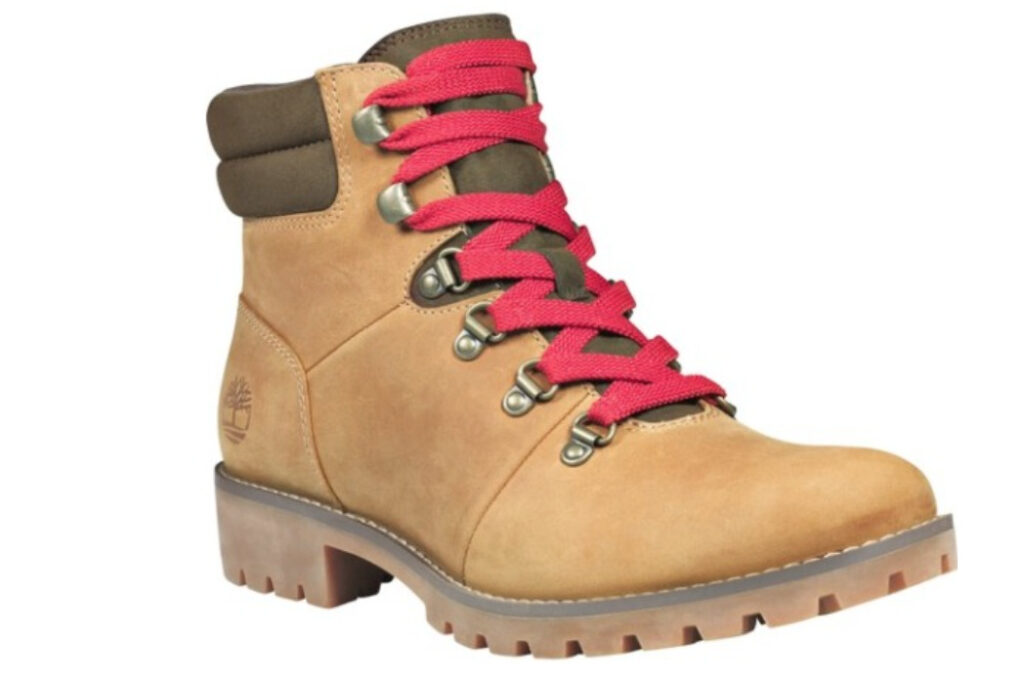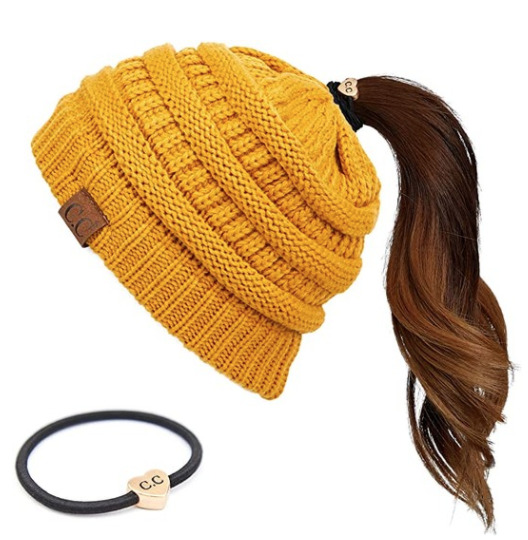 This is my all-time favorite beanie. I have it in four different colors. I love this brand. I own two that allow you to put your ponytail through it and the other two I own have pom-poms on the top of them.
WHERE TO STAY IN COEUR D'ALENE
I actually took a poll on my Instagram recently about what your preferred accommodation is when traveling. Airbnb stays won over hotels and campervans.
I would have to say I agree with this! I find Airbnb to be unique and more budget-friendly, so with that being said, we chose to go with an Airbnb for this vacation. Our place was in the town of Post Falls, which is just about 30 minutes from the city of CDA.
If you are looking for hotel stays a bit closer to the lake, then I recommend the following based on my research:
Coeur d'Alene Resort: Stunning lake views and home to the world's only floating golf green. This resort will give you access to all the fun outdoor things to do in CDA.
Roosevelt Inn: A bed and breakfast built from an old schoolhouse run by locals. Only an 8-minute walk to the water!
OUTDOORSY THINGS TO DO IN COEUR D' ALENE
If you like bodies of freshwater then this city is for you! Not only is CDA surrounded by its own lake, which by the way would take 2.5hrs to drive completely around, but it is also surrounded by the Spokane River and multiple other lakes!
Ok, so there are a ton of things to do in Coeur d'Alene that you could read about online, but I like to give you the exact itinerary and things that I did!
To me, that feels more personal. So, here are some of the outdoor adventures we did!
1. GO FOR A HIKE
My all-time favorite outdoor activity! There are tons of hiking options around CDA, but we chose to do the following two hikes: Tubbs Hill and Mineral Ridge.
Tubbs Hill: This hike is more like a leisurely walk located near the downtown area of CDA. Along this trail, you will find beautiful lookouts of the lakeshore. Technically, Tubbs hill is a 2-mile loop trail rated as easy.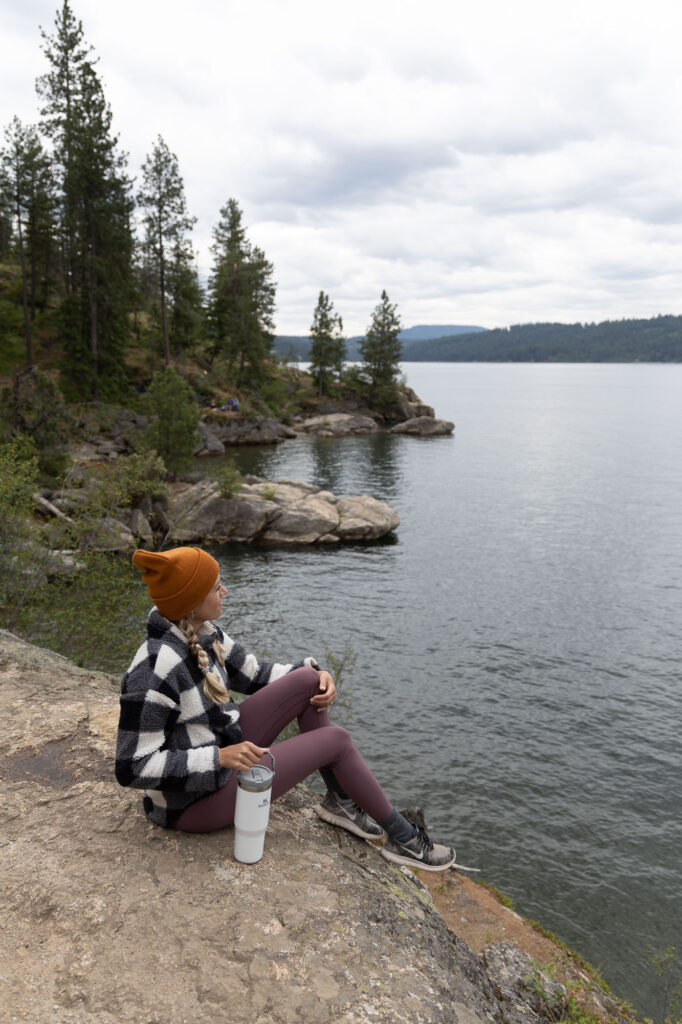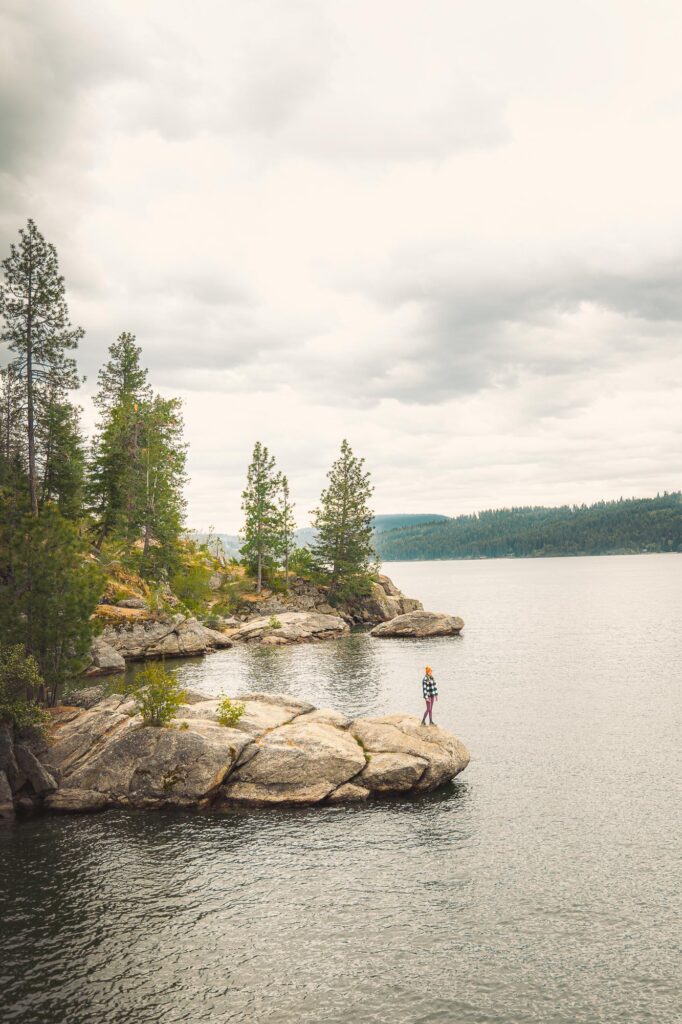 Mineral Ridge: A highly recommended trail that is well worth the views. Located about 20 minutes from downtown CDA. This is a 3.3 mile loop rated as moderate that can be made longer as there are tons of offshoot trails around here. I highly recommend visiting this spot at sunset.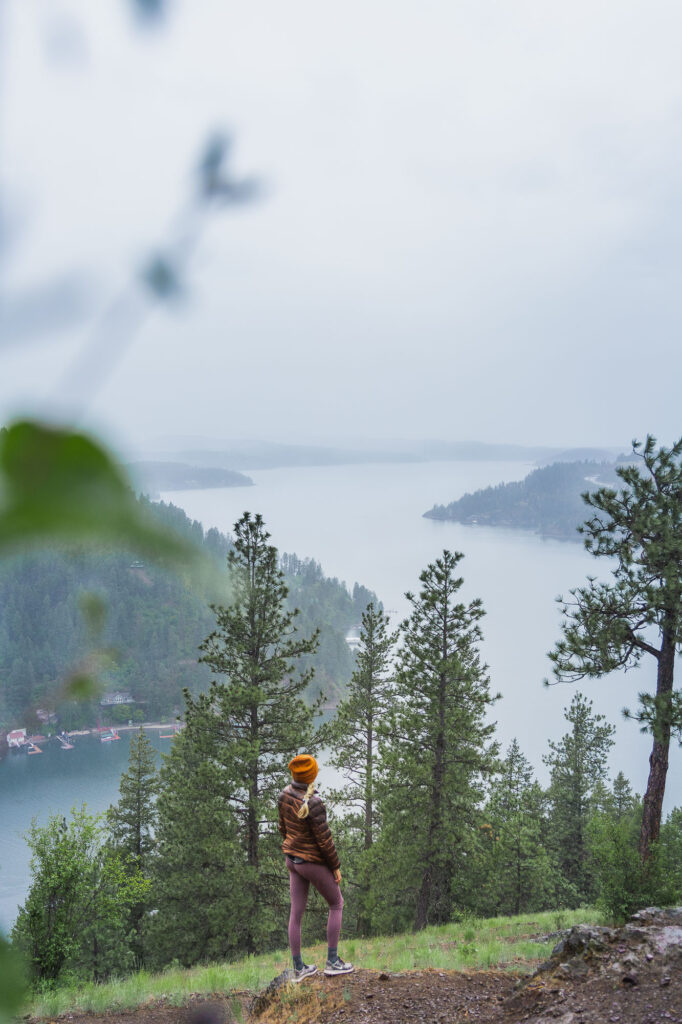 2. WHITE WATER RAFTER
Again, I took a poll on my Instagram, and I found that a ton of people have not gone white water rafting which surprised me!. This is such a fun adventure. It was my third time going. The other two times I went were in Bali and as a young kid in Northern California.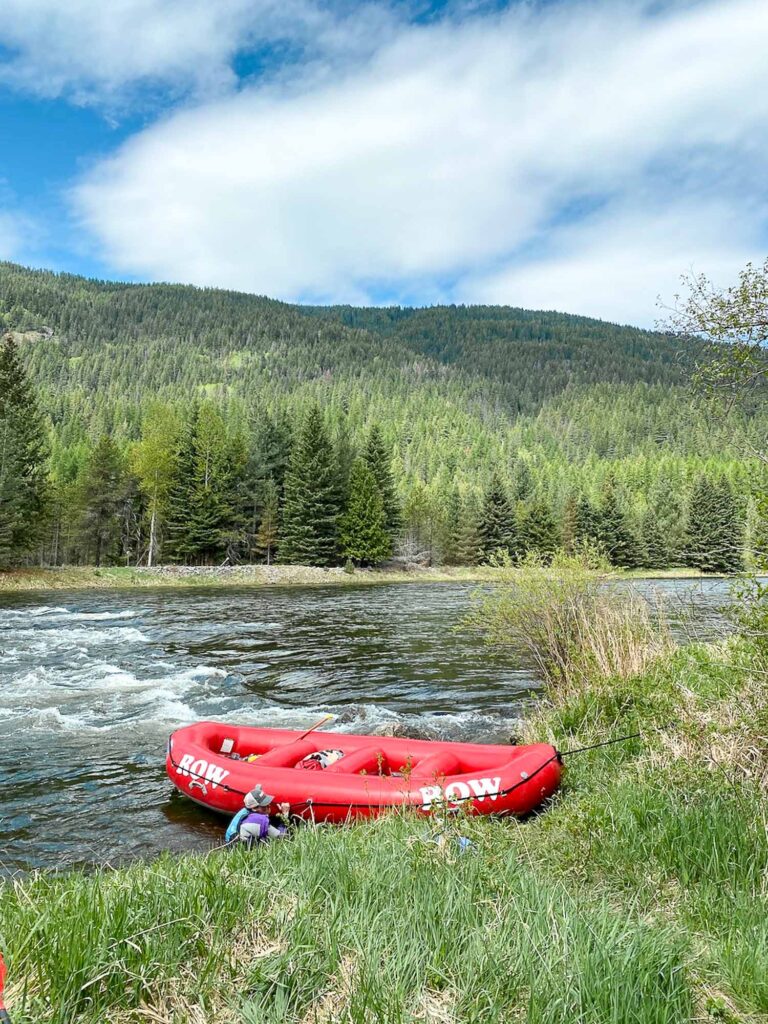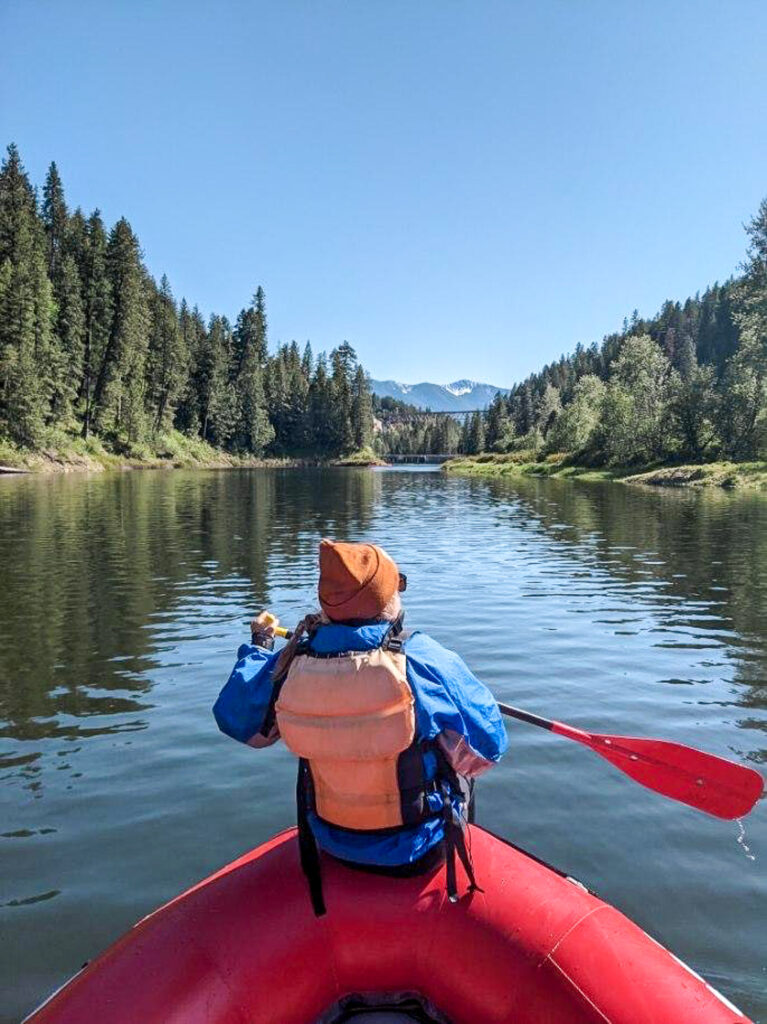 We signed up with ROW Adventures for a full-day adventure down the Moyie River. You can read all about our time on the river and how to prepare for a white water rafting adventure. 
It was $125/person and absolutely worth it!
3. TAKE A BIKE RIDE
Another fun outdoor thing to do in Coeur d'Alene is to Bike the North Idaho Centennial Trail. We rented through CDA Bike Co. and it was $35/person for 4 hours. I was a bit nervous as I am not much of a biker, nor do I really like biking, but this was a blast!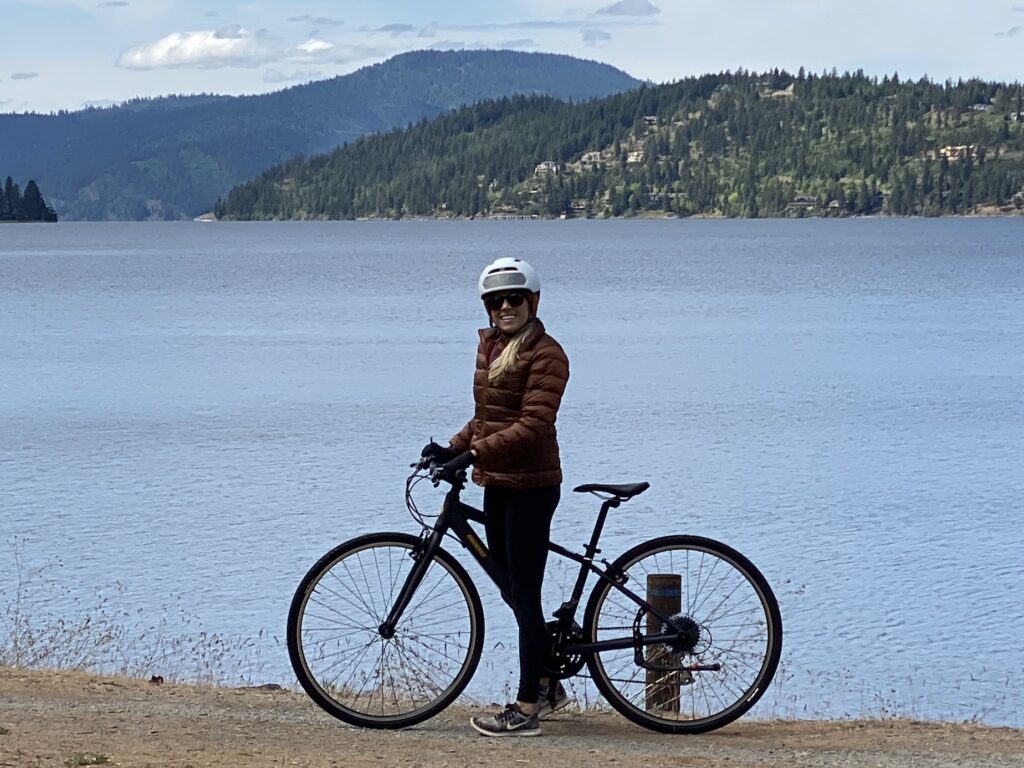 We started in the downtown area and had our endpoint be Higgins Point which is 14 miles roundtrip and a fairly easy ride. One hill on the way there and one on the way back.
There are quite a few stops you can make along the way too. Small little hikes to viewpoints and even little workout areas along the way.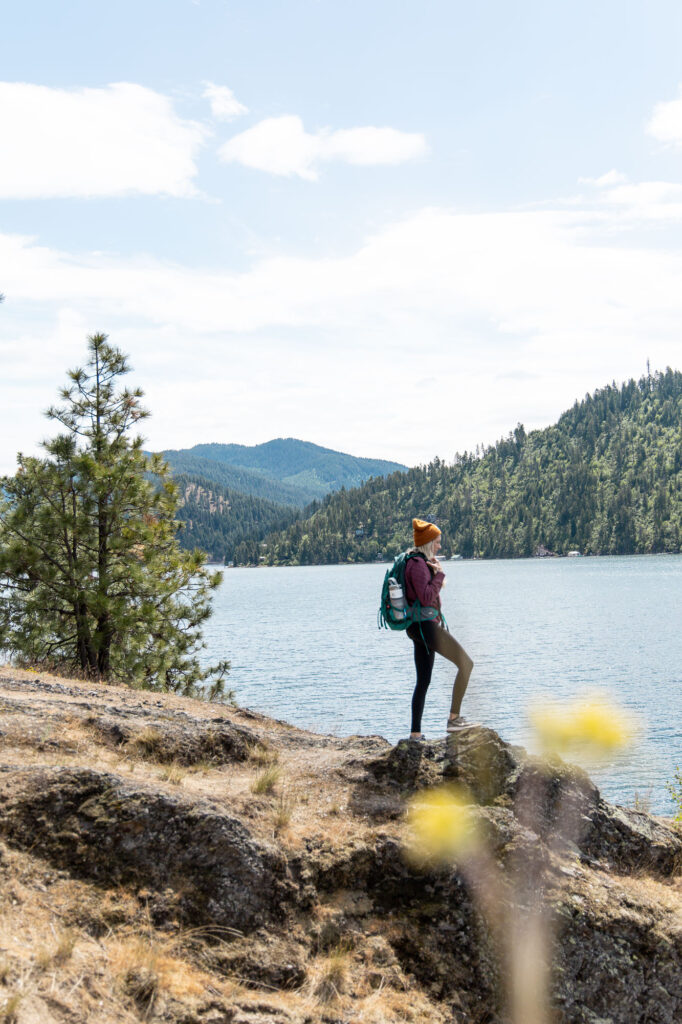 I recommend stopping at the Daft Badger Brewery at the end of your bike ride for a refreshing drink
4. KAYAK/PADDLEBOARD ON THE LAKE
Okay, we didn't actually do this activity, but I blame that on the rain. It was on my itinerary breakdown when I had planned out this trip, but unfortunate weather circumstances kept us from partaking in kayaking or paddling on the lake.
You can also do any other lake activity you could think of like: boating, jet skiing, parasailing, and more! Most of these activities can be rented right along the waterfront.
5. VISIT POST FALLS
Such an underrated spot to stop at. These incredible falls will blow your mind. I highly recommend walking down past the falls and viewing the river. The views are stunning and reminded me of what Iceland may look like.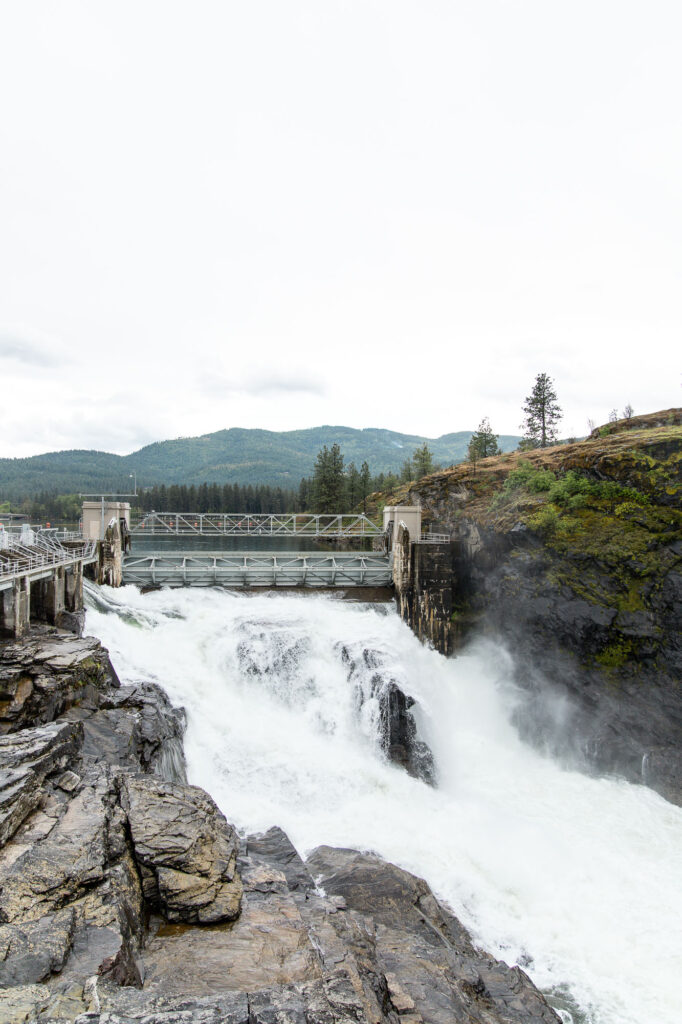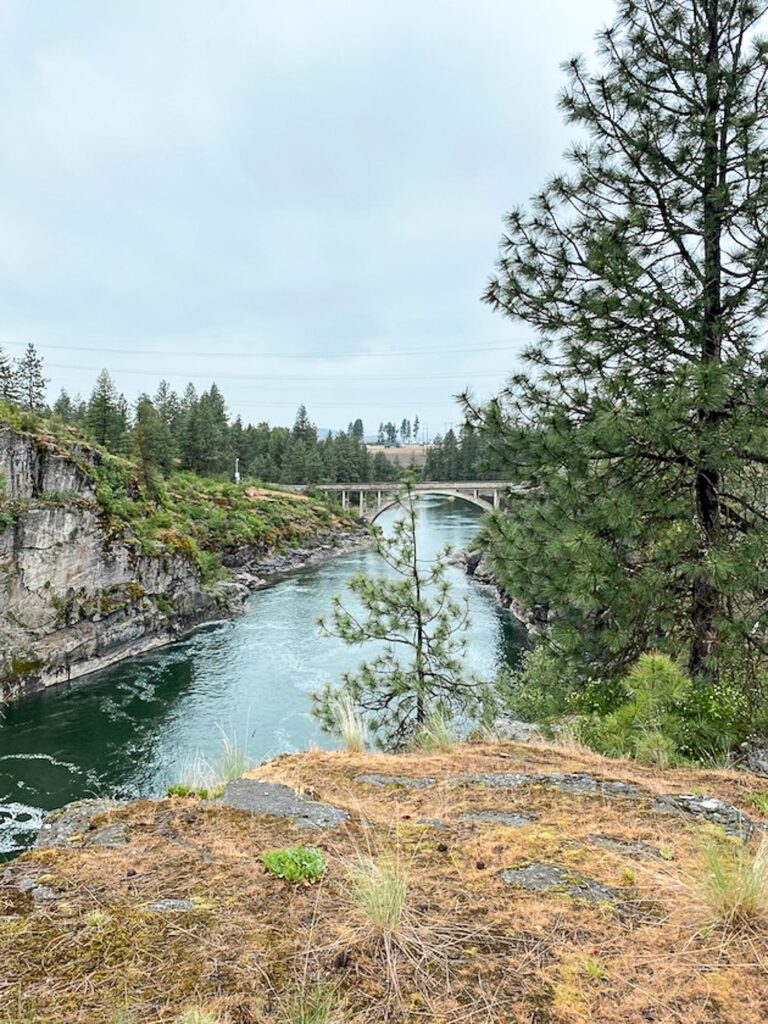 WHERE TO EAT IN COEUR D'ALENE
We did not do much eating out on our trip due to going with friends and having an Airbnb with a kitchen that we could cook in.
However, here are the places that we did eat at and I would highly recommend them all!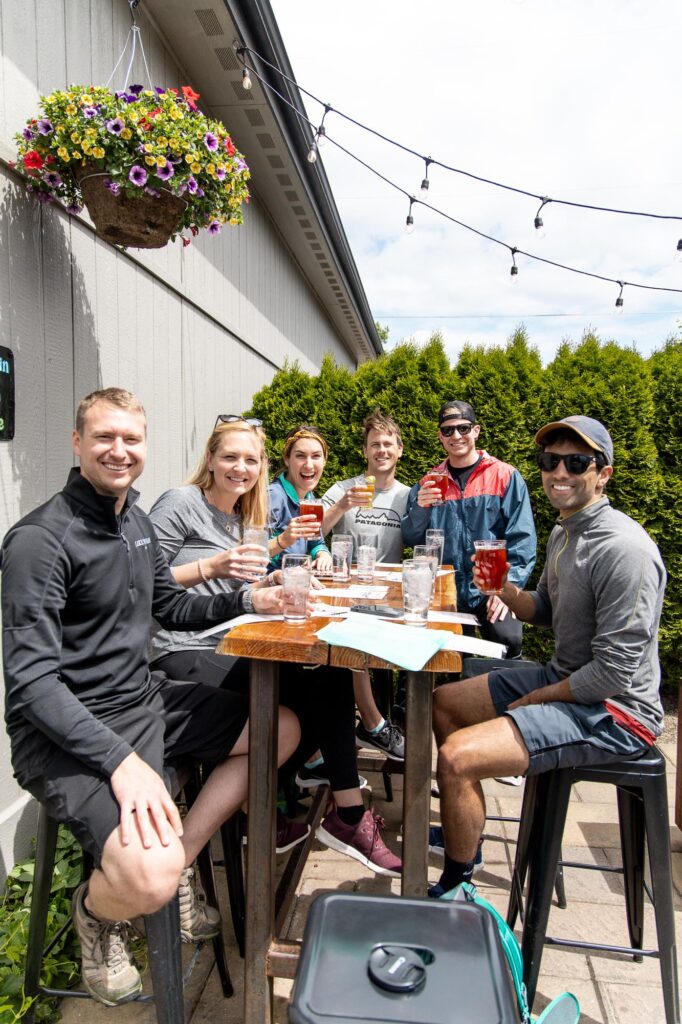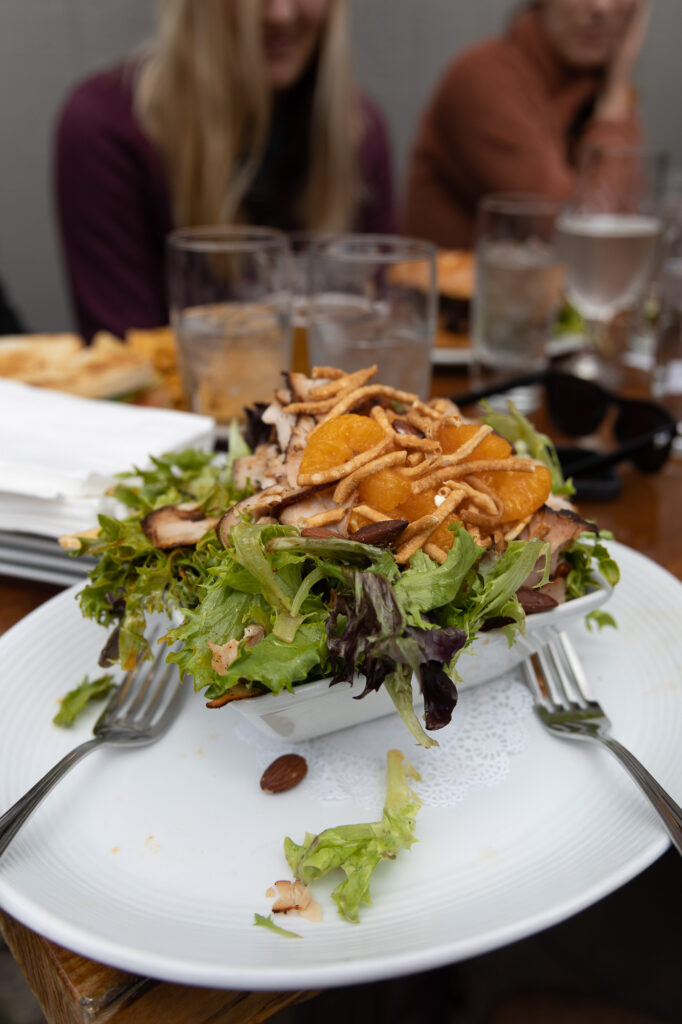 Daft Badger Brewery: One of the best things to do in Coeur d'Alene is to stop at one of the many breweries. I recommend Daft Badger.
Food: Their nacho plate was insane and the best nachos we have ever had. I also got their Chinese Salad which was amazing too!
Mickduff's Brewing Company: Located in Sandpoint, Idaho and the perfect place to stop after a day of white water rafting. This unique Brewery was built in what was once an old post office and an old library.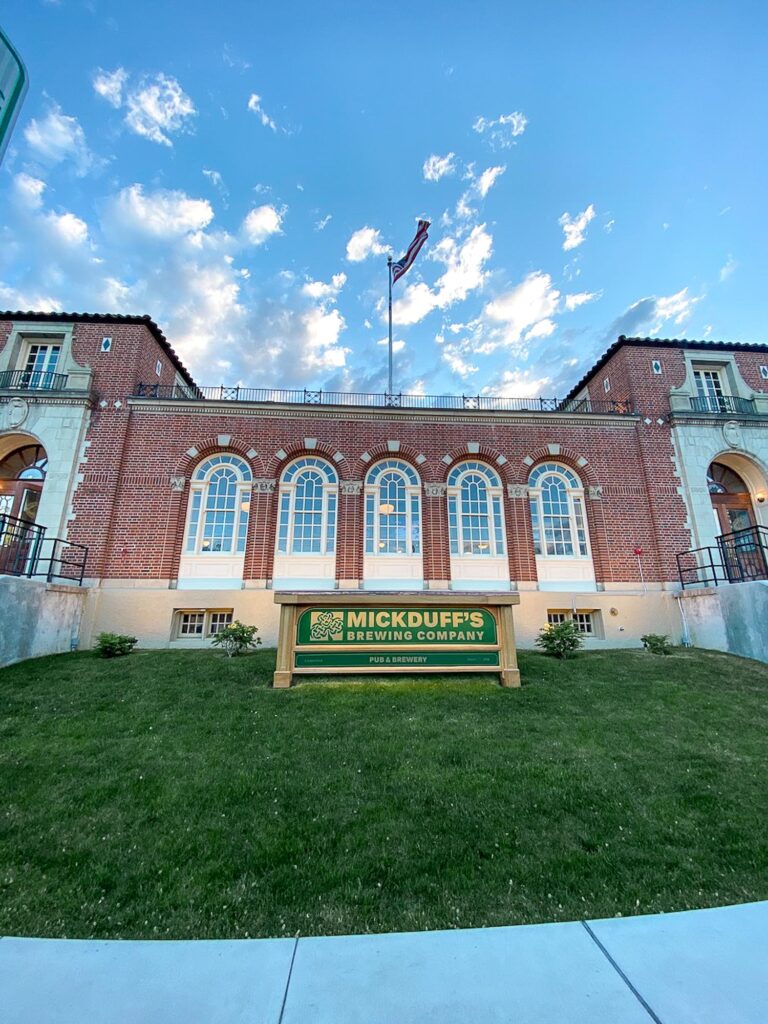 Drink: Their beer list is quite extensive and everyone tried something different and loved what they tried. I got the daily hard seltzer
Food: I got the chicken ciabatta sandwich and a Thai Chicken Salad. Both were absolutely delicious
Vault Coffee: Always on the hunt for a good coffee shop and Vault Coffee came through! They even offer taster flights of some of their coffees.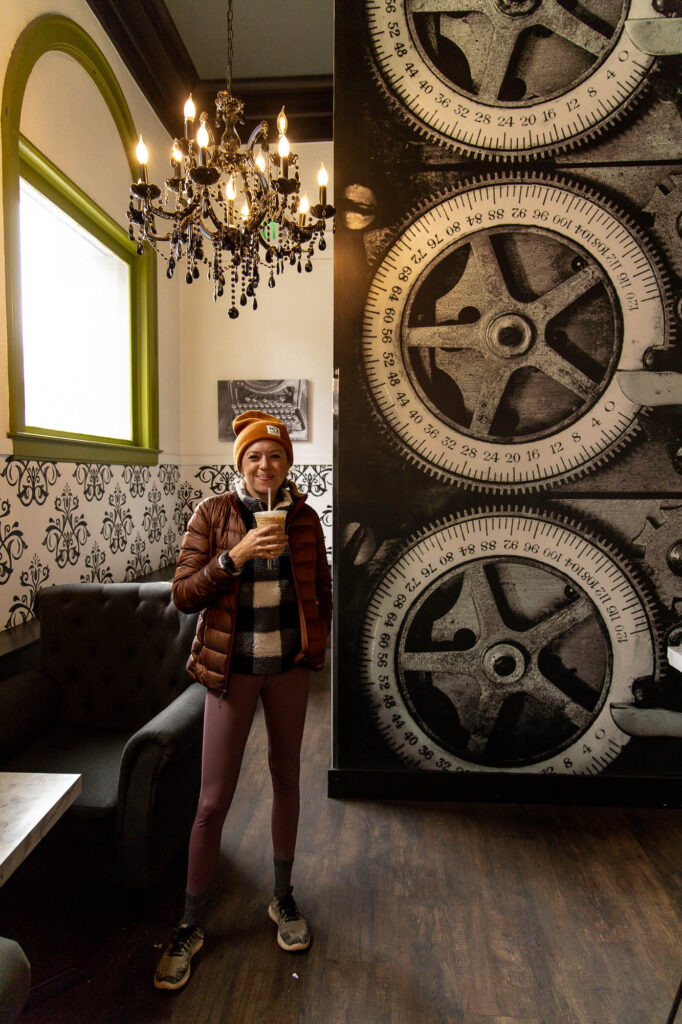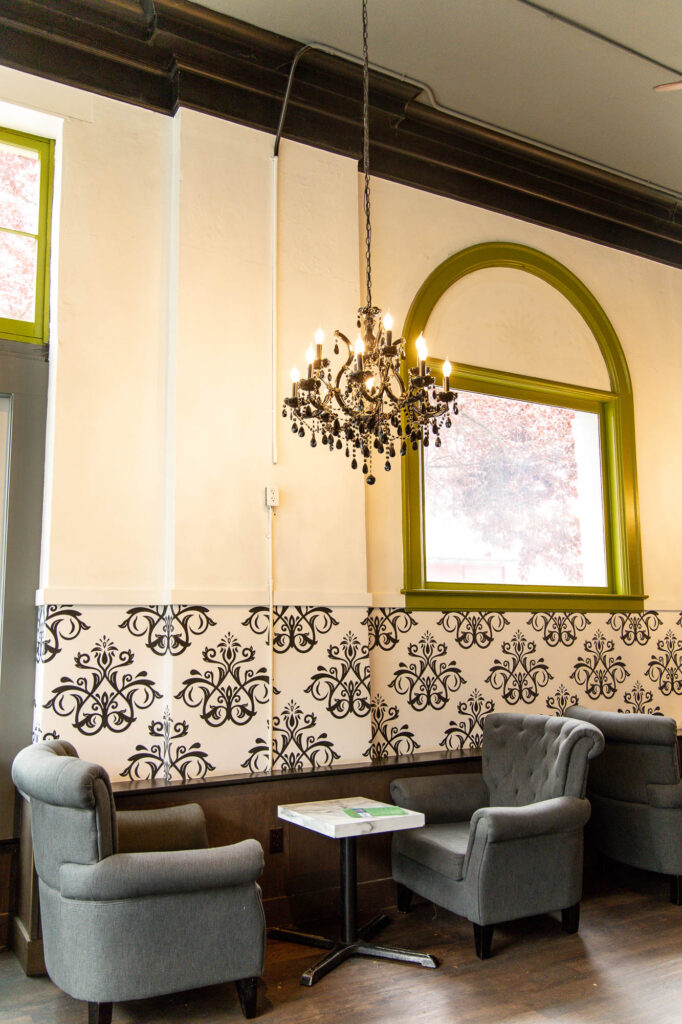 SAMPLE ITINERARY
Day 1
Breakfast at Airbnb
Pick up bikes and ride the North Idaho Centennial Trail
Stop at Daft Badger Brewery on the way home
Check out Post Falls in the Evening
Dinner at Airbnb
Day 2
Breakfast at airbnb
All day water rafting adventure with ROW adventures (lunch provided)
Stop for dinner on the way home at Mickduff's
Day 3
Breakfast at home
Explore downtown Coeur d'Alene
Hike Tubb's Hills
Hike Mineral Ridge
FINAL THOUGHTS FROM YOUR OUTDOOR LOVING GIRL
All in all, this place was beautiful. I think one lesson I learned is to never write off places because they aren't "popular" or "Instagram famous." I think, sometimes, I get caught up in wanting to only go to places that large bloggers post about.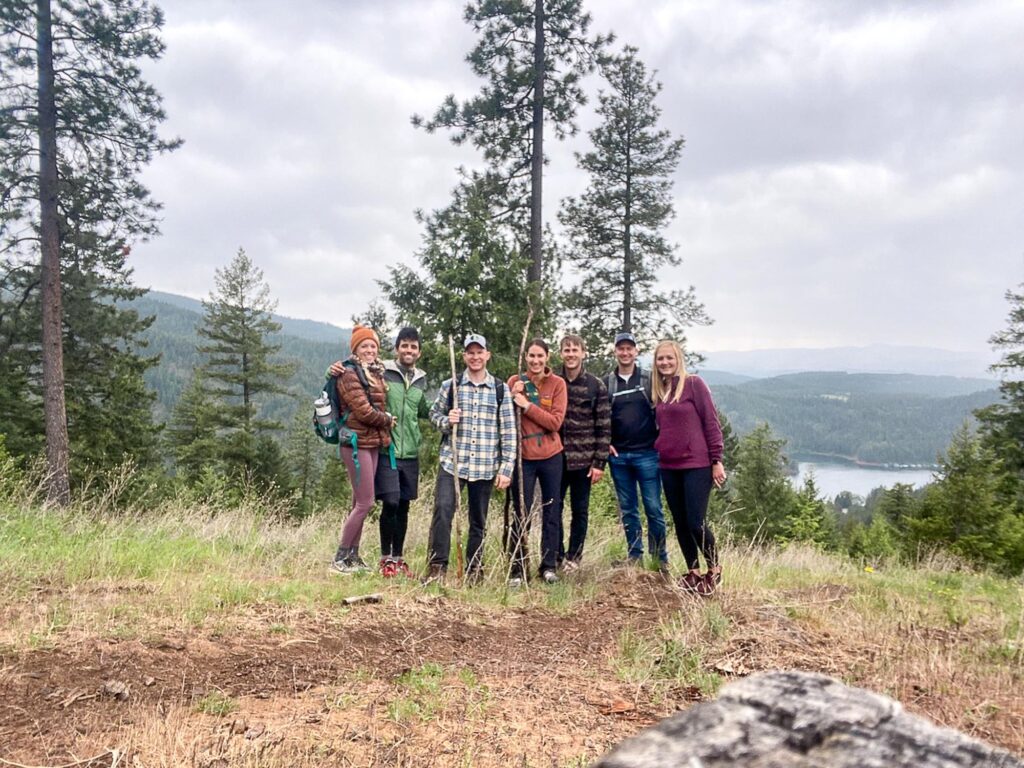 So, after all, that I highly recommend you take a visit to Coeur d'Alene, Idaho, and do all these fun things!
THE BEST THINGS TO DO IN COEUR D'ALENE, IDAHO FOR THE OUTDOOR LOVER