How to Plan a Camping Trip with Friends
This blog was written in partnership with Stanley; however, all opinions remain my own.
Summary: A complete guide with tips and resources on how to plan a camping trip with friends.
Camping is one of life's most exhilarating adventures, at least for me that is. That fresh pine scent smell during the day along with the smell of campfires and marshmallows roasting at night couldn't make for a better combination.
However, if you have never been able to experience the thrill of camping then it very well could be intimidating for you to adventure outdoors by yourself for your first ever camping trip. This is when camping with friends becomes the best thing ever!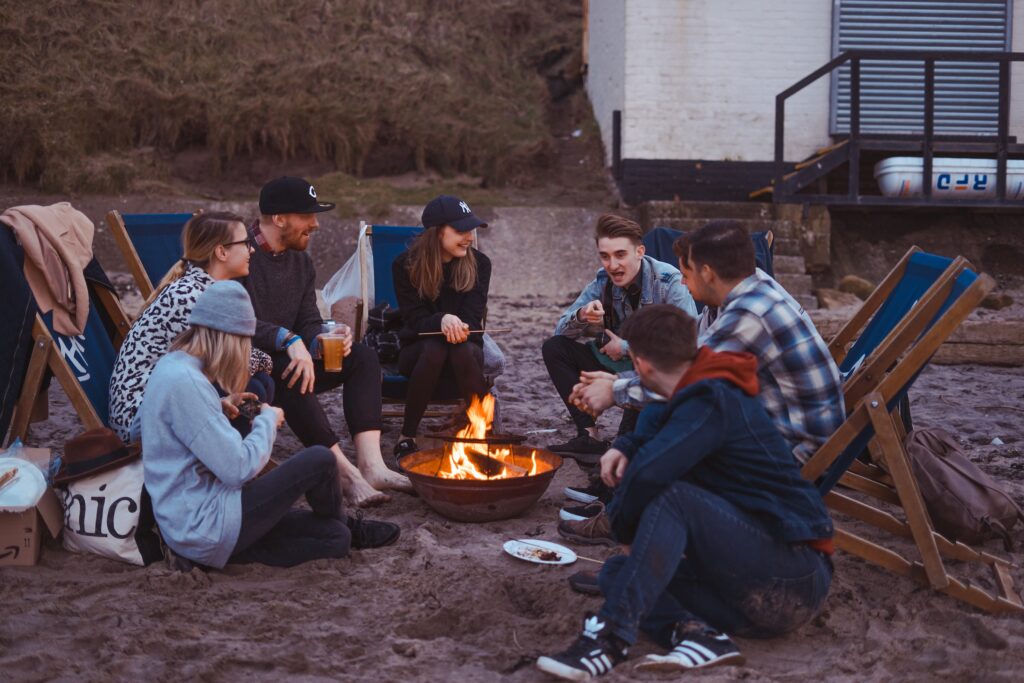 Organizing a group camping trip can help some get over their fears of sleeping under the stars and help others grow in their outdoor skills. Camping with friends creates the opportunity for you to grow individually and together as a friend group.
The best discussions happen around those late-night campfire sessions. Nothing can beat that "mountaintop" experience.
Personally, I find camping adventures to be more fun when with friends. In this article, I am going to give you all my favorite tips and tricks on how to plan the ultimate camping trip with friends!
Steps to planning a successful camping trip with friends
I grew up camping a ton with my family; however, we were a bit more luxurious with our camping style when I was a kid. We camped out of a tent trailer, so when I went to plan my first tent camping trip I realized I had a lot more to learn.
Over the years, my husband and I have gone on numerous camping trips and backpacking adventures. Thankfully, all my practice and experience have helped when it comes to planning a camping trip with friends!
Here are some steps that I have found helpful when begging to plan.
1. Discuss a destination
The best thing to do is to get an email or text thread going with everyone involved. Start by having everyone throw out their preferred destination and then begin to narrow it down from there.
When choosing a destination or adventure it is also important to take into account everyone's activity levels.
Try to choose somewhere that will be memorable and exciting for everyone. You want to make sure everyone feels comfortable, especially if this is the first time camping for some people.
Insider's tip: Campsites tend to fill up months in advance depending on where you want to go, so book you reservations ahead of time.
2. Find dates that work for everyone
Planning an adventure with multiple work schedules can be quite difficult. We personally have had to plan group trips almost 6 months in advance just to find a date that works for everyone.
We have used the website Doodle in the past to help determine which dates work best for everyone.
As always, try to be as inclusive as possible so that everyone feels welcomed.
3. Choose your activities
Being in the great outdoors offers the opportunity for so many fun adventures. From hiking, to maybe swimming in a lake nearby, to playing cards at the campsite the options are endless. You can make your camping trip as relaxing or active as you want.
The most important thing is to take into account everyone's activity level and find things everyone can enjoy.
Another option is to split in the middle of the day if certain people enjoy different activities. However, make sure to come back together at night and bond over making dinner or a campfire with each other.
4. Begin a Meal Plan
If you are anything like me then you can be a picky eater when it comes to food. Planning meals for a large group can be difficult. Read below on how to choose the right food for a camping trips with friends.
Choosing the right food for a camping trip
Eating meals together are definitely a social event. These times can be a great way to bond with each other.
What I have found is that it is much easier to plan your meals out ahead of time instead of showing up at the grocery store all together and trying to figure it out. Start and excel sheet and write down the meals you plan to cook together and what ingredients are needed.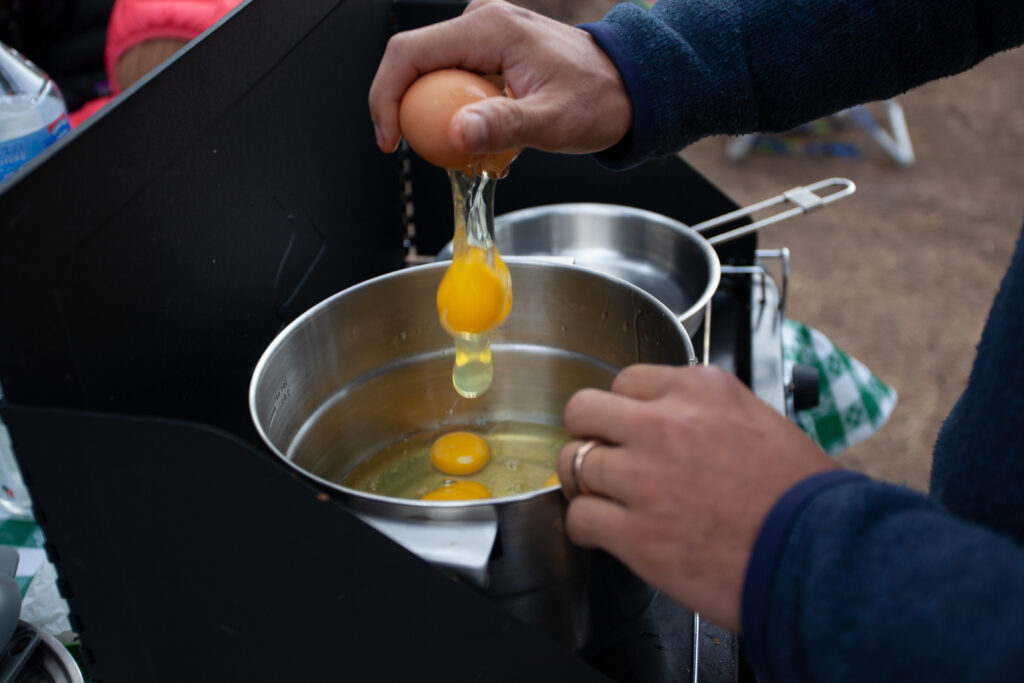 See which recipes have overlap and make sure not to purchase double of those items. Do your best to be resourceful with your food.
These are some of my favorite meals to make while camping:
Breakfast:
-Breakfast Burrito egg scramble
Dinner:
–Brawts with onions and Peppers
Dessert:
If you are headed out on an adventure check out my downloadable grocery list that may help you plan your meals.
What to bring on a camping trip with friends
I have an entire article that will help you plan your camping trip with friends. My Ultimate essential camping gear guide goes into all the details on what to bring to have the best experience.
However, some of my favorite products that I always bring on any camping adventure are the following:
–The Adventure Full Kitchen Base Camp cook set: The perfect cookware set that has everything you may need!
–Classic Stay Hot French Press: You can't go camping without having coffee too. This French Press makes life while camping luxurious
–Adventure Stay Hot Camp Crock: I actually don't have this, but I am dying to have it as it would make cooking while camping so nice and easy!
Tips for your camping trip with friends
Planning any sort of trip can be stressful! Now try adding additional people to the mix. Differing opinions and thoughts could definitely cause dismay. However, with the following tips, your camping trip with your friends can also just as easily be fun and successful!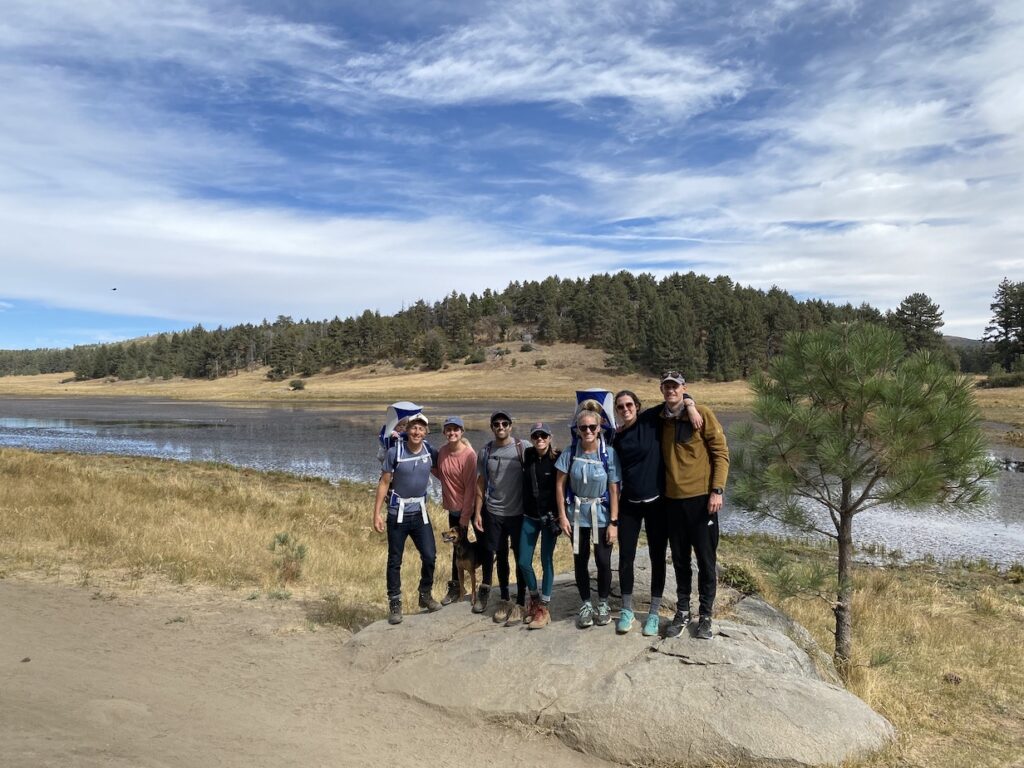 1. Be Flexible
Flexibility is key when it comes to group trips. Go with the flow is my motto whenever it is more than just my husband and I.
This will make the trip more relaxing and less stressful for you and others.
2. Divide up the Responsibilities
Regardless of whether or not everyone in the group has been camping before doesn't mean they can't contribute to the planning of the trip. Divide up the responsibilities as to who is going to order the food, who will be driving, who will be managing the finances.
There is plenty of room for each person to pick up a task.
3. Discuss your expectations
This is always a good one and something I have had to learn myself! I tend to be a planner and a person who likes to stay busy with an activity. So, it is super helpful if I go into the trip knowing what to expect.
If it is going to be more relaxed then I like to mentally prepare myself for that. Plan ahead with your friends and discuss the expectations of each individual.
4. Divvy up the packing list
If headed out on a camping trip with a large group consider dividing up the packing list. Not everyone needs to bring their camp stove. Plan ahead for who should bring what to save space and resources.
My favorite camping with friends quotes to inspire you to adventure
"The fire is the main comfort of camp, whether in summer or winter."
"Life was meant for good friends and great adventure."
"Where strangers become friends and friendships last forever."
Final thoughts from your outdoor loving girl
I hope this guide was helpful and inspiring for you to plan your next camping adventure with friends! Life is better shared with others and what better way to do that than through camping.
As always, whenever we are out in nature we need to remember the 7 principles of Leave No Trace.
Let's review them here: 1. Plan ahead and prepare: You always want to be safe, so make sure to plan ahead and always tell someone where you are going. 2. Be Respectful: We all love the outdoors make sure to respect each other out here. 3. Travel & Camp on Durable Surfaces: Set up camp away from the water and don't walk off the path. 4. Dispose of waste properly: Always pack out your trash and know where to poop 5. Leave what you find: Let's let others enjoy this beautiful earth too. Don't collect sticks, shells, and rocks for your pleasure. Let nature stay where it is. 6. Respect wildlife: Wildlife can be dangerous, do not disturb them & they won't disturb you. 7. Keep fires small: Fire can be dangerous. Keep it small and use the fire rings in place if there is one.