How to Campervan in Iceland with LAVA car rental
Post summary: Choosing the best campervan in Iceland is absolutely essential. Read below for all my tips on renting a campervan with LAVA car rental.
So, you want to visit Iceland but are not sure whether to rent a car or go the campervan route.
If you are anything like me you love adventures-including road trips. Road trips are one of the best ways to explore and get to know an area, but planning a road trip from halfway across the world can be a bit daunting.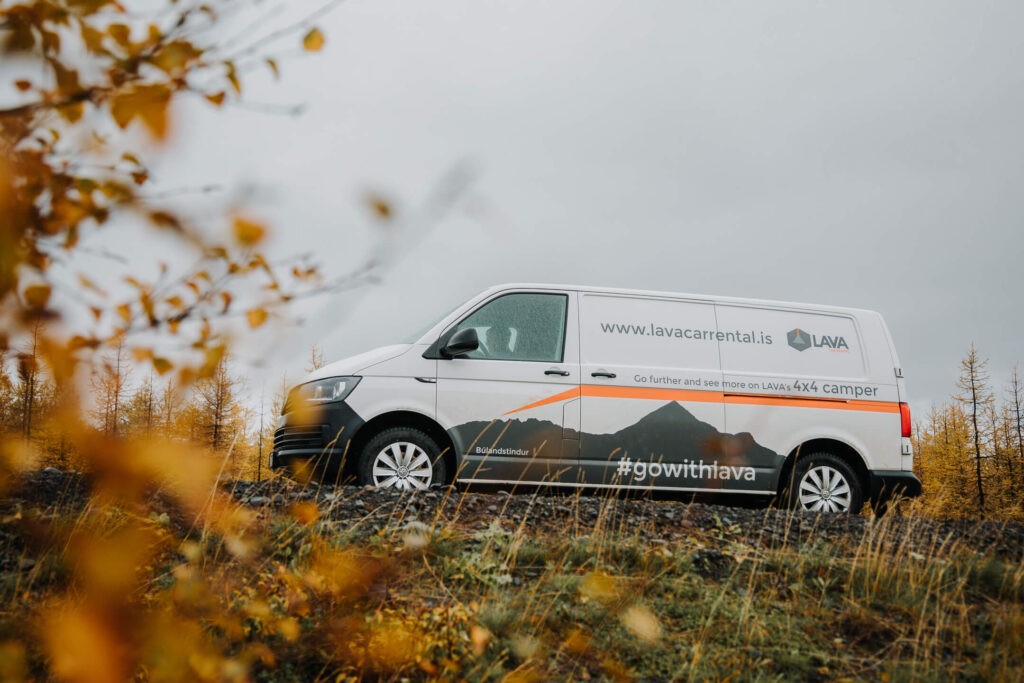 Thankfully, renting a campervan is actually fairly simple and to be honest, I think it should be your method of exploring the land of fire and ice.
To help you get started here is my COMPLETE GUIDE to renting a campervan in Iceland with LAVA car rental.
Choosing the best Iceland campervan rental
Iceland is an outdoor lover's paradise. Ok, maybe not paradise because it isn't tropical, but it is an outdoor lover's dream destination.
What better way than to explore Iceland by having a home on wheels? I mean, you're not in Iceland to spend time in the hotel room, you are there to explore!
Campervan life is HUGE in Iceland. I have road-tripped in a campervan through the mountains of Yellowstone and the Grand Tetons as well as internationally through New Zealand.
This time around I had the opportunity to campervan in Iceland with my husband and Father-in-law in the Fall of 2021.
There are some basic things you need to consider when renting a campervan that will help make your journey much smoother. Like which company do I go with? How do I know which campervan to choose?
Let's get started with what you should know about choosing a campervan.
What campervan company to choose
To get started with your adventure you will need to first and foremost find a company to rent a campervan through. After much research, I am going to tell you why I chose to go with LAVA car rental for our campervan experience in Iceland.
There is a wide range of campervan rental companies. So, how do you know which one to go with?
I started my search by listing out all the campervan companies I could find on google. From there, I narrowed down my search by which company had 4WD options (we will talk about this later).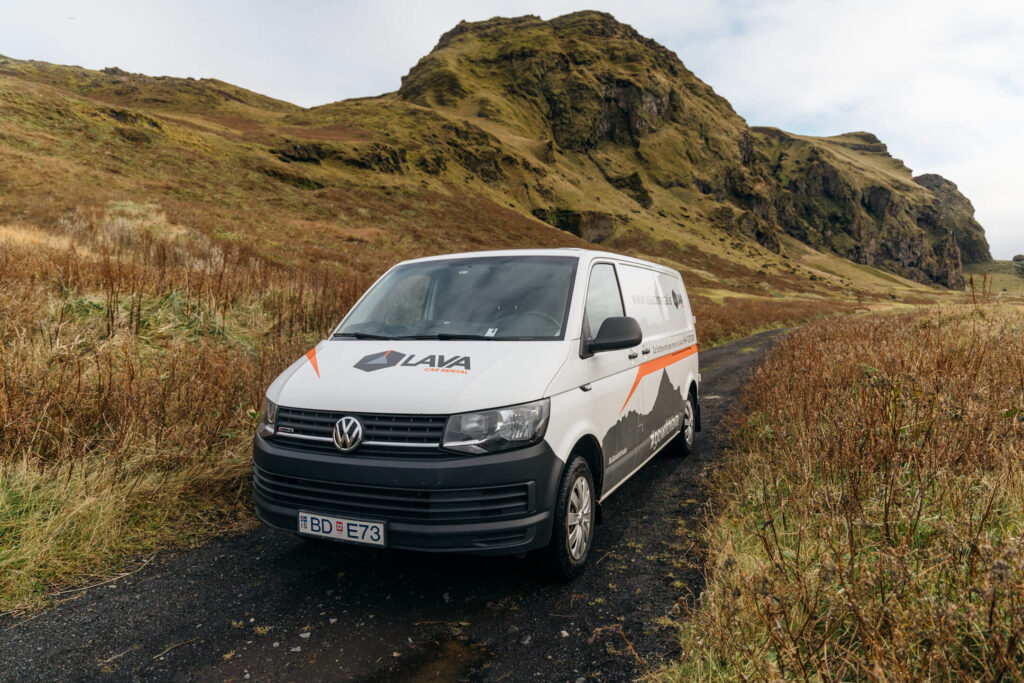 I then essentially chose four different companies to email and ask some basic questions. To my surprise, most of the companies didn't even respond to my email. LAVA car rental immediately responded to my questions and I knew at that moment that they had great customer service.
After hearing back from LAVA car rental, I did my own personal research and reviewed travel forums to make sure they were a quality company-and, yes they are!
Other things I looked for when finding which campervan rental company I wanted to go with were: Is their website clean and easily understandable? Are there hidden costs? Are they a reputable company?
LAVA car rental also had a wide selection of 4×4 campervan vehicles in Iceland as well!
LAVA car rental was able to fit all these criteria, therefore, we were ready to move forward and excited for the adventures ahead.
Rent your Iceland campervan with LAVA car rental HERE!
Manual vs Automatic
Did you know Most cars in Europe tend to be manual? Yep! That is right, typically when you rent a car from a company in Europe-specifically Iceland you need to request Automatic.
And unfortunately, yes, automatic may cost a bit more.
Size of the campervan rental
You definitely need to consider the size campervan you want when booking. Ask yourself the following questions:
How many people will be sleeping in the campervan?
Will there be enough room for all our luggage or should we size up?
Do you want to be able to stand up in your campervan?
There are typically a few options for vehicle sizes when booking. We went with a campervan that can sleep 3 people and it worked perfectly for us.
Think about the amount of space you will need carefully as this can make or break your experience. After all, this is your home for the next week or so.
Time of year you are visiting
The most popular time to visit Iceland is during the summer months of June-August. However, Iceland does get all four seasons.
If you plan to campervan in Iceland you need to take into consideration which season you will be visiting in.
Planning to visit in the summer? Most campervans book up 6 months in advance. Make sure to plan ahead and book accordingly.
Planning to visit in the winter? Yes, people still do campervans in the winter, just be prepared for much colder weather, potential road closures, and make sure to rent a campervan with a heater.
Spring and Fall can be very unpredictable, but again lots of people still rent a campervan during these seasons. We chose to rent a campervan in the Fall and were just fine.
What is included in the LAVA car rental campervan?
Renting a campervan with LAVA car rental is easy as they provide everything you could need!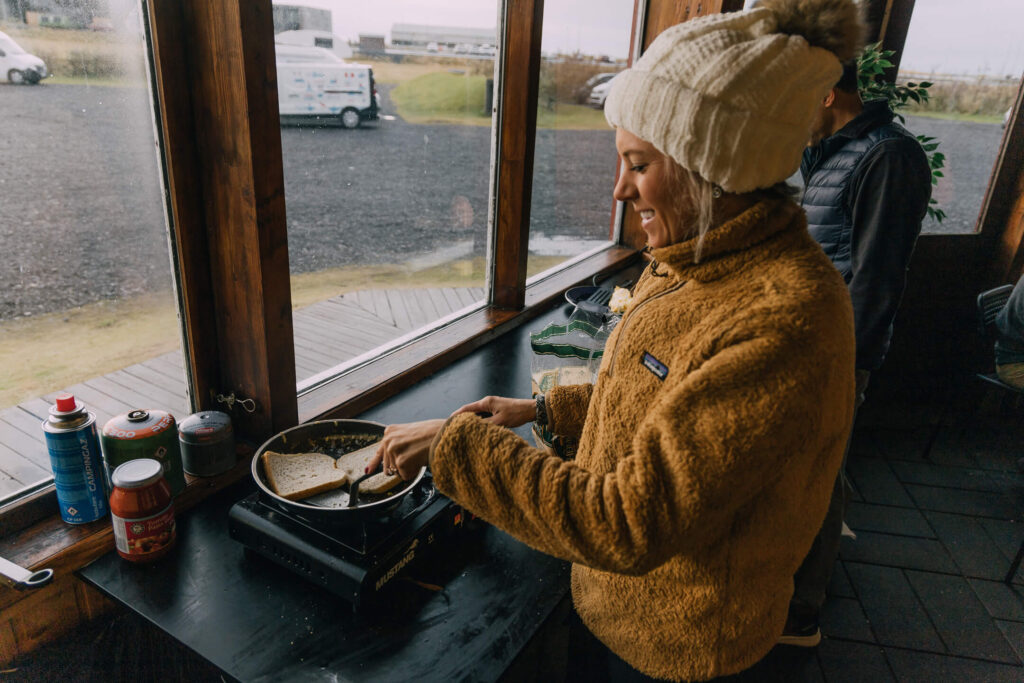 The following items are included when you book your campervan with LAVA car.
-Sleeping bags
-Pillows
-Extra blanket for warmth
-Mattress
-Privacy Curtains
-Container for kitchen supplies which includes:
-Gas stove with propane
-Plates, bowls, cups
-Cutlery
-Sponge
-Dishtowels
-Pots
-10L water tank that you can refill
-Mini fridge/cooler
-Folding table
-Folding chairs
-Heater
-USB charging
-Wifi box can be added on for an additional fee
Insurance for your campervan rental
Insurance is a very important thing when driving in Iceland as road conditions are always changing.
All of LAVA campervan rentals come with the following insurances included:
Third party liability insurance: Third-party liability is equivalent to the amount stipulated by Icelandic law at each time. This also applies to the amount of individual driver liability. Third-party coverage and personal accident insurance are automatically included in your rental and in the self-risk liability amount mentioned here below. If for some reason, the renter causes damages to a third party vehicle, without causing damages to the rented vehicle, the third party liability is a total of 35.000 ISK
Collision Damage Waiver (CDW): Collision Damage Waiver covers rental car damage in case of collision. Self excess is at 360 000 ISK.
Theft Protection (TP): It covers the vehicle for theft. No self excess. The insurance does not cover items stolen within the vehicle.
Alternatively, you can also purchase optional insurances for more coverage, like the Premium Package, the Platinum Package, or individual insurances. You can find all the info about our insurances HERE.
Basic tips for renting a campervan in Iceland
Here are some basic tips for using your campervan in Iceland that will make your life easier.
Have a rough itinerary
The most popular router tourists tend to follow is called the Ring Road, or route 1. This route takes you in one big circle around the island. It is suitable for all types of cars, however, if you plan to visit the highlands, otherwise known as F-roads, you will need a rental that offers 4WD.
If you plan to drive the entire Ring Road I recommend at least 10 days. We had a total of 8 days on the road and it felt a bit rushed.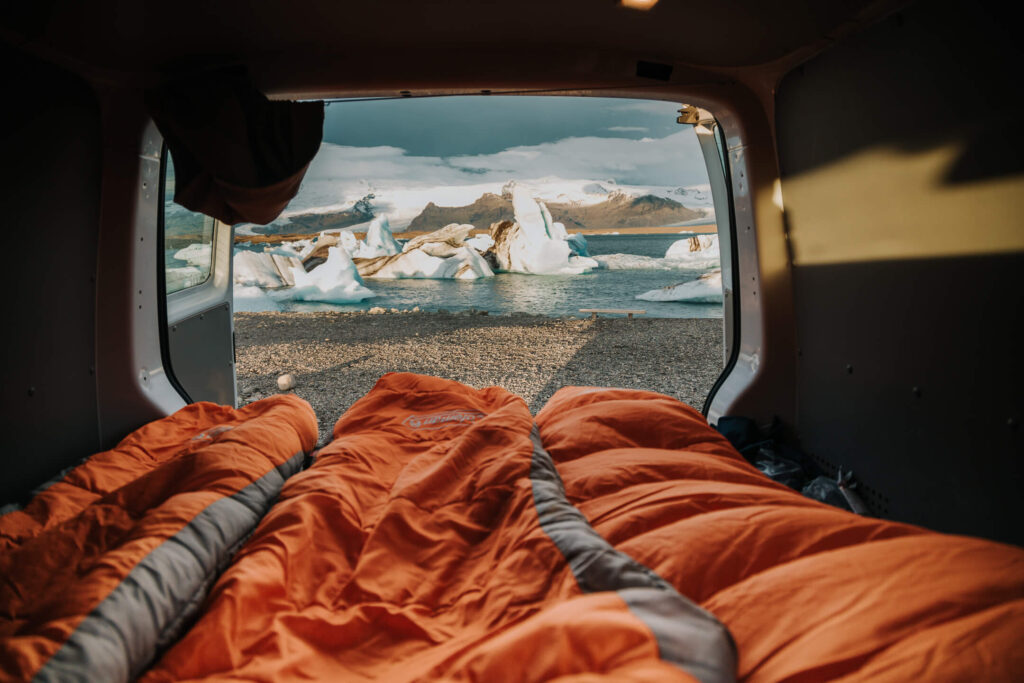 Having a campervan does allow you to make unplanned stops, but you should still have a general idea as to which town you will be parking in each night ahead of time. There are plenty of campgrounds around Iceland, but some of them do close during the Fall-Spring season.
Lastly, you can provide your rough itinerary to LAVA car rental and they will give you some feedback as to what they recommend you add or remove.
You can check out my complete Iceland itinerary for some inspiration on how to plan your road trip.
Know your pick up and drop off location
Unlike renting a normal car and picking it up from the airport when you land in Iceland, typically you have to go off-site to pick up your campervan rental in Iceland.
Make sure to get clarification as to where you will be picking up and returning your campervan as well as the pickup and return times. Thankfully, LAVA car rental made it easy and offers a shuttle service to and from the airport to their campervan rental location.
Plan your meals out ahead of time
Again, having a campervan allows you the flexibility of either choosing to eat out for the evening or cooking your meals on the go. I recommend having a rough idea of what meals you would like to eat ahead of time.
This will save time when you are wandering the aisles of the grocery store and it will help you spend less on food.
I have a whole article on 10 easy camping meals to make that may help you.
Gas in Iceland
To say the least, gas is not cheap in Iceland. There are a few things to know ahead of time when filling up your car with gas.
First, American credit cards will not work at the gas pump. You must use a debit card or a card that has a pin you enter.
Second, never choose the "fill up" option. If you choose the fill-up option, the gas station will put a $250 hold on your card. This will be refunded eventually, but yikes I don't want to trust that. Always choose one of the other levels for filling up.
Third, the N1 gas stations tend to double as a grocery store, as well as coffee and of course hotdogs.
Lastly, make sure to budget in gas for your trip around Iceland as the cost adds up. We spent around $400 USD to make it around the entire Ring Road.
If you choose to book through LAVA car rental, they will actually provide you with a discount card to use at any N1 gas station. Make sure to scan that card prior to inserting your debit card.
Wifi box
All I have to say is get the wifi box. You won't regret it. This allowed you to have wifi anywhere on the road at all times. It charges by plugging it into a USB outlet in the car. We spent $150 on this from LAVA car rental company and it allows up to 10 devices to use the wifi.
General Tips for Driving in Iceland
There are a few key tips I want to share with you about driving in Iceland to keep you safe and to hopefully save you some money.
Speed traps
Unlike the USA, there are a ton of speed traps around Iceland. Thankfully, Google maps tend to tell you when they are coming up, but make sure to pay attention to the speed limit. No one wants a ticket!
Road conditions
The road conditions and weather are constantly ever-changing in Iceland. You will need to check these conditions on a daily basis, if not more than once per day.
All the Icelanders recommend using the Vedur app as it is the most accurate for weather conditions.
Hold your doors
The wind can be insane at times in Iceland. When opening the doors to your car hold on tightly as they can fly open! I didn't think this was true until I actually experienced it myself. You don't want to have your car door blowing off!
Camping outside of campgrounds
It is actually illegal to car camp outside of the designated campgrounds. If you plan to visit in the winter make sure to check ahead of time which campgrounds remain open as a lot tend to shut down in mid-September.
Renting a Campervan in Iceland
Renting a campervan in Iceland definitely allows you to fully immerse yourself in experiencing the land of fire and ice.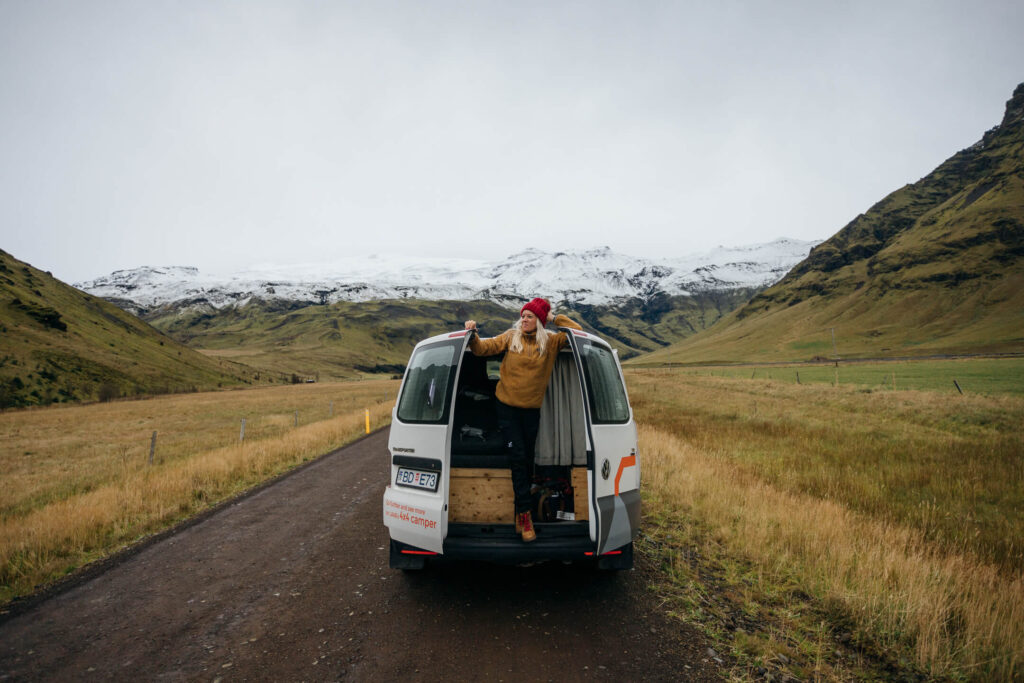 Regardless of how you plan to do Iceland, you will need a car. So, why not rent a campervan instead to avoid the cost of hotels and restaurants when you could eat and sleep on the road?
At the end of the day, we felt like all we needed was a place to sleep, a place to cook, and a vehicle to drive; therefore, a campervan rental fit our needs perfectly. We could not have had a better experience with LAVA car rental and I would highly recommend renting your campervan through them.
How to Campervan in Iceland with LAVA car rental
Like this post? Pin it for later!