GUIDE TO VISITING THE LA JOLLA SWINGS IN SAN DIEGO
One of the most beautiful places along the coastline of San Diego is La Jolla. This place is filled with hidden gems, including the La Jolla swings.
Known as one of the most expensive places in San Diego to live, La Jolla offers lots of fun activities like kayaking, surfing, and shopping!
If you are planning a visit to La Jolla and looking for a place to stay make sure to check out my article on places to stay in La Jolla for all budgets.
There are multiple swings located in La Jolla, for the purpose of this article we will be discussing the location of two of the swings. I have heard there are three swings, but have only found two.
I have personally been to both these swings!
FIRST LA JOLLA SWING
This secret swing is the most common swing seen on Instagram under the hashtag #lajollasecretswing. It is quite easy to get to and is safe for any age.
There are two ways to get to this swing, but I am going to give you the route we chose which is the easiest and quickest way.
Park in the Birch Aquarium parking lot and if you can, park in the back of the parking lot.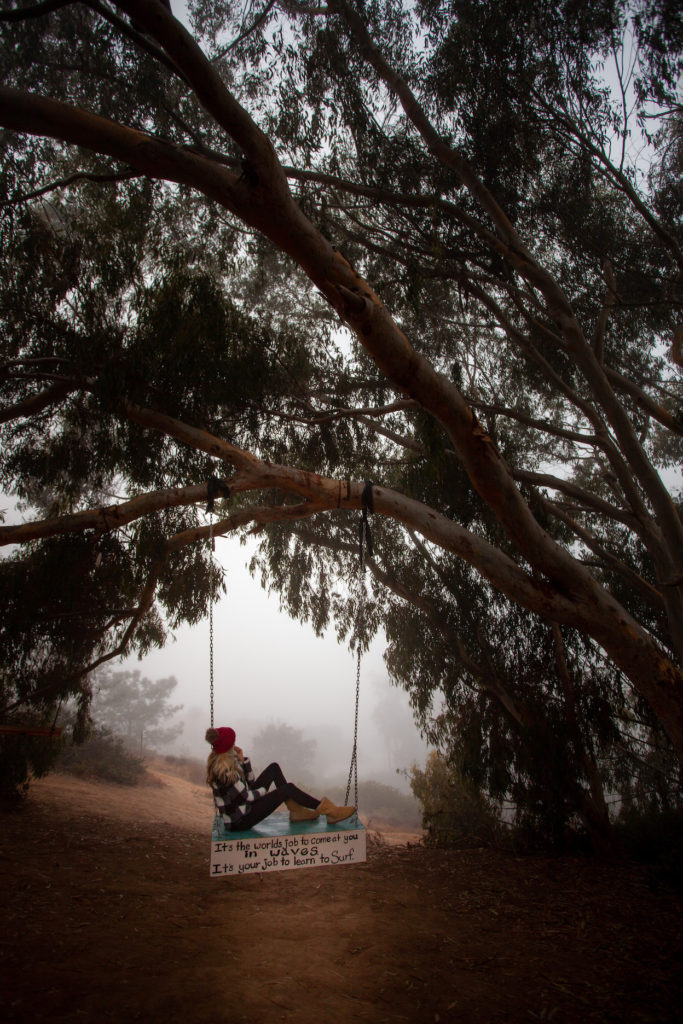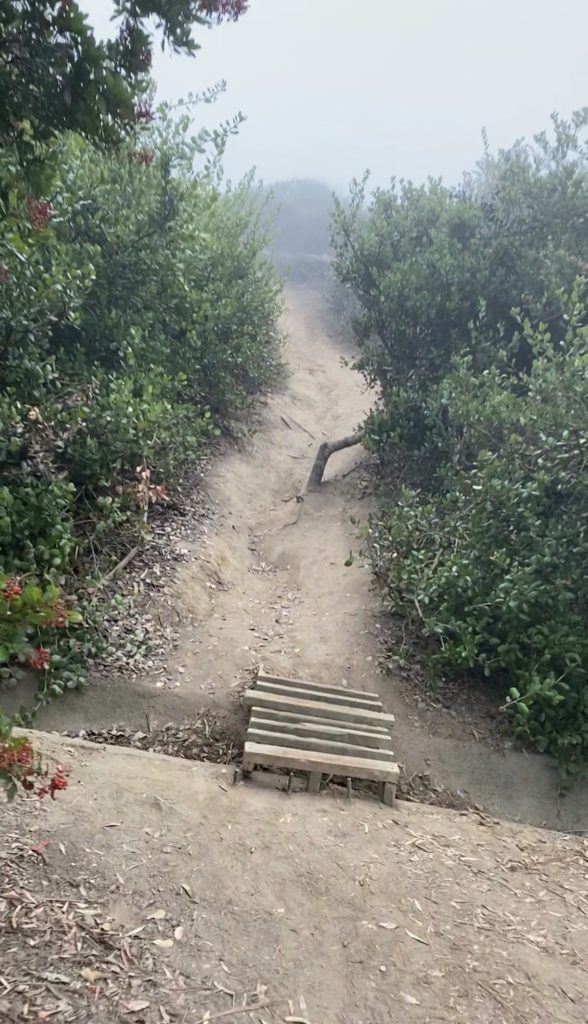 You will see a small trail once you reach the back of the parking lot. Cross over the small bridge and then begin your ascent up the short trail. You will quickly see this La Jolla swing.
Unfortunately, these swings get torn down quite often, so if it is not there when you arrive try again in a few weeks as someone will build a new one,
For this reason, this La Jolla swing always looks different. You will see lots of different looks to this swing if you google it or see it on Instagram. Sometimes, people even repaint the swing that is currently present.
If you want this swing to yourself go at sunrise. However, I recommend going on a clear day. We went on a foggy day and were unable to see the view. But, I gotta say it made for some cool moody pics.
SECOND LA JOLLA SWING
The second La Jolla swing is a little more difficult to find as it hides in a palm tree grove, but if you follow the directions below you will have no problem finding it!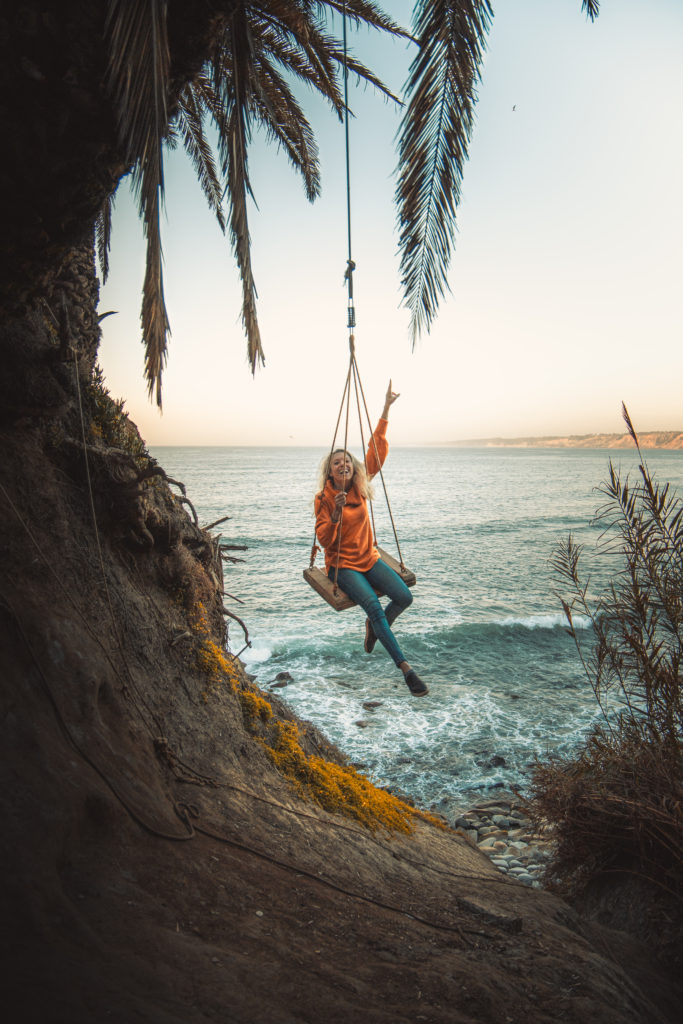 This swing is located closer to downtown La Jolla. Park in the parking lot of Sunny Jim's cave and then take the coastal trail to the right.
This coastal trail is beautiful by the way.
You will come across a white bridge. If you cross that bridge you have gone too far. The entrance to this swing is right before the bridge. You will have to climb under the broken fence line and take the short hike down.
The hike down is STEEP and SLIPPERY. I would not recommend this one for little kids. You have to use a rope to get down and if you slip and fall then you are rolling down the side of a cliff.
I recommend going here at sunset.
FINAL THOUGHTS FROM YOUR OUTDOOR GIRL
I hope this helps you find your ways to the La Jolla swings. If I find anymore I will make sure to update this post.
Tell me in the comments if you have a hidden swing in your town or if you have ever been to one of these swings.
Want to visit here later? Pin this post and save it for another time.
GUIDE TO VISITING THE LA JOLLA SWINGS IN SAN DIEGO