BEST SUNSET SPOTS IN SAN DIEGO
If you are coming to visit San Diego or even live here then you know it is known for some pretty majestic sunsets! The sky tends to fill with those beautiful pink and purple colors-especially in the summertime.
This article will give you a detailed list of some of the best sunset spots in San Diego.
Trust me! You will not be disappointed in the sunsets you may see in San Diego!
1. Sunset cliffs
Location: Sunset Cliffs Natural Park in San Diego, CA, USA
If you want an uninterrupted ocean sunset, then you can't do better than Sunset Cliffs Natural Park in San Diego, California. Located facing west across the Pacific Ocean means it is perfectly located for you to watch the sun disappear beneath the waves.
The park is reached by a short drive down an unpaved road from the corner of Cornish Drive and Ladera Street in the San Diego neighborhood of the same name.
Love a good sunset? Me too! Here are some of my most favorite sunset quotes.
The relatively small parking lot can fill up, especially for sunsets so you might want to get there a little early, not only to get a parking spot but also to get your choice of the places to sit on the cliffs. It is also a good idea to bring a blanket or towel to sit on, so you won't get your clothes dirty as it is quite dusty.
From the rugged cliffs, you may well see surfers riding the waves, as well as people who have bravely climbed down to the ocean below to walk along the beach.
It is a wonderful place to enjoy a picnic, watch the sun go down, and wind down after a busy day exploring all the other great attractions San Diego has to offer.
Authors: Contributed by Lee and Stacey of One Trip at a Time
2. Palisades Park
They say nothing compares to an African sunset, but the ones witnessed from Palisades Park are some of the best I've seen and sure do come close in comparison.
Featuring an open grassy space with unobstructed views of the Pacific, this park found at the end of the Pacific Beach boardwalk is popular with locals and visitors alike who come here to relax, read, exercise, and witness some amazing sunsets with sweeping views overlooking the ocean and south to the pier.
There are pathways down to the beach if you are so inclined. Winding around the park is the Coast Walk, which is popular among bikers, joggers and people walking. There is also a large yoga class that takes place every weekend morning. Fortunately, it never gets too crowded.
Whether you are looking to enjoy the great views, the surf, find your inner yogi or simply run, Palisades park is a great spot to go to.
Author: Rai from Rai of Light
3. Ocean Beach Pier San Diego
One of the best sunset spots in San Diego is at Ocean Beach. It's an eclectic part of the city with street performers and music festivals. The beach faces directly west with an uninterrupted view of the ocean.
I've caught many sunsets in San Diego, and the pier at Ocean Beach is one of the best. Make sure to get to Ocean Beach before sunset as the pier is much longer than it looks and can take a while to walk to the end.
There's a café at about the midway point on the pier, the perfect to grab some dinner for the sunset view. Or walk to the end for a truly unique experience.
A few tips to make the most of your evening:
Parking can be difficult at Ocean Beach. Plan to arrive early and walk a ways or pay for a spot in a parking lot.
San Diego can get chilly once the sun goes down, especially when you're exposed to the straight wind on the pier. Dress in layers.
If you're spending a some time in San Diego, go on a night that there's a music festival playing at Ocean Beach. The stage is right by the pier and can be free or cheap entertainment after you watch the sunset.
Author: Nikki from SheSavesSheTravels.com
4. Torrey Pines
One of the best sunset spots in San Diego, and my personal favorite is Torrey Pines. Torrey Pines is one of the most popular San Diego attractions, but it is definitely a must-visit kind of place to watch a San Diego sunset. Start off your evening by grabbing a California burrito from a burrito shop nearby!
Make sure to pack a picnic blanket too! Bring your burrito with you and hike to the top of Torrey Pines. Take one of the many trails down to the cliff's edge (behind the ropes for safety) and set up camp.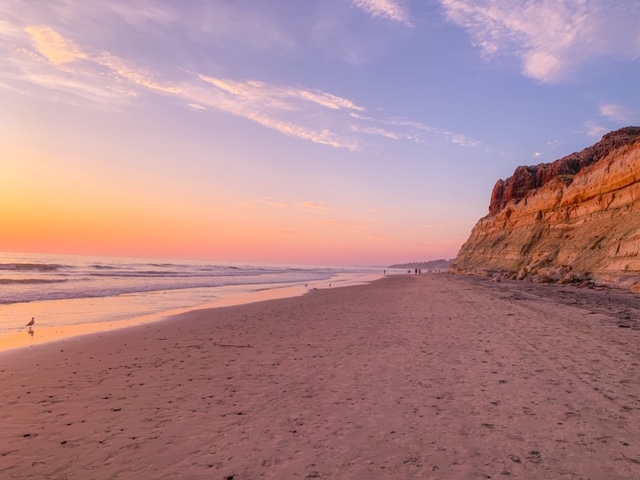 From here you can watch the beautiful sunset over the ocean and then either hike back the way you came or if it is still light enough out you could take the Razor Point Trail down to the beach and then head back to your car.
Looking for more great hikes? Check out my favorite hikes in San Diego!
5. Lake Murray
There are also beautiful sunset spots inland that are away from San Diego's attractive shores. When I stayed in La Mesa during my student exchange at San Diego State University, Lake Murray was a lovely place to chill out.
I went there on weekend afternoons to enjoy a little slice of nature without going on an all-out on a proper hike.
There is little else in the area for foreign tourists to see, but the proximity to the college makes it accessible to those who work or study there.
The park, which is part of the Mission Trails Regional Park, is well-kept; at 3 miles long, the trail that follows the water's edge is also not too challenging. On the map, it appears a stone's throw away from the I8, but traffic noise hardly shatters the peacefulness.
With playgrounds and a resident duck population, Lake Murray feels very family-friendly as well. As for sunsets, SoCal has many more good ones (like the one in my photograph) than bad.
The breeze at Lake Murray may leave ripples on the surface, and the ducks may stir it up further, but the rest area on the eastern shore is one of the most beautiful places in San Diego to watch the sun go down without getting salt in your hair.
Author: Nicholas from Rambling Feet | www.ramblingfeet.net
6. Windansea Beach in La Jolla
One of the best places to explore and also enjoy sunset views in San Diego definitely has to be in La Jolla. Anywhere on the coastline is ideal, but just outside of the main shopping venues are ample parking areas. Here, you can easily explore the gorgeous coastlines, wildlife, and also beautiful wildflowers in bloom.
Late May to summer is a great time with all the wildflowers coming up in the coastal areas and the cliffs dotting the shorelines are filled with stunning color on all the flowers in bloom – a perfect photo op moment.
When you include the sunset experience and viewing the end of the day along the coastline, it's hard to beat that perfect experience being in La Jolla.
There are many coastal trails that are paved and easy to walk on so finding a spot along the way to enjoy the stunning views and orange to reddish hues popping up in the sky is an amazing experience.
Afterward, you have a slew of choices for dining, having a nice drink at a local bar or beer pub, or just strolling the fashionable streets and window shopping in La Jolla.
You'll love visiting this wonderful part of the city and experiencing the sunset on the cliffs of La Jolla. For more inspiration check out this post on the top activities you can do in La Jolla here for more images and ideas of what to do and see around the area.
You won't regret taking the afternoon to an evening exploring this truly scenic area of San Diego.
Author: Noel from Travel and travel photography
FINAL THOUGHTS FOR YOUR OUTDOOR LOVIN SAN DIEGO GIRL
Alright, ladies and gents! I hope this article on the best sunset spots. inSan Diego has helped you determine where you should go for your next sunset!
Wherever you choose to go I can let you know that you will not be disappointed!
Let me know in the comments below if you have been to any of these locations for a sunset!
Like this post? Pin it for later!
BEST SUNSET SPOTS IN SAN DIEGO