A COMPLETE GUIDE TO THE SUNSET CLIFFS CAVES IN SAN DIEGO
The sunset cliffs caves are a place I have always wanted to visit, but was afraid to go. I had read about how dangerous they were to get to and had begged my brother to go with me as he understood the tides more than I did.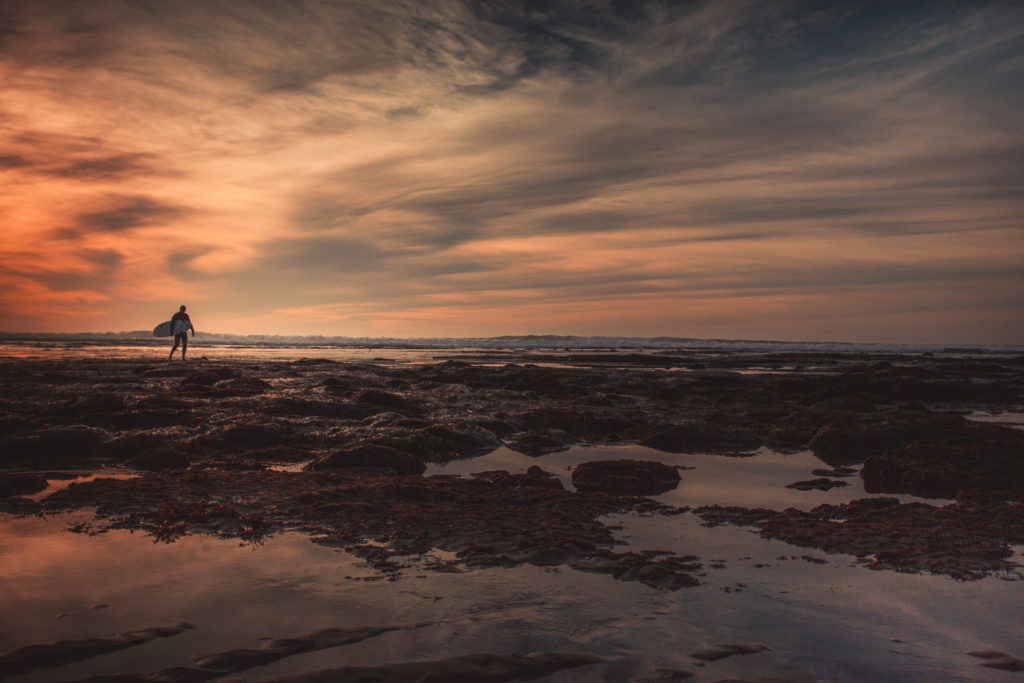 However, timing just didn't work out for him to go with me to the sunset cliffs caves, so I took matters into my own hands and did a TON of research. I had such a spectacular time and it wasn't scary at all, so I wanted to share all the information with you!
THE BEST TIME TO VISIT SUNSET CLIFFS CAVES
Note: This cave is rarely accessible, so please read this entire article on how to safely access it.
It is extremely important to time visiting the sea caves properly. In order to safely go inside the caves, you will need to visit when there is a negative tide. It is dangerous to go anytime other than a negative tide.
A negative is more than just low tide. You actually need to see a negative symbol in front of the numbers. I personally went on a day it was a -1.7 tide and my feet definitely still got wet. There was also one portion where the water was up to my knees.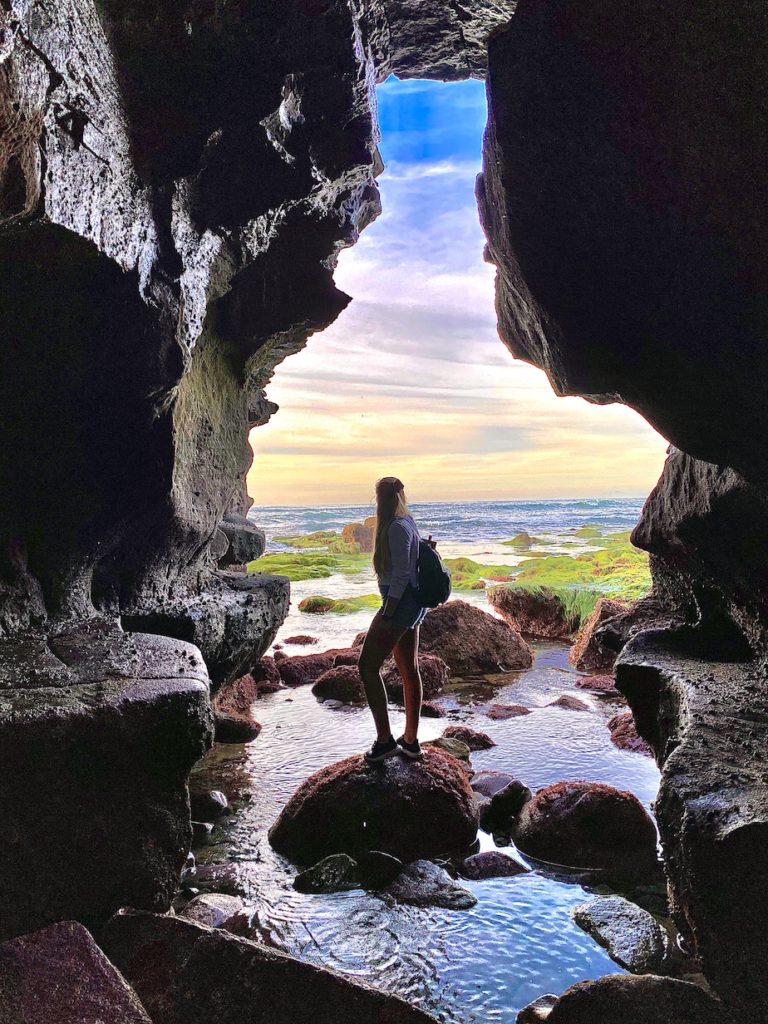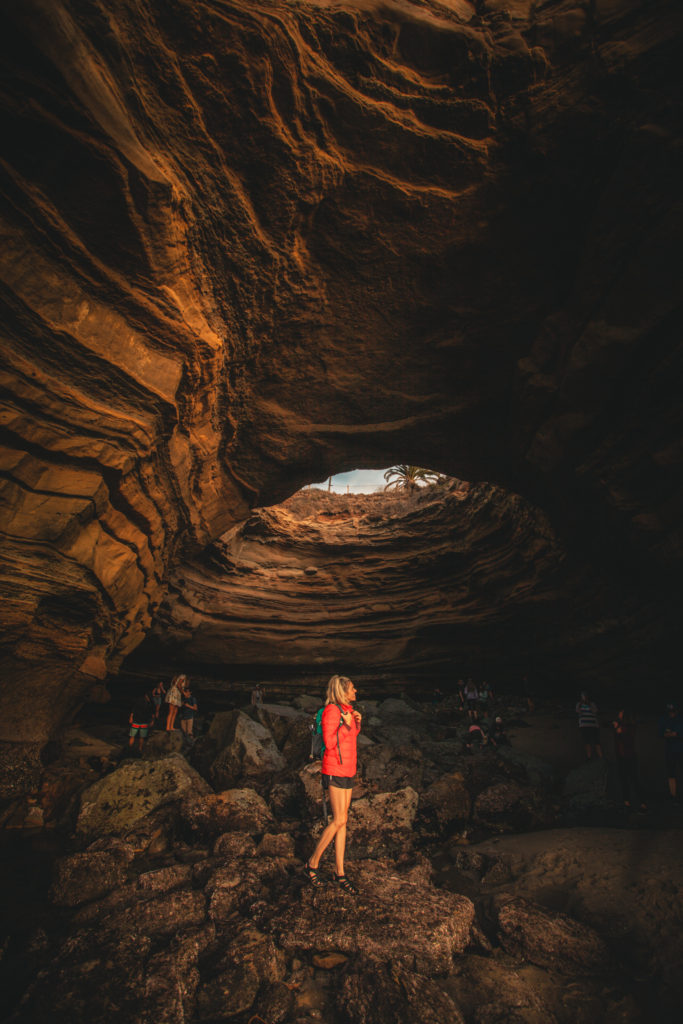 As far as timing goes, I would recommend heading down to the cave about 30 minutes before the lowest negative tide. For example, the day I went the negative tide was at 4:07pm, so we started our descent down around 330ish.
Another important thing to remember is you will need to leave the sea cave before the tide starts rising again. We left the cave around 4:40pm.
Make sure to check the tide charts before going and plan accordingly.
You can read the directions on how to get to the sunset cliffs caves below.
DIRECTIONS TO THE SUNSET CLIFFS CAVES
Sunset cliffs is located in San Diego area along the Point Loma coastline. These cliffs are quite special to me as I graduated from PLNU and ran on these cliffs for exercise on a daily basis.
So, I have no idea how I never knew about the secret sunset cliffs caves! There are quite a few sea caves along this coastline, but in this article I am going to give you directions to the "main" open ceiling sea cave.
This is the cave that you see from atop the cliffs. It is the one that has fencing around it with the giant hole in the middle. This article does not give direction to Rum runner;s cave or Smuggler's Cave.
To begin, first put in Luscombs point to google maps for driving directions. You will want to park along the cliffs or on Hill street.
For the open ceiling cave there are essentially two ways to get down.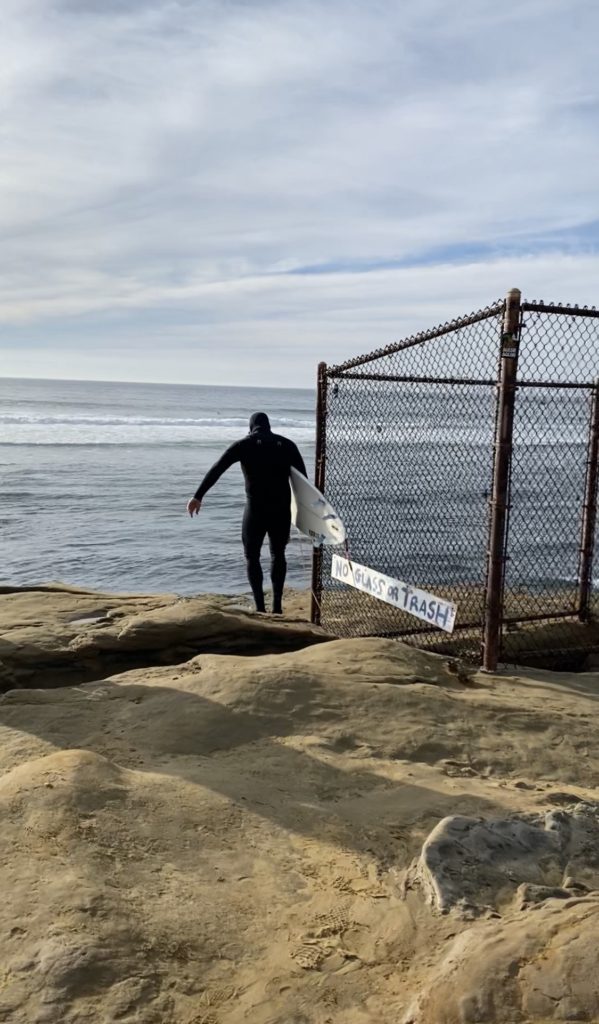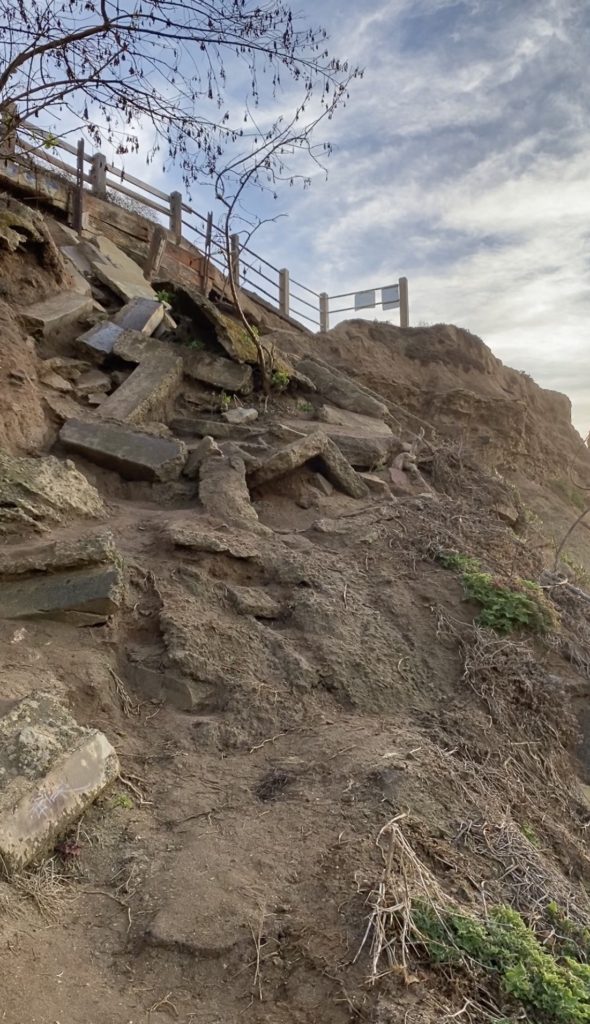 Way one: The surfer's route which is the shortest route.
Way two: Head down to the beach and walk around. This is a longer route.
We chose to go with the second option. However, I will briefly discuss the surfer's route. This route is located just to the north of the fence covering the sea cave. You walk all the way to the end of the cliff and basically climb down right next to the blowhole cave.
We chose not to do this route because the water was still at least waist high this direction when the surfers would jump in.
Again, we chose the second route. For this, you will want to park on Hill street or just along sunset cliffs.
Instead of heading to the surfer's location, head further north until you see the beach down below the cliffs. From here you will see a "path" which is more like a pile of rocks that you climb down to get to the beach.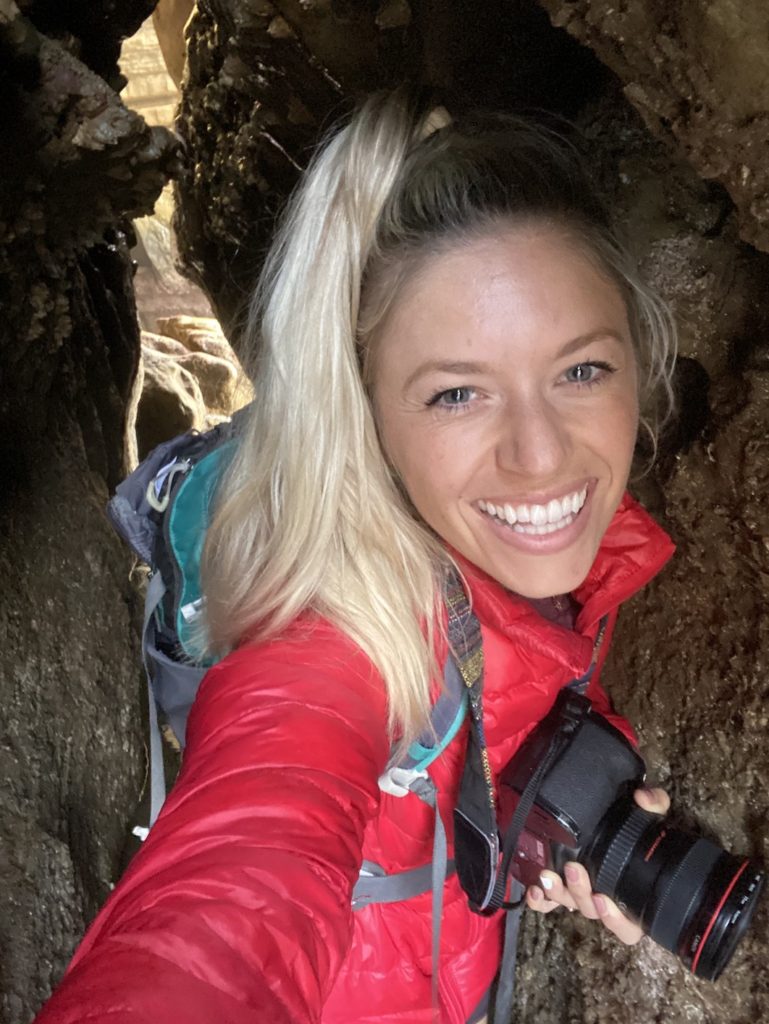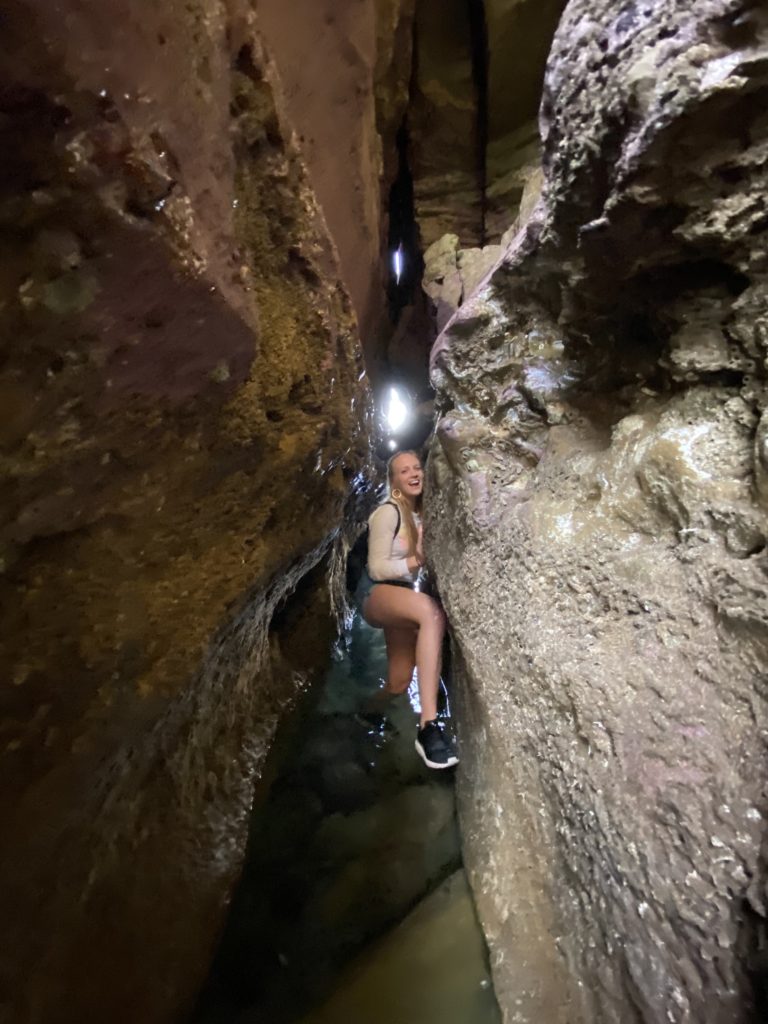 Once you reach the beach you will turn left and walk all the way around to the cave. You will be walking over small rocks that could potentially be slippery here. I highly recommend going slow and wearing water shoes.
Along the way you will see other small caves that you get to walk through. Eventually you will meet up with route option #1 where the surfer's climb down.
From here, continue to hug the wall left where you will reach a cove or a small beach! Continue walking south and around the next big rock you will find the cave!
From the cove, you could also climb through a portion of the rock to enter the cave. This is the route we took and this is where the water was up to our knees!
Here is a great map of all the sea caves along sunset cliffs.
OPEN CEILING SUNSET CLIFFS SEA CAVE
You can't miss the cave once you arrive. It is beautiful! And if you can time it at sunset time it is even more epic! The colors bursting through the sea cave "door" is spectacular.
When in the cave itself, be careful as the rocks can still remain slippery. You will most likely see others in the cave, especially if you go at sunset. There are so many beautiful places to watch a sunset at in San Diego. However, this is a photographer's dream: to have the tides line up perfectly and shoot a sunset from the cave.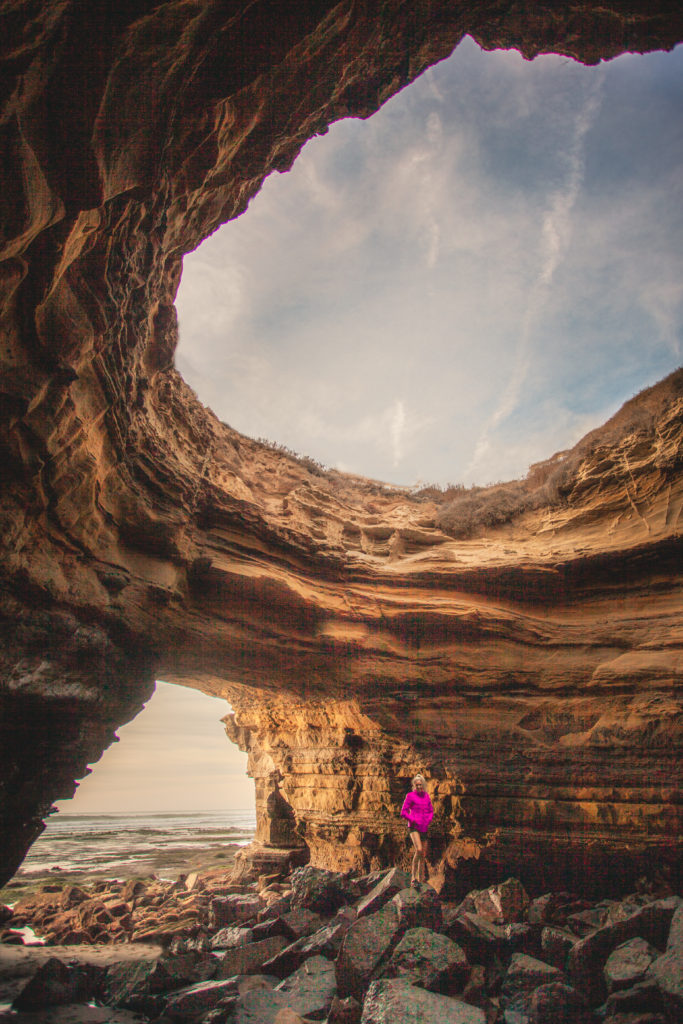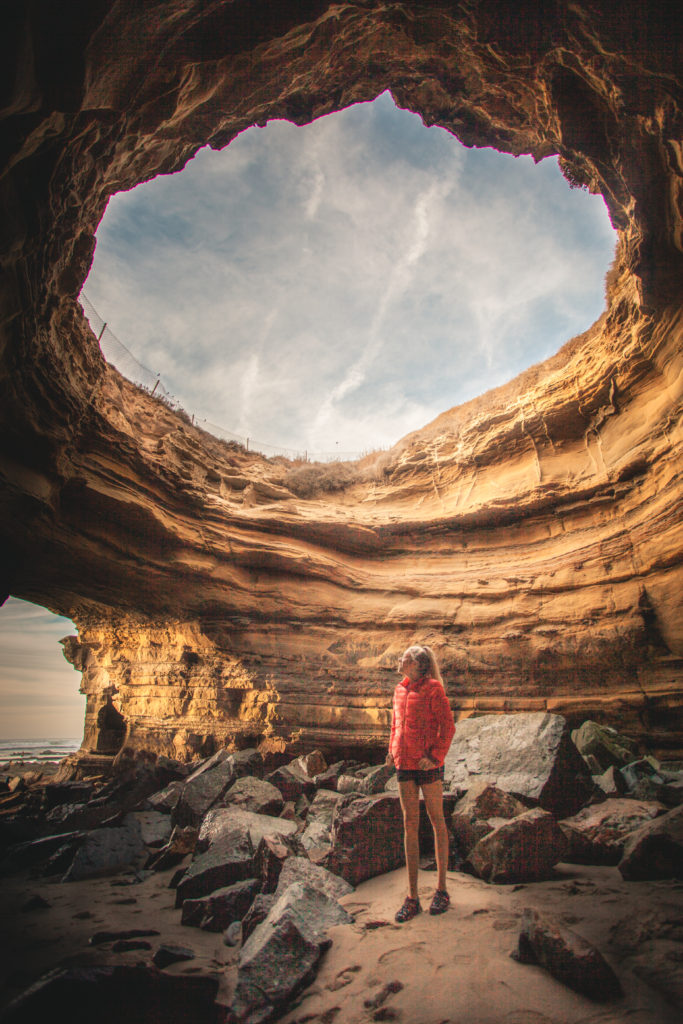 As always, make sure to be respectful of others and wait your turn to take that Instagram worthy picture!
Again, if you do choose to visit please be aware of your timing and make sure to leave enough time to return to the top prior to high tide coming in.
FINAL THOUGHTS FROM YOUR OUTDOOR LOVING GIRL
I can't believe I waited so long to explore these caves! I look forward to exploring the other cave's along sunset cliffs and hope to share those directions with you guys as well!
Let me know if you have ever been or plan to visit these sea caves along sunset cliffs!
Like this post? Save it for later!