7 THINGS YOU MUST GO TO THIS SPRING IN SAN DIEGO
Did you know that San Diego gets about 266 sunny days out of the year? It's no surprise that the weather in San Diego is great all year round, but when it comes to things to do this Spring in San Diego, the city is pretty exceptional.
Hi there! I'm Supal, the blogger behind the travel and lifestyle blog Chevrons & Éclairs! My content caters to people who work, but also are looking to live a fulfilled lifestyle.
With spring break just around the corner, I thought I would help you plan by sharing the best things to do this Spring in San Diego!
In this article, I am going to give you 7 of the best things to see and do during springtime.
#1 HOLY MATCHA
Spring is the start of iced beverages! I'm used to having hot cups of tea and coffee throughout the fall and winter, but now that it's warming up you have to try Holy Matcha's Iced Matcha Horchata.
Horchata is a Mexican rice milk beverage with strong aromatic flavors like cinnamon. With the addition of matcha, you've got a specialty drink that almost anyone visiting San Diego has to try!
Holy Matcha is also so bright, colorful, and full of florals making it the perfect place to greet the spring season! This place also makes for an Instagram heaven of beautiful photos.
#2 HIKE AROUND SAN DIEGO, CALIFORNIA
San Diego is one of those cities that caters to all types of travelers. If you're in for a little adventure, then one of the things to do in San Diego this spring is to check out one of the hiking trails in San Diego!
There are different lengths and difficulty levels. If you're a beginner like me then you will have to check out Torrey Pines State Park because springtime means lots of lush greens and extra beautiful views.
#3 SUNSET AT CORONADO STATE BEACH
The views don't stop there! One tip I always give when people are traveling to San Diego is to always find a place near the water to watch the sunset.
Spring in San Diego brings on a warmer breeze near the beach, and one of the best places to enjoy the sunset in San Diego is Coronado Island.
Walking between the path between the Hotel del Coronado and the sandy beach to enjoy the breeze, sunset, live music, a beautiful ambiance, and an amazing view.
#4 WATCH A PADRES GAME
Spring season is the perfect time of the year for baseball enthusiasts! One of the most unique things to do in San Diego this spring with locals is to enjoy a Padres game!
Even if you're not into sports, it's a great atmosphere to be in if you're with a fun company.
#5 CARLSBAD FLOWER FIELDS
Whether you're looking for a great Instagram opportunity or just love flowers, the second most unique thing to do in San Diego this spring is to check out the Carlsbad Flower Fields.
There is an array of colors and variety that will make your jaw drop! Chelsey has written a helpful guide so you can experience some of the best flowers in Carlsbad, California!
Dust off your prettiest spring dress and grab a straw hat for a bit of fun!
#6 WHALE WATCHING
Spring in San Diego is when whale watching comes close to an end. If you find yourself traveling to San Diego in the earlier part of spring then be sure to check out whale watching in San Diego.
From December to April you can experience the Gray Whales' migration along with regular sightings of Fin Whales, Humpback Whales, and sometimes Pacific Bottlenose dolphins too!
#7 CELEBRATE CINCO DE MAYO
Mexican food in San Diego is some of the best in the United States with its cross proximity to the border. If you find yourself making a trip to San Diego around Cinco de Mayo then you have to join in on the festivities!
Brave the crowd and head on over to Old Town in San Diego to enjoy tacos, margaritas, and all the live entertainment. Every corner of the city will be celebrating Cinco de Mayo, so you have to join in!
FINAL THOUGHTS FROM A SAN DIEGO BLOGGER
Here's a 1 day in San Diego guide and 3 days in San Diego guide, but if you are visiting San Diego this spring then let Chelsey and I know if you did anything we shared above!
For all the locals reading this, what do you think are the best things to do in San Diego this spring? Leave a comment below!
Like this post! Pin it for later!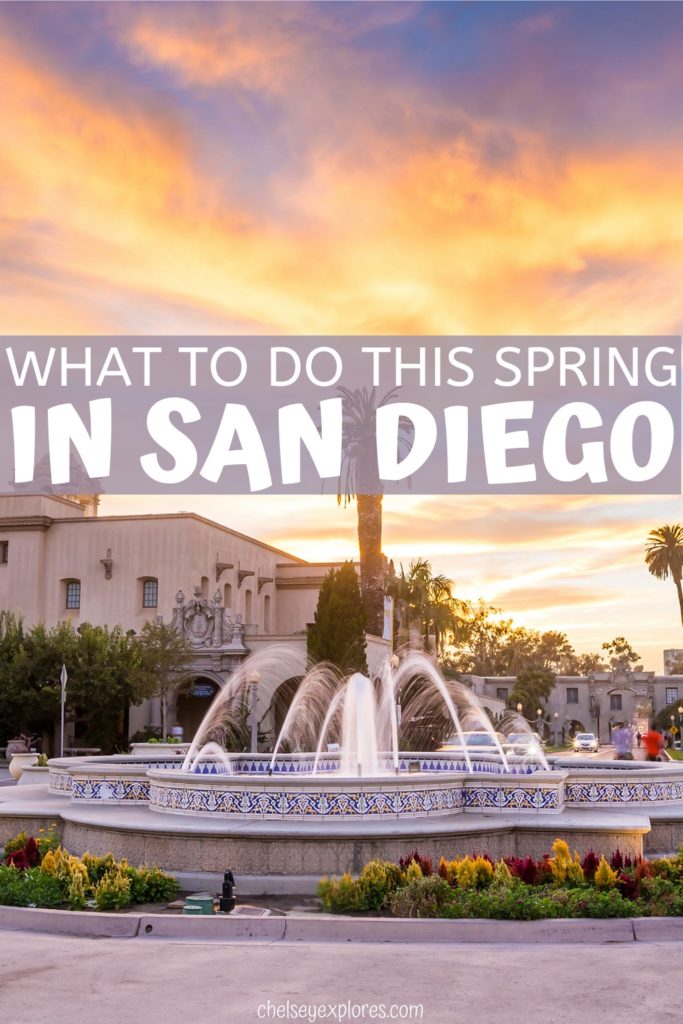 7 THINGS TO DO THIS SPRING IN SAN DIEGO