19 Best San Diego Days Spas for a Girls' Day
For some reason, I always seemed to have a hard time finding the perfect location for a spa day with the girls in San Diego when researching. You would think San Diego would be the prime location to have epic spas.
And it actually is! You just have to know where to look to find the best spas in San Diego.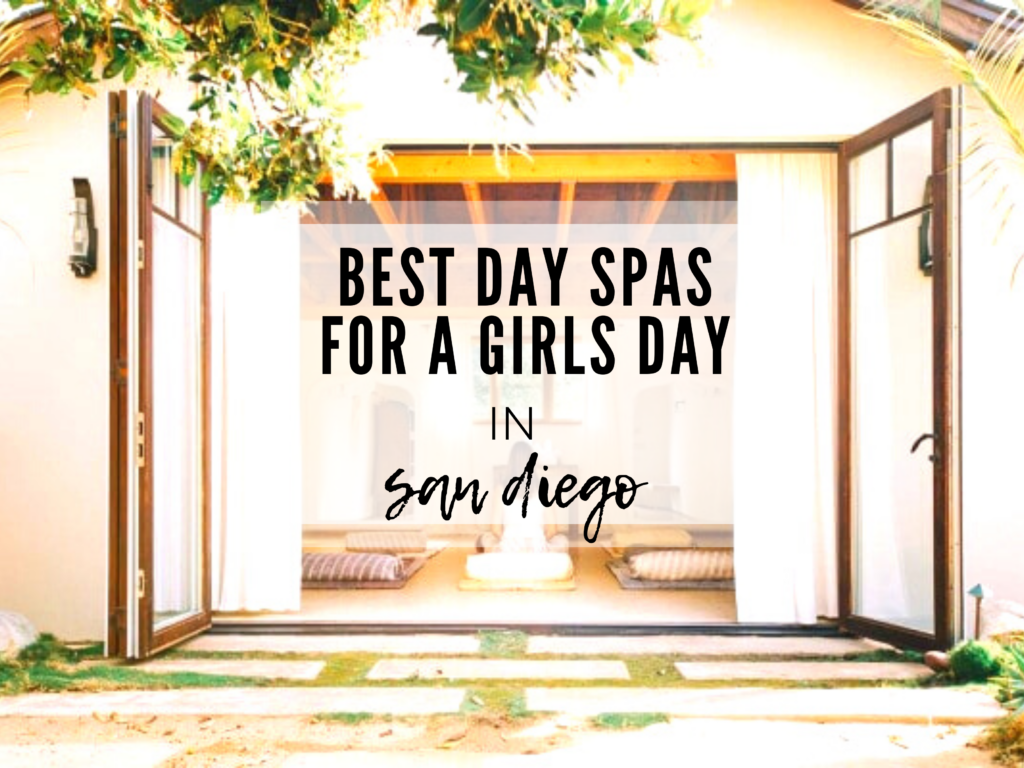 San Diego is a beautiful city known for its perfect weather, stunning beaches, and vibrant culture. But did you know that San Diego is also home to some of the best spas in the country?
From luxury resort spas to boutique day spas, San Diego has something for everyone looking to relax and rejuvenate. Whether you're a local or just visiting, taking some time to indulge in a spa treatment is a great way to escape the hustle and bustle of everyday life.
So, I have done all the research for you! In this article, I highlight 19 of the best spas in San Diego, so you can pamper yourself and feel refreshed and renewed. So sit back, relax, and let's dive into the top spas in San Diego.
19 of the Best Spas San Diego
1. Catamaran Resort Hotel & SpA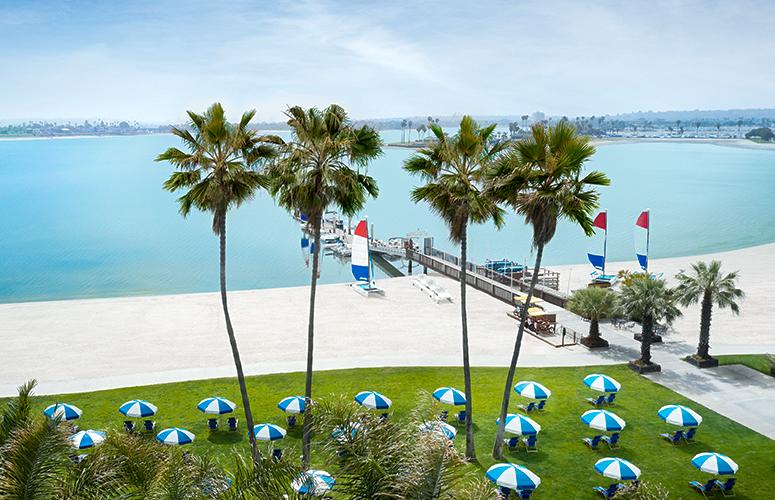 Location: San Diego Mission Bay
Catamaran Resort Hotel & Spa is a refreshing tropical oasis with Polynesian themes located spectacularly on San Diego's beachfront. Surrounded by palm trees, rushing waterfalls, trickling koi ponds, and flaming tiki torches, this resort is a step away from the hustle and bustle of the city and a leap into much-needed rejuvenation.
Focused on wellness customized to your needs, the Catamaran Spa incorporates botanical and marine-focused elements into treatment. The spa uses VOYA products, a family-owned company based in Ireland that uses organic ingredients.
The area where the products were made became famous in 1912 for the hand-harvested organic seaweed used for rejuvenating healing baths. Now, these ingredients are incorporated into VOYA's products and Catamaran Spa's spa treatments, such as the Seaweed Leaf Wrap.
The Seaweed Leaf Ritual at Catamaran Spa includes a hydrotherapy tub filled with remineralizing seawater. After soaking in the tub, next is a full-body exfoliation. This includes being wrapped in organic laminaria seaweed leaves, completed by a seaweed-infused massage for the ultimate detoxifying spa experience.
End your spa day with a meal at Catamaran's Oceana Coastal Kitchen for chef-driven California cuisine!
2. Rancho Valencia Resort & Spa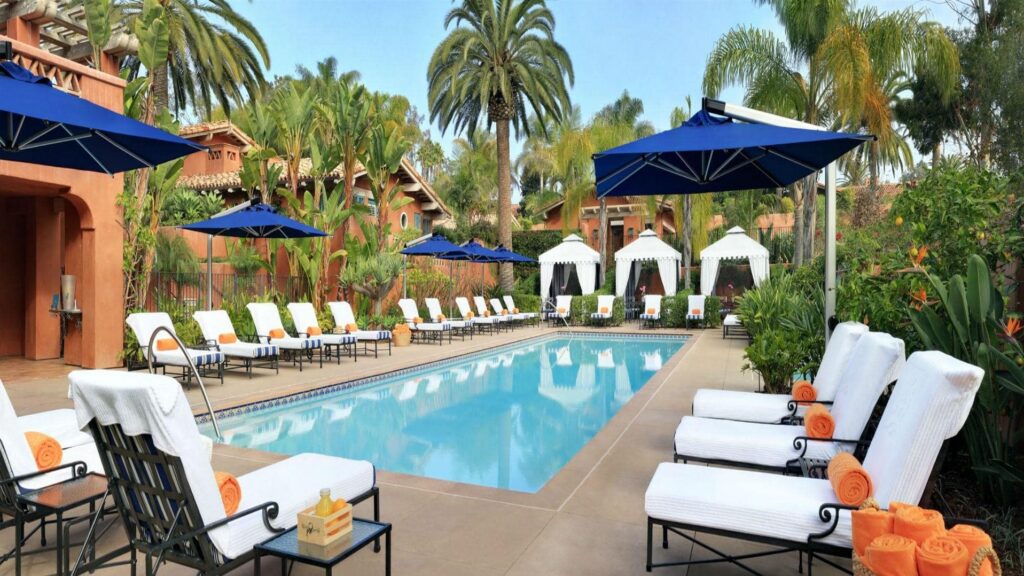 Location: Rancho Santa Fe
A Forbes five-star rated luxury hotel and spa, Rancho Valencia Resort & Spa features Spanish Colonial Hacienda design inspirations, prosperous gardens, Coastal Ranch cuisine, and scenic backdrops of citrus groves.
The Spa at Rancho Valencia is nestled within a natural oasis of olive groves and luscious gardens, inspiring the mind, body, and soul to sit back and relax. Encouraging rejuvenation through its numerous treatment options, the spa uses premium-grade products that celebrate the extraordinary benefits of oils, herbs, flowers, and minerals.
All treatments at the Spa at Rancho Valencia include access to the spa's pool, saunas, steam rooms, and fitness class schedules, such as spin and yoga. Made with cushiony memory foam, the extra-wide treatment tables offer unrivaled comfort with a unique face cradle that conforms to your face shape to prevent sinus pressure during treatment.
3. Sunny's Spa & Beauty Lounge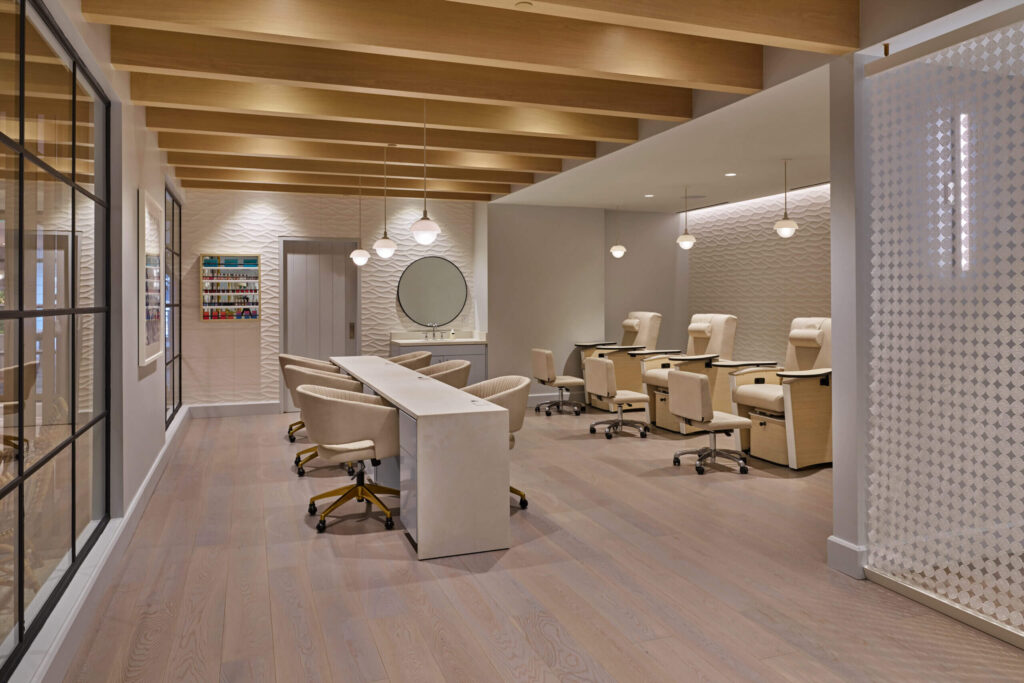 Featuring breathtaking oceanside views, Sunny's Spa & Beauty Lounge has earned the vote as the No. 2 Best Hotel Spa in the United States by USA Today!
As you settle down for a massage at Sunny's Spa & Beauty Lounge, bask in the encompassing sounds of the waves crashing against the shore. The spa incorporates a healthy dosage of inspiration during wellness sessions using natural lighting and inspiring design. There are many treatment options to explore at Sunny's Spa & Beauty Lounge, including reflexology therapy, sound baths, facials, and many more replenishing options.
For a couples massage spa, San Diego's Sunny's Spa & Beauty Lounge offers Duo in the Suites, an option also perfect for friends and mother/daughter massages. The Soothe Your Soul session includes a therapeutic foot ritual, sound therapy, and a vagus nerve massage to reconnect with the body and soul.
READ MORE ABOUT 10+ FUN SAN DIEGO WATER SPORTS
4. The Spa at L'Auberge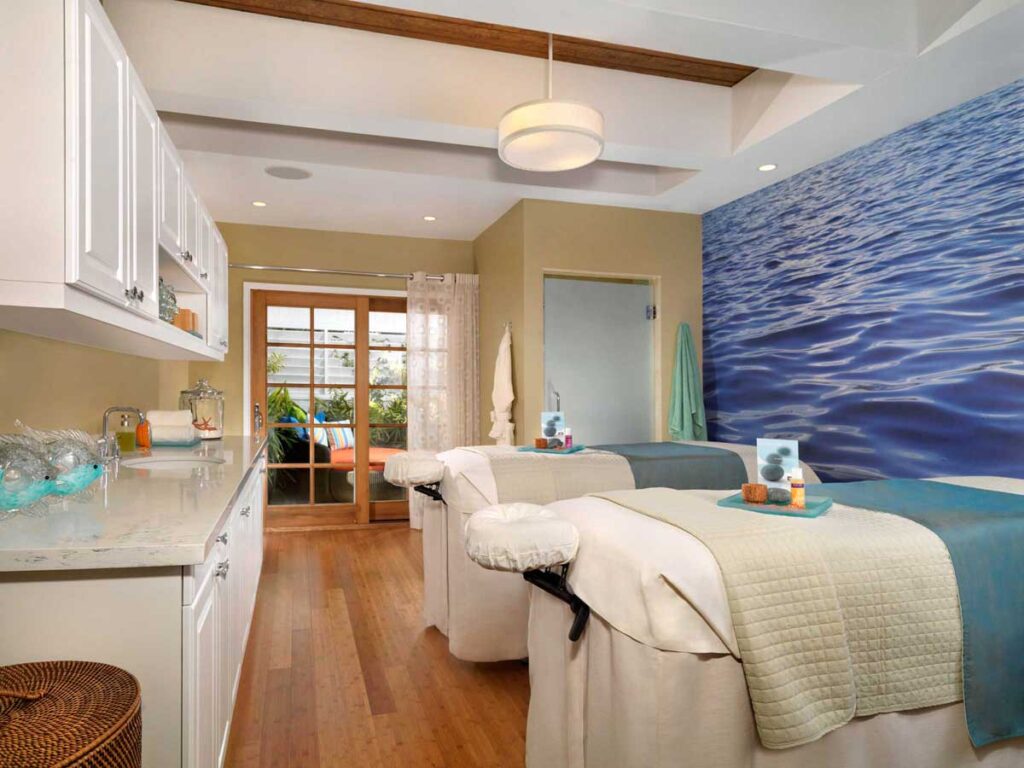 Focused on prioritizing the ocean's powerful healing properties, The Spa at L'Auberge customizes treatment to its guests using luxe services.
The Spa at L'Auberge is committed to promoting the utmost luxury during your spa experience. Home to herbal-infused steam rooms, ten treatment rooms, and a California open area to soak in the relaxing vibes by the soothing fire pit. The holistic treatments target tightness and tension in the body, calming the muscles and easing any discomfort.
Treat yourself to a specially crafted body treatment at The Spa at L'Auberge! The Champagne of the Seas body treatment performs deep sea detoxification and dry brush exfoliation to improve circulation.
Next, a warm marine mud mask is spread to release excess tension and remineralize the body. Then, the masseuse will incorporate a pressure point scalp massage to ease the mind and lull the senses. Finally, the body treatment ends soothingly as warm aromatic body milk hydrates the skin.
5. Four Moons Spa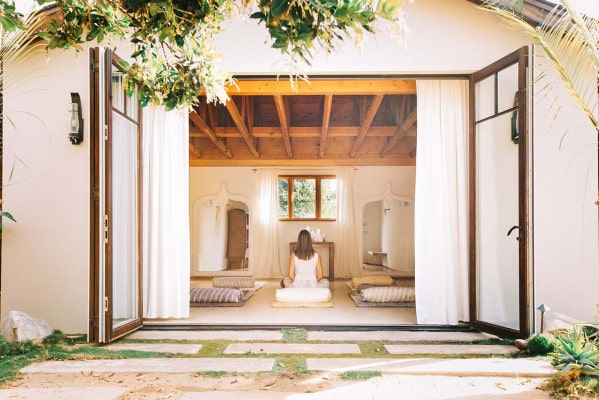 The exquisite Four Moons Spa is in Encinitas, California, on scenic oceanside grounds. Focused on natural elements in its design, Four Moons Spa places its passion on healing, modern beauty, and wellness through its spiritually rich space and treatment offerings.
Every body treatment at Four Moons Spa is specially curated to target all parts and layers of the body for a full-body rejuvenating experience. For example, the Lymphatic Drainage Massage addresses the lymphatic system explicitly and helps improve its function through a series of movements, including compressing and gliding. The Acupuncture + Sound Bath Solo Journey is a healing sound bath meant to clear the subconscious, improve the immune system, and soothe any tension in the body.
Healing instruments, such as Tibetan singing bowls and planetary-tuned gongs, are used along with acupuncture to enable harmony within the body as a whole.
6. Yu Spa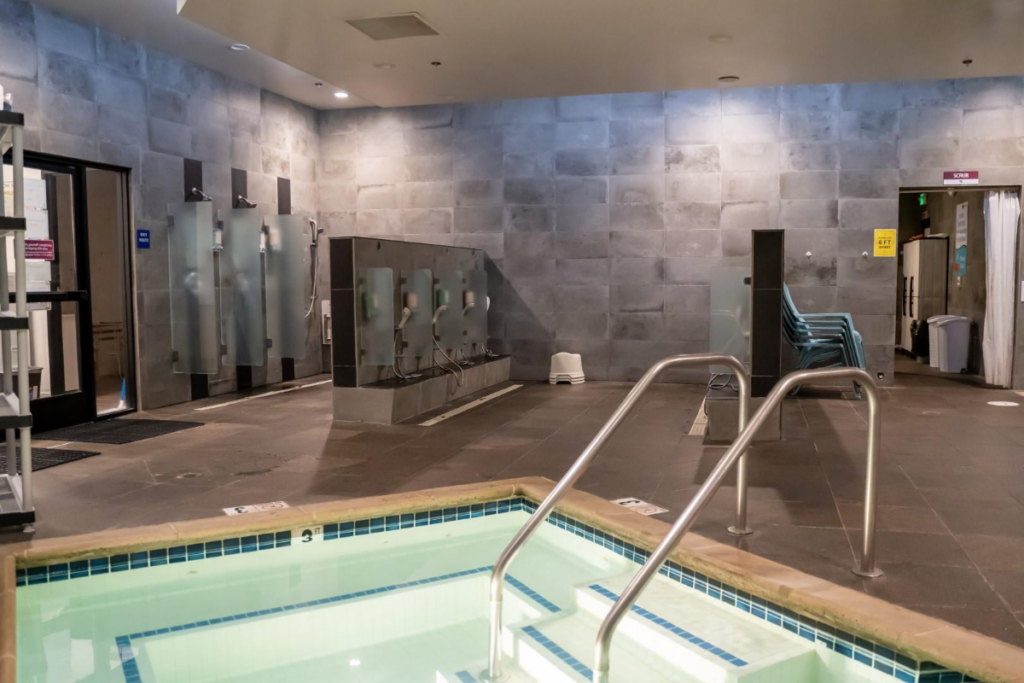 An escape from life's stressors, Yu Spa is the largest and newest best Korean day spa in San Diego. The spa stimulates crafted treatments to promote enhanced well-being. Services include jjimjilbang, yoni steam, body scrubs, massages, and more to incorporate customized and specialized treatments better.
The Himalayan Salt Stone Massage incorporates warm salt crystal stones that release tension and stress in the body. The stones promote wellness using natural grounding elements to improve the Central Nervous System's functions. During the massage, the stones rejuvenate the skin through natural exfoliation.
7. Kona Kai Resort & Spa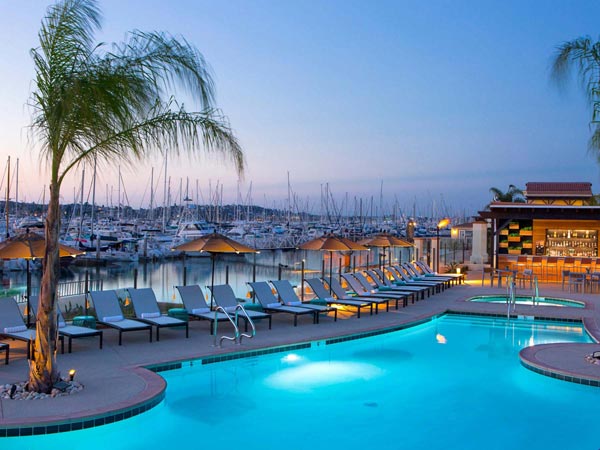 Location: San Diego, Shelter Island
A luxury island retreat, Kona Kai Resort & Spa presents visitors with a step into a true paradise surrounded by refinement and rejuvenation.
At Kona Kai Resort & Spa's, SpaTerre, this extravagant oasis is surrounded by prosperous tropical gardens to create a glorious escape from the real world. All products used in SpaTerre have been specially selected, with all services provided adapting to new trends and improving techniques to continue providing the utmost rejuvenation to spa guests.
There are six treatment rooms at SpaTerre and a private couple's suite paired with a shower and soaking tub for two. Open-air massages are available on SpaTerre's private beach cabanas, with opportunities to bask in the eucalyptus steam room or schedule a private meditation or yoga session for your spa day.
8. Fairmont Grand Del Mar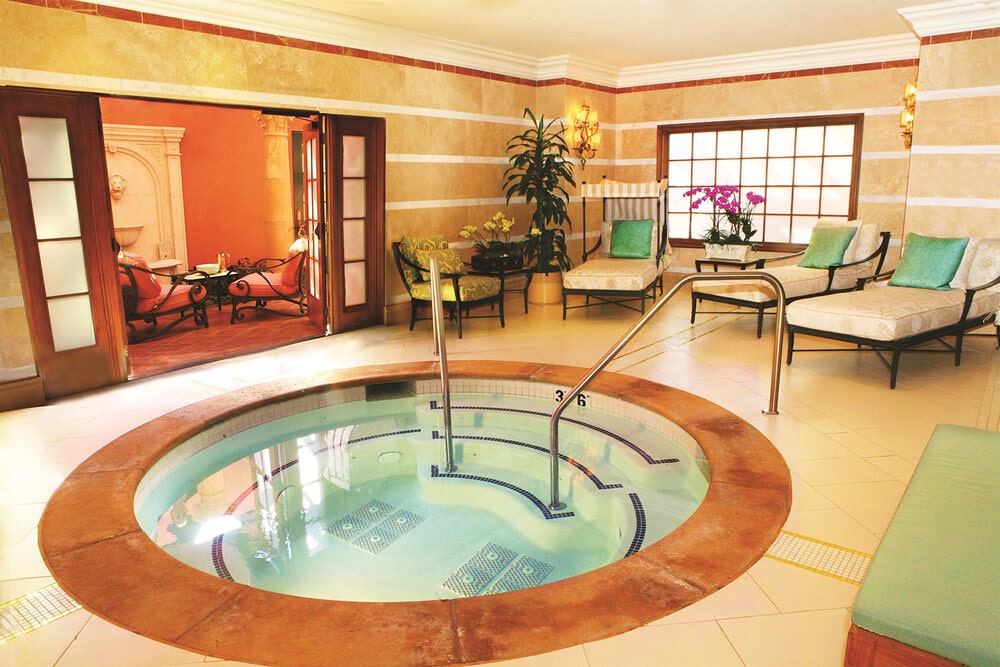 A spacious five-star hotel, Fairmont Grand Del Mar boasts its three Michelin-starred Addison restaurant, an award-winning golf course, hiking trails, and a five-star spa (to name a few impressive features!).
The Fairmont Spa & Wellness is the premier resort spa in San Diego, one of 60 Forbes Five-Star spas worldwide. The high-class spa offers a remarkable selection of treatments, including therapeutic massage and cleansing facials. A spa day at The Fairmont Spa & Wellness is set in the awe-inspiring scenic Los Peñasquitos Canyon Preserve, where guests can simmer in the spectacular views. The spa masterfully incorporates local elements in all treatment options, using mineral-rich clays and wild herbs to replenish the senses.
CHECK OUT THESE 9 GORGEOUS SAN DIEGO HOTEL POOLS
9. Thérapie Day Spa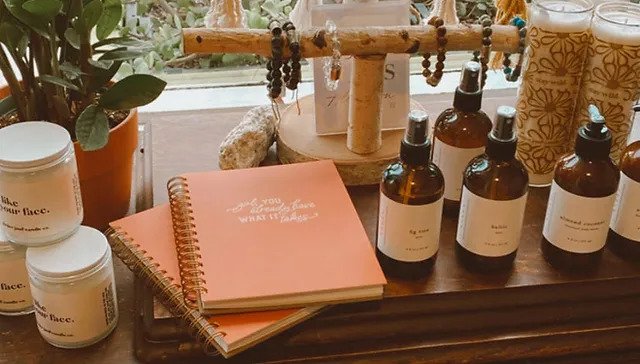 One of the best day spas in San Diego, Thérapie Day Spa's mission is to pave the way to your wellness journey!
Where self-care is for everyone, there's also a customized spa treatment, whether a body scrub, facial, or massage, at Thérapie Day Spa. Indulge in luxury with a Luxe Thérapie Spa Ritual. This spa package includes three hours of pure bliss!
First, start with a seasonal glow signature facial and a refining hand treatment. Then, at the halfway mark, clients will receive a seasonal Thérapie massage using warm stones and your pick of foot scrub and Aromathérapie.
Replenish your skin with a nourishing facial, all specially customized to your skin type and goals for the best skin benefits!
10. Girl on the Go Wellness Spa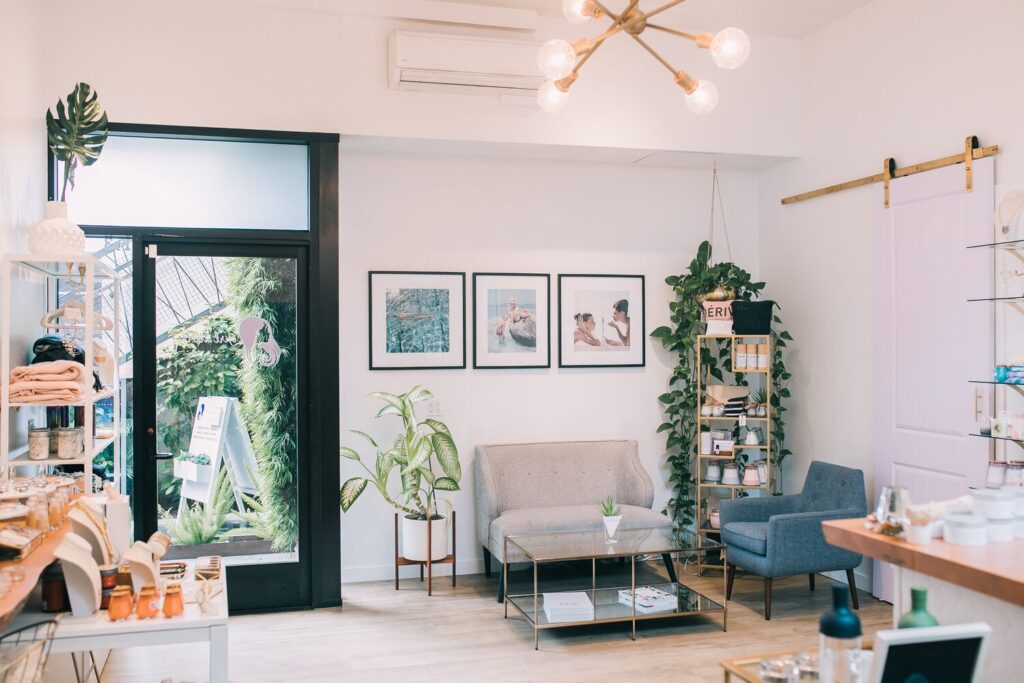 Location: Downtown San Diego
Using high-quality ingredients, Girl on the Go Wellness Spa has been voted the best day spa in San Diego for organic facials and specialty skincare!
Furthering education and efforts made to keep techniques up to date, this spa delivers its passion for quality treatments to its clients. For example, Girl on the Go Wellness Spa is the only spa in San Diego certified in connective tissue facial massage and gua sha. This glorious spa also offers LED Light Therapy, Kinesio taping, and herbal poultice for a transformative session with all the outstanding benefits.
11. AquaVie Fitness + Wellness Club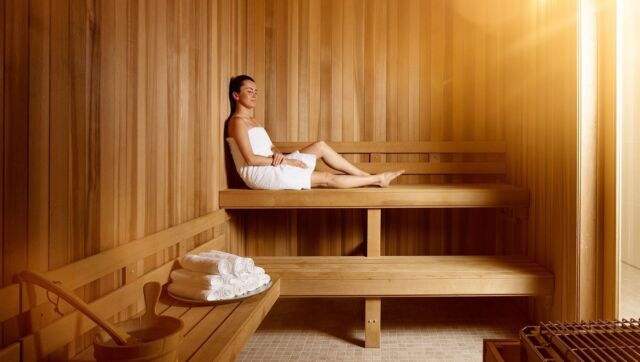 Location: Downtown San Diego
Empowering you to take your well-being to new heights, AquaVie Fitness + Wellness Club features a state-of-the-art fitness center, rooftop pool, running track, hot tub, and a luxury full-service spa, AquaVie Spa.
Choose from AquaVie Spa's skincare, massage, and mommy-to-be selections.
The Ultimate HydraFacial first incorporates a detoxification process to stimulate lymphatic drainage, then follows with the Signature HydraFacial to cleanse, extract, and hydrate the skin for the ultimate replenishment. Afterward, a collagen neck mask is applied before treatment ends with Connective Tissue Growth Factor (CTGF) and LED Light Therapy for anti-aging purposes.
12. Rancho Bernardo Inn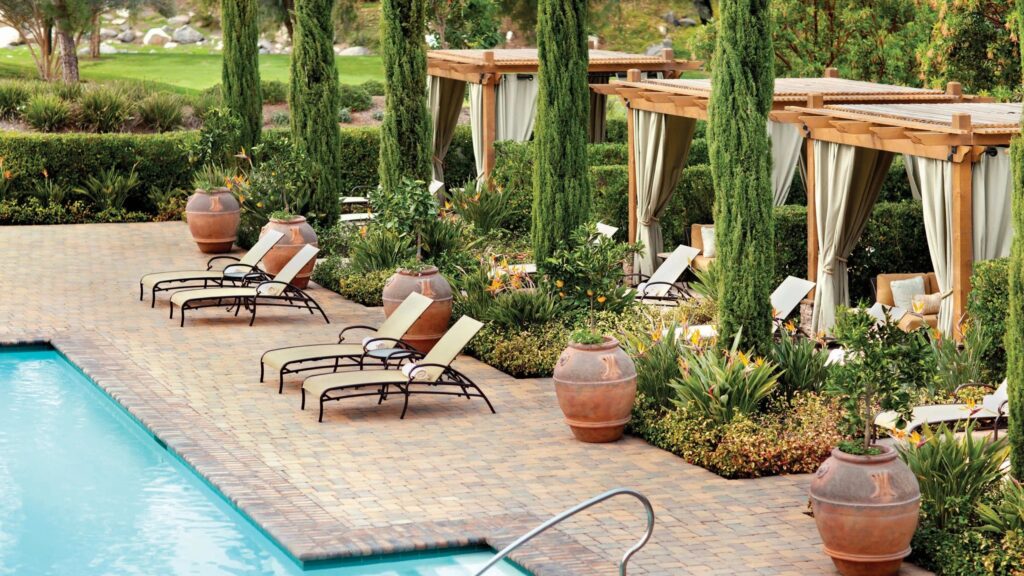 Location: Rancho Bernardo
An expansive resort nestled in the hills of San Diego, Rancho Bernardo Inn presents an opportunity for everyone to simmer in relaxation, refinement, and world-class accommodations.
Voted the Best Day Spa of North Inland San Diego in 2022 by Union-Tribune readers, the Rancho Bernardo Inn Spa books service in its outdoor or indoor treatment rooms for those looking for more privacy or those looking to soak in the sun's rays during their session. The outdoor treatment rooms are settled amongst the jasmine and eucalyptus trees, providing a sensual aroma for relaxing into.
Inspire and replenish your senses with a swim in the saline pool exclusive to Rancho Bernardo Inn Spa's guests. Then, savor a poolside meal with friends or your significant other, surrounded by a rejuvenating atmosphere.
13. Spa Pendry San Diego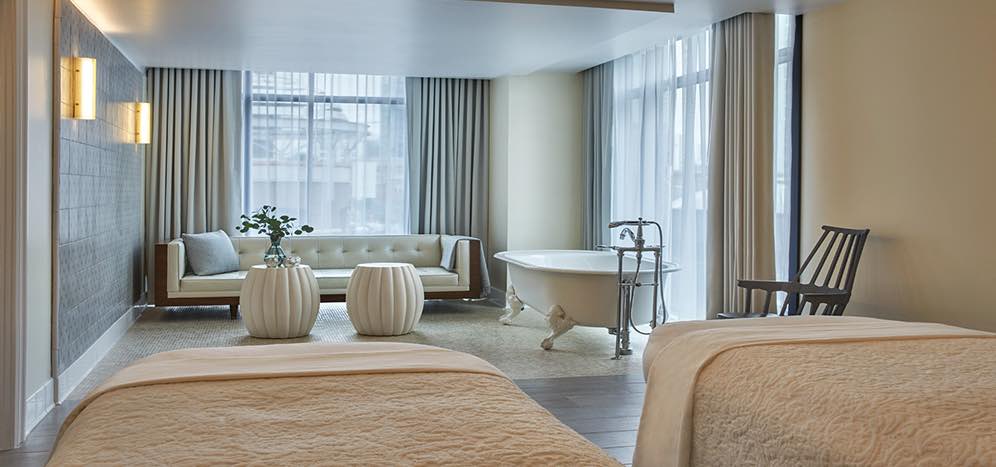 Location: Downtown San Diego
A restorative retreat, Spa Pendry San Diego is a peaceful space designed to approach treatment with holistic wellness methods. Skilled therapists
Situated in the historic Gaslamp Quarter of San Diego, on Pendry Hotel's third floor, Spa Pendry offers a gentle reprieve from the hustle and bustle of the city. Guests can pick from a menu of services that include rituals, facials, massages, and body treatments.
The HydraFacial services are a special treatment designed for all skin types and performed with a device that applies deep penetration of beneficial products for an impactful treatment. The Spa Garden Cabana Massage is a treatment performed in Spa Pendry's new outdoor Spa Garden Cabana, encompassing waterfall acoustics filling the background.
14. Cal-a-Vie Health Spa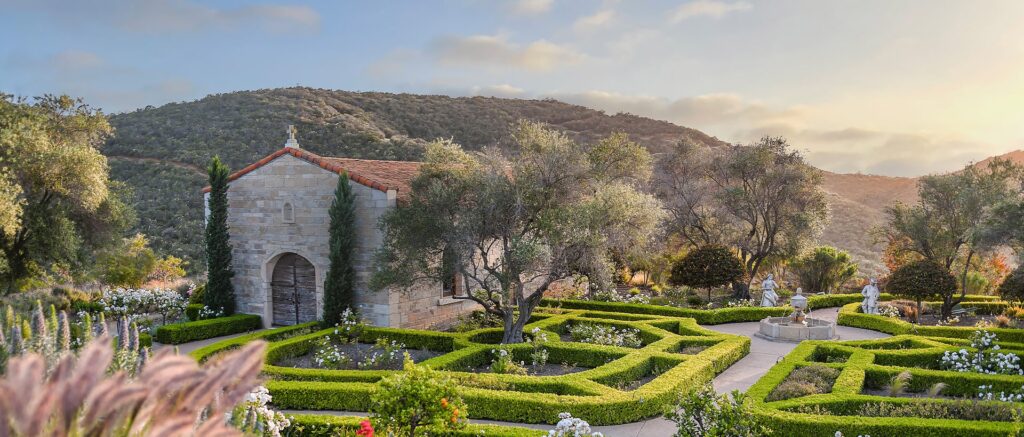 Exuding a charming European-style appeal, Cal-a-Vie Health Spa was voted Top 10 Best Spas In The World by Conde Nast Traveler Readers' Choice Awards. Tucked in scenic Southern California, the spa is a desirable wellness retreat enveloped by luscious fields of lavender and grapevines.
Cal-a-Vie Health Spa's award-winning wellness programs offer multi-night stays, though a trip to this outstanding spa can be just as great as a day trip!
Incorporating custom-crafted vinotherapy treatment, the spa's signature, guests relish the upgraded benefits of winemaking byproducts. Cal-a-Vie's vineyards have been harvested to establish its signature organic line of skincare products full of beneficial ingredients backed by studies to improve skin elasticity and stimulate collagen production.
15. Spa & Salon at The Del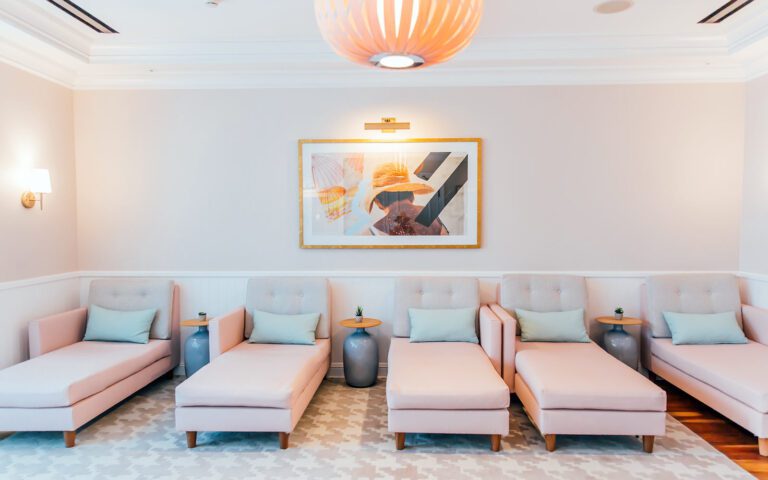 Featuring ocean-inspired spa treatments, the Spa & Salon at The Del is a tranquil coastal retreat where pampering is to be expected and savored!
Tapping into the sea's healing properties, every treatment boasts unique qualities that heal and replenish the body. For example, the Restorative Ocean facial uses antioxidant algae complexes intertwined with aromatherapy oils for anti-aging properties. This combination stimulates collagen production to reduce wrinkles, fine lines, or other skin barrier damage.
The Seaweed Leaf Wrap body treatment utilizes organic seaweed leaves to exfoliate and detoxify the skin. This replenishing session ends with a soothing massage using plum seeds, aloe vera, seaweed, mandarin, and lime to reduce cellulite and signs of aging, firm the skin, and improve skin tone as the ultimate skin nourishment.
16. The Spa at Torrey Pines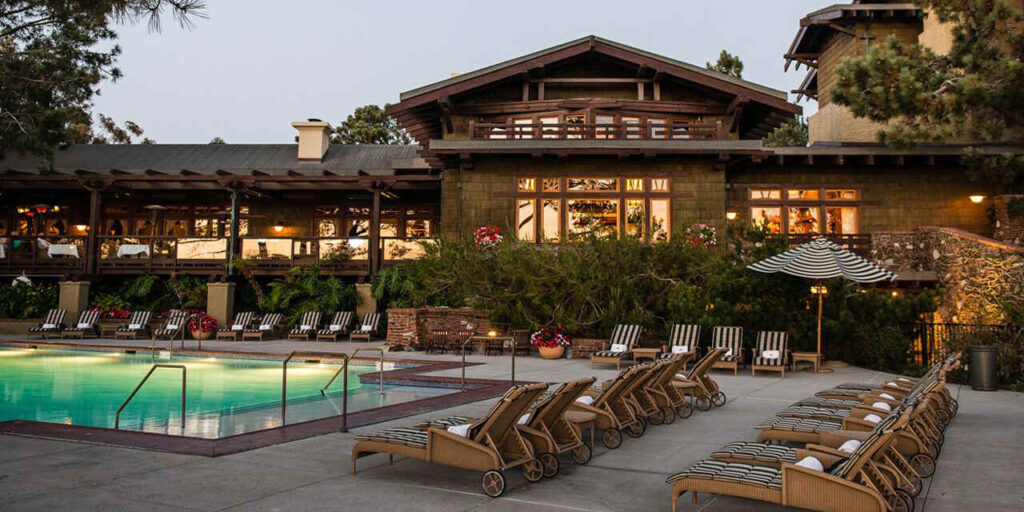 Located in one of La Jolla's most preferred hotels, The Lodge at Torrey Pines, renowned for its world-famous Torrey Pines Golf Course overlooking the Pacific Ocean, this next recommended spa is one you don't want to pass up!
The Spa at Torrey Pines sources its design and treatments from the local Torrey Pines State Natural Reserve plant life. This has extended to the spa's dedication to using eco-friendly botanical and marine-based products from lines such as Farmhouse Fresh and EmerginC Organics.
With views of the Pacific Ocean, The Spa at Torrey Pines sets a scenic setting that inspires relaxation and tranquility. Choose from an assortment of nail care, body wraps, facials, and massage treatments while savoring the spa's facilities, including an outdoor grand-scale pool and whirlpool, sauna room, steam room, lounge with a fireplace, fitness area, and more!
17. The Spa at Estancia La Jolla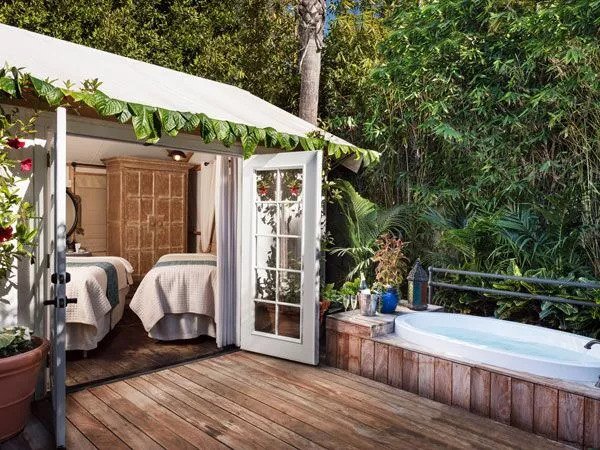 An award-winning full-service spa, The Spa at Estancia La Jolla was named Best Spa by San Diego Magazine.
The tranquil sanctuary is close to Torrey Pines, nestled amongst luscious gardens for a serene escape. The couple's bungalow is the perfect intimate setting for honeymooners or much-needed refresher, paired with an outdoor soaking tub that fits two. The saltwater pool is open for swimming, with daybeds and cabanas available for reservation to soak in the sun's rejuvenation.
Boasting award-winning service, The Spa at Estancia La Jolla presents an established menu of treatments, many of which have been updated with the newest trends and innovations. The Performance Sports Massage is designed for athletes or gym goers, using warming ginger oil, cooling menthol, and nourishing minerals to remove tightness from the joints and muscles. At the end of treatment, LED light stimulates muscle recovery for improved healing.
18. Saffron & Sage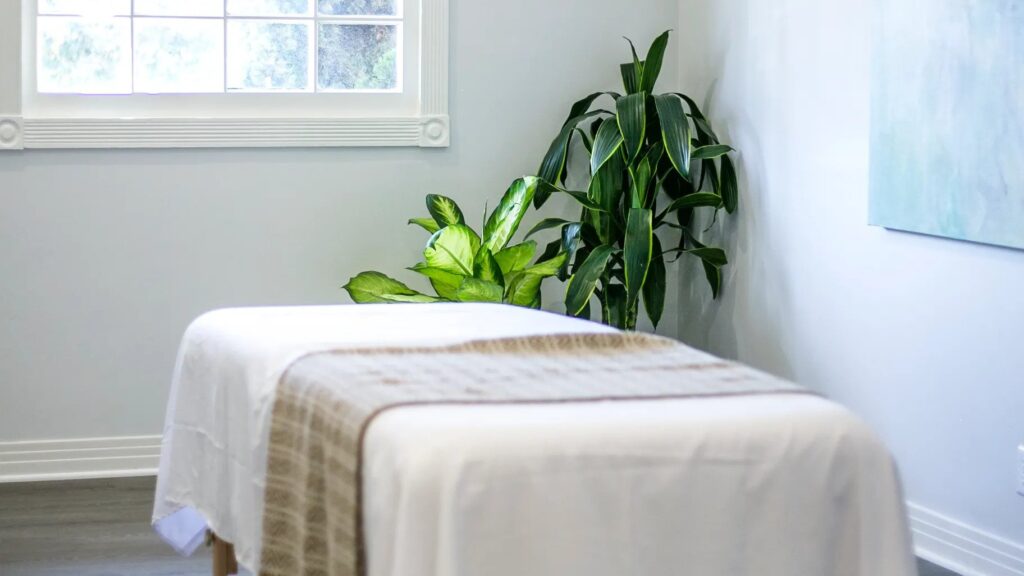 A unique spa, Saffron & Sage connects guests with practitioners, products, and practices to better prioritize and sustain their emotional, mental, and physical well-being. Intertwining spirituality and science at Saffron & Sage, they help you unlock your full potential by helping identify the root causes of tension, disease, anxiety, and stress using holistic healthcare's integrative and preventive approach.
Explore Saffron & Sage's extensive service options, from facials and movement therapy to acupuncture and sound therapy. Try out Fire Cupping, a traditional form of cupping that encourages the drainage of waste from the cells by activating the lymphatic system and improving circulation. This treatment is excellent for pain relief, muscle relaxation, cellulite reduction, stress relief, and sports recovery.
19. Golden Door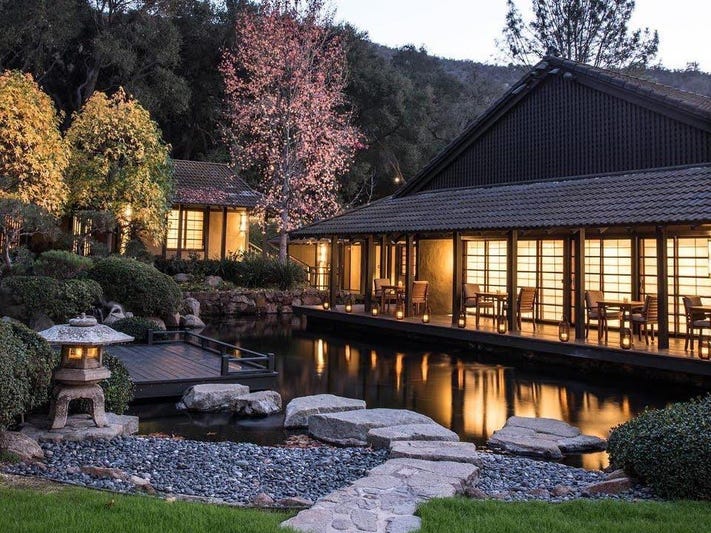 An Asian-inspired spa resort, Golden Door features 30 miles of exclusive hiking trails, 80 rejuvenating classes for the mind and body, daily massages, and fresh farm-to-table dining for a total rejuvenation of the senses inside and out.
Experience the Saraswati Sound Healing treatment, mixing marma stimulation, vibrational therapy, and a warm oil massage for an encompassing healing revitalization. Then, simmer under the Healing Stone massage, incorporating an intricate pattern of warm stones under and on the body with Hinoki oil to reduce tension and stress.
Pamper yourself with a Lomi Lomi massage, an ancient sacred healing massage passed down from Hawaiian families. It uses rhythmic movement paired with ocean-based oils rich in nutrients and benefits. The motions of the massage are meant to resemble that of the ocean's rhythmic tides, coming and going, to replenish balance within the body.
Like this post? Pin it for later?