BEST COFFEE SHOPS IN SAN DIEGO (THAT ARE ALSO INSTAGRAM WORTHY)
Coffee gives me life! A lot of people in this world can't get through a day without having a cup, if not two, of coffee. It has become a culture and I am here for it!
One of my favorite things to do when visiting a new town or when I have a Saturday off is to head to a cute coffee shop and enjoy the ambience while I sip on my coffee.
San Diego is home to some of the cutest coffee shops. In this article, I am going to give you 20 of the best coffee shops in San Diego that are also Instagram worthy.
BEST COFFEE SHOPS IN SAN DIEGO
There are so many coffee shops that are in San Diego, so it was hard to narrow it down. Here is how I chose which coffee shops to add to this list!
First, I broke it down by neighborhoods in and around San Diego.
From there, I reviewed pictures on my phone and found pictures that I have taken in some of the cutest coffee shops in San Diego.
San Diego really has a coffee shop for anyone. Whether you are a "work from the coffee shop" type of person or "cutes decor" type of person there is a shop for you.
In regards to this post we will focus on the ones that are most aesthetically pleasing. However, be on the lookout for a post on "best San Diego coffee shops to work from."
So, without further ado let's get to the list of best coffee shops in San Diego.
CUTEST COFFEE SHOPS IN SAN DIEGO
Let's start our list off by taking a look at some of the best coffee shops in San Diego in the regions of La Jolla and Pacific Beach. These are all coastal coffee shops that give off the beach vibes!
Make sure to plan a day hanging out in La Jolla and/or Pacific Beach after you grab your latte.
CUTEST COFFEE SHOPS IN LA JOLLA & PB AREA
Better Buzz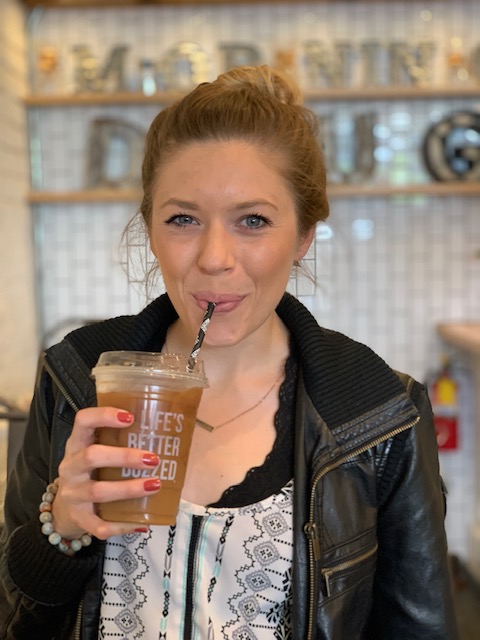 Better Buzz Coffee is known for its fun and more "out there" types of drinks. The decor at all of their locations is pretty cute! My personal favorite decor is the Hillcrest location, but honestly, they are all so cute.
You can find Better Buzz's in La Jolla, Miramar, Point Loma, Escondido and Hillcrest.
Bird Rock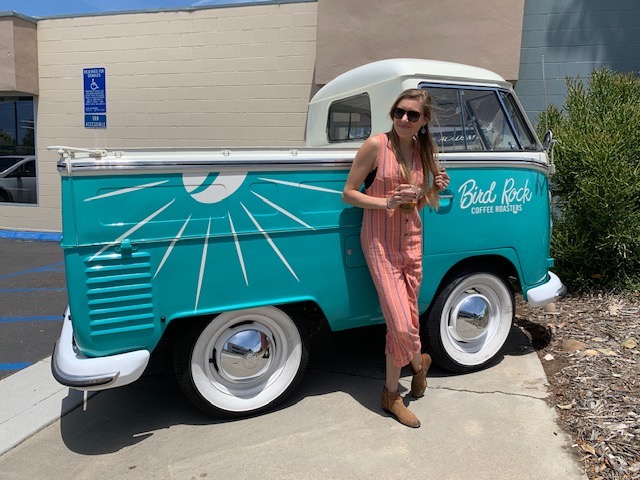 Bird Rock coffee shop is another one that you can find in many locations around San Diego. Bird Rock roasts and sells their own beans. They are known to be one of the more ethical coffee shops around.
A lot of locals tend to say this is some of the best coffee around town. You can find their roasters and coffee shops in La Jolla, Bressi Ranch, Little Italy, Torrey Pines, Morena and Pacific Beach.
If you plan to work from this coffee shop then I recommend the La Jolla one as it offers more seating.
Head to the Morena branch in order to get a cute picture in front of this car!
The Grounds Bean Bar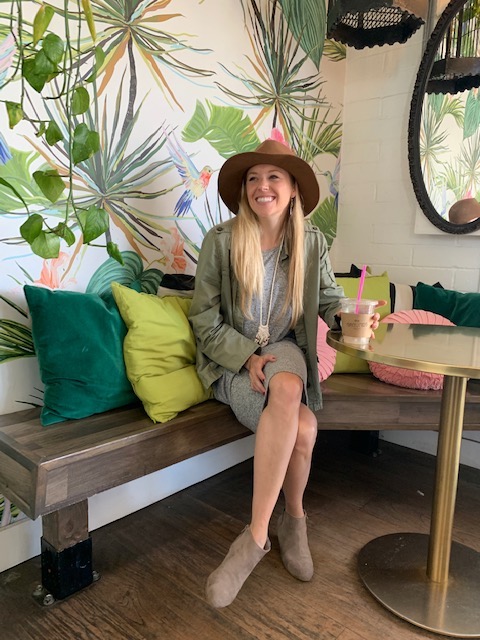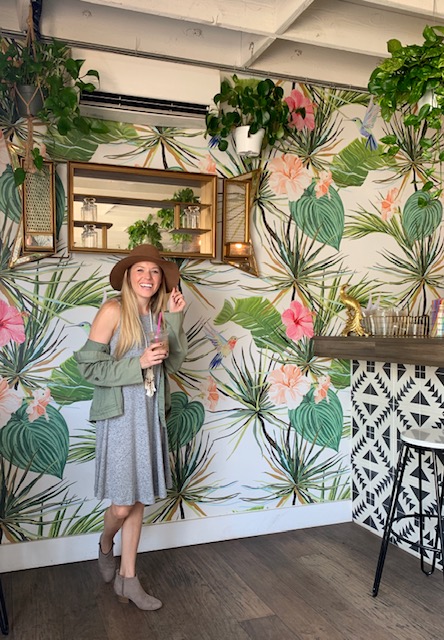 Any girl that wants a cute shot in a coffee shop needs to visit the Grounds Bean Bar. This is one of the cutest coffee shops in San Diego and one of the most instagrammable coffee shops in San Diego. The aesthetic is just on point! Plus there is only one of these, so it is unique.
Not only is the coffee delicious, but make sure to try some food while there too! Hang out at the beach in Pacific beach when you are done!
CUTEST COFFEE SHOPS IN NORTH PARK/SOUTH PARK
Let's head inland a bit and look at some of the cutest and most instagrammable coffee shops in the North Park and South Park neighborhoods.
North Park and South Park are in the greater downtown San Diego area. These neighborhoods offer cute houses and fun thrift shops! Oh and of course, great coffee!
Cafe Madeleine
This is a French-inspired cafe located in both North Park and South Park. The outside of this cafe makes for one of the cutest coffee shops in San Diego.
I personally like the South Park location. It is red on the outside and photographs great! Both locations are known for their crepes, so I highly recommend you taste one when visiting here.
Dark Horse
Dark Horse in another shop that roasts some amazing coffee. They have two locations in both North Park and South Park. The South Park location has a super cute pavilion that is great to enjoy year-round.
Why I love them: They offer vegan donuts and the best mocha's!
Holy Matcha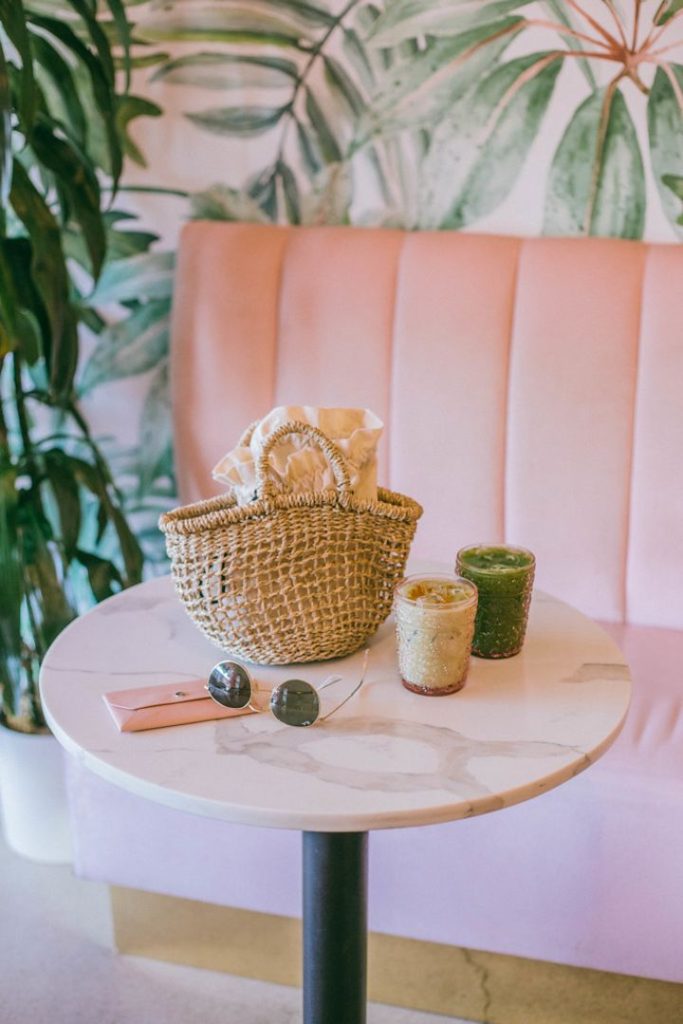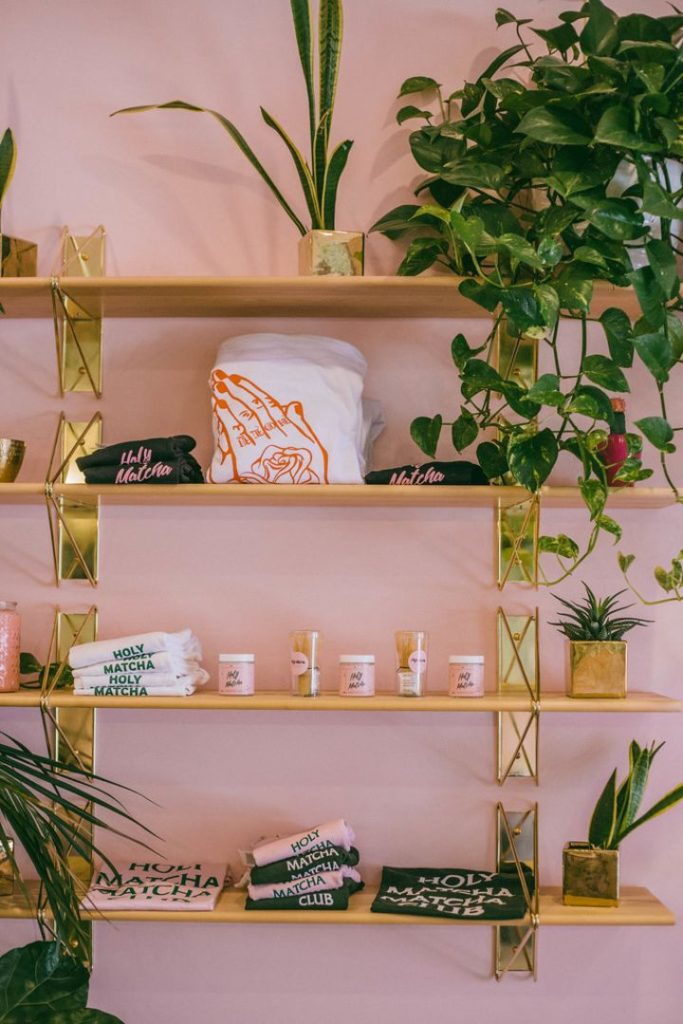 Are you a girly girl? This is the coffee shop for you! It is filled with tropical pink and green vibes! You obviously need to get a matcha if you are visiting Holy Matcha.
They have two locations: one in North Park and one in East Village.
Communal Coffee

Communal coffee is honestly one of the cutest coffee shops in San Diego. They have two locations. The main location is large, has outdoor and indoor seating, and even has a flower shop!
The second location is more like a pop up shop. It is a little airstream in South Park. Yet, the decor is the cutest thing in the world!
Dia Del Cafe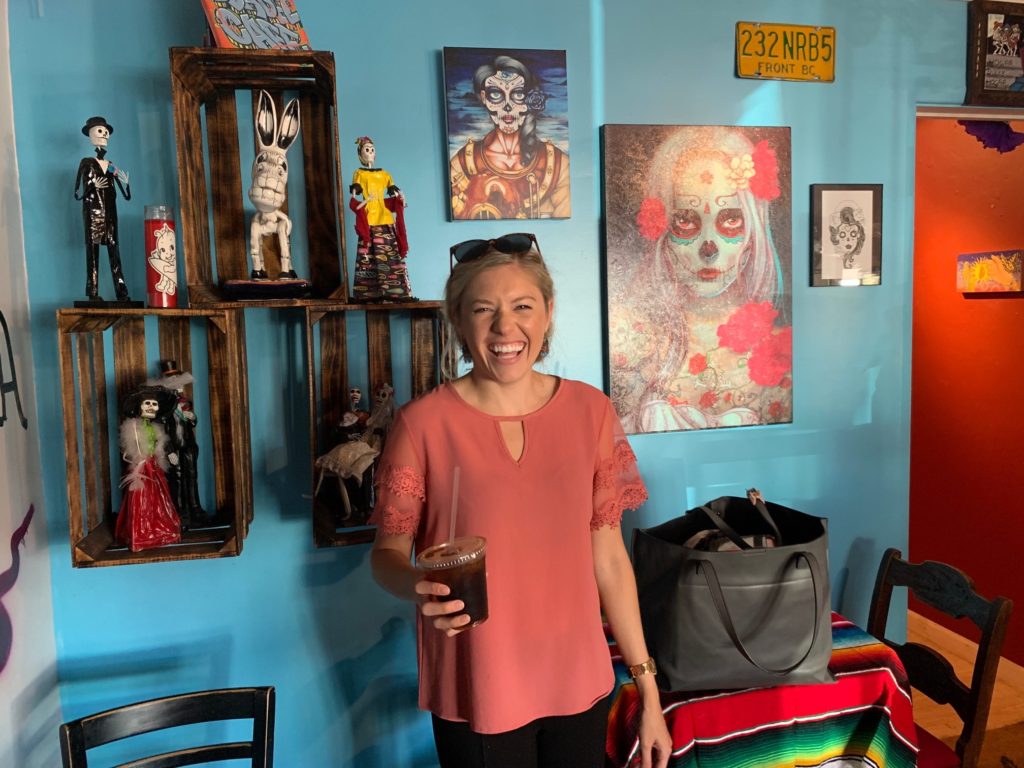 I love this little coffee shop because it is so unique and different from the other "most instagrammable" coffee shops. I found this place after church one day and fell in love.
It is a Hispanic inspired coffee shop located in North Park and the baristas are so nice. If you ever have a chance to visit here then I recommend also ordering something that is more "hispanic inspired."
BEST COFFEE SHOPS IN DOWNTOWN SAN DIEGO
The Devil's Dozen
Invigatorium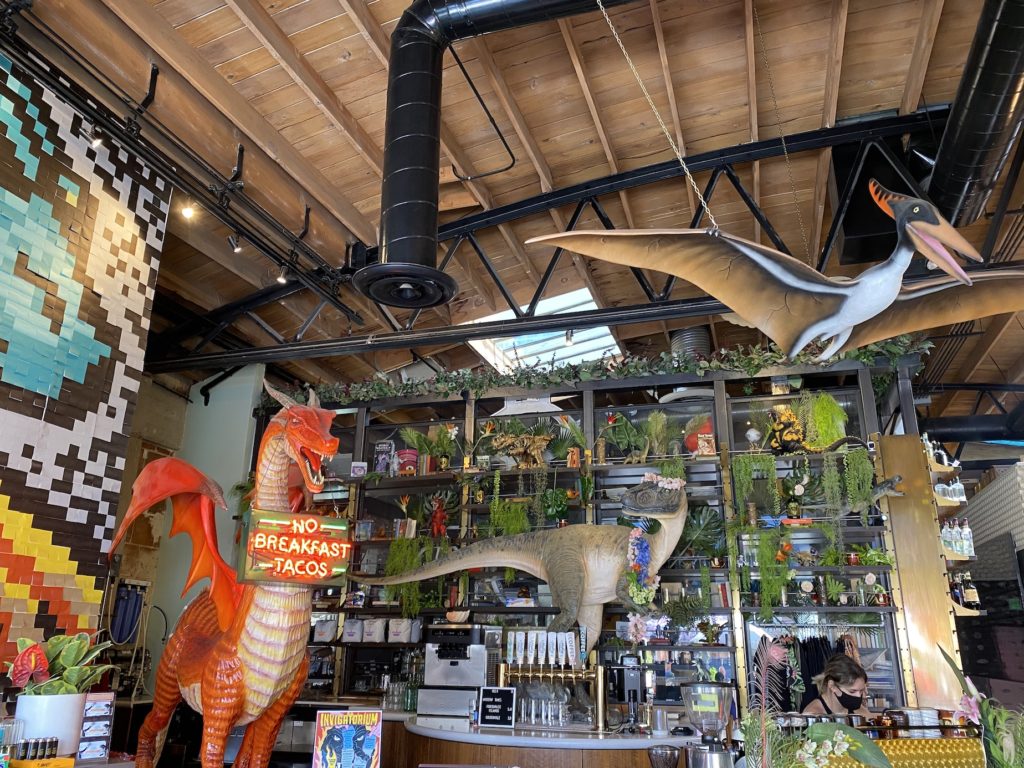 Dan and I recently visited the Invigatorium because of his love for dinosaurs, but not going to lie I was excited too! The vibe is Jurassic Park-inspired! Make sure to try out the breakfast tacos when there too!
Parakeet Cafe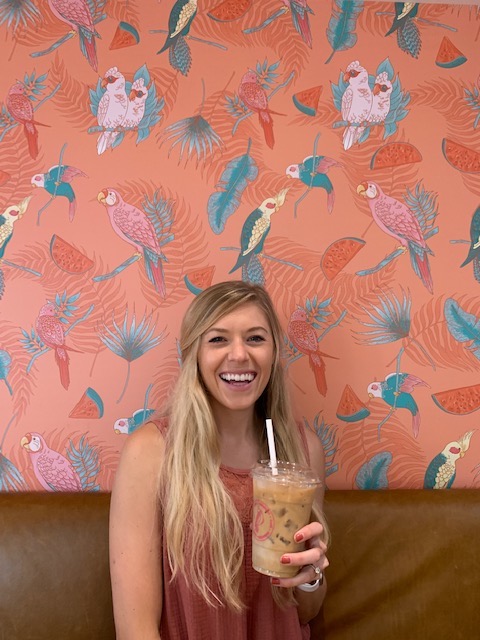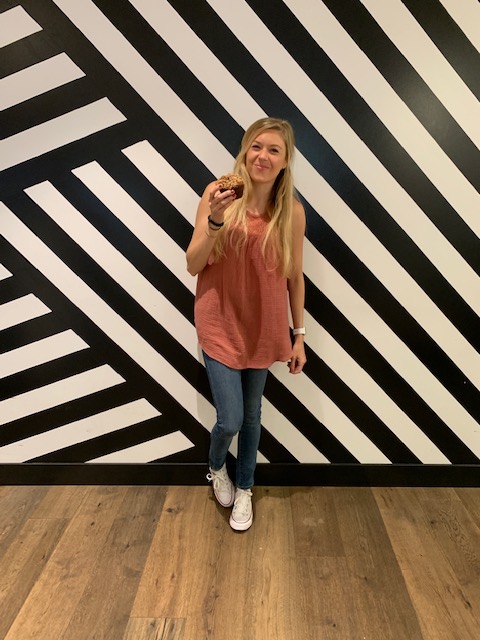 There seems to be a trend in San Diego to have cute tropical shops decorated in pink and green! The Parakeet seems to follow this trend, but they have added parakeets into their decor!
Again, this is a super cute spot! They have a larger location in Little Italy and then a small pop-up shop in La Jolla and Coronado.
Ryan Bros Coffee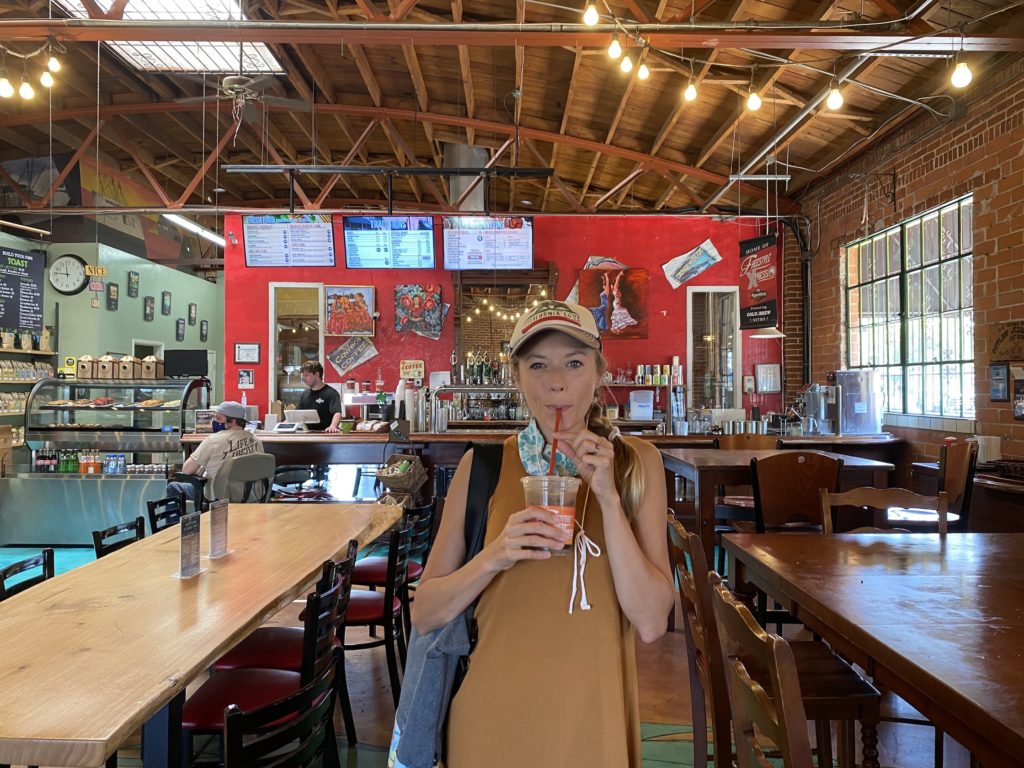 Ryan Bros coffee is a bit further south. Again, they have multiple locations, but the one I have been to is in Barrio Logan. What I love about this place is they have coffee on tap! They are all unique flavors and you can get little taste testers.
CUTEST COFFEE SHOPS IN CLAREMONT/MISSION BAY/OCEAN BEACH
Bay Park Coffee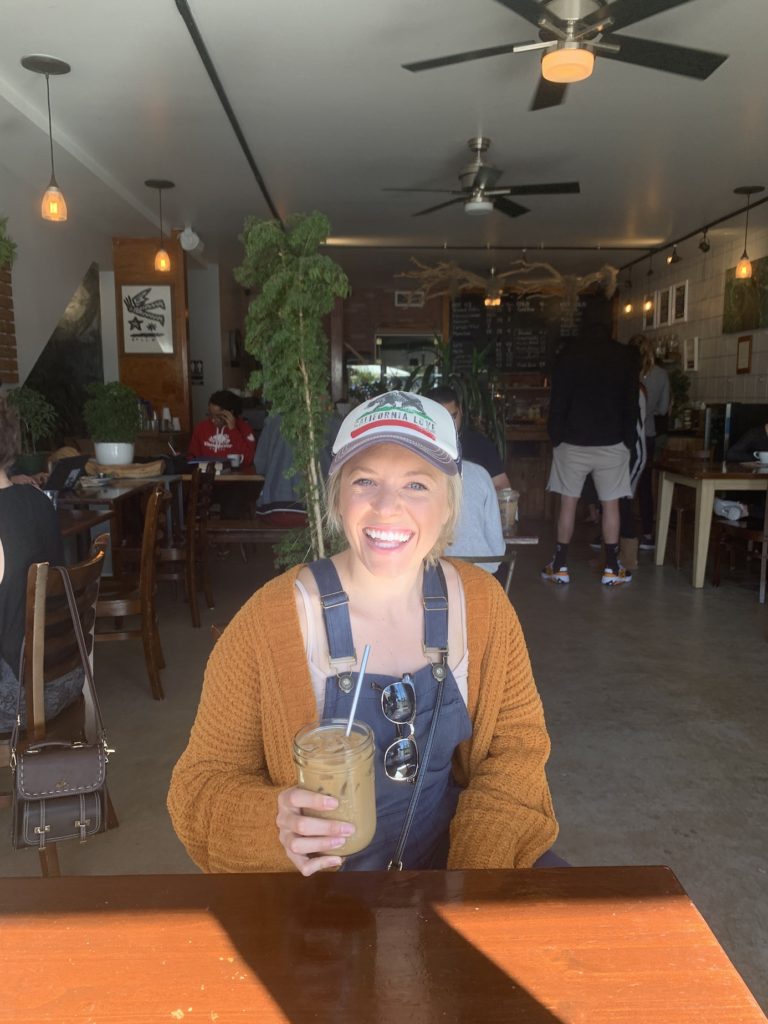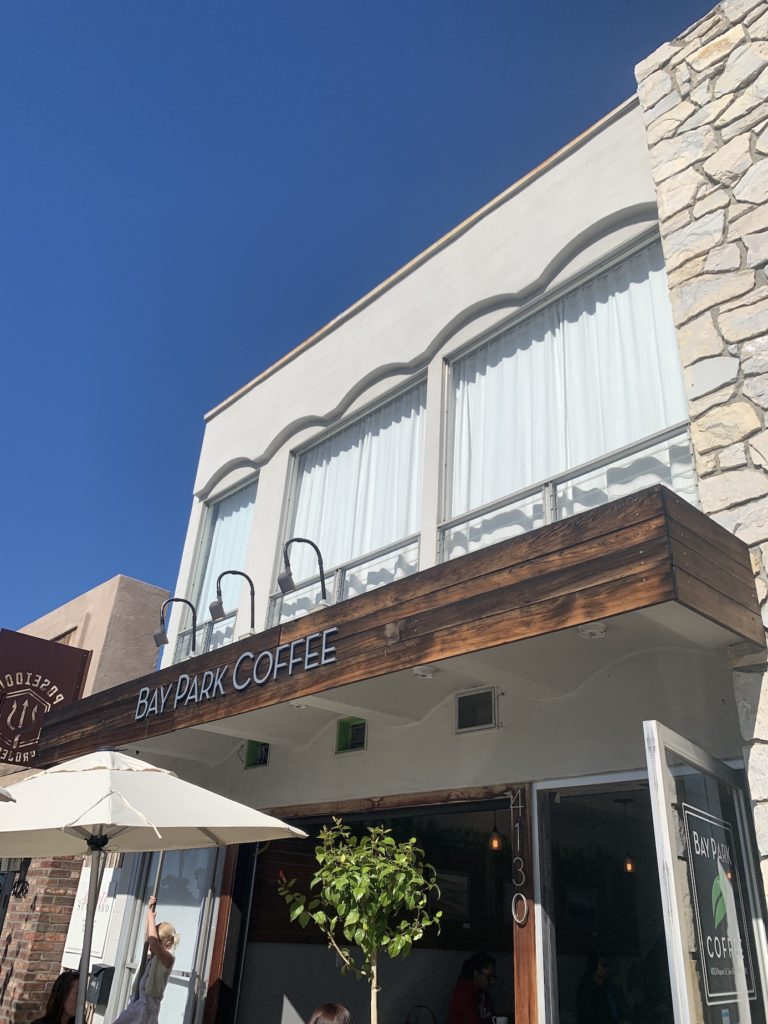 Bay Park Coffee is located in Bay Park in the Mission Bay area. It is a small place, but still extremely cute! When here, I recommend getting an iced coffee!
Garden Coffee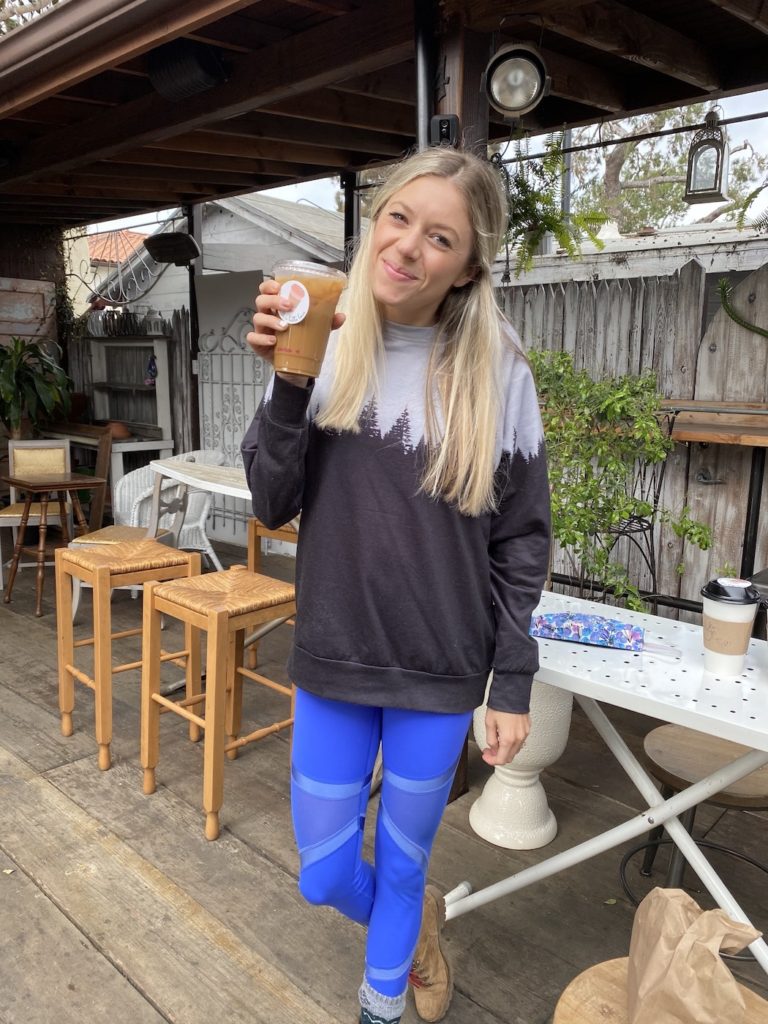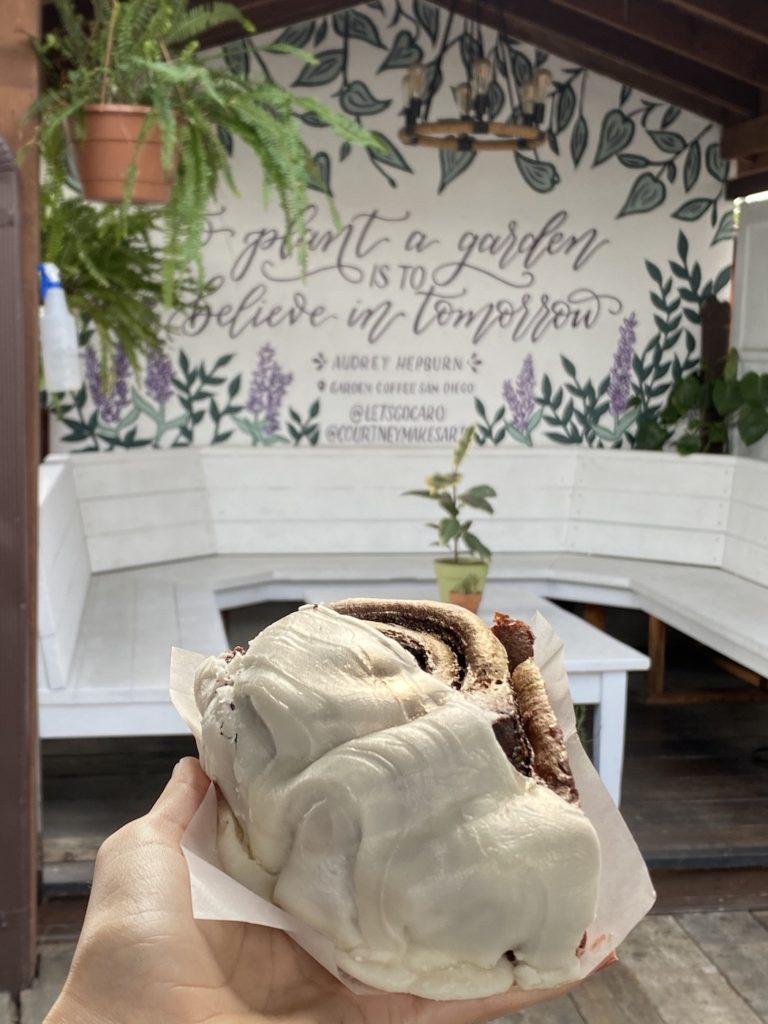 Are you one with earth and follow a holistic living lifestyle? If so, then I feel like this is the coffee shop for you. It is all outdoors and essentially in a garden. They have lathered the place with succulents and created a cute outdoor spot to sit.
If you have time make sure to check out the thrift shop next door! Oh and also try their vegan red velvet cinnamon roll!
The Forum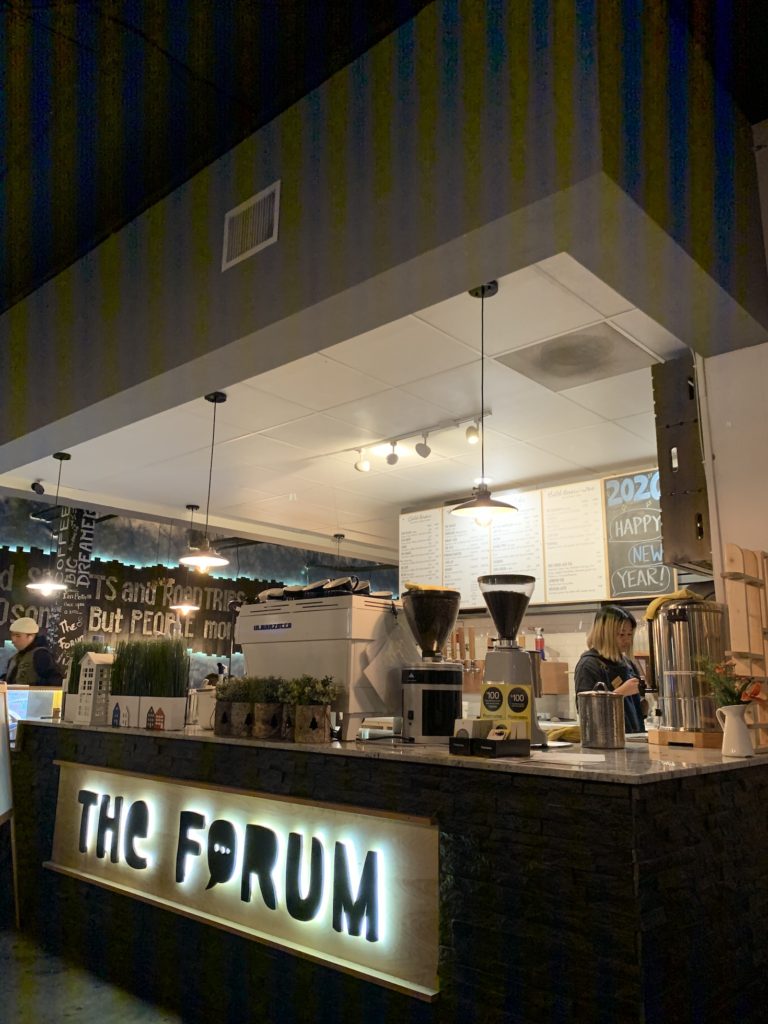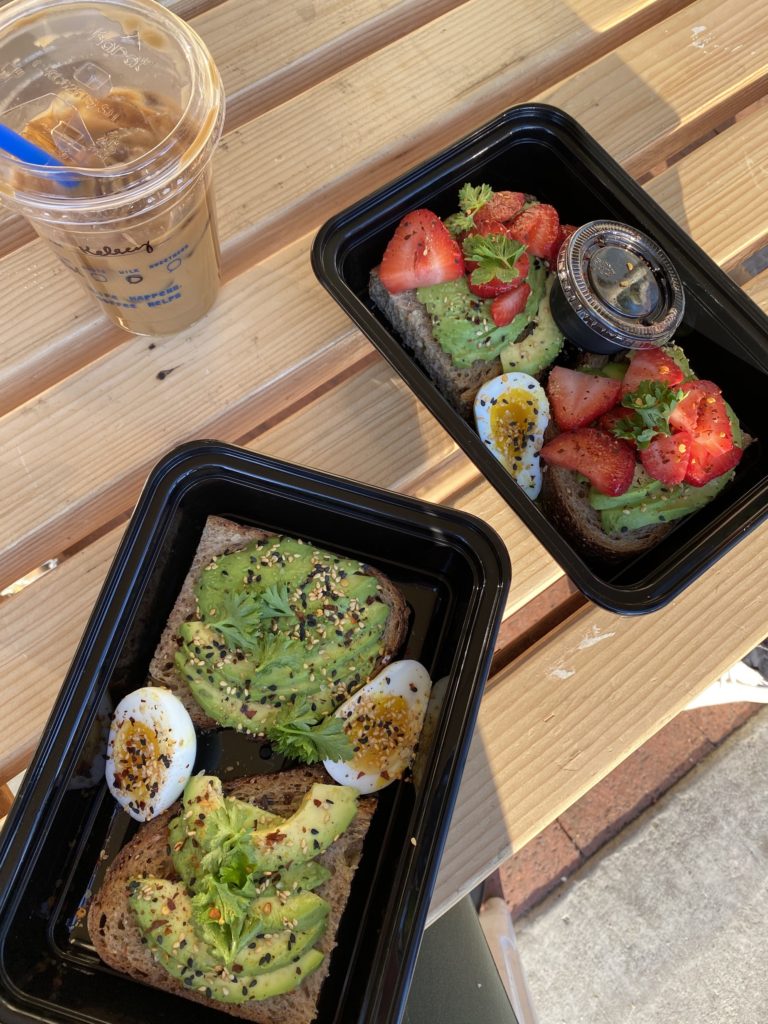 This cute coffee shop has a map on the wall and you can add a thumbtack to show where you are from! I got the avocado toast with eggs when I visited and it was delicious. You can find the forum coffee shop in the Claremont area.
Espresso Lab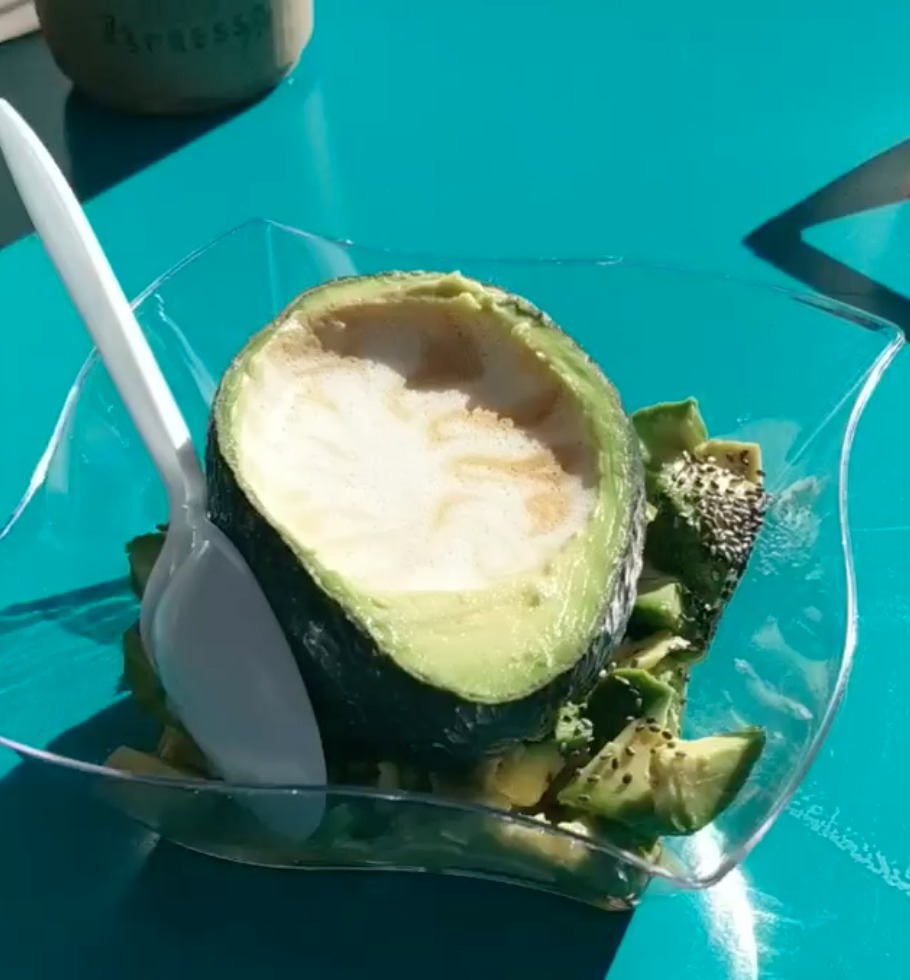 This is the cutest hole in the wall coffee shop location in Ocean Beach. They have velvet chairs and a cute wall! Make sure to try the flat white in an avocado when here with an acai as a side!
CUTEST COFFEE SHOPS IN NORTH COUNTY EAST COUNTY
San Diego is huge as you may know, so here are some of the best San Diego coffee shops that are a little "further" out than right in the heart of the city.
Coffee Coffee
Coffee Coffee is located in Encinitas in North County San Diego. The outdoor seating area is beautiful as it is under a big tree! This is definitely a more "locals" spot, but if you are up in the area then I recommend checking it out.
Camp Coffee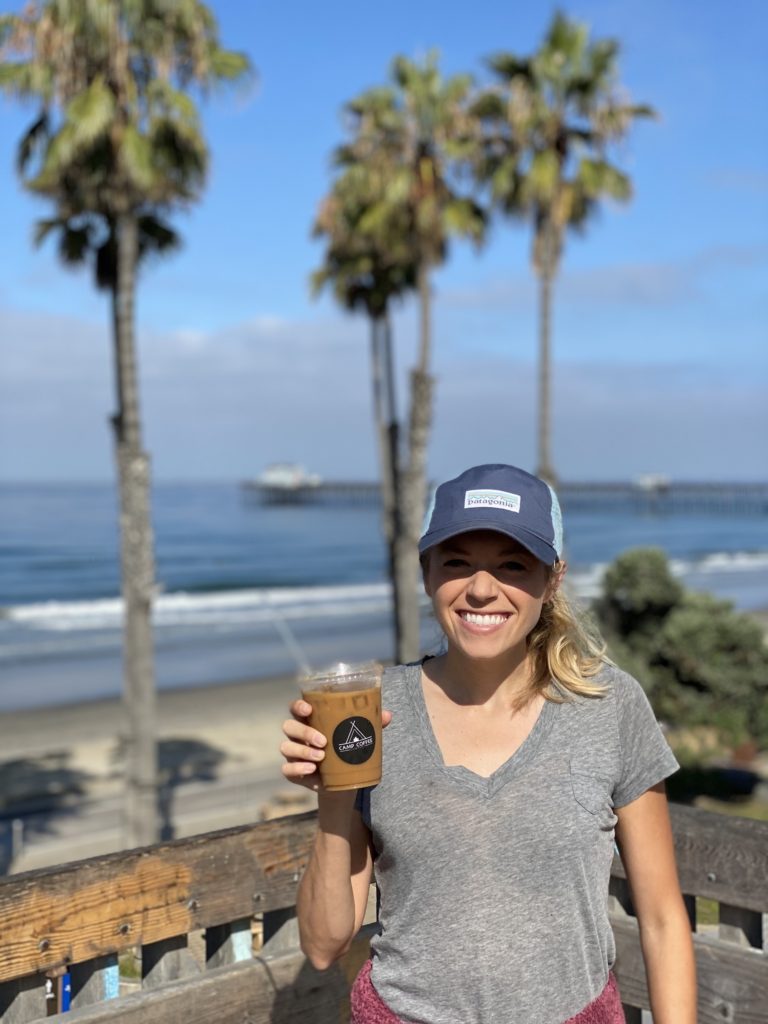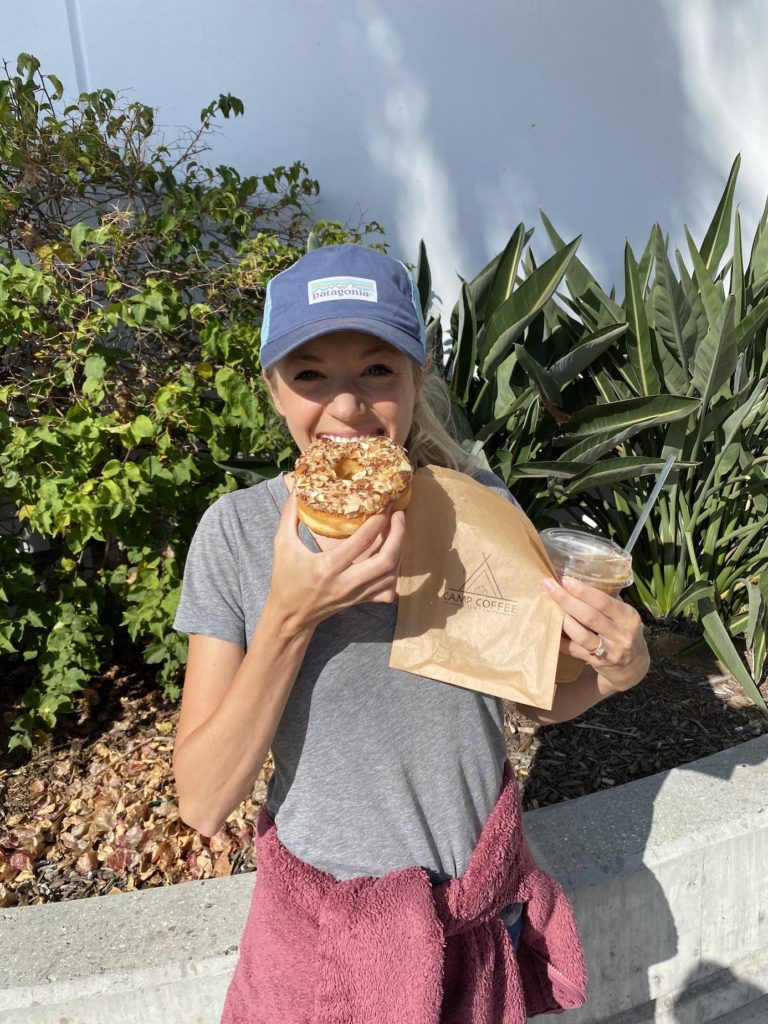 Camp Coffee is located in North County right in the heart of downtown Oceanside. You can easily walk to it from the beach if hanging out by the Oceanside pier.
This place was my vibe! It is all about camping and outdoor adventures! I love the rustic look to it and their coffee is so cute! If you are vegan they do vegan donuts and cinnamon rolls on Fridays.
S3 Coffee Bar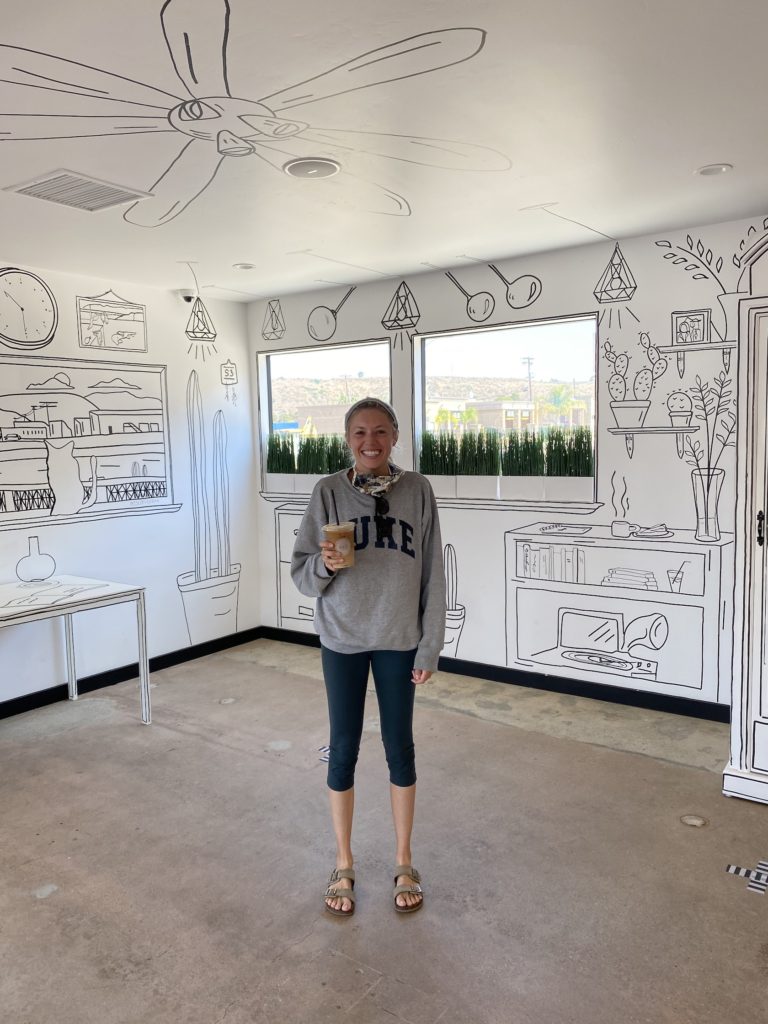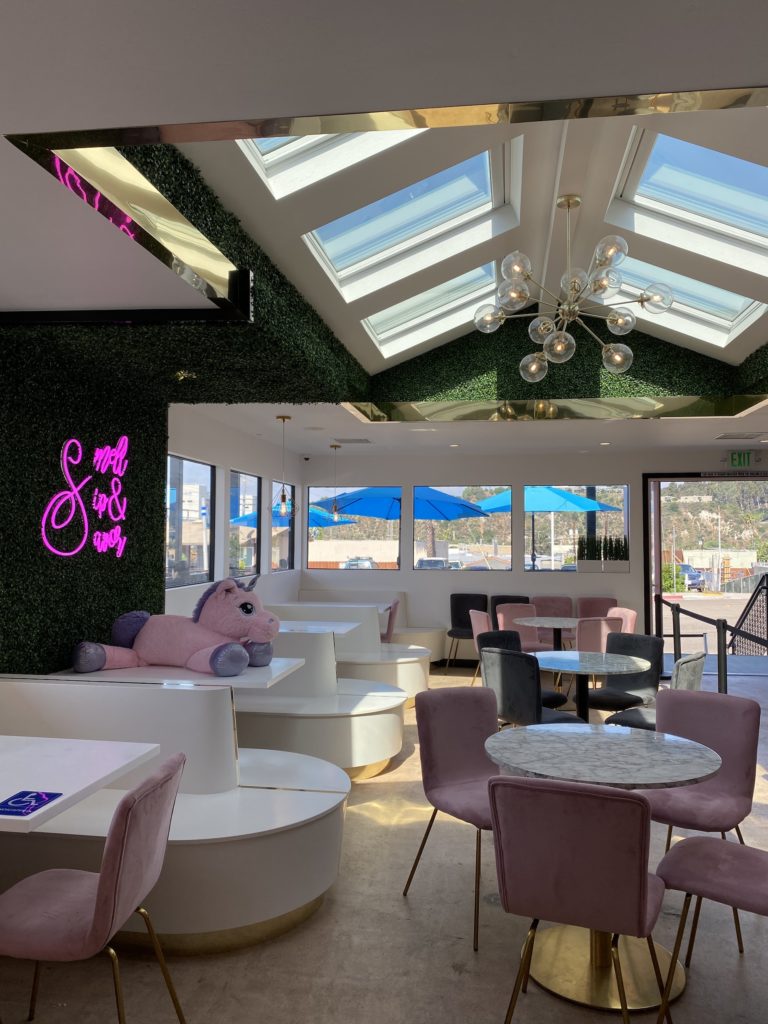 S3 Coffee bar is located in East County San Diego in the neighborhood of Grantville! This is a hard coffee shop to describe, but as you can see in the picture below it is unique!
I love the design! It makes you feel like you are in a big box and someone has stenciled you in haha. It is weird to explain, but super cute!
FINAL THOUGHTS FROM YOUR OUTDOOR LOVING GIRL
Woohoo! What a long list! Honestly I could go on and on about all the cute coffee shops in San Diego.
The list could really be never-ending. I will continue to add to this list as I visit more coffee shops as well.
If you want more instagrammable places in San Diego then check out this article!
I'd love for you to tell me in the comments if you have ever visited any of these coffee shops.
Like this post!? Pin it for later!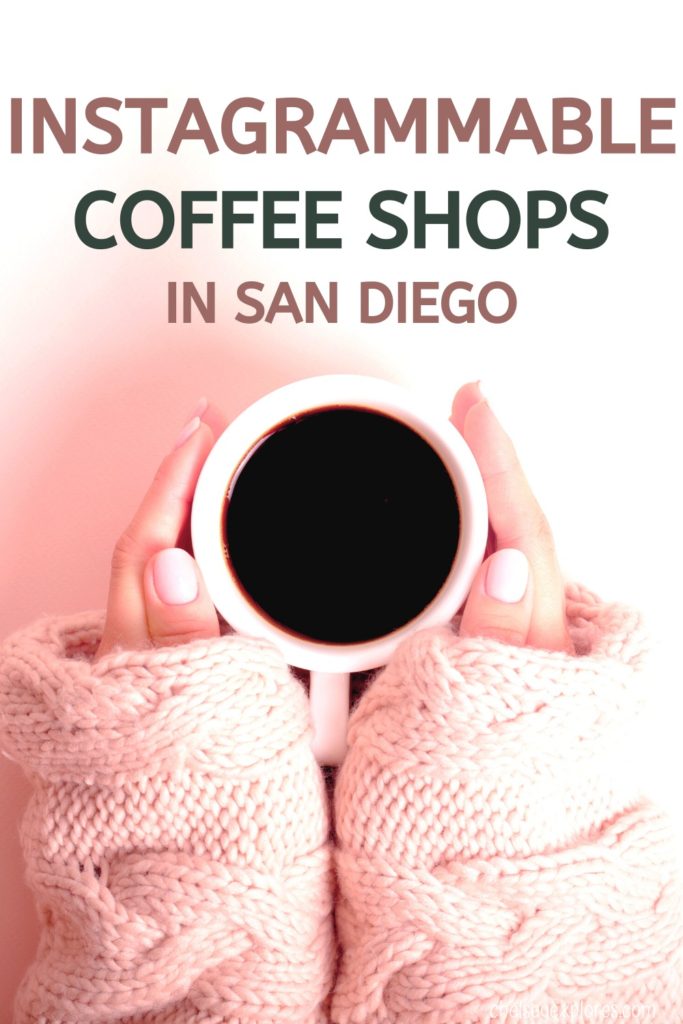 BEST COFFEE SHOPS IN SAN DIEGO