14 Best Coffee Shops to Study in San Diego
San Diego, California hosts a beach lifestyle vibe that accentuates outdoor activities and living. But what about the days you need to take a step back and pause to reset?
Well, I got you covered then. In this article, I am going to give you 14 of the best coffee shops to study or work from home or just relax at in San Diego.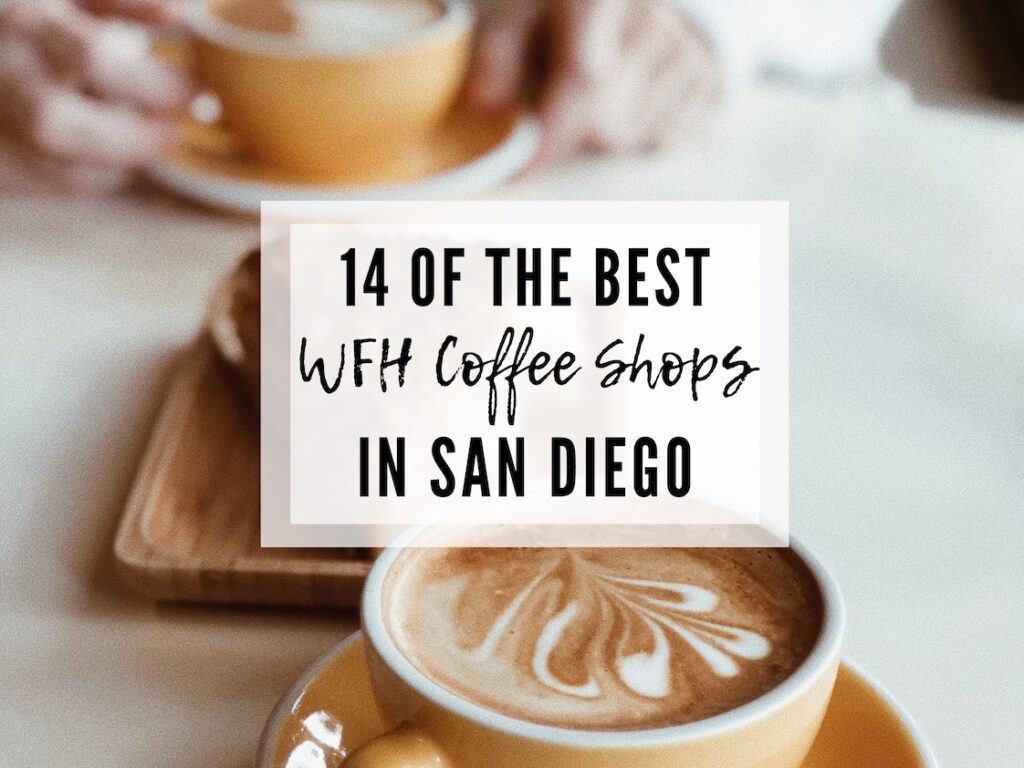 San Diego has a whole lot of coffee shops waiting to be explored! For many, a visit to a coffee shop means basking in the reviving atmosphere and ambiance. For others, the visit may include working, studying for a big test coming up, or sitting back to relax with a book in hand.
Every one of these coffee shops listed below emphasizes a select atmosphere, design, and setting that caters to your specific needs, whether that be to study or sit outside to enjoy fresh air during your visit.
Best Work remotely Coffee Shops In San Diego
1. Izola Bakery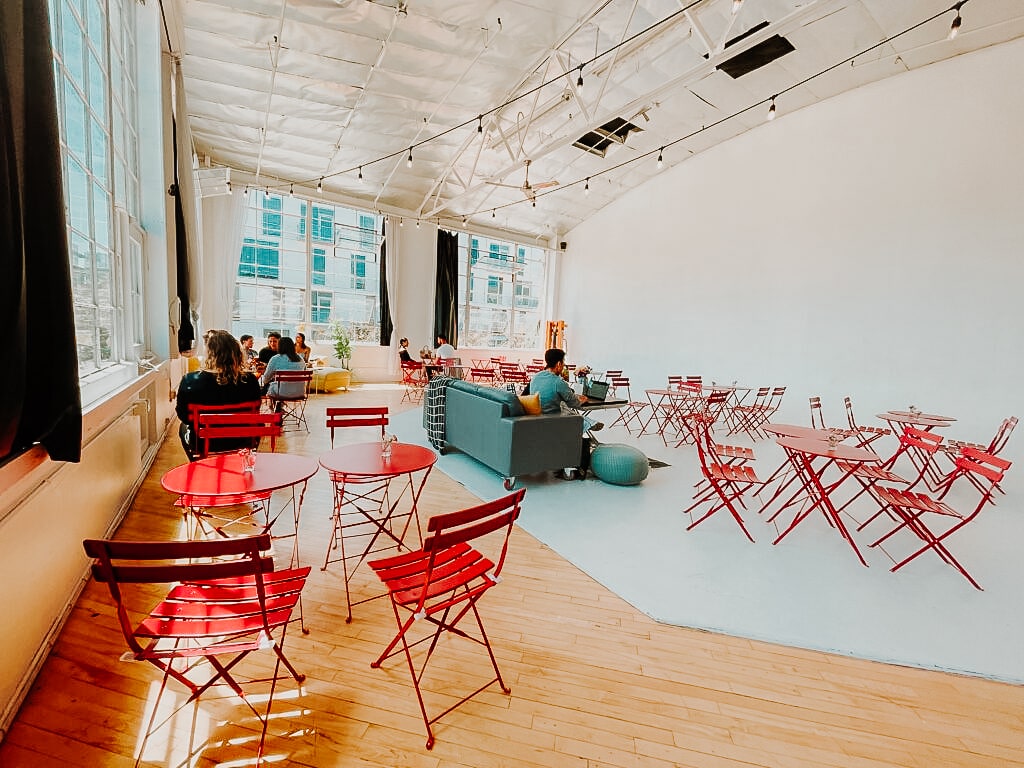 Inspired and founded after COVID hit in 2020, Izola Bakery was created to spread joy and love through freshly made food using high-quality ingredients and exceptional customer service.
To build a space dedicated to spreading awareness and amplifying the voices of the marginalized. Each staff member at Izola Bakery spreads happiness through every interaction with all customers that walk through the doors.
The bakery products use as few ingredients as possible, removing any preservatives or filler ingredients that demote health, freshness, and flavor. For example, the IZOLA Sourdough is made using only four ingredients–salt, water, organic flour, and IZOLA sourdough leaven (plus lots of love as the not-so-secret ingredient).
And, Izola Bakery was just awarded Yelp's best bakery in America for 2022!
2. Brew Coffee Spot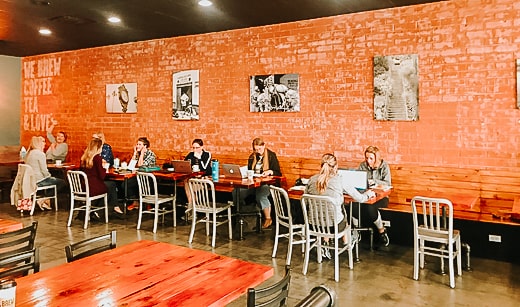 Sourcing environmentally responsible coffee, Brew Coffee Spot is also committed to reducing any ecological footprint that it can as a business. By providing ceramic cups for hot drinks, glassware for cold drinks, cups, and straws made from plants (PLA), and using real plates and silverware, Brew Coffee Spot improves your dining experience while simultaneously reducing its ecological footprint. To put it into perspective, Brew Coffee Spot is calculated to throw away a fraction of the trash other coffee shops produce!
Opening its doors at 7:30 AM and shutting its doors at 3 PM, this inspiring coffee shop is perfect for the early birds and brunchers. Whether it be finding a place to relax, sitting down to chat with a friend, or getting some much-needed studying done, Brew Coffee Spot is the place to go.
Snag a cup of Barista Ben's Latte, made with vanilla, espresso, and mint mojito, for a fun, zippy pick-me-up. If you're a fan of coconut and chocolate, the Coco Mocha is a must-try. It's made with steamed milk, coconut, espresso, and chocolate for an undeniably tasty and refreshing drink to savor in an inspiring space.
3. Kaffemeister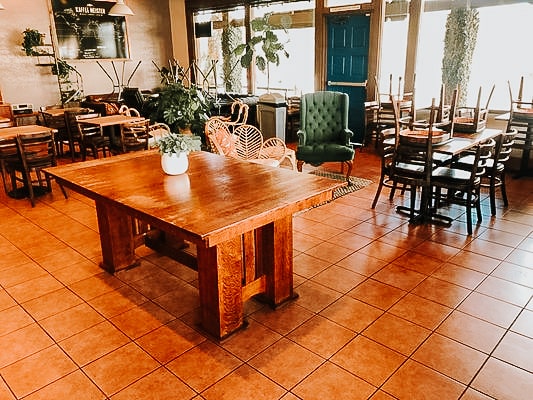 Highly rated for serving A+ barista-quality espresso drinks that include artistic lattes, Kaffemeister is a must-visit.
The impeccably friendly service, fresh-roasted beans available to take home, warm and grounding environment, and surplus coffee make for an exceptional experience. From fresh-baked pastries, refreshing drinks, and other breakfast and lunch menu items, sitting down at Kaffemeister is nowhere near a hassle—it's a joy!
Check out the Lavender Mocha made with housemade lavender syrup and dark chocolate mocha sauce for a unique pick me up. Kaffemeister also makes blended drinks like the Mocha Frappe, Caramel Latte Frappe, and Vanilla Cream Frappe so that their customers can sip icy caffeinated goodness!
4. Public Square Coffee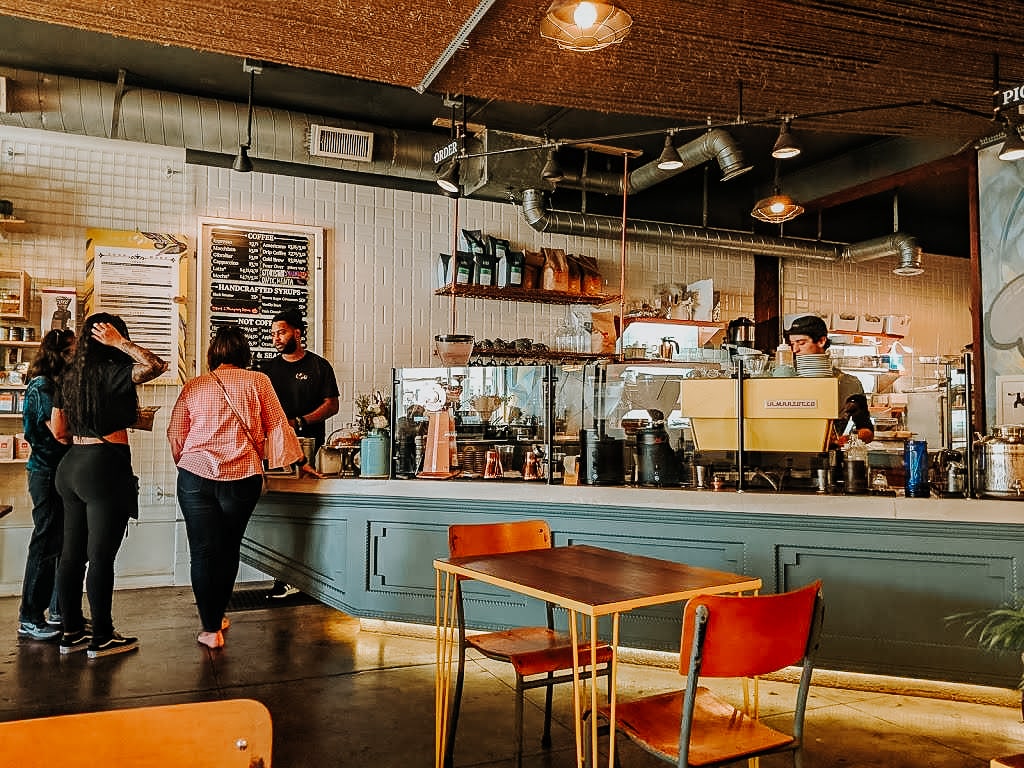 A unique coffee shop scattered with art, Public Square Coffee offers espresso and light fare along with a sidewalk patio outdoor seating.
Previous customers have praised the exceptional customer service, desirable window seating, tasty food, and new favorite drinks. Perfect for those looking to enjoy a view as they eat, study, or read!
Order a housemade sugar scone and a side of butter available in a variety of flavors that range from pumpkin spice to guava butter. For a drink, make your selection of handcrafted syrups to sweeten and flavor a latte of your own making—try mixing things up and selecting a crafty new flavor choice like black sesame!
Best Coffee Shops To Study
5. Lestat's On Park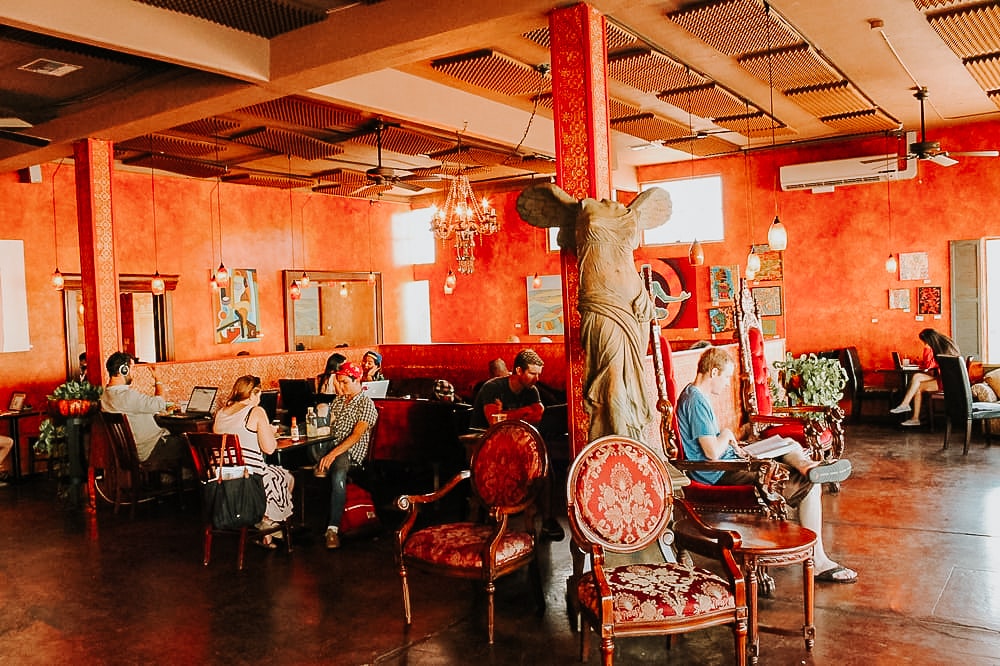 A cafe open 24/7, Lestat's on Park opened in 2010 to serve the University Heights community. With its extensive hours, this coffee shop makes for the perfect study spot for night owls!
Providing a quiet back room and multiple selections of cozy couches, Lestat's on Park is dedicated to building an environment to relax, sit, and settle in. Whether reading a book, finishing up after-hours work for those that work remotely, or getting some much-needed studying in, many people stop by Lestat's on Park for a caffeine fix and savor the quiet ambiance.
The selection of caffeine-spiked drinks is exemplary and includes gourmet drinks, cold drinks, cold brew chillers, and polar freezes—and that's without including all the yummy cafe-inspired food and snacks. Whether it be a light lunch or a full-on rustic pizza, Lestat's on Park is a grand coffee shop destination.
6. The Forum Coffee House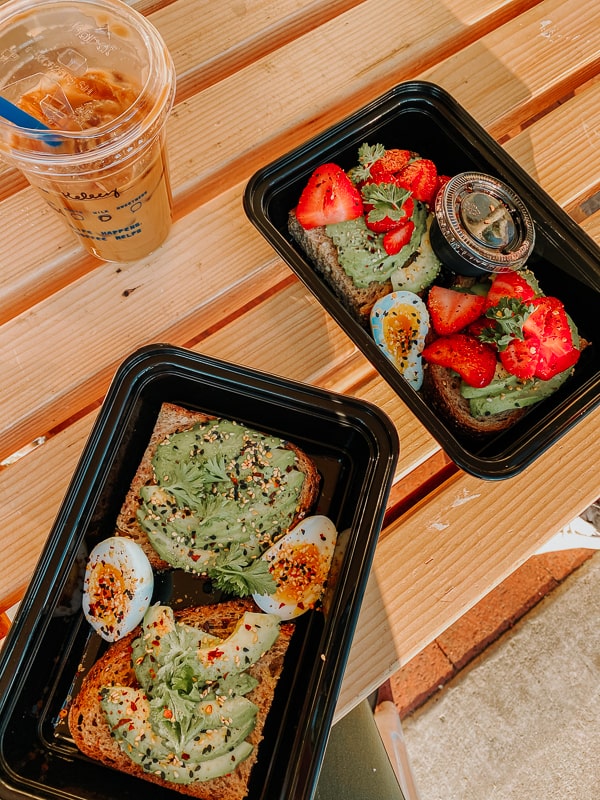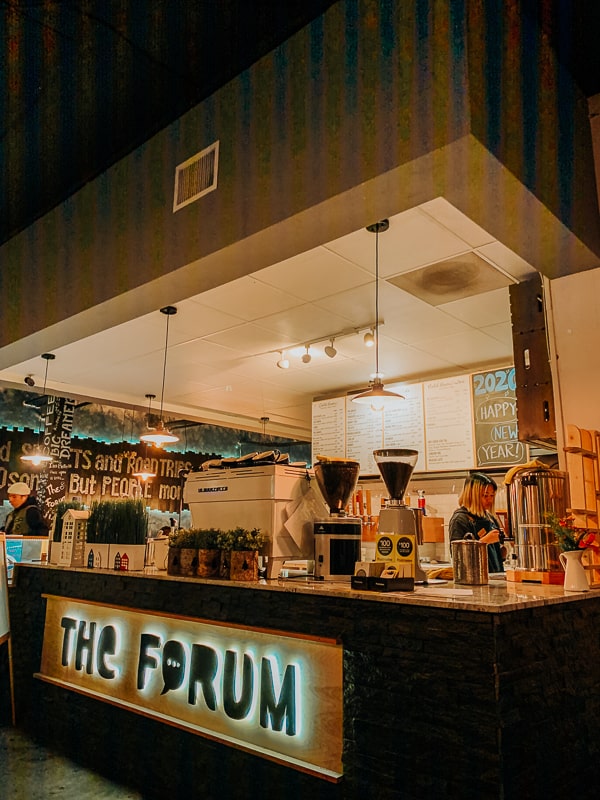 Featuring house-baked pastries made fresh daily that use local and seasonal ingredients, The Forum Coffee House specializes in creative takes on made-from-scratch coffee, tea, and pastries.
Situated in a mod space, many enjoy settling into a productive study session at The Forum Coffee House. Providing exceptional service, the option of vegetarian and vegan-friendly food options make for diverse snack and meal options to fuel productive study or work sessions.
Using high-quality organic tea including ceremonial-grade matched sourced from Uji, Japan, there are more than a few other drink options that don't include coffee—perfect for the non-coffee drinkers!
The relaxing and quiet ambiance is a seamless aspect of this coffee shop. Make sure to stay away from lunchtime rush hour to avoid a lack of space in this popular study spot!
7. Holsem Coffee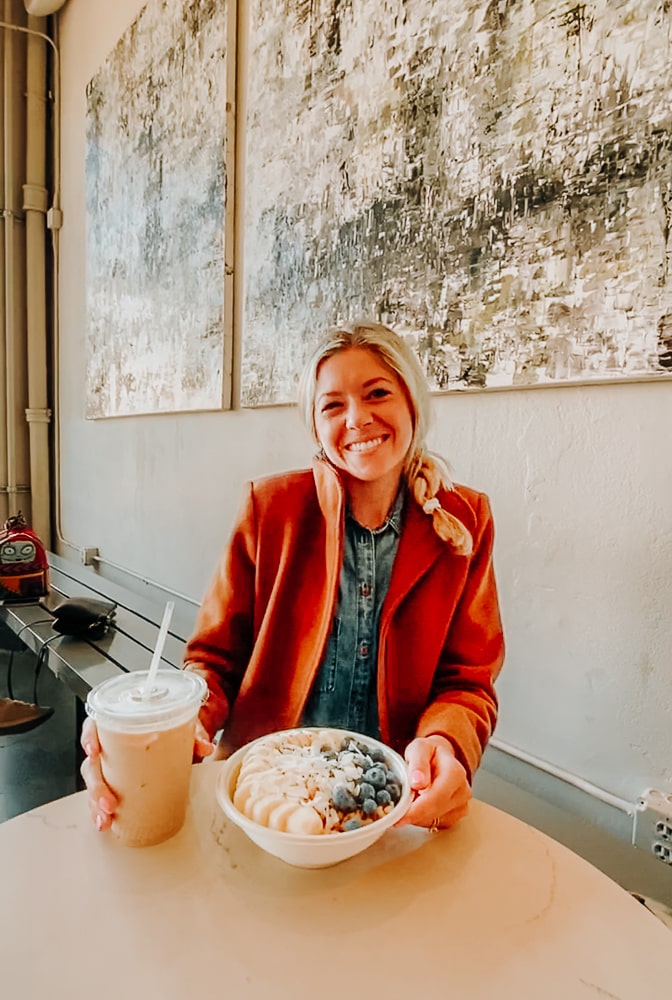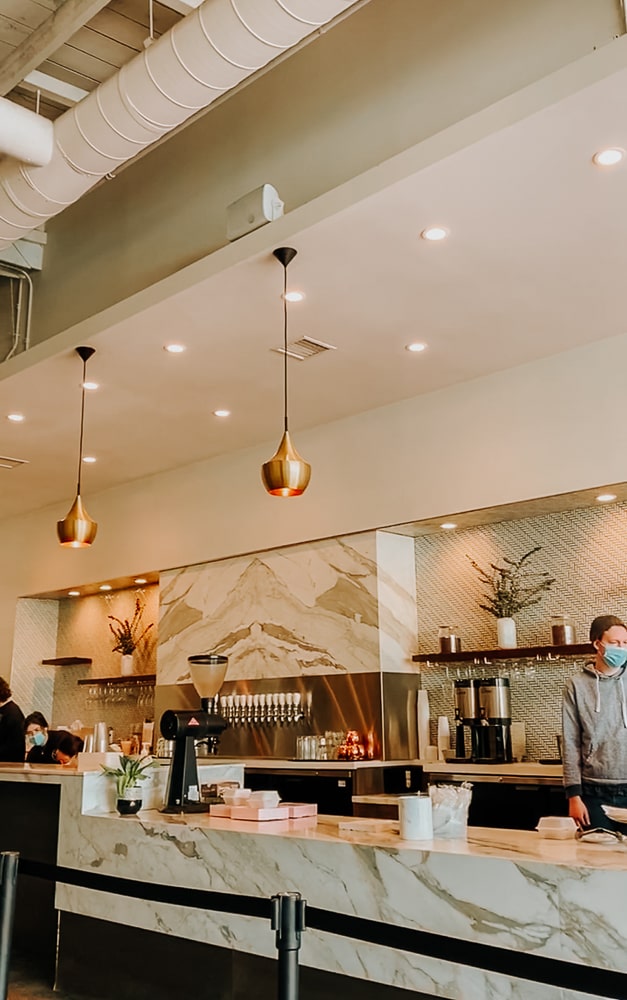 A modern coffeehouse that boasts house-roasted fair-trade java drinks, along with tea, snacks, and creative blends, Holsem Coffee is the study location you've been searching for!
Focused on the idea of "coffee evolved", there is a dedication to purity of ingredients and quality of coffee at this well-known coffee shop by locals and tourists alike. At Holsem Coffee, a wide selection of menu items, like wine, beer, food, coffee, and tea, are available to customers to provide the most productive and energetic environment without having to interrupt a study or work session to find snacks or drinks.
Breakfast, coffee, and an impeccable atmosphere encourage a fruitful time spent at this popular coffee shop and study spot in San Diego. Stop by, and bring your laptop, notebook, or a book to read to simmer in quaint yet uplifting vibes.
8. Cafe Bassam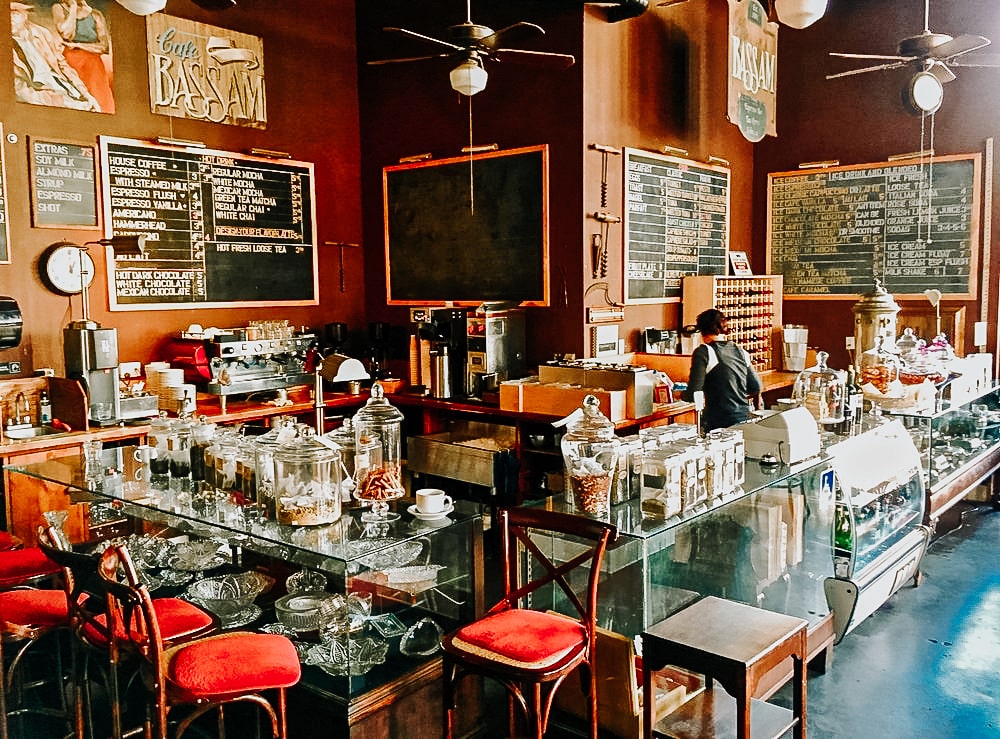 A magnificently unique coffee shop located in San Diego, Cafe Bassam is speckled with antique rifles and cozy furniture.
Many visit Cafe Bassam to either study or meet up with friends for a great atmosphere and yummy food like the White Chai, Pesto Panini, and Cheese Plate. The staff is friendly, encouraging a welcoming atmosphere to settle into as you sit down at one of the many seating options available.
Peak hours are early afternoon and early evening, so if you're trying to avoid the rush take a trip over to Cafe Bassam in the morning and late afternoon for a more quiet setting to study in.
9. Bing Haus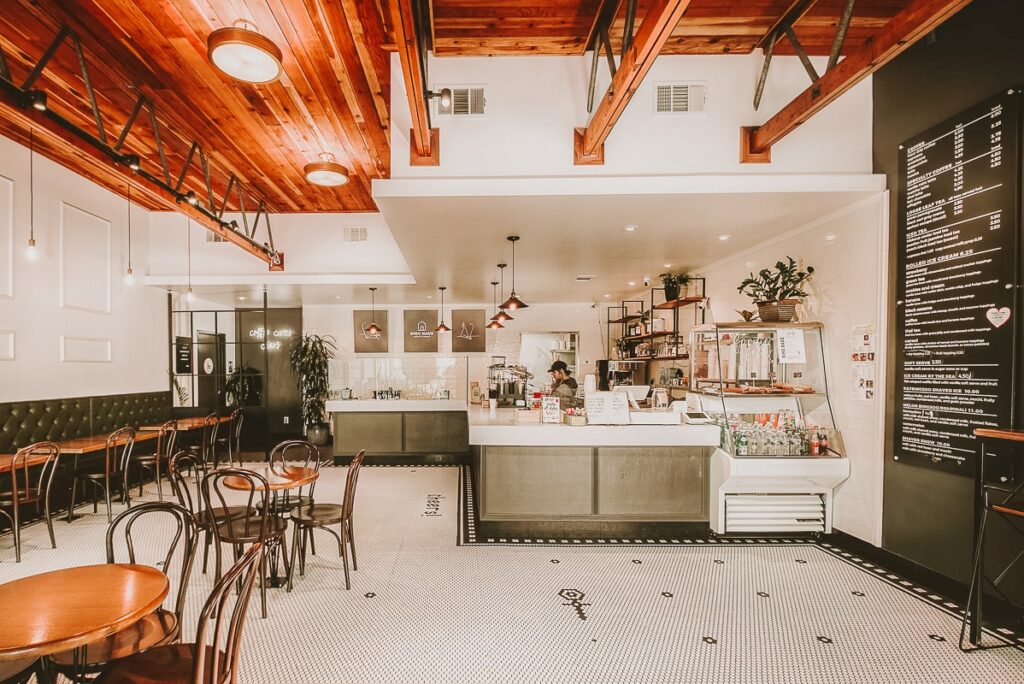 Featuring an ice cream and coffee concept, Bing Haus serves Thai-style rolled ice cream, shaved ice served in melons, and other specialty drinks for a creative take on coffee and food.
This cozy mod spot accentuates stylistic decor with ample seating to sit and relax at. Make sure to get to this popular coffee shop as finding parking can be difficult during rush hour.
The rolled ice cream is to die for with fun flavor variations like Green Tea, which is made with a green tea base with mochi and strawberry toppings. For coffee, order from the large selection of drinks that range from Haus Drip Coffee to specialty drinks like the Strawberry Matcha. This innovative coffee shop now sells mochi donuts that are super cute and pleasing—whether to look at or eat!
10. Better Buzz Coffee Hillcrest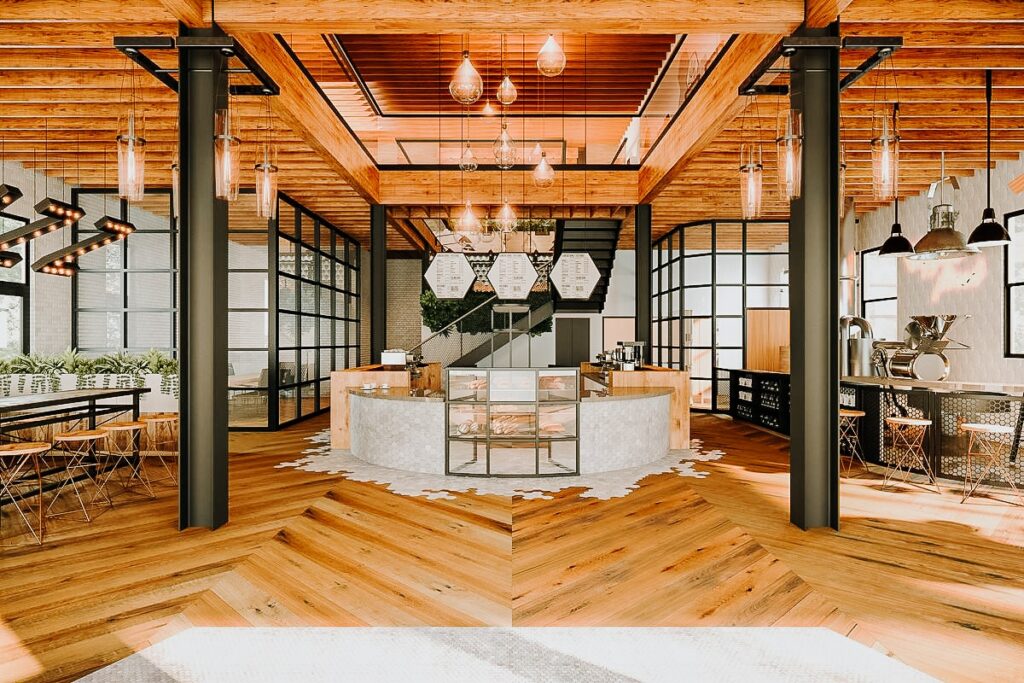 If you're looking for a hip and quirky spot for your study session, Better Buzz Coffee Hillcrest is the place to visit!
Popular for its on-point breakfast food and friendly staff, Better Buzz Coffee Hillcrest near Pacific Beach features handcrafted specialty espresso and other coffee drinks. Snag a grilled sandwich, acai or pitaya bowl, or specialty smoothies for the energy boost you need to fuel your study session!
The vintage Probat coffee roaster, cold brew lab, and seating available on the main floor, mezzanine, and patio, make for plentiful options and pleasing coffee shop designs. Settle down in one of the many seating options available and prepare yourself for an efficient time spent at this one-of-a-kind coffee shop!
Best Coffee Shops With Outdoor Seating
11. The Invigatorium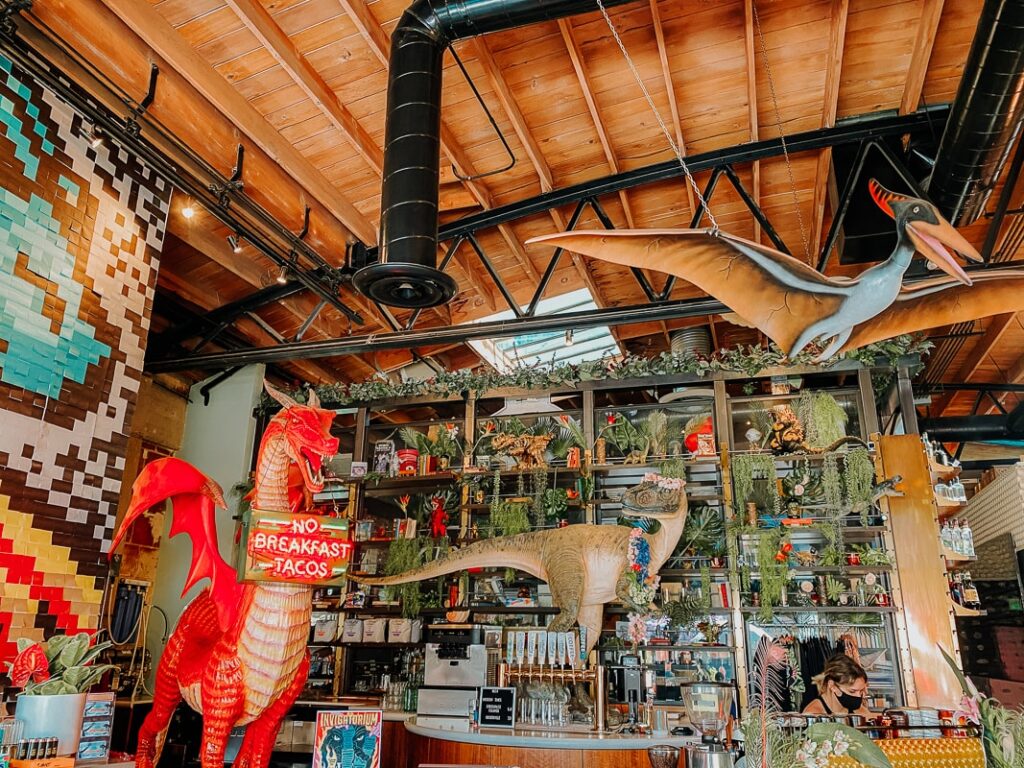 Opening at 7 AM, The Invigatorium is a coffee bar near Little Italy that promotes vegan pastries from Split Bakehouse and Modern Times Coffee.
The design of this regular study spot is a Post-it mural that has become its signature feature. Since its inception, the coffee shop has extended its hour to 7 PM and added Modern Times Beer to the menu for a boozy nightcap to end your study session.
Situate yourself on the outdoor patio, availing multiple tables, chairs, and patio umbrellas to provide shade. Soak in the ambient sounds of downtown San Diego over a Cardamom Cortado or a Cold Brew Lemonade at this one-of-a-kind coffee shop.
12. Moniker Coffee Co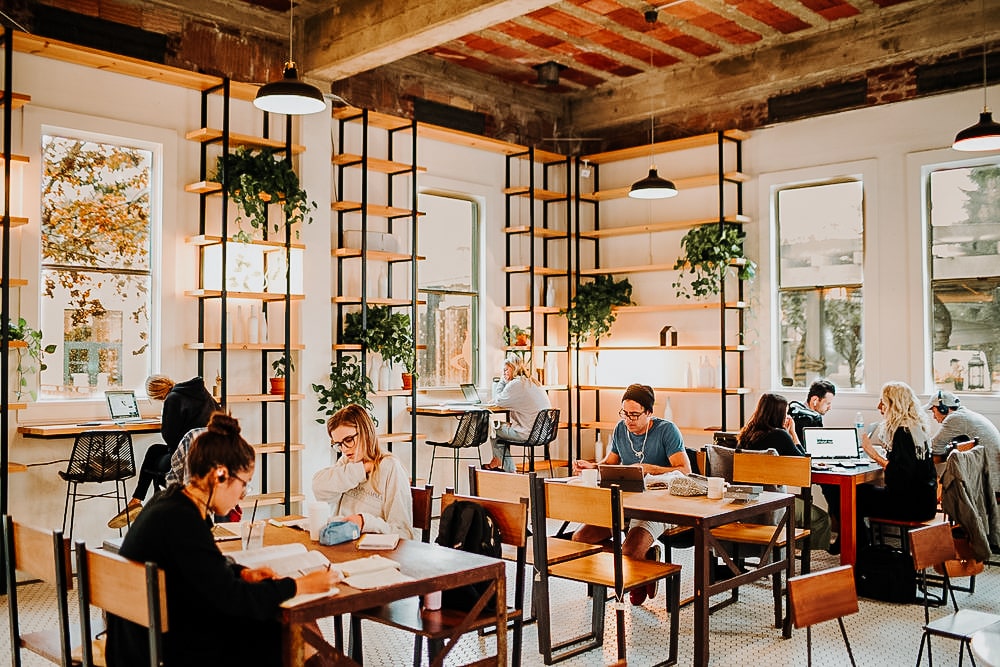 An airy industrial outpost situated near Loma Portal, Moniker Coffee Co not only serves exceptional coffee drinks and mouthwatering baked goods. At this prime coffee shop, a retail concept is initiated to promote creativity and fun options for guests to consider when visiting.
Founded in 2010, Moniker Coffee Co got its start with a collection of friends that honed a variety of artistic presentations that included dreamers, makers, and artists. A fresh and unique coffee shop was born with the creative inspiration uplifted by this tight-knit group.
Extensive seating options are available on the outdoor patio with a section of covering to provide shade. Simmer in the sun or cool down in the shade with a Hawaiian Latte or a Military Matcha Latte and an acai bowl to replenish.
13. Meraki Café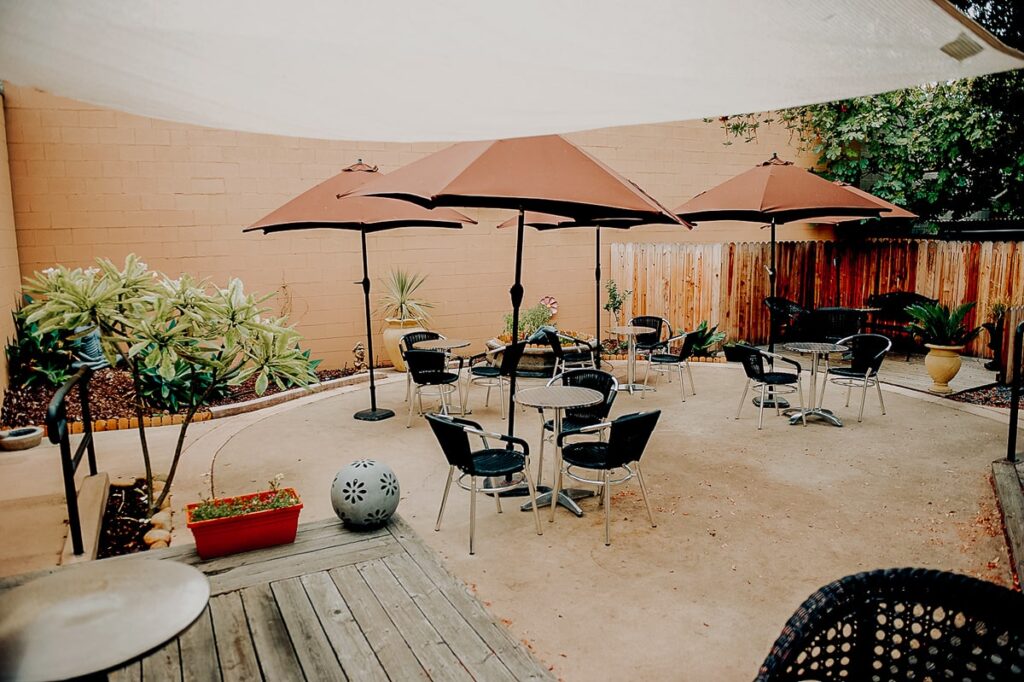 Translating from Greek to English, Meráki means "to do something with passion, love, or creativity; to put something of yourself into your work". And that's exactly what Meraki Café does for every customer that steps through their door!
The ample seating space set in the outdoor seating area makes for an easy method to maintain social distance. Many previous customers rave about the excellent patio seating that provides a great place to sit and enjoy a meal with a friend or simply find some much-needed seclusion from people to get work done.
If you're looking to grab a quick bite to eat or meet up for a study date, Meraki Café is the place to go. Snag a Horchata Latte and a Chicken Pesto artisan sandwich for the ultimate pairing!
14. Communal Coffee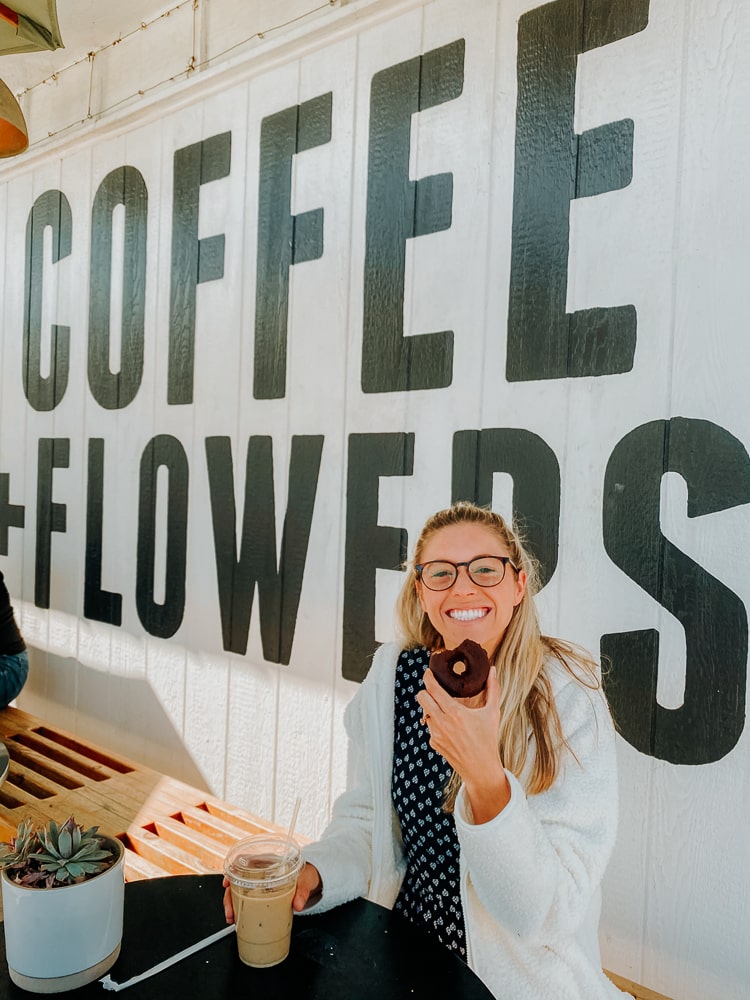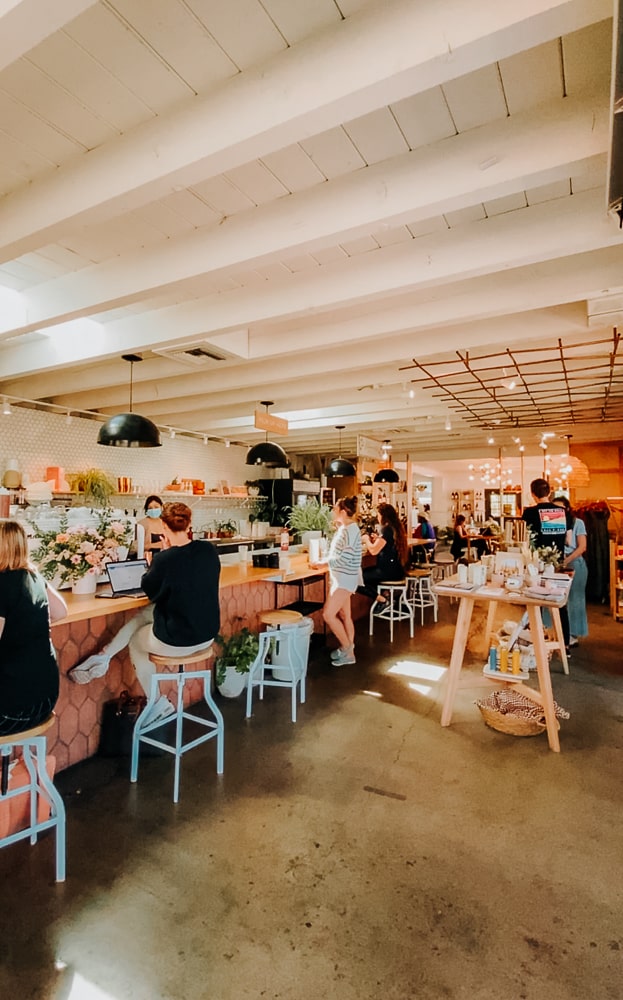 With two locations, one near North Park and another near South Park, Communal Coffee started with an integral mission–to promote exceptional craft coffee in a satisfying designed environment that promotes community.
Offering a full drink and craft coffee menu, along with fresh flowers, curated goods, seasonal food offerings, and creatively-designed spaces, Communal Coffee has learned how to provide an exemplary space for all.
Try something new by ordering the Sweet Mint Cold Brew made with oat milk, mint sprig, and housemade mint syrup. For a snack, the Creme Brulee combines pastry cream, berries, and mint on brioche bread for an invigorating, mouth-watering snack. Take a seat outside on the patio, surrounded by an inspiring environment of fresh greenery and satisfying designs.
Final Thoughts from Chelsey Explores
That's a wrap! I hope you found this list of the best coffee shops to study at in San Diego helpful. I have personally worked from many of these places and recommend them all!
Like this post? Pin it for later!