25 Best Brunch Spots in San Diego You Can't Miss
Famous for the San Diego Zoo and its vast amount of pristine beaches, San Diego hosts a loaded variety of some of the best brunch spots in the world.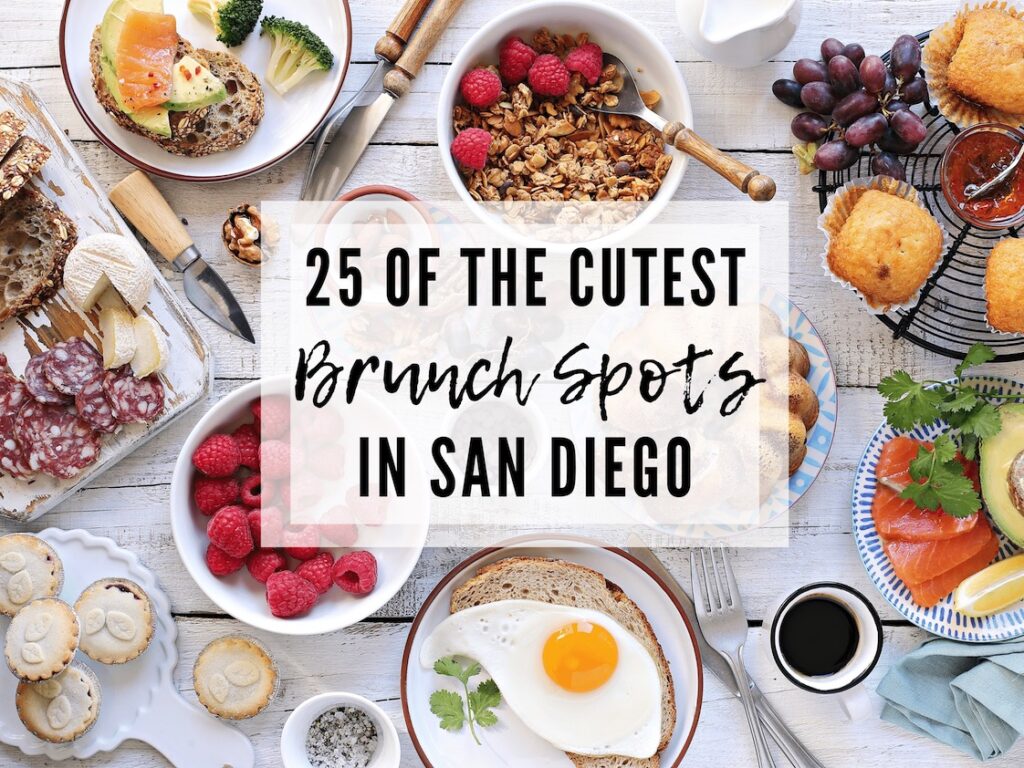 From picture-worthy oceanside views to world-class indoor design, each brunch spot included below has been selected due to its unrivaled high-quality culinary skills, eclectic design, stunning settings, and excellent customer service.
Take your pick of the best brunch spots to eat at in San Diego based on setting, views, and what they offer below!
Best Brunch On The Water
1. OB Surf LoDGe
Paying homage to the glory days of 1960s SoCal surf culture, OB Surf Lodge is an Ocean Friendly restaurant by The Surfrider Foundation. This foundation is a non-profit environmental organization that is dedicated to protecting the globe's beaches and oceans.
At OB Surf Lodge, guests are mere steps from dipping their toes in the sand, picking up seashells, and basking in the calming rush of salty waves. Step on into OB Surf Lodge and request a table on the patio to watch the sunset over dinner with loved ones.
Each dish is made from scratch daily. Dedicated to using and serving only the highest quality products and ingredients, OB Surf Lodge is committed to buying local and sustainable products to support their community and protect the environment.
Brunch is served daily from 8:30 AM to 2:30 PM. For a sweet start, try the Overnight Oats which is served in a mason jar with fruit, oats, honey, peanut butter, and topped with fresh fruit and nuts. For all the biscuit lovers, the Biscuit Board is a must-try! It features three of OB Surf Lodge's homemade biscuits – Churro Biscuit, Jalapeño Cheddar Biscuit, and Regular – and three different butter spreads – Maple Butter, Rosemary Thyme, and Cinnamon Peach.
2. Caroline's Seaside Cafe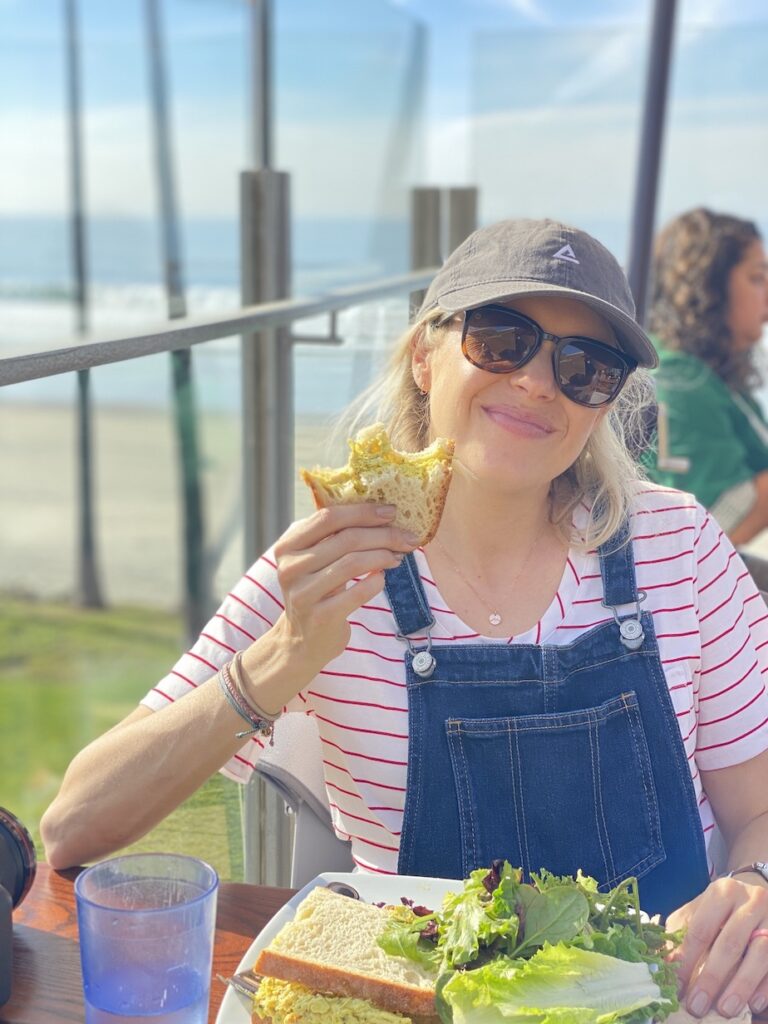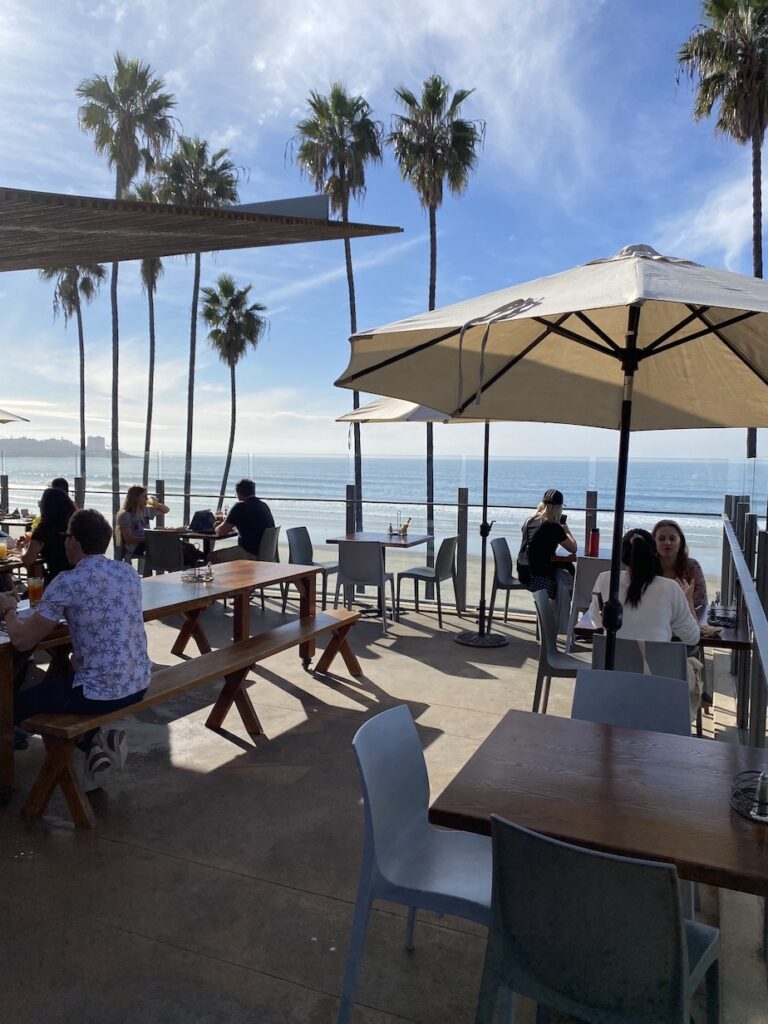 A refined Californian-style establishment, Caroline's Seaside Cafe allows guests to bask in a snazzy setting with indoor or patio seating options. By selecting the option of sitting on the patio, guests can bask in the oceanside views while savoring a delectable brunch.
Order the Power Breakfast for a nutritious and healthy start to your day. A drool-worthy savory local favorite is the Beef Short Ribs "Hash" & Eggs, perfectly seasoned and delectably made to be enjoyed by all.
You can also check out my video review of Caroline's Seaside Cafe!
3. Vessel Restaurant
Offering elegant New American cuisine with waterfront views, Vessel Restaurant is bragged about as one of the best dining spots on Shelter Island.
With coastal fare made using local, sustainable, and seasonal ingredients, each dish at Vessel Restaraunt packs a blended mixture of traditional foods with a decadent flare.
For brunch, grab a Bloody Mary or Mimosa to pair with the Santa Barbara Smokehouse Smoked Salmon that features whipped dill mascarpone, or the Breakfast Torta Sandwich layered with fried eggs, crushed avocado, crispy pork belly, and Oaxaca melting cheese.
After brunch, guests can hop over for a quick luxury spa getaway at Kona Kai Resort for the ultimate well-spent day.
4. Brockton Villa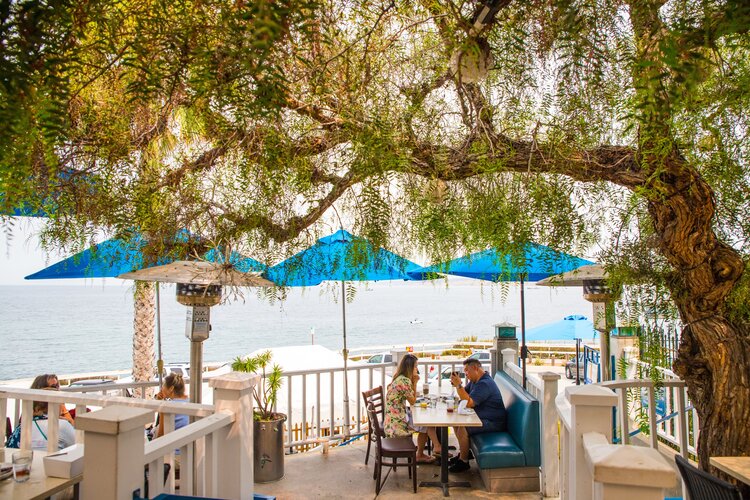 Housed in one of La Jolla's original beach cottages, Brockton Villa is settled on the beachside for eye-opening views to be savored during your meal with great company.
This popular brunch and dinner spot is well-known for its unrivaled patio views of La Jolla Cove, a small cove protected in a marine reserve and renowned for its swimmable waters by snorkelers, swimmers, and scuba divers. Make sure to call for a reservation to get a favorable patio spot to observe the wondrous views!
For brunch try the Coast Toast, Brockton Villa's world-famous french toast that is a hit with all who visit! The Breakfast Tacos and Beer-Braised Corned Beef Hash & Eggs are two savory brunch dishes that many pick when visiting this brunch spot with a view!
5. Duke's La Jolla
A two-story restaurant with unrivaled oceanside views and mouth-watering Hawaiian-inspired fare, Duke's La Jolla provides optimal outdoor seating for guests to feel the ocean breeze as they dine over tantalizing food.
Named after Hawaiian native Duke Kahanamoki, an Olympic swimming and water polo medalist, Duke's La Jolla contributes to friendly service that celebrates family and the spirit of aloha. For the ultimate tropical beach setting inspired by none other than the picturesque tropical location, this brunch spot is one everyone should visit in San Diego.
From the Pog Slushie, a Hawaii grown fruit juice slushy, to the Loco Moco that stacks a ½ lb Angus chuck & brisket burger patty, jasmine rice, fried egg, and mushroom gravy onto one mouthwatering, savory brunch dish, Duke's La Jolla knows how to pack on the flavor for the best late start to your day.
6. Cody's La Jolla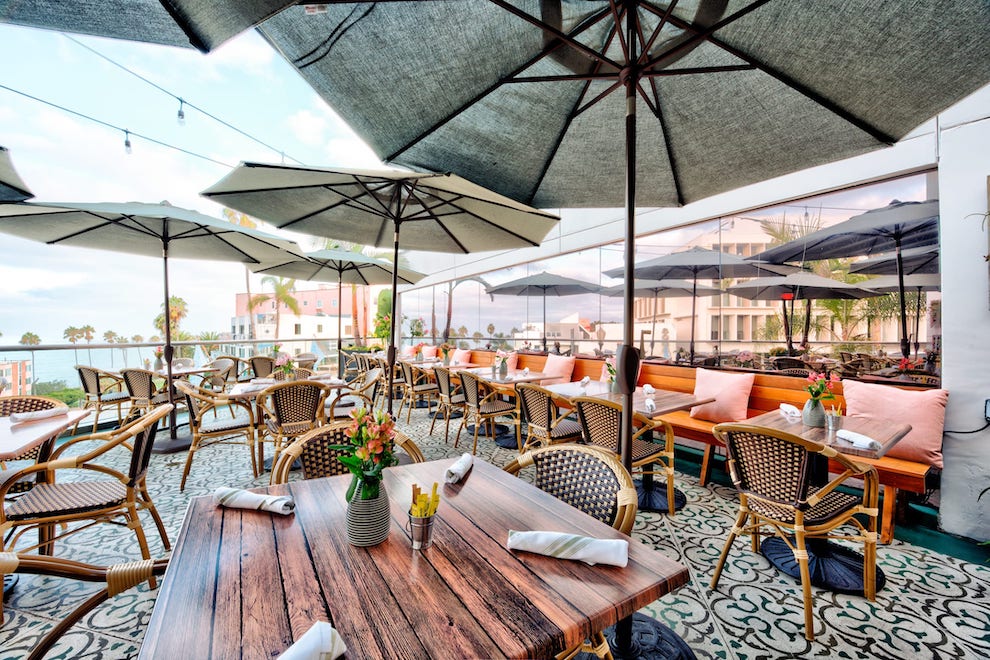 A buzzy brunch spot boasting oceanside views, Cody's La Jolla is a great brunch location if you like to people watch.
Don't worry about being late for brunch at Cody's La Jolla. Breakfast and lunch are served all day, perfect for those that like to sleep in late but still want to savor a brunch meal!
If you're a fan of biscuits you need to try the Chicken Biscuit Sandy, which combines a fresh cheddar scallion biscuit, sausage gravy, fried chicken, arugula, and a fried egg for a drool-worthy brunch dish. For a Mexican-inspired brunch dish, order the Chilaquiles – tortilla chips that are sauteed in a homemade Mexican tomato sauce, along with black beans, over medium eggs, and topped with creme fraiche and queso fresco.
Best Brunch With A View
7. Glass Door
A stylish and magnetic indoor and outdoor bistro, Glass Door gives brunchers a stunning panoramic view of Little Italy and the bay. Offering patio and balcony seating, this brunch spot provides a competitive brunch setting to provide the utmost quality experience.
Specializing in adding modern twists to classic dishes, each seasonal menu item promotes flavor using locally-sourced fresh ingredients. Glass Door also designs every menu item to be magnetically paired with one of their handcrafted beverage items like the house-infused cocktails or extensive wine and craft beer list.
Welcoming guests with a smile and genial enthusiasm, brunch at Glass Door is an event to experience with friends and family. Brunch is available from 10 AM to 2 PM every Saturday and Sunday with a dedicated brunch menu. The Homemade French Toast is drool-worthy and the Glassdoor Burrito satisfies all the hangover cravings with each tasty bite.
8. Cafe 21 Gaslamp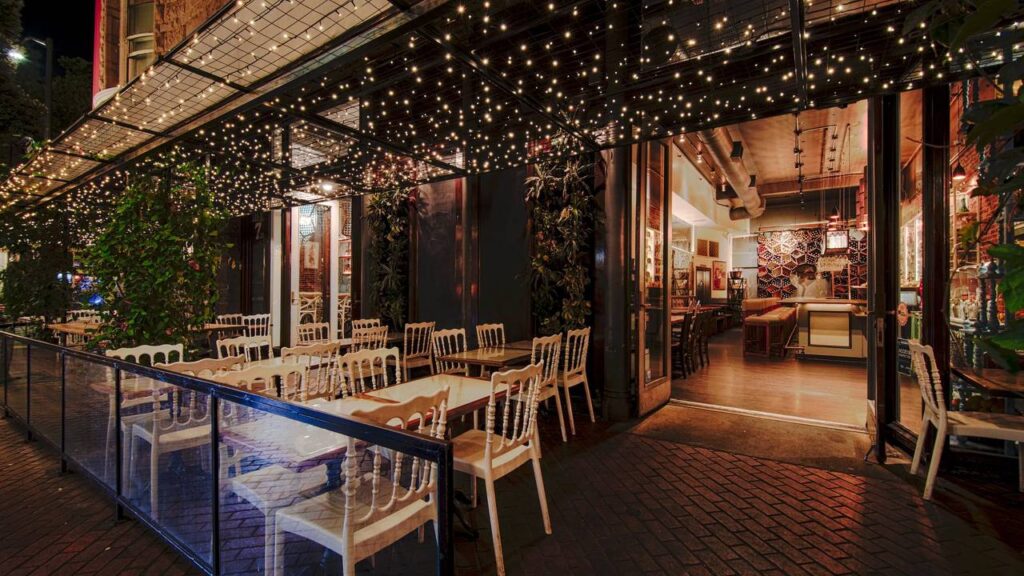 One of the most innovative restaurants in the San Diego area, Cafe 21 Gaslamp has made a commitment to exploring the many ways to stun guests with great-tasting food and an appealing ambiance.
Using a small plates concept, you can experience the astounding culture and taste of Azerbaijan, a country located in southwestern Asia known for its high number of volcanoes. Every dish and every ingredient at this stunning rustic-chic brunch location caters fresh, hormone-free products for only the highest quality menu options for their customers.
Cafe 21 Gaslamp is gratifyingly accommodating guests that eat a vegan, vegetarian, and gluten-free diet. With their commitment to awakening the palette using superior culinary skills, guests will leave Cafe 21 Gaslamp planning for their next trip back.
9. insideOUT
Located in the eye-catching Eitol Towers, insideOUT exudes a casually elegant dining atmosphere with a restaurant, lounge, main dining room, and open-air atrium available to guests.
The setting of insideOUT is an "oasis" zone that includes plenty of outdoor seating, a switchback walkway with seating nooks, and an eye-catching water feature that makes for outstanding views during brunch.
The menu promotes a California-Mediterranean creative flare that utilizes only fresh, locally-grown ingredients. Sit down at this chic, refined brunch dining spot for a Croissant Breakfast Sandwich, the Italian Breakfast of mini donuts and double espresso, or order the bubbly stuff with the Pamplemousse Rose Pitcher!
10. La Valencia Hotel, Mediterranean Room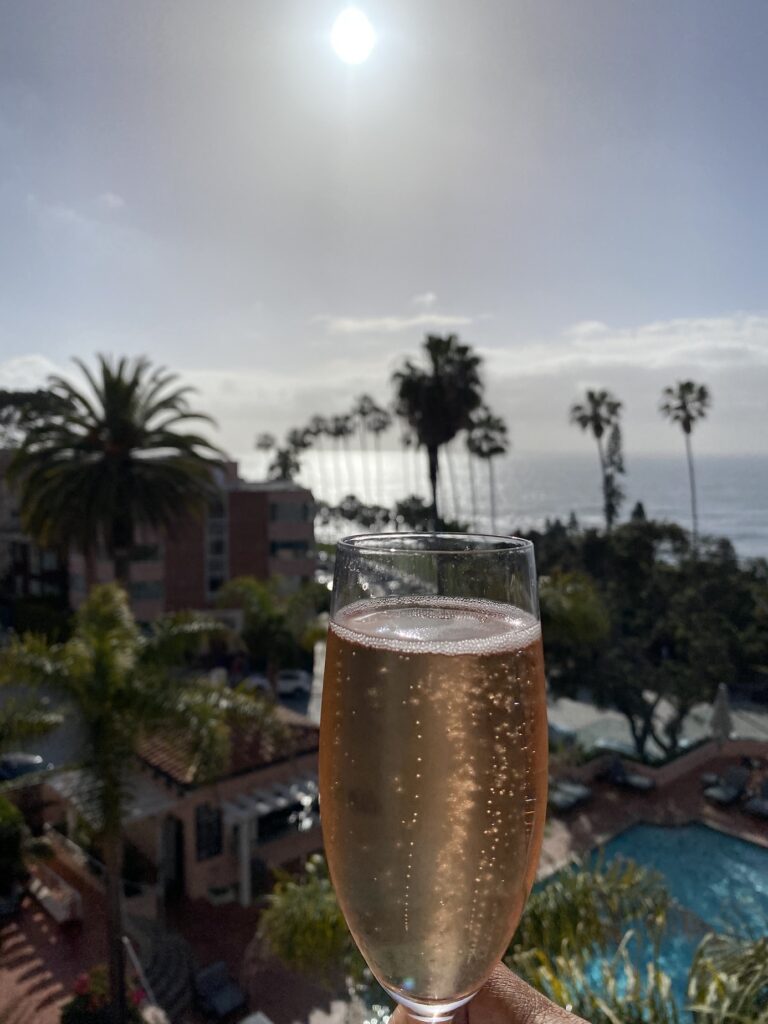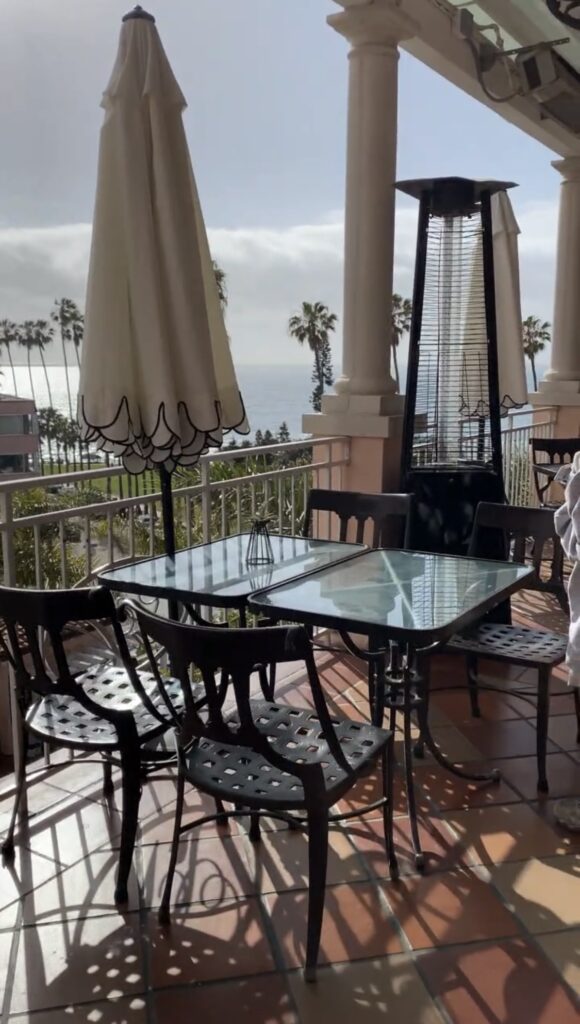 La Valencia Hotel's signature mark is presented by its pink exterior and iconic tower referred to as the "Pink Lady", a renowned landmark of La Jolla. This oceanfront hotel is only a four-minute walk from La Jolla Cove Beach and features a delectable brunch spot called the Mediterranean Room.
Brunch is limited to Saturday and Sunday, 9 AM to 2 PM. Guests can step in for immaculate views and refreshing food and drink at this tasty brunch spot!
Brunch Buffets In San Diego
11. Marina Kitchen Restaurant & Bar
With undeniably beautiful scenic views of the bay, Marina Kitchen Restaurant & Bar is an award-winning brunch spot that features American favorites along with an incredibly popular buffet breakfast.
Panoramic views of the bay are offered from your indoor or outdoor seat at Marina Kitchen Restaurant & Bar. Incorporating a contemporary design paired with a lounge atmosphere, the dining experience at this dining location makes for a cozy and scenic experience.
The French Toast is always a classic breakfast dish waiting to be enjoyed during brunch time. The Egg White Frittata is another popular brunch buffet option that many choose to dive into. At Marina Kitchen Restaurant & Bar's buffet, there are plenty of options for all types of taste buds and a buffet is the perfect opportunity to snag a bite of them all!
12. Humphreys Restaurant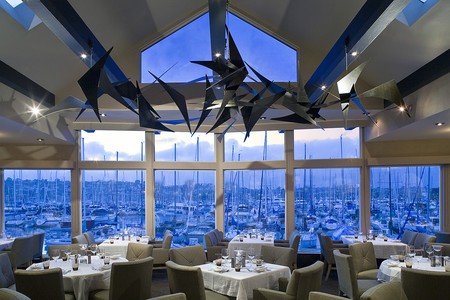 A bayside performance venue with a seafood focus, Humphreys Restaurant is located on San Diego's Shelter Island. Offering SoCal recipes and stunning waterfront views during your dining experience, this brunch spot location deserves a visit.
Start the day off strong with the Social Breakfast Burrito stuffed with pico de gallo, scrambled eggs, ham, bacon, and avocado jack cheese. The Ciabatta Sandwich is another great brunch menu item at Humphreys Restaurant with its inclusive sausage patty, fried egg, and sharp cheddar stacking.
Check out the brunch buffet at Humphreys Restaurant! Guzzle down unlimited mimosas over a quality brunch food selection, great company, and immaculate vibes.
13. Seaview Breakfast Buffet Restaurant
With patio views overlooking the marina, Seaview Breakfast Buffet Restaurant located at the Manchester Grand Hyatt in San Diego is the brunch buffet you've been looking for!
Guests can request made-to-order omelets at this decadent and delicious brunch buffet. From fresh scrambles to waffles, Seaview Breakfast Buffet Restaurant offers a variety of brunch food options waiting to be devoured.
Presenting newcomers with a bright and inviting atmosphere, many come to Seaview Breakfast Buffet Restaurant for the marina views, tasty brunch food options, and enlightening atmosphere. Load up your plate with smoked salmon, scrambled eggs, crispy bacon, crab cakes, egg benedict, and an assortment of other brunch food items offered at this delicious buffet brunch spot.
Best Sunday Brunch
14. Great Maple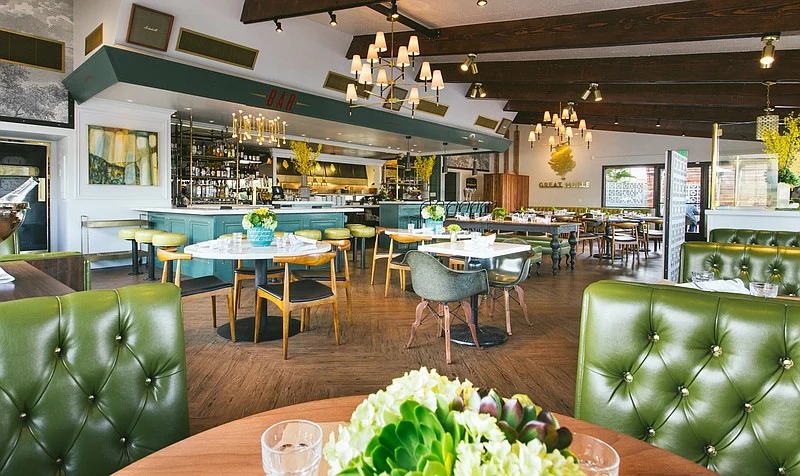 A modern American eatery that specializes in comfort food with an elegant twist, Great Maple supplies only the highest quality dishes using sustainably-sourced and seasonal food.
This chic eatery swings a 1950s vibe with handcrafted cocktails and homemade pie for an elevated take normally seen in upscale restaurants. Each dish is elegantly served and each bite has you naturally moving for the next with its delectable taste and quality.
Share the Thick Cut Smoked Bacon and Pork Sausage Patties with families and friends to satisfy your hunger before your brunch is served. Brunch favorites include the All-Vegan Breakfast, which includes 'everything cheesy' cauliflower 'eggs', two pieces of avocado toast, and maple chili portobello 'bake-on', along with the Cajun Shrimp Biscuit Benedict, included with cajun butter, shrimp, poached eggs, arugula, and hollandaise on a house-made white cheddar biscuit paired with 'everything' scalloped potatoes.
15. Farmer's Bottega
A country-chic eatery and bar that serves New American-style breakfast, lunch, and dinner, Farmer's Bottega empowers the "farm-to-fork" culinary method. All the food is organic and freshly prepared to provide the utmost quality for each dish.
The vintage decor enables a rustic ambiance that portrays the vibe of a real farmhouse, included with a treadle sewing machine and a 40-year-old table top that was recovered from the ocean. Warm details provide a soothing setting provided by the Edison bulbs that dimly glow from iron chandeliers and hollowed wine barrels settled throughout the restaurant.
Step on in for Farmer's Bottega's range of Egg Specialities like the Meatloaf Hash, Breakfast Burrito, and Chilaquiles. Try the BLT with caramelized spicy bacon and fried green tomato or the Pecan-Crusted Chicken Sandwich for a savory start to your day at Farmer's Bottega!
16. Queenstown Public House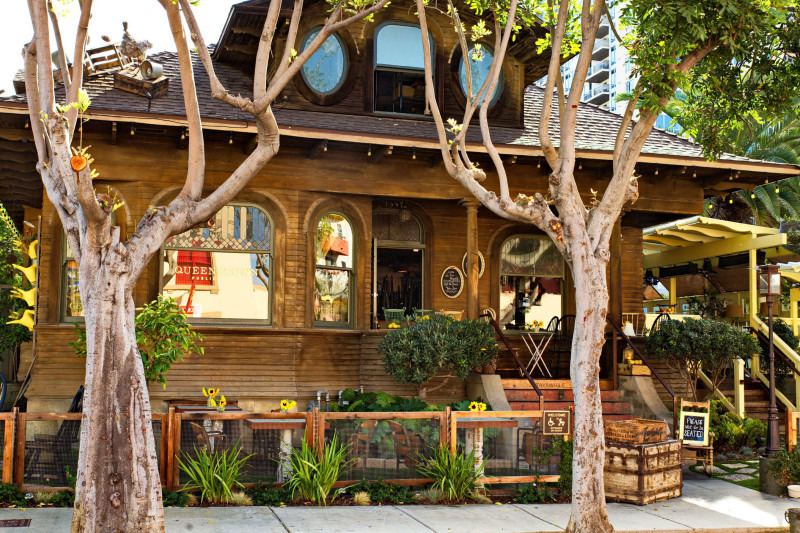 This whimsical New Zealand-themed pub dedicates its business to serving a wide selection of draft beers and upscale bar fare food that make for a tasty brunch.
Queenstown Public House features a separate weekday and weekend brunch menu. Brunch menu items like the Churro Waffle, Granola Brulee, and Breakfast Poutine are some of the delectable and favorite brunch items many enjoy when stepping into this fun brunch spot!
17. GARAGE Kitchen + Bar
This buzzy haunt is settled in a historic building. GARAGE Kitchen + Bar's decor features a music-inspired design, offering New American-style cuisine and frequent happy hour deals.
If you're a mimosa fan, you're going to love GARAGE Kitchen + Bar! Every day during brunch, bottomless mimosas are served, ready to be paired with your selection from their brunch menu.
Order The Best Breakfast Sandwich Ever, stacked with wild boar sausage, cheddar, over hard egg, rosemary potatoes, and a bacon jam cheddar chive biscuit, for the best way to start your day!
Looking for a light selection to start your day? Try the Acai Bowl or the Avo Lox Toast for a deliciously light and filling brunch meal.
Rooftop Brunch Spots
18. Rustic Root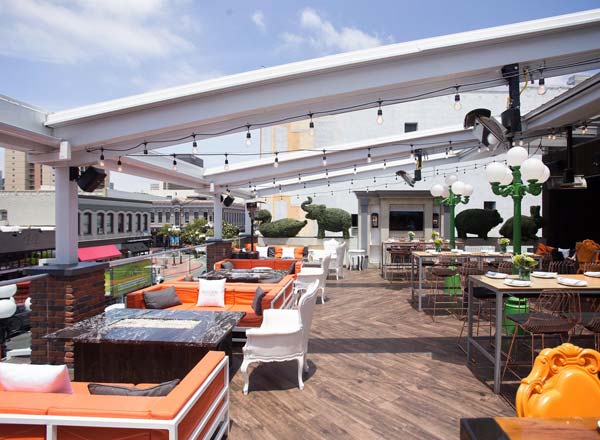 A rooftop restaurant and bar that offers New American cuisine options in the stylish surroundings of downtown San Diego, Rustic Root is a brunch spot worth visiting.
The open-air rooftop bar is the best place to visit to socialize with strangers and friends with cocktails in hand. Rustic Root's craft cocktail shot is every first-timer's must-have go-to at this sociable brunch location.
Rustic Root's restaurant offers fresh local food that is served with aesthetic plating for the perfect Instagram-worthy story or picture. Guests can start off with the Breakfast Sandwich, which can be made vegan-friendly, or the Philly Cheesesteak Scramble which includes breakfast potatoes, caramelized onion, and shaved steak for a mouthwatering brunch option.
19. The Rooftop by STK
The Rooftop by STK is a rooftop club sitting on top of the Andaz Hotel, a chic hotel located in the historic Gaslamp Quarter.
This club isn't only for dancing the night away! The Rooftop by STK offers breakfast, brunch, lunch, and dinner before party-goers line up outside waiting to dance, drink, and socialize.
The brunch menu at this rooftop brunch destination sources all of its ingredients and products locally to support other businesses in the community. Businesses like Cafe Moto Coffee & Tea, Caked Cookies, Stone Brewery, and Pappalecco's Gelato are some of the few locally-supported businesses that you can get a taste of when you grab food at this enigmatic brunch spot.
Serving classics like Andaz Eggs and Avocado Toast, guests can also try new brunch dishes. Popular brunch favorites at The Rooftop by STK include the Short Rib Burrito, with braised short rib and queso fresco, and the Fried Chicken Sandwich, stacked with honey hot butter, special sauce, and chicken thigh.
20. Topside Terrace Kitchen & Bar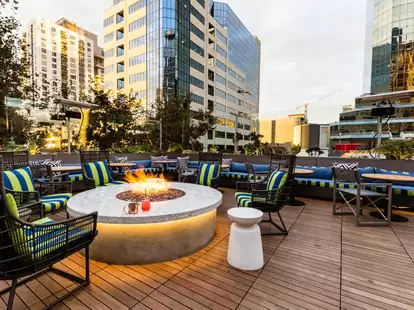 An ultra-chic New American eatery, Topside Terrace Kitchen & Bar is a hidden rooftop brunch spot that more people need to know about.
This brunch spot features an open-air third-floor terrace-style restaurant and lounge that specializes in picturesque views and bubbly cocktails. Bask in the sounds of downtown San Diego over drinks and brunch for an energizing vibe.
With their SoCal-inspired food and drink menu, guests of Topside Terrace Kitchen & Bar can savor unrelentingly delicious dishes. The Acai Bowl is the ultimate refresher, made with seasonal local fruit and housemade granola. For a savory brunch menu option, the Baja Shrimp & Rajas Omelet provides undeniable flavor with salsa Quemada, cheddar, and lemon crema.
Cute Brunch Spots
21. Breakfast Republic
A top breakfast and brunch spot, Breakfast Republic serves tasty takes on classics with deliciously fun twists like their Oreo Pancakes, S'mores French Toast, and Shrimp & Grits.
Joining the movement to go green, plastic straws are swapped with reusable metal straws as part of their commitment to decreasing plastic pollution in our environment. Breakfast Republic has also joined a local recycling/composting company to lessen the food waste that often comes from restaurants.
Guests can get a taste of Breakfast Republic's creative flair on breakfast. Spring specials like the Tres Leches Vegan Pancakes, the Key Lime Pie Cocktail, and the Japanese Spicy Chicken Sandwich are only a few seasonal selections that can inspire many to book a flight over to San Diego!
Providing vegan, gluten-free, nut-free, and vegetarian options, Breakfast Republic doesn't play games when it comes to making the most out of breakfast for everyone.
The fun breakfast-style decor including egg yolk chairs makes for a cute brunch date!
22. Morning Glory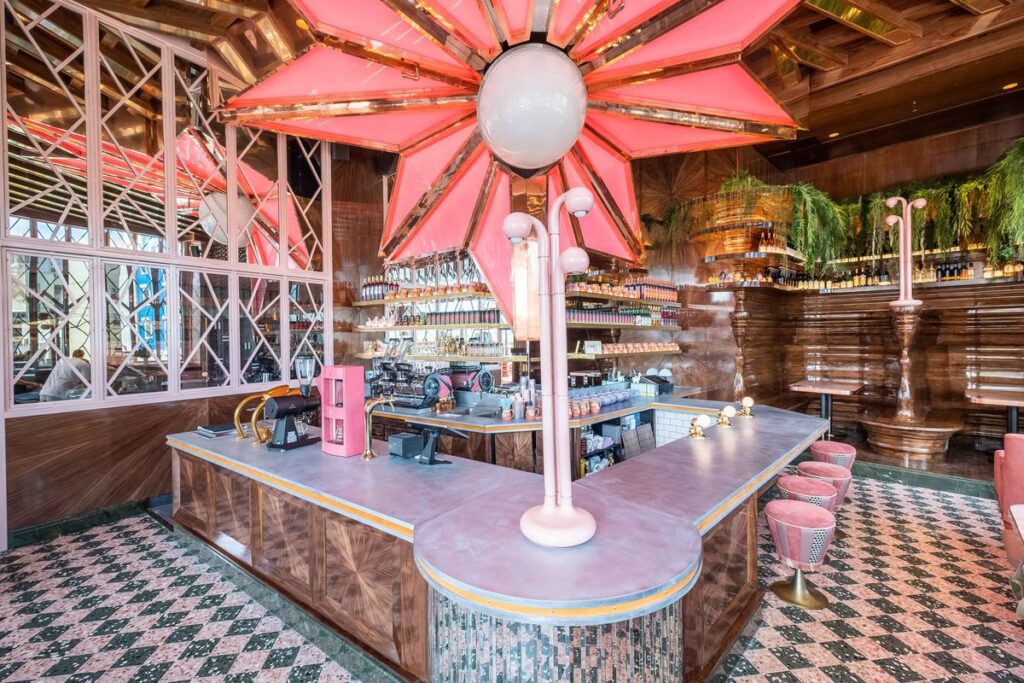 Located in Little Italy, a romantic and world-famous European-style piazza, Morning Glory soothes the soul with its light-filled, pink-hued eatery.
Serving boozy coffee for those needing a little boost to their midmorning day, guests can settle down for an impressive meal of Cinnamon Waffle French Toast, Vegan Frittata, or some afternoon tea service included with finger sandwiches, pastries, and smoked fish. Morning Glory has thought of it all, showing its motivated perseverance to provide guests with the ultimate breakfast and brunch dining experience.
Vegan-friendly, Morning Glory also offers vegan Bloody Marys made with vegan Worcestershire sauce and umami-laden vegetable juice. With its sparkling wine and pleasingly aesthetic design, Morning Glory is every Instagram or Pinterest lover's dream catch. Get ready to take tons of cute, aesthetic pictures in between mouth-wateringly delicious bites!
23. Provisional Kitchen
Highlighting artisanal goods and homegrown fare, Provisional Kitchen is a cute brunch spot to hit up with the gals or select for a date spot.
A restaurant-marketplace hybrid designed from LA's innovative retail concept, guests are able to experience seasonal fare with gourmet takeaway options plus a retail space settled within a decorous greenhouse. The retail space offers a curated selection of ceramics, homeware, jewelry, and apothecary items waiting to be explored before or after enjoying a decadent brunch.
Try the special five-course brunch tasting menu offered by Provisional Kitchen. It has been hand-crafted and selected by Chef Brandon Sloan and is only available from 7 AM to 1 PM on Saturday and Sunday. If desiring your own selection for brunch, try the Lox Croissant Benedict that includes housemade smoked salmon, poached eggs, and a crispy croissant.
24. Herb & Wood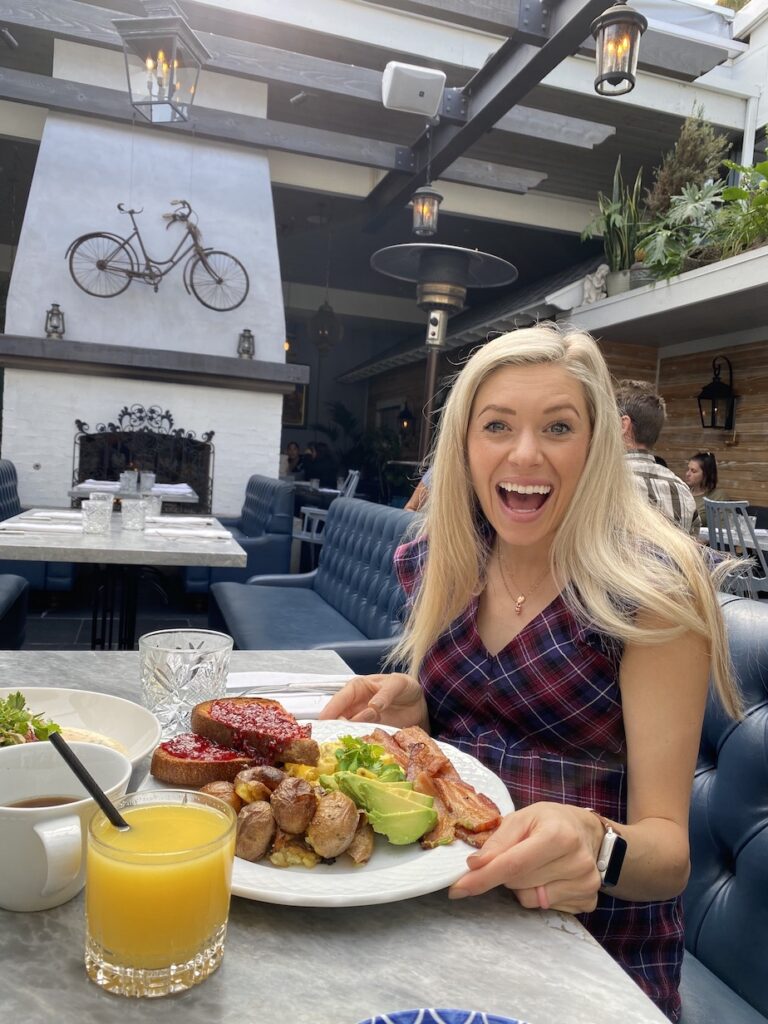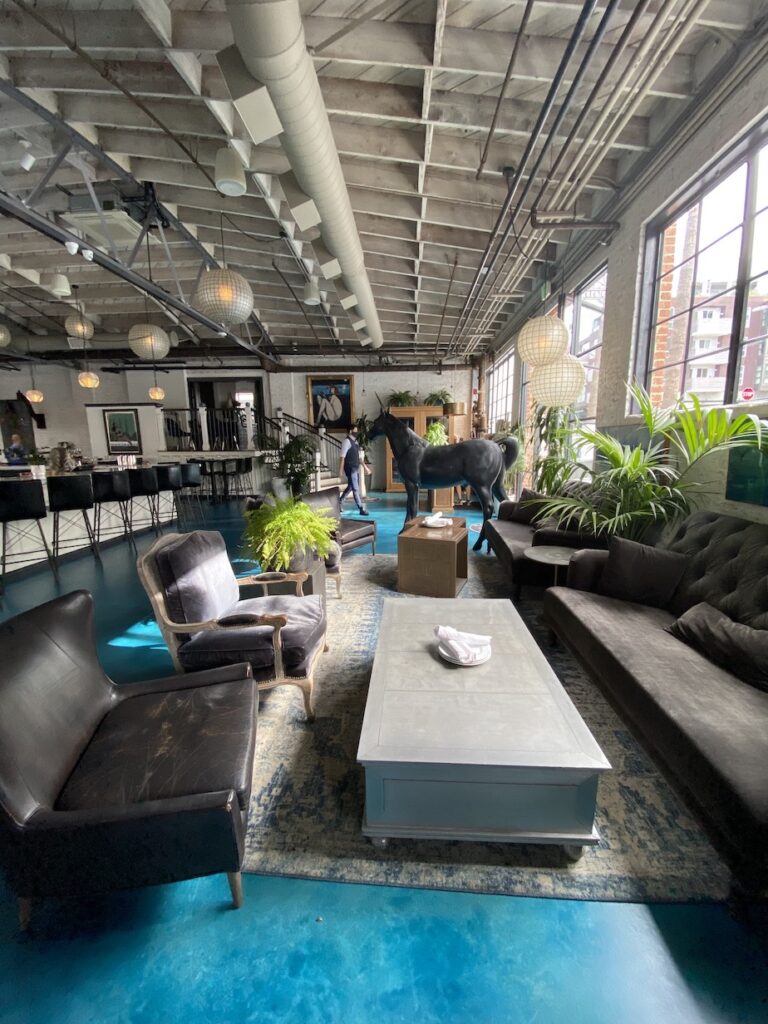 Located in the downtown area of San Diego in the neighborhood known as Little Italy sits the cutest brunch spot called Herb & Wood. They actually only serve brunch on Sunday mornings, so you aren't going to want to miss this spot.
Herb & Wood features the classic breakfast items plus delicious donuts and unique dishes like fried quail and biscuits. My personal recommendation is to sit in the courtyard area. On a nice day, they open the roof and it makes for a beautiful setting.
25. Hash House A Go Go
Serving twisted farm food and quality crafted cocktails, Hash House A Go Go strives for three "greats" — great value, great food, and great service.
Focused on providing exceptional service and building relationships with customers and their community, this cute brunch dining spot makes for a valuable experience. A New York Times "must visit" restaurant, Hash House A Go Go has been featured and awarded "Best Brunch" and "Best Breakfast" by many big goers such as The Rachael Ray Show, New York Post, Nickelodeon, Man V. Food, and the Martha Stewart Show.
Try Hash House A Go Go's famous flapjacks available in a variety of flavors like Chocolate Blackcherry, Cap'n Crunch Cinnamon, and Butterscotch Almond. Interested in some good 'ole fried chicken? Order New York Times' favorite, Andy's Sage Fried Chicken! 
Like this post? Pin it for later!