Kayaking La Jolla Caves with Everyday California (discount code included)
Kayaking in San Diego is one of the best ways you can explore this beautiful city and what better place to go than in La Jolla. Kayaking the La Jolla Caves is a once in a lifetime experience.
There are multiple kayak rental locations in La Jolla; however, I recommend going with Everyday California.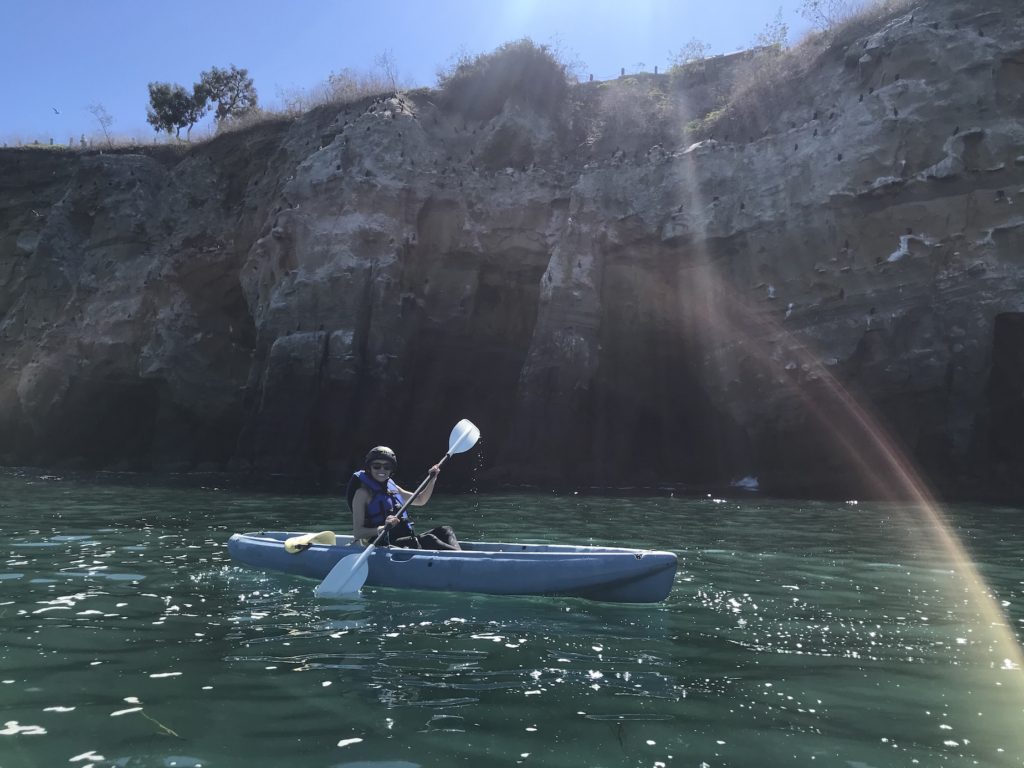 Everyday California began back in 2008, when two young guys couldn't find a job in San Diego after graduating college. They took a leap of faith and began this outdoor ocean adventure company.
This company is now the largest of the companies located on Avenida De La Playa. They run tours, do rentals and even have a shop with the cutest clothes!
La Jolla Sea Caves Kayak Tour: Getting Started
My mom and I personally chose to go on the La Jolla sea cave kayak tour. It turned out to be a beautiful and sunny February day. We couldn't have asked for a better adventure! So, let's get to the details of kayaking the La Jolla caves with Everyday California.
Your tour begins inside the shop of Everyday California located at:
2261 Avenida de la Playa, La Jolla, CA 92037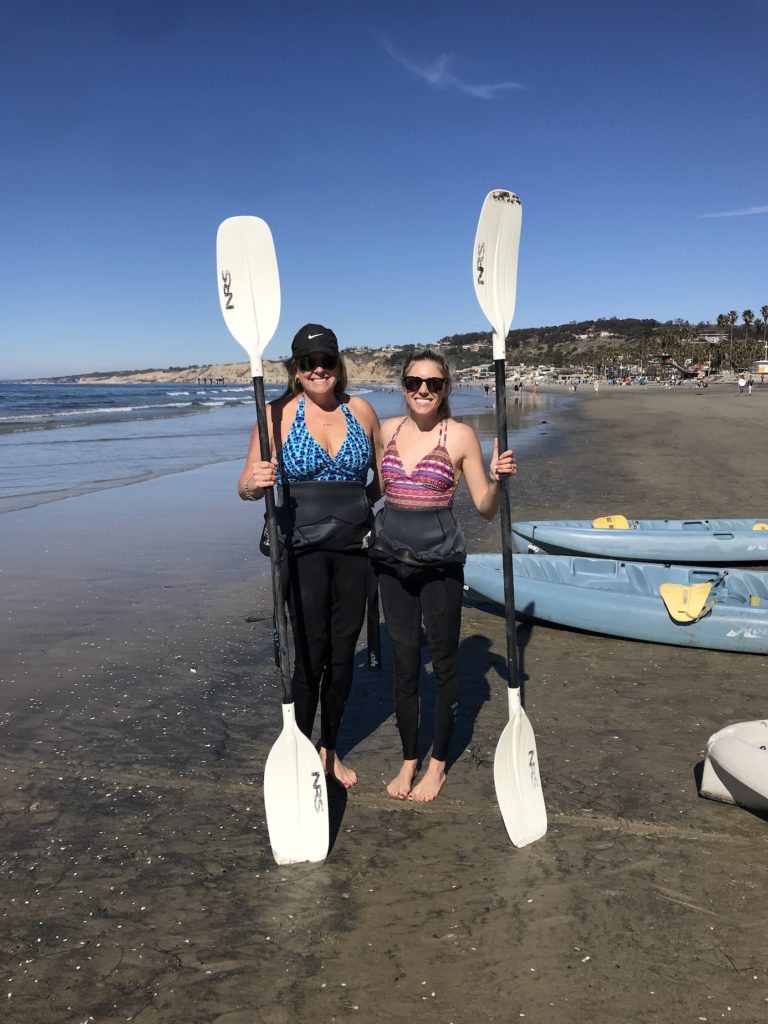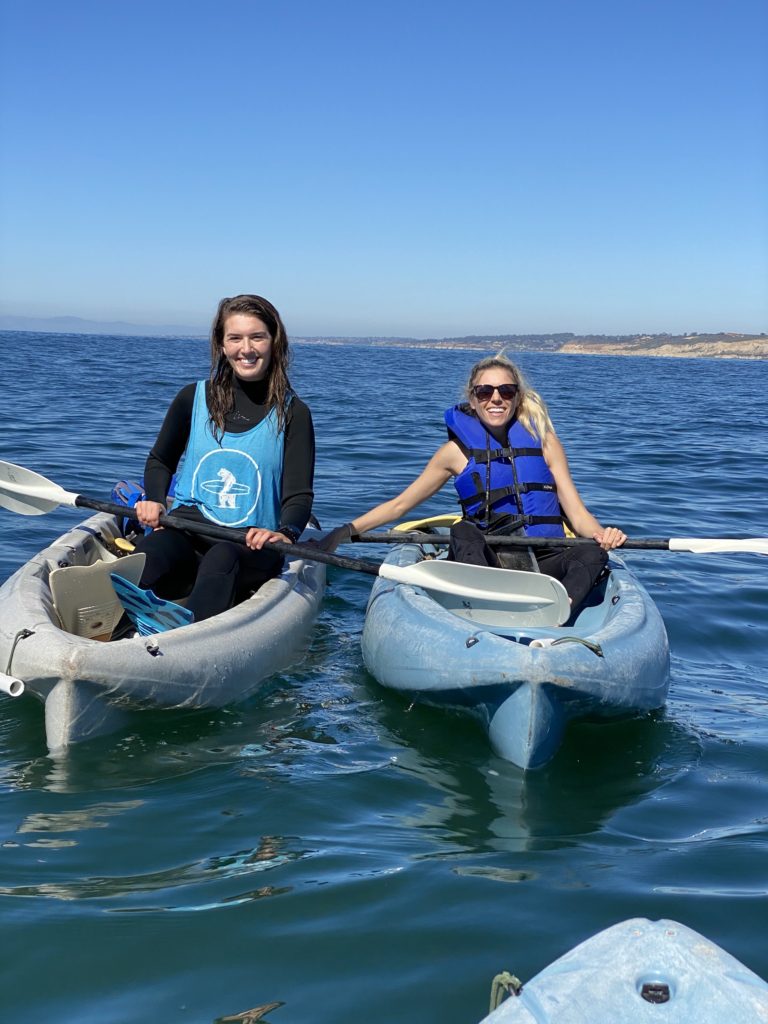 When you register online for your tour you will either sign a waiver in advance or you can just sign the electronic waiver when you arrive.
Check-in at the front counter and they will get you started. Depending on the weather, you may want a wetsuit which they can provide for you! I personally went in the winter and chose to wear a wetsuit; however, I had the top portion off as it was still nice enough of a day outside!
Your tour guide will grab a helmet and life jacket for you as well. If you are choosing to snorkel on your tour, then they will also grab all the gear needed for snorkeling.
From there, you will walk down to the beach where the kayaks and paddles will be awaiting you.
Kayaking La Jolla Caves: The Tour
Your La Jolla sea caves kayak tour begins right at the ocean where the water meets the sand. Prior to heading out, your tour guide will give you some brief instructions on how to properly paddle, what to do if you feel unsafe or are in danger, and how to kayak over the waves into the open sea.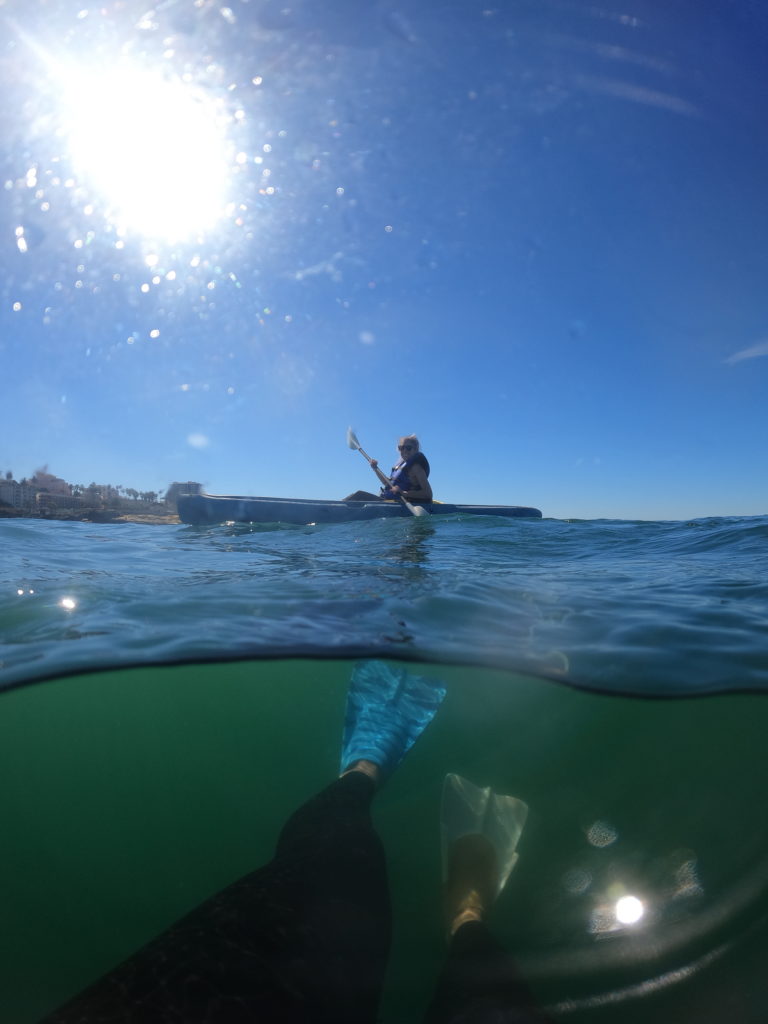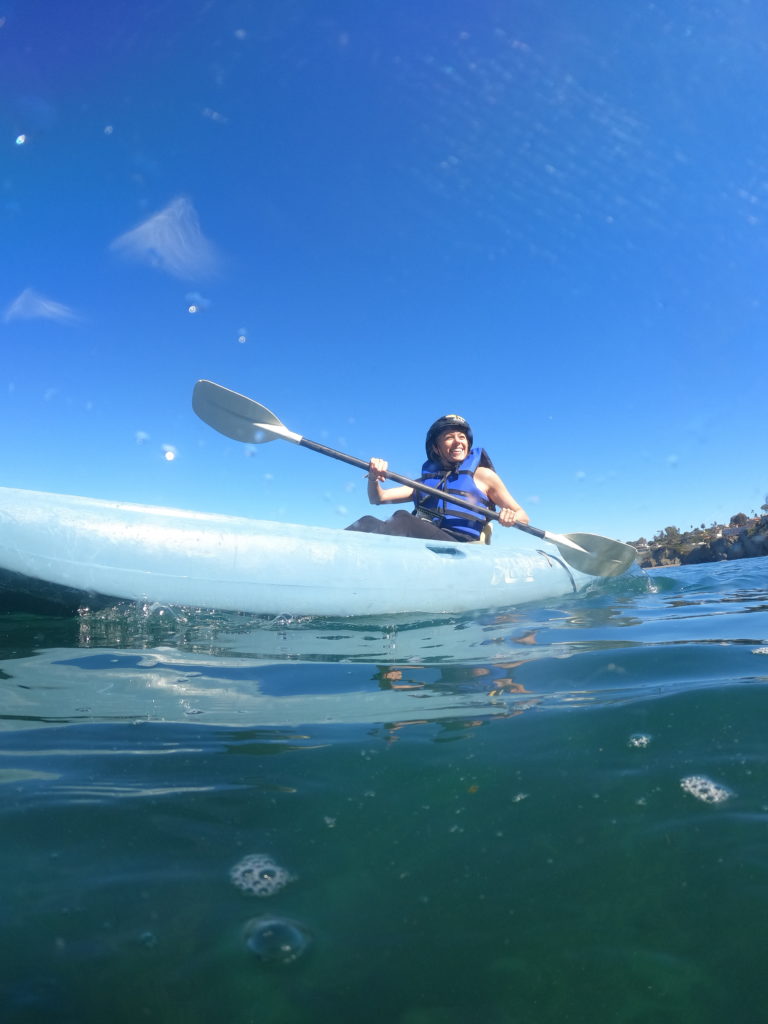 Once you reach the calmer waters your tour guide will gather you all together and begin to share some fun facts with you!
I will share some here, but you will have to go on the tour to hear all the fun facts about San Diego!
P.S. I highly recommend this tour even if you are a local. I learned so many great facts on this tour!
-This region of La Jolla is considered to be an Underwater Park as it spans 6,000 acres (24 km2) of ocean bottom and tidelands. The park includes four distinct habitats. You will get to enjoy 3 of them on this La Jolla sea caves kayak tour.
Rocky Reef: Home to majority of the wildlife
Kelp Forest: Protects the rocky reef from apex predators. This kelp grows at a rate of 2ft/day
Sandy Flats: Home to leopard sharks in the summer months
Submarine Canyon: Underwater highway for whale migration
You will begin to make your way over to the la jolla sea caves. If the tides are right, then you will get to kayak into them. Unfortunately, tides didn't line up for us, but we were still able to get pretty close!
There are 7 sea caves. Each cave has a different name which was named by lifeguards as a way to identify them when conducting search and rescue missions.
Our tour guide, Al, gave os TONS of information on each of these caves. There is some pretty cool history here including stories of rich people smuggling in drugs and alcohol through these caves.
If you have ever been to the Sunny Jim's cave from land you will be able to see it by water when kayaking.
After completing the sea cave tours you will then head over to the kelp forest before making your way back in. This tour is 90 minutes long and can accommodate up to 10 people ages 5+ and up.
Other adventures with Everyday California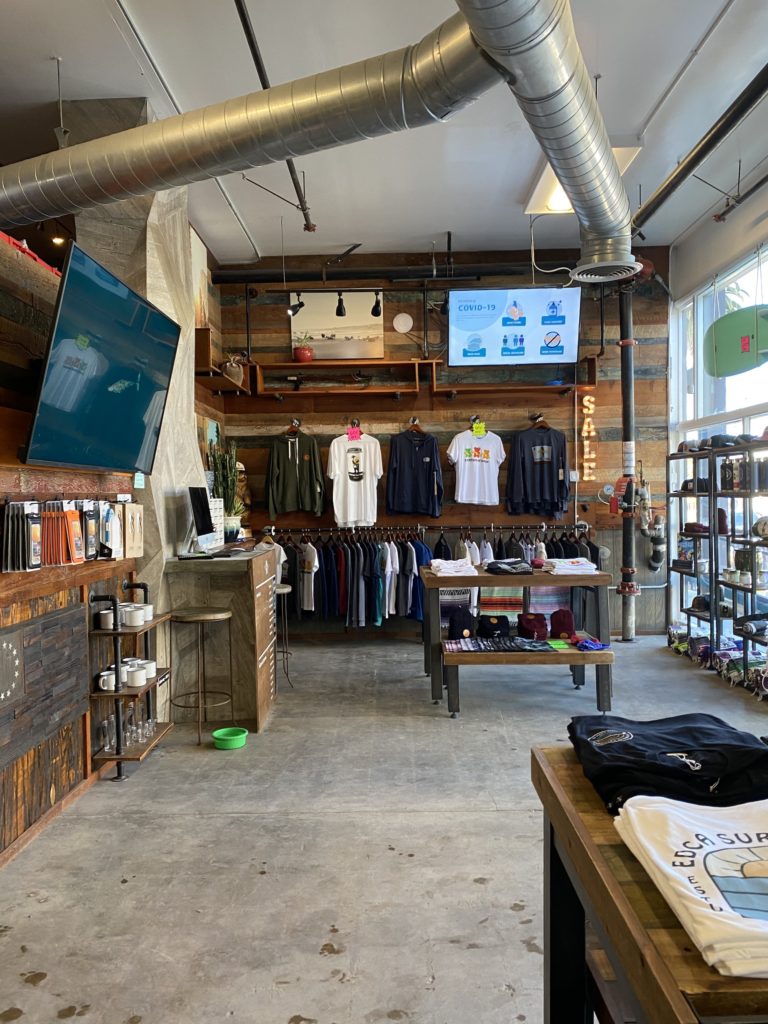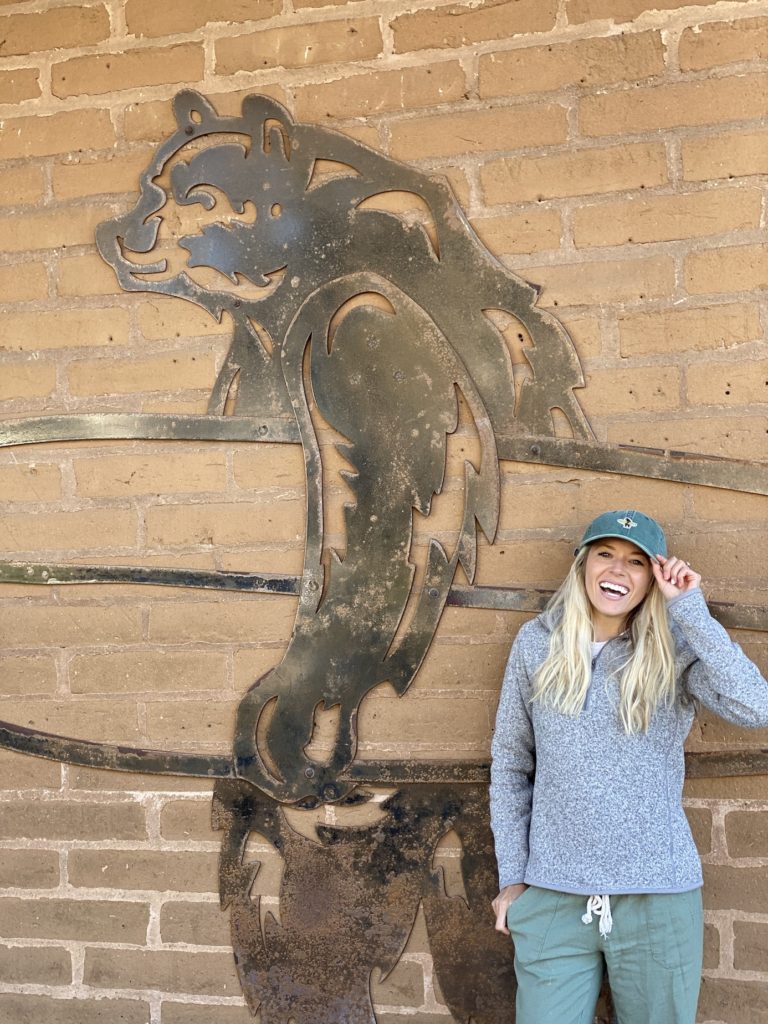 The most popular tour with Everyday California is kayaking the La Jolla Caves; however, they do offer tons of other ocean adventures.
Snorkel tours: Go searching for marine life via snorkeling. They have the perfect beginner's snorkel tour that will help you spot tons of marine life.
Whale watching tours: The grey whales migrate into San Diego between December and March, so hop on a kayak and get to see them up close and personal.
Surf Lessons: Visiting San Diego and want to surf!? You can either rent surfboards here or take a surf lesson! You can also take Paddleboard lessons!
Want to do your own thing, but don't have the gear? Rent kayaks, surfboards, SUP, and snorkel gear from Everyday California.
If you want to book any of these tours you can use my coupon code "CHELSEYEXPLORES" for 20% off at checkout.
Where to eat after kayaking La Jolla Caves
La Jolla itself has tons to offer as far as food goes. Our tour guide, Al, was wonderful and gave us tons of recommendations as to where to replenish after the tour.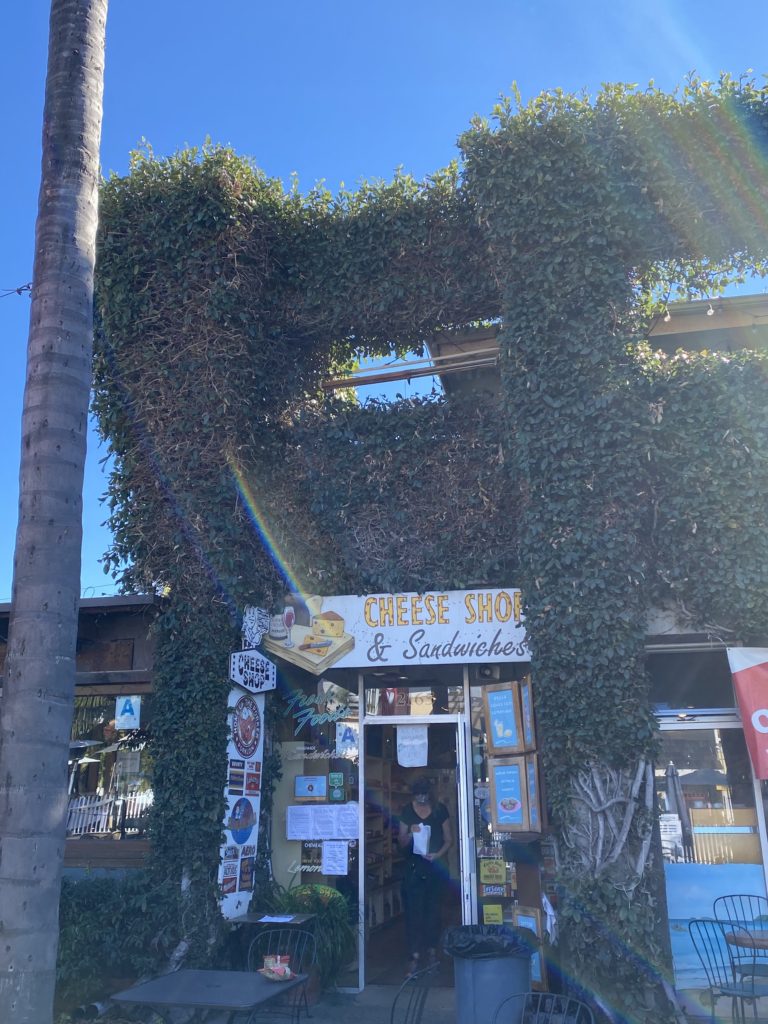 The city of La Jolla decided to shut down the street Avenida De La Playa to cars and make it a pedestrian only area. I loved this! The goal for them was to increase tourism in the area in an attempt to save the small businesses that were hit due to COVID.
Brick & Bell Cafe: Great if you are looking for a pick me up afterwards and need a cup of Joe.
The Cheese shop: We chose to eat here as we did not have much time, but it was delicious! I recommend getting the "what they're famous for" sandwich which is Turkey, Jack and Avocado. Also, this place has every candy you can think of from every era.
Piatti: Have more time to sit down for your meal? Al recommends this Italian restaurant for delicious food.
Barbarella Bar: Al told us this bar gets DECKED OUT for Halloween! So, I will have to come back here to celebrate.
Scoops: Why not treat yourself with a delicious ice cream on a hot summer's day.
Items to Bring Along Your Kayak Adventure
Sunglasses: Can't forget the sunnies! The ocean water can be blinding, especially for those like me with sensitive blue eyes.
Hat: Gotta protect the face! I personally got a hat from the Everyday California shop that is super cute! Make sure to bring one that could fit under the helmet.
Waterproof phone case holder: This is a great option as it has a strap to place around your neck to hold your phone and easily take pictures.
GoPro: GoPro's are perfect if you don't want to bring your phone out on the water. They offer high-quality photos and video footage.
GoPro Dome: This is the first time I used this contraption and I thought it was the coolest thing ever. It allowed you to get those underwater over water pics like the one below.
Swimsuit: Ok, I just recently found a swimsuit from the RipCurl outlet in San Diego that I love. I will link it here.
Final Thoughts From Your Outdoor Loving Girl
La Jolla is probably one of my favorite places in all of San Diego. The scenery is just stunning. If you ever have the chance to visit I highly recommend it. You can read all about some of the best places to stay in La Jolla to help you plan your stay.
Want to enjoy some more sea caves? Check out how to get to the Sunset Cliffs Sea Cave.
Like this post? Save it for later! Don't forget the discount code!