GUIDE TO ALL THE BEST SAN DIEGO CHRISTMAS EVENTS
I know what you are thinking-San Diego is not a very "Christmasy place," but trust me, just because it doesn't snow here doesn't mean we don't celebrate.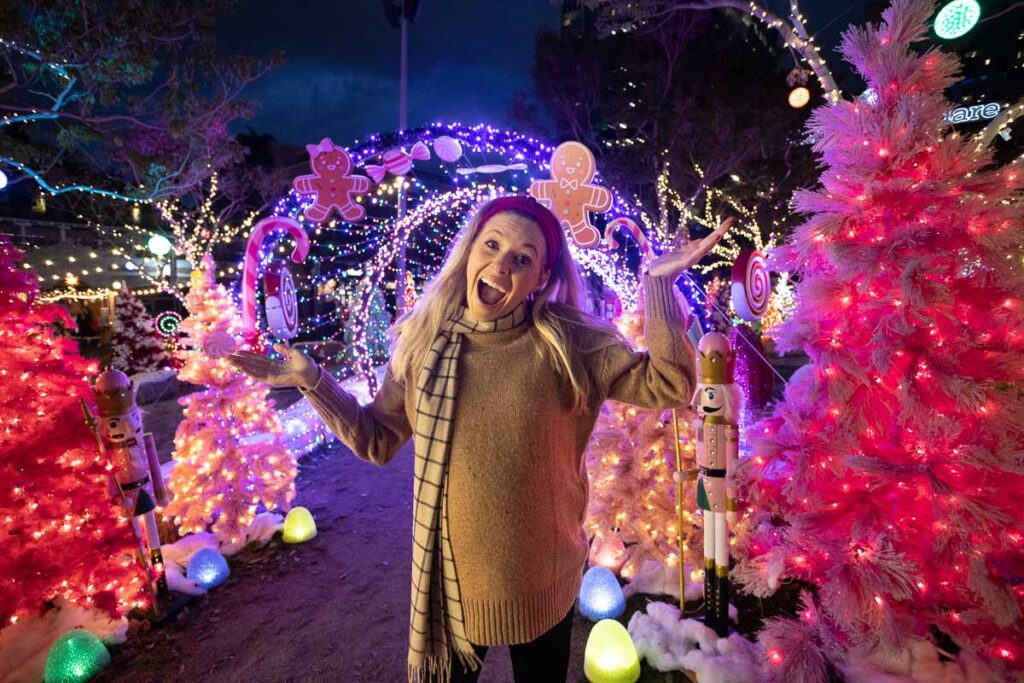 Here, by popular request, I am going to break down all the best San Diego Christmas events that are occurring this year!
So let's get to all the fun Christmas activities you can do here in San Diego. To make this easier, I am going to break this down by different categories as well as location-based San Diego Christmas events.
So, let start with all the fun activities before we move on to where you can see the most magical Christmas light displays.
Don't want to read this article. Watch my Youtube video below instead on all. the best San Diego Christmas Activities.
SAN DIEGO CHRISTMAS EVENTS & ACTIVITIES
1. Holiday Market at Petco Park

Let's start with the one I am most excited about visiting this year! The Holiday Market at Petco Park.
This market runs through December 24th and will give you a little taste of what Christmas markets in Europe are like. Now I actually just returned from a 2 month-long Europe trip and I went to one of these Christmas markets myself in Switzerland.
You can watch my youtube video to see what a Christmas market in Europe looks like.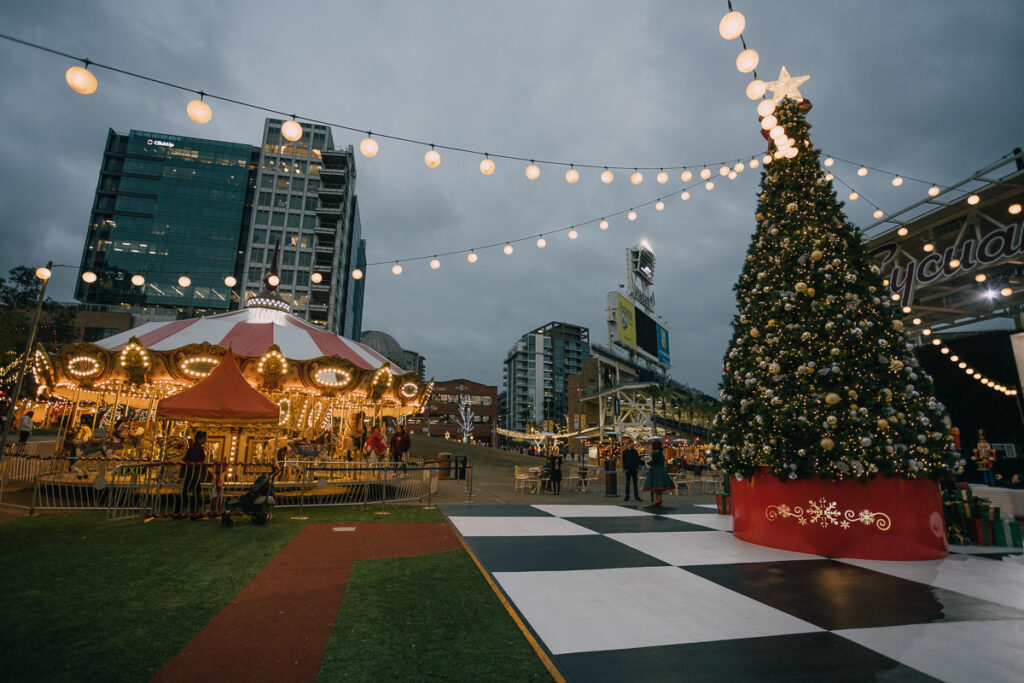 Anyways, this market at Petco park requires a ticket to get in for $20. You can walk around the market while drinking hot wine and shopping for Christmas gifts for your loved one.
2. Del Mar Fairgrounds Snow n Glow

Second, we have the Del Mar Fairgrounds Snow n Glow. You can drive through a display of holiday lights around the Del Mar racetrack or do other fun things like tubing or even rent a private igloo for you and your friends.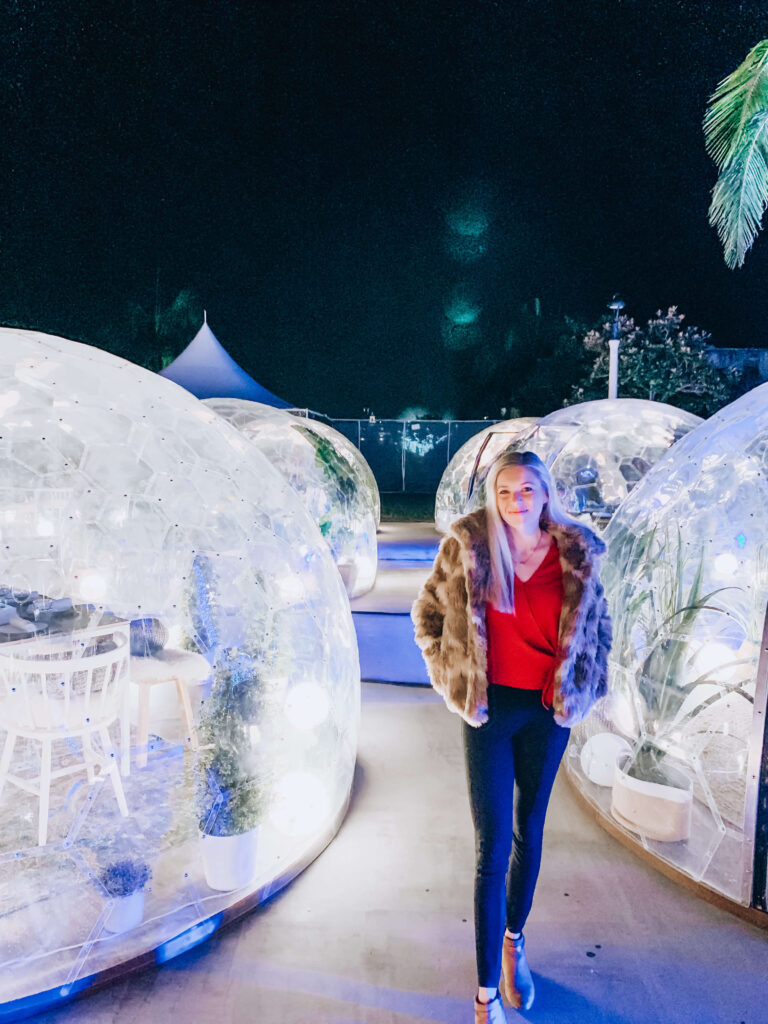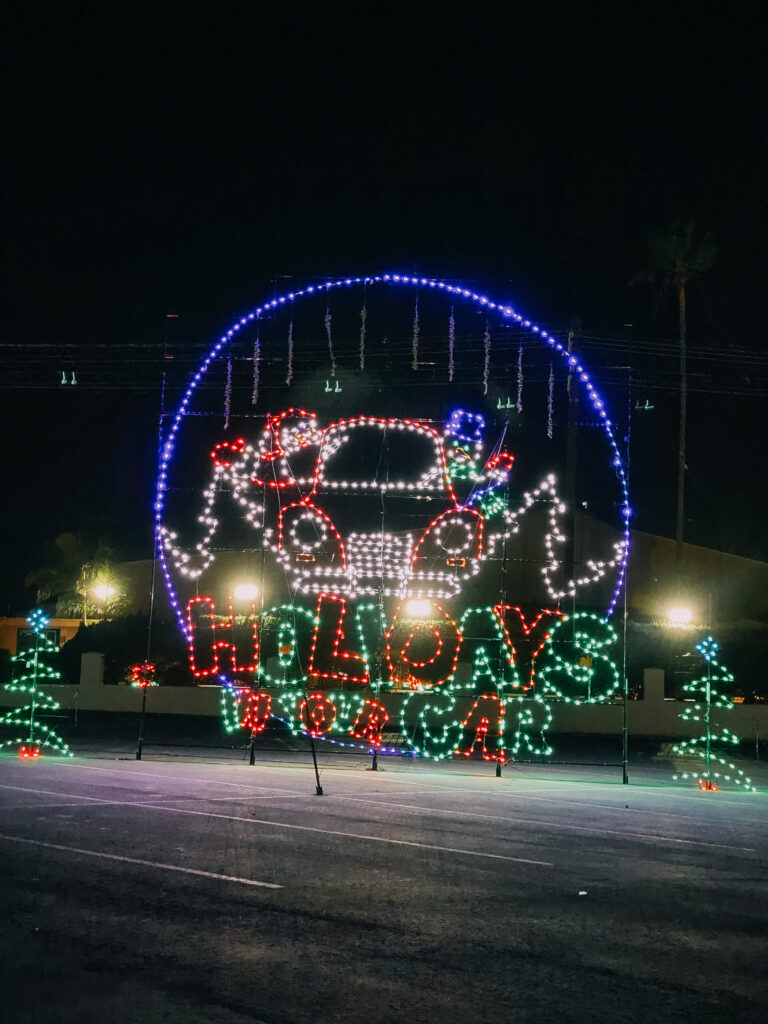 This event runs through December on Fridays through Sundays. Ticket prices vary depending on the activity you choose. This year they even have igloos you can rent for you and your friends.
3. Parade of Lights

On December 12 and 19th this year the San Diego Bay puts on a parade of lights show where all the boats deck out in lights and you can watch them motor by. Make sure to dress warmly as it can still get cold in San Diego at night.
Looking for more fun winter activities in San Diego. Make sure to check out the best winter snow trips you can take from San Diego.
4. Rooftop Cinema Club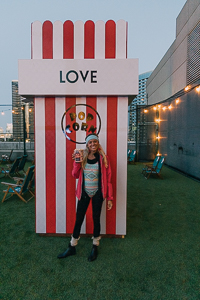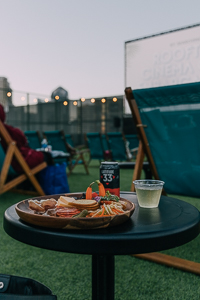 Now one of my favorite things to do in San Diego, and it is also kind of a hidden gem, is to watch a movie at the Rooftop Cinema Club which is on top of the Grand Hyatt in Downtown San Diego. In the month of December, they are showing three movies a night that are Christmas-themed. This is a great date night event!
USE CODE 'CHELSEYEXPLORES' for 20% OFF
5. Pine Valley Christmas Camp

Just a little bit outside of San Diego county you will find the Pine Valley Christmas Camp! I haven't actually been to this one myself, but I have received a few messages on my Instagram saying I need to go here.
Open throughout the month of December this place has tons of lights, hayrides, live performances, Christmas photobooths. kid's crafts and much much more. The website looks amazing and makes me want to visit.
6. Old Town Trolley

Ride around San Diego in the Old Town Trolley's Holiday Lights and Sights Tour. Guests of all ages celebrate the sights, songs, and traditions of the holiday season! There will be holiday trivia, music, singing, and fun for the whole family. Enjoy a 15-minute stop at Seaport Village for holiday festivities. You'll also get to see the festive holiday lights of Old Town, Embarcadero, Seaport Village, Balboa Park, and more!
7. Coronado

Each year the Hotel Del decorates their hotel for the season and they also build an ice skating rink right in front. Have you ever ice-skated while looking at the ocean!? Enjoy a warm hot cup of cocoa here while watching everyone skate or participate in the fun!
8. Theme Parks

Of course, Sea World, Legoland, and the Zoo all have events of their own as well. Make sure to check out their websites for more information.
9. Liberty Station

This year Liberty Station also put up an ice skating rink. There are a ton of cute restaurants in Liberty station, so come here for a girl's day and enjoy a beautiful day in San Diego. Ice skating is $15 for adults and $10 for kids.
BEST SAN DIEGO CHRISTMAS LIGHT DISPLAYS
Ok, let's talk Christmas light displays. Honestly, I am probably going to miss some here, just because San Diego has SO MANY. But let's get to some of the ones you aren't going to want to miss!
1. Candy Cane Lane

Located in Poway this neighborhood decks out in Christmas lights.
2. Christmas Card Lane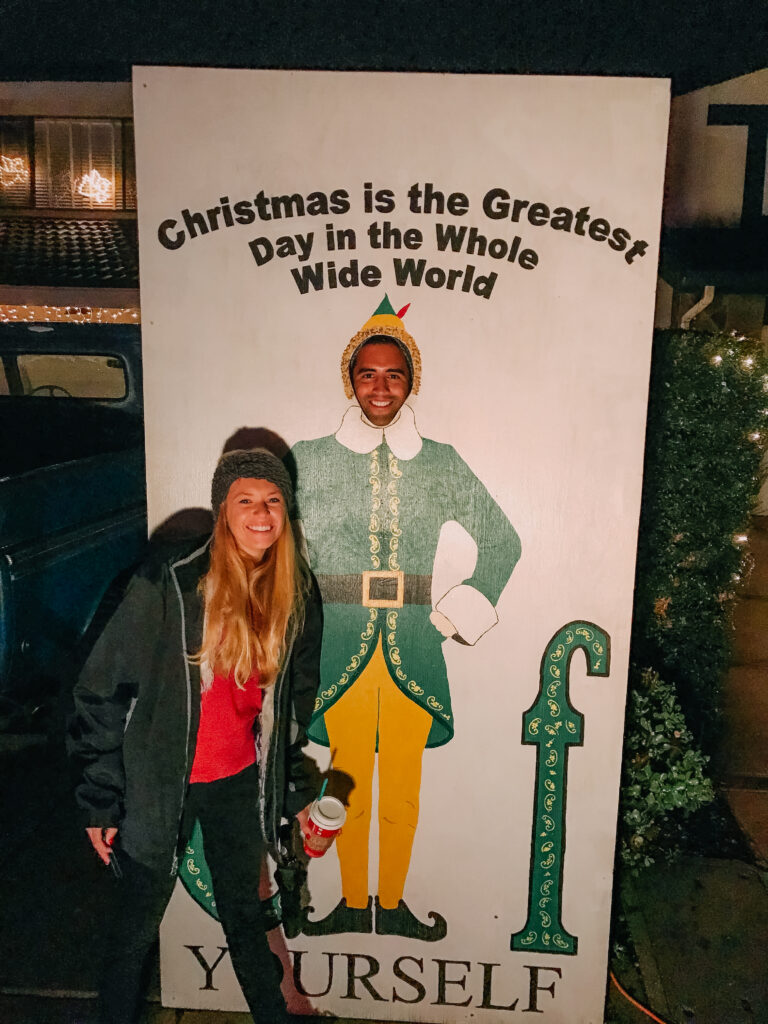 Located in Rancho Penasquitos the houses here put out huge Christmas cards in their front yard. Some houses even sell hot cocoa as you walk around.
3. Del Mar Heights Town Center Light Display



A huge lights display and a Santa sleigh.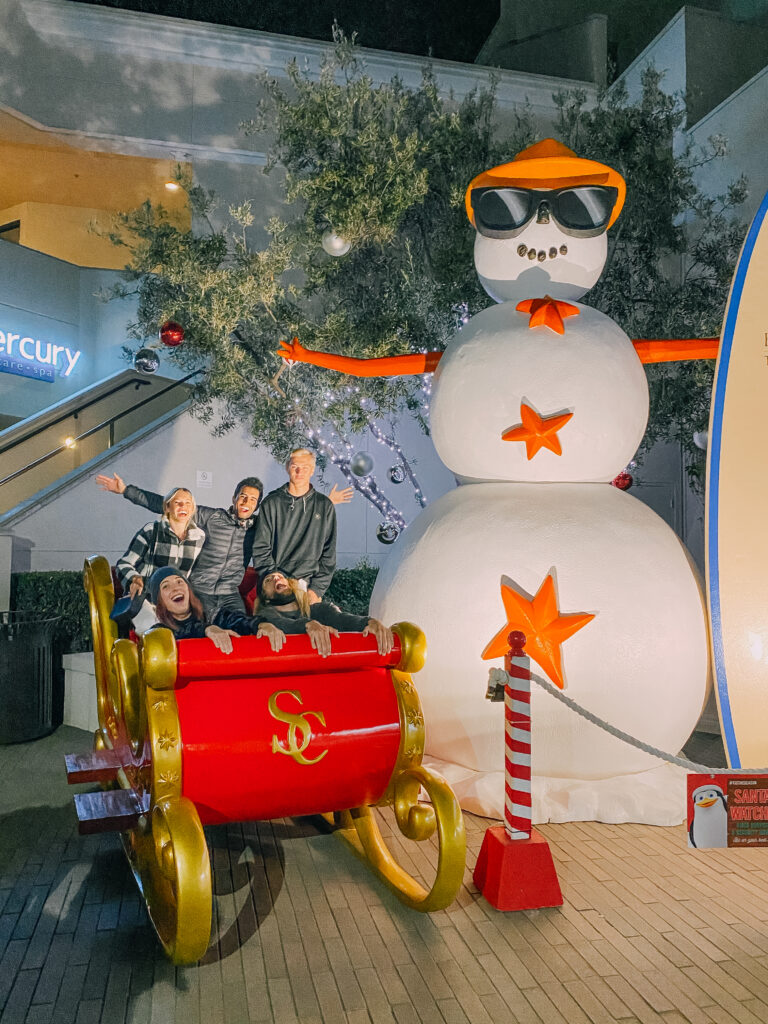 4. Seaport Village

Has beautiful light displays, elves on stilts, Christmas shopping, and much much more!
Heading to San Diego in the Winter? Make sure you pack the proper San Diego winter gear!
5. Balboa Park
Decorates and decks out for Christmas and you can also watch the Grinch at the Old Globe theater. Another great night idea or a fun event for kids.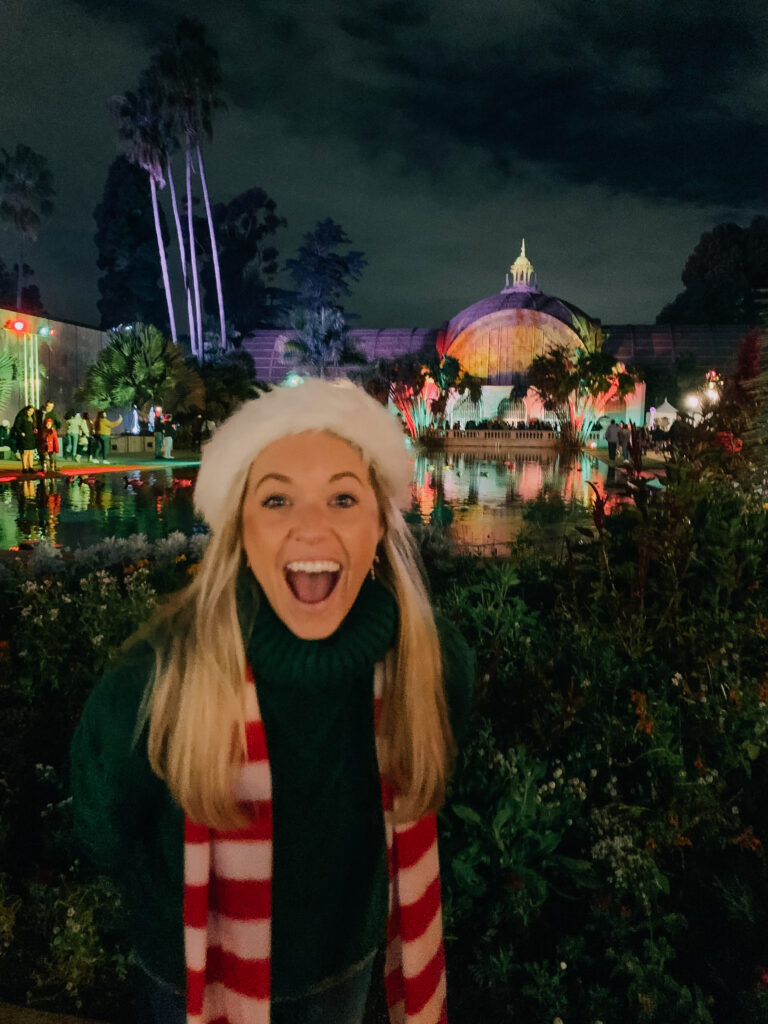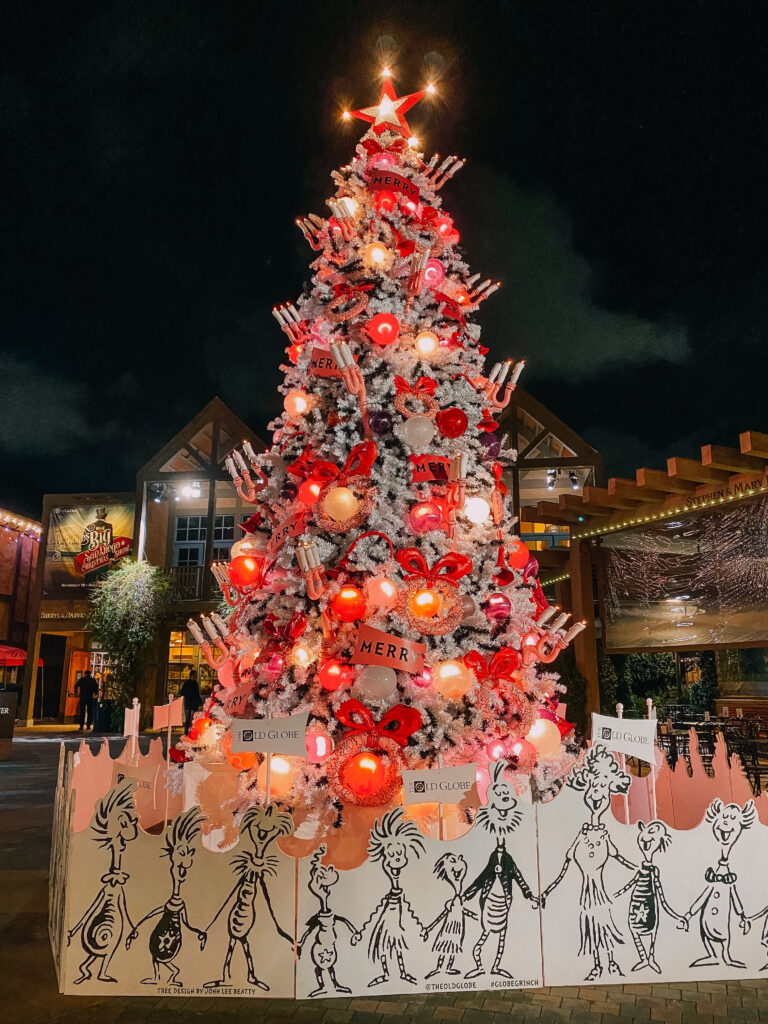 6. El Cajon
Jingle Bell Hill off Solomon Ave./Pegeen Pl. and surrounding area. Dec. 7-26, Mon-Th, 6-9 pm, Fri-Sun, 6-10 pm.
11456 Pegeen Pl. "Nightmare Before Christmas" theme. Santa may make a surprise visit. Dec. 5-Jan. 1, Mon-Th, 6-9 pm and Fri-Sun, 6-10 pm.
1838 El Pico Dr. Off Hacienda Dr. Nov. 29-Dec. 31. Also see a 55-ft. train. Dec. 8-31, dusk-10 pm.
9777 Valley Ranch Rd. Cul-de-sac of lights programmed to 89.1 FM/87.9 FM. Giant dazzling trees, twinkling stars and a Winter Wonderland of computerized light and music shows. Nov. 28-Dec. 31, 5-10:30 pm.

Let's talk about the light displays in north county San Diego

7. Carlsbad

7607 Romeria St. Animated window display, swimming penguins, surfing Santa, Snoopy skating and three snow machines. Food drive donations accepted. Dec. 4-31, 5-9 pm.
6646 Elegant Tern Pl. Real Santa's mailbox for the kids where Santa writes back a letter. Dec. 3-25, 5-10 pm.
2329 Snead Dr. Santa arrives by hot air balloon, nativity scene, animated elves, and Santa village light display. Dec. 5-31, 5:30-9 pm.
8. Escondido

Center for the Arts- 340 N Escondido Blvd, Escondido, CA Beginning November 30th, their 12-acre campus is transformed into a beautiful light display. Enjoy tunnels of twinkling lights, giant LED Christmas trees, and blow-up figurines of favorite holiday characters.
On view daily from 4:30 – 9:00 PM. This self-guided holiday experience is completely FREE.
Harmony Grove Village- Starting Point: Trail Ridge Dr, Escondido, CA This neighborhood is also known for its elaborate Christmas decorations.
Spence Family Light House- 1835 Sunny Slope Terrace The Spence Family has been creating a holiday light show at their home in Escondido since 2010. Each night from 5pm until 10pm.
101-1197 Suburban Hills Dr. Escondido, CA 92027- One block that is filled with lights, including a soap snow machine!
SAN DIEGO CHRISTMA EVENTS FOR THE ADULTS
Now let's get to the more adult-like events. These are some fun events that attract those who are over the age of 21.
Throughout the month of December, Polite Provisions is having a pop-up cocktail bar called Miracle on 30th where they will be serving holiday cocktails in a festive setting.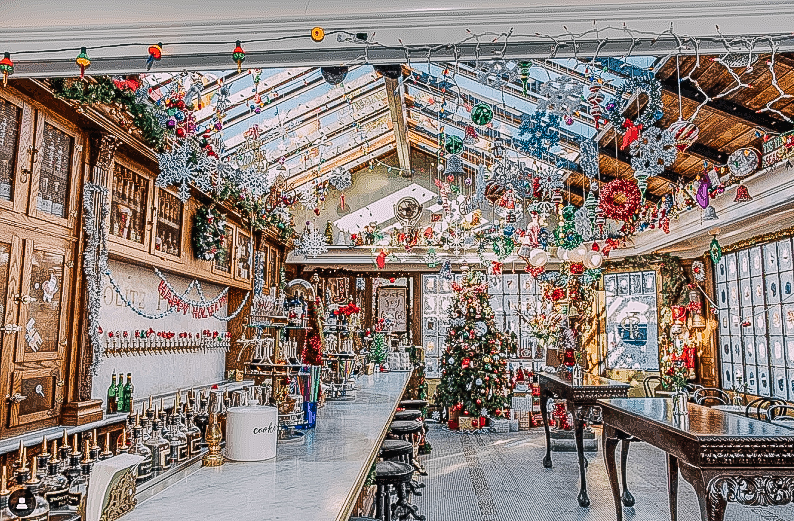 The Grass Skirt is doing a to-go Sippin Santa experience at their bar in PB. Grab your tiki-themed Santa mug and get in the spirit
On December 11th there is a Santacon pub crawl in PB. Everyone comes dressed up as Santa and runs or maybe walks this event as they drink their way through PB. Find tickets here.
SAN DIEGO CHRISTMAS EVENTS: MALLS
The last thing I want to mention is shopping! The UTC mall and Fashion Valley mall are going to be your most decorated places for holiday shopping.
Last year I visited UTC mall during the holiday season and they had a fun scavenger hunt the kids could do while mom or dad shopped. On the weekends this year, Westfield UTC transforms into a winter wonderland. You can get photos with Santa and partake in wintery-themed crafts.
FINAL THOUGHTS FROM YOUR SD GIRL
Woof that was a long list! I hope you enjoyed this article and I hope it helped you plan out your festivities for this season! As always if you found this article helpful I'd love for you to get on my email list so you don't miss all the fun San Diego activities.
As always, let me know in the comments what you want to see next in my videos!. We will see you next time and Merry Christmas!
GUIDE TO ALL THE BEST SAN DIEGO CHRISTMAS EVENTS