TIPS FOR CAR CAMPING: COMPLETE GUIDE TO SLEEPING IN YOUR CAR
Sleeping in a campervan or going car camping in the wilderness connects your mind with nature and is an affordable way to appreciate the scenery. This article is going to give you some top tips for car camping.
Car camping and using campervan are very similar. Most safety tips and rules apply to both types of vehicles. The main difference between the two is the size of the car and the amenities within the vehicle.
For this article, I will be using the two words interchangeably. As I am sure you are aware, campervan adventures are a booming travel style taken up by wanderlusts around the world now.
I have gotten a little taste of the car camping van life during my New Zealand RV trip.
For a long period of time, I was fascinated by the idea of traveling the world in a campervan. While this idea may be intriguing, there are also things to know before decorating your new home or simply taking your car out for a little car camping adventure.
Some of the things I had to learn the hard way.
You don't want to be me in this situation. That's why I'm going to tell you several things that you need to know before choosing to sleep in your car!
The legality of sleeping in your car
Most countries and even states in the USA have different laws regarding the legality of sleeping in your car. This is the single most important thing to take note of. Even in the same country (The USA) or the same union (European Union), the law can be different from state to state, country to country.
In Europe, rules on sleeping in a camper van are the most relaxed in Scandinavia and the Baltic countries. Sweden and Norway do encourage wild camping in the wilderness.
As long as the camper van is not parked on private property, you are all set. Park wherever you want to secure a good seat to the Nordic sunrise.
Other countries might not be so relaxed, Fore example, car camping in Australia outside of designated areas can render you a ticket. It is illegal and you cannot sleep in nature.
Penalty for breaking the law differs. Do be warned that in many of these countries, playing the "foreigner card" will not get you out of trouble.
While you are occupied with researching the law, also look into the opening hours of caravan parks. Most caravan parks do not offer a 24-hour check-in. Once they close, you will not be able to check in to the premises.
Follow this guide to help you choose your next car camping spot.
Where to park it?
This is one of the most commonly asked questions! And of course, location is very important! You want to make sure you are safe, but also still have a good view! Right?
If I am assuming correctly, then you probably want your parking spot to be free too right?
Here are some options for free car camping locations:
Businesses and Religious buildings
A lot of small businesses and even religious buildings offer the capability of parking in their lots for free.
The most proper etiquette would be to walk into the store or building and ask to speak to the manager. Ask the manager if you have permission to sleep in their parking lot.
Provide them with details of how many nights you would like to stay and make sure to smile. 🙂
Here is a great article on free business locations you can sleep at.
Wal-Marts are commonly known for allowing RVs to sleep in their lots. However, there are some Wal-Marts that do not allow this.
My husband and I have personally slept in a Wal-Mart parking lot on our Sedona road trip.
Tip: Use the Walmart Locator to find locations that allow you to sleep in their parking lot.
Lastly, make sure to park in the far back of the parking lot that way you don't take up parking spots for their normal business customers.
Stay in a Driveway
Maybe you know someone in the town you are in or maybe you know of a friend who knows of someone of the town you are in.
You can potentially ask them if you could park your car/RV in their driveway or in front of their house for the night.
BLM Land
This is one of my favorites! My brother I used this option a ton on our camper van road trip.
What is BLM land? Basically it is free wilderness land. And there is tons of it! Especially in the Western part of the US. You are legally allowed to camp on this land for free!
Head over to their website for all the details of where this land is.
Free Campsites
My last recommendation is to check out the Free Campsites website. This is similar to the BLM land option, but this website offers a lot more options for camping.
It also includes paid-for campsites in case you want something a little nicer or with facilities.
You can set a filter though for exactly what you want.
One of the best car camping tips I ever hear was… Don't sleep naked in case a cop knocks on your window and you need to answer quickly!
Car Camping top safety tips!
Sometimes it is hard to plan an extravagant outdoors backpacking trip for the weekend, or you just don't feel like doing that extreme amount of exercise and preparation for a backpacking trip.
Car camping is a great second or back up option. It is not just for beginners, but it can be for everyone! It is nice because you don't have to sleep in a tent and you can stay nice and warm in your car.
I have some tips for car camping below that you can check out!
How do I know if it's safe to sleep in my car?
This is a question that gets asked all the time! Most people wonder whether or not they are safe from other humans as well as safe from animals. The next two sections will give you some basic safety tips for staying safe while asleep.
Safe from humans such as criminal acts
Instead of searching up on the internet about the safety concerns in a specific area, I always do a little cheat to get things done quickly. Join a Facebook group on camping and road-tripping specifically for your destination. Trust me, there's always a group like that.
In general, sleeping in a campervan and or/ care is very safe. After all, you are sleeping in the wilderness with no living human around you in a 20-km radius.
Some well-known safe spots for car camping in the USA are Walmart parking lots, truck stops, and highway rest stops. These places are great if you are looking for car camping spots when taking a long road trip.
Safe from animal attacks
Again, the Facebook trick comes in handy for useful information. The internet is an amazing place.
Personally I have never had an issue with animal attacks, even though I once slept in forests known for wolf sightings in Sweden and Norway.
Animals have their common sense too and most won't be banging their head on a vehicle to hunt. Lock your doors and you will sleep as tight as a baby.
General car camping safety tips
This applies to both sleeping in your campervan and/or just a normal car.
-First. you want to make sure all the doors and windows are locked.
-Next, I recommend that you keep your keys handy. I personally leave them right next to my head while I sleep.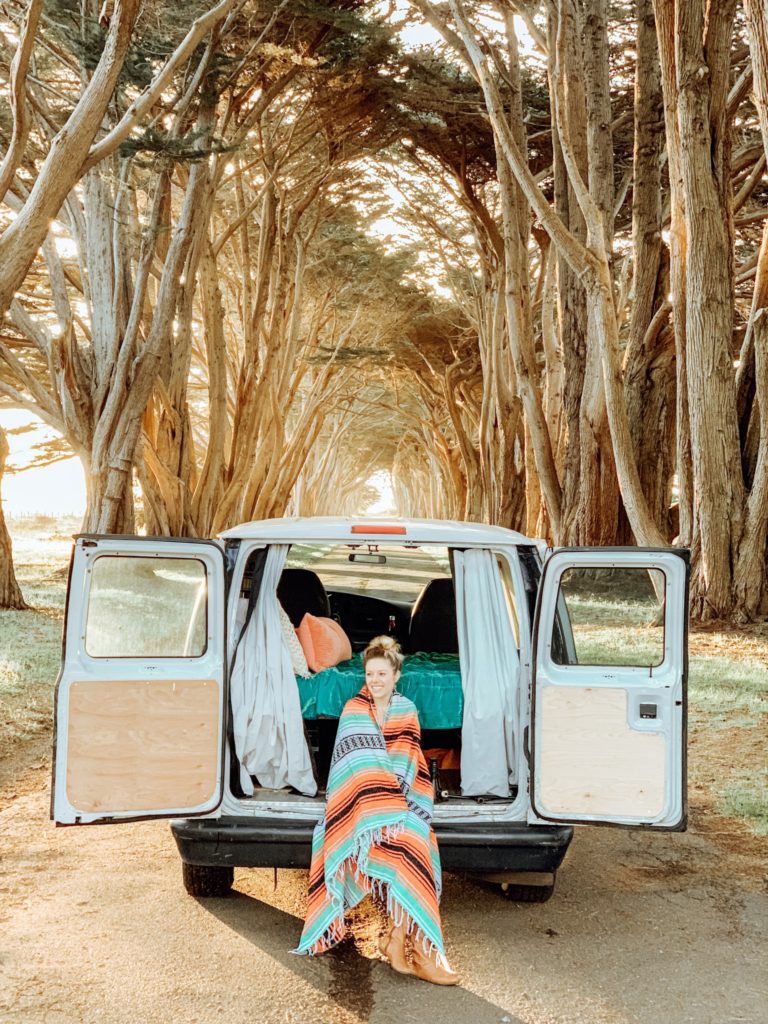 -Make sure to fill your gas tank up to full prior to departure or if you know you are heading to any are without gas nearby then make sure to fill up at the last gas station that is closest to your end destination.
-Bring enough water. Think about how long you will be car camping for and whether or not there will be a water source nearby. Plan to bring enough to drink, cook with, and brush your teeth with.
If you are going to be by a water source that needs water filtering then I highly recommend this water filter.
-When you arrive at your location make sure to turn off your car lights so you don't drain your battery. I have forgotten to do this twice now and thankfully I was in a city where AAA could come help, but imagine if you are out in the wild.
As with anything, use your common sense. If you don't feel safe then pick up and move.
When to get supplies?
Another great question to bear in mind. A lot of people would suggest buying supplies like the food at your destination. However, I would say, do bring everything you need before you go. Be a minimalist, but do bring everything you need.
There may be a time where you end up getting stuck in the middle of nowhere late at night with no supplies. That is one element embedded in the car camping adventure. You don't know when the next supply will come or if the shop will be open.
If you could, pack as little as possible. When you see supply stores, don't wait for the next store and get everything you need.
Car Camping Essentials
To be honest, you could make car camping as bougie and luxurious or as minimalist as you want. It is up to you! Things to keep in mind though is making sure you don't pack too much that you no longer have a place to sleep.
I like to make sure I get a good night's rest while sleeping in my car so below are some of my car camping essentials.
A camping stove! This is great for making meals! Don't forget your cooking utensils.
A sleeping pad or air mattress to lay down in the back of your car.
A sleeping bag or lots of blankets for warmth!
A pillow from home or a camping travel pillow!
A headlamp for nighttime and to save your cars battery
A power inverter to charge your electronics
Here is a great article on more ideas for what to pack when car camping!
[show_shopthepost_widget id="4099941″]
But what is the most important thing to bring?
Your passion! Sleeping in a campervan or going car camping is meant to be fun and a journey towards self-growth. The first time I did a camper van trip was a learning process, but it also consolidated how much I love doing this!
Don't leave your passion behind or let the stress take over. It only takes good planning to organize the trip of a lifetime!
Campervans specifically
A quick note on campervans specifically!
One thing people often overlook is the functionality of the camper van in accordance with the destination. Rapid weather changes are common, especially in "long" countries like Norway, Chile. It can be melting hot in the south and snowing in the north.
Make sure the functionality of your camper van matches the conditions of your upcoming destinations.
Remodeling your camper van
Remodeling your camper van is a great way to adjust your needs. Rearrange items that would be easily damaged by the cold if you are heading somewhere freezing.
Ways to remodel your tiny home are only limited to your imagination. For me, I often hang up blankets all over the camper van. It keeps the cold away and it looks comfy and girly.
Changing to winter tires is necessary if you are going to a place that snows. Summer tires may not provide enough fractions.
Final Thoughts from your outdoor loving San Diego girl
My husband and I have slept in our car multiple times and highly recommend it! Sleeping in your car vs your tent makes for such a fun and unique experience.
As always, please feel free to ask me any of your car camping or van life questions in the comments below or message me on Instagram.
Like this post! Pin it for later!
TIPS FOR CAR CAMPING: COMPLETE GUIDE TO SLEEPING IN YOUR CAR