VISITING THE DESERT VIEW TOWER IN JACUMBA
Looking for a unique getaway? Then the desert view tower in Jacumba is the perfect spot for you. Dan and I recently took a trip from San Diego to Phoenix and on our way we stayed at one of the most unique airbnb's I have ever stayed at.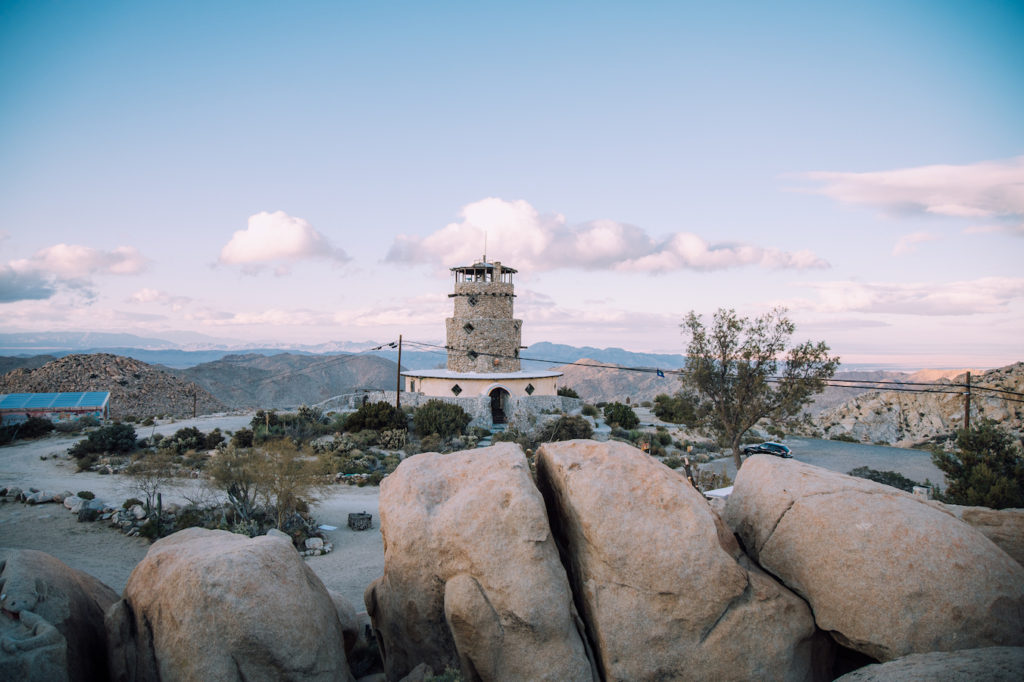 The desert view tower is located at In-Ko-Pah Park Rd. Jacumba, CA 91934. During the day this tower is a tourist attraction; however, at night it becomes an airbnb.
So, I wanted to share my experience with you on my stay here!
HISTORY OF THE DESERT VIEW TOWER
This desert view tower is constructed out of rock with a height of 70 feet tall! Constructed by Burt Vaughn in the early 1920s. This tower borders the counties of San Diego and El Centro as it overlooks some spectacular rocky mountain views of Imperial County.
Burt happened to own the entire town of Jacumba and decided to build this desert view tower as an attraction and a memory of this area when it was rough to cross this portion of land between the town of Yuma and the Pacific Ocean.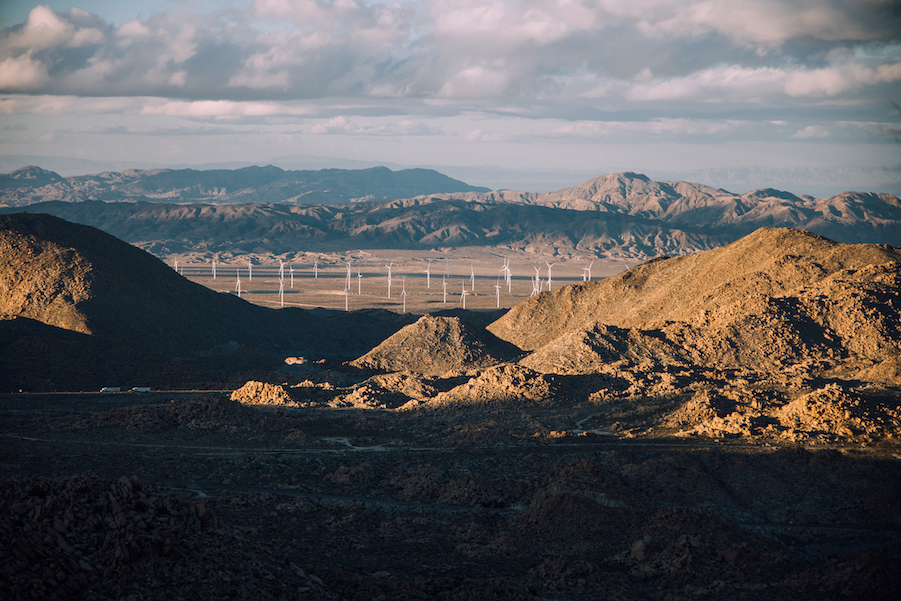 The Hurricane deck (the very top lookout deck) currently gives you a vantage point of the I-8 winding down through the valley. However, in WWII it was used as a lookout to make sure the Nazi's didn't enter the states via Mexico.
In 1980, this tower became a National Register of Historic Places.
12 years ago, Ben, the current host of the airbnb purchased the tower and the surrounding land. He has now turned it into a tourist attraction and a unique place to stay.
THE MUSEUM
Admission to this 70-foot tower is $6.50 per adult which gives you access to all five levels of the tower including a view from the hurricane deck as well as admission to Boulder Park.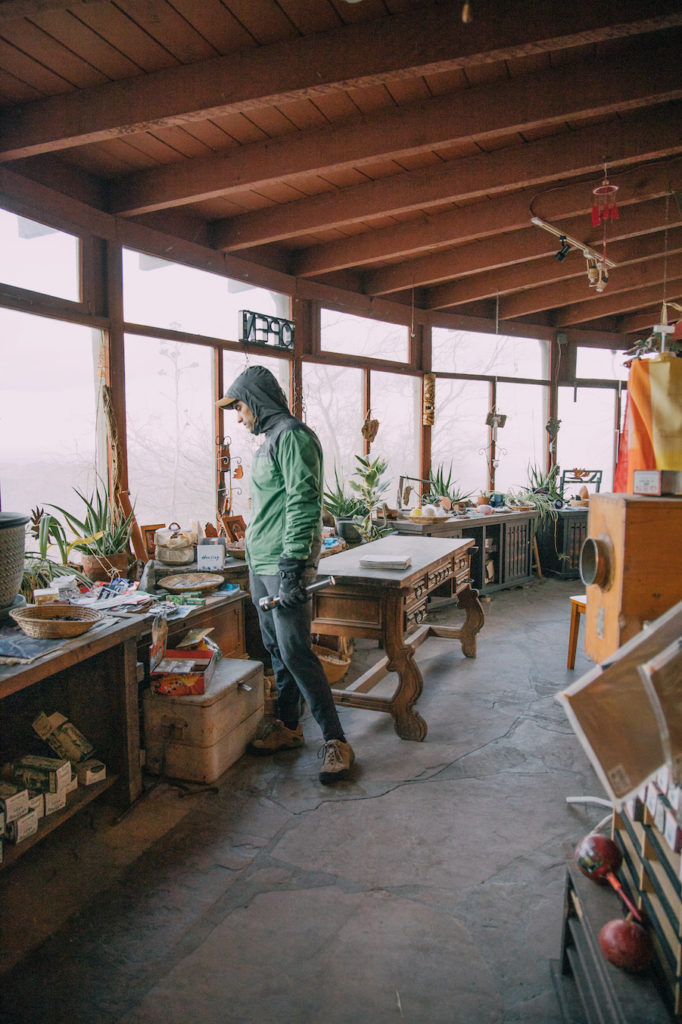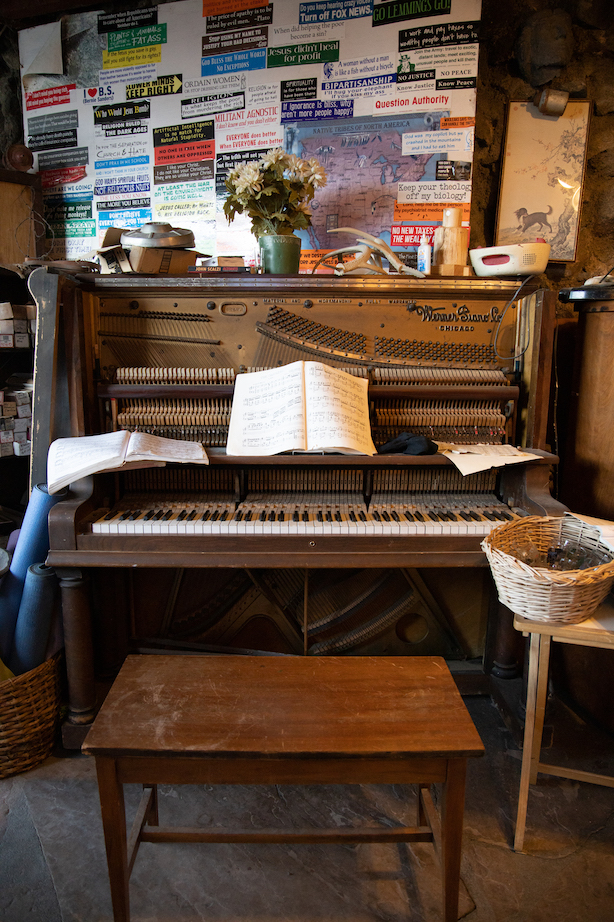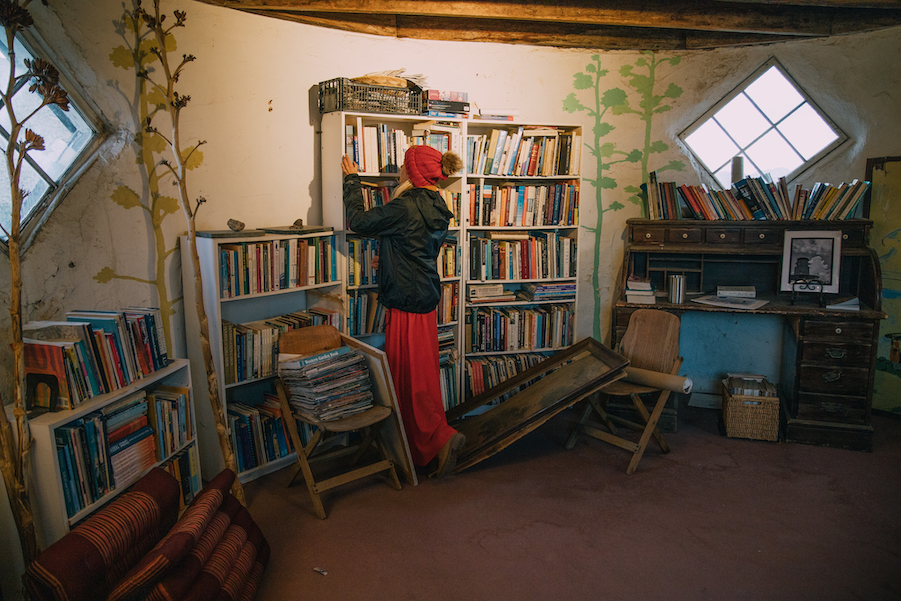 The museum itself is a collection of unique trinkets that you can purchase. From my understanding, there is no rhyme or reason as to the location of these items. Within the museum you will find black and white photos showing what the tower looked like under construction.
The tower hours are 8am-5pm. After 5pm it becomes an airbnb for your stay.
THE GUEST CABIN
The guest cabin is located directly across from the desert view tower and right next door to boulder park.
You have the option of staying basically anywhere on the property: the tower, the guest cabin, or camping under the stars.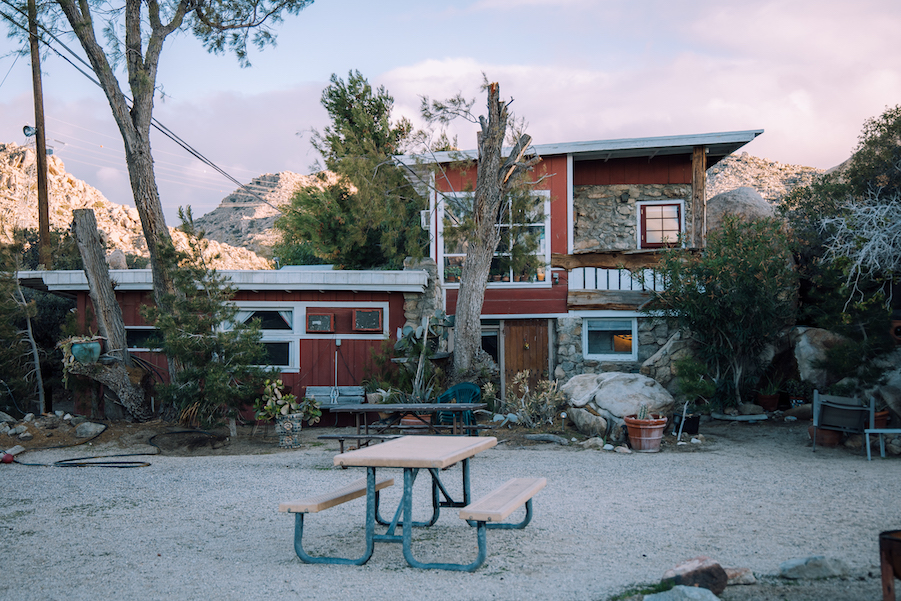 The guest cabin has everything you could need. Review my FAQ section at the bottom for some further details on this cabin.
PERSONAL EXPERIENCE OF THE DESERT VIEW TOWER
Dan and I visited the desert view tower in Jacumba in March to celebrate our wedding anniversary. Kind of a weird place to celebrate your anniversary, but definitely unique.
We chose to stay here because we were on a road trip to Phoenix from San Diego and it was right off the highway.
It took us 1.5 hours to drive from downtown San Diego to the desert view tower. We headed out around 230pm, stopped at my favorite lunch spot, Board and Brew, and then completed our drive.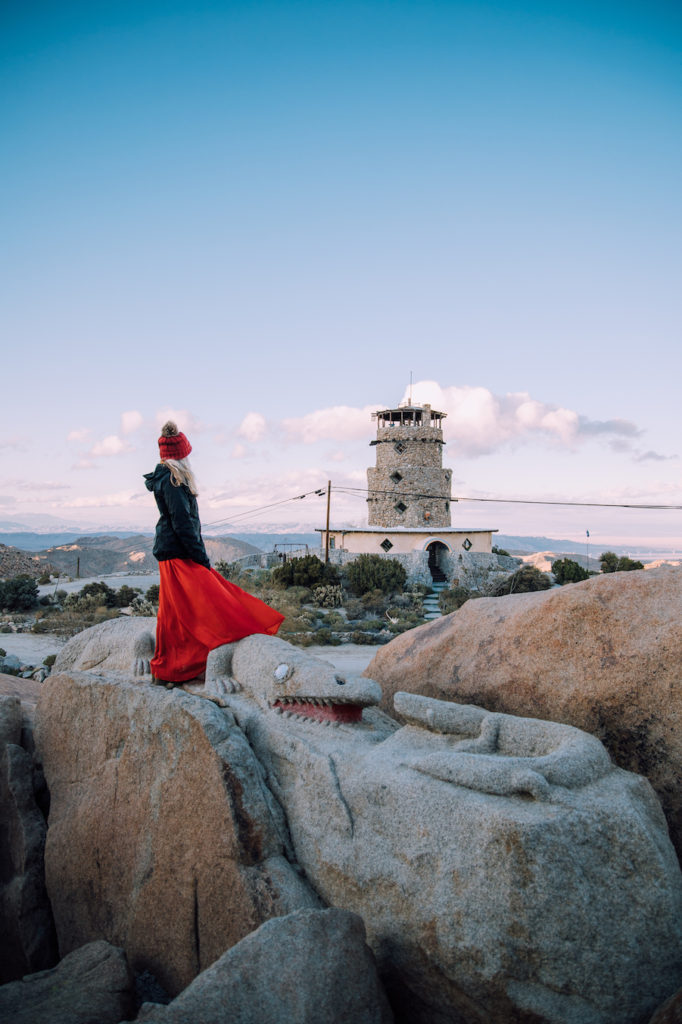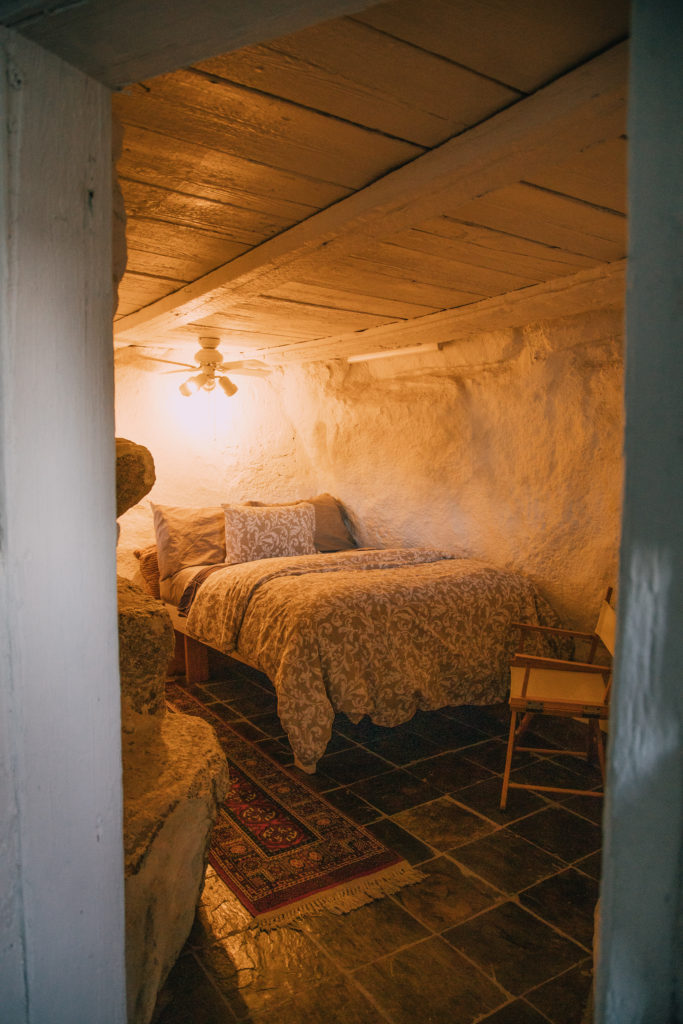 We ended up arriving around 430pm, just in time to explore a little and see the sunset. After sunset, we explored the boulder park for about 20 minutes and then headed into the tower to explore a bit.
After exploring during the daylight we chose to grab some blankets and lay in the tower and read. It was FREEZING inside the tower. They have a small heater available for use, but it didn't do much. There is also an option to use the fireplace, but we chose not to. Not sure why lol
We were wearing multiple coats, gloves and a beanie inside while reading. Oh and we saw a little mouse and a spider run across the floor! Yuck!
We chose to sleep in the guest house. Originally, we were going to sleep in the tower, but we didn't pack our sleeping bags.
The guest house was perfect though. The bed was comfortable, there was a toilet and a kitchen to store our food. There was also a heater in the guest house which kept us warm.
The next morning we left quite early as we had to get on the road to Phoenix, but you could probably go for a hike if you wanted to. Or you can also pay for a yoga lesson.
THINGS TO DO IN JACUMBA HOT SPRINGS
BOULDER PARK MYSTERY CAVES
Boulder Park is directly across from the desert view tower. This park is an assortment of large boulder rocks that have been carved and painted into animals.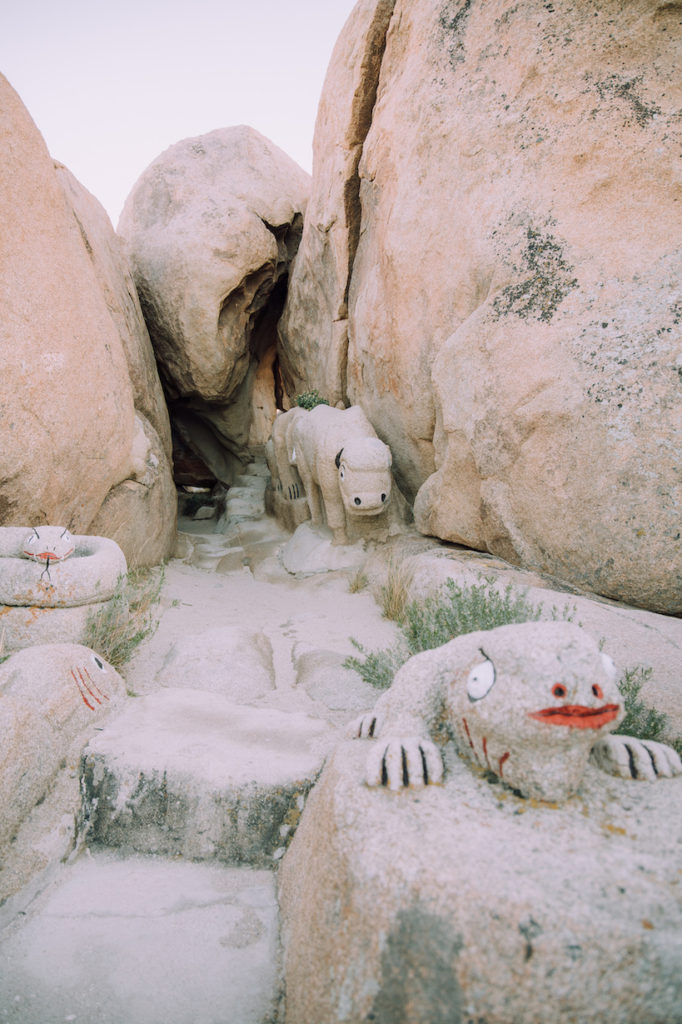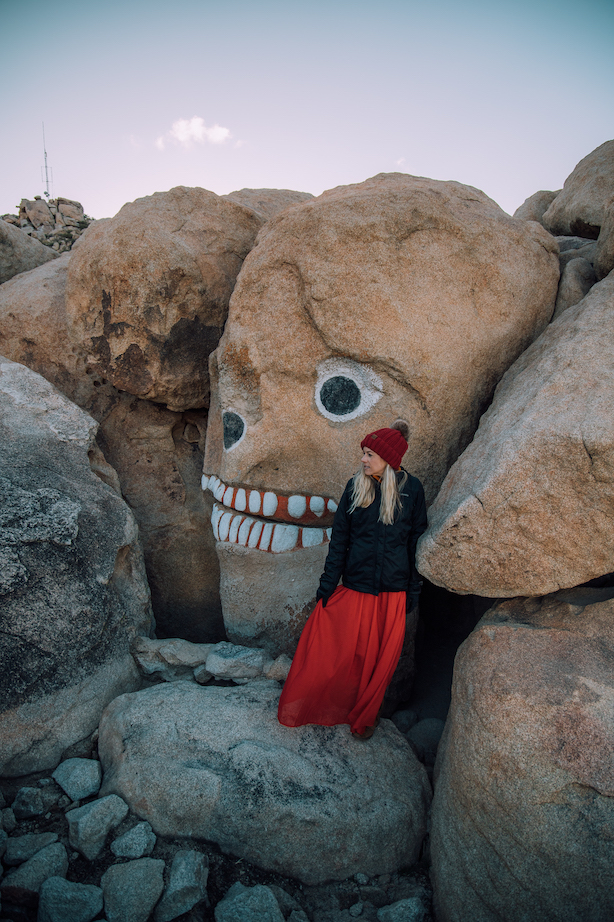 These rocks are perfect for kids to scramble on and adults. I had a lot of fun here. This park has been around since the 1930s and is also very unique!
The view of the tower from the top of this boulder park is spectacular. Definitely, make sure you leave some time to explore this area.
UFO
On your drive up to the tower itself you will pass Coyote's flying saucers. This is not a huge attraction, it is literally just on the side of the road. To be honest, it looks more like a junk pile with some UFO type structures.
These silver-rimmed, clear-bubbled tops are plopped right next to some RVs. A guy, named Coyote, creates these "flying" objects. You don't actually fly as he attaches them to the top of ATVs or cars and you can take a little ride in them.
Dan and I did not stop here for a few reasons. One it was very trashy and two there was no one outside to even show us the saucers.
KNOW BEFORE YOU GO
JACUMBA CALIFORNIA WEATHER
Considering this tower is located up on the hill you should expect it to be windy and cold at night. When I opened my car doors things began to fly out! If you are staying at night I highly recommend bringing warm clothes.
Stargazing is gorgeous out here, but again pack accordingly.
It does get warm on summer days as you will be out in the desert with minimal shade, so make sure to pack that sunscreen.
FAQ
Are there bathrooms? Yes, there are bathrooms
Do I need my own linens? If you plan to sleep in the tower then I would recommend bringing a sleeping pad and sleeping bag. However, if you choose to sleep in the house next door to the tower then everything is provided for you.
Is there a kitchen? There is a full kitchen in the house next to the tower which is available for you to use as long as you book through airbnb.
Is there food and water? There is no food nearby, however there is a fridge available. There is running water in the kitchen sink, bathroom sink and shower. But, it smelled like sulfur and did not look very clean to be honest. I did not even use it to brush my teeth. I personally used the water from my water bottle. I would NOT drink this water.
Are pets allowed? Yes, as long as you tell them in advance. There are also multiple dogs on the property.
FINAL THOUGHTS FROM YOUR OUTDOOR GIRL
This was definitely a unique stay for us. I can't say I would do it a second time, but it was fun to do once. The sunrises and sunsets from up here are beautiful.
In the end, I would recommend staying here for at least visiting here once. Have you ever stayed somewhere super unique? Tell me in the comments below!
Planning a stay here? Pin this post for later!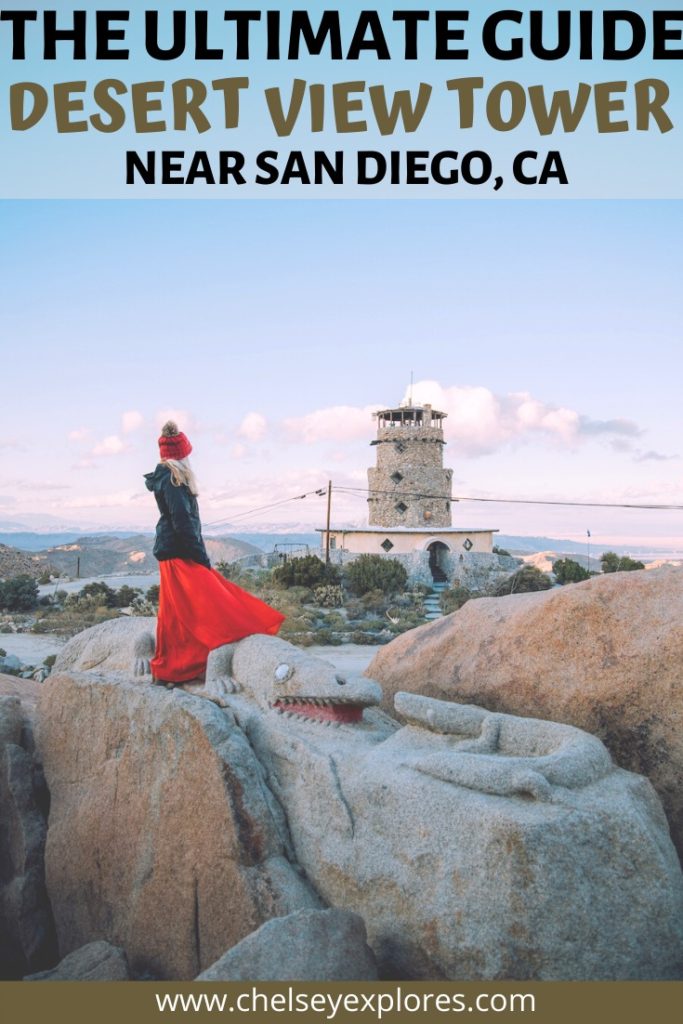 VISITING THE DESERT VIEW TOWER IN JACUMBA