REVIEW OF BACKLAND GLAMPING RESORT
Have you been wondering BACKLAND Glamping Resort in Arizona? I've got you covered!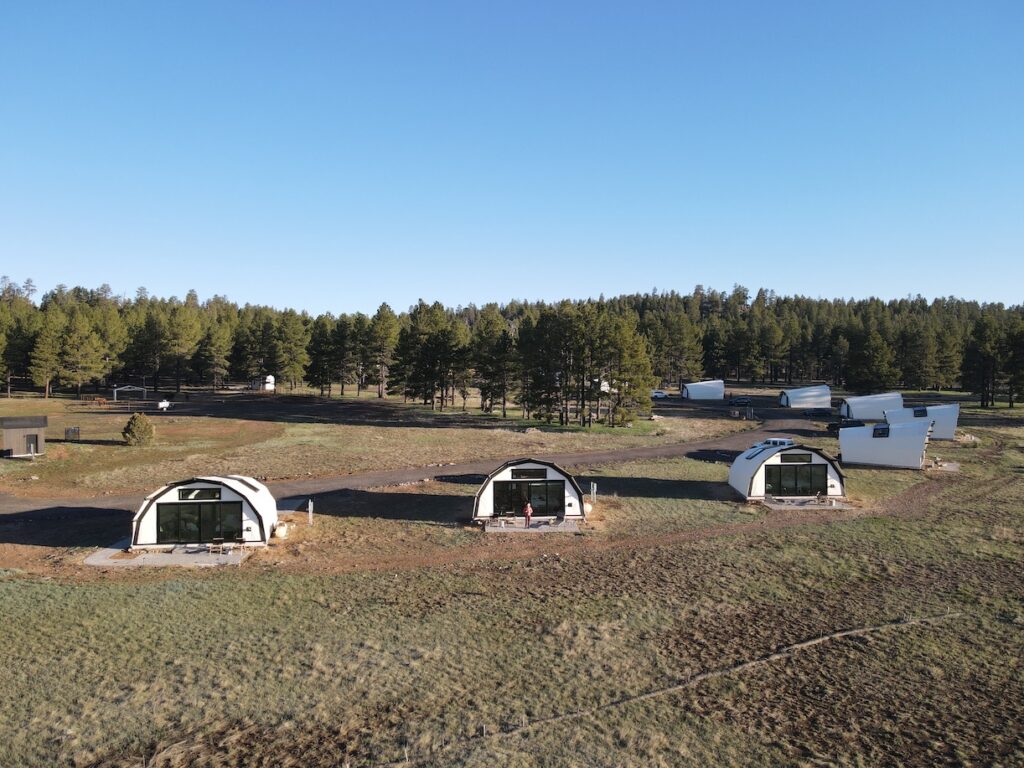 Let's explore Backland Glamping, where the wild beauty of Arizona converges with the comforts of modern living, creating an extraordinary experience that will ignite your sense of adventure and tranquility. Nestled in the heart of Arizona's captivating landscapes, our resort beckons you to immerse yourself in the magic of glamping, blending the thrill of the great outdoors with the serenity of a luxurious retreat.
Imagine waking up to the gentle symphony of birdsong and the soft caress of a warm desert breeze. As you step outside your lavish canvas tent, you're greeted by breathtaking vistas of towering red rock formations, sprawling desert vistas, and a sky ablaze with a tapestry of stars. At Backland Glamping, nature embraces you, inviting you to embark on a journey of discovery and renewal.
But this is not your ordinary camping experience. The resort boasts a harmonious blend of nature's wonders and modern amenities, providing a peaceful sanctuary for travelers seeking a family-friendly escape that transcends traditional tent camping. Each meticulously designed glamping tent is a testament to comfort, featuring plush beds, cozy seating areas, and private en-suite bathrooms. You'll find yourself immersed in luxury while still being in harmony with the natural world around you.
Backland Glamping stands as a beacon of authority and trustworthiness in the realm of outdoor accommodations. There is a dedicated team of experts committed to curating an unforgettable stay, ensuring that every moment exceeds your expectations. From personalized service to curated activities, they cater to your every need, offering an unmatched level of hospitality and attention to detail.
For families yearning to reconnect with one another amidst the splendor of nature, this luxury eco-glamping resort is a haven of togetherness. Engage in thrilling outdoor adventures like hiking through scenic trails, exploring hidden waterfalls, or even embarking on a captivating stargazing excursion. Share stories around a crackling campfire, relishing the warmth and laughter that only a family-friendly getaway can provide.
So, if you're a traveler seeking an escape that transcends the ordinary, where the allure of nature intertwines with modern comforts, Backland Glamping is your ultimate destination. It's time to trade in your ordinary camping gear for an experience that embodies luxury, tranquility and the boundless beauty of Arizona's wilderness. Come, join me, and discover a world where memories are woven, dreams are fulfilled, and the spirit of adventure is awakened.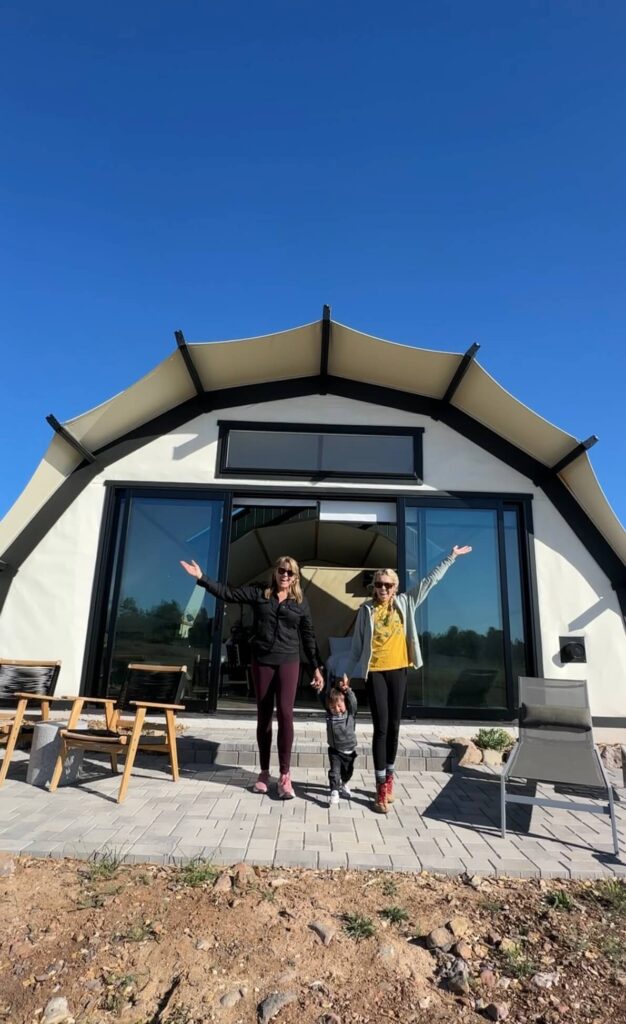 TRAVEL BACKLAND
You are not going to want to miss the glamping resort located in Williams, Arizona! It is a luxury Eco Resort that will blow your mind.
What is GLAMPING?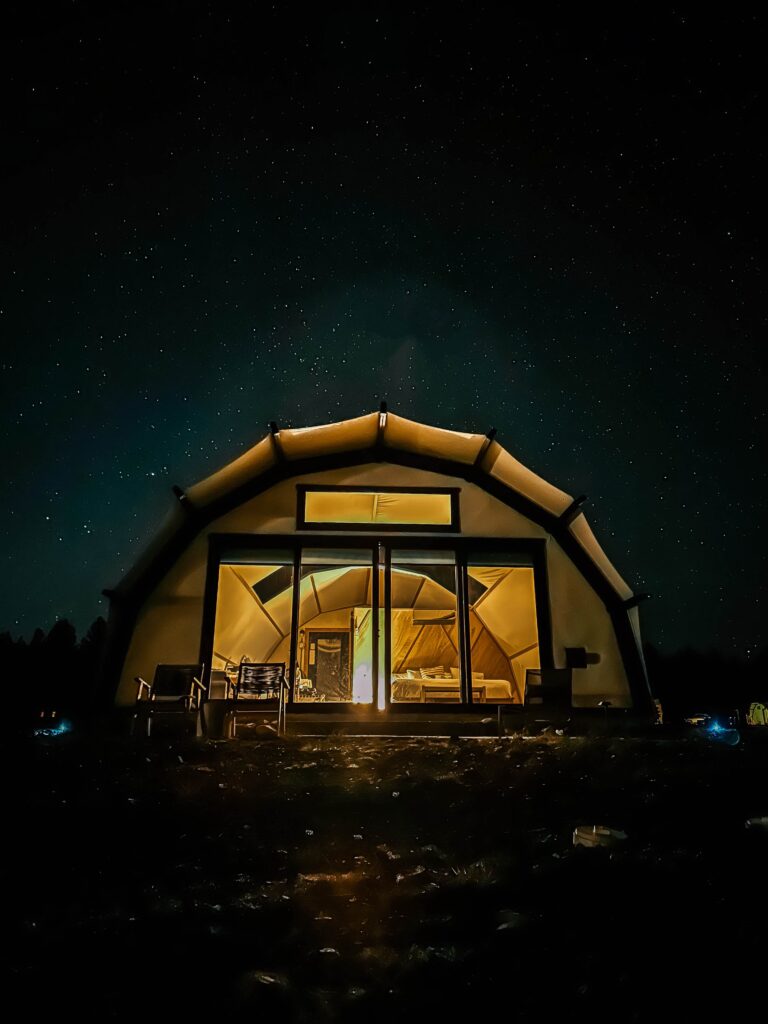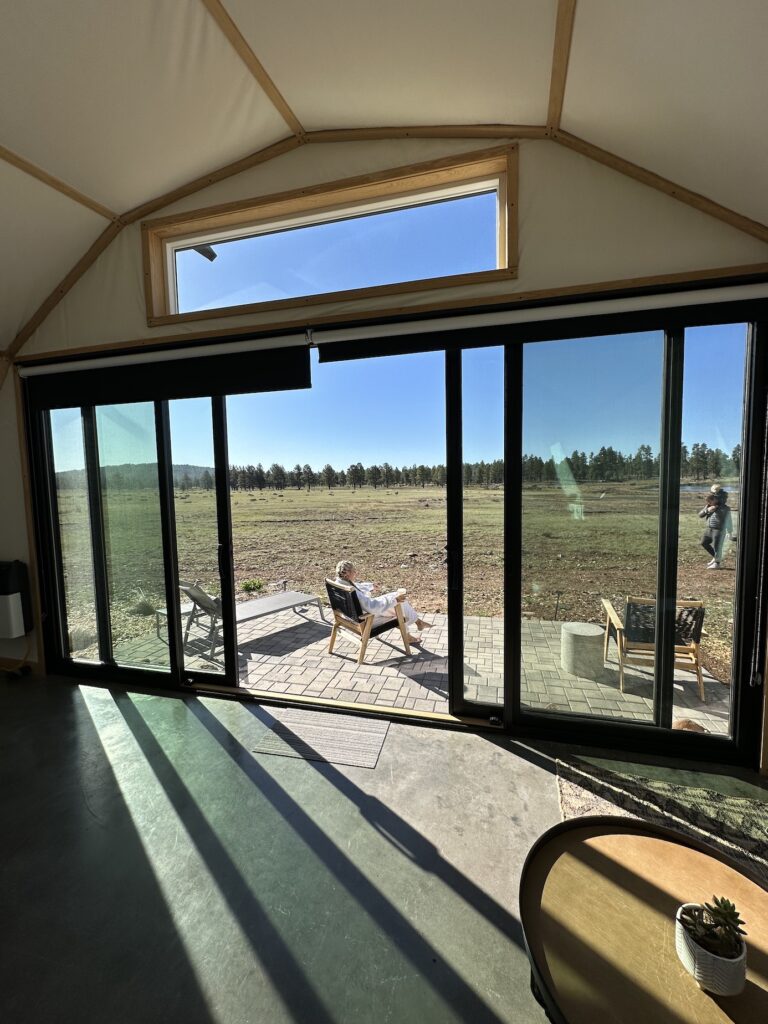 For passionate outdoor lovers seeking a novel way to connect with nature without sacrificing comfort, let me introduce you to the enchanting world of glamping.
Glamping, short for glamorous camping, is an extraordinary fusion of outdoor adventure and indulgent luxury. It allows you to immerse yourself in the awe-inspiring beauty of natural landscapes while enjoying the comforts and amenities of a lavish retreat.
Picture yourself nestled in a luxurious safari tent, a cozy cabin, or even a whimsical treehouse, where you can sleep on plush beds, relax in stylish seating areas, and indulge in gourmet meals. Glamping opens the doors to a world where you can marvel at star-studded skies, wake up to birdsong, and explore the pristine wilderness, all while relishing in the convenience and elegance of a carefully curated outdoor experience.
Whether it's trekking through scenic trails, discovering hidden gems, or simply unwinding amidst nature's embrace, glamping offers outdoor enthusiasts the best of both worlds – an extraordinary connection with the great outdoors coupled with a touch of refined comfort.
TRAVEL BACKLAND Features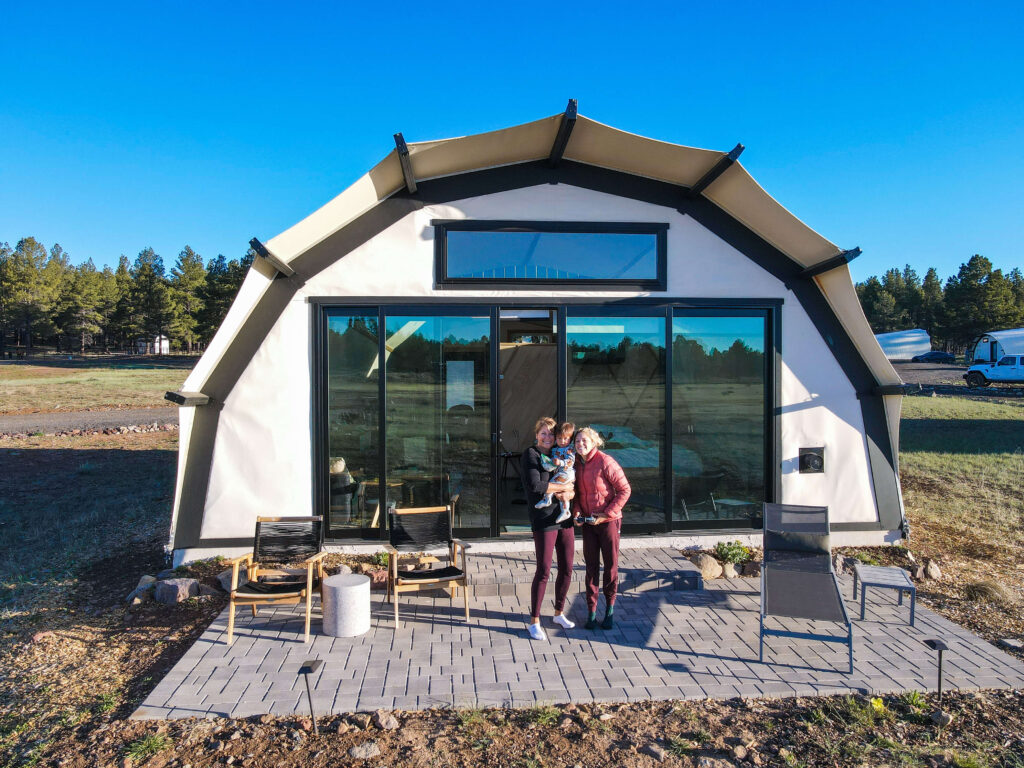 LUXURY GLAMPING TENTS
Prepare to be amazed by the sheer opulence and attention to detail found within the glamping tents at Backland. These luxurious canvas retreats redefine the meaning of comfort in the midst of nature's embrace.
As I entered my tent, the first thing that caught my eye was the expansive panoramic windows that framed the breathtaking scenery outside. It was as if I could bring the beauty of the outdoors inside, allowing natural light to flood the space and providing uninterrupted views of the stunning landscapes. The tents were thoughtfully designed with modern amenities, including electricity to keep my devices charged and a cozy king-size bed adorned with sumptuous linens that enveloped me in a cocoon of indulgence.
The en-suite bathroom, a welcome convenience, featured all the necessary fixtures for a refreshing experience. Stepping onto the outdoor patio, I could feel the gentle breeze brushing against my skin as I soaked in the tranquility of the surroundings. But the true pièce de résistance was the stargazing window above the bed. As I lay there, I could gaze up at the celestial wonders, feeling a profound connection to the universe.
It was a celestial lullaby that whispered tales of wonder and sparked dreams that danced beneath a sky ablaze with stars. Backland Glamping had truly mastered the art of blending luxury and nature, offering an experience that indulged all the senses.
POND WITH A Beach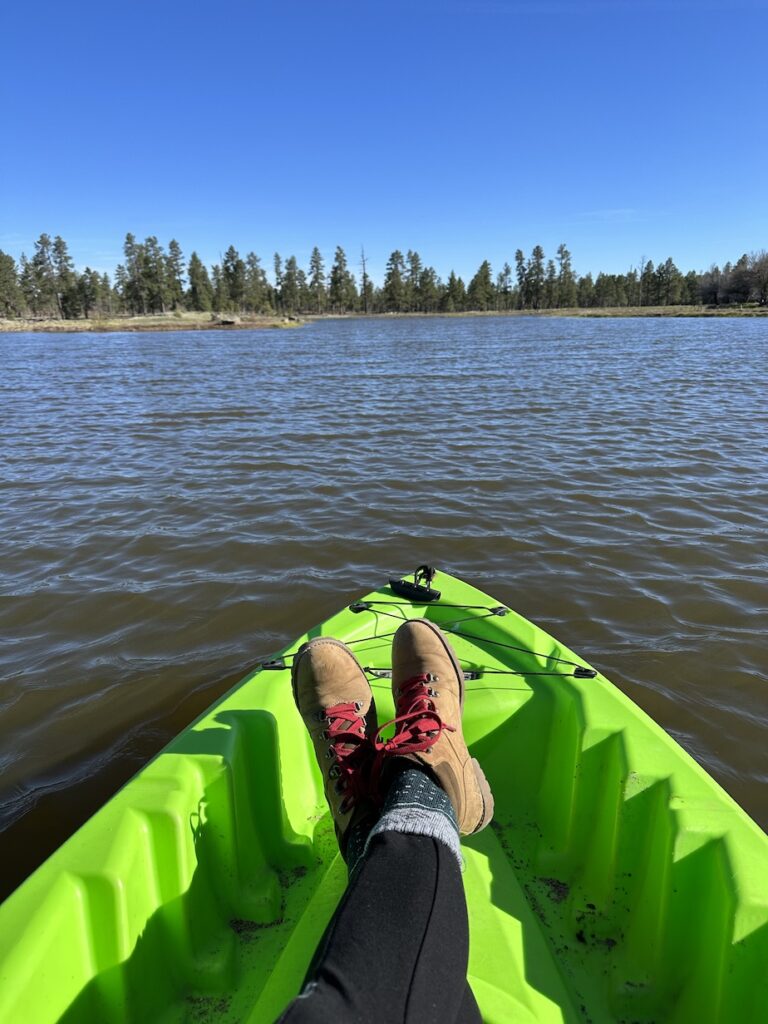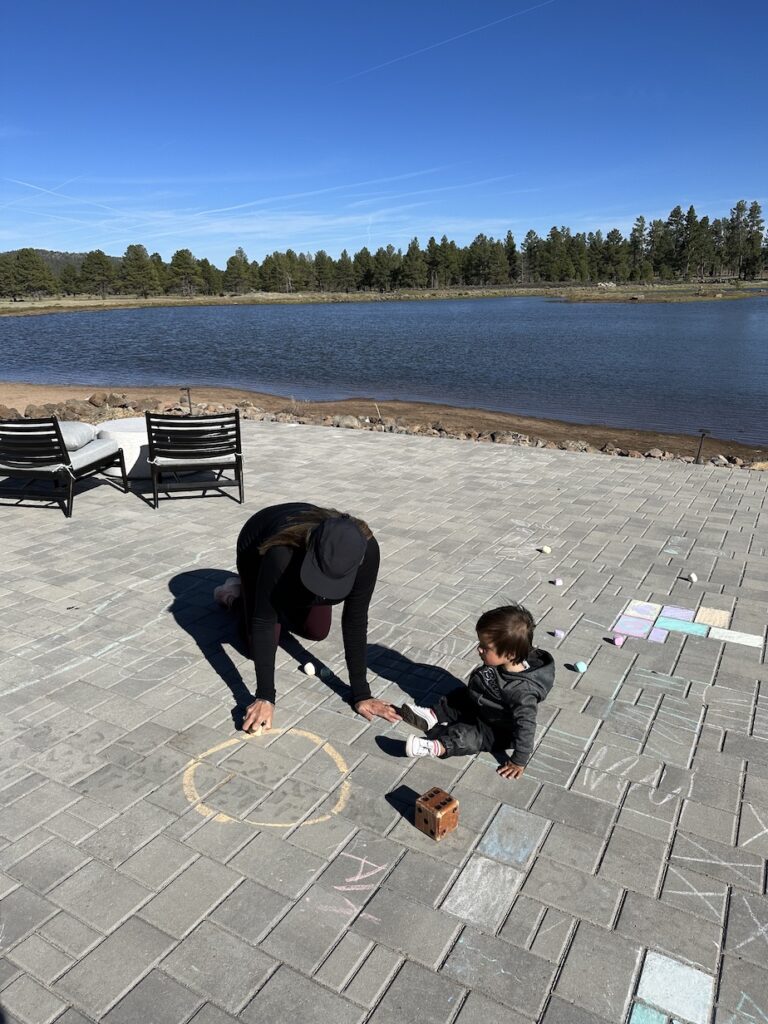 At Travel Backland, relaxation and recreation intertwine harmoniously, offering a haven where you can unwind and reconnect with the beauty of nature. As I made my way to the tranquil pond, I was delighted to find a serene oasis complete with inviting lounge chairs and a sandy beach area.
It was the perfect spot to bask in the warmth of the sun, a book in hand, while the gentle lapping of the water created a soothing soundtrack for relaxation. The little ones can build sand castles and their imaginations can just run wild here.
I actually also hopped on a kayak and took it out for a leisurely paddle around the island. Exploring the pond's nooks and crannies, I marveled at the serenity that enveloped me. For those seeking a taste of the angler's life, fishing poles were readily available, inviting me to cast a line and embrace the peacefulness of the surroundings.
The best part? Beach access, kayaks, and fishing poles were all complimentary, making it even easier to dive into these delightful activities without any additional cost. Travel Backland truly understands the importance of providing a range of recreational opportunities that cater to all, ensuring that every moment is filled with relaxation and joy.
ON-SITE REstaurant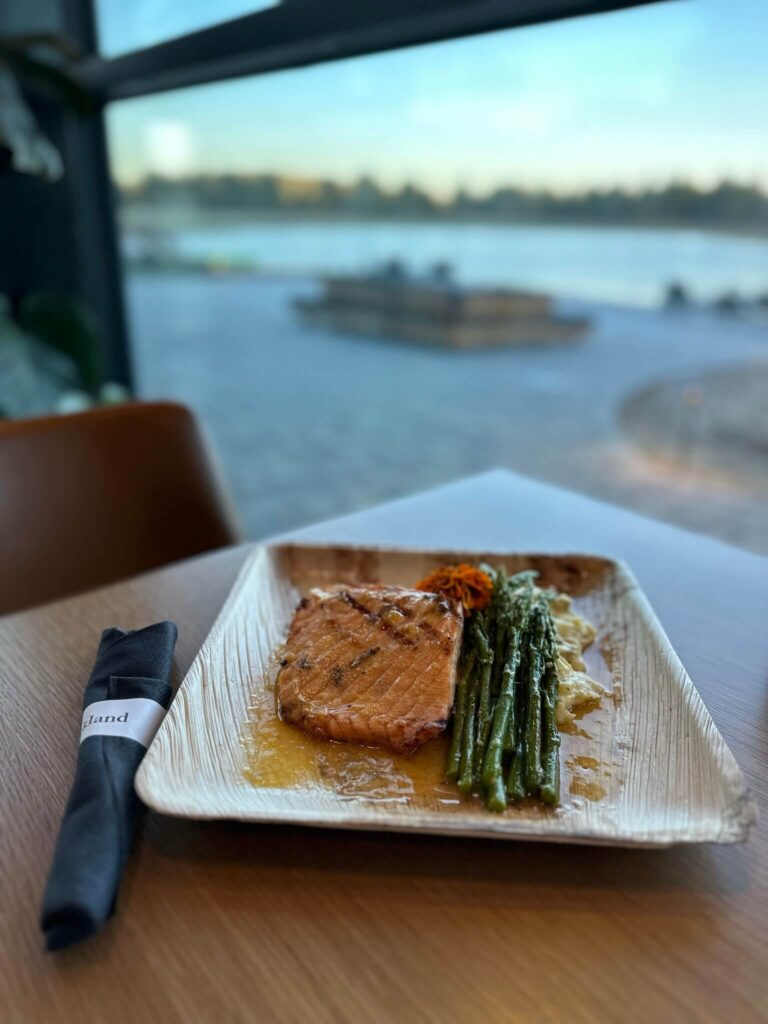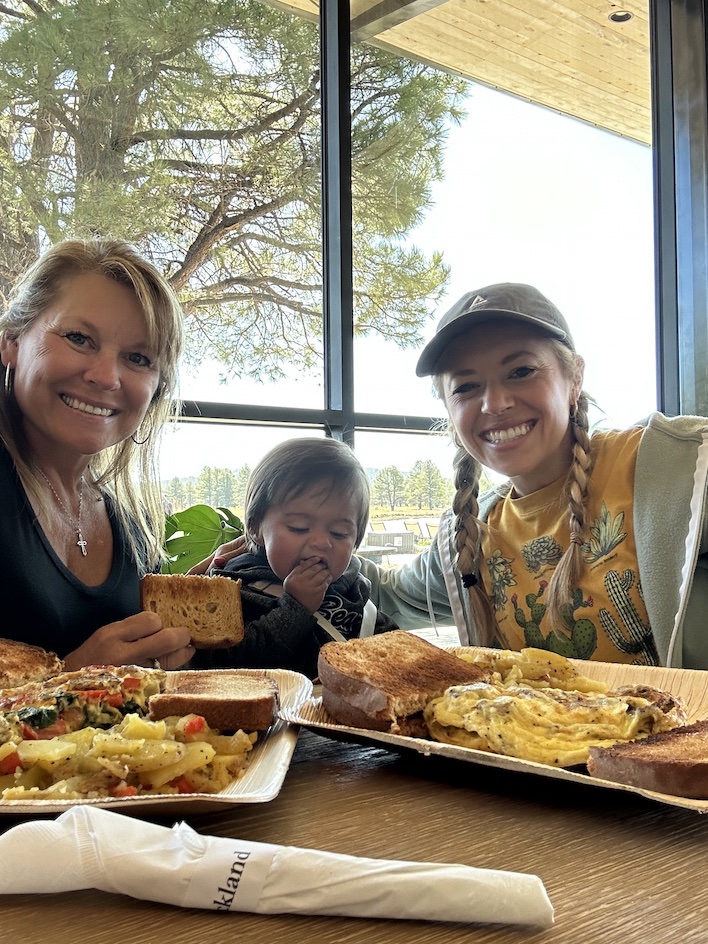 Prepare your taste buds for a culinary journey like no other at the onsite restaurant of Backland Glamping. With a commitment to excellence and a passion for gastronomy, the gourmet chef orchestrates a symphony of flavors, crafting delectable dishes that will tantalize your senses.
The restaurant prides itself on serving made-from-scratch cuisine, embracing the philosophy of using seasonal, locally-sourced ingredients to ensure the freshest and most vibrant flavors. What sets this dining experience apart is the anticipation of a new menu each night of your stay, showcasing the chef's creativity and dedication to delivering a truly memorable culinary adventure.
Whether you choose to dine by the crackling fireplace in the glass-walled restaurant, immersing yourself in its cozy ambiance, or opt for the covered beachside patio, where the gentle breeze and serene views add a touch of enchantment, every moment promises to be a feast for both the palate and the soul.
Backland Glamping's onsite restaurant elevates dining to an art form, inviting you to savor each bite and indulge in the pleasures of gourmet cuisine amidst a setting of unparalleled beauty.
My Experience STAYING AT TRAVEL BACKLAND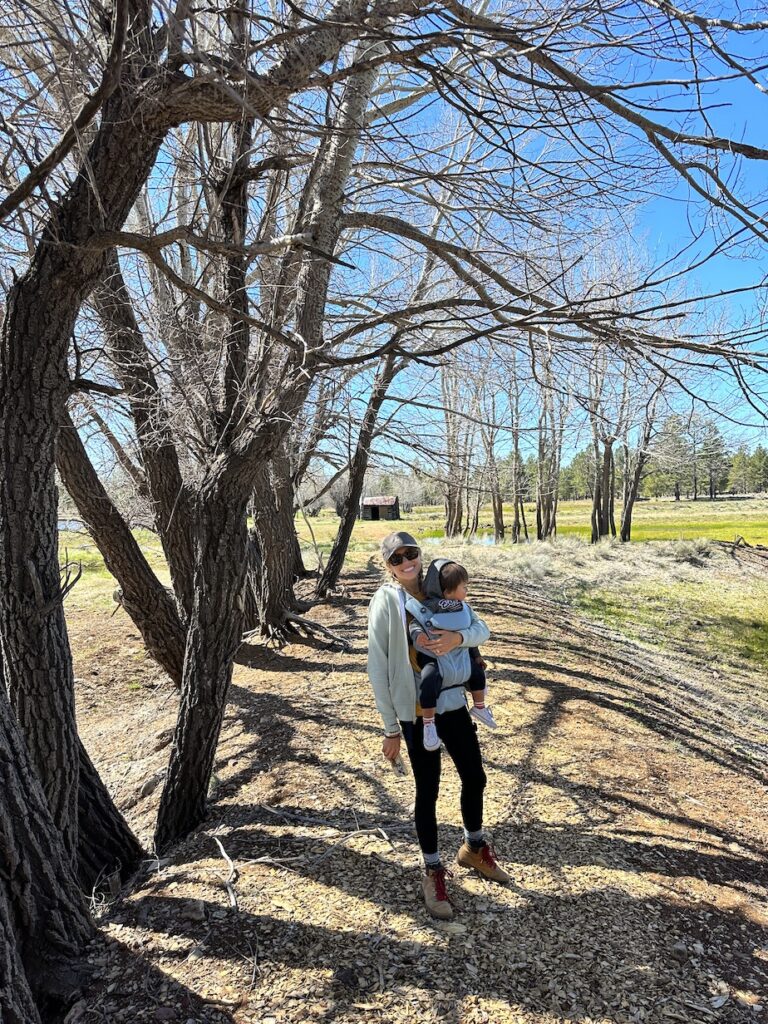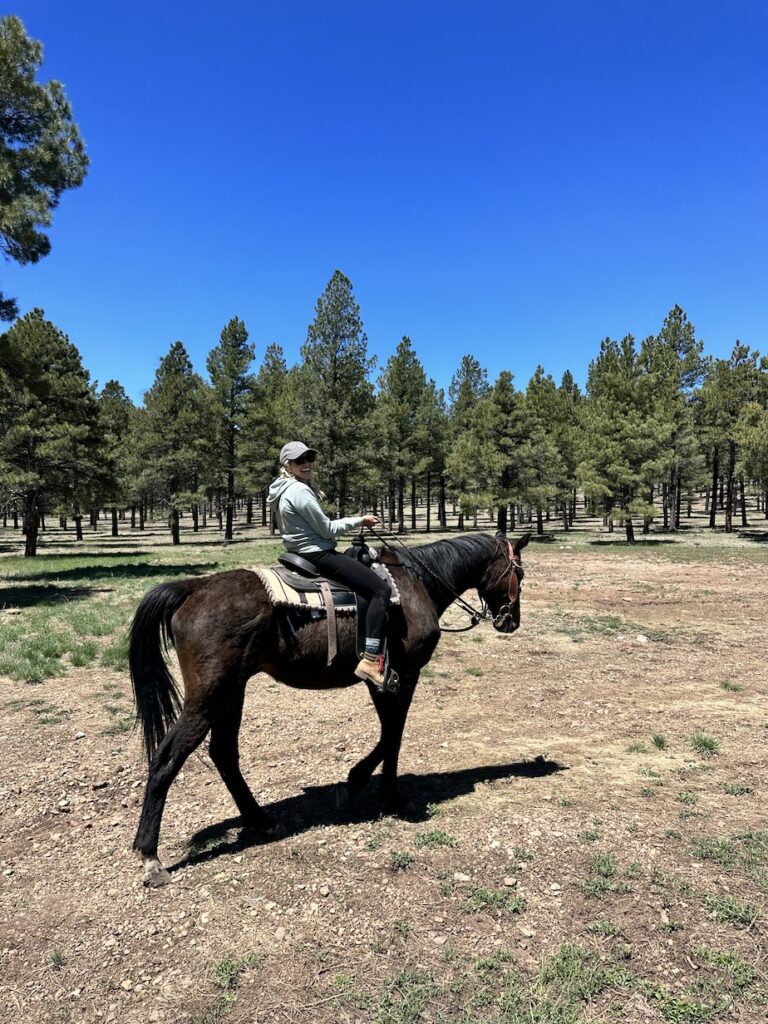 As I stepped foot into Backland Glamping, I knew I was in for an exceptional experience that would forever be etched in my memory. From the moment I arrived, I was captivated by the serene beauty that enveloped the resort—a true oasis in the heart of Arizona's wilderness. The warm and welcoming staff greeted me with genuine smiles, instantly making me feel at home.
What struck me immediately was how family-friendly this place was. The inviting atmosphere and thoughtful amenities catered to every member of the family, ensuring a delightful stay for all. The spacious glamping tents, elegantly adorned and equipped with modern comforts, provided the perfect retreat after a day of exploration.
One of the highlights of my stay was the on-site restaurant that served delicious breakfast and dinner. It was a true culinary delight, offering a variety of mouthwatering dishes made with fresh, local ingredients. Each meal was a feast for the senses, leaving me craving for more.
The abundance of activities both at the resort and in the surrounding areas truly made Backland Glamping a haven for adventure enthusiasts. From guided nature walks that revealed the hidden wonders of the desert to exhilarating mountain biking trails, there was never a dull moment. I indulged in thrilling outdoor pursuits, such as rock climbing and horseback riding, immersing myself in the untamed beauty of the Arizona landscape.
Not only did Backland Glamping offer a wealth of on-site activities, but its strategic location allowed for easy access to nearby attractions. I ventured to explore breathtaking national parks, meandering through awe-inspiring canyons and standing in awe of towering red rock formations. The proximity to nature's marvels made each day an adventure waiting to unfold.
In the evenings, I found myself gathering around the communal fire pit, swapping stories with fellow travelers, and reveling in the sense of camaraderie that permeated the air. There was a sense of connectedness, a shared appreciation for the wonders of nature, and the joy of experiencing it in such a unique setting.
My experience at Backland Glamping surpassed all expectations. It was a sanctuary where the tranquility of nature merged seamlessly with the comforts of a luxurious getaway. From the impeccable service to the endless array of activities, this place had it all. Whether you're seeking a peaceful retreat or an action-packed family adventure, Backland Glamping is the perfect destination to create cherished memories that will last a lifetime.
Who is GLAMPING for?
Long story short… glamping is for everyone! But, to get a little more specific, see if you fall into one of the categories below.
Connection with Nature: Craving a deep connection with nature to offset the stress and demands of your urban lifestyle. You value the peace, tranquility, and beauty that natural environments provide.
Comfort and Luxury: Although you probably enjoy spending time in nature, you also appreciate the comforts and luxuries of urban life. You want to combine your love for nature with the convenience and amenities you are accustomed to.
Relaxation and Rejuvenation: Sarah seeks opportunities to unwind, recharge, and rejuvenate her mind and body. She desires a break from the constant demands and pressures of her career, and she believes that immersing herself in nature can provide the necessary respite.
TRAVEL BACKLAND GLamping Pricing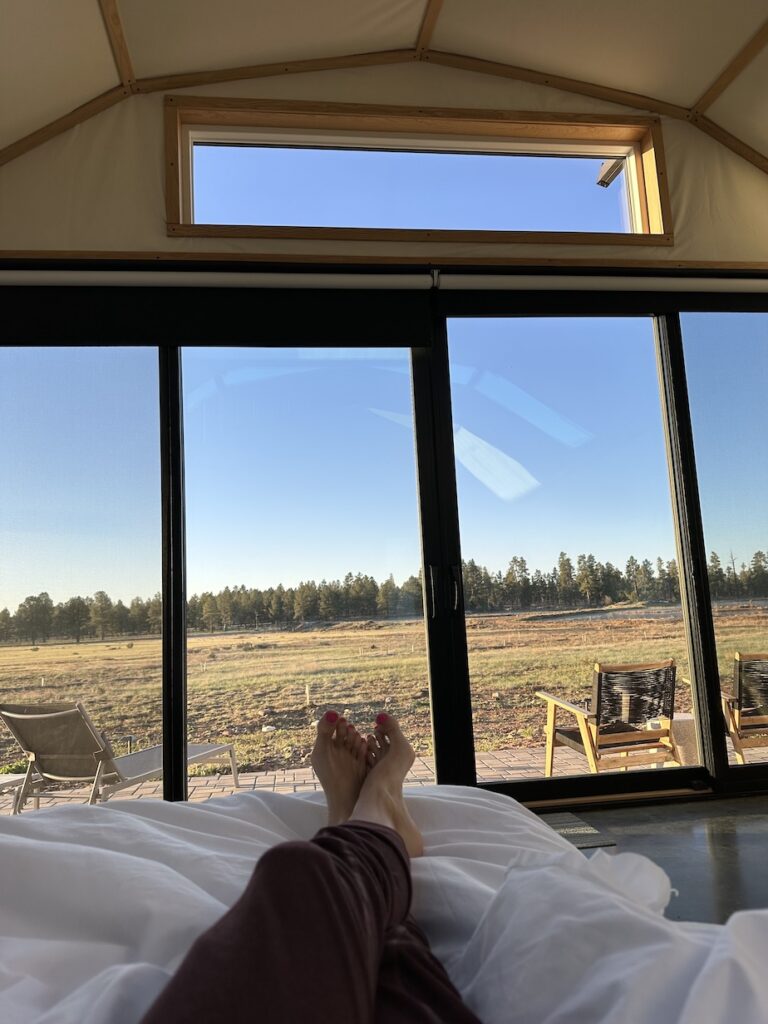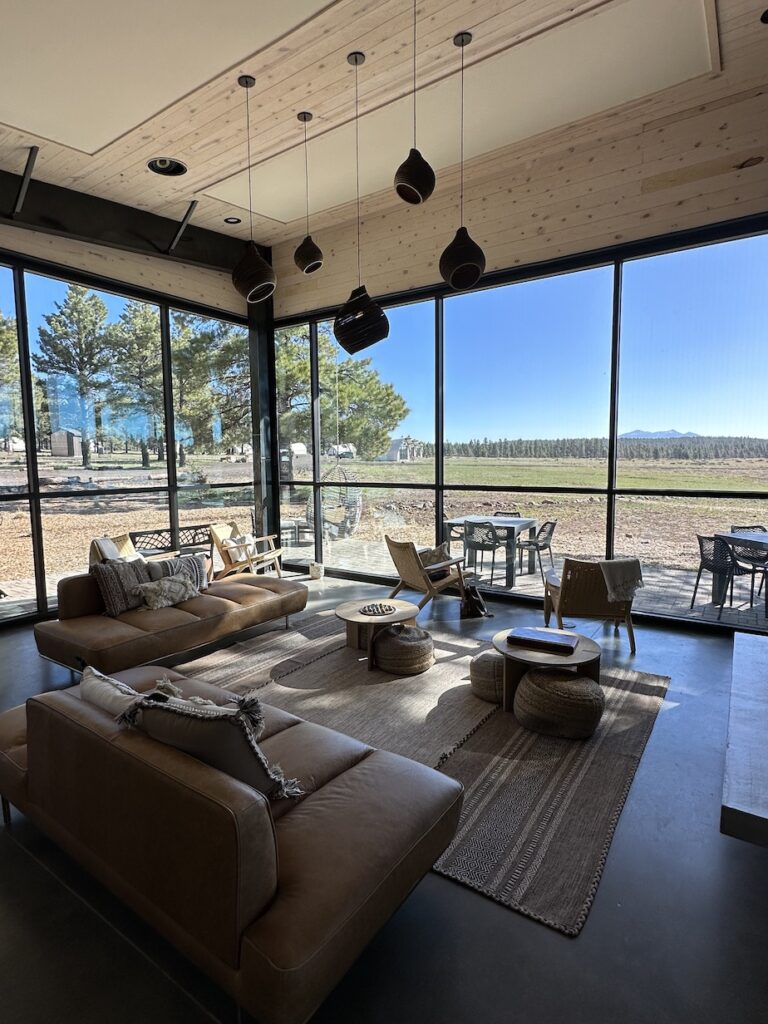 The cost of staying at Travel Backland in Arizona varies depending on the specific accommodation and package options chosen. The resort offers a range of luxurious glamping tents and amenities to suit different preferences and budgets.
Prices typically encompass the unique experience of glamping, including access to top-notch facilities, personalized service, and a myriad of activities. The most basic Backland Glamping suite costs about $445. If you are looking to book the stargazing suite then you are looking at about $545.
A lot of the activities on-site are included in the cost, like kayaking, smores, stargazing, fishing, etc. You can choose to add on other additional activities such as horsebacking riding or even a massage in their small spa tent.
If you plan to eat on-site then you are looking at spending about $30-50 per meal per person.
To obtain the most accurate and up-to-date pricing information for your desired stay, it is recommended to reach out to Travel Backland directly or visit their official website, where you can find detailed information about rates, packages, and any special offers available. The resort strives to provide an exceptional and unforgettable experience that aligns with the value it offers to its guests.
FAQs About glamping at travel backland
Are pets allowed?
There is a $50 nonrefundable pet fee per stay that will be billed to your tent. Additional cleaning and/or repair charges may be incurred due to pet stains and/or damages.
Are there any ADA tents?
Where is travel backland located?
Backland is located about 20 minutes from Williams, AZ on 160 acres of private land. As a private "in holding" we are surrounded on all sides by pristine National Forest lands in the midst of the largest ponderosa pine forest in the world.
What is the road to backland like?
The road to Backland is part of the adventure, but it may not be for everyone. The last 8 miles (around 15-20 mins) of your trip will be on scenic and beautiful unpaved Forest Service roads. These roads are graveled, well-maintained, clearly marked, and are suitable for most vehicles. We do not suggest motorcycles or ultra-low clearance sports cars. Four-wheel drive is generally not necessary, though it is required in icy/snowy conditions.
What are the closest airports?
FLG – Flagstaff Pulliam Airport – 40 mins
PHX – Phoenix Sky Harbor International Airport – 2 hours 50 mins
AZA – Phoenix Mesa Gateway Airport – 3.5 hours
LAS – Las Vegas McCarran International Airport – 3.5 hours
What is there to do nearby?
There are plenty of places to visit nearby like the Grand Canyon, Sedona, Sycamore Falls, Canyon Coaster Adventure Park and much much more!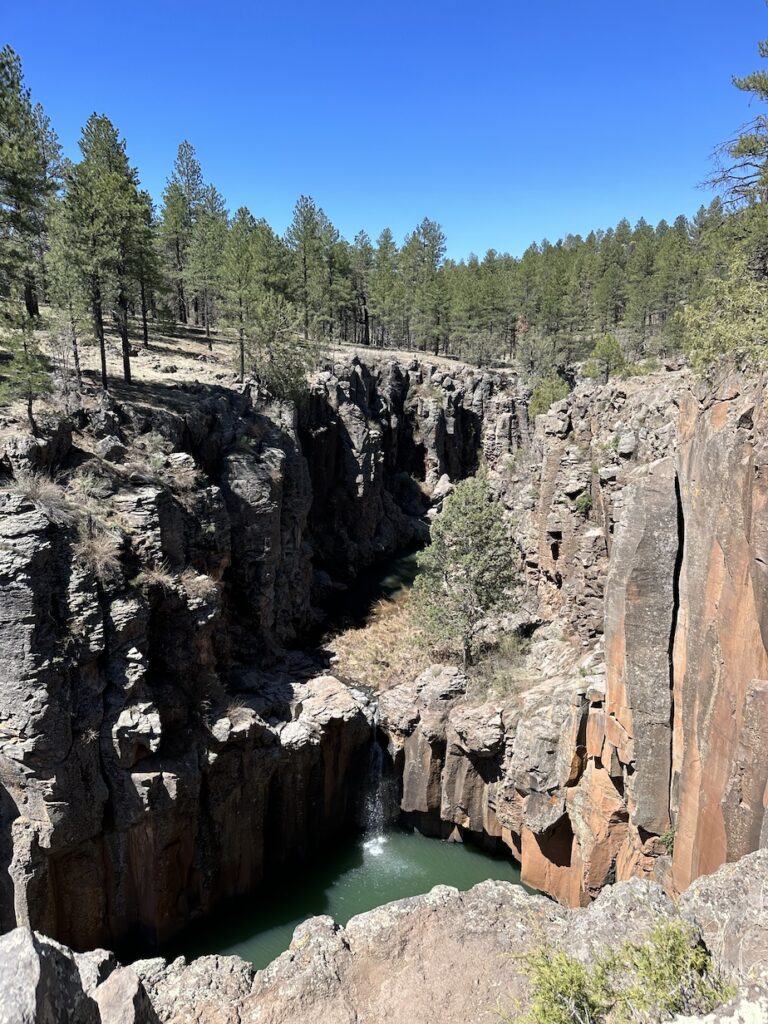 Final Thoughts: Is Worth It?
In conclusion, the breathtaking beauty of William, Arizona, and the unique experience of glamping at Backland have been unveiled in this blog post. From the tranquil wilderness to the luxurious eco-friendly accommodations, this destination offers an unforgettable escape for adventurers and nature enthusiasts alike.
Now, it's time for you to embark on your own extraordinary journey. Don't miss the opportunity to book your stay at Backland, the luxury eco-resort that seamlessly blends the comforts of modern living with the enchantment of the great outdoors. Immerse yourself in the serenity of nature while enjoying the plush amenities and impeccable service that this resort has to offer. Create memories that will last a lifetime and reconnect with your inner explorer.
I would love to hear about your experiences and favorite activities in Arizona. Leave a comment below and share your most cherished moments, whether it's hiking through the awe-inspiring canyons, capturing the vibrant sunsets, or savoring the local cuisine. Your insights will not only inspire others but also contribute to a vibrant community of fellow travel enthusiasts.
So, what are you waiting for? Book your stay at Backland today, and get ready to indulge in the unparalleled beauty and tranquility of William, Arizona. Escape the ordinary and embrace the extraordinary!
Remember, adventure awaits, and it's time for you to make your mark in this captivating corner of the world. Start your journey now and immerse yourself in the natural wonders and serenity that Arizona has to offer.
Read More: