16 Best Lakes in San Diego you have to Visit
Step on out to the great outdoors of San Diego, California! Home to 20 freshwater lakes and man-made reservoirs, San Diego boasts bountiful outdoor activity options to liven up everyday life. From fishing to kayaking, hiking to horseback riding, there are plenty of outdoor things to experience in San Diego. But did you know there are actually plenty of lakes in San Diego too!?
I highly recommend stepping away from the hustle and bustle of city life to enjoy the great outdoors. Whether it be a week-long vacation, a weekend, or a single day, embark on one of the many outdoor activities San Diego has to offer.
In this article, I share which San Diego lakes and parks have to offer for the ultimate memory maker that refreshes you from the inside out.
Outdoor LAKes and reservoirs In San Diego
1. San Vicente Reservoir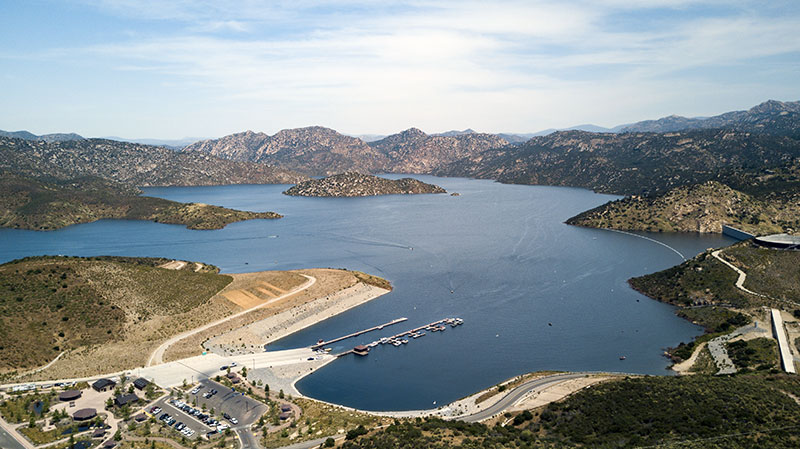 Located on San Vicente Creek is a steep-sided reservoir that is deep and impounded. This reservoir is located just 25 miles northeast of San Diego and is one of the City's largest reservoirs. Fishing is especially popular at this impressive reservoir. There is a bait shop that not only provides bait and tackle for fishers, but ice cream, snacks, food, and drinks as well!
San Vicente Reservoir has a set schedule for allowing water contact recreational activities. They are as follows:
November-April is limited to only Saturday and Sunday.
May-October allows Thursday-Sunday.
During Summer holiday weekends (like Memorial Day Weekend, Labor Day, and 4th of July) those Mondays also allow water contact.
2. Upper Otay Reservoir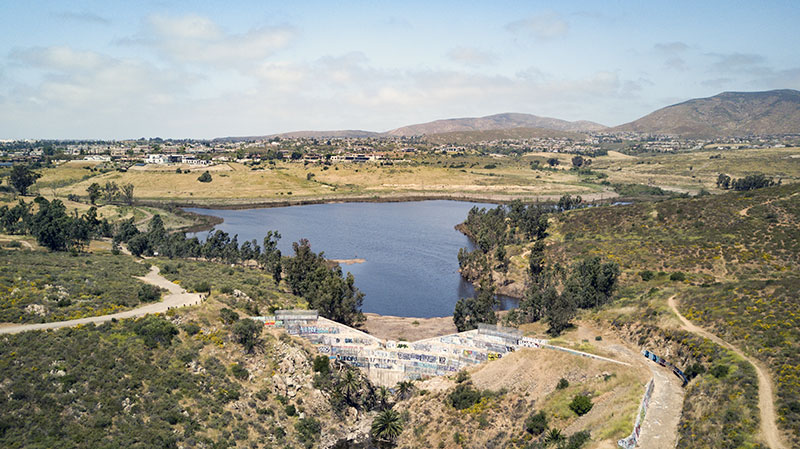 The Upper Otay Reservoir is the smallest out of all of San Diego's impounding reservoirs. An active breeding ground and hatchery for the Florida-strain of largemouth bass, this reservoir allows a catch-and-release fishing program. For all the dedicated fishers, visiting the Upper Otay Reservoir is a great start to big catches like Florida-strain largemouth bass, bluegill, and bullhead from the shore.
3. Lower Otay Lake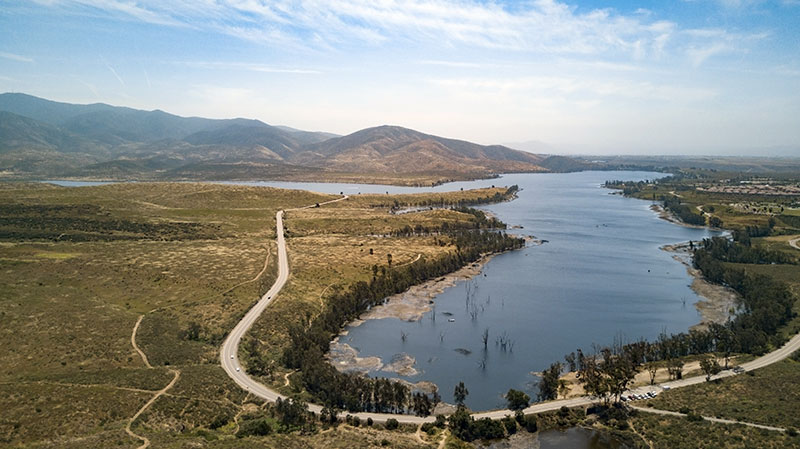 An artificial lake located in San Diego, Lower Otay Lake impounds the water of the Otay River located behind Savage Dam. With 16 picnic tables and 13 BBQs, Lower Otay Lake is the perfect place to witness stunning picturesque sunset views with mountain and water-side backgrounds.
There is a concession stand available that provides bait and tackle for fishers, and ice cream, picnic supplies, and drinks for those with an appetite.
The Lower Otay Lake is a reservoir that is home to the United States Olympic Training center for rowing sports, so don't be surprised when you see the famous red, white, and blue colors streaking past at undeniable speeds.
See if you have the means to compete by renting out one of Lower Otay Lake's kayaks or rowboats for some fun competitive, or recreational, water activities.
4. Mission Trails Regional Park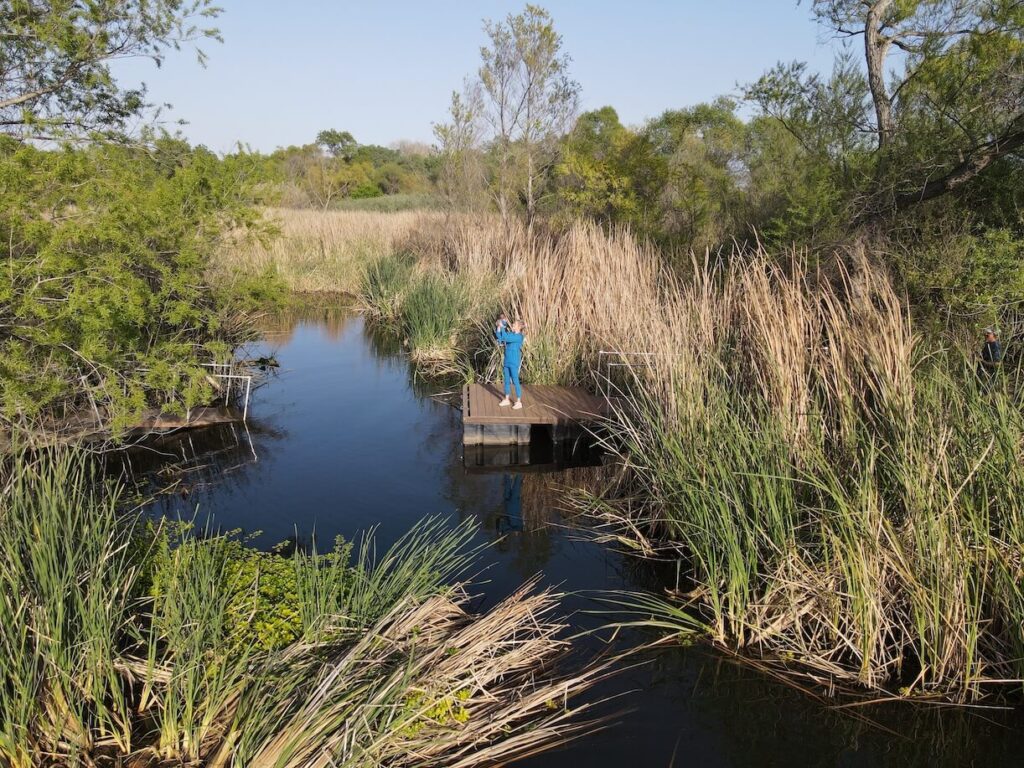 Expanding over 8,000 acres, Mission Trails Regional Park combines natural forestry and valleys with developed recreational areas to provide a bountiful area to enjoy the outdoors. Notably referred to as the third Jewel in the City of San Diego Park System, Missions Trails Regional Park visitors are able to experience cultural and historical qualities combined with the recreational aspects.
Located eight miles northeast of downtown San Diego, Mission Trails Regional Park is the perfect place to get away from the rush of city life. Visitors can explore over 60 miles of trails on land or cruise on a boat to explore the waters of Lake Murray.
Camping is available at Kumeyaay Lake, and for those looking for historical and cultural information, step on into the Visitor and Interpretive Center to learn more about one of the largest urban parks in the United States.
5. Lake Murray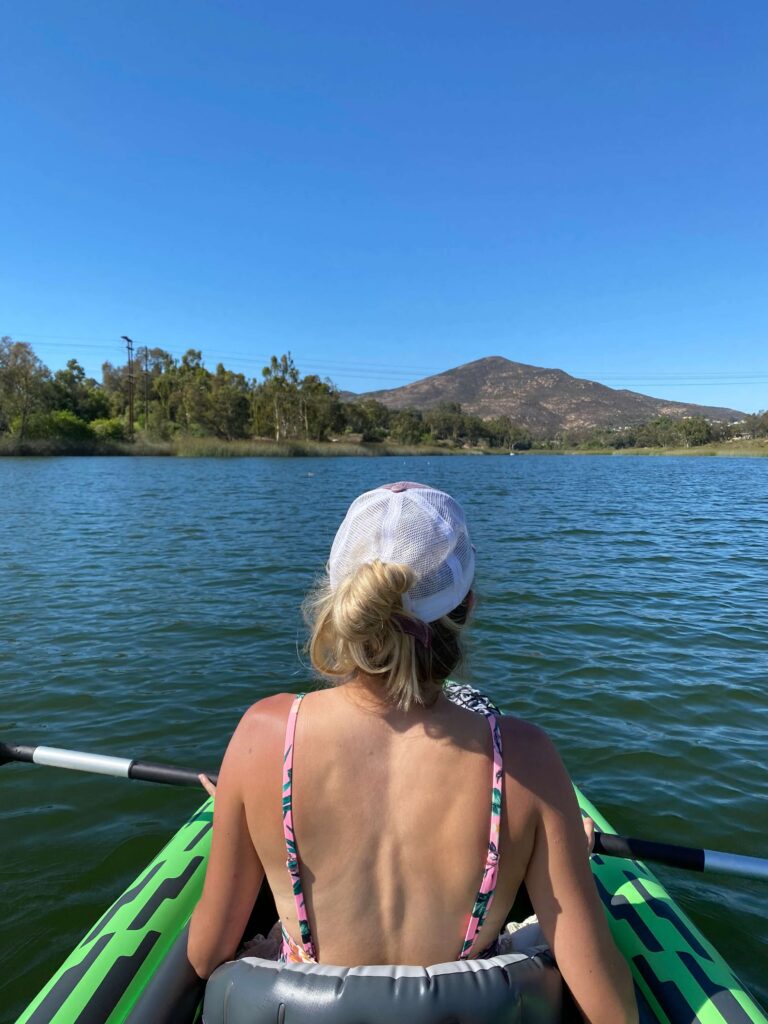 Found within the boundary of Mission Trails Regional Park, Lake Murray is a reservoir that is settled between the city of San Diego and the La Mesa and Santee neighboring communities. With small boat and kayak rentals available, visitors can float out onto Lake Murray for a sunny day of fun and relaxation.
Lake Murray is a popular destination for picnicking, bicycling, jogging, rollerblading, and walking. Walk, jog, bike, or rollerblade as far as the dam gate, which totals about 3.2 miles, for an active productive day off.
Have a family-fun day at one of the 64 picnic tables and 10 barbecues available for visitors to simmer down and relax with waterfront views, magnificent weather, and great memories.
6. Lake Cuyamaca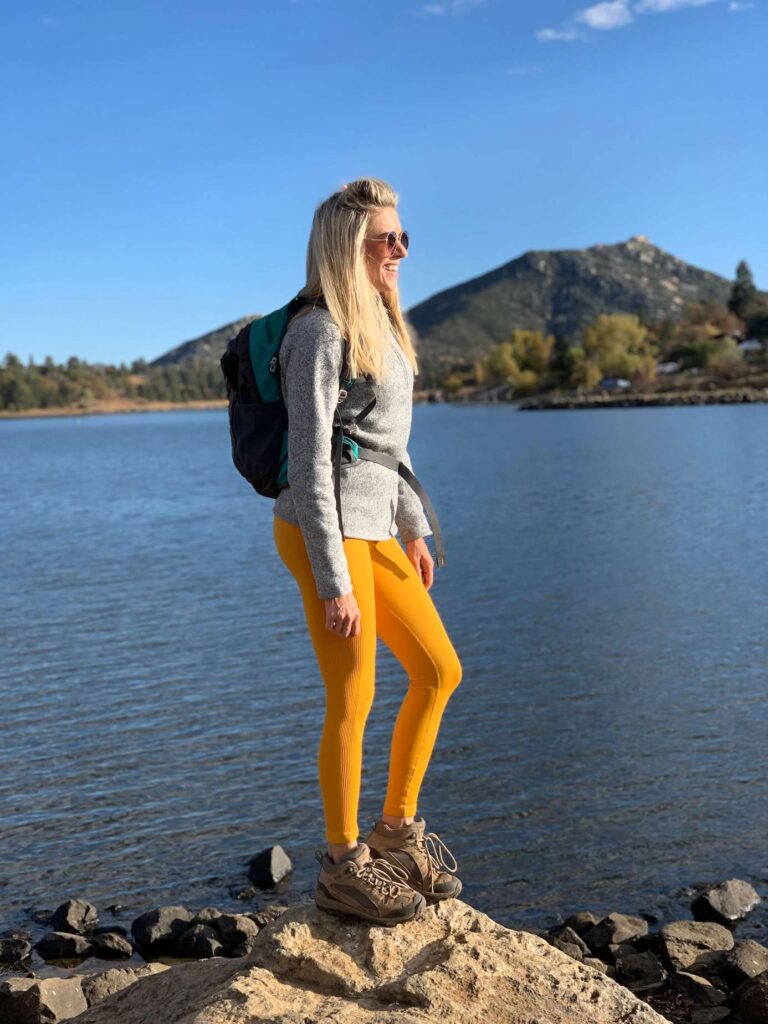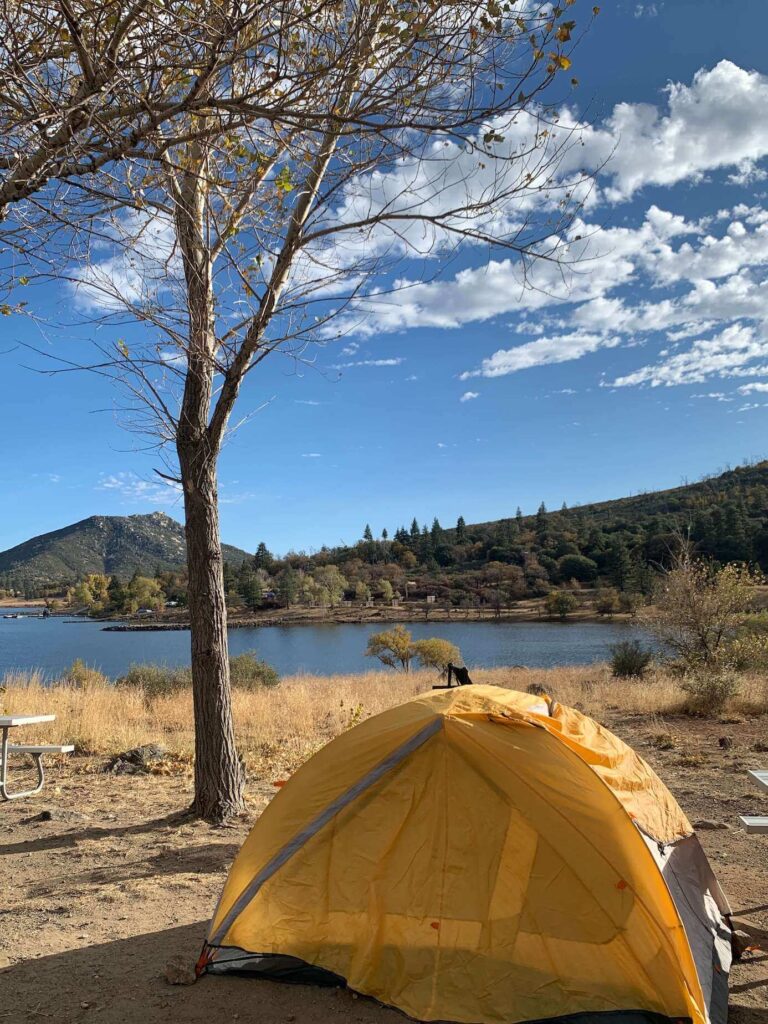 Known as the jewel of the San Diego mountains, Lake Cuyamaca boasts every angler's paradise along with the perfect destination for relaxation with the available lake view cabins. Also known as Cuyamaca Reservoir, Lake Cuyamaca expands over 110 acres along with a recreation area spanning along the eastern Cuyamaca Mountains.
Enjoy a relaxing weekend vacation at one of the cabins with lakeside views or take a pitstop for a productive day of fishing. Interested in getting your toes wet? Rent a canoe, kayak, or tube, to soak in Lake Cuyamaca's impressive beauty.
7. Lake Jennings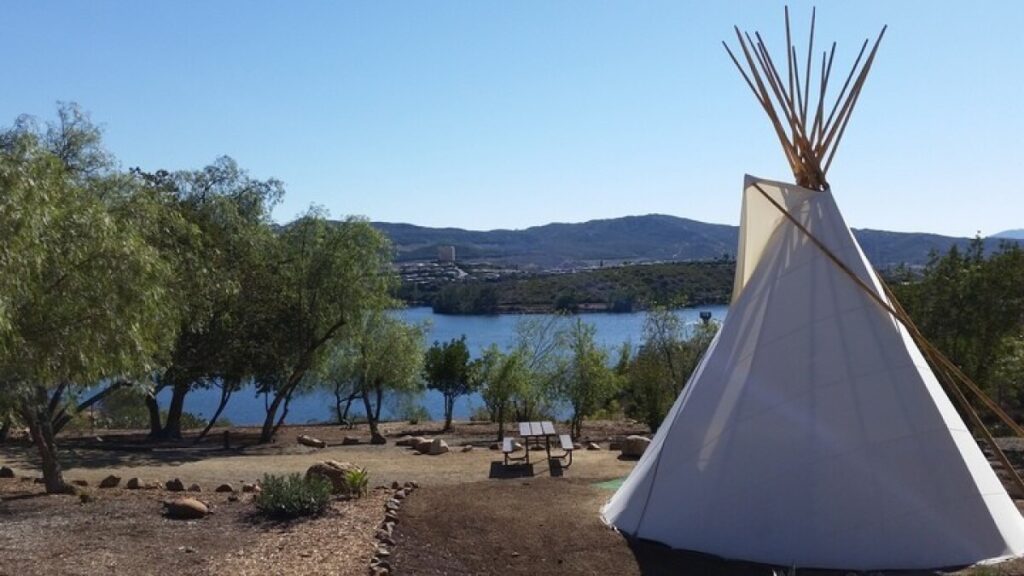 One of the best lakes in San Diego is Lake Jennings. You can go wildlife watching at Lake Jennings. It is the perfect outdoor getaway destination for hiking, fishing, and camping. If you are looking for more hiking options then check out my article on the 9 best hikes in San Diego.
With an impressive campground site, Lake Jennings makes for an easy camping spot with RV hookups, partial hookups, and tent camping sites for visitors of all forms and camping preferences.
Known as one of the most scenic parks available in all of San Diego, Lake Jennings is a drinking water reservoir with wooded surroundings. Every fisherman's dream fishing spot, Lake Jennings is stocked each year with almost 30,000 pounds of fish that include channel catfish and rainbow trout.
8. Lake Poway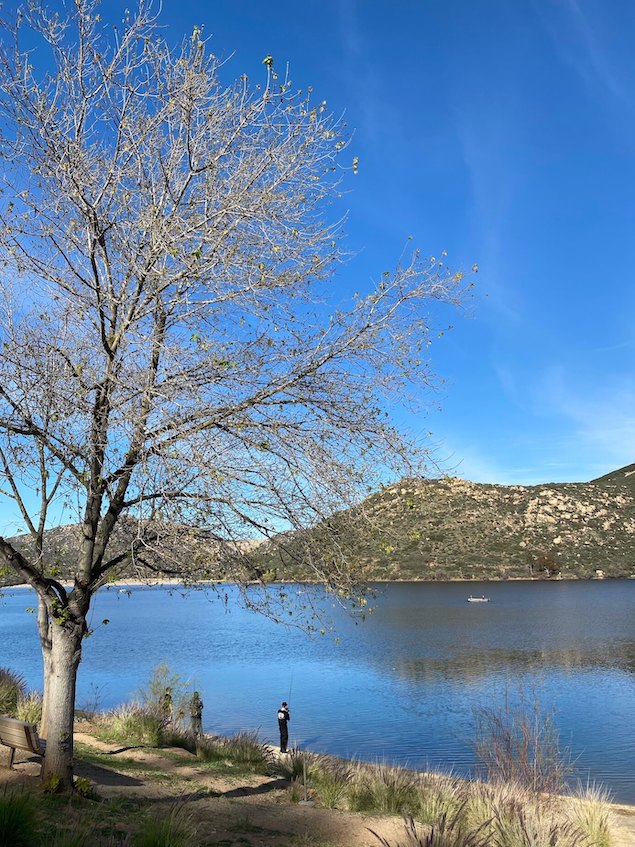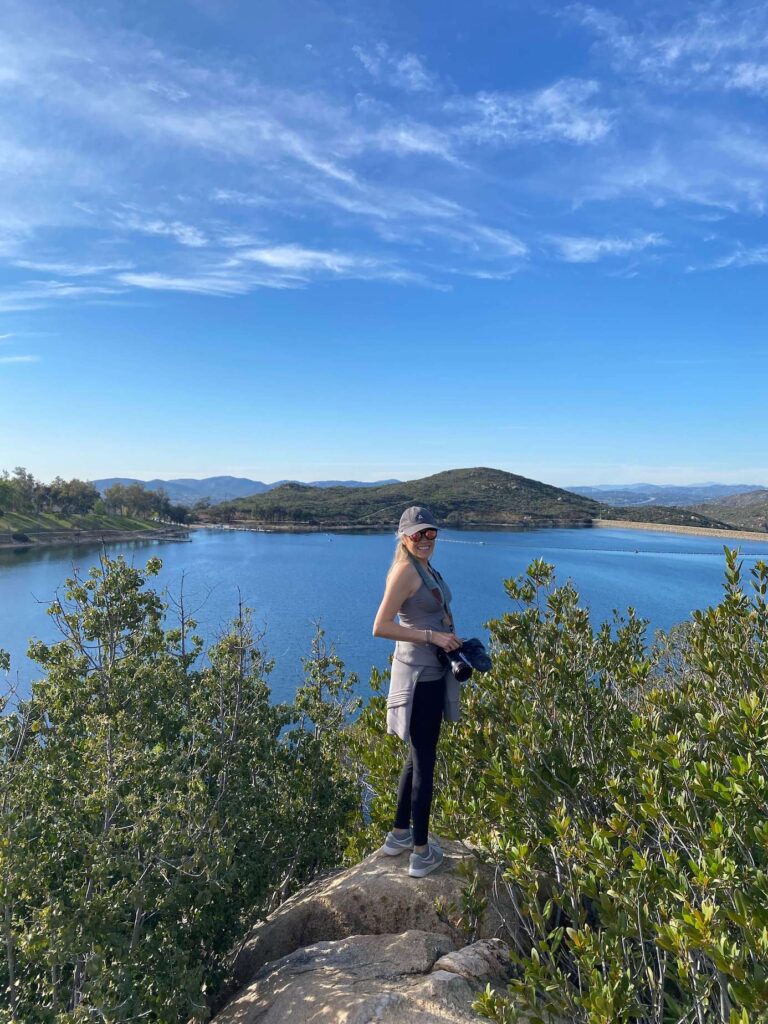 Serving as the water supply for residents, Lake Poway has been open for outdoor recreational activities since 1972.
You can hike the 2.5-mile-long Lake Poway Loop Trail which includes steep hills and unrivaled views of Lake Poway. The City of Poway trails system itself includes more than 78 miles of the finest trails available in Southern California. From horseback riding to biking, these trails are an incredible outdoor experience that we highly recommend completing.
You can watch my whole youtube video on this hiking trail.
As one of San Diego's most notable lakes, boating is a must. Cruise the many bays, soak in the sun, and find your favorite fishing spot to reel in the best catches. If you're more interested in being active while you explore Lake Poway's impressive waters, rent out one of the pedal boats available to visitors.
9. Sweetwater Reservoir
A 960-acre artificial lake, Sweetwater Reservoir is located 15 miles east of downtown San Diego.
Notably popular for its outdoor recreational activities that include horseback riding, hiking, mountain biking, and so forth, the Sweetwater Reservoir is a great location to remain active while enjoying the fresh, open outdoors.
Enjoy the 5.4-mile loop that travels from Sweetwater Reservoir to Cactus Hill, or go shore fishing on the 2.5 shoreline stretch for the ultimate fishing day!
10. Lake Morena County Park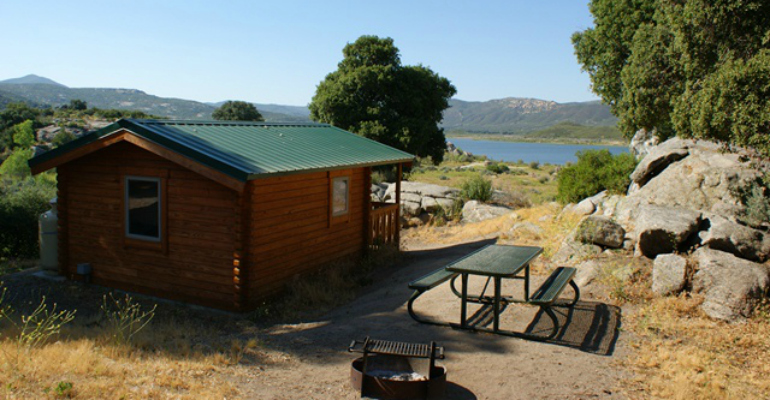 The most remote out of all the reservoirs located in San Diego is Lake Morena. It embodies a variety of environmental characteristics like mountain, coastal, and desert habitats due to its close location to the Laguna Mountains.
As a popular camping and fishing park, Lake Morena County Park boasts 8 miles of non-motorized multi-use trails that can be used for hiking or biking. They even have TRACK trails that are catered to kids for a family-oriented outdoor experience, along with a playground.
Many people, local and tourists alike, visit Lake Morena County Park due to its proximity to the popular Pacific Crest Trail, a long-distance equestrian and hiking trail near the Cascade and Sierra Nevada Mountain ranges.
If you are new to hikinh-don't fret I have a complete beginner's guide to hiking to get you started.
With campsites, group sites, partial RV sites, and wilderness cabins, visitors can pick and choose how they want to enjoy their outdoor stay at Lake Morena County Park!
11. Lindo Lake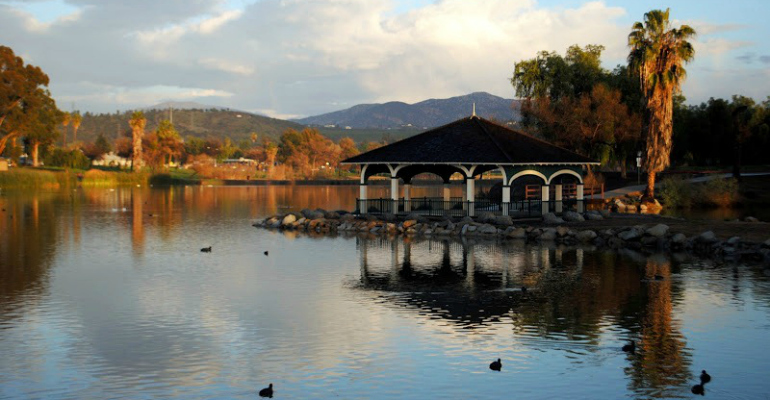 One of the few natural lakes that include an unrivaled scenic backdrop in San Diego is Lindo Lake. It is the perfect outdoor destination for bird watching, picnics, and other outdoor recreational activities.
Many who come to Lindo Lake make use of the multi-use trails and regularly hosted hikes held by rangers and park volunteers.
Lindo Lake hosts a butterfly garden, softball field, children's playground, skate park, dance ramada, picnic areas, horseshoe pits, tennis courts, and is free for fishers to reel in the many fish found in its waters.
Bird watchers will be able to bask in the many different species of birds to be discovered at Lindo Lake with species like the Cinnamon Teal, Avocets, Stilts, and American Coots waiting to be observed in their natural habitat.
12. Barrett Lake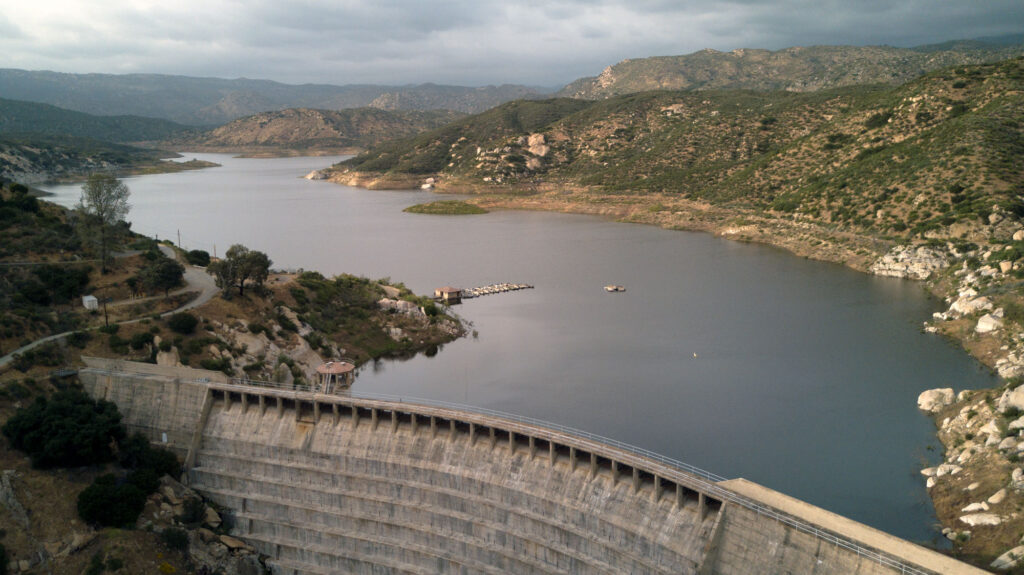 It is important to note that access to Barrett Lake Reservoir is by reservation only.
About 35 miles east of San Diego, Barret Lake is a reservoir located at the confluence of Pine Valley Creek and Cottonwood Creek. Access to this remote destination has been limited since 1994. Visitors must reserve the usage of boats, but are able to enjoy kayaking, float tubes, and fishing without reservations.
Waterfowl hunting is available by lottery draw method in October. Barret Lake has picnic tables and barbecue areas for visitors to make food and sit back while basking in the scenic lakeside views.
13. Chollas Lake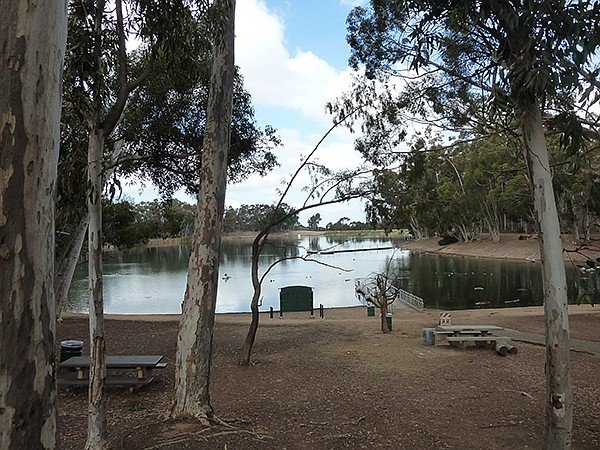 Spanning over 16 acres, Chollas Lake is a designated youth fishing lake for ages 15 and under. Visitors can bike, jog, and walk around the lake before picnicking to bask in the lakeside breeze with mouthwatering food made on the available barbecue grills in hand.
Chollas Lake hosts nature crafts every other Saturday for all ages. Every Saturday archery classes are available for visitors to learn safety, technique, posture, focus, and aim, while playing games to make the learning experience fun and eventful.
14. Lake Hodges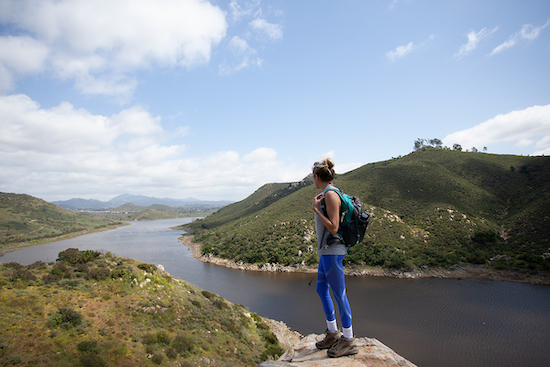 Commonly referred to as Hodges Reservoir, Lake Hodges is a popular outdoor recreational destination and lake in San Diego. Visitors travel to Lake Hodges to enjoy water activities such as sailboarding, stand-up paddleboarding, kayaking, rowboats, canoeing, boating, and float tubes. The outdoor activities are endless over at Lake Hodges!
Fishing is another accessible outdoor activity at Lake Hodges There are over 27 shoreline miles and can reach a water depth of up to 155 feet. Step on over to Lake Hodges to relax in the open outdoors. Enjoy a picnic at one of the picnic tables and use one of the barbecue areas to cook up a round of burgers and kabobs to be enjoyed with waterside views!
15. Santee Lakes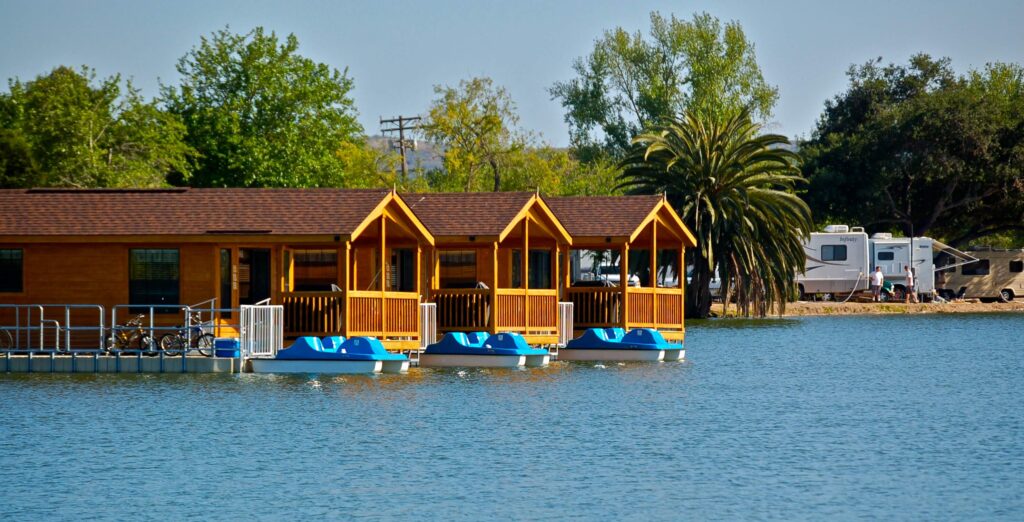 The perfect staycation location, Santee Lakes is an award-winning Park & Campground that boasts 7 man-made lakes that are open for outdoor activities like fishing, boating, camping, and picnics.
An ideal destination for families, Santee Lakes has seven playgrounds along with a Sprayground for sizzling summer days and Boulder Island for adventurous kiddos. Fishers can enjoy fully stocked lakes, while other visitors can step on over to one of the gazebos to bask in the stunning lakeside views.
To stay active, take a walk around one of the seven lakes or rent out a pedal boat, canoe, or rowboat to cruise on the water and around some of the islands.
16. Lake Miramar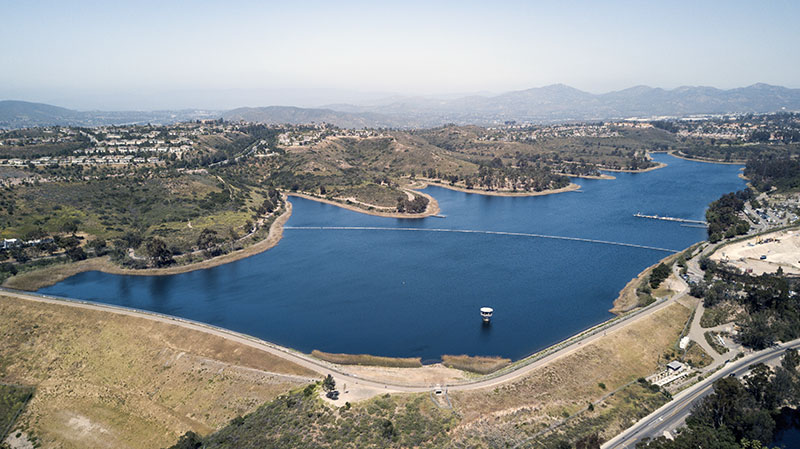 Also known as Miramar Reservoir, Lake Miramar is a worldwide tourist destination because of its sandy beaches, great water, and attractive qualities such as renting out boats, canoes, kayaks, and float tubes to embark on its stunning waters.
Stay active by walking, rollerblading, or biking the 5-mile span around Miramar Lake while bird watching and enjoying the lakeside views. Sit down for a picnic with the family or embark on a kayaking trip down Lake Miramar's peaceful waters. Fishers can stop into the small concession stand that avails bait and lures for an optimal day of fishing.
Frequently Asked Questions
What Lakes Are Open In San Diego?
All of the previously discussed lakes are open, but it is important to check the lake's website for seasonal and hourly information.
How Many Lakes In San Diego?
San Diego is home to 20 freshwater lakes and man-made reservoirs.
What Lakes Can You Swim In San Diego?
None of these lakes allow swimming and most are limited to water activities such as kayaking, canoeing, boating, or float tubes.
Likes this post? Pin it for later!