San Diego Bachelorette Party Ideas
Famous for its pristine beaches and world-class attractions, San Diego makes for an optimal bachelorette party weekend destination.
Quality San Diego bachelorette party ideas can elevate this special occasion's overall experience before the wedding! In addition, San Diego offers plenty of popular attractions that rival New York, Palm Springs, and New Orleans, with sites like the famous Gaslamp Quarter, the heart and soul of downtown San Diego.
That's why I've created this list of the top bachelorette activities to consider. Each one is guaranteed to raise the energy—-and the bar—for a unique bachelorette party with these inspiring activities like diving off the largest catamaran in San Diego!
If you're the party planner for the bachelorette party, I highly recommend you view my list of the best bachelorette ideas in San Diego to take a load of stress off your shoulders!
7 Best Bachelorette Activities in San Diego
For the best San Diego bachelorette party guide, check out the list below!
1. Drink, Dance, Jump, & Dive Into The San Diego Bay At Triton Charters
The largest catamaran (picture those fancy boats you see people diving off overseas in Greece) in The Big Bay, Triton Charters, is at the top of the list of unique bachelorette options in San Diego!
On the Triton, this catamaran is Coast Guard Certified to avail up to 100 passengers aboard this impressive yacht. The Triton features a modern 13-seat custom bar where all the ladies can sip on drinks surrounded by great company and irrevocably stunning views of San Diego Bay. With plenty of seating and lovely, elegant decor, at this Bachelorette party, the ladies can catch a thrill down the built-in waterslide, bust some moves on the dance floor, and jump on the bow trampoline.
Taking a Triton Charter for your bachelorette is a splendid time where passengers can witness one-of-a-kind views of San Diego's most extraordinary monuments and landscapes with drinks in hand!
2. Join This Pub on The Go With Paddle Pub
Get ready to have the time of your life on Paddle Pub, a delightful cycle and party boat!
Like a booze cruise, Paddle Pub is a popular bachelorette party activity. This 16-person pedal-powered pontoon boat features a master captain at the helm. Perfect for pub crawls, bachelorette parties, sightseeing, and themed nights out, Paddle Pub is a pub on the go drifting across San Diego's waters for the ultimate ladies' trip filled with fun, laughter, sightseeing, and drinks!
The ladder on the Paddle Pub makes it easy to get in and out of the water for a refreshing swim. Don't forget to bring a towel, and drinks are BYOB!
3. Set Sail at Sail San Diego
This boutique family-run sailing company is guaranteed to make any bachelorette adventurous and exciting!
Sail San Diego stands strong as one of San Diego's oldest operations—and for a great reason. Taking the stress out of planning a unique and epic bachelorette party that everyone will enjoy, Sail San Diego plans the details so that you and the ladies can sit back, relax, and bask in the breeze.
With exclusive packages that can make it easier to remain within budget, Sail San Diego simplifies putting together themed accessories and other aspects of planning so that you can focus on other parts of your trip. In addition, the packages are a great deal, saving you money that can be spent on the wedding or honeymoon instead.
Sail San Diego is a seasoned veteran in all things bachelorette, having hosted more than a few bachelorette parties. This exciting activity is entirely worthwhile, takes stress off planning, saves money, and makes for a fun day on the water and in the sun with drinks in hand, surrounded by the best ladies!
Flip On Your Adventurous Side With Aerial Yoga At Trilogy Sanctuary
Combining the best things like yoga, a vegan cafe, and a boutique, Trilogy Sanctuary is an excellent spot to drop by and schedule an aerial yoga class with the ladies.
If you've never tried aerial yoga, a bachelorette party is perfect for spreading your wings and trying something new! This bachelorette activity is guaranteed to put a smile on everyone's faces and make for a refreshing experience.
Aerial yoga at Trilogy Sanctuary is designed to challenge you mentally as much as it is physically. Designed to—quite literally—flip your perspective, the aerial hammock provides support while you flip, twist, and turn, building core strength, obtaining spinal decompression, achieving body relaxation, and gaining better alignment as tension is released from the joints and muscles.
The class spends time on the floor and hammocks with supportive modifications for all levels. Trilogy Sanctuary welcomes all first-timers and promises a class filled with fun, adventure, and relaxation for all!
Design A Candle Scent At Candles On Tap
Candles On Tap is San Diego's first custom candle bar, where visitors from all over come to learn how to make personalized, aesthetic candles to bring home as the best souvenir!
Boasting over 100 scents and unlimited scent combinations for a unique personalized candle, Candles On Tap is a fun bachelorette activity to make time for. This hands-on interactive experience takes you step-by-step into creating your masterful piece of art filled with delectable smells.
While your perfectly curated candles cool (about 90 minutes), Candles On Tap recommends its candle-makers explore the adorable and refreshing community of Encinitas, known as the "Flower Capital of the World," thanks to its extensive collections of gardens and nurseries. National Geographic also named this famous community one of the world's best surf towns.
While all the ladies wait for the candles to set, explore this famous town filled with incredibly scenic views, record stores, coffeehouses, surf shops, cafes, boutiques, and more hidden gems!
Hot Tip— Great news if you don't live near San Diego. You can shop online for Candles On Tap's collection of reed diffusers and soy candles to keep getting more of these undeniably delicious-smelling candles to fill up your home or even gift others!
Wine Tasting in Temecula Valley
Southern California's Wine Country, Temecula Valley, features over 40 wineries with award-winning wines, lodging, restaurants, scenery, and gift shops—so it's no surprise that we recommend wine tasting in Temecula Valley to spice up your bachelorette!
Take your pick of award-winning wineries from this list. From resort-like vineyard estates to wineries with Spanish roots and a world-class modern touch, there are plenty of options to explore for the ultimate bachelorette activity at Temecula Valley's top wineries. For example, Bottaia Winery highlights a chic and modern destination winery and tasting room in a calm, elegant environment where all the ladies can appreciate award-winning wine and scenery to socialize.
There are plenty of delectable wineries available to set up a wine tasting in Temecula Valley, which is not only famous for its exceptional wineries but its scenic tourist and resort destination that features championship golf courses, the Temecula Valley Balloon & Wine Festival, the Temecula Valley International Film Festival, and other unique markers that bring people from all over the world to this hotspot destination that brings forth plenty of other fun bachelorette activities.
Enjoy Drinks, Sights, & Laughter at Tiki Time Bay Tour
Tiki Time Bay Tour's Tiki Vibes & Tonic Cruise are dedicated to 21+ up, separate from their other family-friendly tours. On the Tiki Vibes & Tonic Cruise, drinks are served ten minutes before departure so that the vibes can start early before launching off!
The bar is open during every cruise, though it's important to note that drinks are not included with the ticket. Thankfully, drinks are reasonably priced, making it easy to vibe, sip, and enjoy the cruise. In addition, Tiki Time Bay Tour allows private events, like a bachelorette party, to rent out the entire Tiki so that the whole bachelorette party can vibe together, stay on theme, and dance the day away.
On the Tiki Time Bay Tour, passengers will soak in awe-inspiring San Diego attractions such as Hotel Del, Star of India, Coronado Bridge, downtown San Diego, and the Midway aircraft carrier. The undeniably unique atmosphere of the Tiki Time Bay Tour makes for a fun and funny bachelorette activity filled with laughter, pleasure, and fantastic memories to be enjoyed before the wedding.
Drinks & Food at The Best Spots In San Diego
It's not a bachelorette party without drinks and food. From rooftop bars and lounges to eateries, below are the top dining options to upgrade your bachelorette party!
Grab Well-Crafted Cocktails at The Nolen Rooftop Bar & Lounge
The Nolen is a popular San Diego rooftop bar and lounge in downtown San Diego that welcomes tourists and locals worldwide.
Grab a seat at the open-air lounge with the ladies on the 14th floor at the Courtyard Gaslamp. Once you reach the 14th floor, step into The Nolen, where their timeless cocktail menu accentuates America's Finest City and its immaculate sights of the Coronado Bridge and Petco Park.
The Nolen proudly serves several small-batch spirits and bottles from craft distilleries and other local businesses in San Diego. Through this community support, The Nolen can offer unique, hard-to-find spirits that have been distinctly mastered and aged in American oak barrels and served to you as well-crafted cocktails to sip, relax, and socialize.
Savor Brunch at Firehouse American Eatery & Lounge
In Pacific Beach, Firehouse American Eatery & Lounge combines exceptional ocean views, rooftop dining, and elevated cuisine in a chic beach atmosphere.
After a million-dollar renovation in 2015, this popular rooftop spot elevated its menu and improved guest favorites, which include artisanal cocktails, sought-after spirits, and more. The setting of this established eatery promotes natural light and inspiring ocean views, along with panoramic glass doors that bring the outside in. In addition, the iconic rooftop patio area hosts a signature fire pit and four private seating cabanas for your convenience.
Hit up Firehouse American Eatery & Lounge for brunch, dinner, or drinks for the ultimate bachelorette activity!
Sit Down for Dinner At One Door North
Empowered with nature-themed decor, One Door North is a New American bar and eatery with unique seating like tables set inside safari-style tents.
This chef-owned and chef-driven restaurant is dedicated to sharing the personal love for the outdoors by embracing the seasonality and simplicity of high-quality ingredients in each dish and recipe. Each ingredient you drink or eat at One Door North is locally, responsibly, and sustainably sourced. The handcrafted detail of each menu item personifies One Door North's passion for embracing the outdoors and invigorating your tastebuds with every bite.
One Door North is highly recommended as a dinner location for bachelorettes so that you're not only feeding the body, but you're feeding the soul with wholesome, hand-crafted, mouth wateringly delicious dishes that you'll wish you could take home with you!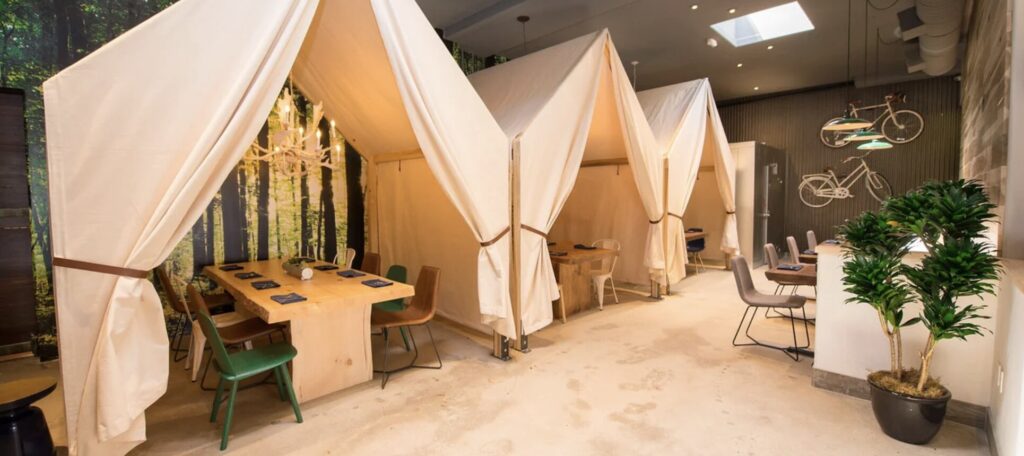 Speak The Secret Password For Dinner At Garibaldi
San Diego's largest speakeasy, Garibaldi, settles within InterContinental Hotel. With 120 seats, a full dining experience, and a bayfront patio bar with optimal views, this speakeasy is one for the books and for every bachelorette!
To get into this secretive establishment, guests must first make a reservation. Then, guests arriving on time, if not a little early, will whisper their party's name and password into a diving helmet in the hotel's lobby. Then, guests will be guided down a winding hallway and led into Garibaldi's outdoor bar and indoor dining room.
This secretive brunch spot was inspired by the famous bright orange fish that travels along the California coast but is intertwined in dedication to its Italian founding father, Giuseppe Garibaldi. In addition, the regional cuisine of Sardinia has been brought to San Diego through executive chef Amy DiBiase and the culinary team. Now, guests can explore these exquisite regional Italian dishes like classic Sardinian and Sicilian pasta through this unique speakeasy—make sure to bring an appetite!
The Shout! House
At this one-of-a-kind eatery and piano bar, dueling piano players lead the crowd in classic rock sing-alongs in a stimulating atmosphere fit for a bachelorette!
The Shout! House is the best destination for dinner and a show where talented piano players perform face to face on two grand pianos. The performances are brimming with energy, boosting the crowd with audience participation for an interactive experience filled with humor, singing, and loads of fun.
The show must go on at The Shout! House! The show is entirely request-driven by the audience's requesting songs, from classic rock hits to modern rap songs. This non-stop party goes on all night long. Table reservations are highly recommended at this exclusive 21 and up restaurant and piano bar, where creative drinks, delicious food, and prime entertainment collide.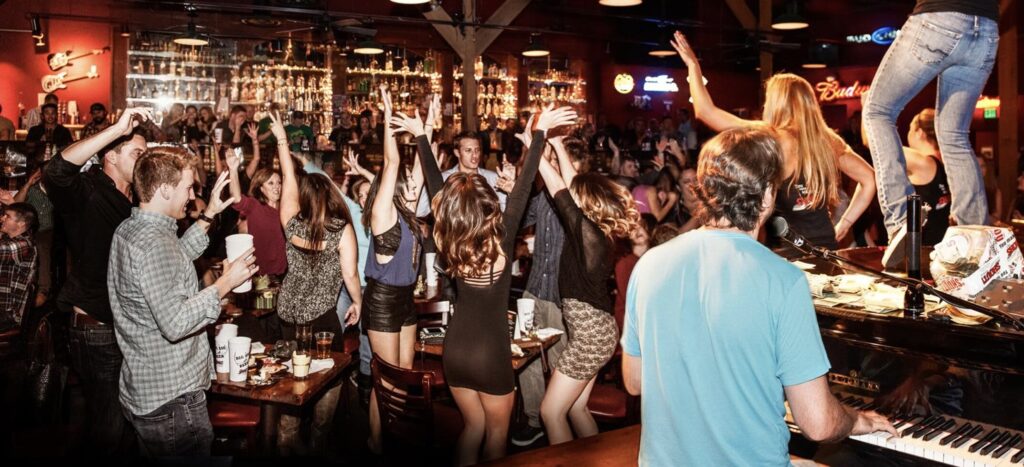 Best Place to Stay in Pacific Beach
Pacific Beach is known for its established San Diego nightlife scenes, top-tier beaches, and reputable eateries, bars, and clothing stores. Staying in Pacific Beach will grant the bachelorette group an optimal location to soak in the sun's rays, catch a wave, and vibe with the locals!
TOWER23 Hotel
As San Diego's only lifestyle hotel on the beach, TOWER23 Hotel is on the Pacific Beach boardwalk, stacked with boutique shops, cafes, bars, clubs, and takeout food stands.
This hotel features an optimal beachside location, distinctive architecture and style, and awe-inspiring ocean views in each room. At TOWER23 Hotel, guests are guaranteed to sink in luxury and relaxation but not before grabbing food at the hotel's restaurant JRDN. With a menu featuring oceanfront dishes, guests can bask in the restaurant's 70-foot-long "wave wall," the stunning sunset views, and the great company of your bachelorette party.
Best Place To Stay In Mission Beach
Mission Beach is known for its impressively long beach and is one of the most popular bachelorette party destinations. As one of San Diego's most famous beach neighborhoods, people come from all over to vibe with the locals, catch some waves, or spike a thrill at the historic amusement park on the boardwalk.
Paradise Point Resort & Spa
Offering a unique resort experience, Paradise Point Resort & Spa features bungalow-style guest rooms surrounded by vibrant and luscious tropical gardens and trickling lagoons. This resort and spa are settled on 44 acres of the island, leaving room for the Paradise Point Resort & Spa's five swimming pools, marina, beach bonfire pits, five dining venues, an award-winning spa, and other attractive amenities.
Everyone will be brimming with rejuvenated energy after staying at the luxurious Paradise Point Resort & Spa—especially after a much-needed spa day from all the wedding planning!
Best Place to Stay In La Jolla
Consistently placed as one of the top beach destinations in the world, La Jolla is brimming with coastal retreats, luxurious hotels, art galleries, boutiques, restaurants, outdoor activities, and museums.
The Lodge at Torrey Pines
Presenting world-class dining and the world-renowned Torrey Pines Golf Course overlooking the Pacific Ocean, The Lodge at Torrey Pines is the best place to stay in La Jolla. Guests will soak in a full-service spa, an unrivaled dining experience, and exceptional service in this luxurious hotel fit to relax, rejuvenate, and inspire.
Best Place to Stay Little Italy
World famous for its old New York atmosphere and authentic Italian dishes, Little Italy is the place to stay for all lovers of all things Italian. The romantic atmosphere inspires and sets the mood for the upcoming wedding!
The Guild Hotel, San Diego, a Tribute Portfolio Hotel
Blending and trending historic charm and modern amenities, The Guild Hotel, San Diego, a Tribute Portfolio Hotel, is a boutique hotel featuring high ceilings, exposed brick walls, original tile-work, and elegant archways. Settled perfectly within downtown San Diego near one of San Diego's most distinct nightclubs, Oxford Social Club, famous neighborhoods like the Gaslamp Quarter, and only five minutes from Little Italy, this inspiring hotel optimizes location, setting, and accommodations for a fashionable and authentic stay. 
Like this post? Pin it for later!