Dog-friendly Hikes in San Diego
With dog-friendly beaches and dog parks aplenty, San Diego is a perfect place for pooches. But if you're looking for a new walkies spot that's a bit more exciting than a stroll around the block, you've come to the right place.
Whether you're in the market for adventure, or if you want a nice, flat walk with your pup along the bay, here are some of the best dog-friendly hikes in San Diego.
This guide has everything you need to really switch up your dog-walking experiences — including some tips for hiking with your dog too. There are so many great San Diego hikes to do with your four-legged best friend.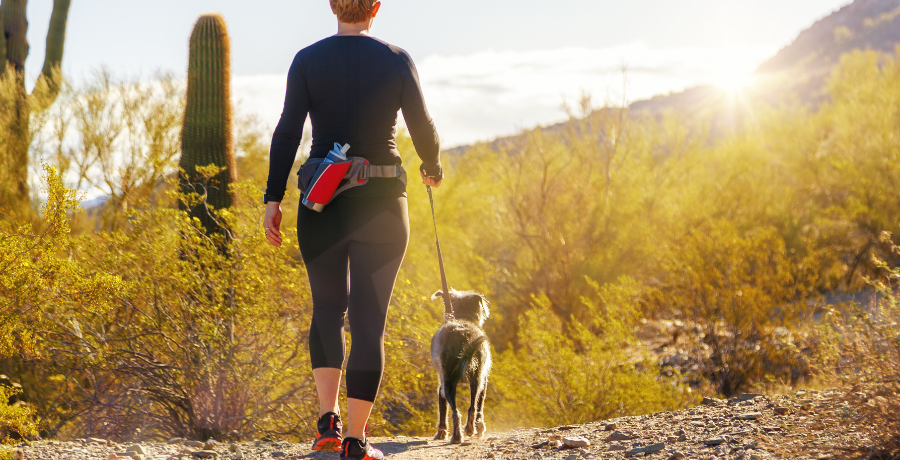 The best dog-friendly hikes in San Diego
Are you wondering where can I hike with my dog in San Diego? This list of San Diego hikes with dogs is a great place to start.
Here's a selection of dog-friendly hikes where dogs and humans alike can head out into nature, hit the trail and soak up the best of San Diego's green spaces.
From urban strolls to mountain ascents, there's pretty much something for everyone.
Balboa Park Loop
Length: 4.5 miles
Difficulty: Easy
It makes sense to kick things off with an easy walk around San Diego's iconic Balboa Park. Taking your doggo along with you is a-ok, of course, but they must be on a leash.
While the difficulty level is low, you can still get a taste of more far-flung vistas when passing through the Florida Canyon area of the park.
Otherwise, this one is pretty urban in terms of hikes, but that's easily balanced out with just how easily accessible it is.
It's a popular spot as a result, and you'll be sharing the path with a mix of runners, walkers and other dogs.
No matter how busy it gets, strolling the mix of sidewalks and natural paths here makes it one of the most easy-going dog-friendly walks in San Diego (though there are a couple of steeper sections).
Batiquitos Lagoon Trail
Length: 2 miles
Difficulty: Easy
Set between Carlsbad and Encinitas, northern San Diego County, Batiquitos Lagoon is a sprawling wetlands area that makes for some prime hiking.
The Batiquitos Lagoon Trail is an ideal dog-friendly hike for those who just want a short burst of outdoor activity and a breath of fresh air.
Dogs are welcome on the walk, but must be leashed. There's plenty of natural landscape to enjoy with wildflowers in spring and a wealth of bird life to spot, too.
Mainly this easy out-and-back trail winds along gravel paths, but it can get muddy after rain, so you may want to come prepared.
Otherwise, this is a well-maintained trail complete with benches and restrooms at the nature center. There's also ample parking.
Black Mountain via Miner's Ridge Loop
Length: 4.3 miles
Difficulty: Moderate
Set in Black Mountain Open Space, a 2,352-acre natural wonderland positively strewn with trails, Miner's Ridge Loop offers up both beautiful views and a moderate level that makes it a decent cardio workout.
The circular trail takes around two hours to complete and is accessible throughout the year.
Located around 30 minutes from central San Diego by car, the trail isn't exactly unknown so don't come here thinking you're going to be the only person on the path. That said, it's a beautiful spot with wildflowers such as wild cucumber and wild hyacinth. And there are great views from the top.
It's particularly popular with mountain bikers, so keep an eye out on the hillier sections; they can come rushing down pretty quick.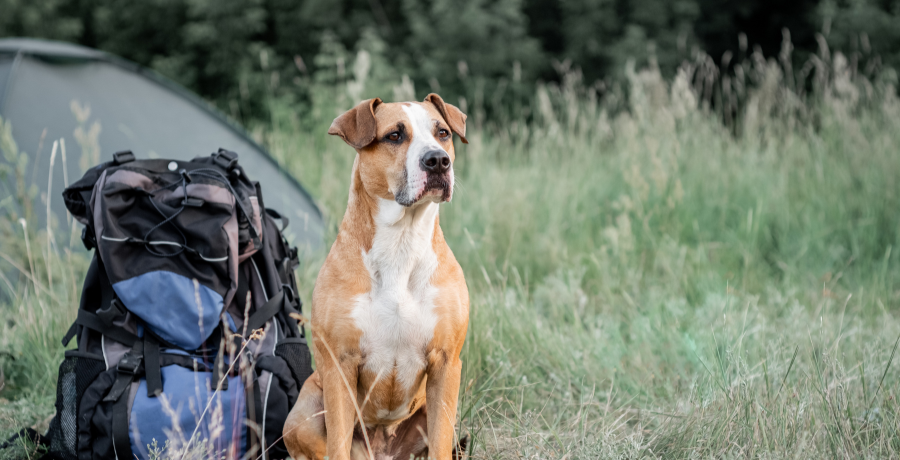 Coast to Crest Trail, San Dieguito
Length: 5.5 miles
Difficulty: Easy
Running alongside San Dieguito Lagoon, near Solana Beach, this is just a short section of the 71-mile-long Coast to Crest Trail.
The walk will take you along flat, well-maintained paths and though with the freeway passing across the route at one stage, it's otherwise a much-loved trail especially for dog walkers.
Along the trail, there's a deck walk where you can learn about the surrounding landscape and the nature that lives in it. Ospreys, herons and white egrets have been spotted along the route so keep your eyes open!
While dogs have to be on the leash on the trail, once you get to Del Mar Dog Beach it's a free-for-all where your pup can run and play off the leash.
Cowles Mountain Trail
Length: 3 miles
Difficulty: Moderate
At 1,593 feet above sea level, Cowles Mountain is the highest point in San Diego. As such you're going to get some incredible 360-degree views from the summit.
The Cowles Mountain Trail there involves a 900-foot elevation gain, so it's not necessarily easy to reach the top — both you and your dog will need a fair level of fitness to make it.
To get to those panoramic views at the top, tackling the mountain on a day with some cloud coverage is recommended.
Dogs can soon overheat, especially when exerting themselves on steep inclines like this, so if it seems like your dog is struggling, or wants to lie down, it's best to head back.
Elfin Forest Loop
Length: 4.7 miles
Difficulty: Moderate
The Elfin Forest Loop is a circular route that offers up a bit of a challenge to those looking to work up a sweat. There's a bit of climbing to do, but it's gentle and never too steep for you or your dog.
The Elfin Forest Reserve itself spans over 800 acres, so there are many other trails that weave through the landscape. You can make it as long or as short as you want.
This particular route is a nicely shaded one, what with all the trees, meaning you won't have to worry about too much sun. And what's more, you'll be treated to some great views too!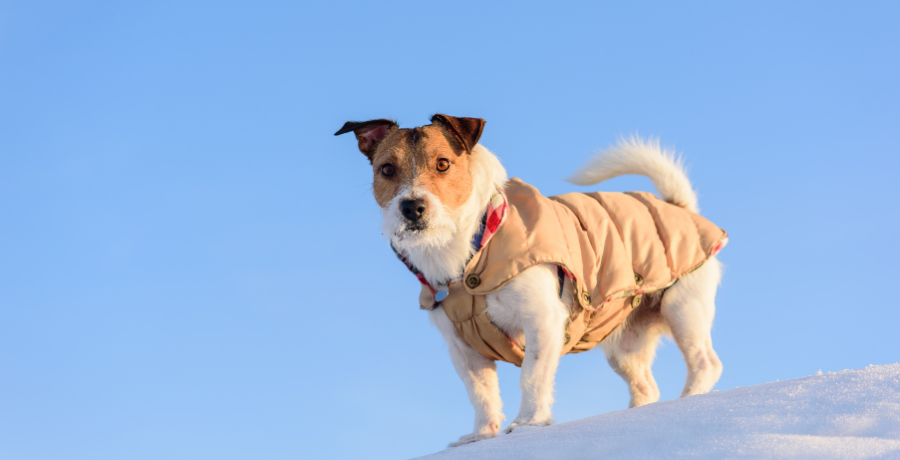 Embarcadero to Spanish Landing
Length: 7.7 miles
Difficulty: Easy
The Embarcadero to Spanish Landing trail may be pretty long compared to others on this list, but without many inclines to speak of, the relatively path is not much of a challenge to complete.
The route takes you along the water's edge of San Diego Bay, allowing for views of the harbor for much of the hike.
It's all paved, but it's also extra convenient. You'll pass by waterfront shopping areas, places to eat directly on the water, and it gets quieter near the airport area (not the most beautiful section).
But you'll get to glimpse boats out on the bay and, if you're there in time, see a picturesque sunset.
Felicita Park Loop
Length: 1.4 miles
Difficulty: Easy
Hiking trails don't get much easier than this loop running through the leafy Felicita County Park. This loop around the park takes only around 30 minutes to complete, so it's ideal if you're short on time.
That said, there's still lots to see along the well maintained trails of this community park.
There's lots of tree coverage, waterfalls and picnic spots along the way — so it's easy to make a whole day of this if you're just looking for a leisurely Sunday stroll with your dog.
There's also a couple of boards offering up info on the history of the park and the nature you may see along the way. Plus it's not overly crowded either. You and your pup are sure to love it!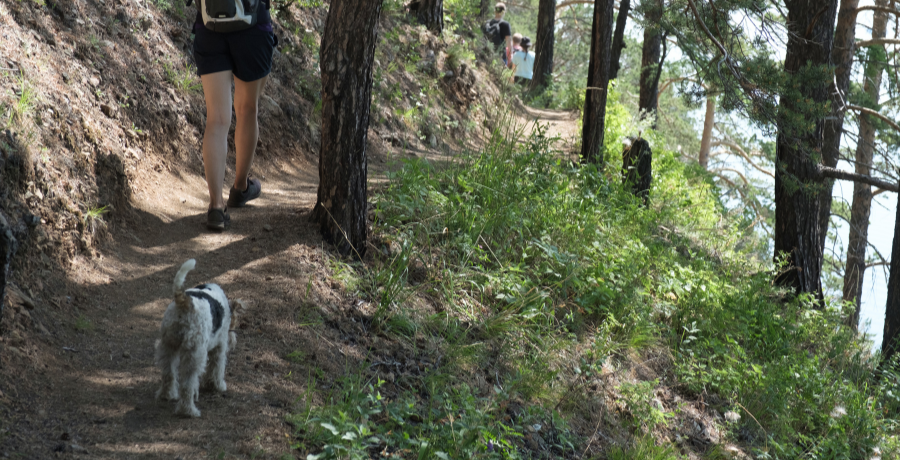 Fiesta Island Dog Park
Length: 1-2 miles
Difficulty: Easy
Fiesta Island is a huge venue for outdoor activities. It's got 27 miles of beach but for all the pooches (and their owners) out there, it's also got its very own dog park.
That means you don't have to have your dog on the leash here, so you can expect you and your dog to make plenty of new friends when you swing by.
Dogs can run and play on the water, and run as far as they want thanks to some ample open space. It's easy to see how happy the dogs are here when they're running around.
It may just become you and your dog's new favorite canine hangout. You may even just abandon the hike altogether and watch your dog have fun.
Highland Valley Trail
Length: 4.1 miles
Difficulty: Easy
Another great hike in San Diego for dogs in the lush San Dieguito River Park, this one really delivers on the scenery front. It's a quiet spot tucked away near Escondido, where you can hike among green valleys and forested peaks.
Come in springtime and you'll see a veritable carpet of wildflowers. Add in trickling streams and a mountainous backdrop, and it's a little bit of paradise.
The out-and-back Highland Valley Trail is an easy one. It may be unpaved but it's great for a family hike with your little ones and dog in tow.
Note, however, that there's not a lot of shade so on a hot day, it's much better to go early.
Los Penasquitos Canyon Trail
Length: 7 miles
Difficulty: Easy to moderate
The Los Penasquitos Canyon Trail can be found around 30 minutes north of Downtown San Diego.
This is a far cry from the more urban hikes in the center of the city, but it's still along a well-marked dirt road that passes through a variety of different terrains. You'll even pass by a fairly sizable waterfall.
It's a very dog-friendly hike in San Diego and ideal for a family walk — just make sure to come later in the day or early in the morning as there's a lack of shade.
This is also a good option for hikers with dogs who are interested in birds; there's a good variety to be spotted along the trail.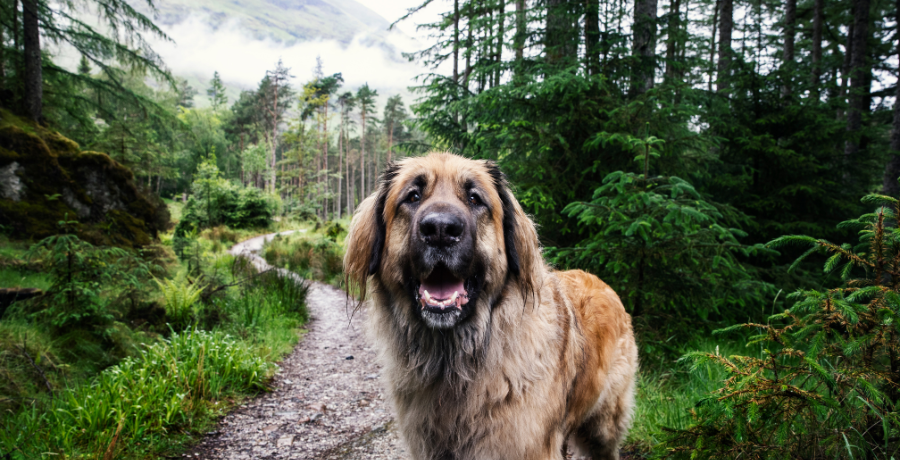 Mission Bay Trail
Length: 6.3 miles
Difficulty: Easy
The title of this particular dog-friendly hike in San Diego is pretty much a giveaway: it's a simple stroll around Mission Bay.
It's completely paved the whole way but still boasts beautiful views of the wetlands, making for a relaxing, rewarding stroll whatever the weather.
Dog walkers should head here in the evening as pooches are allowed on the beaches after 6 p.m. (or after 4 p.m. from November through March); or early in the morning (before 9 a.m.). That's a huge bonus for your pup!
The trail itself passes along a number of beaches, there are nice, cool breezes on a hot day, and it's a relaxing stroll with plenty of waterfront views to enjoy.
Potato Chip Rock via Mt Woodson Trail
Length: 7.3 miles
Difficulty: Moderate to moderately difficult
If you want some awesome views, don't miss out on a hike to Potato Chip Rock. Named because it looks like a potato chip sticking out the top of a cliff, it's (rightly) famous as a photo op and makes for some perfect Instagram fodder.
To get there, start at the Mt Woodson Trailhead beginning by the edge of Lake Poway. Eventually, you'll leave the lake and start the climb.
The climb is a little strenuous (make sure you and your dog have plenty of water), but you will be rewarded by those incredible views. And the chance for a selfie on the potato chip itself.
Sunset Cliffs Park Trail
Length: 1 mile
Difficulty: Easy
Sometimes you don't feel like walking for miles and miles, or uphill. That's where dog-friendly hikes like this easy one-mile jaunt come into their own. Taking only around 25 minutes to complete, the Sunset Cliffs Park Trail offers up a scenic view from the cliffs.
It may be small, but it's fun to explore; there are even tidal pools at the bottom of the cliffs. Come at sunset and you'll see why this trail is so popular.
Crowds flock here when the sun starts to dip below the horizon, so come early if you want the best spot.
The best part? Your dog can be off-leash in some parts of the park!
Tecolote Canyon Natural Park
Length: 6.7 miles
Difficulty: Moderate
The Tecolote Canyon Trail takes up space within Tecolote Canyon Natural Park, an urban green space located just north of the University of San Diego.
Like other central dog-friendly hikes in San Diego — like Balboa Park, for example — you will see development here such as power lines, and part of the trail runs along what could be described as a dirt road.
But it's actually very easy to look past all of that. Take on the out-and-back trail with your dog in mid-to-late April and you'll be treated to some of the best wildflowers you're likely to see on such an easily accessible trail.
Wildlife also abounds: Think snakes, hares and hawks.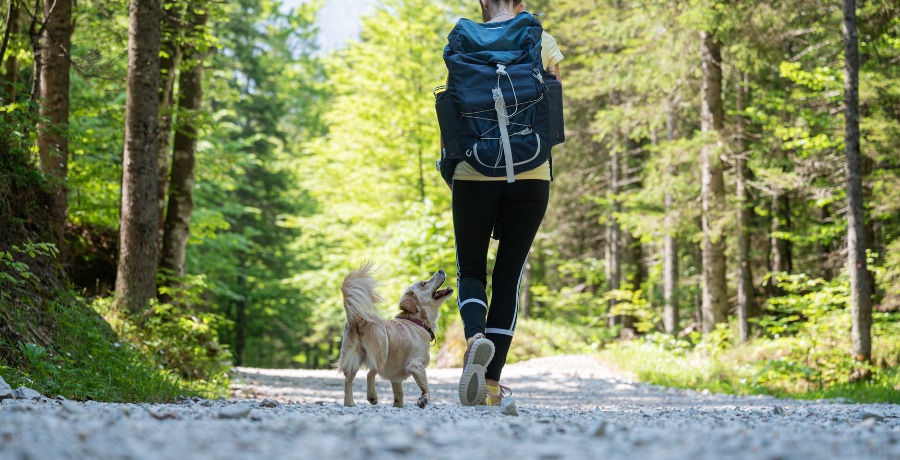 Tips for Hiking with Dogs in San Diego
Paw care: In general, you should check that the condition of your dog's feet is good before setting off on the trail. Check pads for cuts or sores, and consider some durable hiking booties for harsher terrain. If your dog isn't a fan of booties you could try dog wax, which adds a "guard" layer to their pads and helps to prevent cracking and overheating. You should also trim your dog's nails before you hike. Long nails can be painful for your pooch when embarking on long walks.
Know your dog's limits: If your dog isn't used to long walks, it wouldn't be a good idea to suddenly go for a long hike in the mountains. Choose hikes that suit you and your dog, and opt for early morning (or late evening) hikes on hot, sunny days.
Make sure your dog sticks to the trail: Other than to stop your dog accidentally trashing some of the ecosystems of San Diego's nature reserves, the other reason to stick to the trail is one of safety. Poison oak can transfer from dogs to humans, so if your dog comes into contact with it make sure to bathe them as soon as possible. Hiking in a spot with lots of trees and undergrowth also poses a risk of picking up ticks. Check your dog after hiking for ticks as these can carry diseases.
Watch out for snakes: Rattlesnakes can also be a real danger. They're fairly common on many of San Diego's hiking trails. Keep your dog away from any snake, but if they do get bitten, they will need emergency care immediately. Knowing the nearest emergency veterinary facility before you start trekking is a good idea.
Keep your dog (and yourself) hydrated: While bringing along a water bottle for yourself is a no-brainer, you may not be considering that your dog also really needs to stay hydrated. Take along a doggie water bottle, ideally one with a detachable bowl that allows for quick water breaks and pit stops when needed.
Have the right equipment: Having some specialized gear for you and your dog will make your hike much easier. Some routes around San Diego (many, in fact), require your dog to be on the leash, so opting for a hands-free dog leash will save your arms from any pulling along longer hikes. Another thing you may want to consider is a dog harness, which will allow you to easily pick up your dog along any steep sections that they can't manage.
Vaccinations: It goes without saying, but your dog should definitely be vaccinated against diseases such as rabies before you hit the trail on a hike.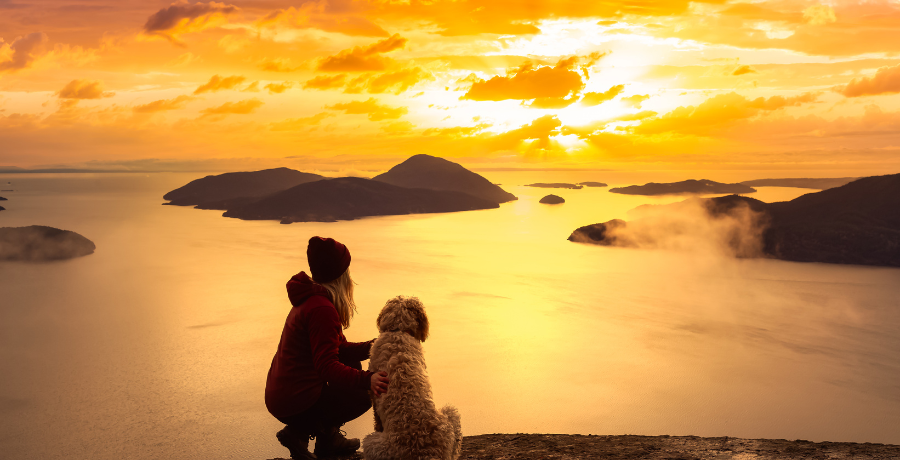 As you can see, there are many dog-friendly San Diego hiking options for you and your pup. Now it's up to you to narrow it down and pick where to start!