15 OF THE BEST HIKES IN SAN FRANCISCO AND BEYOND
San Francisco are is home to some of the best hiking in the world. It offers tons of diversity, both within the city and in the surrounding regions.
NorCal landscape sees every season within just a two hour drive. You can head up to Tahoe or down to Yosemite from San Francisco to see snow in the winters and enjoy the sun in Big Sur in the summers.
In this article, I am going to give you 5 of the best hikes in San Francisco. These hikes are located in and around the city itself. As you probably know, it is difficult to actually hike in a city, but usually the outskirts have quite a bit to offer.
As does the surround areas of San Francisco! So, let's get to it.
Best hikes in San Francisco: In the City
1. Land's End
I don't know if it's just me, but when I think of San Francisco or any city for a matter of fact-I think of buildings on top of buildings.
However, one of the best hikes in San Francisco is located right within the borders of this city. This places is called Land's End. I take anyone who visited me in SF here.
Land's End has quite a bit of scenery to offer. You will be walking on the cliffs next to the ocean and get to see some spectacular views of the Golden Gate Bridge.
There is a 4 mile leisurely walk through Lands end itself that only has an elevation gain of about 500 ft at its max. On this route, there are different offshoots that you can take that either bring you to lookouts of the Golden Gate Bridge, a labyrinth, or even to a little private beach.
The trailhead is accessible in the parking lot at the end of Geary Avenue near the Sutro Baths. Speaking of the Sutro baths, this is another key highlight of Lands End. Make sure to visit the gift shop to read about the history here and see photos of what the baths use to look like. It is quite astonishing.

2. Mount Sutro Forest
This is another hike that is directly in the city. Mount Sutro Forest is nuzzled within the neighborhood of Cole Valley. I honestly never knew about this place until after I moved away from SF.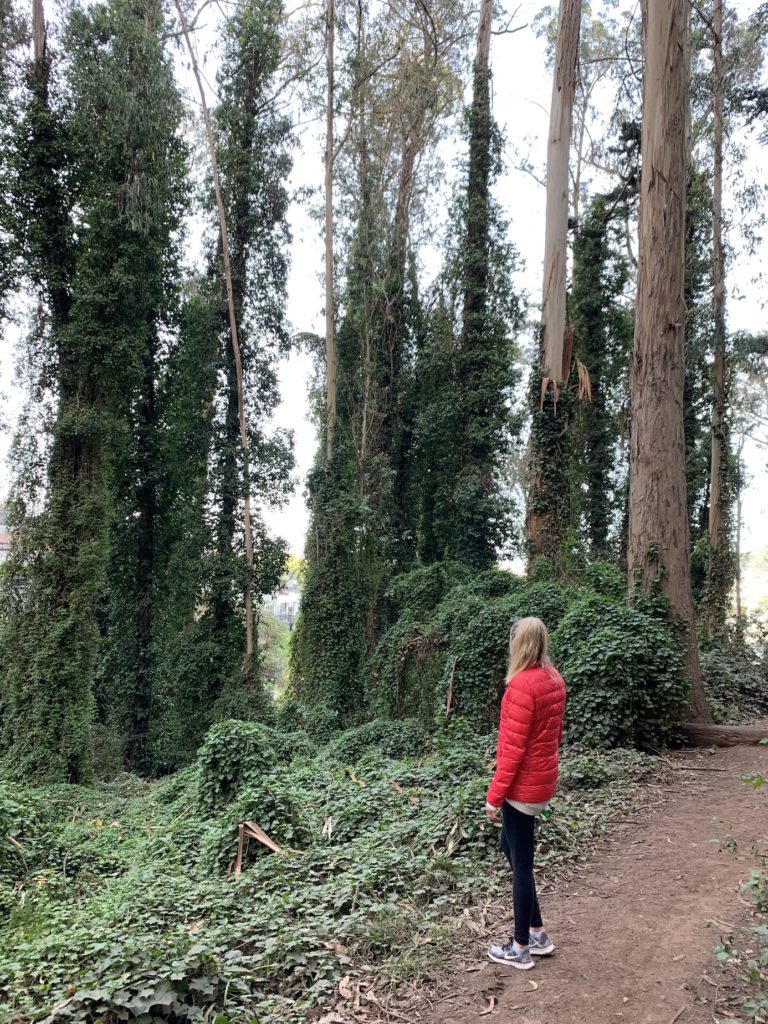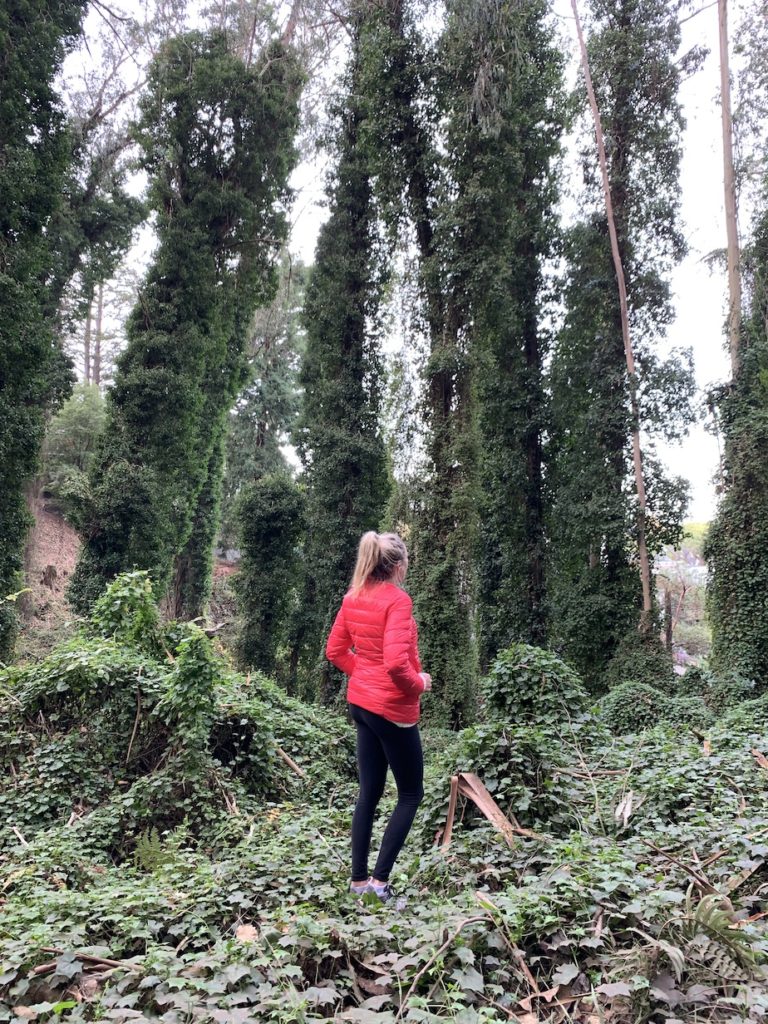 This hike is beautiful! It is shaded with the most gorgeous trees. This is a 900ft hill with trees that are over 100 years old!
Walking through this forest will make you feel like you have escaped the city for a brief moment in time. Listen to the bird's chirp and the trees crack as you walk through here.
3. Twin Peaks
Another location directly in the city of San Francisco. Some of the best hikes in San Francisco are here because this city is extremely hilly.
Twin Peaks is located near Height Ashbury area. You can technically drive to the top or if you are looking for a workout then I recommend hiking to the top.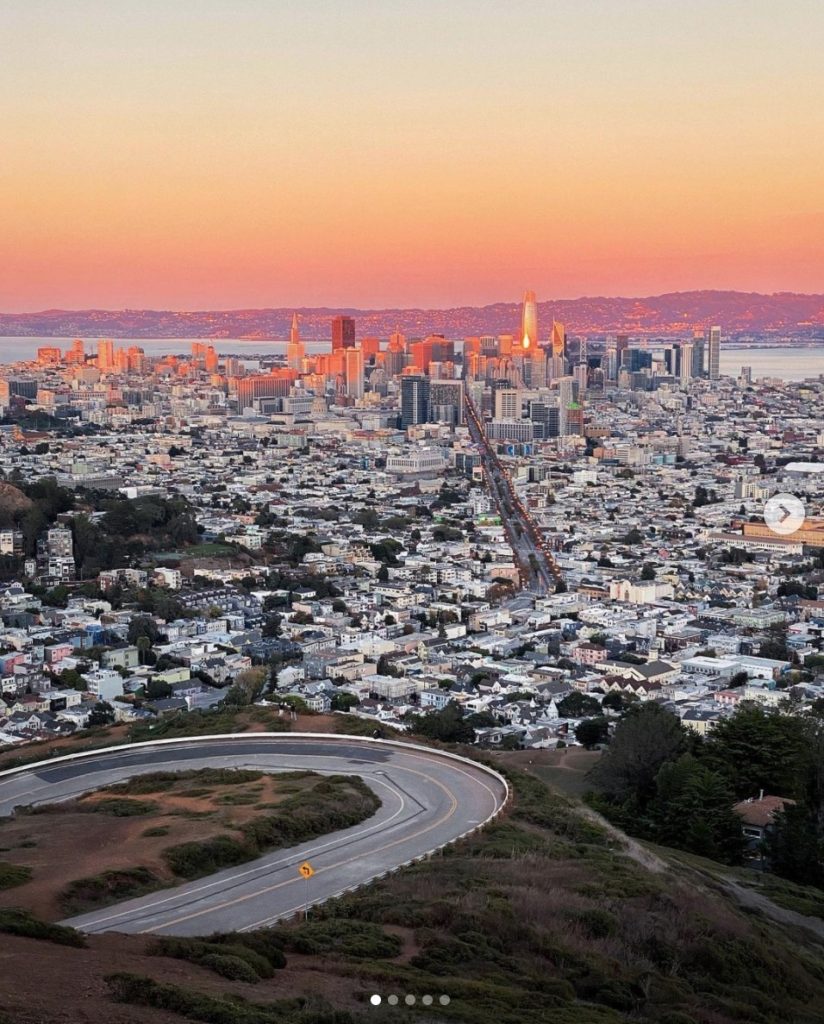 You will be rewarded with some insane skyline views of San Francisco. I recommend going. at sunset for the incredible view. However, it is insanely windy at the top so dress warm!
This places is also a photographer's dream!
Best Hikes in San Francisco: Within 1 hour
4. Alamere Falls
Alamere Falls is one of the best hikes in San Francisco because it is such a unique hike. At the end of this hike you will be rewarded with a waterfall that falls from the cliffs and runs into the beach.
I mean come on? Where else have you seen a waterfall running directly into the ocean sand? Ok maybe, Hawaii, but I would say this is a rarity.
There are two different ways to do this hike, but I personally took the Coast Trail from the Palomarin Trailhead. This intermediate hike is well marked and is accessed from the end of the parking lot off Mesa Road just outside Bolinas.
You can enjoy the views from both the top of the waterfall and the bottom! Once you reach the falls you will have to walk past the top fall, cross over it and then climb down the ridge to get to the bottom of the falls and reach the beach.
Be sure to monitor the tides and DO NOT attempt to hike down the ridge during high tides as it is unstable and the rocks become slippery.
5. Muir Woods
Some of the best hikes in San Francisco area are located in Muir Woods. Muir Woods is considered to be a National Monument and is located just over the Golden Gate Bridge.
On weekends this place can get packed! A shuttle service is provided on the weekends at the base of the road up to Muir Woods due to limited parking. You won't miss the signs for the shuttle.
Be prepared for cold weather when hiking through the woods as you are surrounded by old-growth coast redwoods alongside a creek. Also, please know there is no cell service throughout Muir Woods.
There are tons of different hikes you can do throughout Muir Woods, ranging from long to short and easy to strenuous. Plan on this being an all-day hike. For a list of all the hikes check out this link HERE.
6. Point Reyes National Seashore
Point Reyes is considered to be a National Seashore. There are so so many things to do in Point Reyes. Literally, the options are endless.
This area also makes for some great photos. Some must-visit places in Point Reyes are the lighthouse, this abandoned ship pictured below, the Cypress Tree Tunnel, and even an Elk Reserve.
For a complete list of things to do in Point Reyes read here. Here is a guide to some of the best hikes in Point Reyes.
7. Castle Rock
Castle Rock is located in Castle Rock States Park. This state park is known as the "land of the sculpted sandstone, lush forests, and sweeping vistas." There are plenty of activities to do here: hike, rock climb, backpack, horseback ride and more!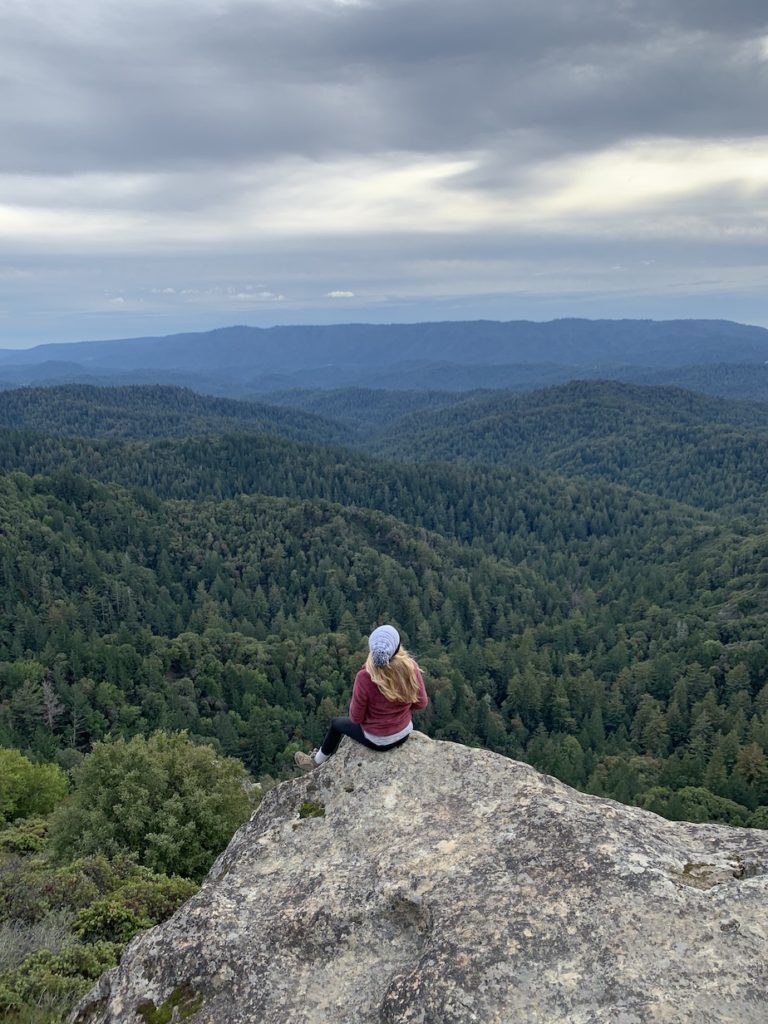 There is a $10 fee to park within this state park, so make sure you have cash on you. For a full list of all the hikes here you can check out the state park website.
8. King's Mountain & Windy Hill Preserve
Both of these hikes are located near Redwood City which is about 40 minutes south of the city of San Francisco. I recommend going in the spring as the grass will be vibrantly green.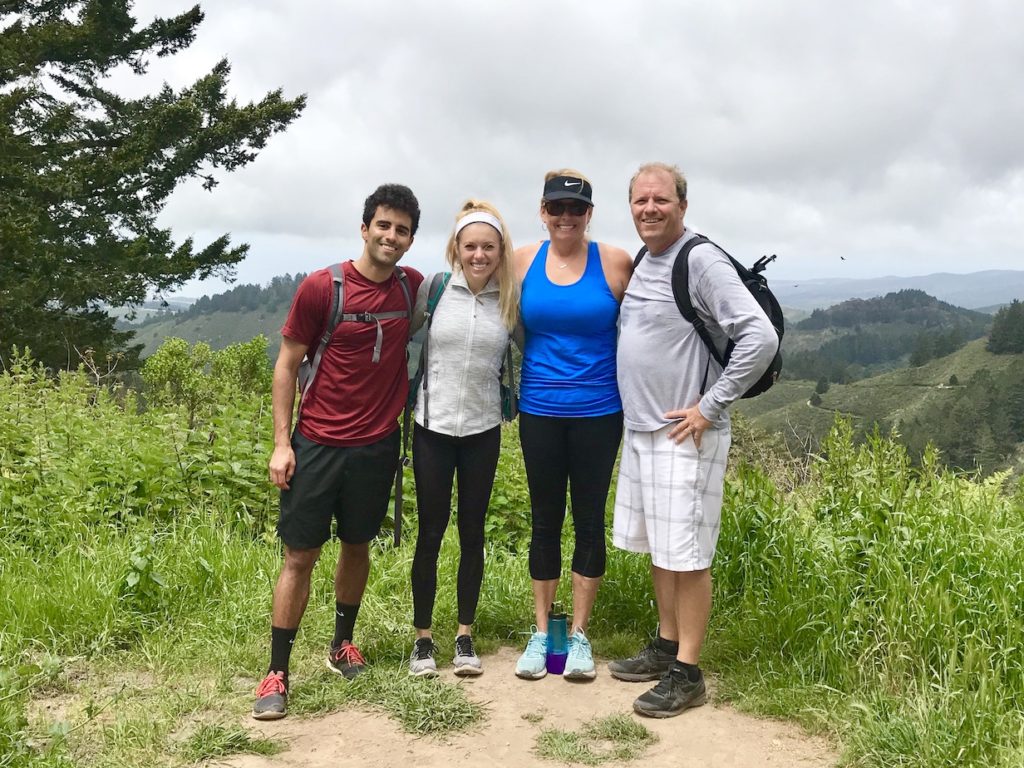 The King's Mountain Loop Trail is 3.3 miles long and is considered a moderate hike. The Windy Hill Preserve area offers multiple trails. You can connect multiple trails together to make the trip as long as you would like.
9. Sugarloaf Ridge
Sugarloaf Ridge is another state park located just outside of San Francisco. Some of the most scenic and best hikes near San Francisco are located within this park.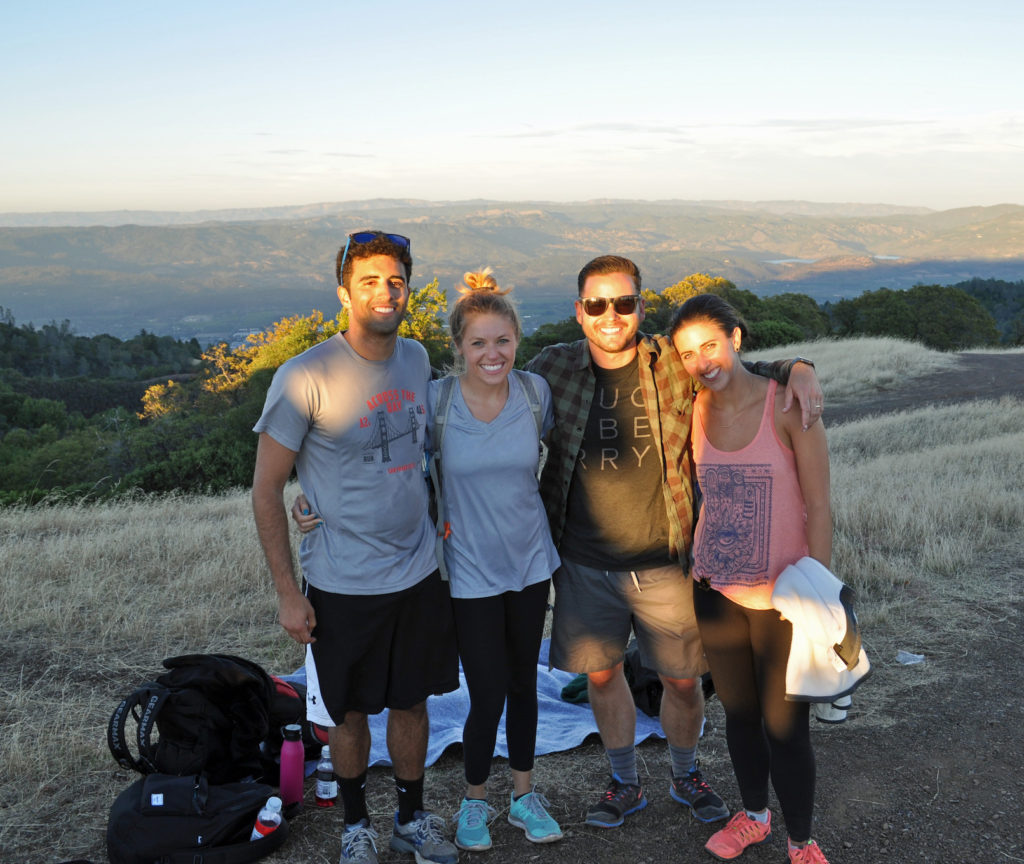 We signed up for a stargazing hike in the Sugarloaf Ridge area. This hike was awesome because everything was all organized for you and once you reached the top they had snacks and telescopes out for you to look at the stars. This guided tour took us up the Vista Trail loop which is about 4 miles long.
If you choose to do this hike at night make sure to bring a headlamp for the way down.
Best hikes in San Francisco: 1 hour and beyond
10. McArthur-Burney Falls
The McArthur-Burney Falls seem to be really trending right now on Instagram and Tik Tok.
I feel OG because I visited here back in 2015 and I am slightly punching myself in the face for not getting better photos.
My husband surprised me for my birthday and took me here for the weekend and boy was it as beautiful as ever. Burney Falls is a bit of a drive from San Francisco, but in my opinion, it is worth it.
The actual hike to Burney Falls is only about 1.3 miles round trip, but there are other trails around the area that you can hike through as well. The beginning of the hike starts out as a steep downhill and eventually flattens out. For this reason, it is considered an intermediate hike.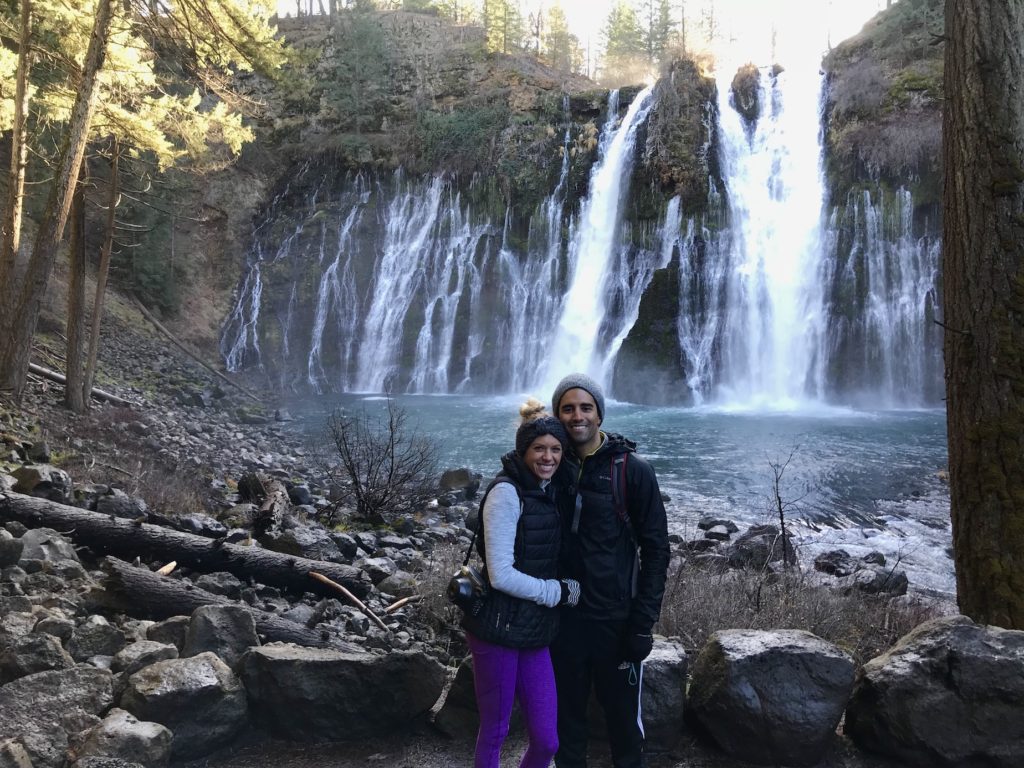 The falls themselves can actually be seen right from the parking area, but there is a mile-long loop around the area of the falls. Once you reach the bottom you will be standing at the base of a 129-foot waterfall.
Theodore Roosevelt use to refer to these falls as the eighth wonder of the wonder.
P.S. I visited Burney Falls in the winter (December) and let me tell you it was freezing! My fingers were numb and my face was freezing. I recommend wearing your winter gear when visiting here. It was so cold that we were only able to enjoy it for a few minutes and then had to head back to the car for warmth..
If you visit in the summer though, I am sure the water would be quite refreshing.
11. Armstrong Woods
This is a lesser known place to hike, but once I discovered it I had to tell everyone about it. There are a ton of hiking options here as well as backpacking options. Dan and I actually chose to do a one night backpacking trip over Thanksgiving here.
However, the trial we did could also be done within a day. We chose to do the Armstrong Woods to Manning Flats hike which you can read all about here. This hike is a total of 8-miles roundtrip, so definitely doable in one day.
If you do plan to backpack here, do know that a permit. is required.
12. Pinnacles National Park
Did you know there are nine national parks in California? Pinnacles National Park is probably the most underrated park, yet one of the most unique parks. This park is located about 2 hours south of San Francisco. So, it makes for a great day trip!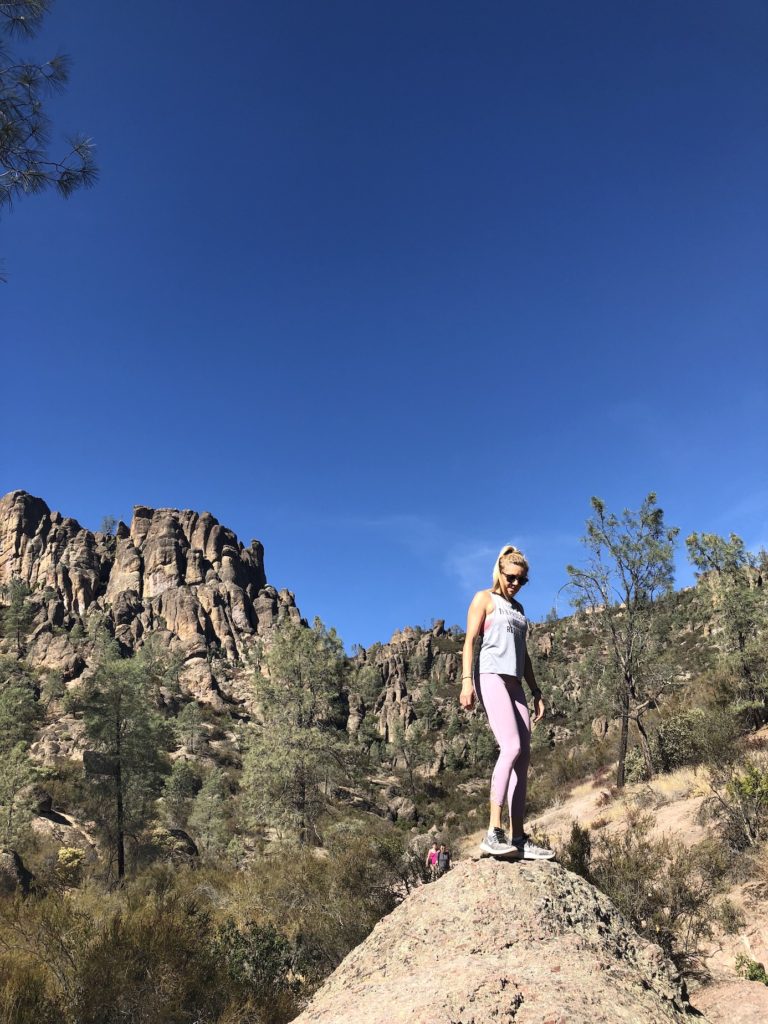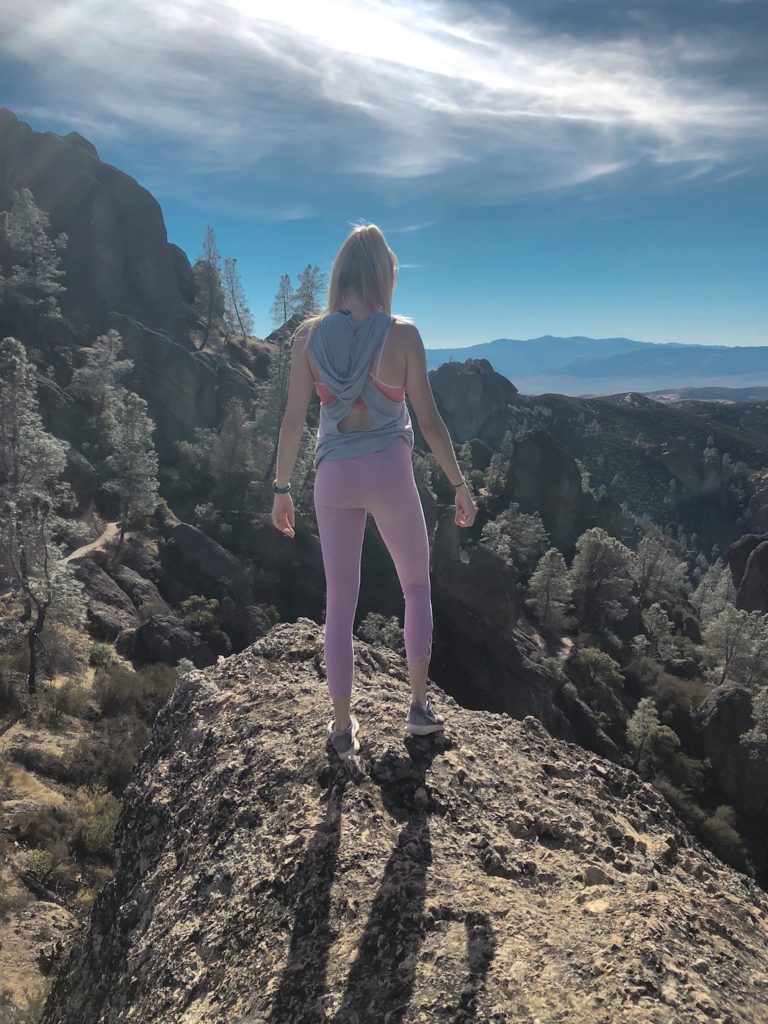 This park was created years ago when volcanoes erupted, flowed, and then form the "pinnacles." This park is unique because it offers caves to climb through, waterfalls, oak woodlands, and canyon bottoms. You may even spot an Eagle when in this park.
Find anything from short trails to longer trails here. You can camp within the park as well!
13. Big Sur
I gotta say, Big Sur, is probably one of my most favorite places in California. The drive along Highway 1 is just incredible. The scenery is gorgeous and there are endless amounts of hiking options. Some of the most famous hikes are to see Pfeiffer Falls and hiking around the Bixby Bridge.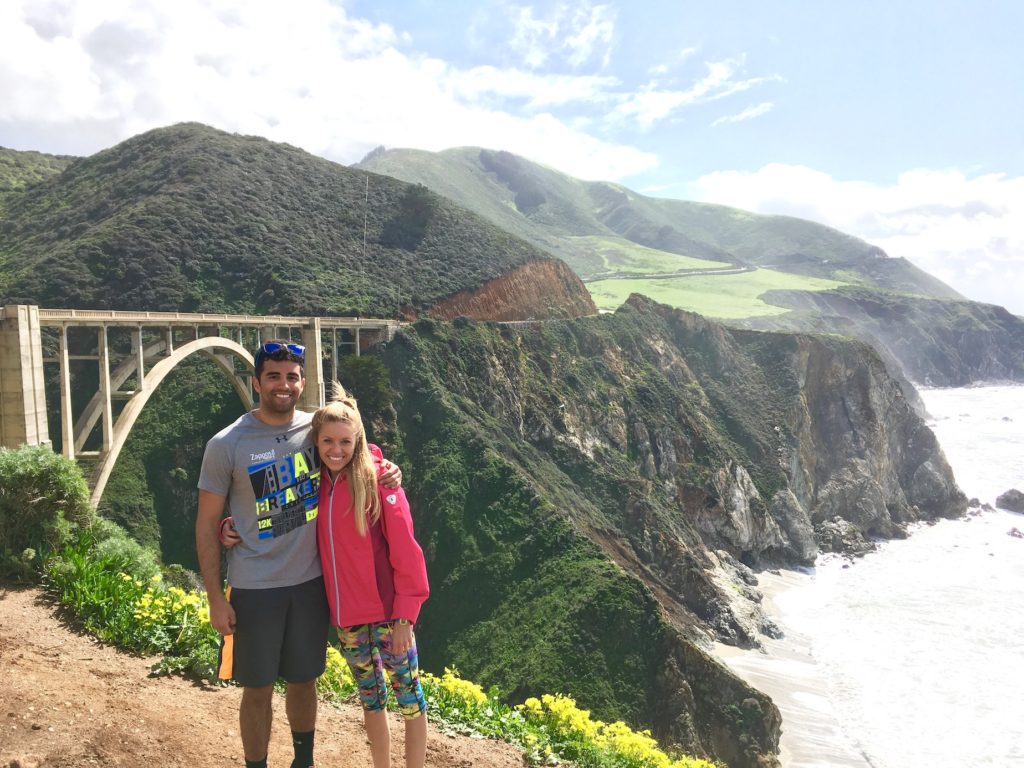 A lesser known hike is the Vicente Flats hike located directly across Kirk Creek Campgrounds. This is an intermediate level 10-mile hike that is out and back.
Again, we chose to backpack this trail, but it could be easily done in one day. For all the details on this trail you can read about hiking Vicente Flats here.
14. Tahoe
Tahoe is about 4 hours from San Francisco and is another place that is drastically different in the summer vs. the winter. This place gets dumped with snow in the winter and the water is so clear and blue in the summer months.
In the summer, the Tahoe area can offer tons of different hiking trails for you ranging from short hikes to multi-day hikes. You can also snowshoe here in the winter, but I have never done that.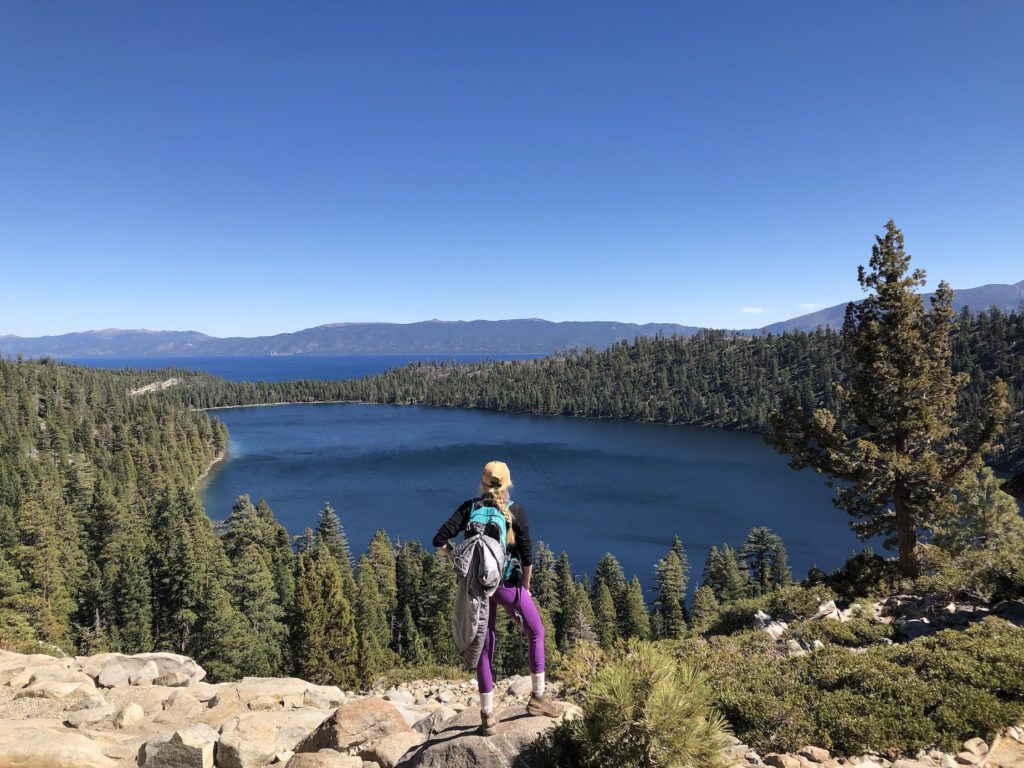 I have personally done the Cascade Falls Trail which is 1.4 miles long. I have also done the Bayview Trail which is 4.2 miles long and is considered intermediate.
15. YOSEMITE
Ok I know we are get a bit far away from the San Francisco hikes, but I can't not mention Yosemite. It is located in NorCal and just too spectacular of a park to not mention!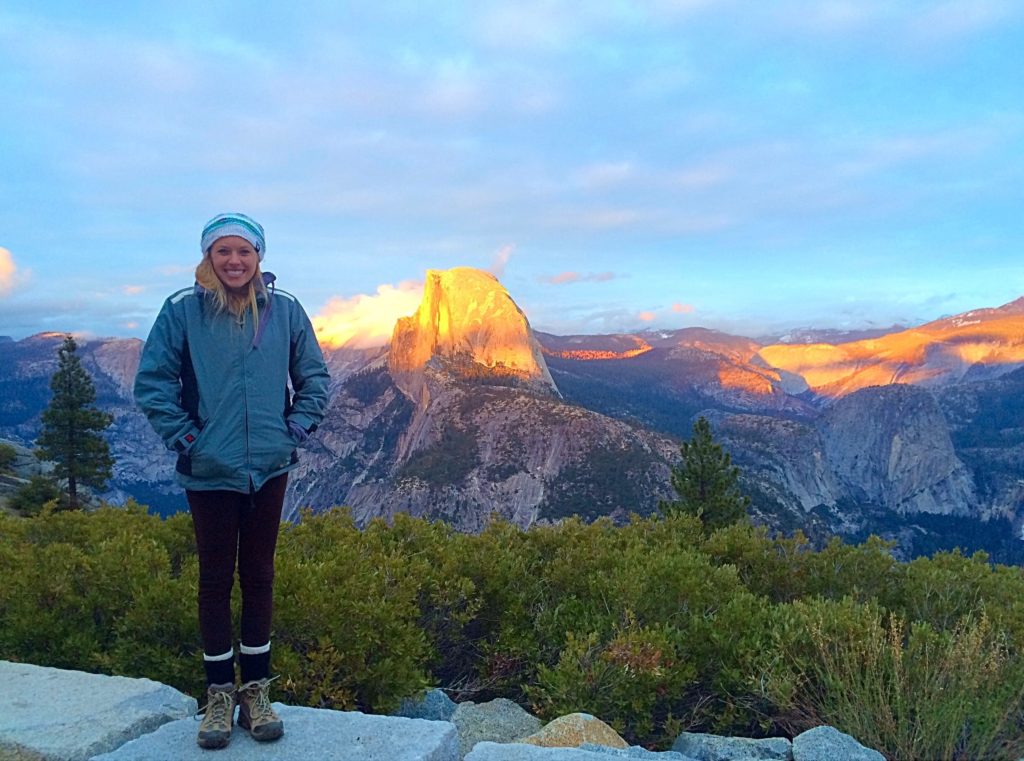 The hiking trails here are endless. The rock formations are something like you have never seen before and the waterfalls are just stunning.
If you are in the Bay area and ever have time to make it down to Yosemite I highly recommend it!
FINAL THOUGHTS FROM YOUR OUTDOOR LOVING GIRL
Alright! There it is! Now you have my complete list of the best hikes in San Francisco and beyond! NorCal is one of the most gorgeous places I have lived and I highly recommend you visit it too!
Now, get out there, stay active and enjoy all the beautiful destinations that the Bay area has to offer!
Like this post! Pin it for later!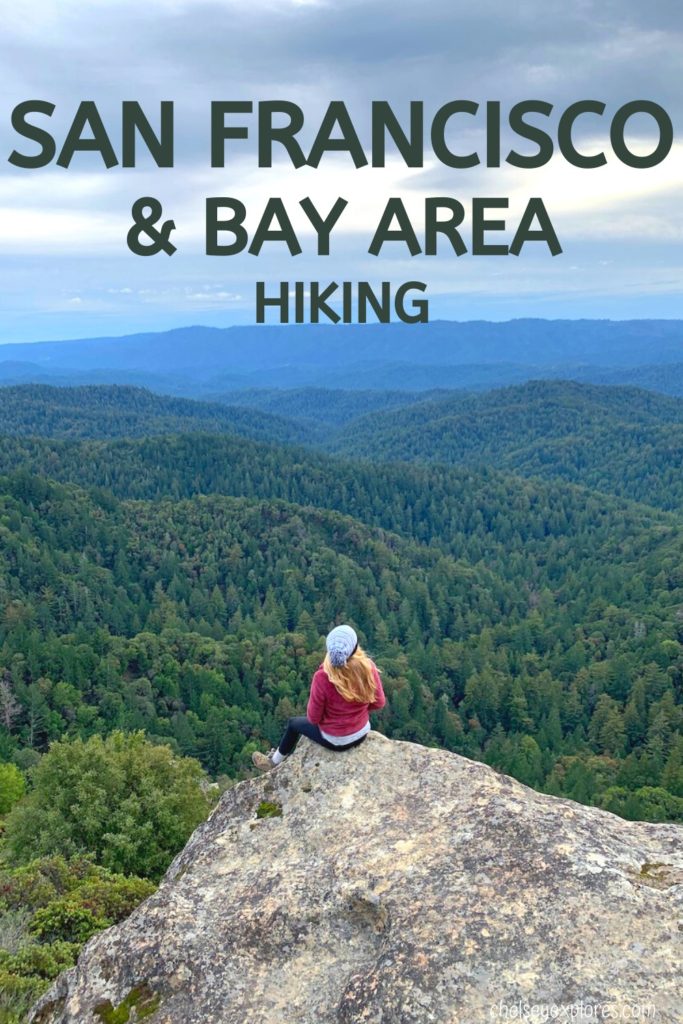 15 OF THE BEST HIKES IN SAN FRANCISCO