WEEKEND BIG SUR BACKPACKING TRIP
THE BEST WEEKEND BIG SUR BACKPACKING TRIP
Big Sur, CA is one of the prettiest locations along the California coast. This city offers a lifestyle for anyone. Whether you are looking for a luxurious hotel overlooking the ocean or you are ready to head out on your next backpacking adventure, then Big Sur is the spot for you.
This article will give you all the details for your next weekend Big Sur backpacking trip. Your end destination will be Vicente Flat. This camping trip makes for the perfect weekend getaway. It is a fairly easy one-night backpacking trip from San Francisco.
HOW TO GET TO BIG SUR FROM SAN FRANCISCO
Big Sur is located along the California Coast. It will take you about 3.5 hours if you are driving down from San Francisco. You will drive along the beautiful coastline of Highway 1 prior to reaching the trailhead.
If you are using google maps type in Kirk Creek Campground to reach this destination. The trailhead is just across the street from this campground located directly along Highway 1.
You should plan to stop in Carmel if you need to stop for a quick bite to eat or to fill up on gas. There are not many gas stations once you pass this city, so make sure you have enough to get you to the trailhead and then back out once you have finished your backpacking trip.
BACKPACKING THE VICENTE FLAT TRAIL IN BIG SUR, CA
Hiking in Big Sur is quite popular, but there are not many hikes that you can do in either one day or make into a weekend backpacking trip. The Vicente Flats trail offers both these options.
Permits are not required for this hike; however, if you plan to build a fire then you will need a fire permit.
Tip: Make sure not to forget a fire starter block or a lighter! Most campsites at Vicente Flat already have a fire ring created.
THE TRAIL ITSELF
Backpacking Vicente Flat is actually not that long. It is a total of 10 miles out and back. The trailhead begins directly to the left of the Vicente Flat sign if you are facing it.
This is considered to be a moderate backpacking and hiking trail. However, you should expect a fairly merciless uphill climb the first few miles of the hike. It does flatten out a bit, but expect an incline for fairly most of the hike to the big sur Vicente Flat campsite. For this reason, I recommend bringing a lightweight backpacking backpack.
The first few miles go along the side of the mountain and overlook the ocean. You will walk through all different types of terrain. This trail offers shade at different parts as you continue to head north up along the trail.
Around the 2.9 mile marker, you will be able to catch a view of Cone Peak. This is a day hike that you can do after setting up camp at Vicente Flat. When you near the 3-mile mark, you will find yourself in a canyon full of trees and redwood groves.
CONTINUATION OF THE VICENTE FLAT TRAIL
Espinosa Camp will be on your left-hand side at the 3.5-mile mark. If you want you could choose to camp here as well. There is a backpacking tent area, a fire pit, and ocean views. Continue on and you will reach a small creek where you can fill up on water.
The trail finally begins to flatten prior to beginning your descent into Vicente Flat. You will cross Hare Creek on your hike into the campsite. Steer right towards the campsites and find the perfect spot for you.
Plan for this hike/backpacking trip to take about 4 hours to reach camp and 3 hours to get back to your car on your return trip.
There are several gorgeous viewpoints along the entire trail. Some of the best coastline views are seen within the first two miles, so make sure to take it all in. You will be able to see views of the coastline even while hiking through Redwoods!
THE BIG SUR BACKPACKING CAMPGROUND AT VICENTE FLAT
Vicente Flat campground itself is set inside a forested canyon. There are multiple spots to pitch your tent and make a home for the night. Set up all those backpacking items! Don't forget to bring things like a backpacking tent, backpacking size sleeping bag, and a backpacking stove!
Unfortunately, the campsites themselves do not offer views of the coastline, but this is the time when you can hike another few miles to reach Cone Peak, which has stellar views.
Most campsites already have a fire ring set up for you to use. Just make sure you have brought your fire permit with you.
As far as water resources go. When I went on this Big Sur backpacking adventure there was hardly any water the entire five miles up to Vicente Flat.
We passed one small stream at about 3.5 miles, but you would definitely need to filter this water. So, make sure to pack a backpacking filter or iodine tablets.
As far as water at the campsite goes-again, there was not much during my time here, but you can find a stream about 0.5 miles from the campsite to filter water from.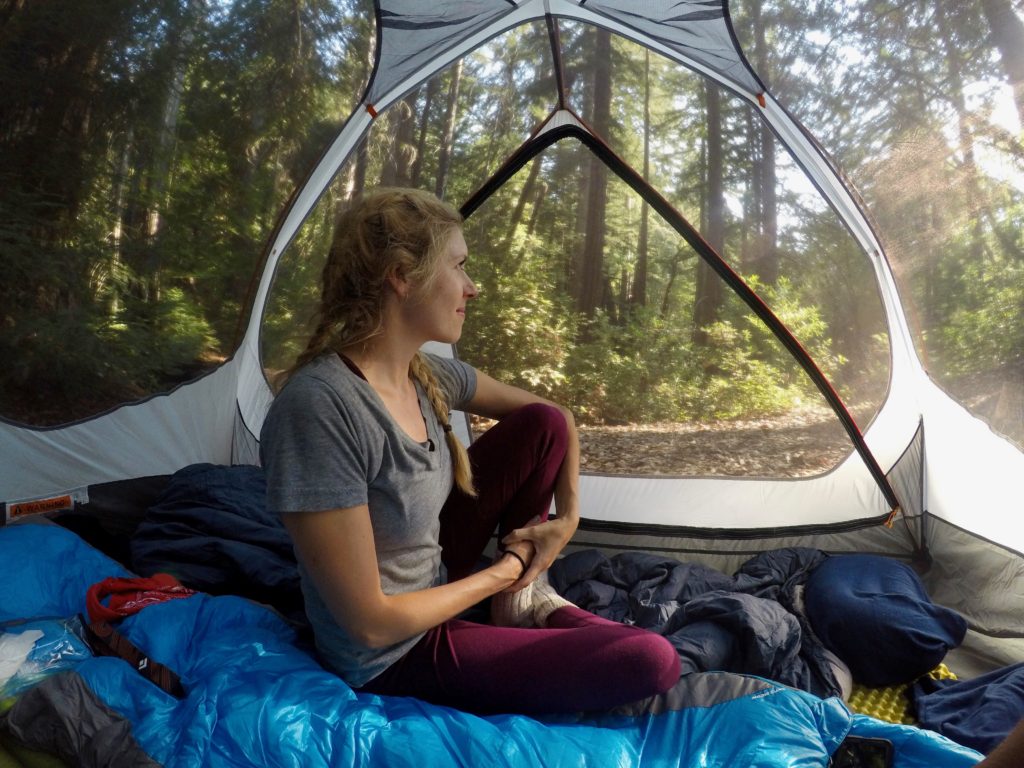 Unfortunate news: the flies were horrendous at Vicente Flat during my time at camp. We arrived at our campsite around 3:30 pm and immediately flies began to swarm us. However, when the sun went down the flies improved.
If you aren't interested in backpacking and are looking for more of a cabin-style weekend getaway then you should stay at Riverside Campgrounds and Cabins Big Sur.
Sample Weekend Itinerary
It is a quick, easy and the perfect weekend getaway.
Saturday
Eat a hearty breakfast and then leave around 730am from San Francisco. Begin your drive down to Big Sur. I would then make a quick stop for gas and bathrooms in Carmel. Finish your drive down to Big Sur and park near Kirk Creek Campground.
Pack up your backpacking bag and make sure to hide your valuables in your car so they are out of sight. Make sure to use the Kirk Creek Campground restrooms prior to heading out on the hike. Then begin your ascent up the Vicente Flat trail.
Hike for 5 miles while making sure to take in the beautiful scenery around you. Arrive at the campsite, set up camp, eat some lunch and then head out for a small day hike.
Cross the Vicente stream and follow the signs toward Goat camp for another two miles until you reach an insane viewpoint.
Head back down to your campsite for dinner and some card games. Sleep tight!
Sunday
Make breakfast, pack up camp, and head back down the same trail you came up with. Make sure to pack out all your trash.
On the way home make sure to check out the Big Sur Bakery and Restaurant for a well deserved scrumptious meal after your long weekend! Or if you are looking for an ice-cold beer check out the Big Sur Tap House.
FINAL TIPS FROM AN EXPERIENCED BACKPACKER
Backpacking in Big Sur is created for those perfect weekend getaways! Make sure to check the weather as well as road closures prior to your departures. Sometimes, the road is closed due to landslides. Don't forget to wear sunscreen and bring a hat and sunglasses. Enjoy!
Want to do this hike someday? Save this post for later and pin it!